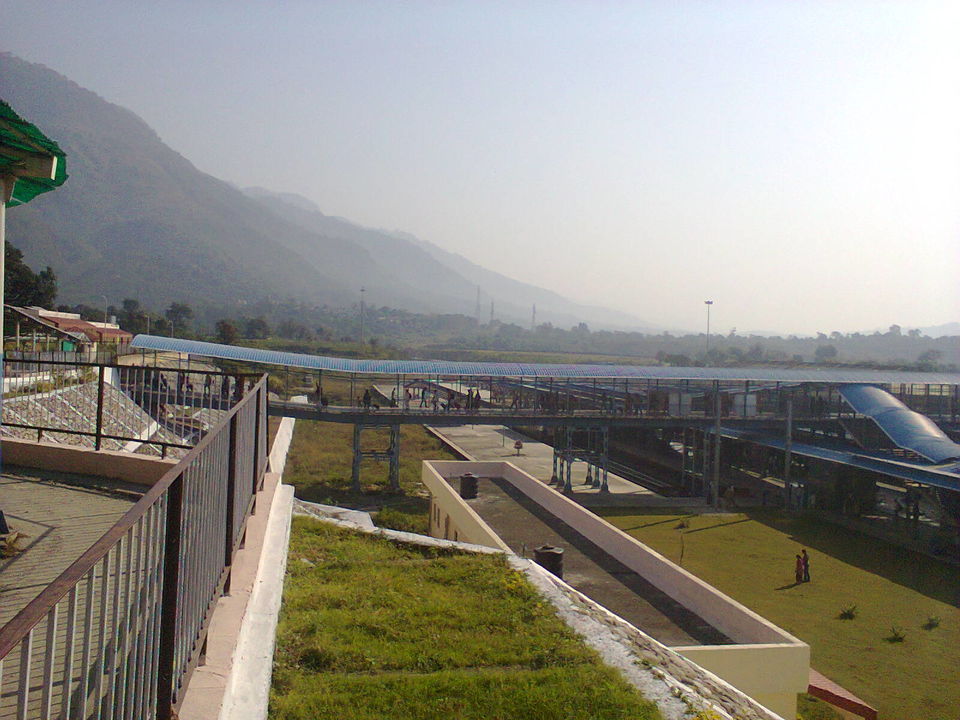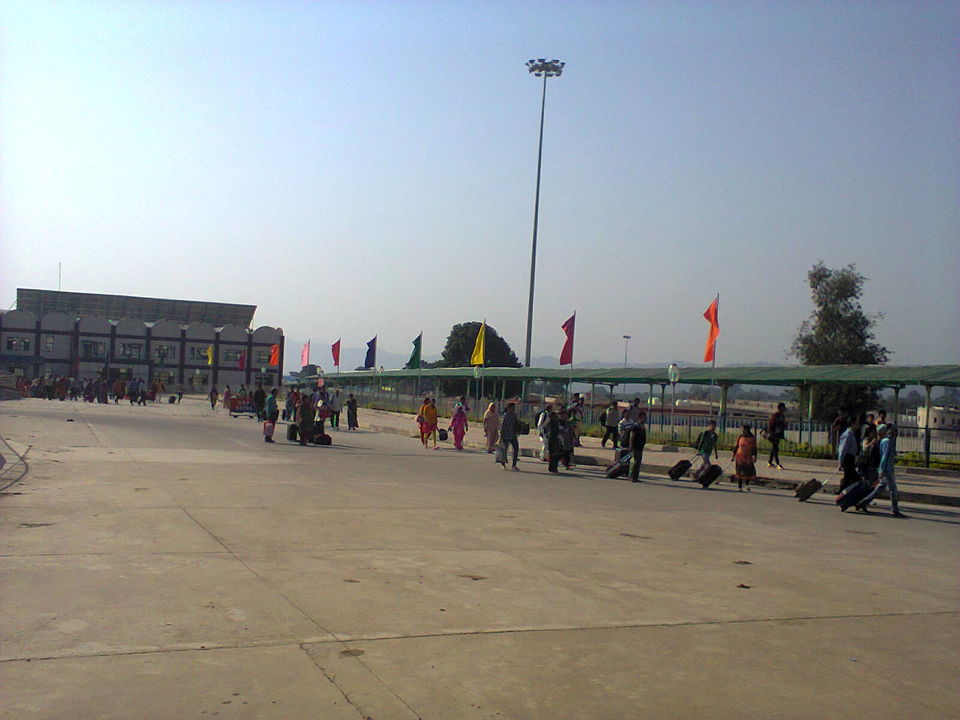 The moment one reaches Shri Mata Vaishno Devi (SMVD) Katra railway station, one tends to feel upbeat. The station is profoundly clean, and nestled amid the hills of Jammu. To embark on the 12.5 km (or 11.5 km depending on which route you choose) long yatra, one must take a pilgrim's slip from the yatra counter.
The counter is located hardly one kilometer away from the railway station and you can reach there after a 20-to-30-minute walk, depending on how fast you walk.
One can even procure the slip at the railway station to spare oneself the inconvenience of standing in queues at the counter. I, too, got the slip from the railway station. But one must ensure that the pilgrimage should begin within six hours of procuring the slip.
I went to Katra recently in early October 2016 post-Navratra. This time, I had booked a room at 'Ginger' hotel from a travel portal that was kind enough to offer me a 50 percent discount on one night's booking.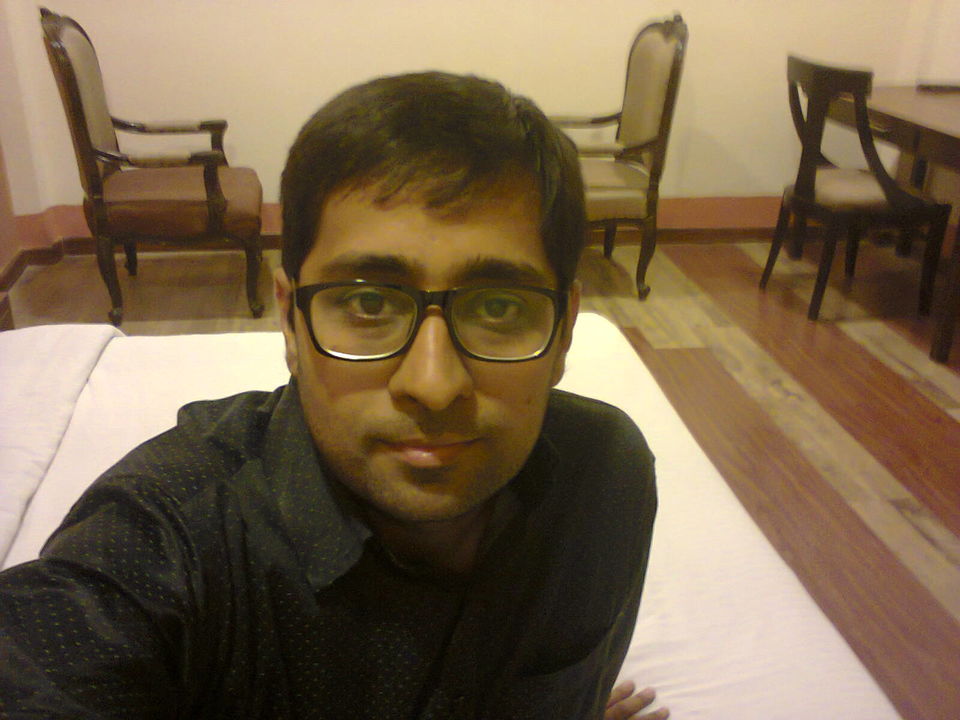 The hotel was reasonably nice and clean, though its staff doesn't allow an early check-in unless you pay extra for it. They asked me for Rs 300 plus taxes for the early check-in and I refused to pay the sum. As a result, I had no choice but to sit in the hotel's coffee shop and to read newspapers for over two hours.
As I checked in around noon, I took a bath and relaxed for a while.
Around 1 pm, I decided to leave for the yatra. I boarded an auto-rickshaw from yatra counter to reach the main entrance from where the pilgrimage kicks off.
The place, en route, is flooded with small tea shops, ice cream parlours such as Baskin Robbins, eateries and restaurants such as Sagar Ratna and even a Café Coffee Day.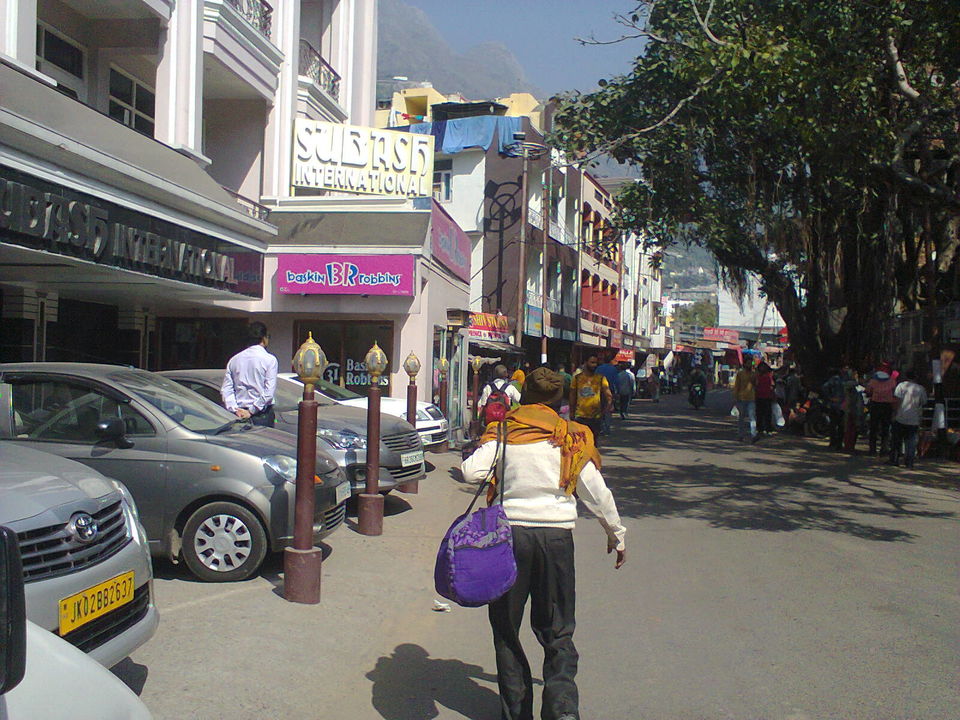 At one of the eateries, I had a plate full of maggi before embarking on the yatra. The uphill journey is quite onerous till Ardhkwari since the same route is used by both the pilgrims and the ponies. At one point of time before the half-way journey got over, I saw one pony collapse apparently because of extra burden over him.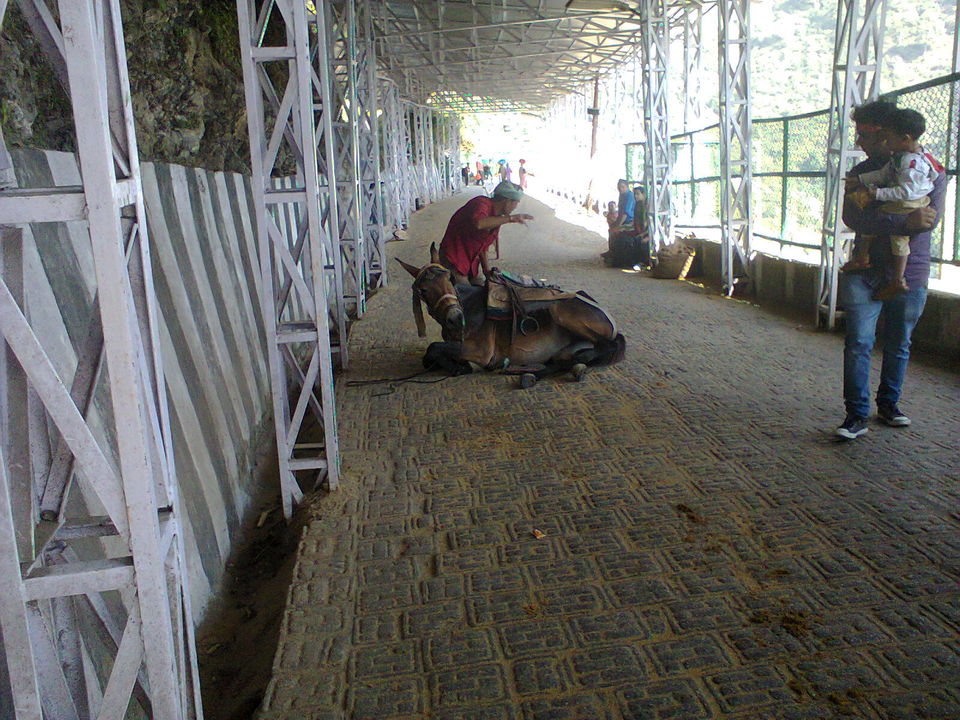 Around 200 metres before Ardhkwari, a fork bisects the pathway into two different paths—one that takes you to Bhawan via Hathimatha and the other takes you to Bhawan via Himkoti.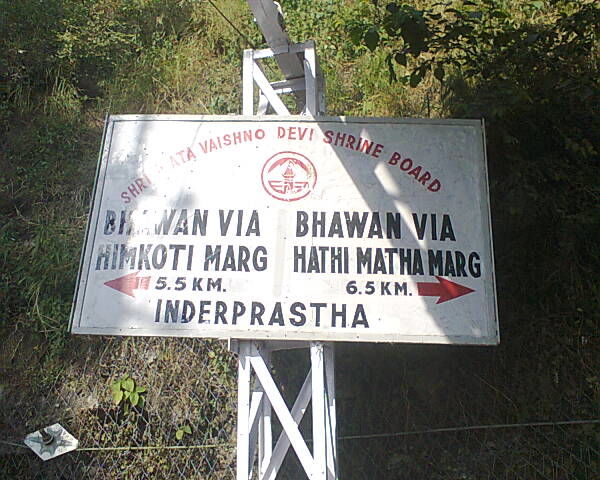 A well-behaved young man standing there advised me to take the latter route since it is shorter and is used only by the pilgrims, while the ponies are prohibited from using this route.
There are some autorickshaws that ferry the old and physically challenged pilgrims to Bhawan from the bisecting road. These auto-rickshaws are the only deviants on this new route in absence of ponies.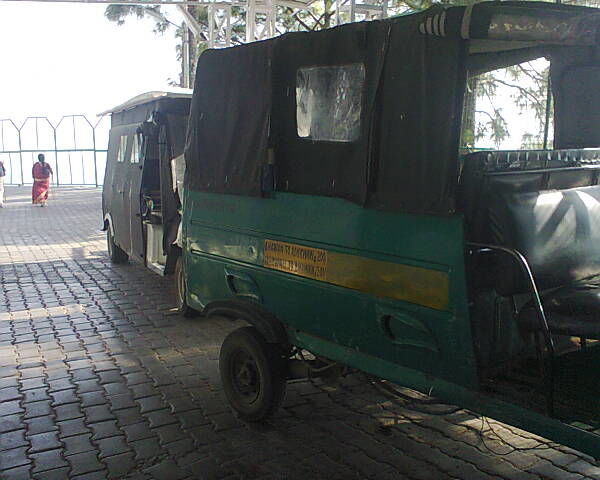 This new 5.5 km long path is covered overhead with a shed and protects the pilgrims from rain and sun.
I reached the Bhawan sometime around 6 pm. I was fortunate enough to attend the evening Aarti on Sakranti of Kartik season. I sat in the Bhawan for over 2 hours and was free to start the downward journey by 9 pm.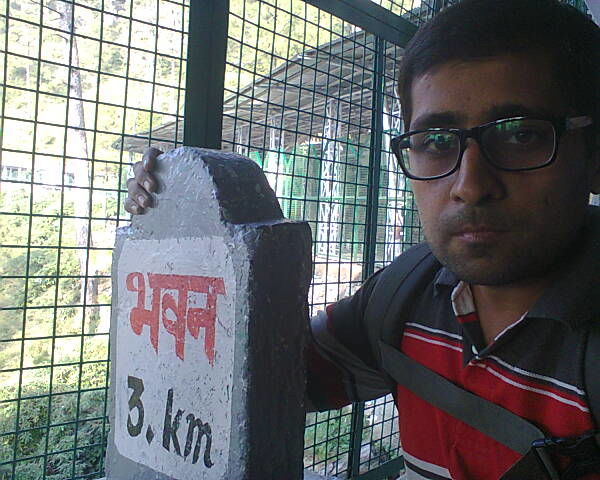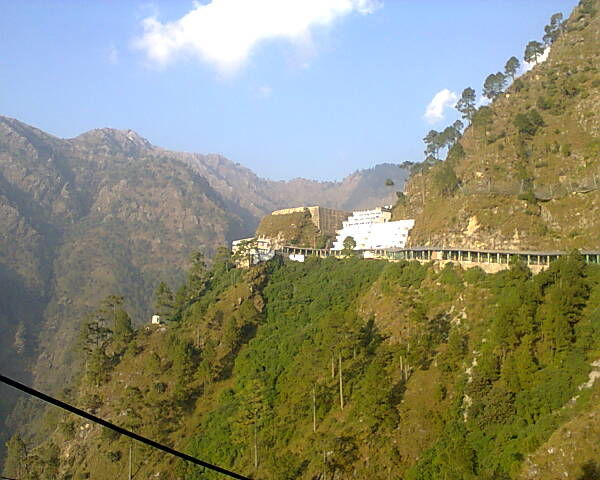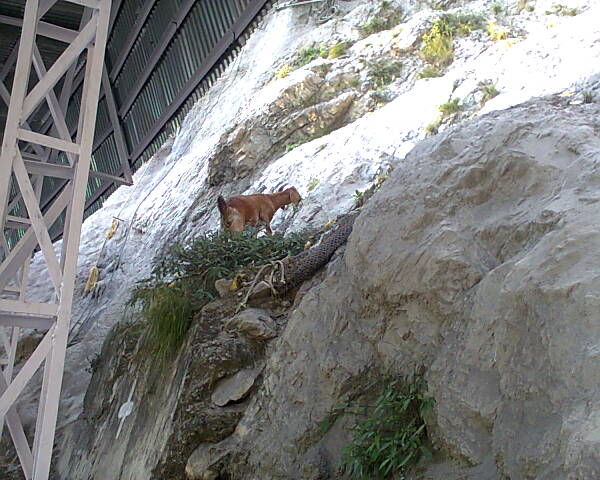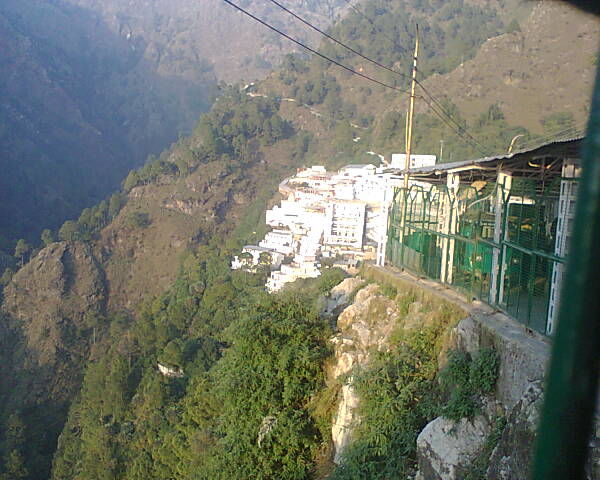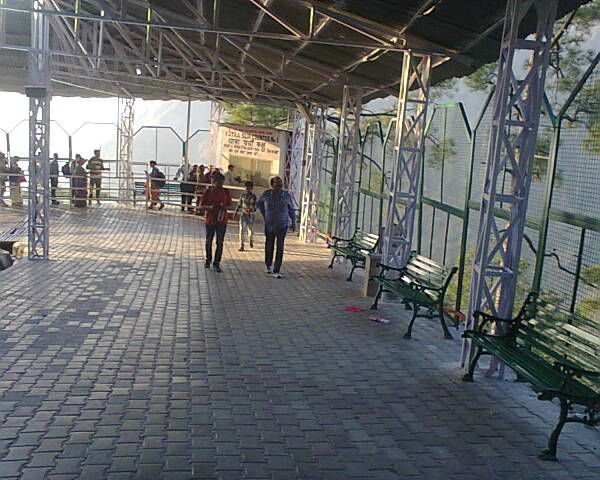 Since it was quite late to go to the Bhairon temple, I decided against going there. As I had already paid for my night stay at the hotel, I wanted to reach the room before the break of dawn for a relaxed and refreshing sleep.
I exited the yatra gate around 12:30 am and reached the hotel room around 1 in the night.
Soon enough, I managed to sleep.
The next morning, I thought of travelling to Patni Top since my Delhi-bound train was supposed to leave in night at 10:55 pm.
But I decided against it since a rushed trip to a nearby hill station seemed quite unfeasible, especially when I was super tired. Moreover, no bus goes directly to Patni Top and one has to change it from Udhumpur.
Alternatively, one can hire a cab from Jammu for a back and forth trip but I didn't want to spend Rs 2,000 for a rushed half-a-day-long trip.
Now, I had the entire day to pass and nothing else to do. To add to my worries, 'Ginger' didn't allow me to stay there post noon unless I pay the entire day's tariff. I offered them to charge half day's tariff to let me stay till 8 pm but they refused.
So, I explored and managed to find another hotel in the vicinity that allowed me to stay till 9 pm for a mere Rs 800.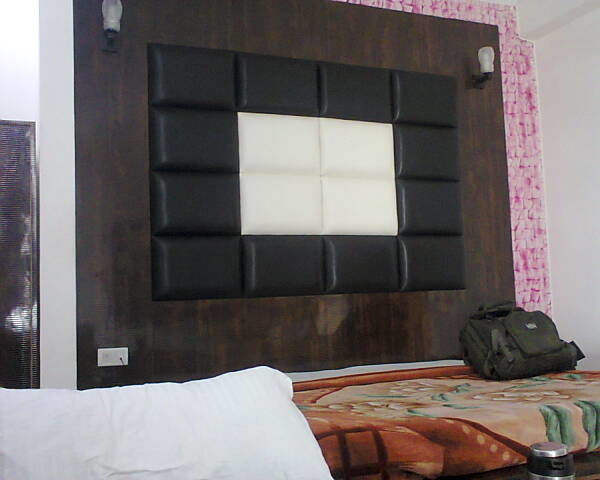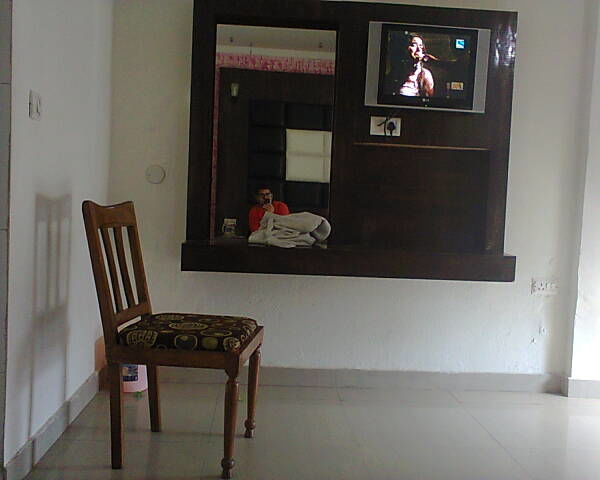 Though a little smaller, the hotel was almost as nice and clean as Ginger.
I stayed in the hotel room throughout the day and watched television while unwinding myself and recovering from the exertion.
There are some nice restaurants that are worth exploring and are located near the bus stand. I went to one such eatery 'Madhuban' and tried 'fried rice' there. The food was 'not bad'; however, the restaurant's service is commendable.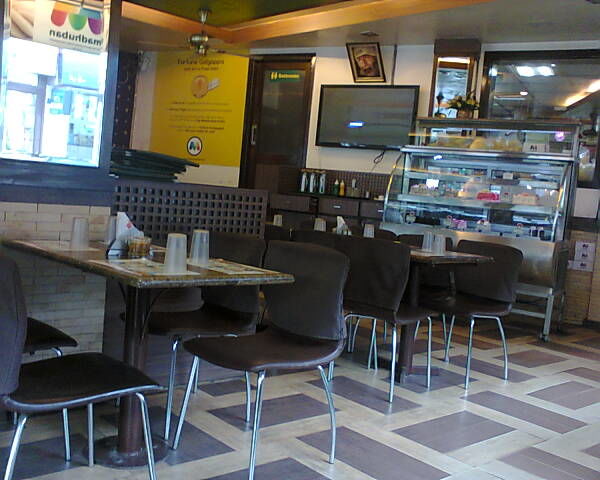 As the clock struck 8:30 pm, I started walking towards the railway station. It took me around 20 minutes from the bus stand (located adjacent to the yatra counter) to reach the railway station.
However, it is slightly unsafe to walk late in night since some part of the road that connects railway station is not well-lit and bears a deserted look.
The railway station that takes pride in being one of the newest stations thrown open to public during the Modi reign lies in very shoddy condition. Barring a clean guest house and a small restaurant situated in the same complex as the station, it lacks the basic infrastructure. It might have a couple of washrooms for the namesake, but they were too dirty to be used by anyone.
I had around two hours to kill there.
As the train pulled up at platform number 1 around 10:30 pm, I took no time to jump onto it.
I took my seat and slept. Next morning, I reached Delhi.
How to reach Katra from Delhi
Board 'Shri Shakti Express' from New Delhi Railway Station at 5:30 pm and reach Katra around 6 am the next morning
There are other trains as well that go to Katra from Delhi such as Jammu Mail, Uttar Sampark Kranti Express but they take longer (by a couple of hours) than Shree Shakti Express. The Rajdhani and Shalimar Express trains also leave from Delhi but they end at Jammu Tawi railway station from where one has to make further arrangement for the last mile connectivity to reach Katra (by bus, train or cab).
From Katra to Delhi
Board 'Shree Shakti Express' at 10:55 pm from Katra the day you are ready to leave the city and reach Delhi the next morning around 10:30 am.