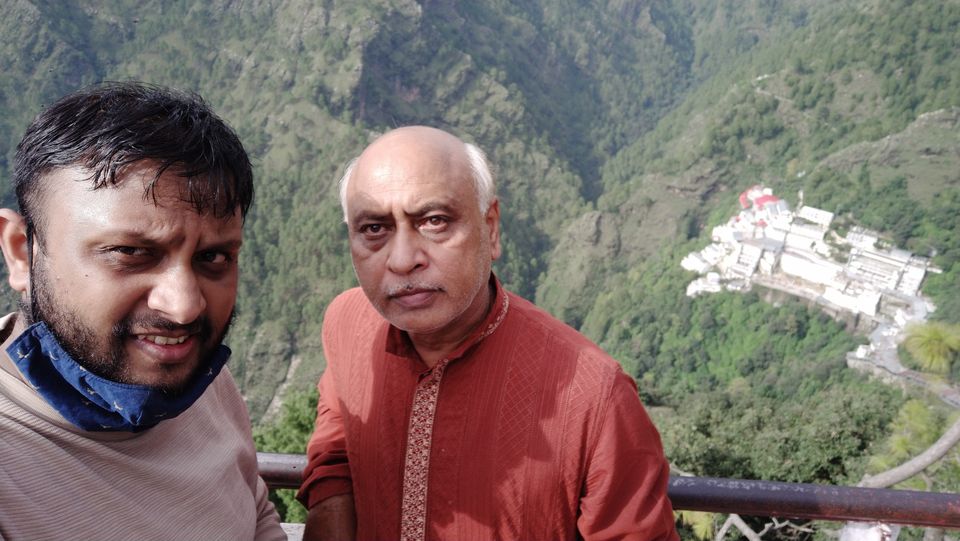 In July 2021, I had planned a short yet budget visit to Vaishno Devi shrine for the month of August. Initially it was a solo trip as I wanted to explore that how one can pay his/her visit to the shrine in lowest budget possible, however not compromising with comfort.
My plan finally worked out with my father Mr. Sanjeev Kumar Gupta, who wanted to go with me after my younger brother denied due to his exams.
Since, we went to Vaishno Devi during a long weekend, 28th August (Saturday), 29th August (Sunday) and 30th August (Monday – Janmashtami), we witnessed a huge crowd, right from Katra to Bhawan.
So how I planned my trip?
Firstly I figured out the options that I have to make my trip a low budget trip. I planned to travel in sleeper class train, decided to stay in dormitories instead of hotel.
Since, August is a summer month, it would be hard to travel in day due to heat. I searched for a train that completes its journey to Katra in the night hours, but couldn't find any. Then I found 02265 Jammu Duronto Express which departs at 10:20 pm from Delhi Sarai Rohilla and reach Jammu at 7:15 am – approx. 9 hours journey. Jammu Rajdhani takes approx. 8 hrs 30 minutes and Vande Bharat upto Katra takes 8 hours, but both were out of my budget.
Since Duronto is a premium train, the fare of such trains increase by 10% with every 10% berths sold. I booked two sleeper class tickets at ₹1080 i.e. ₹560 per person for August 27 (Day 0). However, there are other cheap options also available like trains with chair class, or the trains with much longer routes. So, after winding up my office work at 6 pm, me and my father booked a cab from Laxminagar, Delhi to Sarai Rohilla railway station, which is about 14 kilometres.
P.S I have always loved train journeys.
DAY 1 (28th August 2021)
This train had only one stoppage at Jalandhar Cantt (apart from technical stoppages). Upon reaching Jammu at 7 AM, we had a cup of tea (₹10 per cup) and boarded bus to Katra from the bus stand just outside the Jammu Railway station.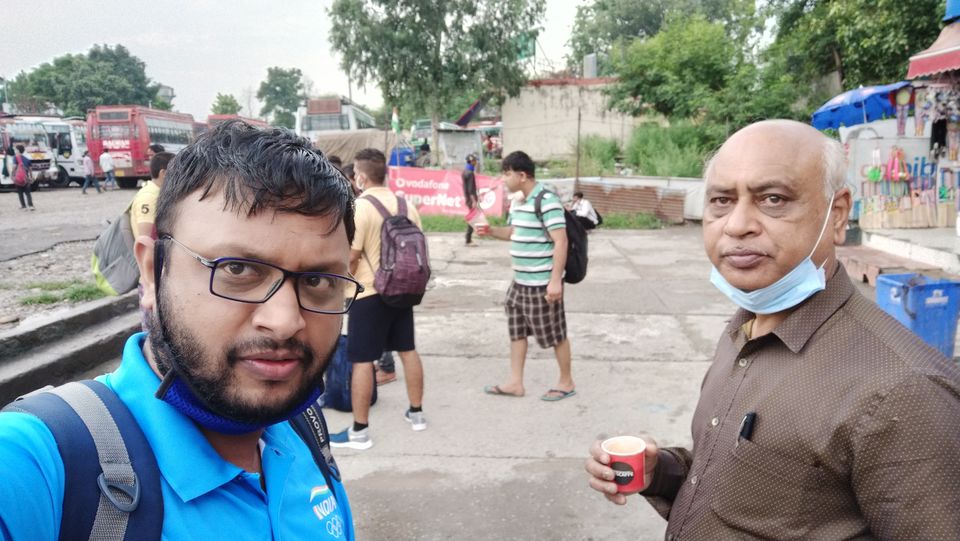 At the station, I had to undergo a mandatory rapid-antigen test but my father was allowed to proceed since he was fully vaccinated.
Tip: Always carry a postpaid sim card or purchase a new number when you reach J&K since prepaid numbers of outside J&K won't work there.
The bus fare ranges from ₹70 to ₹120, depending on the type of service (AC/ Non AC/ Government). We took a private Non AC bus whose fare was ₹100 per person and it took 1.5 hours from Jammu to reach Katra. The train takes 2-3 hours.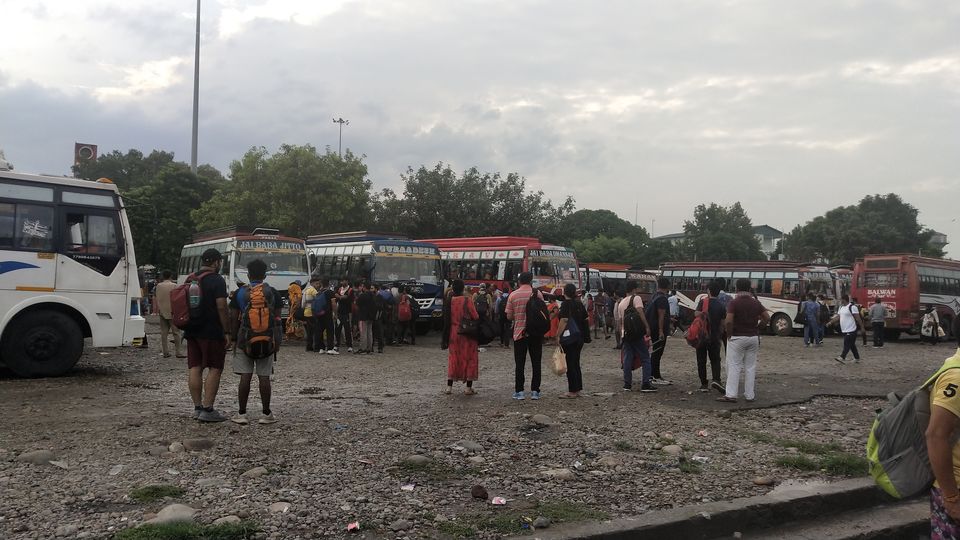 Bus journey through the mountains has its own fun. We were mesmerised by that first glimpse of Trikuta Parvat when we were about to reach Katra.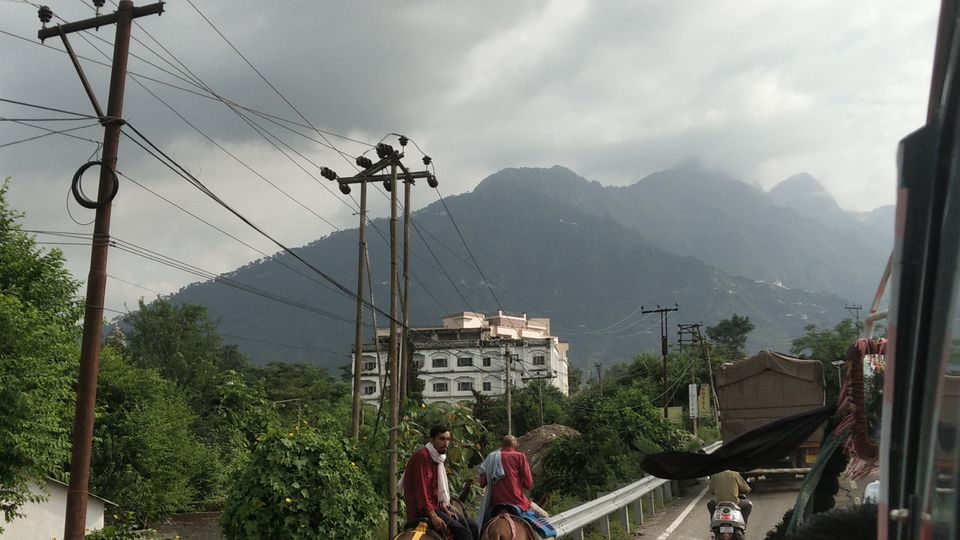 By 9:30 AM we were in Katra. We had our breakfast ₹40 and made a phonecall to our family from a PCO since there were no signals. We then took an Auto ₹100 to reach Trikuta Bhawan.
Instead of staying in a hotel, I chose to spend my time in Vaishno Devi Shrine Board dormitory. I had booked two AC beds at Trikuta Bhawan, Katra through the official website https://www.maavaishnodevi.org/
The charges were ₹150 per bed and we stayed there till the evening on that day, since we had planned to start the trek in the evening, considering the heat during the day time.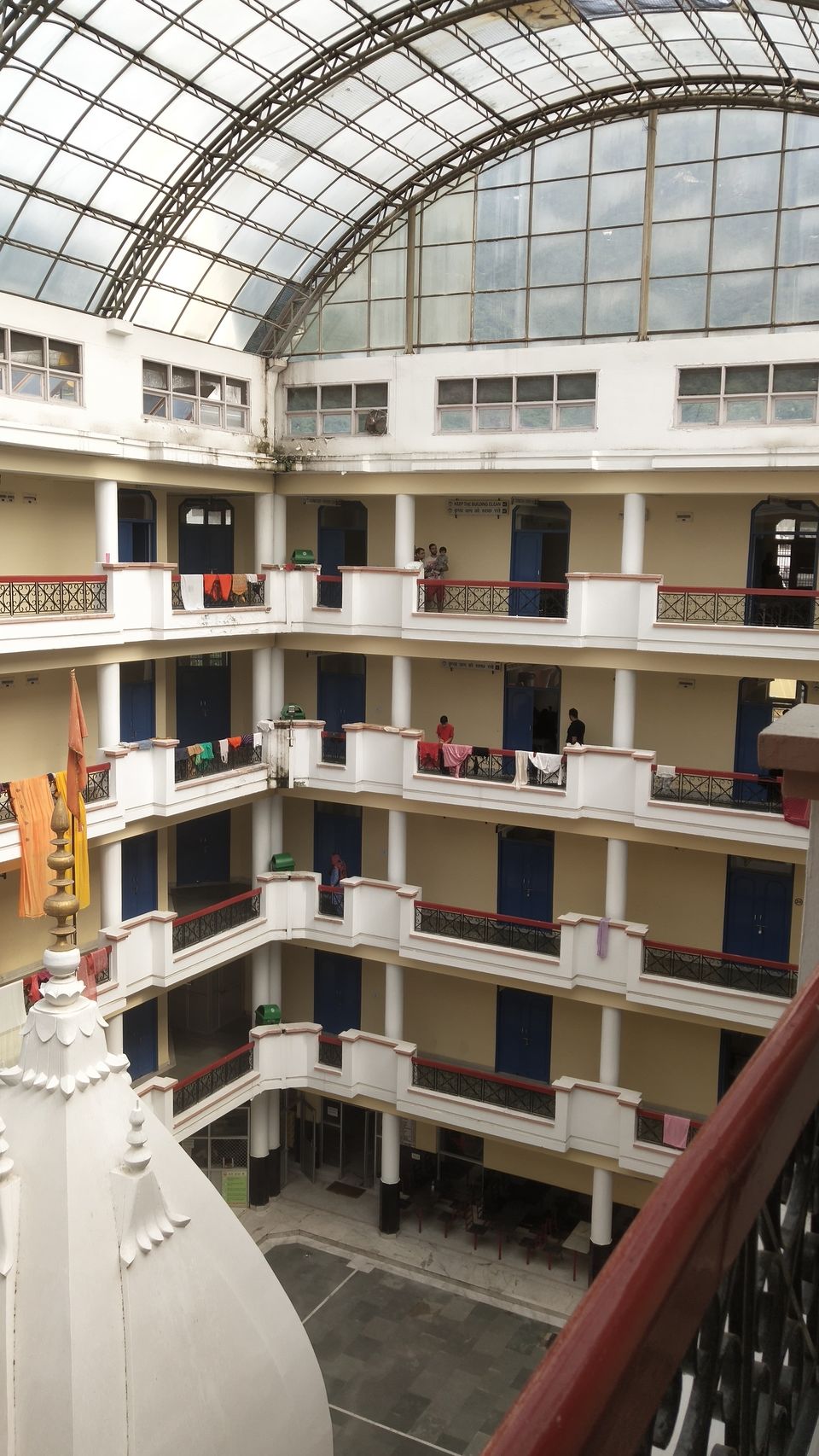 If you are planning a budget trip, then I would highly recommend that you stay at Triukta Bhawan. Yes, you'll be sharing rooms, washrooms with different people, you might also have hygiene issues, but you'll be happy when you see that people from all walks of life come to stay there. It is a four-storey building with a temple in its centre courtyard. It has also a shrine board authorized canteen where you can have Rajma chawal, Kadhi chawal, etc. at a very reasonable rate of ₹40 per plate. I can assure you that you'll not be disappointed if you chose to stay here anytime. The check-in check-out time here is 10 AM.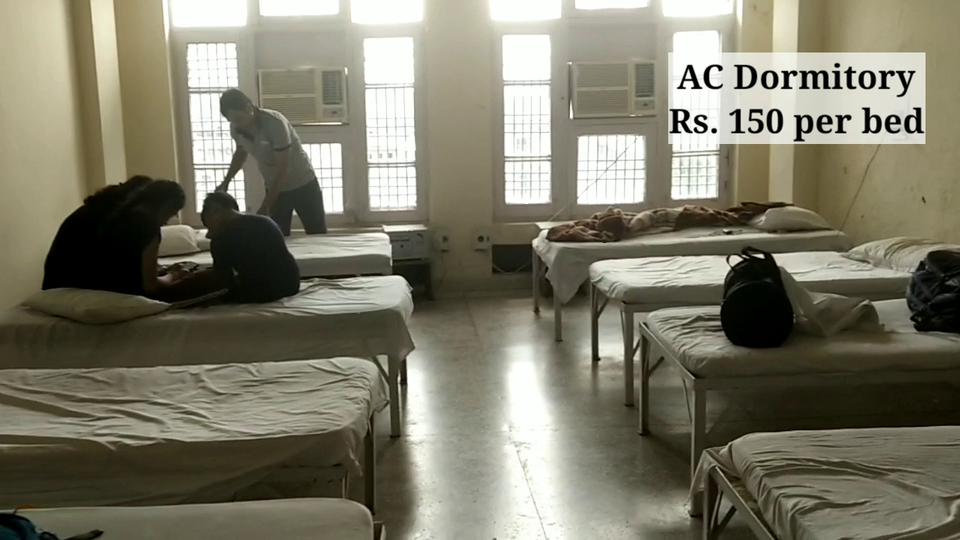 Trikuta Bhawan also provides the facility of free cloak rooms only for people who have bookings there. So, we had our lunch, explored the market nearby and rested till the evening.
At 6:30 pm, we checked out from the dormitory with two backpacks and leaving our luggage in the cloak room. To reach the first checkpoint at Darshani Darwaza or Banganga, you need to hire an auto. The approx. fare is ₹150 for full auto.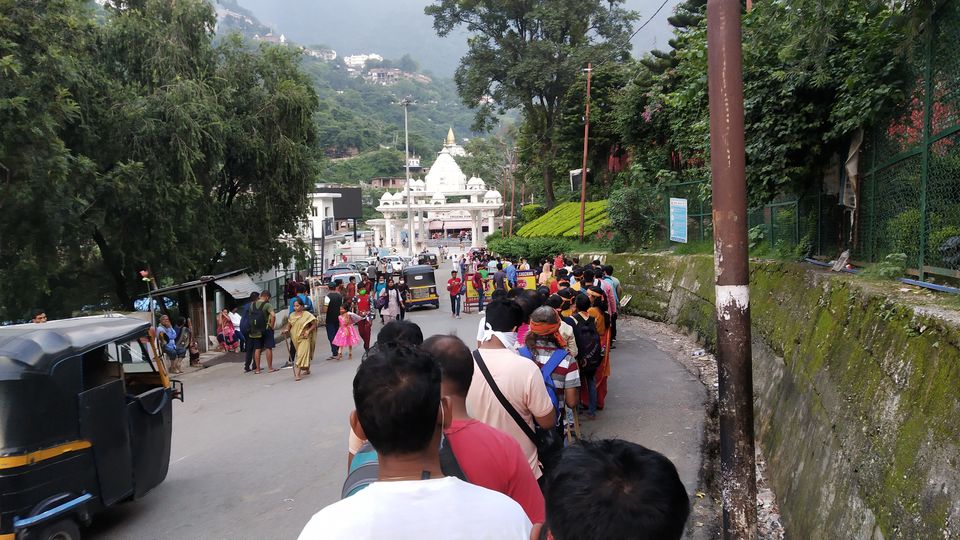 There was a big queue at Darshani Darwaza and it took almost an hour to reach the checkpoint where your yatra parchi is checked.
Tip: Do not carry binoculars or you'll have to keep it at a nearby cloak room and collect the same after returning back.
And now the 14 kilometre trek begins….the time was around 7:30 pm. Since my father was tired, we had to hire two ponies at ₹300 per horse upto Adhkuwari.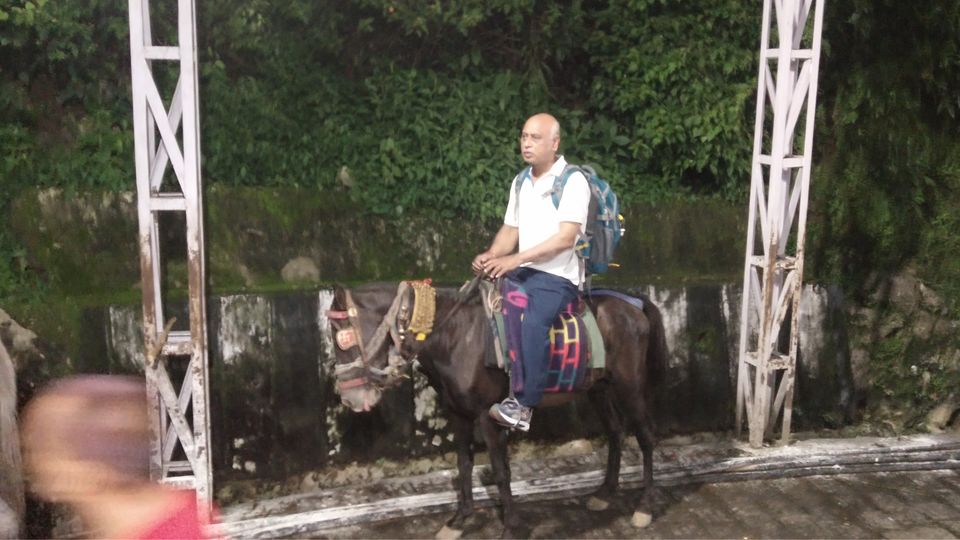 Tip: If you want to hire a pony, palki etc, always book the same through the prepaid counters to avoid being overcharged.
Tip: Keep water bottle and something light to eat handy during the trek. Also try keep your backpack light in weight. Do check weather conditions, and decide whether you should take raincoat or umbrella or not.
We reached Adhkuwari at around 8:45 pm. There we had our dinner in a dhaba. There are shrine board authorized food courts as well, but to avoid crowd and to eat something different, we chose to eat at dhaba.
We ordered a ₹100 thali and a ₹70 masala dosa which was not that good in taste, but decent enough to satisfy our hunger. After that we chose to have gulab jamun for ₹20 per plate.
Since I am a foodie, I could not control myself much eating in budget.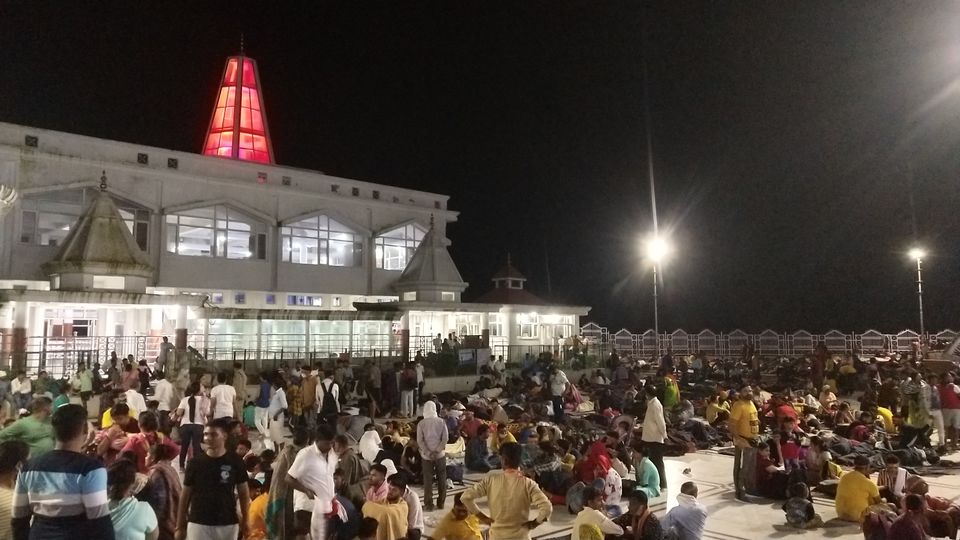 After the dinner, we felt tired and chose to stay in a dormitory again for the night and continue the trek early next morning.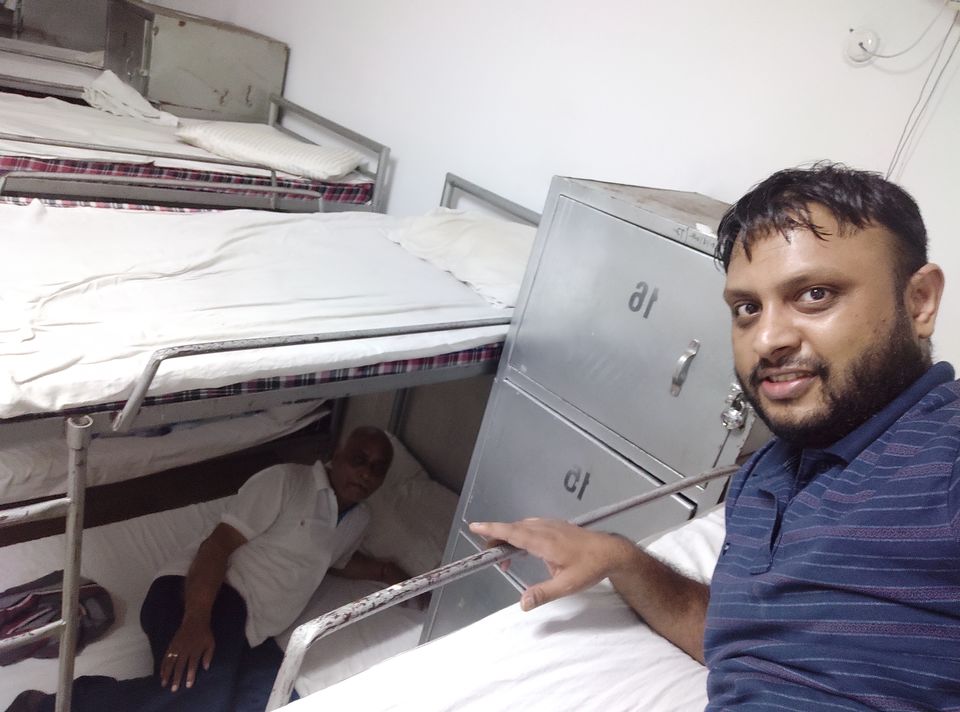 We booked two non ac beds at Shailpuri Bhawan in Adhkuwari at ₹120 per bed, which was again decent enough to stay with nice surroundings. This was not planned initially.

We also brought our parchis to enter Garbhjoon cave at Adhkuwari temple. Our group number was 590 and we had a 24-hour waiting before our turn comes.
DAY 2 (29th August 2021)
In the morning at 4:30 pm, we continued our trek towards the bhawan, this time walking. Due to an empty stomach, I was having some issues during the trek.
After reaching bhawan, first thing we had to do was to take bath. There's a tradition that devotees who visit Vaishno Devi, must take a bath before entering the main temple. Since there it was very crowded, it was little difficult for us to place our luggage on the floor and go for the bath in that spine chilling icy cold water. But only after a minute, you'll feel comfortable. There's a common bath room for men and a separate bathing area for women.
Tip: There are battery operated vehicles running from Adhkuwari to Bhawan. You may also book your tickets for the same on the spot.
After the bath, we needed to put our backpacks, including our shoes, leather belts, camera, mobile in free lockers. But we waited for atleast 2.5 hours in the queue before we could keep our things in locker. If you want, you can also purchase Bhaint Prasad from Shrine Board counters at different prices. I do not remember all, but I purchased the one which costed ₹70. Then, we joined another queue and waited for another 2.5 hours (approx.) to visit the main temple. It was frustrating at times but we had some good conversations with strangers all this time.
Tip: Do not wear shorts, wear jeans, trousers or pyjamas to visit the main temple.
After darshan, we had our lunch – Rajma chawal and Kadhi chawal at ₹40 per plate.
There's one another tradition that after paying your visit at Vaishno Devi temple, one also needs to pay a visit to Bhairo Mandir, located on the top of Trikuta Parvat, a two-kilometre steep trek from Bhawan. You can either choose to walk, hire a pony or purchase a ropeway ticket at ₹100 per person (return fare).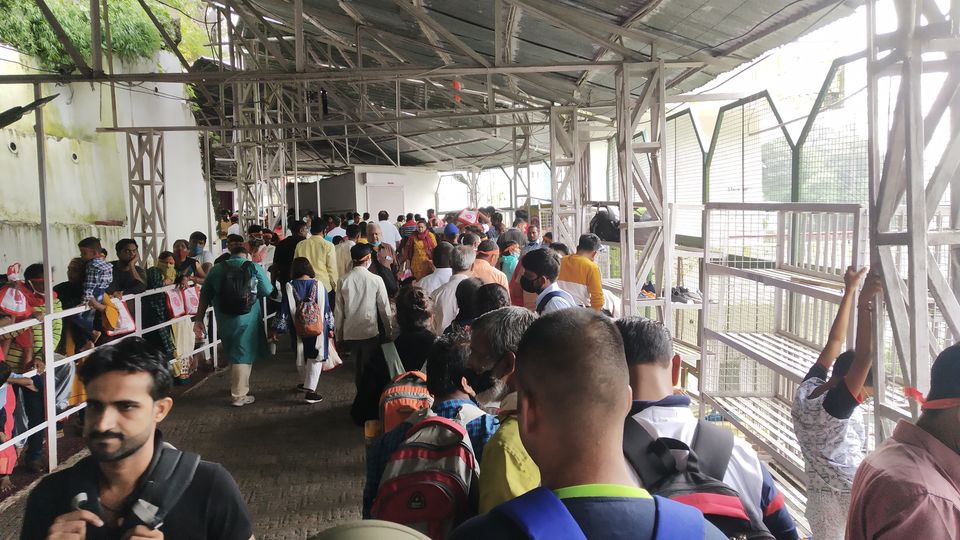 But even to purchase that ticket, we waited for another 2 hours, since it was a long queue and there was some VIP movement as well. It was my first time to Vaishno Devi since the ropeway system was launched, and therefore I wanted to go to Bhairon Mandir through ropeway only.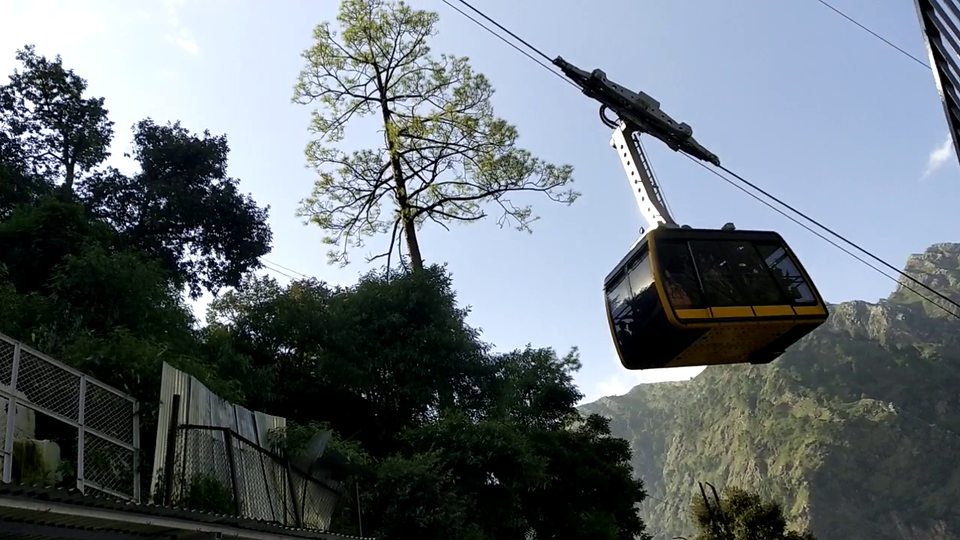 It was a two-minute ride and after visiting Bhairon Mandir, clicking some pictures, we came back down to Bhawan and began our trek back to Adhkuwari.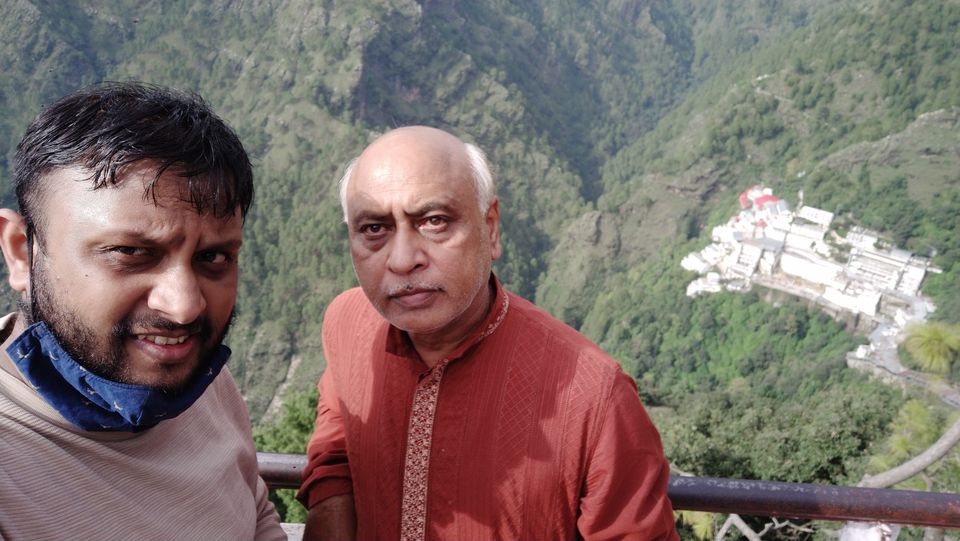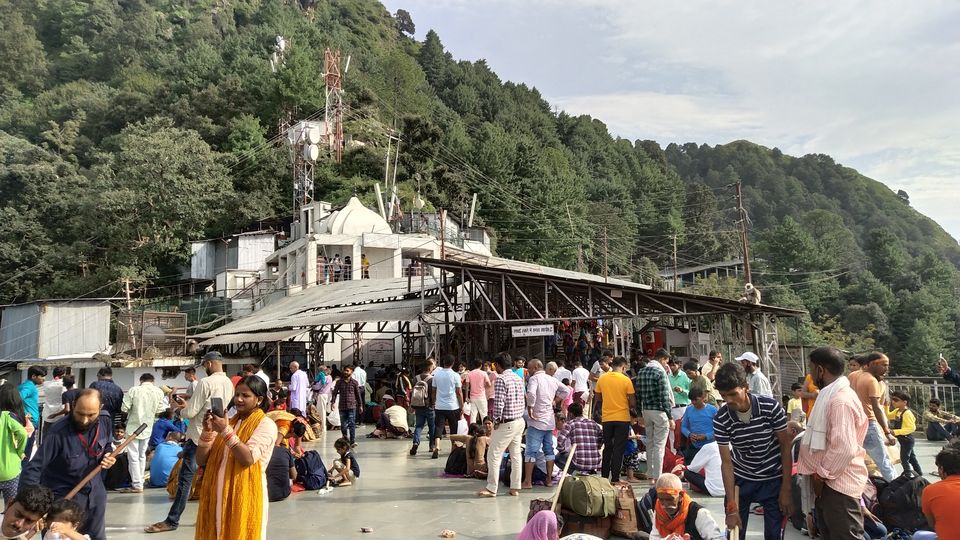 We stopped midway to have a tea and capture the beautiful Bhawan engulfed in the clouds.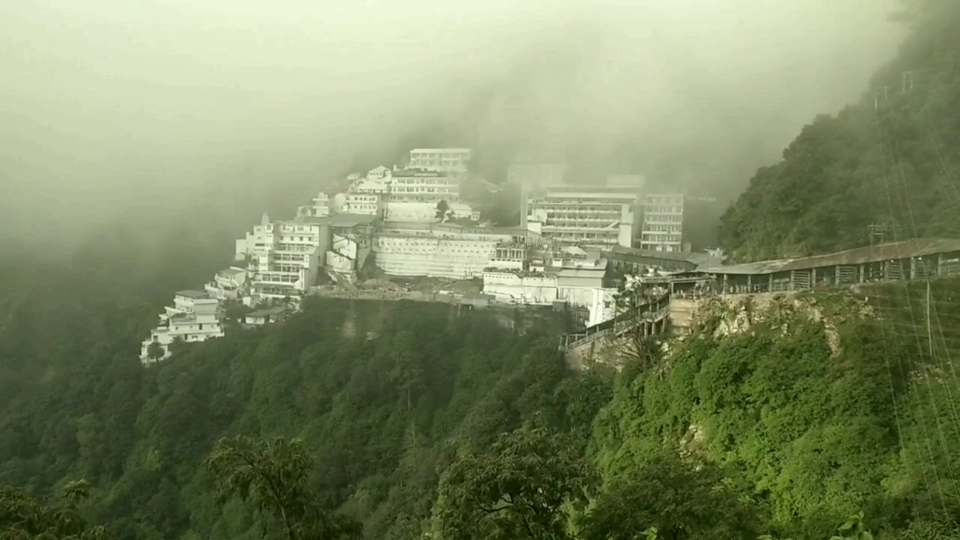 We started descending at around 5 PM and reached Adhkuwari by 8 PM.
We had our dinner at Sagar Ratna, Adhkuwari, Fried Rice Manchurian (without onion and garlic) and Gulab Jamun, which costed us ₹140.
We had our dormitory booking at Shailputri Bhawan again (₹120 per bed). We stayed for the night and waited for turn to enter Garbhjoon cave.
Tip: You are not allowed to take carry anything in your pocket except some cash if you want while entering the Garbhjoon cave. It's a very narrow cave and if you are scared of closed spaces, you must avoid the same.
DAY 3 (30th August 2021)
After the Garbhjoon, we returned back to our dormitory bed at around 3:45 AM and slept through the night.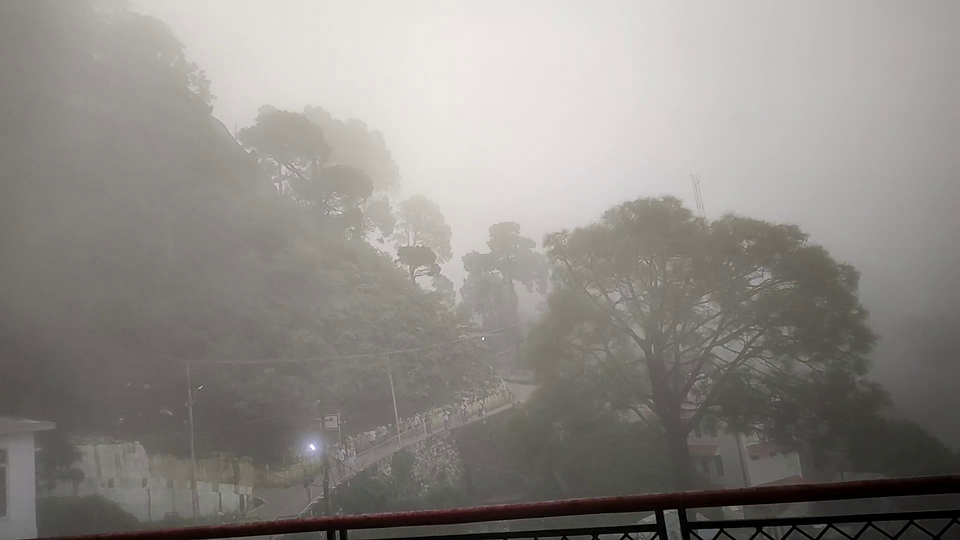 We started our descent back to Katra at 8 am after having tea and some snacks. Meanwhile on the way downwards, we had some chaat (₹30), sugarcane juice (₹50).
While on our way to Katra, we rested at Bathing Ghat, Banganga and sat alongside the river, enjoying the music of nature.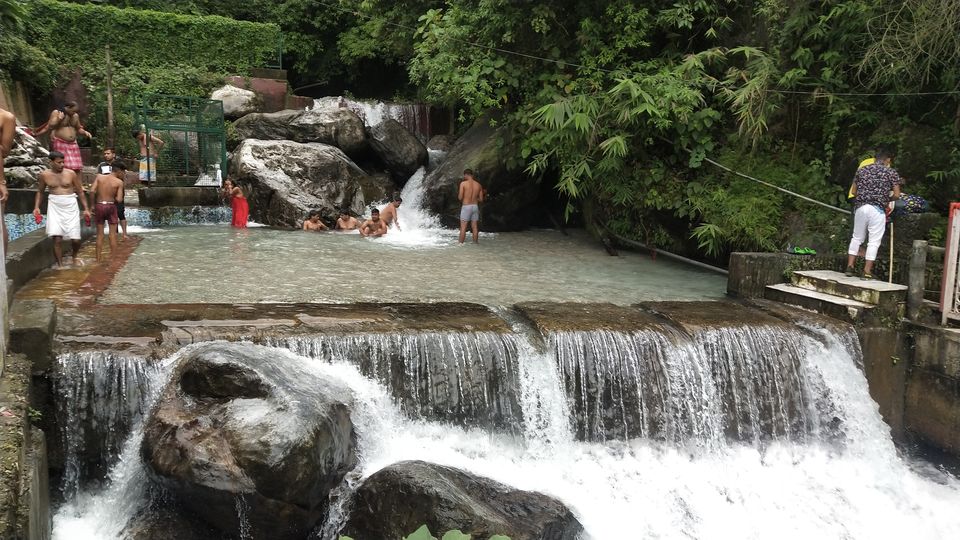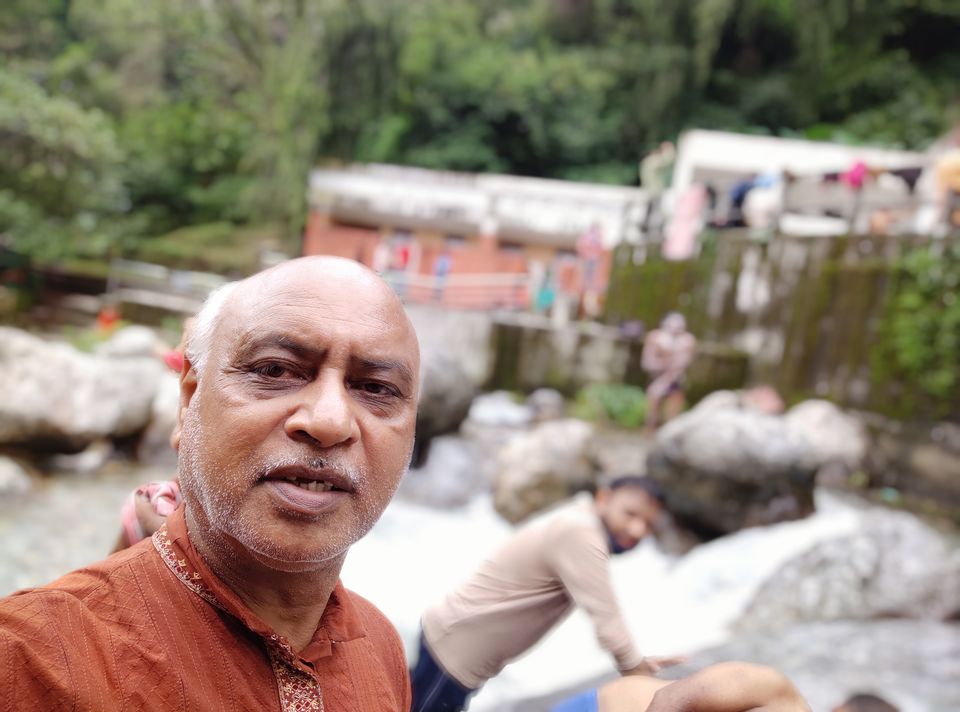 We reached Katra at around 11 AM, thanks to the stairs on the way we took, that cut our time.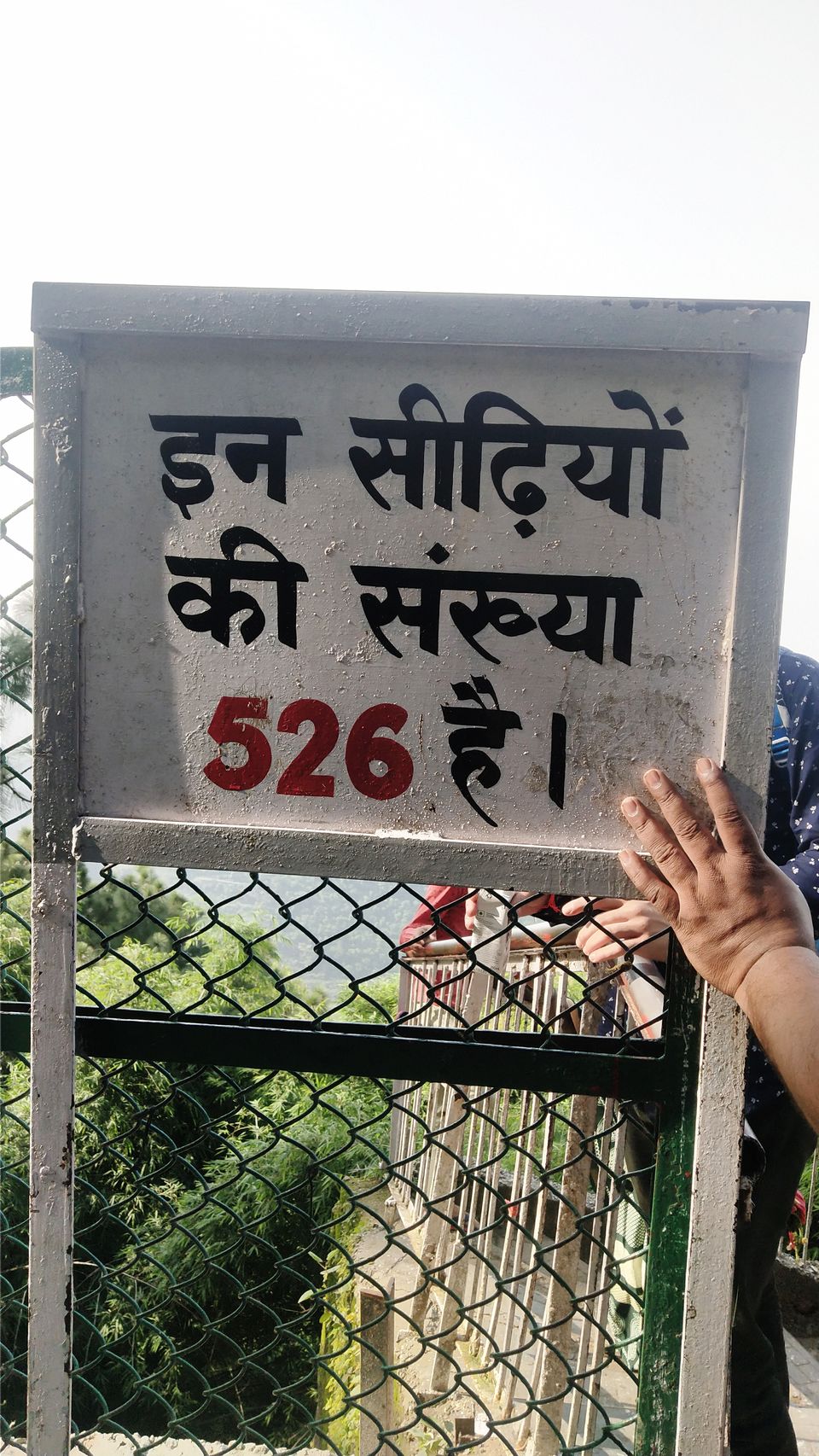 Tip: Using stairs might cut your trek time both while ascending and descending, but they may be very tiring compared to the regular route. Take regular breaks.
Since we were tired and our train to Delhi was at 7 PM on that day, we decided to book another two AC dormitory beds at Trikuta Bhawan, Katra. We had lunch ₹90, freshened up, took a nap and left for Katra bus stand.
We took J&K Government bus to Jammu. Its fare was ₹71 per person. You can also go for private buses.
We waited for a couple of hours at Jammu railway station to board our train. In the meantime, we had lassi (₹50 per glass) and packed our dinner for ₹140.
Finally, we left Jammu to Delhi: 02266 Duronto Express (Fare ₹490 per head). We reached Delhi at 4 AM on 31st August 2021.
And this is how our short yet memorable trip was ended where we spent approx. ₹3000 per person including the train fares, local conveyance, dormitories, Prasad, snacks, lunch and dinners, provided that my budget increased due to some changes in the plan. You can plan your trip cheaper than this if you just stick to your original plan.
Even though my trip didn't went exactly I wanted it to be, but it was my first trip with my father alone anywhere, and that's the reason I will never regret that it didn't go well the way I initially planned.
I hope you liked my words, and feel free to correct me where I may be wrong. Thanks!
https://youtu.be/J5CokCuLiZo