Born and brought up in the city of dreams for more than 24 years, it's always a nightmare when you get to know that you will have to work in Chennai. I was always a bit skeptic about this place like every other north Indian (rather non South Indian) but travelling to various places in the south has somewhat changed my perception. In the city with seasons - hot, hotter and hottest, it's almost been 6 months now where I managed to make multiple low-budget trips.
1. Pondicherry
The french town is just a few kilometers above 100 from my residence. Board a Tamil Nadu State Transport bus which costs around INR 70 from Chenagalpattu to reach "Pondy", as the locals call it. We get an amazing homestay, which was a bit heavy on the pocket but was worth it. A home styled with antiques, we spend INR 3000 for two bedrooms and hall and kitchen. Not to forget the beautiful backyard where one can enjoy their evening beer.
Hire a bike for INR 250 and roam in the city. Homestay contact : Mohan, La Maison Blanche.
Places to go: Auroville, Oussudu lake for a quite evening (apparently Taalash movie scenes were shot here) , Serenity beach, Paradise beach (crowded), Promenade.
There are plenty of cafes in the town which one can google. Do not miss the french breakfast at Hot Breads !!
2. Mahabalipuram
A UNESCO heritage site, Mahabali is a must visit for people who love ruins. State transport bus took INR 35 from Chengalpattu to reach here. Spend a laid back weekend watching sunrise on the beach along the Shore Temple and stroll around a small group of monuments like the five rathas, Krishna's butter ball, Arjuna's penance. Evenings can be spoilt at one amongst many cafes around. We chose to visit the Madras crocodile bank in the evening which has a night safari for INR 200 per head which was totally worth it !!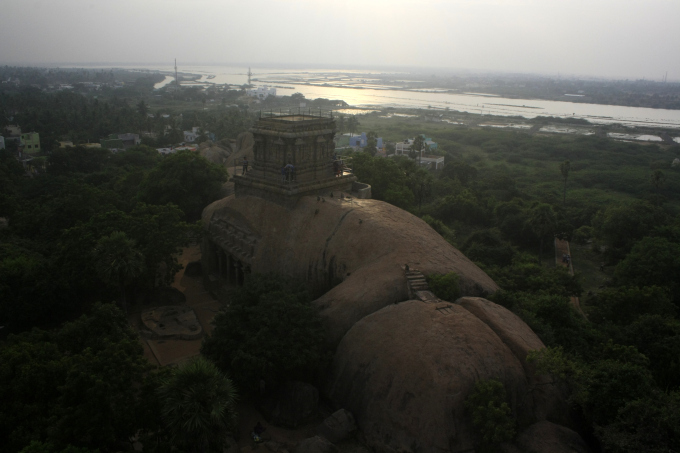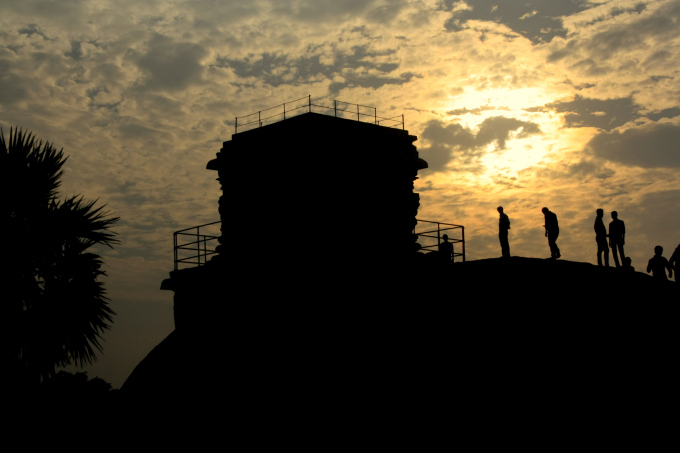 3. Kodaikanal- Munnar trek
A overnite bus journey takes you to this wonderful hill station famous for shrooms. I went for a trek from Kodaikanal to Munnar orgnized by Youth Hostel Association of India. Do not presume this place to be cold just because it's called a hill station. The days are hot (not hotter than Chennai offcourse), but it starts getting pleasant during evenings. Stay at Greelands youth hostel, close to coakers walk, as the place is pocket friendly and the view from here is something you can keep admiring for hours!!
The trek went on for the next 4 days, camping at surprisingly amazing places in the forests like Vellagavi, Kurangini, Central station and Top station, until we reach Munnar.
Famous for tea estates, Munnar is a hill station which actually gets cold. Stayed here just for a day after the Kodai- Munnar trek enjoying the pleasant weather with a cup of tea and strolls on the local village. Soon to explore more of Munnar and Thekkedy!!
4. Fort Cochin- Alleppey
After the long Kodai - Munnar trek, we learn about this small Jew town called fort Cochin. Buses from Munnar are available for Cochin. From Cochin one can board a local bus to Fort Cochin. We were lucky to find a hostel (Hostel by the Sea) at INR 500 per bed during the new years weekend. Walking down the lanes, one can see a lot of spice shops and traders whose origin may be traced down to the history of Malabari Jews being very prosperous in the spice trade. There is a functional synagogue in the Jew town which was shut by the time we reached. Please check the timings before going.
Needless to describe Allepppey which is all so popular for its beautiful backwaters. Do not get looted by the shikara rides which costs around INR 800- 1000. Instead there is a Kerala state transport ferry office just where the boat rides start. I managed to get a 2 hrs long backwater ride just for INR 18. The still backwaters boat ride is something all should experience if in Kerala.
5. Ginjee Fort - Alamparai Fort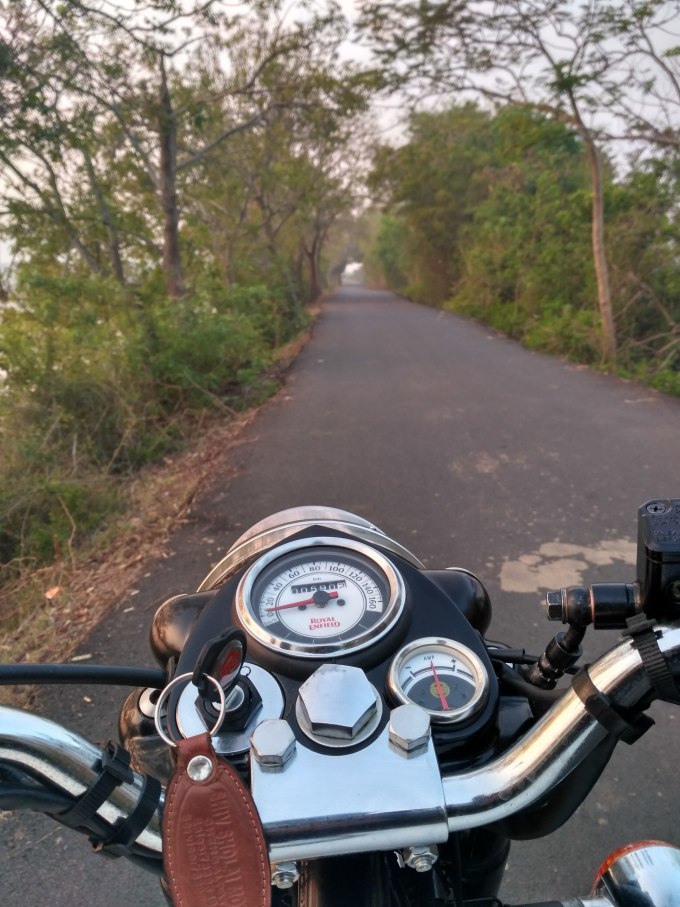 These two forts are around 75 kms apart. A bike trip to the ruins of Alamparai fort along the East coast road is a great experience early in the morning. A not so famous destination, this place offers the perfect tranquil during early mornings or late evenings with a shallow backwater coast along the fort.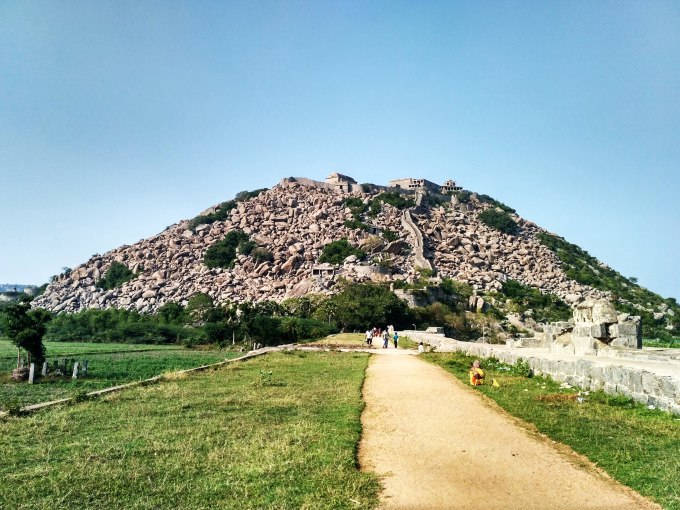 Gingee fort is a set of 3 citadels namely Rajagiri, Krishnagiri and Chandrayandurg. A small but steep stairway leads to the fort. Check the fort timings before dropping in as the entry closes by around 1630 hrs. A perfect place to relax watching the sunset in the backdrop. Beware of the monkeys here as they are way too aggressive. Carry a stick before you start your hike.
6. Hampi
This wonderful lost city was one of my best trips of south India.The ruins of the Vijayanagar Empire takes you back to pages of history.After catching up with a friend in Bangalore we board a overnite bus for Hospet. Use the local bus to reach Hampi after reaching Hospet and do not be bluffed by the autos. It was difficult to get a cottage due to the long weekend but we somehow managed to get a tent for INR 250 per head.
The side of the river where the bus stand is, has most of the monuments, whereas the other side of the river has Anjani hills and a few more temples which are not so famous and thus very peaceful. I recommend to explore the other side of the river and also to stay there as it has got a vibe and a lot of cafes to hangout till late evenings.
This side of River - Virupaksha temple, Vithalla temple, Matanga hills, many monuments you can find on google. Do not miss the sunset from a small hill near Virupaksha just near the bus stand.
Places to visit: Other side of river - Anjani hills, Sanapur lake, small temples around.Do not miss the sunset from Anjani hills.
7. Nandi Hills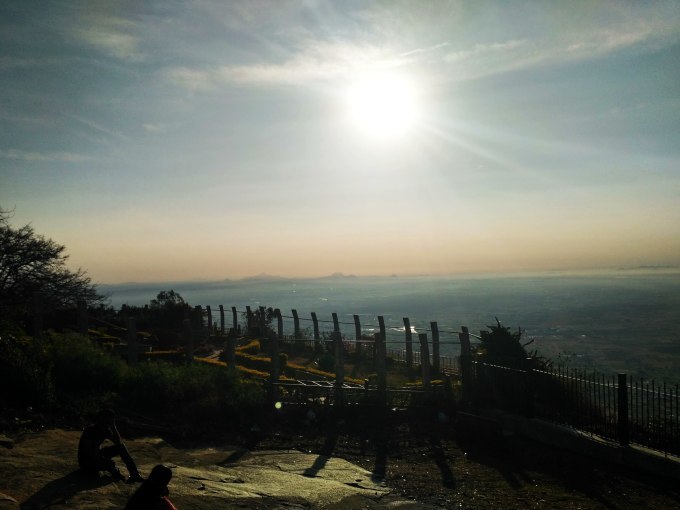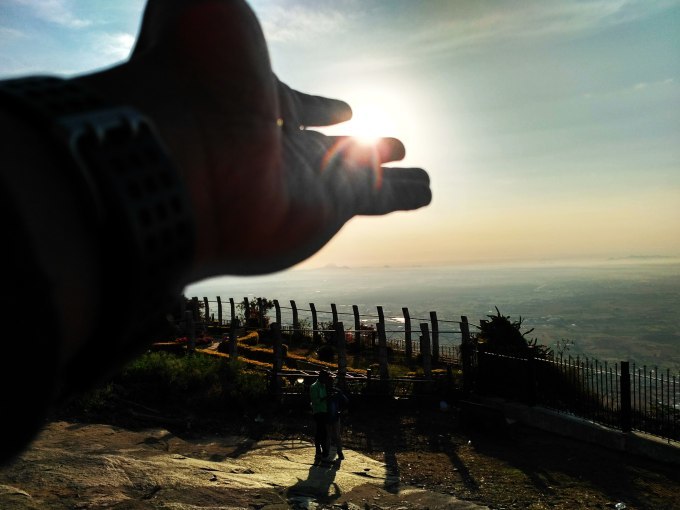 This was a different kind of trip as I rode on my Enfield up to Bangalore and from there we set to see the sunrise at Nandi hills. A wonderful weekend getaway, but spoiled by a lot of crowd during the weekends. Nandi hills has got one of the best sunrise views. Must visit if you are anywhere near Banglore.
8. Tada falls
A 140 kms bike ride from my place, Tada falls is a nice getaway from the heat of Chennai to drench yourselves in the cold waters of the falls. More than the falls, the stored waters between the rock ridges is something to look out for.
9 . Pichavaram
Considered to be the third largest mangrove forest in the world, Pichavaram should be on your list if you are around Chennai or Pondicherry. A boat tide of 2 hours takes you deep into the mangroves, and keeps you astound by the beauty of this ecosystem. Not to miss the famous Natraja temple in Chidambaram just around 10 kms from here. I missed it but would like to catch up very soon.
10. Rameswaram
Highlights of the place are the Pamban bridge, Dhanushkodi, Rameswaram temple
One of the char dhamas, this small town has got a lot of stories to tell. Right from times of Ramayana , the 1960 cyclone which left the entire town in ruins,to the late president of India Dr. Kalam. Reach by train here to witness the scary Pamban bridge just a few feet above the sea. Save money on stay by using the temple run guest houses right in front of the temple for INR 500 per room.
Dhanushkodi meaning the end of the bow, is a strip of road with blue oceans on both side. The strong waves on one side and the silent waters on other switches sides every six months due to the change in wind directions.
11. Thanjavur
The capital city of the Chola empire, this place has got a very rich history and culture. One can get a descent lodge near the new bus stand. From here the state transport bus no 74 takes you to the Big Temple as they call it here (Breehadehwarar temple). This mighty temple is probably the biggest I have ever witnessed. Relax in the courtyards for there wont be a count of the amount of time one can spend inside.
P.S - Some of the future trips I have planned would be Kanyakumari, Munnar - Thekkady bike ride, Sri Lanka, Andaman & Nicobar islands. Please feel free to suggest any off beat places around Chennai.
While in college, we always wonder about places to visit and explore before our empty pockets limit us. When working, we tend to fall prey to the ever ending cycle of earn - spend - earn. It's not about how much one has earned will count, but the places one has been to and the experiences as result definitely will.!!!
Keep exploring, stay carefree, and live life !!!!