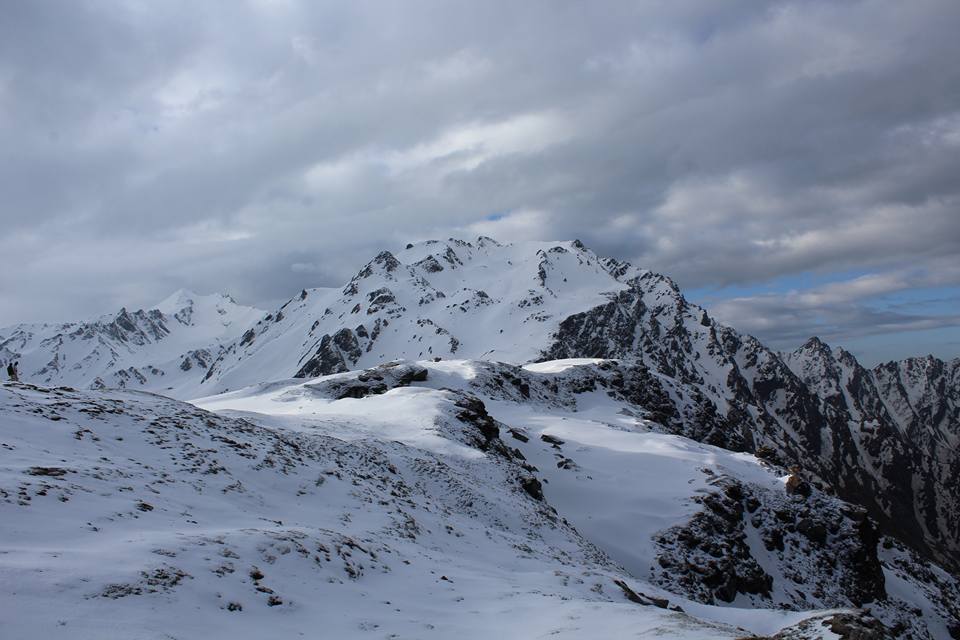 The man on top of the mountain didn't fall there
- Vince Lombardi
What options does one have in this gruelling and sweltering heat than to run away to a cooler destination and embrace the glory of Mother Nature! As most of you city dwellers will agree, May is one of the worst months to stay in Mumbai and most adventure lovers will flock to hill stations across the country to laze around and enjoy the cool breeze and winter-like weather. This, of course, gives folks a chance to pack their warm clothes, which for the most part, remain unused in the financial capital of the country (for reasons clearly known to its residents, tsk tsk!). On the other hand, you find a few fanatics like me who would crave to be above sea level for a few days, enjoy life without cellular connectivity, and rough it out at high altitudes.
I had to ensure that an appropriate trek was selected, as my fiancé was joining me on this one, and this was only her second Himalayan trek. Sar pass seemed to provide the right combination of Himalayan beauty and decent trekking spanning a distance of approximately 50 km over 5 days reaching an altitude of 13,800 ft. As they always say, it's the journey that matters and not the final destination, and when you get to travel with the company of a lifetime, who knows what adventures lie ahead of you. Choosing a trekking group was practically the easiest of all as Renok Adventures is my patented option for all Himalayan treks. As the trekking date approached near, we got to know that a group of 4 folks had unfortunately canceled their registration and it was just the two of us who were enrolled for this batch. We aren't the kind of people to back out of such adventures, once committed, and we were determined to set out and explore this trail and be part of new adventures. Our rucksacks were packed, necessary amenities ticked off our list, and we were ready to rock and roll (well! not literally) as we waited to board our flight to New Delhi on the morning of May 19. Needless to say, the bhukkad in both of us compelled us to enjoy the breakfast buffet at the Kingfisher Good Times restaurant in the terminal. A sumptuous breakfast and few selfies later, we were on-board the Indigo 6E168 to the Capital and in less than 3 hours, greeted by my cousin outside Indira Gandhi International airport.
Damn! It was hot and why not. It's summer, and you're in New Delhi; you're bound to become a black-eyed pea (no offense to the band though). After struggling to book a cab, we finally got an Ola and were on our way to the metro station. Adventure wasn't far behind as we ended up reaching a dead-end or rather dead-ends at one point in our journey as one of the roads (apparently shortcuts) to the metro station seemed to be blocked permanently and our driver didn't seem to know this fact. Well! It wasn't much of an issue as we had ample time on our hands, and our ride resulted in a couple of merry-go-rounds in the vicinity to finally arrive on the main road. We hopped onto the train that would take us to Vidhan Sabha metro station from where we were supposed to board our overnight bus to Bhuntar. This was my first metro ride in the city despite having visited Delhi on multiple occasions in the past for my various trekking adventures. It was fun having to travel in a crowded compartment on a Friday afternoon. Forty minutes later, we were outside Vidhan Sabha metro station wondering how to kill another 75 minutes before our Volvo arrived. My cousin came up with this brilliant idea to travel in the battery-operated, eco-friendly rickshaws to the nearby Delhi University campuses. Again, this was my first such ride and I was excited like a 5-year-old viewing the different buildings that we passed by and recalling some of the Bollywood flicks that were shot in these college campuses. The roads were less crowded, and there were hardly any students, possibly because the examinations were over and they were probably enjoying their summer break. This joyride lasted for 30 minutes, and for a brief moment, I didn't want it to end. It felt like my very own tum-tum, a toy car that I could control anytime I wished. Childish, but true! My cousin was gracious enough to pack us some quick bites for our journey, and so the remaining 45 minutes were spent in eating and chit-chatting. Our Volvo arrived 15 minutes after its scheduled arrival time (which is basically regarded as being punctual by Indian standards) and our 12-hour overnight bus ride to Bhuntar started.
Regardless of whether it's a government non-AC bus or a private Volvo, any bus journey through long winding paths and above-average speed coupled with sharp turns and a formula-one driver is bound to leave you tired and with backaches (in some cases). Bus travels like these can certainly be taxing for the body particularly when you know there's a long day of trekking ahead of you. This explains the importance of preparing oneself mentally more than physically as mental preparation is key to drive the body through the following day as we gain altitude. Enough said, our bus halted for dinner at a dhaba, Haveli, where I dived into a plate of Paneer Lababdar, Boondi Raita, Missi Roti, and Fresh Lime Soda. Well! If you've been following my past write-ups closely, you must have realized how much of a foodie I am. The rest of the journey was pretty much undisturbed, and we were dropped off at the Bhuntar main road around 6:30 AM the following day.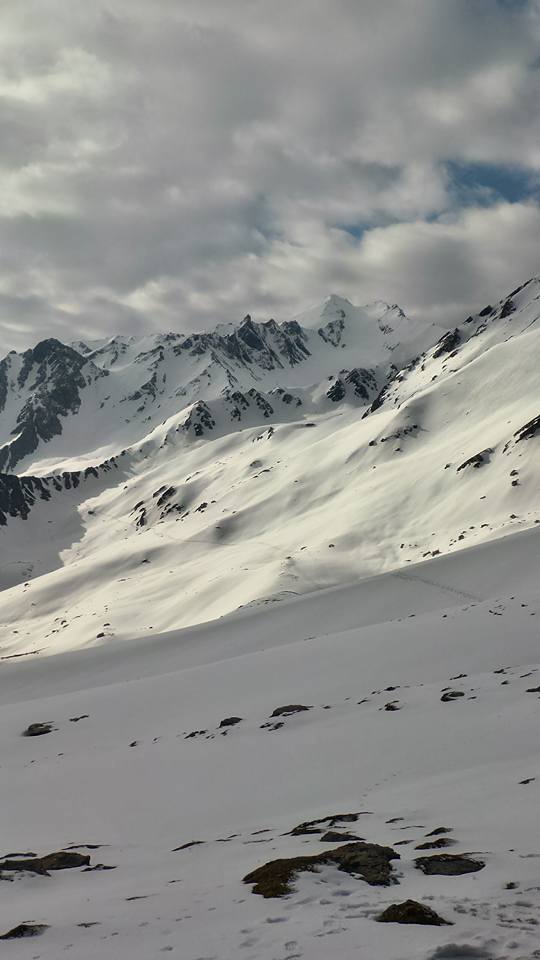 Day 1: The trail beckons - from Bhuntar to Grahan village: The tiring part of almost every Himalayan trek is the travel from any part of the country to the trek starting point. You end up traveling by bus, train, or flight and are in a hurry to freshen up, eat breakfast, and begin your first day of hiking. So, that was the agenda for the next hour or so after which we were driven to our starting point where we met the rest of the group and our guides, Rampal and Yashpal. No! They weren't blood brothers but their names briefly reminded me of the 5-star chocolate advertisement with Ramesh and Suresh, the only difference being the "Pals" were a lot fitter and had shorter hair (tsk tsk!). The customary briefing session was held thereafter following which we started our trek to our first campsite at ~7,500 ft (Grahan village).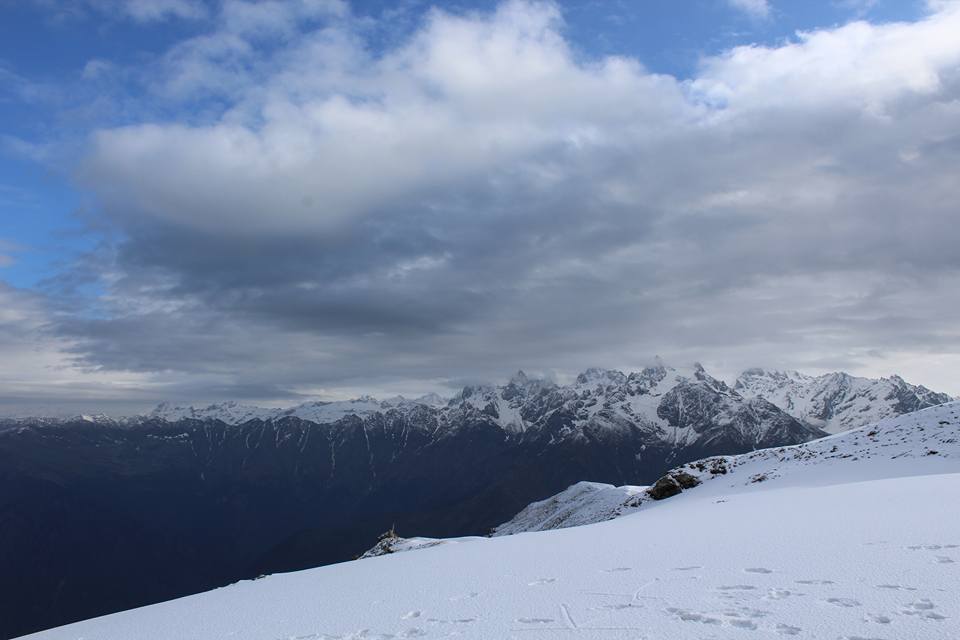 It takes time on the first day to determine the right pace and build endurance within, particularly when you've experienced a long bus journey the previous day and had no proper sleep. The air and the surrounding environment, however, can soon make you forget this temporary fatigue as you look up and see the sun shining brightly, the trees swaying gently in the morning breeze, and hear the soft chirping of the birds in the distance. What adds to this soothing effect is the complete (but not uncomfortable) silence as you make your way through the dense forest trail. Within 30 minutes of walking, your body starts to sweat and you know that the hot chole bhature that was consumed with happiness some time back will soon be out of your system, burnt in the form of calories, and become the fuel for the hours ahead. Too scientific, eh? It may seem so, but it's true and I'm sure people with a high metabolism (like mine) would agree with this concept.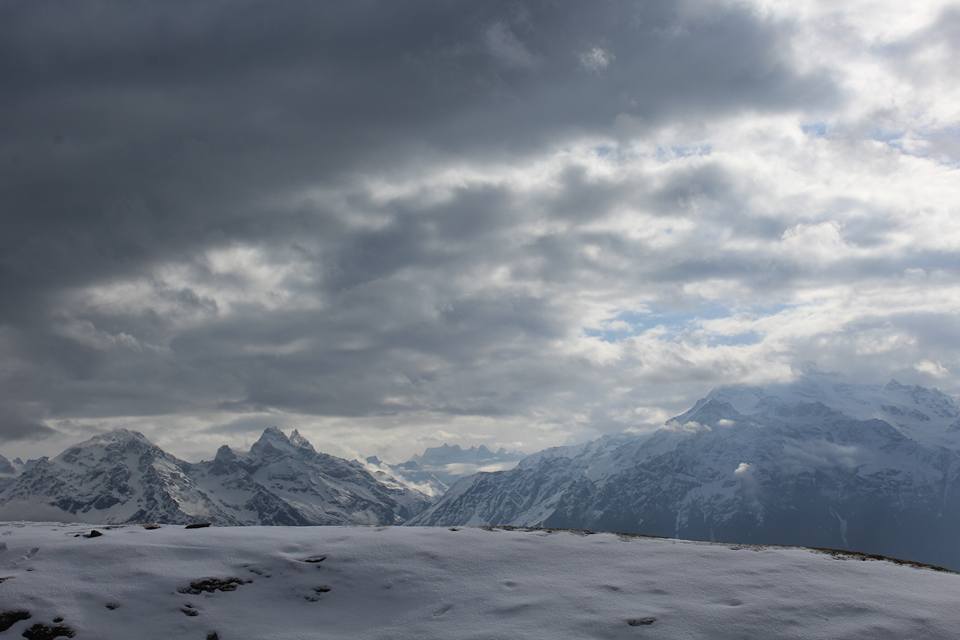 The walk today wasn't very steep and had gradual inclines in a few places and flat ground for the most part. The weather was definitely supportive and that's another motivation to march forward and reach your destination on time. We had our packed lunch on the way and were at our first campsite by approximately 3:00 PM. The sun was playing hide-and-seek by then, and it had started to drizzle. It didn't last long though, and the weather soon cleared allowing time for Shruti to get into DSLR mode and shoot some cool landscape pictures. She also managed to scare a cute little girl who refused to say hello or pose in front of the camera. Well! What can I say? She has that effect on most of the folks around her.
After a hot cup of tea, we watched the sunset and as temperatures began to plummet, we took out our jackets and geared ourselves for the night. Dinner was served at 7:00 PM sharp and included a bowl of rice, daal, sabji, and pickle. For some reason, my diet takes an exponential turn at altitudes and I tend to hog more than usual. I blame it on the high metabolism of my body that compels me to eat as if I am starved. Anyways, we resigned to our tents post supper and prepared ourselves mentally for the next day, which we were told was going to be a steep ascent to cover ~4,500 ft in 5-6 hours to reach our next campsite, Min Thach.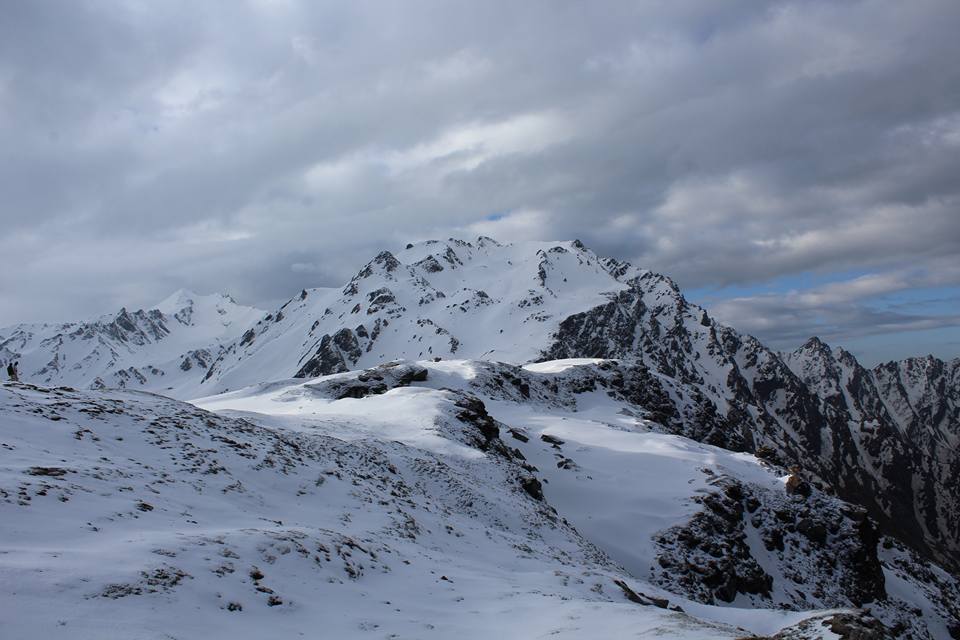 Day 2: Keep climbing! From Grahan village to Min Thach: Thach, thach, thach! This word repeatedly made me think what it could possibly mean. Mountain dictionary has a lot of words with easy definitions, but this was one term that I wasn't aware of. So, one way to "know it all" is to speak to the locals, which forms an important and interesting part of all my mountain travels. On asking one of our cooks, I was told that thach is basically an open space amidst the forest giving clear views of the snow-capped peaks. It serves as the perfect camping site for trekkers. I have to be honest with you that I wasn't quite convinced with this explanation as I observed that the tents were basically grounded on the green meadows (bugyals) as the mountain lore call it, but of course, these weren't far stretched. So, bugyals were out of the question, but I told myself that a thach might be somewhere in between a bugyal and (perhaps) a resting place for trekkers. Nonetheless, as we crossed our fellow trekkers' campsite, the views became clearer and one side of the Pir Panjal range became visible to the naked eye. From what I could understand, heavy snowfall had definitely occurred at higher altitudes in the prior weeks, which meant that rainfall was expected at the current altitude of ~11,300 ft. Having said that, mountain weather is truly unpredictable and one needs a bit of good luck in the process to enjoy Nature's beauty (and hopefully not her fury).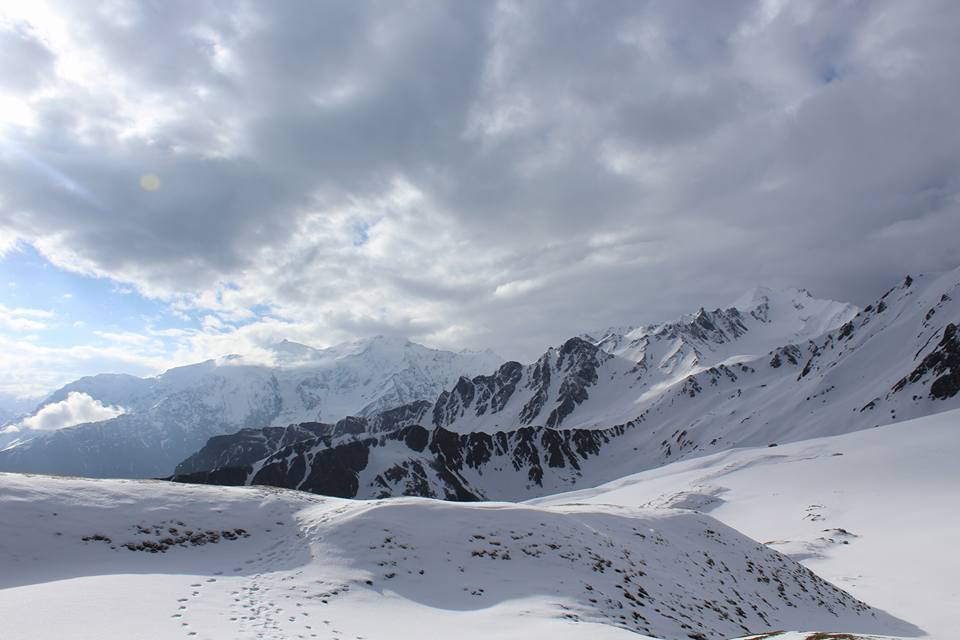 As we reached the point from where we were supposed to ascend towards the base camp for Sar (ie, Nagaru) on the following day, we could see our campsite way below, which meant that we were required to descend after having walked for almost 4 hours. What was even more adventurous was the trail leading to our campsite - oh boy! A trail so narrow and partially rocky that the only person you could trust was yourself and your instincts. It had begun to drizzle, and the patch was slippery (from previous rains) making the descent quite nerve-wracking and exciting. We took our time to carefully come down, holding on tight to the rocks and tightening our grips to ensure we step right. The descent lasted 30 minutes and that is as much duration as the Rain Gods could handle (their pressure) as the rain came down heavily and was accompanied by hail. I kid you not guys but the intensity with which it came down made you realize that it won't end anytime soon. It wasn't my first experience with hail, but Shruti was quite amazed to witness this aspect of Nature. As the hail stones hit the tent hard, I noticed that water had started seeping in through the pores of the solid tent and our rucksacks and sleeping bags were in danger. A small puddle of "mixed goodies" had formed at one corner of the tent where our shoes and trekking poles were kept, and it was slowly entering our territory. So, you can imagine the situation we were in; we needed to determine which area to protect - the corner-space or the main territory which was steadily getting wet with the droplets of water seeping through.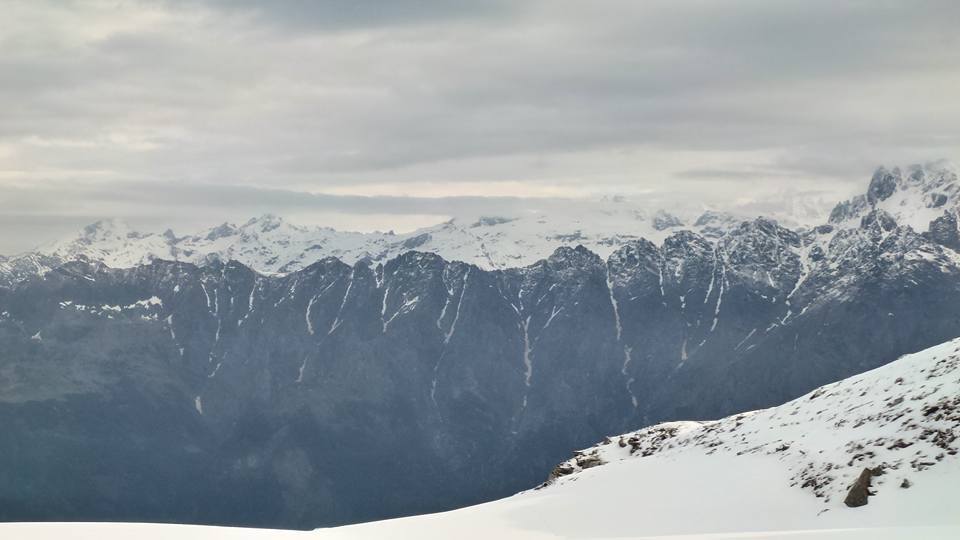 Honestly, I was having an exciting time doing these small chores, while Shruti was fed-up with the rains and wanted it to end. However, the Rain Gods wanted their fair share of fun, and the torrential rain lasted for about 45 minutes. Trust me! It seems like a short time period, but I bet you would have had a completely different opinion and felt that it was pouring (like) forever if you were physically present there. It wasn't even a quarter as romantic as Bollywood movies showcase such rainfall-based mushy-mushy romances to be like. We got our mandatory evening tea once it stopped raining, and "miss intelligence" Shruti gave this bright idea to use the tea cups to collect the "mixed goodies" water and throw it out of the tent. The next 20 minutes were spent in completing this activity although some remnants of this "pure" Himalayan water remained under our shoes. We mutually agreed that this level of hygiene could be manageable for the duration that we were required to spend at that campsite.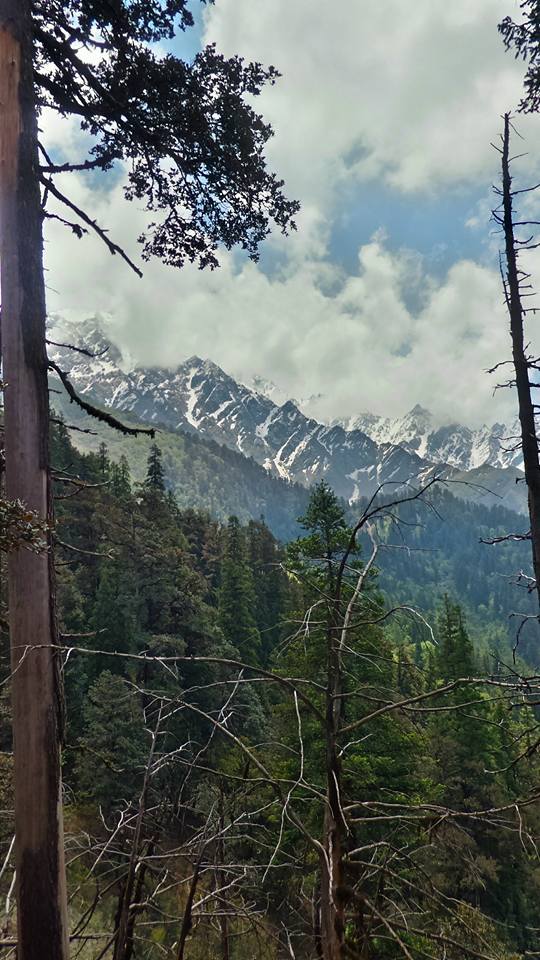 Later that evening, the skies still weren't completely clear, but in order to acclimatize at that altitude, one needed to be in the open and enjoy the mountain weather. We saw our fellow trekkers making their way up the same trail that we had descended some time back; they were en route to their campsite. Temperatures began to plummet as we stared at the peaks in the distance and enjoyed the tranquility that existed around us. We spent the next hour or so in the kitchen tent with our chefs, Madan and Sanjay. Now, this would be most appropriate time to introduce our head chef, Shruti, who made 6 perfectly-shaped chapatis for dinner along with her assistant chef's help. I kid you not, she did an awesome job of making chapatis at 11,300 ft. Not that this was on her bucket list or something, but it seemed like she was enjoying this short stint of displaying her culinary skills. She even received the spontaneous offer of cooking the main course at our next campsite, Nagaru. We had dinner in the kitchen tent and interacted briefly with the cooks, getting to know their stories and experiences with people over time.
Day 3: The shortest day - approaching Nagaru, the base for Sar Pass: After 2 days of solid trekking, the body demands a less strenuous activity, and this was that day. Our goal was to reach Nagaru, the base for Sar Pass, which we were told would take 2-3 hours at average speed. We had our doubts on the weather given the experience we had the previous afternoon, but were treated to bright sunshine. We departed immediately after breakfast, and the first 20 minutes of our day involved ascending the steep gradient that we descended the previous day. We followed the trail towards Nagaru and were at the top by midday. The weather forecast was rapidly changing, and by the time we arrived at the top, it had started to rain again. This time around, it felt colder considering the spike in altitude to ~12,500 ft. Minor headaches had started to creep in, which isn't alarming as such given the terrain and kind of physical exertion we were bearing over the past 2-3 days, but definitely cannot be ignored. The body needs to be constantly hydrated to ensure that it doesn't aggravate, and that is what we planned to do while we sat in the kitchen tent waiting for our guides to pitch our tent.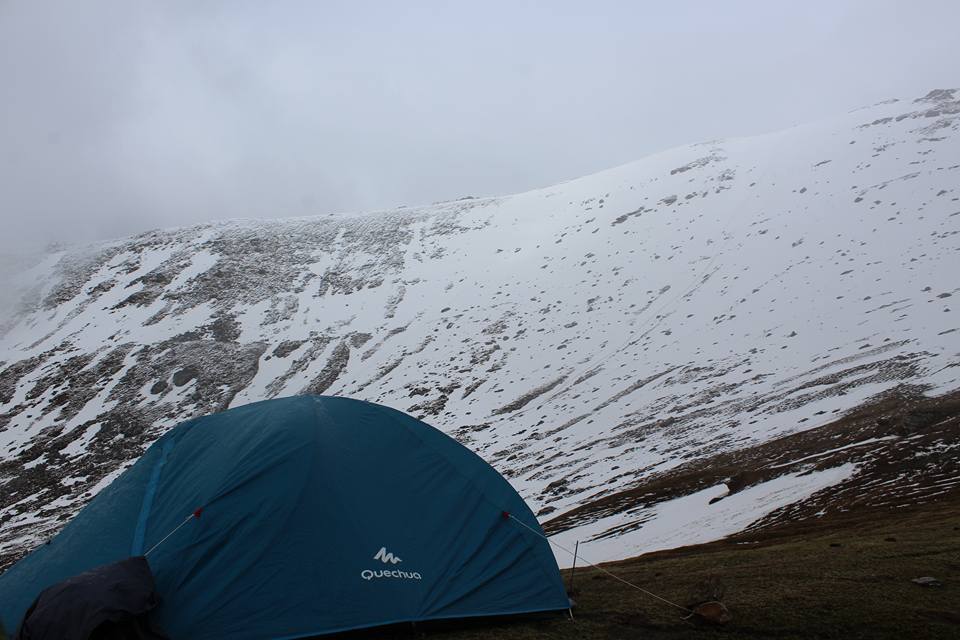 An hour later, the weather was still gloomy, but fortunately, it had stopped raining. As we were hardly 1,000 ft away from the summit, the mountain ranges were a lot closer than one can imagine. Owing to the overcast conditions, the romantic breeze that was brushing against our faces had a soothing effect, and as I stood there soaking in the fresh air, the distant peaks were slowly getting covered by mist making it hard to view the mountain top. The fog passed away in due course, with the sun trying its best to come out from behind the clouds, but its efforts were in vain as the clouds dominated that evening completely. The other trekking group had arrived as well, and their camping ground was visible around a kilometer away from ours, in the valley. I could sense there would be heavy snow at the top given the changing climatic conditions but was hoping to get a clear sky the following morning as that is essentially the day we were all waiting for. We knew it would be an early rise to reach the summit, but like I mentioned earlier, a little bit of good fortune is always required when you're befriending Mother Nature.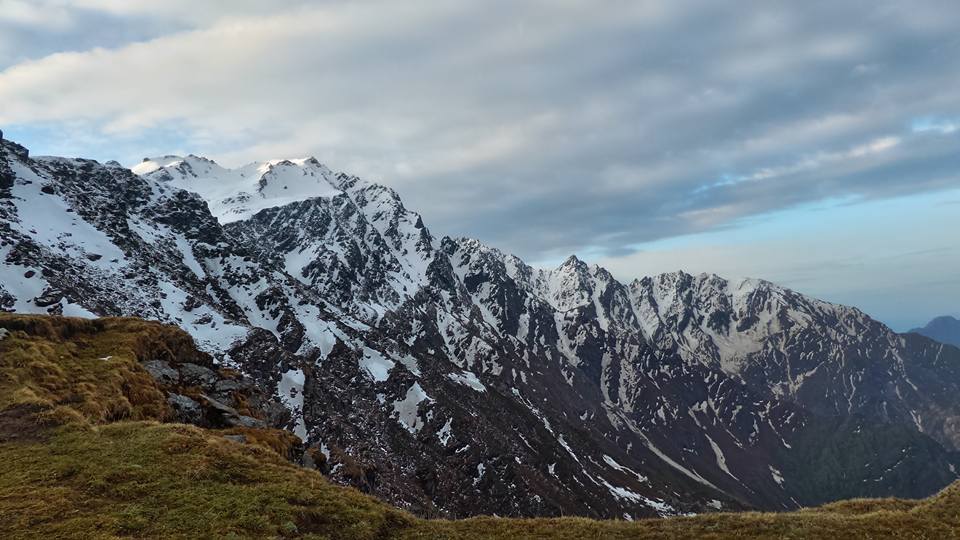 Day 4: The day I stood awestruck at 13,800 ft: Nagaru-Sar Pass-Biskeri Thach: Similar to the previous days, we called it an early night. I was mentally preparing myself for the next day and hoping that I have enough energy to make it to the top and descend to our next campsite, Biskeri Thach, at ~11,300 ft. It would undoubtedly be the longest and toughest day, and one had to be mentally and physically sound to make it through. With that hope and determination, I shut my eyes and tried to get some rest. Before I knew it, there were sounds of whistles, people talking, and small droplets of rain hitting the outside of our tents gently, partially disappointing me that the weather wasn't showing positive signs that morning. The sounds were from the other group that I referred to above who (I believe) were instructed to wake up early to begin their ascent to the top. That was a big group of 22 trekkers, and from what I recall, they began their trek around 5:00 AM. A surprising turn of events occurred thereafter when one of our guides woke up and gave us and the cook a wake up call saying that it was time to get ready and that the drizzle had stopped. I got up immediately and looked outside our tent to find joy and excitement in the air and a clear view to the top. I had my temporary yay moment, got ready in the next 30 minutes, and was savoring a bowl of hot porridge, after which our ascent to Sar Pass started. The other group had covered a fair distance by the time we had started, but we were astonished to find them slow down to the extent that we were able to catch up with them in 25 minutes (no exaggeration, fellas!). Maybe it was the porridge that gave us the necessary boost to climb up quickly, but I was getting impatient to reach the summit and these (so-called expert trekkers) were taking all the time in the world gossiping about music and philosophy rather than focusing on getting to the top and enjoying the views.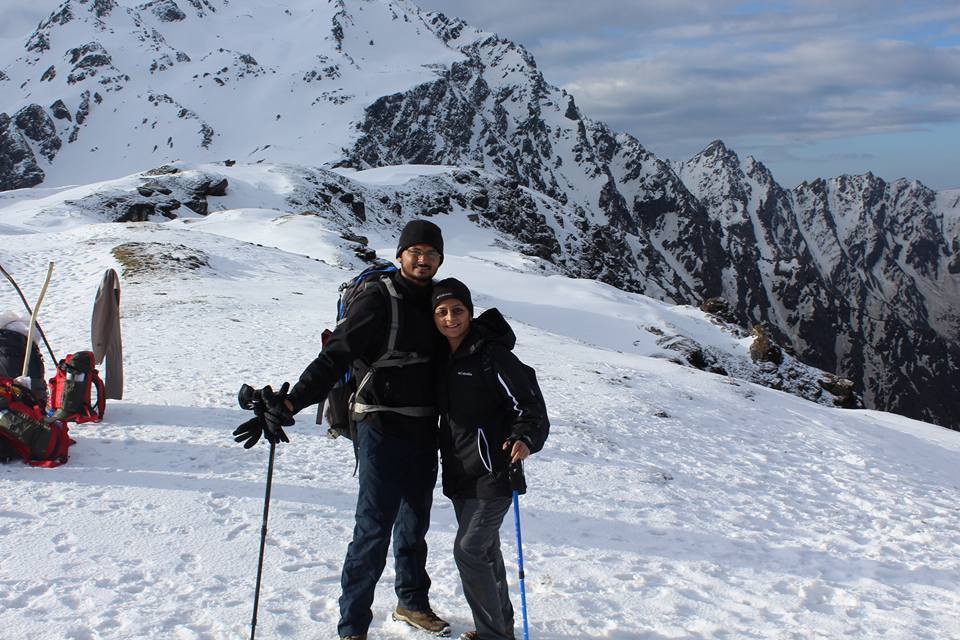 FINALLY! The Pir Panjal range came alive at 13,800 ft as I stood there absorbing the 360° panoramic view through the naked eye and not even realizing that my face has lightened up with a bright smile that possibly cannot be described in mere words. It was sense of accomplishment (certainly, yes!) but more than that, the satisfaction and mesmerizing feeling, the adrenaline rush through your nerves that makes you wonder how beautiful Nature's creation is. No camera lens or high-end phones can capture this imagery the way one's eyes and mind do, as a few years later, this is what you'll recall seeing and talking about with your partner, family, and friends. I stared in awe as the sun shone in the kingdom of snow and wished to run around like a kid, screaming with joy and making it known to everyone that I had made it to the top and felt like the King of the Universe. Of course, I did nothing of that sort but felt extremely grateful for getting this opportunity to witness this beautiful moment with my partner. Needless to say, she was ecstatic, and I'm sure she would agree that for that brief period, she had forgotten about her body pain and the stringent efforts made to reach that far. Yes, mountains are my first love, but climbing them with someone who understands and respects that is even more beautiful and amazing. The day wasn't over yet as we had to cross over to the other side and walk in snow for the next 3 hours. Although I'd done a snow trek in the past, these 3 hours required far more endurance and concentration as trekking in high mountain passes is no easy feat. Once we crossed over, we had the most enjoyable part of today's trek - slide down in snow, like literally!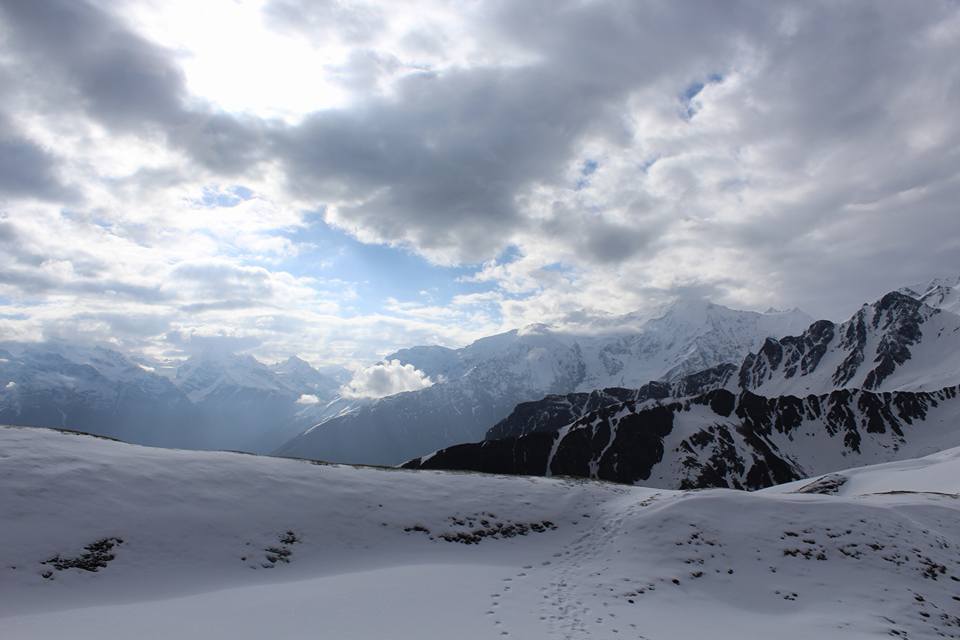 So, we were carefully making our way to the starting point from where the slide was supposed to begin, but alas! Neither Shruti nor I could make it there as we conveniently slipped with our respective bags before reaching the starting point and down we went. Woohoo! Ninja style sliding from left to right and then straight down. I got a feel of being in Water Kingdom except for the occasional snow that found its way through the different layers of my clothing. It was pure fun and might I add, relaxing after 3 hours of continuous walking in snow. So, those 5-10 minutes were certainly priceless and rejuvenating and the fastest way to cover a kilometer and half. I knew that the difficult part of the day was over and we were now only an hour away from Biskeri Thach. We halted for some time at the lunch point below where Shruti and I digged into a bowl of hot Maggi (70 bucks only, haha!) and a cup of black tea. It had started to rain while we were eating, and we were again hoping that it would stop soon so that we can comfortably reach our campsite at Biskeri, which was 30-45 minutes from this point.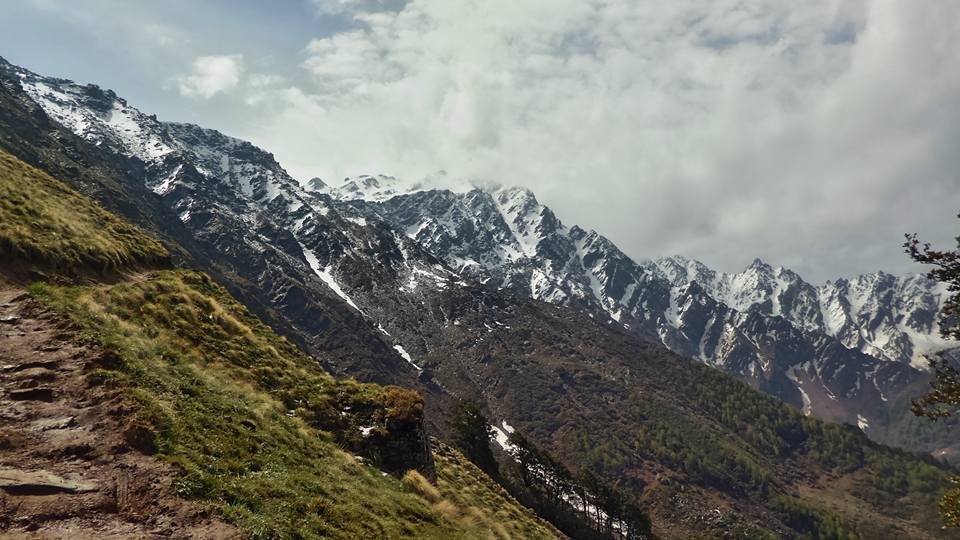 Thirty minutes later, we had our ponchos and rucksack covers out as we descended via the slightly rocky and slippery terrain towards Biskeri. We were at this campsite by 11:30 AM after almost 5 and half hours of walking. A sense of pride, happiness, and comfort had started to creep in now that we knew that the toughest day was officially over and we had successfully achieved what we had set out to do. The rest of the day was meant to be relaxing and enjoying the views from Biskeri. One could catch glimpses of Kasol and the neighboring villages in the valley; cellular networks started functioning and people were seen giving updates to their families. The skies were clear for the rest of the evening, providing superb views of the partially snow-covered peaks. A few clicks later, dinner was served and we resigned to our tents for a final time as we knew this was our last camping ground for this trek.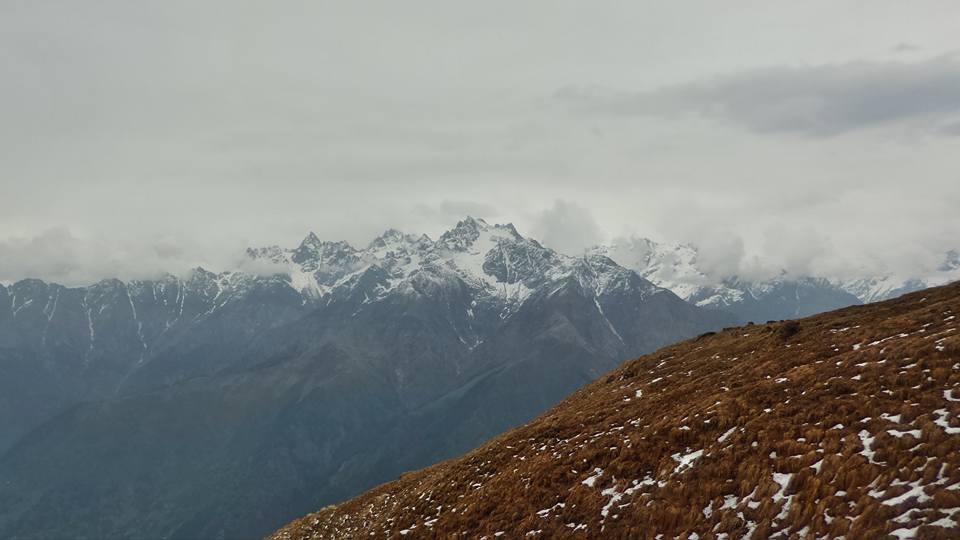 Day 5: The final descent - from Biskeri Thach to Barshaini: This morning felt a lot relaxing than other days as I digged into a plate of hot puri sabji. Our descent began shortly thereafter. The trail took us through the dense forest and winding trails as we made our way to Barshaini. One the forest trial was over, we reached the quiet village of Pulga on one side of the river Parvati; our journey didn't end there though as we were required to cross the bridge and enter Barshaini where our ride to Kasol awaited us. A joyful moment for all of us, I guess, as the trek was completed successfully without any injuries or casualties, and Shruti and I were reminiscing the time spent at high altitudes in the past 4 days, thinking about what we had achieved and the closeness and warmth (not technically for her though) that we experienced with Nature.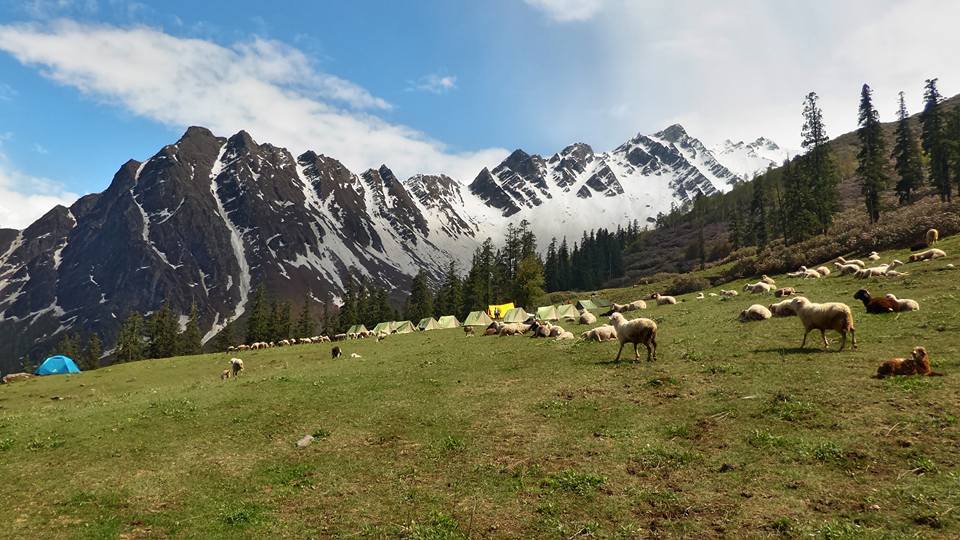 We were dropped off at Manikaran, where we bid adieu to the rest of the group, and were received by one of the Renok leaders, Shiva (who also happens to run his own adventure company in Kasol). Shruti and I were looking forward to some good non-vegetarian food in Bhuntar, and I was quite hungry (as always). Moreover, I hadn't eaten non-vegetarian food for almost a week; so, you can imagine the temptation and craving that I must have been feeling at that point in time. The bongness in me refused to adapt any further. We lazed around in Bhuntar the following day and roamed around the neighborhood market and watched a movie in a single-screen theater (after ages). We still had a 12-hour long overnight bus journey to New Delhi and a flight back to Mumbai on the following day.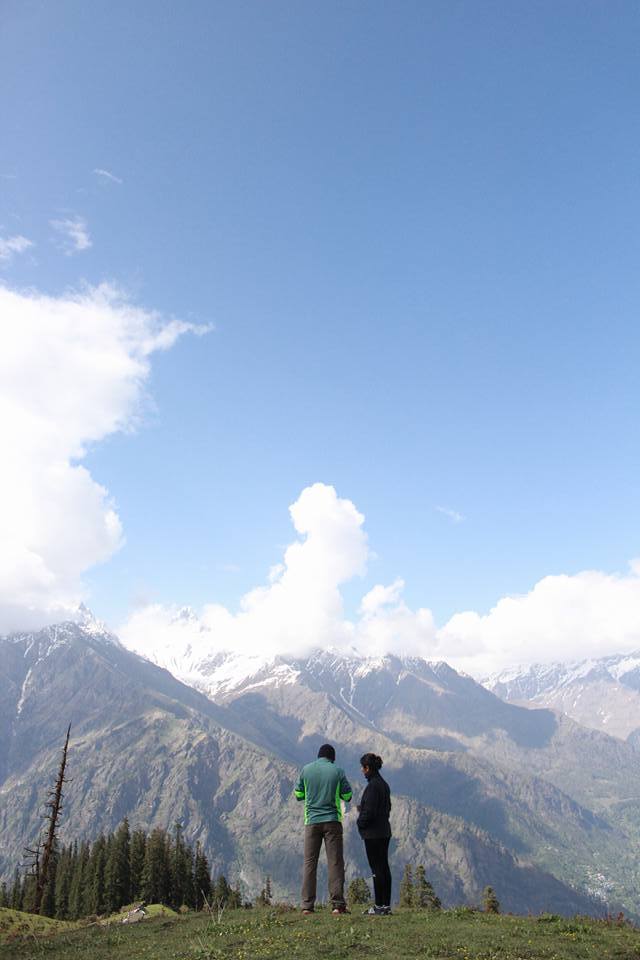 The memories of Sar will remain forever in my heart and mind. It is by far one of the most memorable treks that I've done to date, and as I conclude this write-up, I sigh with the hope that my next adventure is around the corner and is inviting me to become a part of it. Here's to many more adventures at altitudes and sea-level with my partner in crime, Shruti. Until then, adios my fellow trekkers and continue to live life on the edge because that's what makes life more interesting.
Cheers!