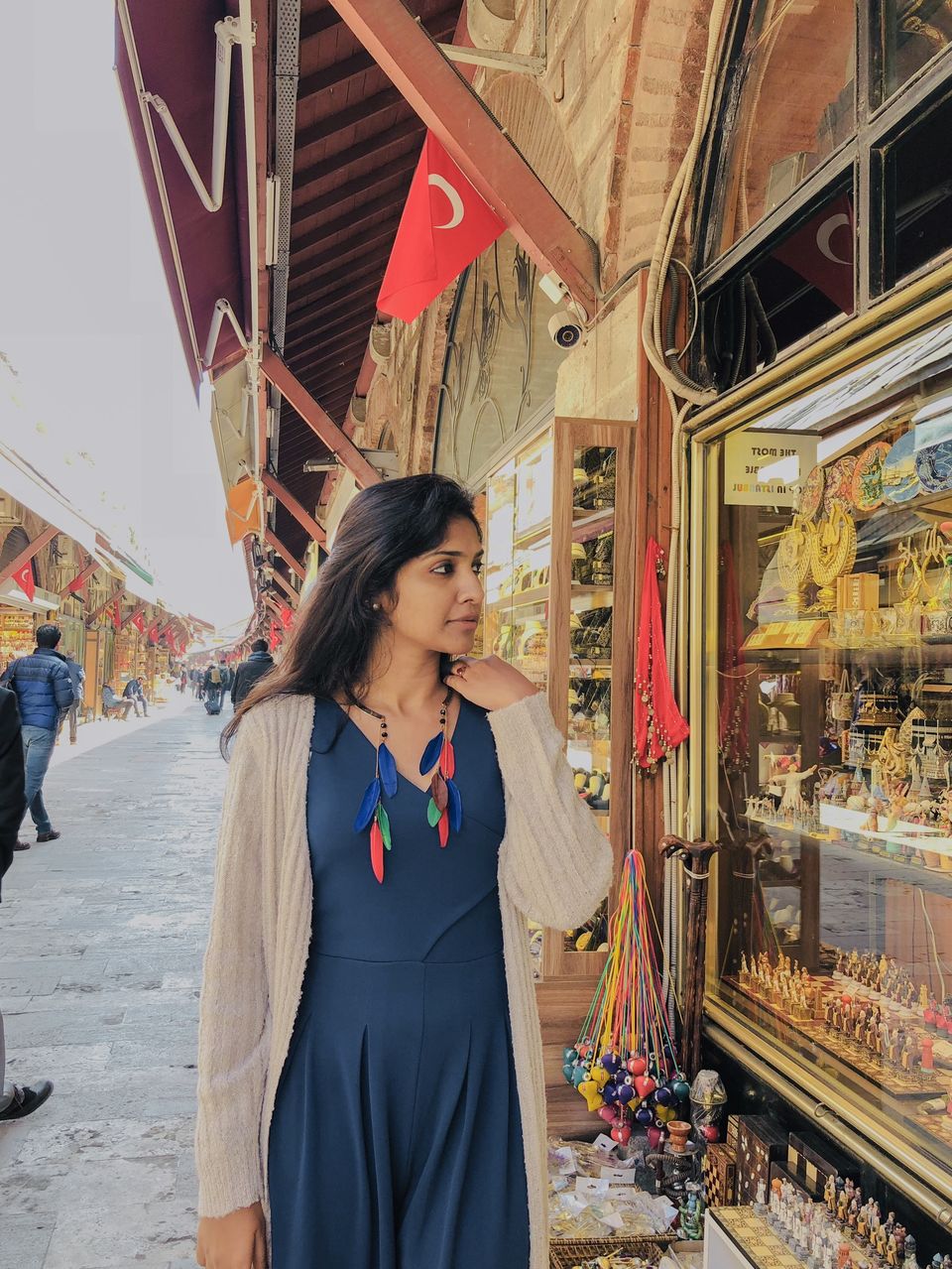 "You are not an Indian" said my host Dev, when I said I don't know of the Mithun Chakraborty starrer movie Mard. I did my best to convince him of my Bollywoord Patriotism by singing "I am a Disco dancer" and even shrugged off all my inhibitions to show him the pelvic thrust of Mithun da and all that was just to let me check into my abode in Istanbul for the next 4 days. Merhaba Istanbul!!
My room opened to a view of the Bosphorus river with the city scape flanking it. It was like any river view for me, till, I came to know the marvel of the water body. You know how we've drawn imaginary geopolitical borders criss crossing our globe, this was a dark blue line drawn by Nature on the face of the earth which divided the 2 greatest continents - Asia & Europe. I had seen the Ichhamati river of Bengal, with India and Bangladesh on either side of it but, here I was looking at the bosphorus, with 2 continents on either side of it.
I was staying on the European side of Istanbul, but as the grass looks greener on the other side, the grass literally looked greener on the Asian side of the river. But I was now waiting to explore the European side of Constantinople (of course I paid a visit to the asian side later)
The evening took us to the Bazaars of Istanbul. Hailing from Hyderabad, I am in love with the archaic charm of the bazaars there and was looking forward to the same thrill. Now I knew why Istanbul had always been a very important stoppage on the Silk Road. This city was the only one which connected the Black Sea to the Mediterranean and was the gateway to the two continents. Spices here are of a great variety, range and majorly these are the produce of the nation itself. You get to see the display of spices in an unusual way. The spices in their whole form are strewn together like a garland and hung from the ceilings of the shops.
There are myraid varieties of tea ranging from the green tea, apple tea, flower tea, tea for cleansing your system, tea for anti ageing and many more.
I tried an apple tea along with Hummas as my evening snack in one of the brightly lit, well warmed open cafe with a view of the beautiful blue mosque. My evening was made by the Sufi style Azan which transported me to another world. The intonations of the prayer hit my inner core so hard, that tears started rolling down my cheeks. It was pure ibaadat for me at that time.
I went to bed with the Azan still ringing in my ears and landed up at the Hagia Sophia and other heritage spots of Sultanahment the next day. Although Istanbul has an Islamic heritage after the Ottoman rule, the country still holds a secular approach. No where in the country will you ever be asked or questioned about your religion-to each his own. The respect towards ones choice of religion is something that the world should make a note of!
Hagia Sophia is a unique place. This Unesco world Heritage site is in the name of Allah and Jesus & Mother Mary. Where on one side you have the name of Allah inscribed on the calligraphic disks on the 4 sides, the ceilings have the murals of Mother Mary holding Baby Jesus in her arms. My country also knows of similar religious confluences and it was beautiful to see one at Istanbul too.
My Favourite spot of Sulthanahment was the backside of Hagia Sophia. I've always found backyards to be the most interesting place of any building, primarily because of its serenity, Hagia Sophia was no different.My first visit to the monument let me to the front entrance with thousands of other tourists. A curious evening stroll led me to its backyard the day next. It was quiet and the quiet had an echo of the several, who had raised their hands up to the Almighty!
Travel Essentials
Getting there : There are both direct flights and connecting flights to Istanbul. It takes about 8 hours (without considering the layovers) From the airport, private taxis taking you to the city are available for anything between 70 lira - 150 lira. The train facility is available as well.
Visa & Currency : Turkey offers e-visa to Indians if you have an existing Schengen/UK/Ireland/USA visa. Apply and get a visa in 15 min - Turkey E-Visa
If you don't have any of the above, one can apply for a Turkish visa through VFS Turkey After submitting the application to VFS, it can take anywhere between 7-10 days to get the visa
You can exchange Indian rupees with Turkish Lira in either of the Airports but we got a better exchange price from the Grand Bazaar - Istanbul.
Getting around : Istanbul has a great transport system. The frequency of trams and buses is pretty decent. I highly recommend taking an istanbul kart (tap & go card). It works in trams, subways, boats and buses as well. You can find the kiosks near all the stations. It costs you 7 Turkish Lira (refundable on returning the card) you can add credit according to your plan.
Dress code : It's a secular state. On a sunny day, I saw men and women wearing shorts and chirping around the streets. I also saw Women wearing burqas. So it's pretty much upto you how you want to dress up.
Food : It's a paradise for Non-vegetarians. There are a wide variety of shawarmas and kebabs to treat your taste buds. But for vegetarian food lovers like me, I can't say that I did not find authentic food. I cannot express my love for Hummus, pita breads, Gozleme, veg lahmancun and kisir
Language : In Istanbul, most of the people speak English. Do greet locals with Merhaba ???? ????
Take aways : Turkish delight (candies made with dry fruits), Tea from Aarasta bazaar, spices from Egypt market, Baklava -a famous mouth watering desert from Taksim square or Karakoy, Carpets from grand bazaar, silver Jewellery (trust me the design are incredible) and most importantly lots of memories.
Gule Güle to Istanbul and these adorable cats till we meet again!!!
Connect with me on Instagram @bhavya.vatrapu
Frequent Searches Leading To This Page:-
European vacation, cruises in Europe, cheap Europe trips, best European tours, cheap Europe packages, European vacation packages, Europe tour itinerary.