A photograph from Alberobello and Polignano A Mare was on my Instagram's saved pictures since many years. A friend suggested we take a trip in March first week and RyanAir (my usual favorite) happened to have cheap tickets to Rome and Bari from Berlin in the same time period. While we knew what we had to do in Rome, we had little idea on what is there in Bari. So there went in a google search "Place to visit around Bari", and to my surprise I found those saved Instagram pictures in the results. There, we had a plan! From Rome and Bari, it went on to be Rome-Vatican-Bari-Matera-Alberobello-Locorotondo-Polignano A Mare for a good 6 days.
Puglia region in Italy is known as the heel of Italy's boot. Look at Italy's map and you will know why. Most of the places in the region are along the Adriatic Sea coastline. While early March is pretty much an off season, it is still worth a visit because you get lesser crowds in places like Alberobello and Polignano A Mare which are usually bustling with crowds in tourist season.
Day 1 - Rome
We reached Rome a night before and stayed at the hotel. We decided to have a proper touristy day at Rome. So first thing in the morning, we set out for Vatican city and bought tickets for Vatican Museums at the Ottaviano metro station for a group tour to Vatican. Tickets can also be bought at the entrance of Vatican but there is usually a long queue for that. Inside the Vatican museums, I liked the Raphael rooms that are popularly known rightly so for the amazing frescos.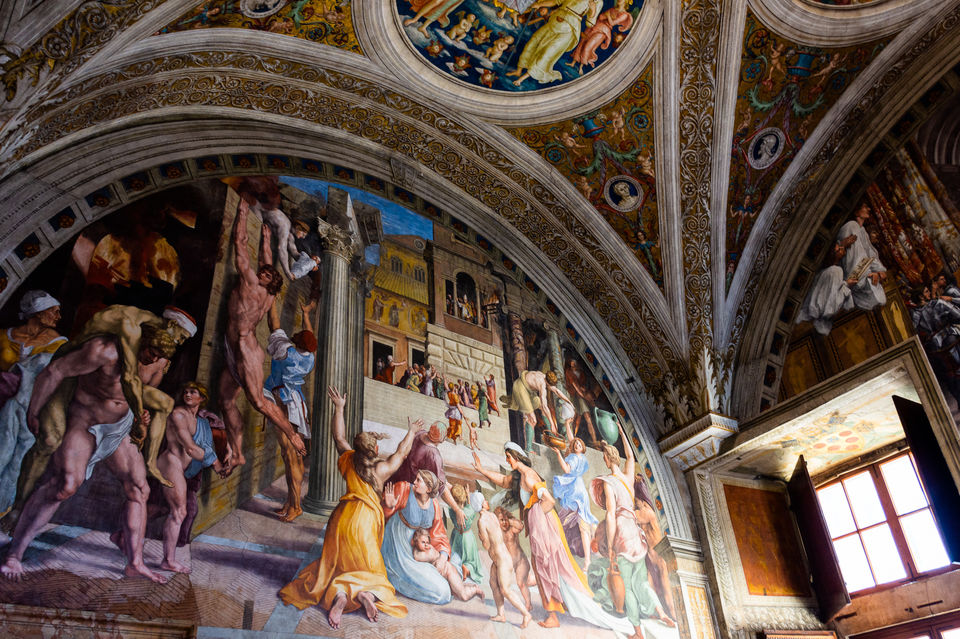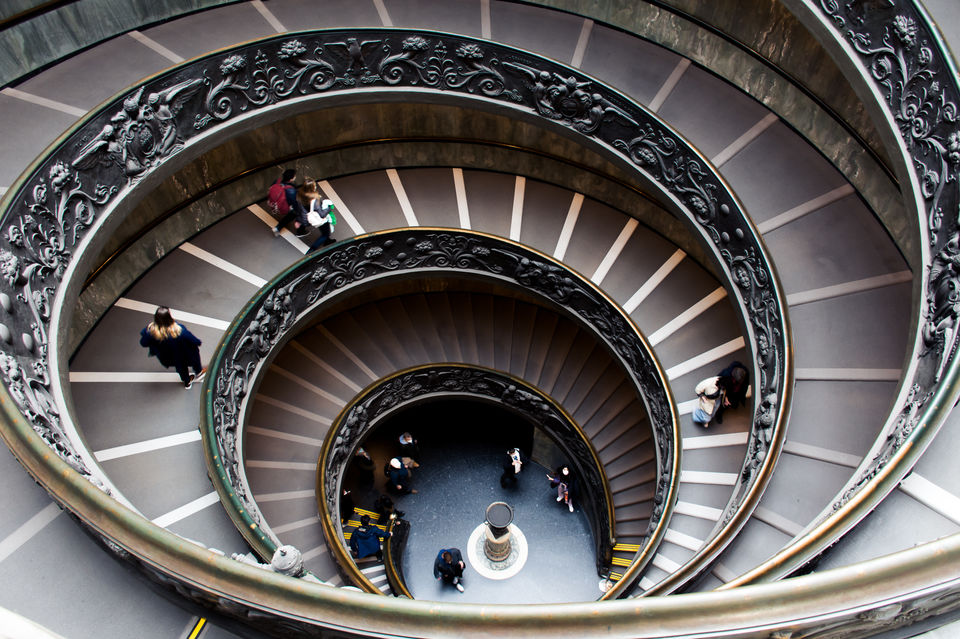 Next we headed on to the Colosseum, which is currently one of the 7 wonders of the world. We took a guided group tour inside where our tour guide told in detail what kind of games took place inside the Colosseum. There are so many details on different walls of the Colosseum that you might end up missing, if there is no one to guide you through. I'd recommend taking a guided tour inside the colosseum because there is a lot to know. One of the interesting things we got to know was that women were not allowed to sit in the front area during the games. Not because they were looked down upon, but because it was feared that they would fall for the gladiators and leave their homes for them. The gladiators were treated as heroes, but it came at a price of course, they didn't even have the right to their own life! The first level of the Colosseum houses a museum where archaeological findings are on display. These range from animal carcasses to women's hair pins from those times that were found during archaeological excavations. Some stone carvings that were found even suggest that there used to be a few women gladiators too, but they were not celebrated as much as the male gladiators.
We visited the Trevi fountain later in the day. It is very beautiful as all the pictures suggest. But of course it is almost always very crowded. It was raining a bit when we visited, because of which the crowds were a little lesser. We visited the Colosseum once again at night after dinner to see it all decked up in the lights. And there ended our touristy day in Rome!
It is super easy to commute in Rome, thanks to public transport. There is good connectivity throughout the city and the day ticket is very affordable. With the day ticket you can ride the buses, metros and trams. Having an accommodation near the main station (Roma Termini) helped as all the places from there are easily reachable without any changes.
Day 2 - Bari
We set off for Bari, which has one of the few airports in Puglia region of Italy. It is just a one hour long flight from Rome. However, there are trains and buses available from Rome for Bari too. Our plan was to reach Bari by evening and roam around the old town. But rain played spoil sport. Nevertheless, we did walk around the old town for a while in drizzling rain and ended up at a balcony that gave us a view of the sea at night. It was freezing though!
Day 3 - Matera
We checked out from our Bari guest house and took a bus from Bari to Matera in the morning. The weather forecast was showing a little possibility of rains but mostly sunny in Matera. Thankfully it did not rain at all. We dropped our luggage at one of the luggage storage facilities near Matera central station and started walking to Belvedere Luigi Guerricchio detto dei. Through the last 3 days, we had learned that "Belvedere" refers to a viewpoint. So our modus operandi through most of the days was to type in "Belvedere" in google maps after reaching any location and walk to the nearest viewpoint. We knew one thing - we had to walk a lot in Matera! Everything is at a walking distance and it is not a lot, but seems a little overwhelming at first as you have to climb up and down a lot. I can imagine how tiring it can be in summers.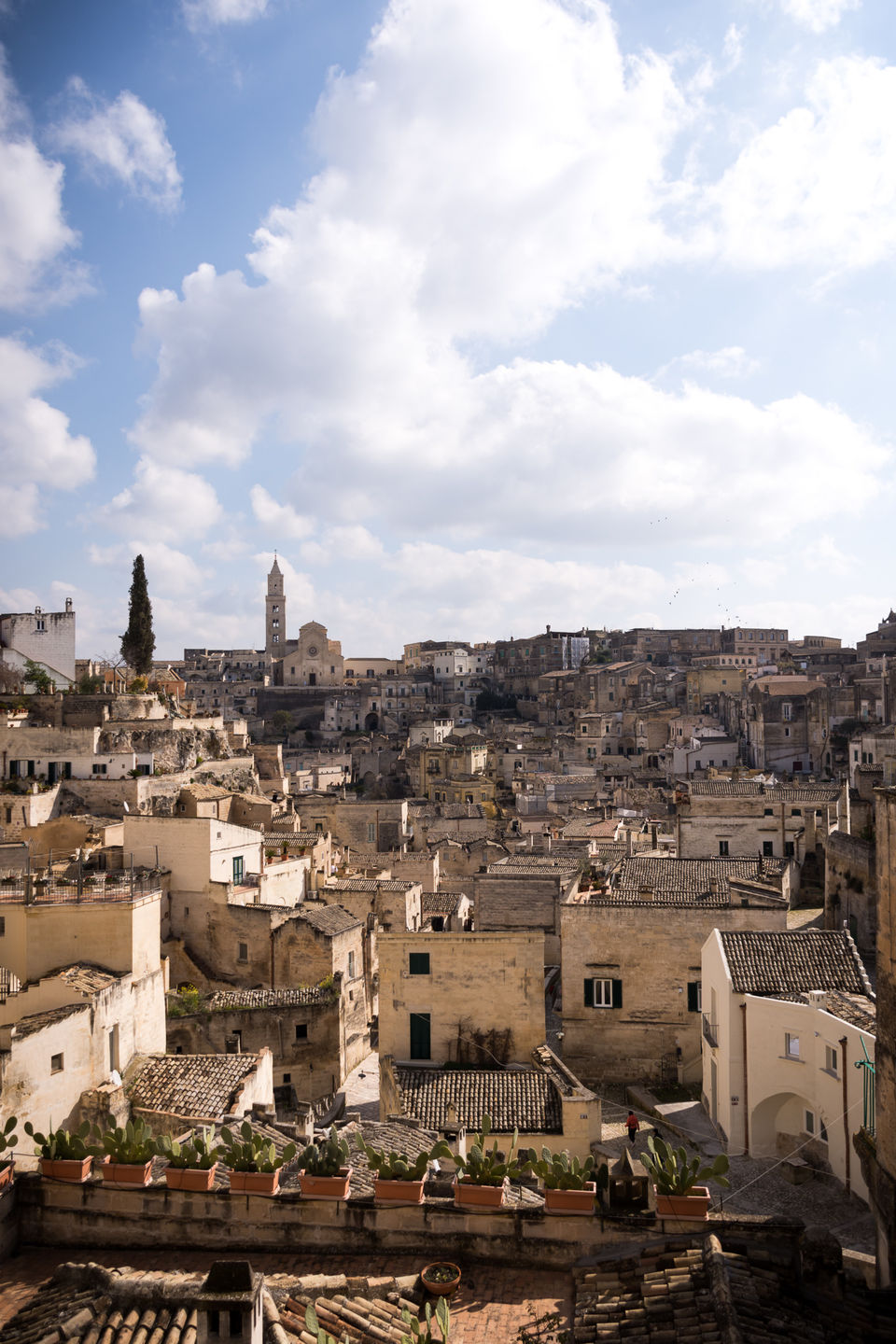 So, we reached Belvedere Luigi Guerricchio detto dei and got the first good glimpse of the "Sassi". It was something we had never seen before and we almost patted ourselves on the back for including Matera in our itinerary and making it here. Then we proceeded to Belvedere di Piazza Giovanni Pascoli, which is another viewpoint (you can now figure that out looking at the word "Belvedere"). We spent a good amount of time here taking pictures.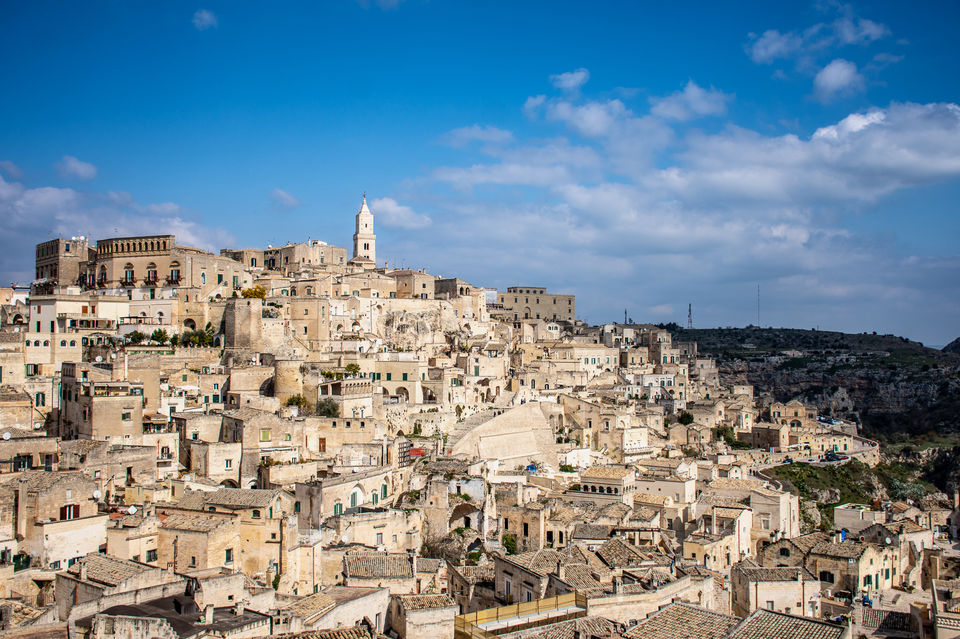 We proceeded to go in the Sassi after grabbing a quick coffee and snack. We turned off the maps and just followed the signs to nowhere. We were hoping we were headed towards the Matera Cathedral, which looked like the highest point in Sassi from the first viewpoint. There are some tourist pathways marked through the Sassi that you can take to reach different places. We followed one and reached Matera Cathedral. Turns out that too is another viewpoint and a rather breathtaking one! A brown city shining in the sunlight backed by hills - just perfect.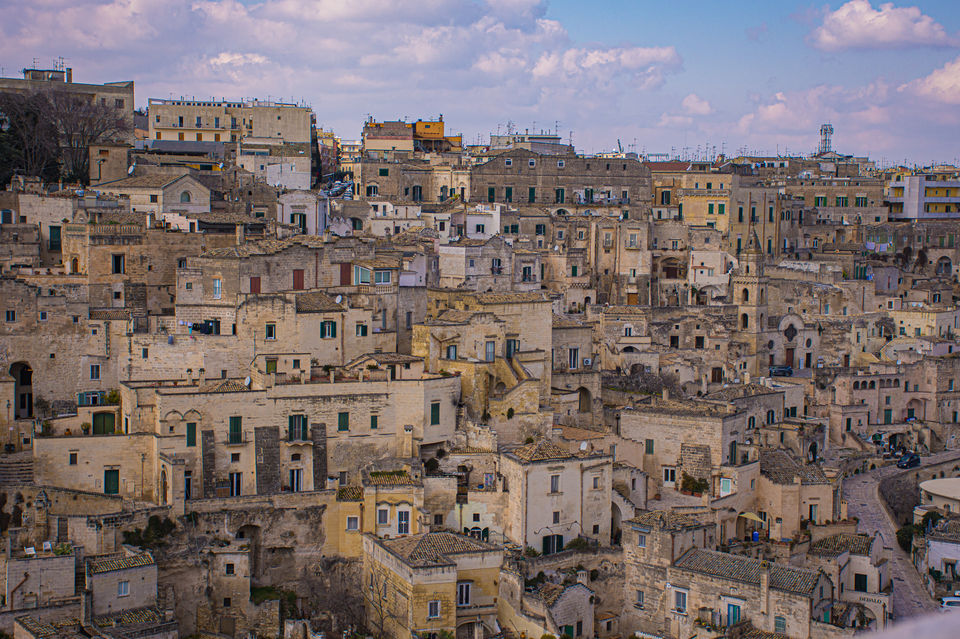 Thankfully, we decided not to take the same path back to the main square and went the other way that exposed us to the hills we saw from the last viewpoint. I would have regretted if I had missed this one. We could see the cave dwellings from here which are believed to be one of the earliest human settlements. Matera, till the 1980s was considered to be a place with poor living conditions. It was even nicknamed as the "Shame of Italy". It used to be home to the farmers and pheasants and mostly poor people for whom the living conditions were bad. People inhabiting this area were shifted to better places in the 1950s and Matera was almost vacant for nearly 3 decades. Then came the tourism wave and these old settlements were converted into hotels by businessmen. It went on to gain popularity so much so that Matera was declared European capital of culture in the year 2019. It also is one of the UNESCO world heritage sites.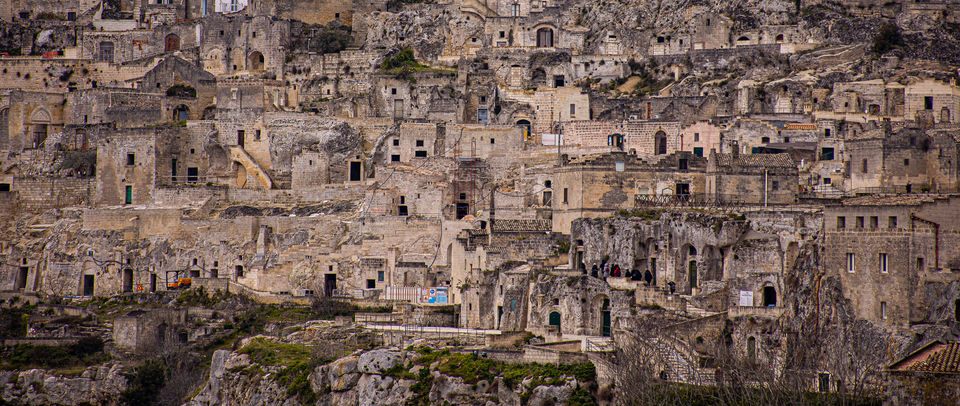 So, following the random path we were going on, we ended up at Church of Saint Mary of Idris, which we saw earlier from Belvedere di Piazza Giovanni Pascoli. Living in Europe, you see a lot of churches and cathedrals, but this one really stands out. It is carved into a rock and dates back to around 14th-15th century. We had literally stepped back in time.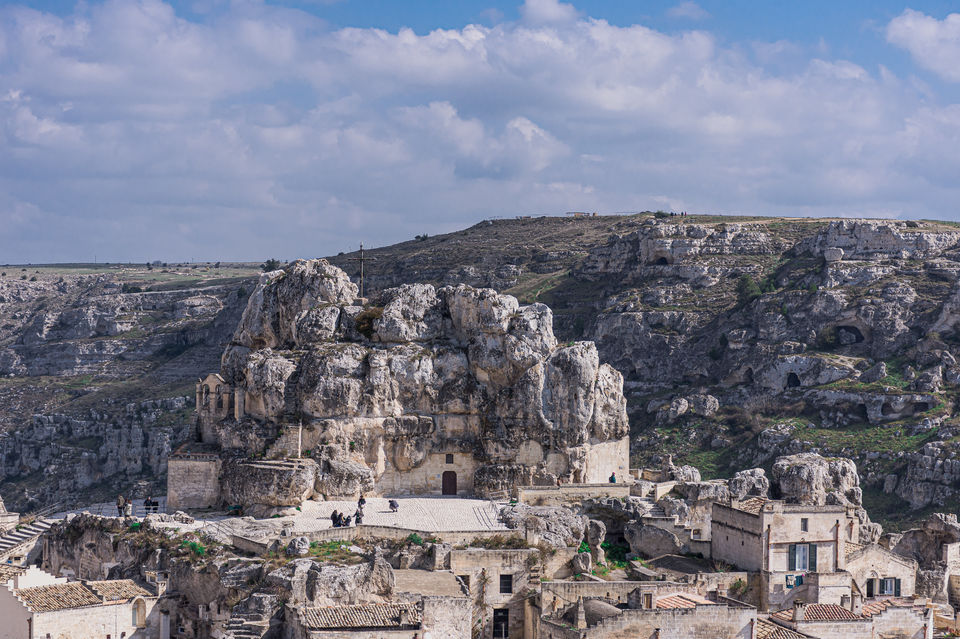 We had started exploring Matera at around 11am in the morning, and 20000 steps and 5 hours later we took a taxi to our next destination - Alberobello! Since Matera and Alberobello are in different provinces, the connectivity by public transport is a little complex. So we hired a taxi instead for this part of journey.
Day 4 - Alberobello and Locorotondo
We reached the day before by evening and checked in to our trullo. Trullo are the kind of houses native to Alberobello. "Trullo" refers to one house and "Trulli" is the plural. Our Trullo was just a 2 minute walk away from the UNESCO Trulli area. So we just took a brief walk on the main street in the evening.
We set off to explore the next day at around 9 in the morning. The shops were yet to open and the day tourists were yet to arrive, so it was almost like we had the whole town to ourselves. We started for the Belvedere Santa Lucia first which gave a good view of the UNESCO Trulli area. We just wished the sun shone on the Trullis making them look even brighter. But nevertheless, we were thankful it didn't rain at least. Next we took a walk through the streets going past beautiful Trulli, many of which house restaurants and pretty souvenir shops. Earlier, the Trulli were just a brilliant way of evading taxes. The residents back in time needed to pay taxes for a "fully constructed" house. So during inspection from the King's men, residents would just disassemble the roofs of these Trulli so as to tag them as "not fully constructed" yet and hence avoid paying heavy taxes. While this tax system was abolished later, these houses remained as such making this place "Trulli" wonderful and picturesque.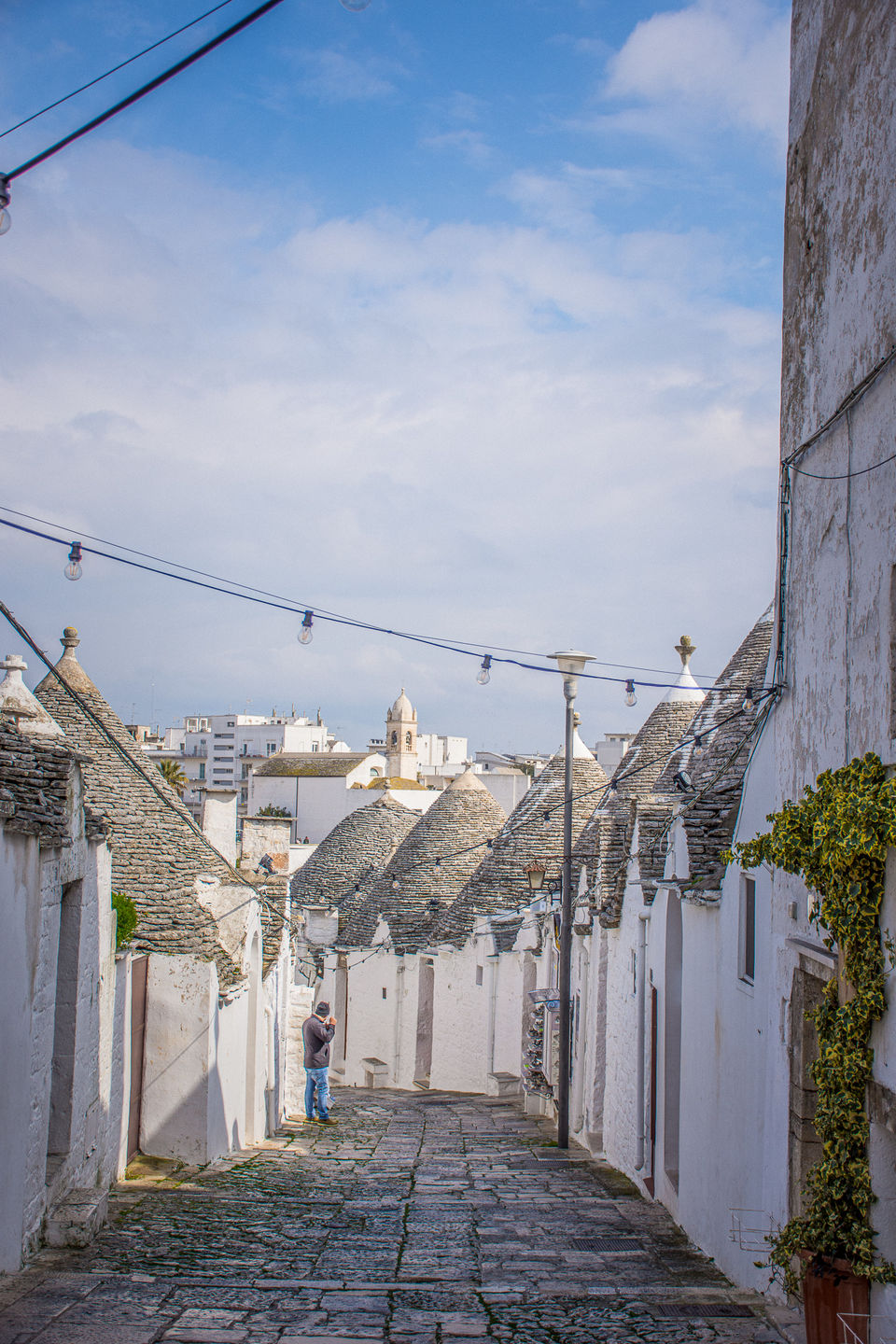 After grabbing some coffee and snacks, we headed to another town nearby - Locorotondo, which is just 10 minutes by train from Alberobello. After reaching there, we again took our walk to nowhere and ended up in one of the prettiest alleys. While we didn't know much about the place, it was a good experience roaming around without any destination. The alleys are white and adorned with beautiful flowers and colorful doors. Also, off season meant we had the whole place to ourselves :)
We came back to Alberobello after spending a good hour in Locorotondo. Overall, this day was just about roaming around in beautiful streets with no destination and no hurry to reach anywhere. After previous 3 days of constant hassle, we deserved this day!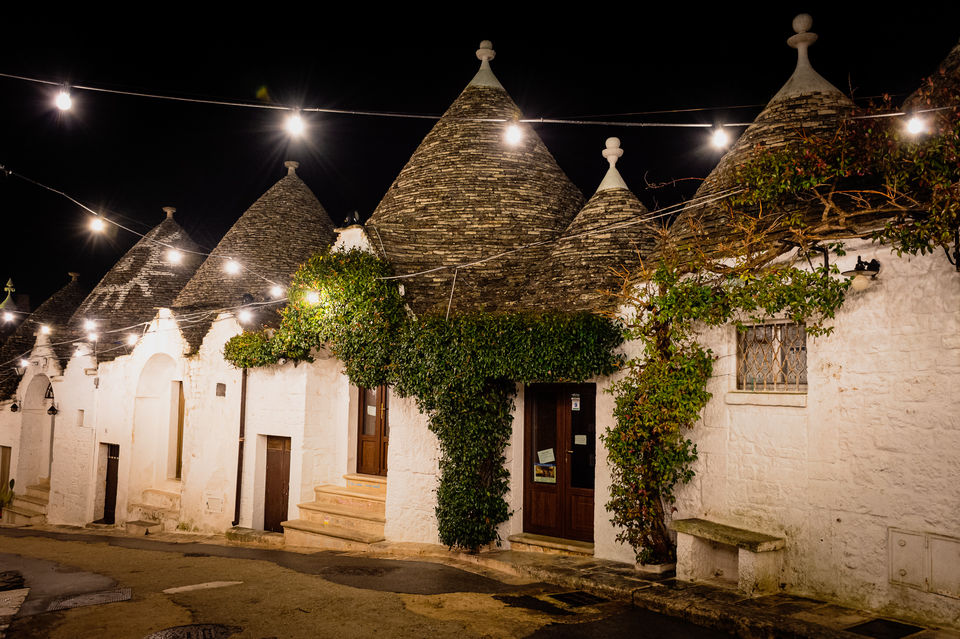 Day 5 - Trullo day
We had planned this whole day for Polignano A Mare. But Polignano had severe wind and rain forecasts, so we had to drop it and we ended up spending the whole day in our Trullo watching the snow from our window. Yes, it snowed in Alberobello! Imagine the cute little houses in snow. Alberobello looked ready to be featured in a disney movie.
Day 6 - Polignano A Mare finally
Day 6 was originally just supposed to be us heading back to Bari to catch our flight back. But skipping Polignano A Mare kept bothering us. So we improvised a little and took a taxi to Polignano from Alberobello (public transport is available too, but we were running short on time). The luggage storage was closed when we reached, so we decided to carry our luggage along everywhere. Thankfully all the viewpoints in Polignano are within a kilometer or two from bus stop and train station. The locals must have had a good time watching 3 Indian girls waking up the whole town with their trolley bags rattling through the streets. We did get a few stares, but friendly ones thankfully.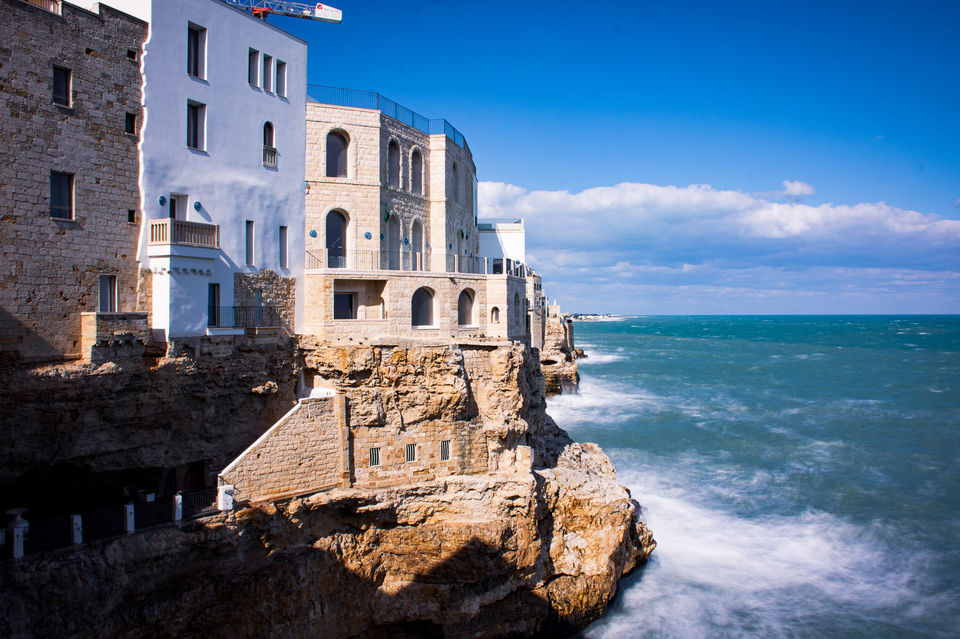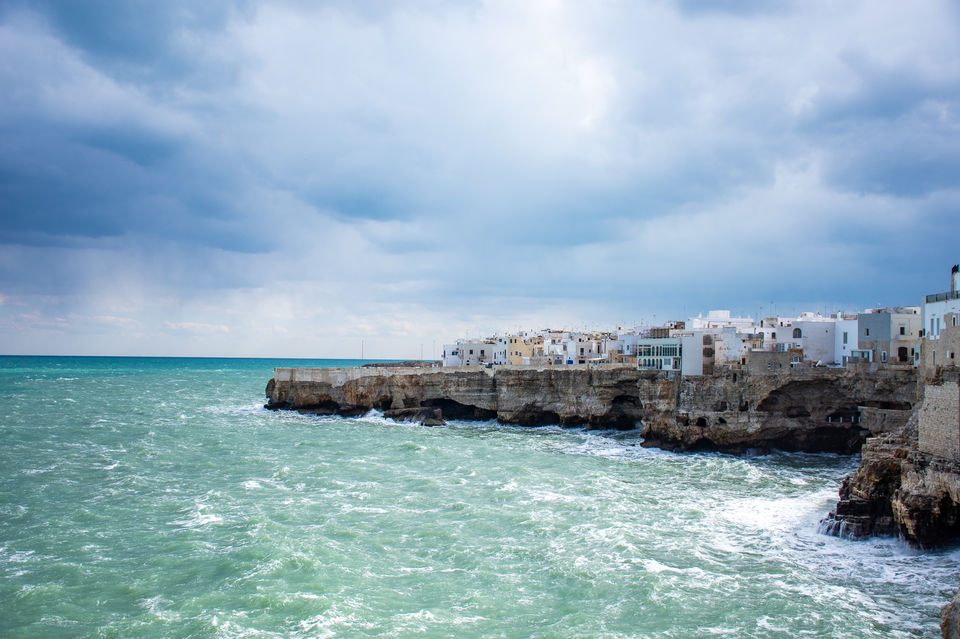 We got the first glimpse of Adriatic Sea at one of the little viewpoints in the middle of a residential area. Hotel Grotta Palazzesse (from my bucket list) was visible from this point, but it just looked like an empty cave since there were no tables arranged. We assumed it was closed due to the rains and winds that were constant through that week. The winds were freezing but the view was so breathtaking! The sun shone after a while making the water and cliffside houses look even more beautiful. We visited a few "Belvedere" that showed nearby on the maps. The streets that take you to these viewpoints are equally beautiful. We also got to visit the Lama Monachile beach. It is usually bustling with tourists and swimmers but thanks to the privilege of off season travelling, there were very less people.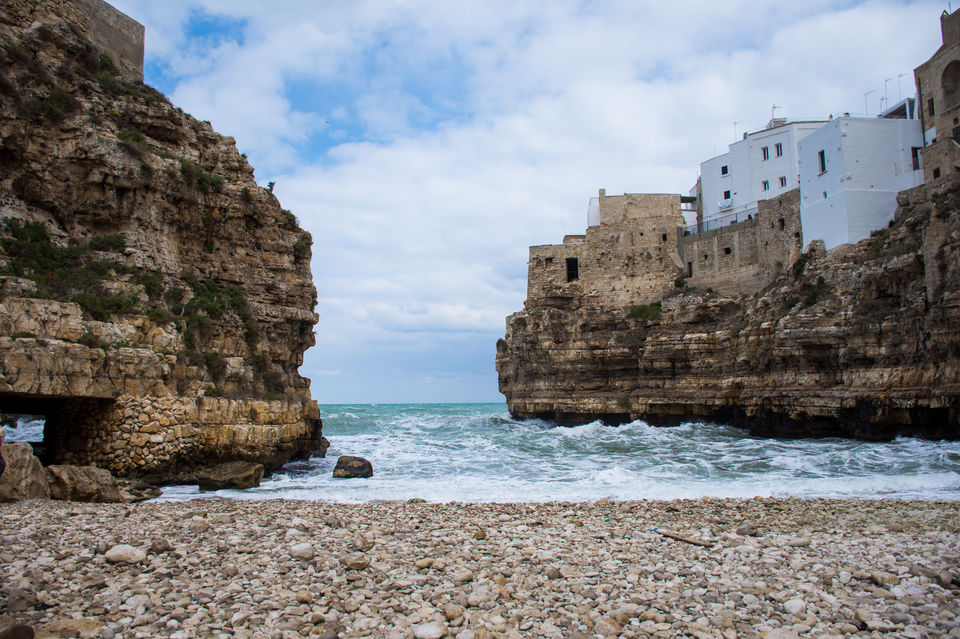 Watching the crashing waves on the beach and from the viewing balconies was amazing! I can now declare that Polignano A Mare is my favorite coastal town. Hopefully I will come back here someday again.
Gist
Puglia and Matera are much recommended. Great if you have a driving license and can drive to these places. But they are easily reachable by public transport too. Tickets can mostly be bought on board for bus/train and also on kiosks on railway stations. You won't need any internal transportation in Matera, Alberobello, Locorotondo and Poliganano A Mare. Just be prepared to walk a lot. All the attractions in these places are within a kilometer or two from the main rail station or bus stand.
Food is good and vegetarian options are available. Language might be a problem as except for Rome, all the other places are more popular with local tourists and hence you'll find less English speakers. However, the people are super helpful. One lady at Alberobello used the translator to communicate with us when we asked about taxi services from Alberobello to Polignano A Mare. We have had experiences where people just refuse to help if we don't speak their language. But none of such things happened in Italy :)
Another thing to look out for - don't trust the opening/closing timings of eateries and luggage storages on google, especially in Puglia. They aren't usually updated. In any case, it is always advisable to carry some snacks with you and try to travel light in case it happens that you have to pull a stunt of carrying your luggage around for the whole day.
Have a great trip whenever you visit :)