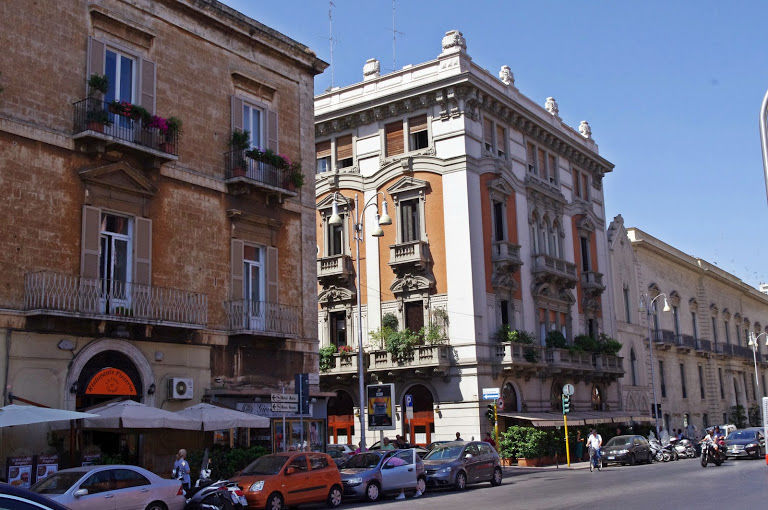 I was not prepared for the emotional experience being here was to have on me. Part of the reason was because all that I had heard about Bariwas negative. Press coverage relegated it to the pits of the earth with industrialization, dirty ports, and high crime rates. None of this proved to be true. There was nary a moment when we did not feel safe. Even when approached by the, dare I admit it, Gypsy woman while we were in a church, did I feel threatened in any way. Just as hot as
Budapest
was when we left, the temperatures here were aided and abetted by the humidity coming off of the Adriatic Sea.
Our first morning walk was needed to work off the breakfast at the hotel. We ventured to the nearest boulevard, only to find a demonstration heading down the street. At first it seemed that the marchers were cajoling bystanders into photographing their efforts, but the mood suddenly changed to one of disdain when an image was captured. The location was serendipitous as the tourism office was right around the corner. Bari is said to be a well kept secret that the Italianscovet. As such, finding someone who spoke English was an adventure including the tourism office. One gentleman did speak some. When I told him I was trying to find information about my grandfather, he had a sudden mood swing rising with the speed of a space shuttle. One would have thought I was the returning son, not the descendent of one. He gave me the name and address of the official registry office where they would look up my grandfather's birth certificate.
The day was spent visiting churches, a major tourism attraction in Italy. What I truly treasure about church visits is the variety of artwork including the architecture, the paintings, stained glass, and statues. Each church has its own flavor of the neighborhood giving a little insight into where their alliances have been formed by what saint or supposed miracle. Just as most stores and restaurants, the churches close for the siesta hours of 1:30 to 4:30 pm. The conundrum is how to spend the time 'productively' so that one does not feel like it was wasted. Answer: find a piazza where there is one cafe open and suck down beers to beat the heat.
The city has a slew of magnificently well maintained parks filled with statues, fountains and a variety of flora. The buildings are so charmingly Italian with earthy tone walls. Due to the heat, people leave their home doors open with only corded fabric or sheer curtains covering them to let the breezes flow. There doesn't seem to be any concern about robberies. Almost all apartments above the ground level have balconies.
Our first tourist stop was the Castello Svevo, but it was closed. In the meantime, we played hit and miss with the churches due to siesta time, but return trips were successful times. Not far away are two very pleasant and quiet squares littered with cafes, most that are not open during siesta time. Piazza del Ferrarese and Piazza Merchantile intersect. Fortunately for us on such a blazing hot day, we did find one cafe open to guzzle down some Italian beers. The real fame of this area is the lion statue at the base of a column called Colonna della Giustizia. This is where debtors were tied and flogged.
As churches go, the most famous in Bari is the Romanesque Basilica di San Nicola, which dates back to the 11th century. Yes, Virginia, there is a Santa Claus and here is where you will find him buried. In fact, this church was built just for the purpose of holding St. Nick's remains which are in the crypt below. St. Nick is like a gift that keeps on giving too. His body supposedly leaks an oil that they bottle and sell in the gift shop next door.
The next day, We spent a couple of hours at the Castello Svevo, a castle built in 1131 by the Norman King Roger II of Sicily. It later refurbished from 1233 to 1240 by Fredrick II. Isabella of Aragon made it a royal palace in the 16th century. It is interesting to speculate that Italy was not unified as a country until 1861 and until that time, there were many kingdoms and fiefdoms dotting the lands with dozens of dialects of Italian, all Latin based. For more on Italian language and languages, see here. Later, by the sea, we ventured to a museum of art where we were the only patrons, but the guide was beside himself with joy.
For dinner we ate at a restaurant I had read about called Osteria Travi Buco, supposedly a historic eating establishment, but no details were given. The antipasto was a buffet, so sumptuous, we could have made meals from this alone. The next course was orecchiete con cima d rape, but few rape. It was served more al dente than I appreciate, so I was not thrilled with the platter, though the flavor was good. By this time, we had 1 bottle of beer, a 1/2 liter of wine, 2 antipasto, and 2 plates of pasta, but have not seen a menu. We quickly realized that those who are not language deficit were getting other types of pasta than we were. They were also getting other types of dishes than what we were understanding was available to us.
We were convinced by the people at the tourism office that we needed to get out of town. One place of particular interest was a town calledAlberobello. The train ride from Bari was a mere hour and 10 minutes, so it was an easy jaunt.
This should have been the setting for The Hobbit. The houses here are perfect for hobbit homes. The town is called Alberobello, but a group of the homes here are called trulli homes. A trulli home is a circular stone building approximately 5 meters in diameter, though some are larger.
The conical roof is comprised of flat stones that are corbelled forming the cone dome at the top, which is then painted white to set if off from the grey stone, and then ornamented with a symbolic ornamental spire. The ones we noticed were either roosters or what looked to be soldiers.
The walls are built by the setting of blocks of stone one on top of the other without mortar (dry stone building). The "chianche" forming the cupola were fixed with a special technique, creating a balance that didn't need concrete or any adhesive that could be used. A thermos effect is created by the structure and materials; supposedly keeping the temperatures cool in the summer and warm in the winter even without needing alternative means of heating other than that used for cooking. Windows are minimal if they exist at all. It resembles what one would think living in an igloo may be like.
Regardless of their claims, the trullis that we toured were damn hot and one had an air conditioner going full blast. There are trulli bed and breakfasts, but I think the novelty of staying in one would last about four hours if that, before I would go in search of something more reasonable. Anyone our height or even close would have to stoop all of the time. The streets that are lined with these houses are primarily souvenir shops whose merchants are begging you to come in to browse. Like so many other touristy areas, when you have twenty stores in a row all selling the exact same merchandise, there is bound to be a glut on the market.
When we returned to Bari, we ate dinner at El Pedro, a self-service restaurant that is dirt cheap. The food is good, but not very hot. It is filled with locals. Again if there were no language barrier, we found out we could have ordered 'off the menu' as it were.
We had heard that Trani, a small seaside village was fabulous, so we headed there. The train tickets are a super deal at 5.80 Euros for both us round-trip. The ride is less than a half hour, so it is quick too.
Like most Italian cities, one cannot miss the religious iconography that is ubiquitous. Right outside the train station on the grounds is a huge fountain with some monk with outstretched arms. Since he didn't have any wildlife, we ruled out St. Francis. His identity was left a mystery.
On our way to the seaside, we approached the public gardens called Villa Comunale accessible from Piazza Plebiscito; the park was created in the 19th century. The spectacular variety of trees is offset with various gardens brimming with a rainbow of colors from well maintains plots of flowers interwoven with thin fountains. With the park is a section specifically for children that includes a maze with a small castle like structure at the top. If you are willing to risk the blare of the sun, there is a promenade that lines the seashore with a dazzling view of the sea.
A prominent spectacle from any vantage point on the shoreline is the Cattedrale di San Nicola Pellegrino, a church dedicated to St. Nicholas the Pilgrim, not to be confused with St. Nicholas aka Santa Claus who is celebrated in Bari. We thought we could follow the seaside walkway to reach the church, but it turned out that it led us to an elevated look-out that oversees the yacht harbor and the Adriatic. The view was incredible, but didn't get us any closer to the church.
Continuing on our way to find Cattedrale di San Nicola Pellegrino, we discovered another church. What a surprise, right? Well this had a twist. This 12th century church was built by the Knights Templar, the Chiesa di Ognissanti. As it turns out, Trani was on a route used by crusaders heading to and from the Holy Land. There was a hospital here for the sick and wounded. We thought our timing was unfortunate, but the church is not usually open to the public.
Nearby is the Caccetta Palace, built by Simon Caccetta, a wealthy Trani merchant. It has been owned by the municipality since 1484, housing the Venetian governors until 1509 at which time it became a Teresiniani monastery and seminary in 1642 until the eighteenth century. The facade decor is late Gothic with a three-mullioned window that surmounts the main entrance.It is one of the most important buildings in this little town.
Finally reaching St. Nicholas, it was closed when we arrived. However, it dates back to the 12th century, the exterior style is Romanesque, but there is no comment on the interior. From our readings, we discovered that there are two lower levels under the main church. Immediately below is an older church that was once dedicated to Santa Maria della
Scala
; there are some Byzantine frescoes from that era. Lower still was yet another church that dates back to the 6th century. Not to be outdone by Bari, there is a crypt here also with the body of their St. Nick, but this one doesn't spout oil like the other. Nearby and also closed is the Museo Diocesano there the exhibit is a collection of sculpture and archaeological treasures from the local churches.
Within spitting distance of the church is another Castello Svevo, built by or rather for the Holy Roman Emperor Frederick II. Dating to 1249, it was to protect the land from sea invaders. Later and until the 1970s, it was used as a prison. Dreary thought as it has very few windows, so even as a castle it was not a delight. Now it is only a tourist attraction with occasional exhibitions and special events, but this too was closed at our arrival. It looked so similar to the one in Bari, it would I would be hard pressed to perceive there could be much more here than in the other castle. Frederick II must have been the father of minimalism.
Finally, our task was to find refuge from the sunshine, while quenching our drought-like conditions. We rested on a patio with over-sized umbrellas shading us, having a drink and snack. By the time we reached the train station, we found we had a half hour wait for the next train, so that called for more fluid intake. We were already bone dry from the last ten blocks walked from the last filling station.
Arriving back in Bari, we realized we needed an early dinner; we would not get home until after 10pm. Most restaurants like most everything else closes down from 1:30 to 4:30pm. Eateries sometimes do not open again until 8pm. We did find a pub open, but the kitchen was closed. What must have been identified as pathetic looks, the owner did offer us Orecchiette con sugo alla ricotta forte (pasta with Ricotta cheesesauce) and a tomato salad with mozzarella cheese. That and a couple of beers and we were all set. It was the perfect meal for a hot day and long evening.
Picking up our bags at the hotel, we said our good-byes.