Part 1 - Itinerary
Europe trip is a dream of almost every Indian. May be because we have such a strong Bollywood (and Hollywood) movies' influence in our lives. I chose to finally start fulfilling my dream this year with my amazing sister!! Here I give you a detailed guide, itinerary and tips to make your first Europe travel a success (and in budget) like mine.
The Route:
Mumbai - Paris - Bari (Alberobello) - Naples - Rome - Florence - Milan - Mumbai
The reason I chose Paris as my first destination was simple - It had the cheapest 1 way ticket from Mumbai among all European countries and also who does not wish to see the Eiffel Tower?!! I also knew that I don't want to take return tickets of the same destination since it would prove expensive when I have travel all the way back to the original destination just to take a flight. I would rather explore a new destination on my way back home :)
Paris: (2 nights)
Paris is an expensive city as many blogs and articles say. It was a challenge on how to save money here but I found some hacks. But nobody can deny that it's so classy and the buildings, the architecture, especially in the city center makes your head turn around everywhere as you keep walking on the road. Plus coming from India, I just loved the road discipline followed here!!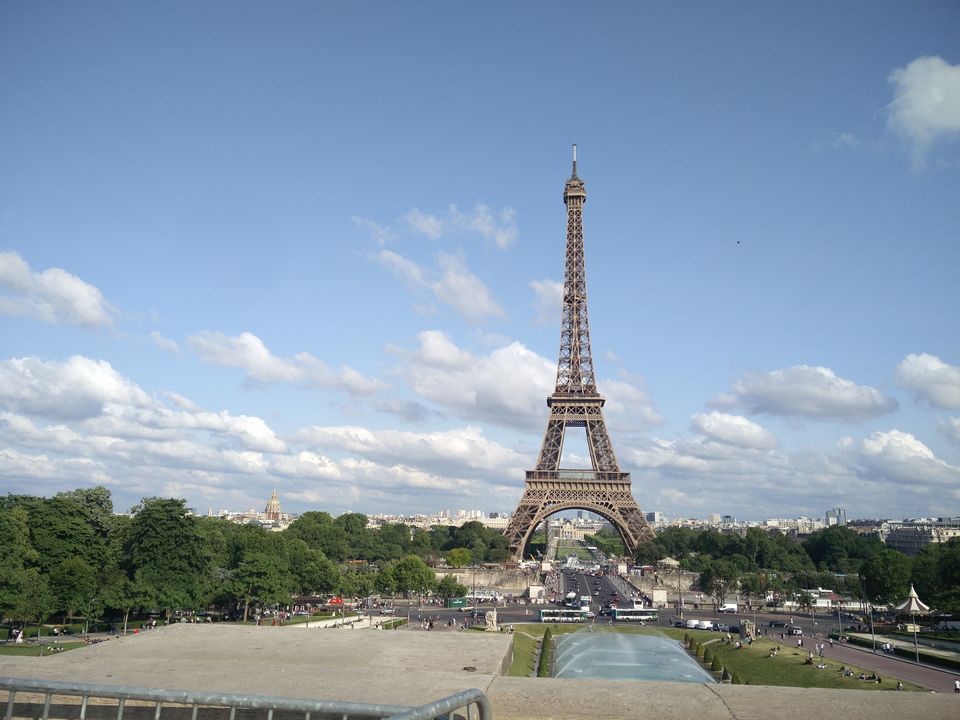 Place we stayed: Airbnb Apartment in City Center (Champs-Élysées)
Places we visited: Eiffel Tower, Louvre Museum, Paris Museum of art (free entry for permanent installations), Pont Alexandere III, Pont Des Arts (the famous locks bridge), Tuliries Garden, Medici Fountain at Luxembourg Garden. (all for free and so worth it!)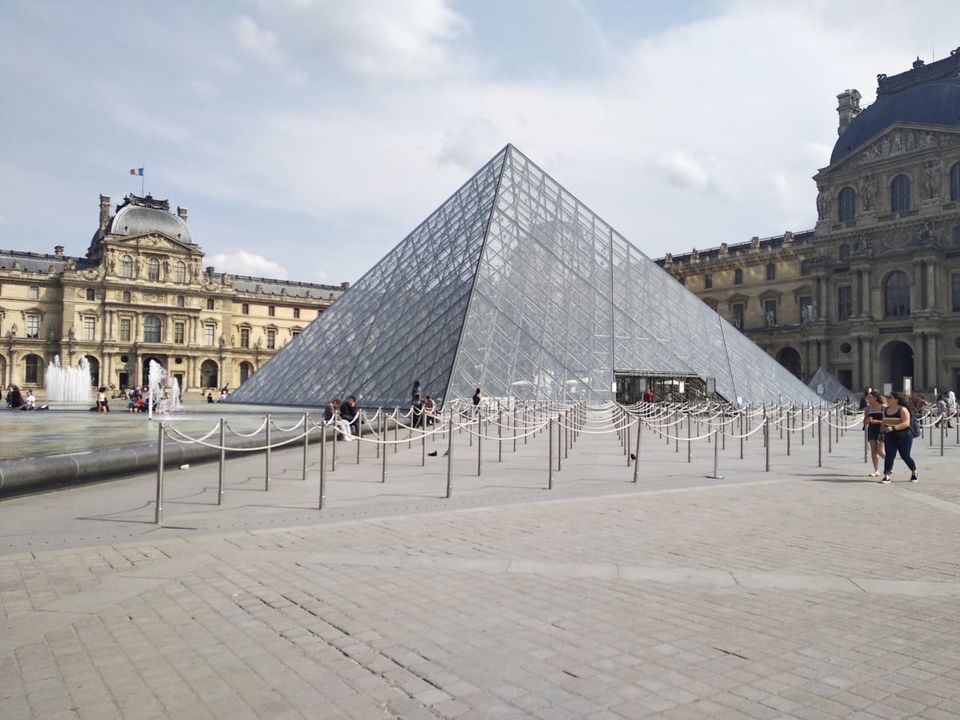 Tip: If you're like me who wants to absorb the place but does not want to spend too much money & are short of time, then don't spend your half day standing in the queue for climbing eiffel tower (€25 each approx.) instead absorb it from far for as long as you want from Trocadero for free. And Louvre Museum is so big that you'll need a whole day and a guide to understand all the history and art (€15 each approx.), so if you're like me who wants to just marvel the pyramid installation instead, then go there from Tuliries Garden exit for free.
Food: Dine in costs approx €10 to €15 each without drinks while take out from a supermarket will cost you approx €5. Did I mention the food here was yum?!! We tried Caeser Salad, Cream Brulee (my fav), French Onion Soup in dine-in and Chicken Basil Pasta, Macroons, Crepes as takeaways.
Alberobello: (1 night)
We took a Ryan air flight from Paris to reach Bari Airport and took a bus from Bari Central to reach here. This little town in southern Italy is not on general radar of international tourists and I'm happy it isn't since we could enjoy this place minus the crazy crowds seen in touristy place. This town is mainly known for their super cute (and functional) Trullo houses. Although many of these have been converted into hotels and cafes (yes, it's still popular among local tourists), there are residents as well and we were lucky enough to stay in one such airbnb!!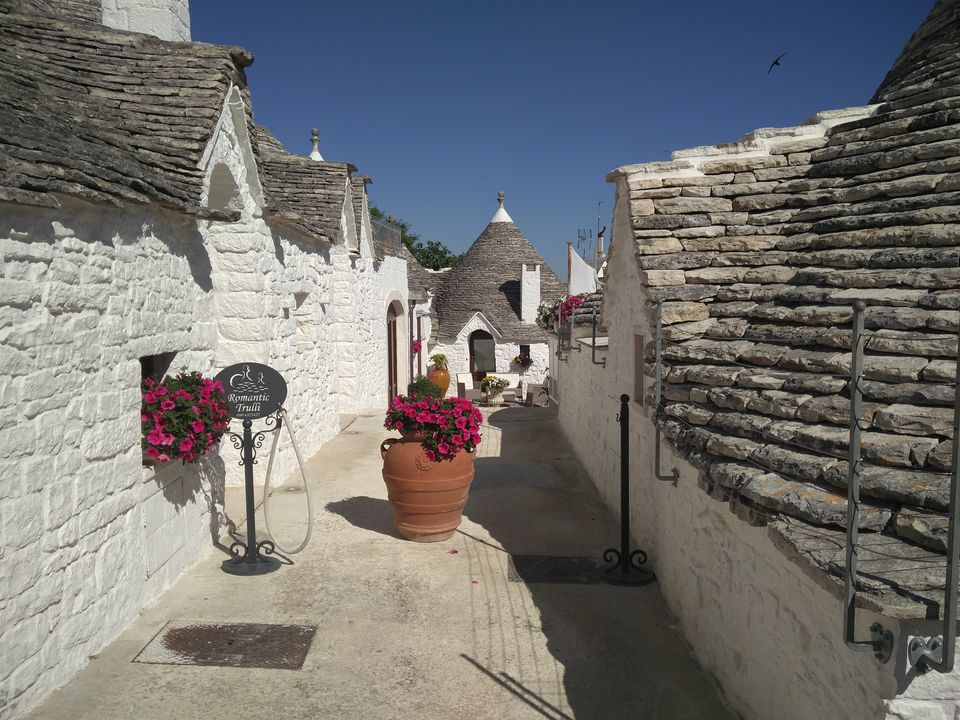 Place we stayed: Il Trullo dei Sogni (Airbnb Apartment)
Places we visited: Obviously the small lanes around all the Trulli houses, souvenir shop to buy small Trullos for just a euro and Belvedere Santa Lucia where you can see all the Trulli houses together. It was a sight to behold and nothing like you would have ever seen before!!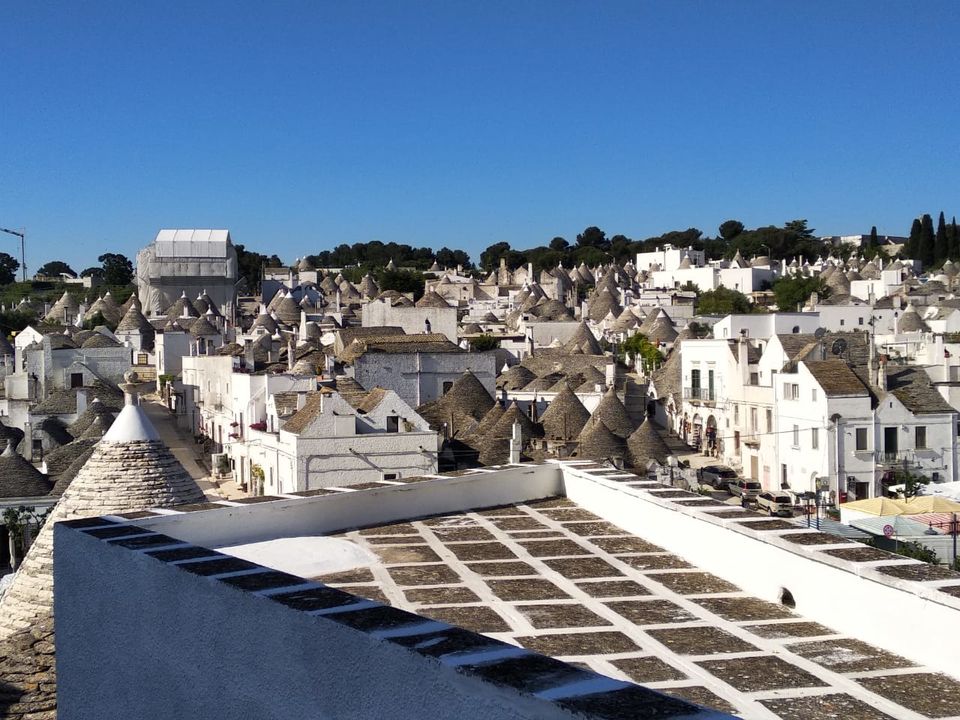 Food: Unfortunately we didn't have much time to explore the food here since we reached late evening and decided to prepare ready to eat food for dinner but we did have an AMAZING breakfast from a cafe nearby. We had 2 different croissants - cream & chocolate and cappuccino(Total: €6). The croissants were mouth watering - soft and the cream just melts in your mouth. They were the best croissants I had in the whole trip and in my life!!
Naples: (2 nights)
Napoli is what the locals call this city. Our main reason for staying in Naples was because it had the nearest port to the Capri Island where we wanted to go. So I couldn't do much city tour since Capri Island took our whole day but that didn't stop us from trying out the best pizza in the whole world (more on that in Food section).
Place we stayed: La Casa Napoletena (Airbnb apartment but we booked from Booking.com since we got a cheaper deal there)
Places we visited: Capri Island
Tip: Take a slow ferry (€12) from Calata/Porta di Massa and not fast ferry (€25) from Molo Beverello, since the price is double for the same destination and the time difference is not much (slow: 1 hr 30 min & fast 50 min but how does the time matter when you are gonna save almost half your money on a single trip!!) Both the ports are at 10-12 min of walking distance. Please check the ferry schedule available on the official capri Island website before planning your day if you want to be in budget since there are more ferries from the latter (obviously tourism). Check similarly for your return trip. Also, please don't book the island tour or ferry tickets in advance, since they charge you booking fees which is not charged for counter purchases. We took the island tour for €15 each (on their official website it's €18 without the booking charges and taxes)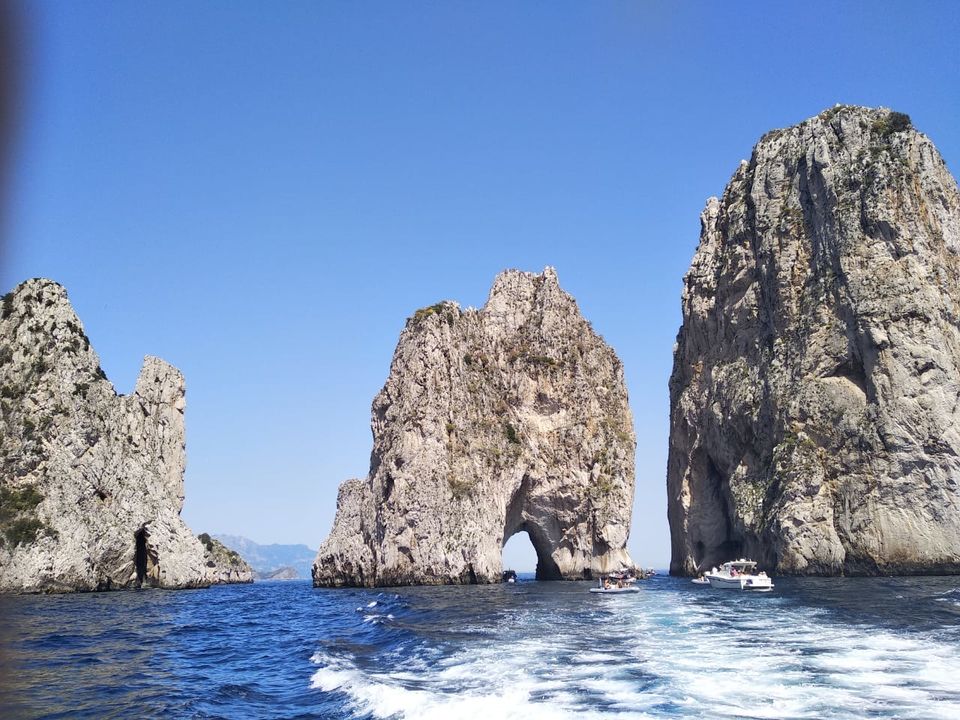 About Capri island: It's a beautiful island and a tour around it is a must!! We didn't do the Blue Grotto which is quite popular but even our guide said it's a bit over-hyped and crowded. (LISTEN TO THE LOCALS!!)
Food: We had the best and cheapest food in the country in Naples!! They had so many varieties that you'll be spoilt of choices. You cannot forget to have an authentic pizza at a place where it was invented!! We had one in L'antica restaurant suggested by our host and we loved it to the last bite!! This restaurant only makes 2 types of pizza - Margerita and Marinara (one with cheese + tomato sauce and one without cheese) and guess how much it costs? ONLY 5 euros!! That's the cheapest and tastiest pizza you'll have in the whole country!!! 1 pizza was more than enough for 2 of us!! We tried many other takeaways from local cafes, don't know the names (the owner tried telling me what they're called in their local languages but I never understood ;)) just took what the owner recommended and it was all yummy!! The cafes which sell fried food are called Rosticceria, so if you like fried food hop on to the one which mentions this on their board!
Rome: (2 nights)
Roma is what the locals call this city. After coming from Naples, Rome at a glance feels like a museum with beautiful fountains everywhere and clean, bright buildings. The architecture in Rome screams of history, hence art & museum lovers will have a lot to explore here. But I would suggest everyone to explore the little streets which are further away from city center here because the popular monuments are super crowded & touristy and do not give the real essence of this city like instead of Trevi Fountain, visit the smaller fountains at Piazza Navona & Piazza del Popolo (very under-rated). The best part here is, there's clean tap water available everywhere and we didn't find it difficult to quench our thirst at any point during our day out in this city!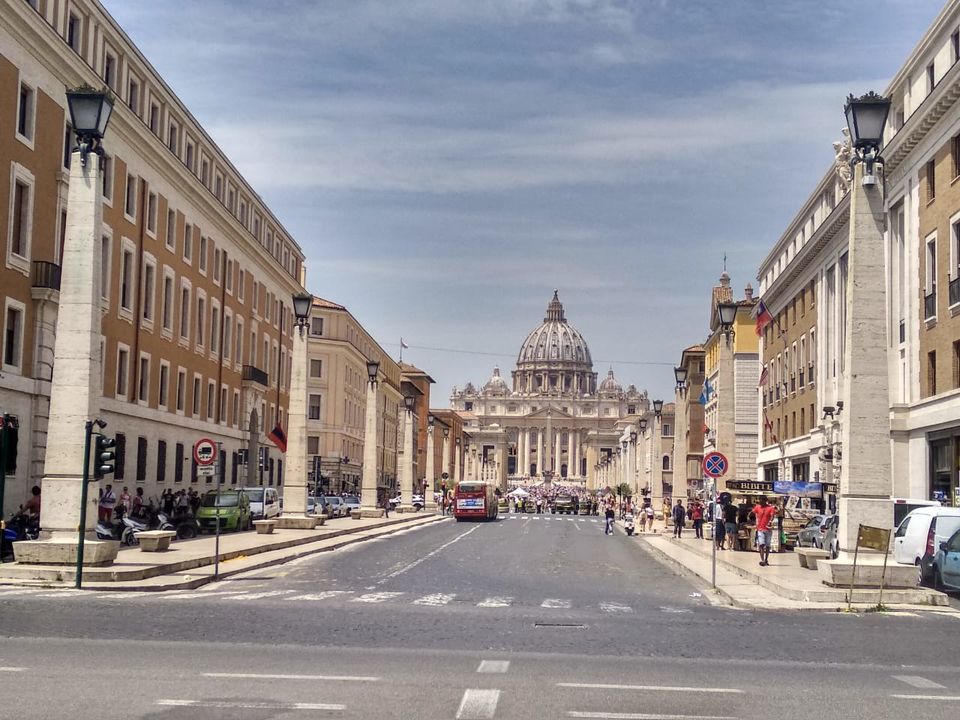 Place we stayed: Hostella (Booked from Hostelworld)
Places we visited: Trevi Fountain (beautiful but too crowded, go early in the morning if you prefer less crowd and want to enjoy the place), Spanish Steps (same as Trevi Fountain), Piazza Navona (best Square in Rome), Piazza Venezzia, Piazza del Popolo (beautiful and less crowded), St. Peter's Basilica Church (Church is free and the beautiful but if you want to climb the dome for the view, remember it's not recommended for heart patients and the climb is tough & claustrophobic - even after paying for the elevator you'll have to climb 300 steps in a closed spiral staircase to the top)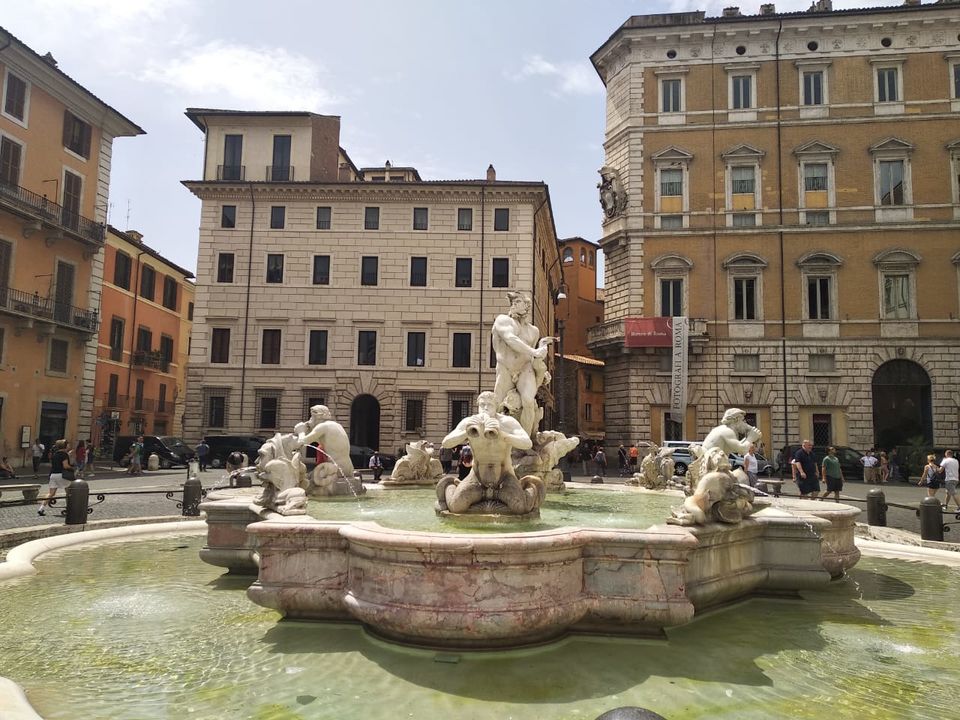 Food: We dined in on our way back from Vatican city, had Pasta, Bruscheta and the best house wine (white). The food was yummy and owner & staff were super friendly. Apart from that, we ate only takeaways and ready to eat food. Tried Artichoke vegetable for the first time here, it tasted a bit weird!!
Florence: (3 nights)
Firenze is what the locals call this city. The reason I spent 3 nights in Florence was because it was my base for 2 different tours which would take whole day - Cinque Terre and Val d'orcia Valley. But I really do regret not booking for 1 more night since I didn't get enough time to explore the city (just half day was clearly not enough) since this city really had so much to offer. May be, there's always a next time ;)
Place we stayed: Archi Rossi Hostel (Booked from Hostelworld)
Places we visited: Florence city tour (Piazza Michelangelo & Medici Walking Tour), Cinque Terre, Val d'orcia Valley tour with wine & cheese tasting.
1. Florence City Tour: We did an impromptu Medici Walking Tour which was promoted by our hostel and it was so good. We understood so much about the history and art of the country. It was a free tour based on tips and our guide Sergio Puglisi had so much energy & passion for his age that it was contagious!! To be a part of his tour, you'll have to go near the Obelisk of Basilica Santa Maria Novella Church where he waits with a red flag everyday at 5.00pm. After that we went to the Piazza Michelangelo to see the whole city in sunset. It was a beautiful view! It's a steep climb to so be prepared with good walking shoes.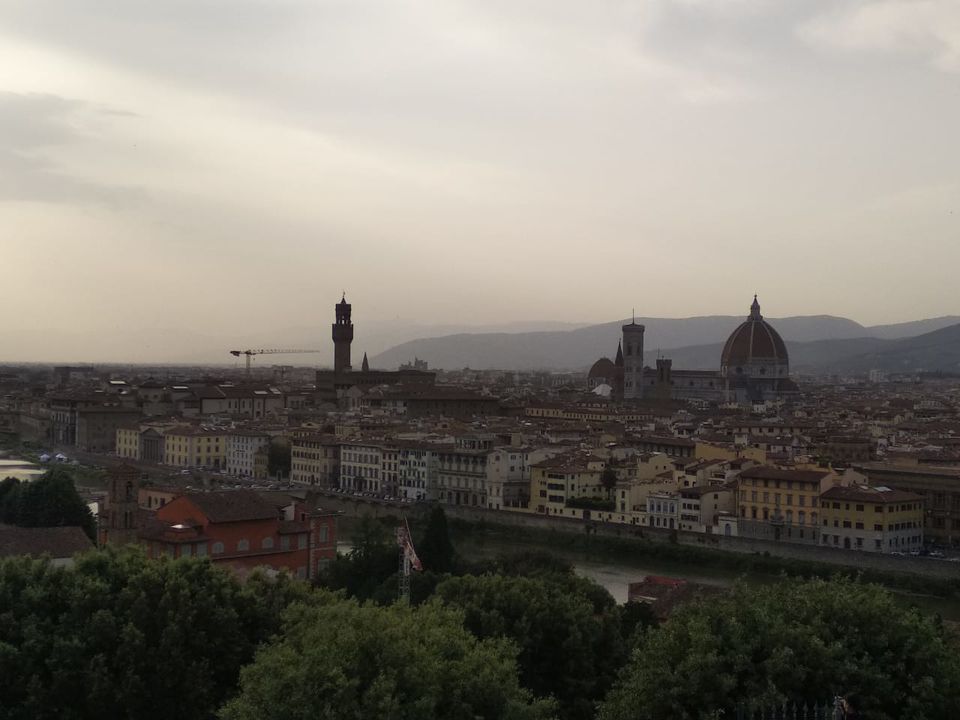 2. Cinque Terre: Next day, we started early from Firenze Centrale SMN to La Spezia (Average Return ticket price €30 each) which is the base for booking and travelling to Cinque Terre (Consists 5 coastal villages - Riomaggiore, Manarola, Cornigla, Vernazza & Monterosso). You get a day pass for €16 each to visit all 5 villages and is beneficial if you are planning to visit all of them in 1 day else buy individual ticket. We loved Manarola the best!!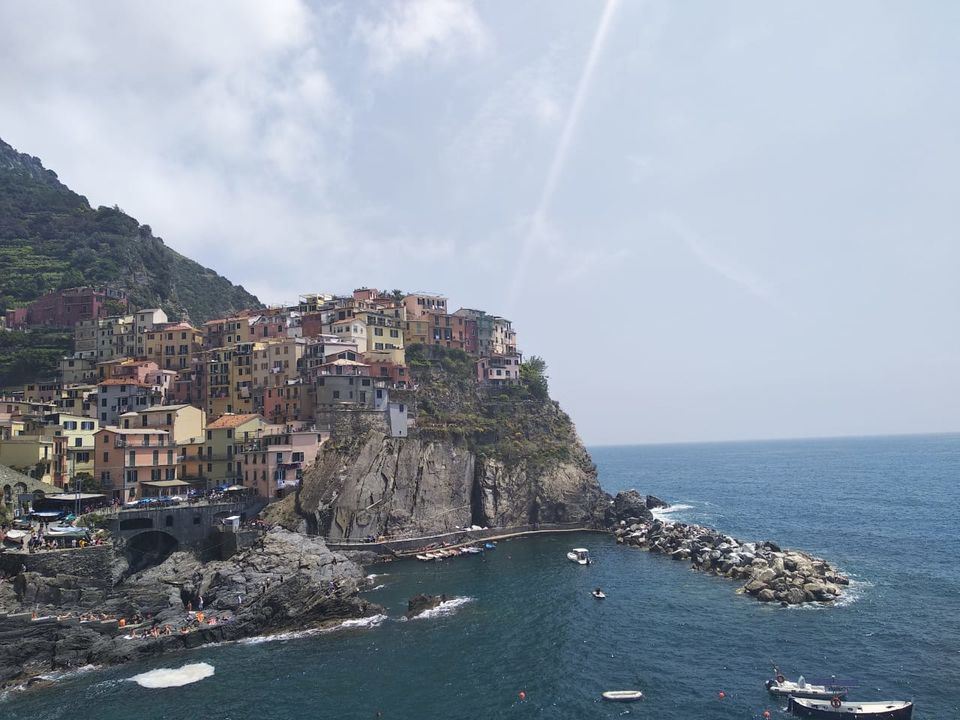 3. Val d'orcia valley: There is no reliable & direct public transport to visit this place hence booking a tour will be the most cost effective and fun way to explore this place. We booked a tour from Viator(€70 each) which included visiting 3 villages in this valley, 2 wine tasting and 1 cheese tasting. It's advisable to carry your own lunch because it's not included in the tour and the food is average at the place that they suggest according to people who had it there. The valley itself is beautiful and I couldn't take my eyes off the bus window throughout the day. The wine & cheese tasting were fun and informative and the villages were super charming exactly what we would imagine Italian countryside to be!!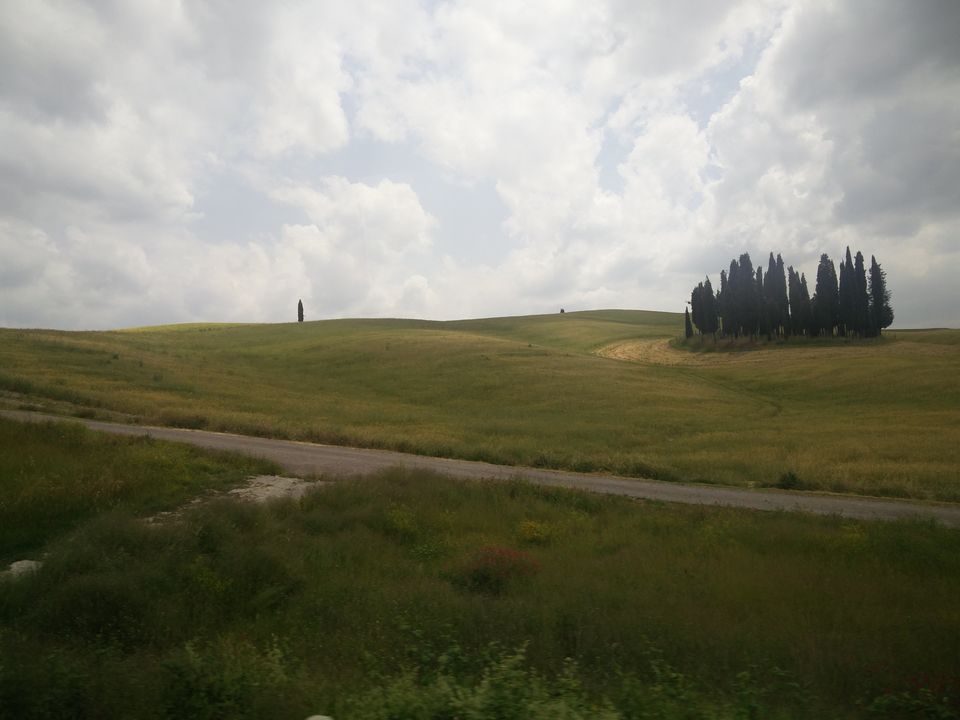 Food: We had the best Spinach & Ricotta Ravioli in Florence at a cafe named Officina for just €6.5!! We also dined in on our last night in Florence with our hostel friends and had a Pizza with Pink wine at a restaurant named Il Nutino (friendly staff). In Cinque Terre, on our way to Manarola, we had a very yummy Onion Focacia (I generally hate onions so that's saying something!!) and Calzone pockets for lunch.
Milan (Our return journey):
Next day we took a train to Milan Central and then bus from there to the airport. Unfortunately, I did not factor the luggage I would be carrying and thought half day would be enough for exploring Milan hence booked the flight for night 9.00 pm. But the thought of sightseeing with the luggage felt like a nightmare and dropping off luggage at the station or any other place for few hours sounded risky for us hence we skipped exploring here.
Tip: Book a stay for a night even if you want to do a half day tour at any new city. That way your luggage will be safe and you can peacefully explore that city.
Read General Tips, planning and expenses details in Part 2 of this article here
Frequent searches leading to this page:-
Europe tour packages for family from Delhi, Europe tour packages for family from India, Europe tour packages for family from Mumbai, Europe tour package from India, best things to do in Europe during winter, best things to do in Europe, unusual things to do in Europe, extreme things to do in Europe