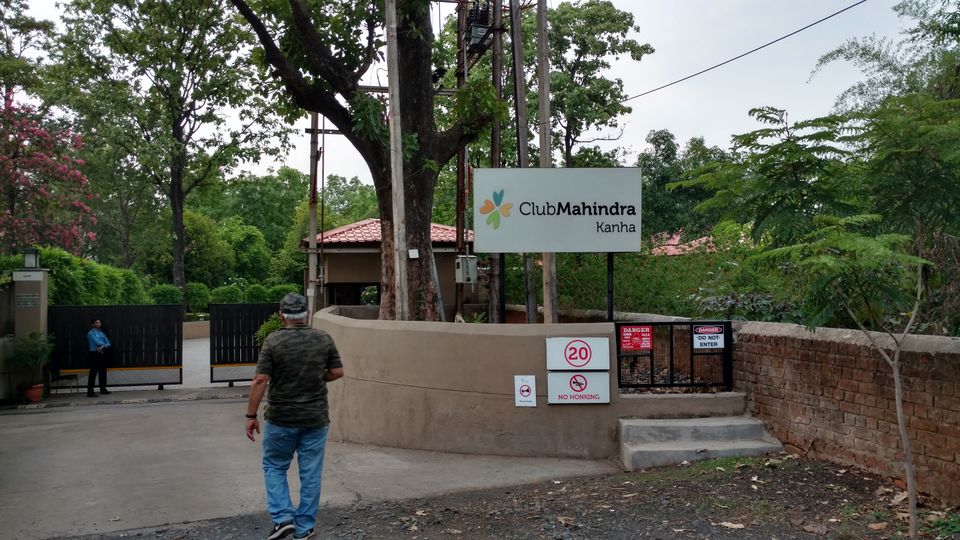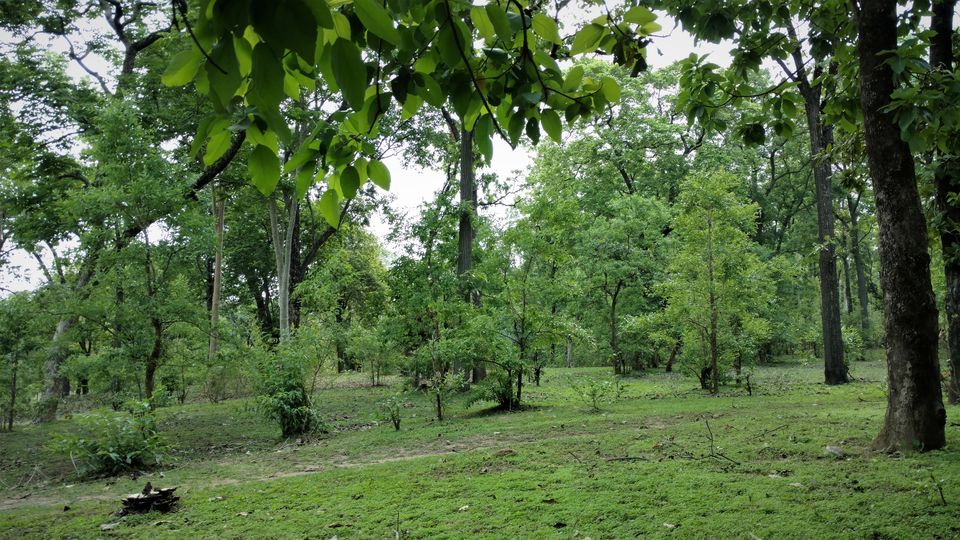 There comes a time in your life when you have passed your prime but your love for travel and adventure is still young. Or you love to travel with your family, have the money but you have neither the time nor the patience to plan a trip. This is when you start looking for a holiday resort chain which has most of the things planned out for you, preferably a tried an tested brand and it offers maximum diversity in terms of geographical locations.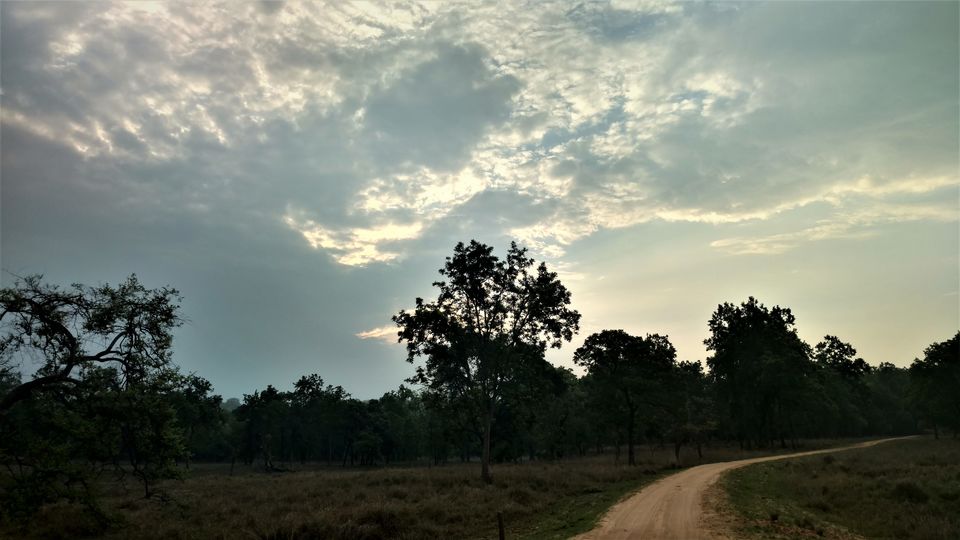 Well, travelling has been our passion (me and my husband's) and in our greener days we travelled on medium budget. We would rough it out in seedy hotels, dharam shallas, and B-grade home stays or village huts of the locals with our two young sons in tow. Low budget travelling can be a tremendous learning experience - getting up close and personal with the local people, culture and Nature, which includes the good, bad and the ugly.
However, with age and economic prosperity, we've developed a low tolerance for unhygienic hotel rooms, mosquitoes and flies, dust and heat. In addition every time a trip needed to be planned, it required research, surfing through various travel sites and bargaining our way through the itinerary, and we had begun to find this quite stressful and exhausting.
We were introduced to Club Mahindra by a friend and decided to go for it. This was our first trip to their Kanha resort as a part of a complimentary five-night offer. We decided that three nights were enough to explore Kanha.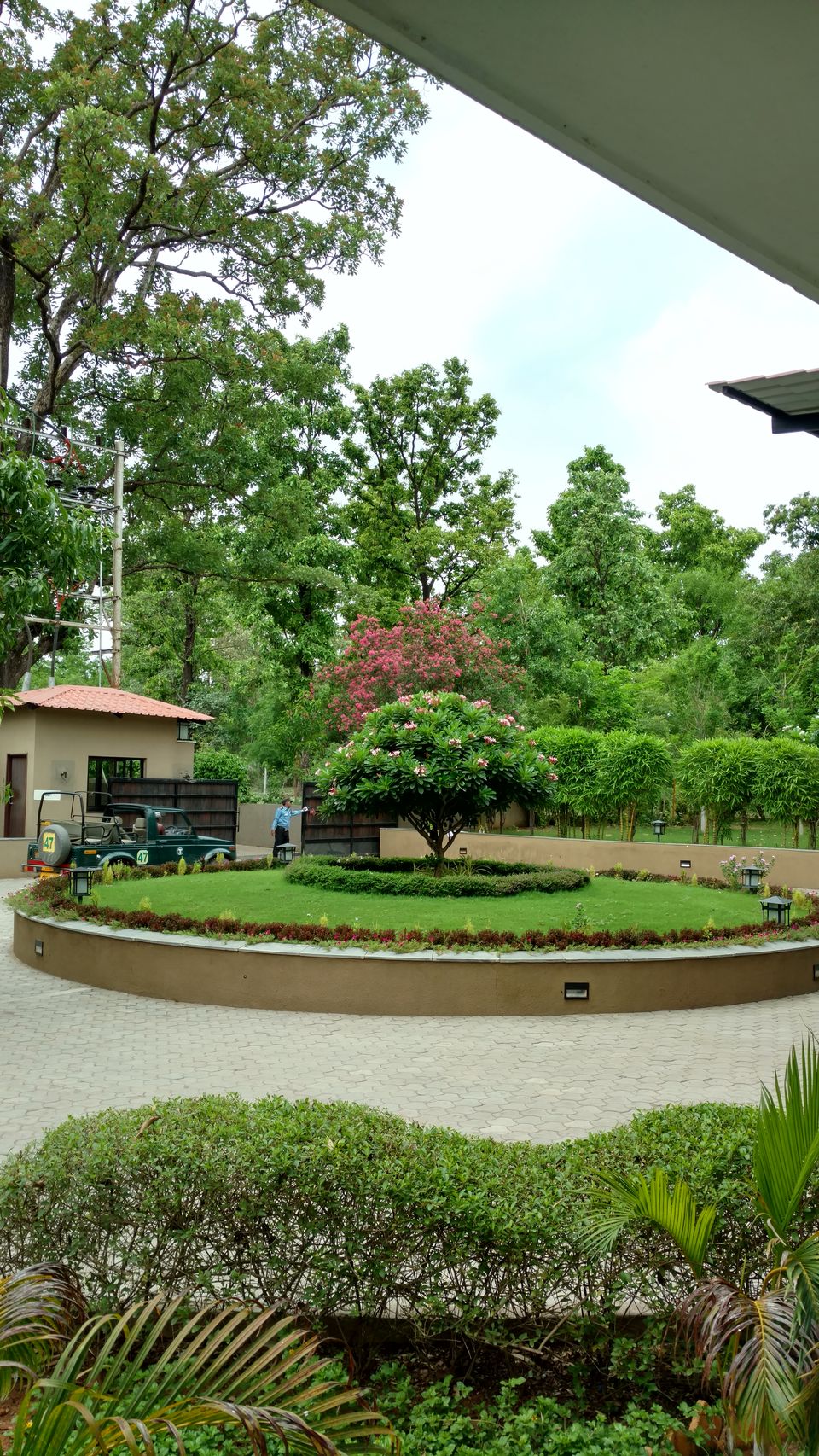 Day 1
We took a train from Delhi to Jabalpur. At Jabalpur we had the choice of hiring a local taxi (charge rupees 3500/-) to the Club Mahindra Kanha Resort or avail the pick up facility of Club Mahindra (charge 4000/-). We took the local taxi. We covered the distance of about 158 km in about four and half hours.
The major plus point of this resort was its location. It wasn't on the main road but towards the interior. At the resort we were greeted with a welcome drink of mango panna and a porter immediately took our luggage to our designated flat.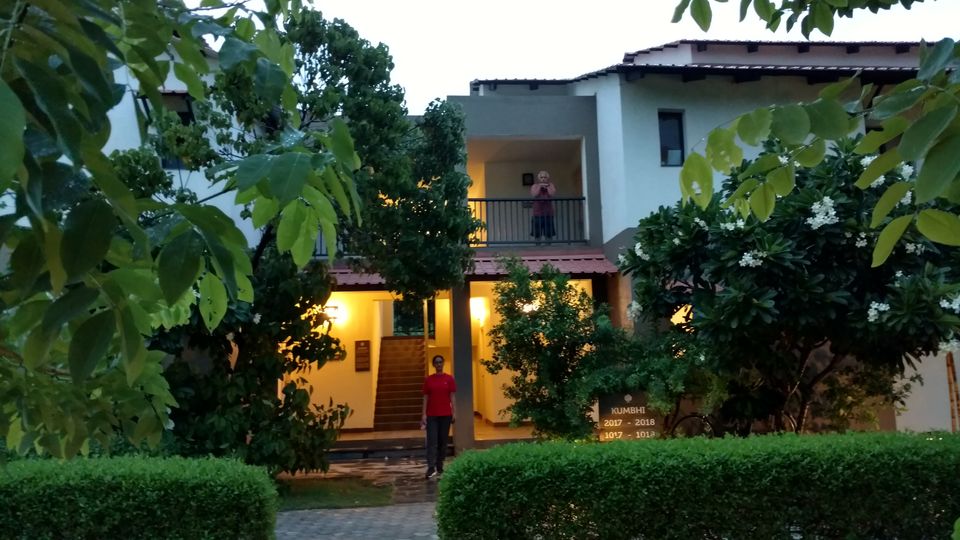 The one-bedroom flat was just the right size for a family of four. Apart from the bedroom, the living room had a double-bed sized relaxing and sleeping area. I was won over by the cooking and dining area. It had a working platform for making tea/coffee, a microwave for reheating and a sink which has taps supplying R.O. water as well as normal water. There was liquid soap and sponge for washing the cutlery, complete with a kitchen napkin and microwave glove. A circular dinning table for four was part of the dining area furniture. There was 24-hours hot water supply. It almost felt like home!!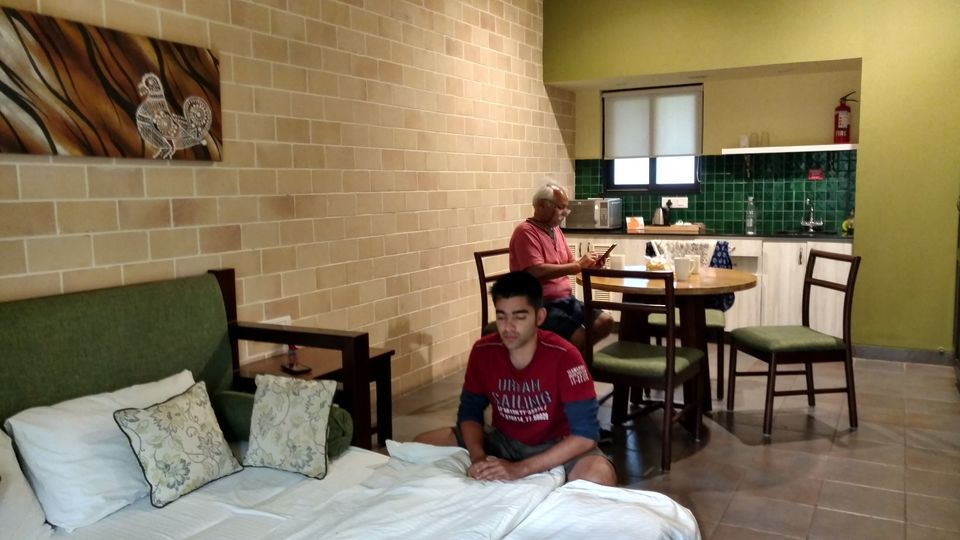 The interiors had a wood and stone finish with clean curtains and upholstery. The balcony overlooked the wilderness area which begun just beyond the border fence.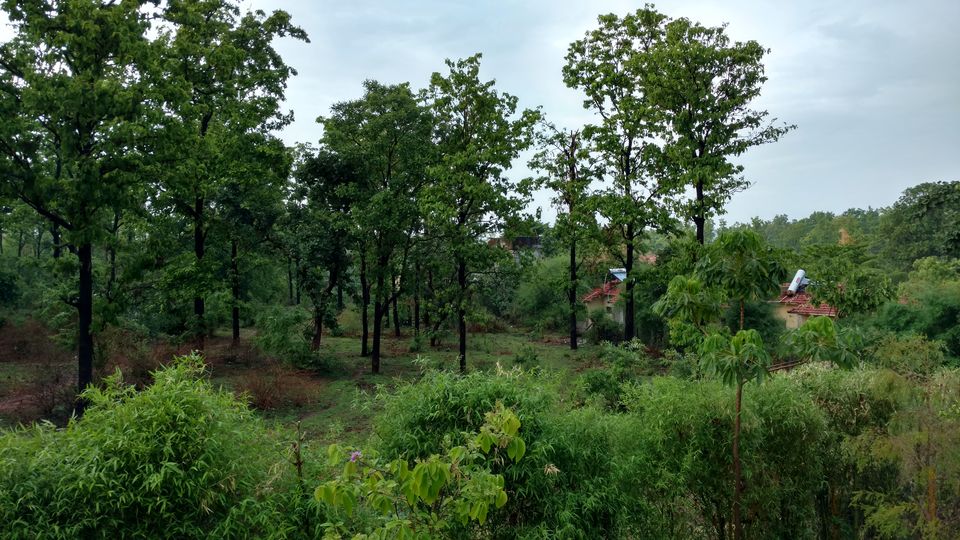 After buffet lunch at their Spices restaurant we tried our hand at pottery making. It was fun and we were charged Rs. 165 + GST per person. Some activities like snooker, video games and Spa were chargeable and some like table tennis, badminton and swimming were on the house. However, if you hadn't brought your swimming suit along, the resort would lend it to you for a price.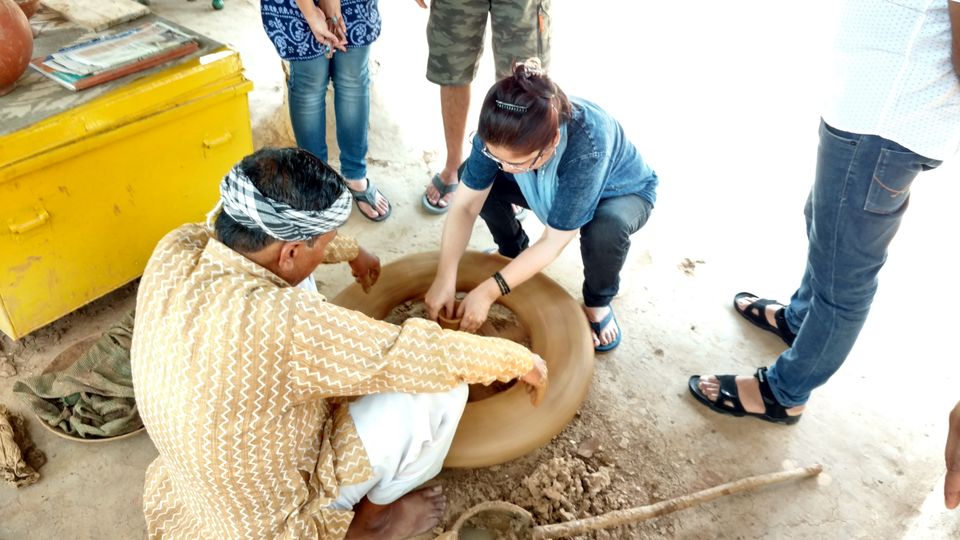 The resort had beautiful landscaping with a large variety of local trees as well as horticultural varieties, well-trimmed bushes and the naming of cottages after indigenous trees added to the overall charm of the Resort. An old banyan tree with rubber tyre-swings was a source of fun for the kids.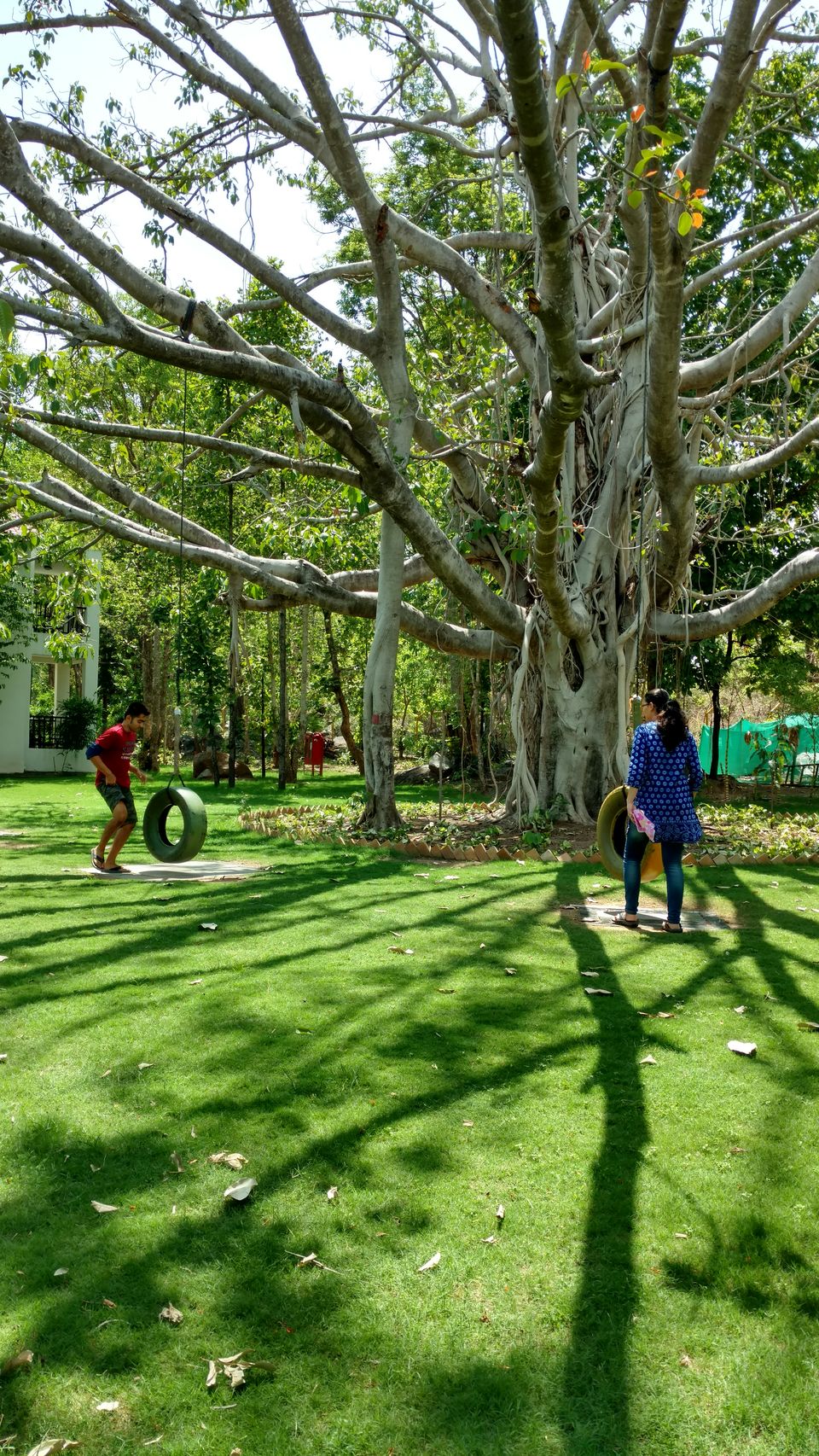 The evening was spent strolling inside the beautiful resort and later making arrangement for the early morning forest safari at the travel desk of Club Mahindra.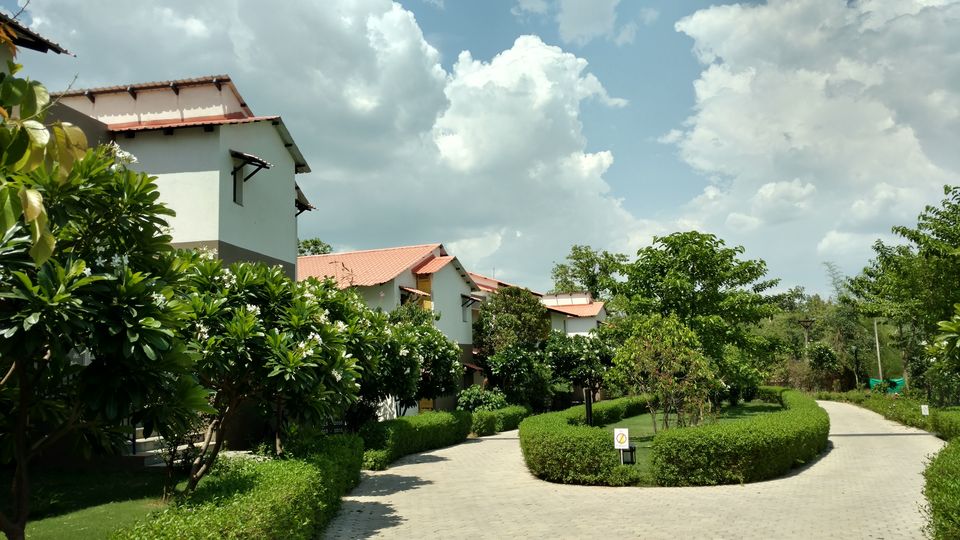 We had booked the safari permit online in advance from the Madhya Pradesh Forest Department website. It costs Rs. 1550/- for 4 people. There were two safaris, an early morning one which started at 5:30 am and the next one at 11 am.
The travel desk arranged our safari jeep at the cost of 2500/- for one jeep. We were to pay Rs.500/- for the guide who would accompany us on the safari.
Day 2.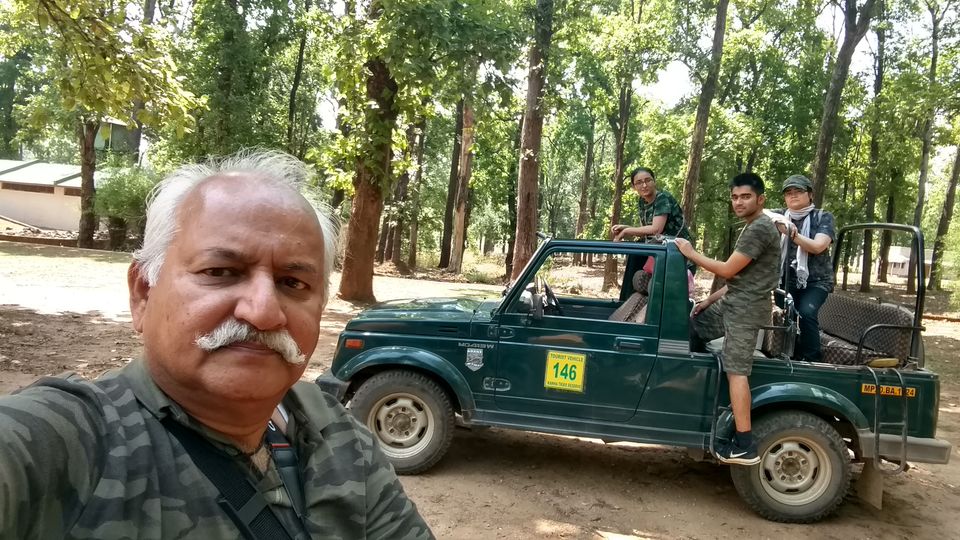 In the morning we collected our packed breakfast parcels prepared by the resort staff - mayonnaise sandwich, two muffins, a packaged drink, an apple and water bottle. We were picked up from the resort by the safari jeep at 5 am. Our aadhar cards were checked at the N.P. gate, a forest guide hopped into our jeep and off we went.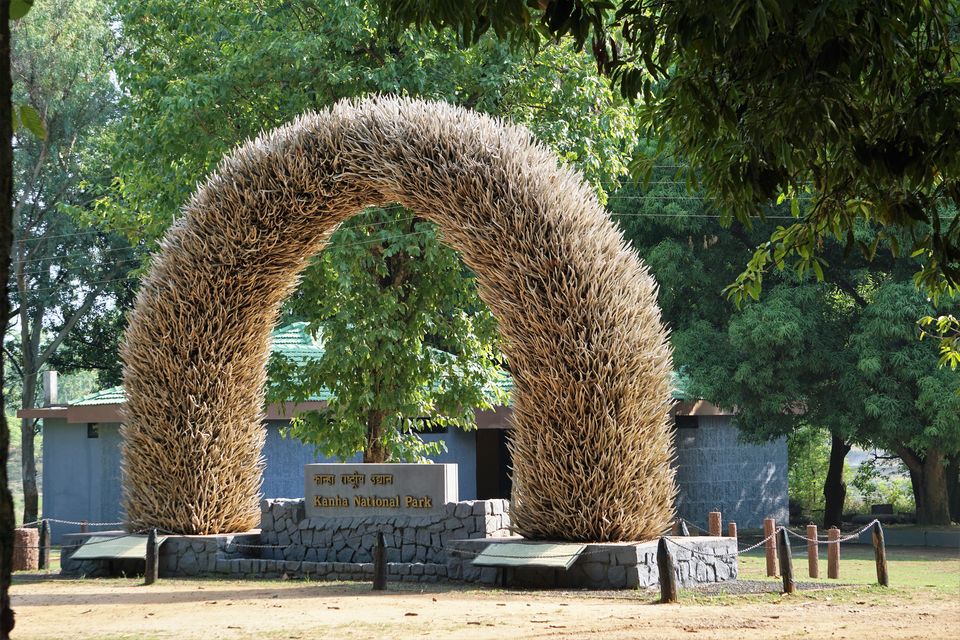 It was a beautiful ride and we managed to spot four tigers as well as other animals.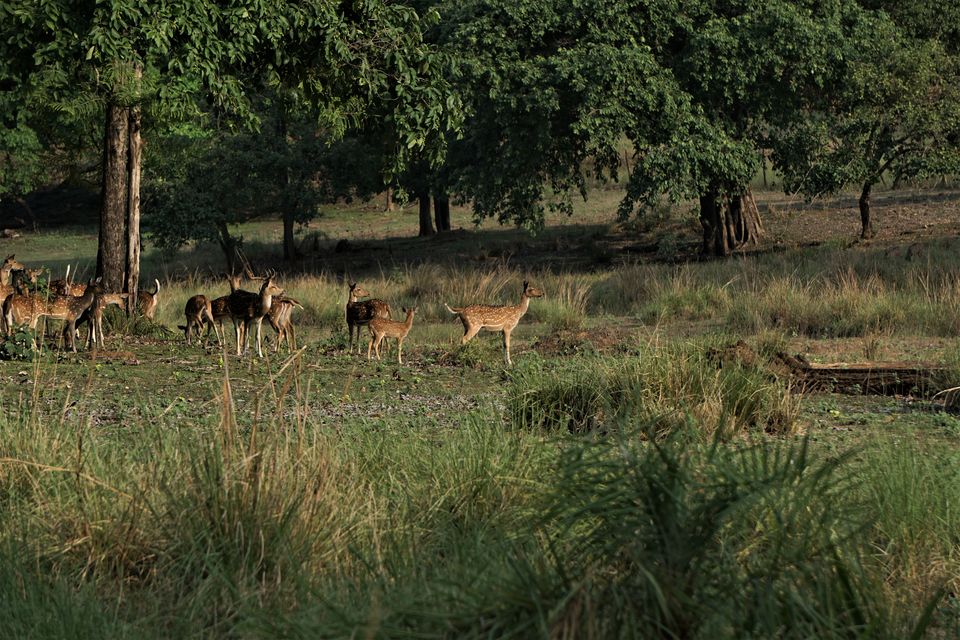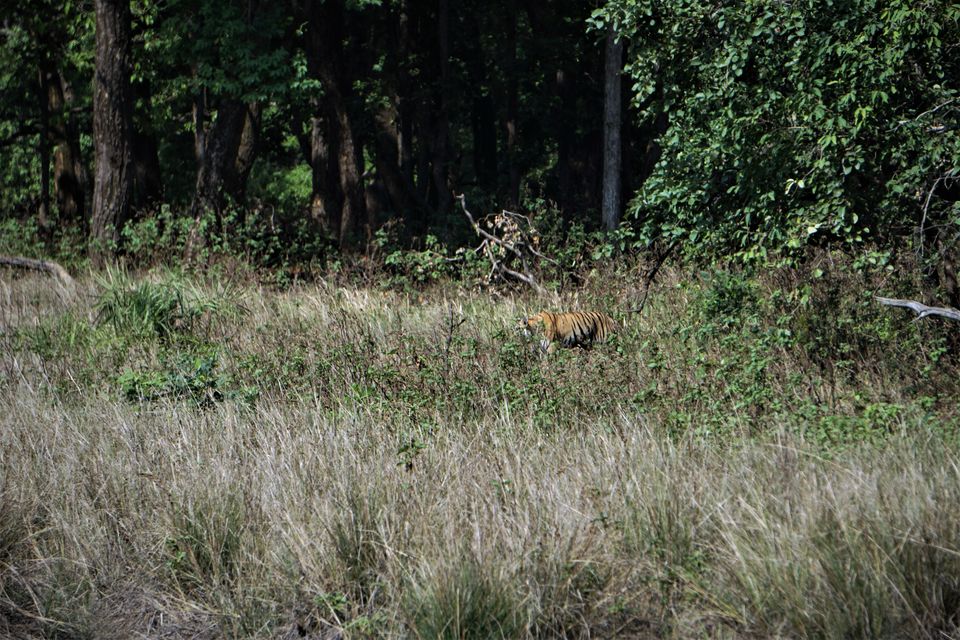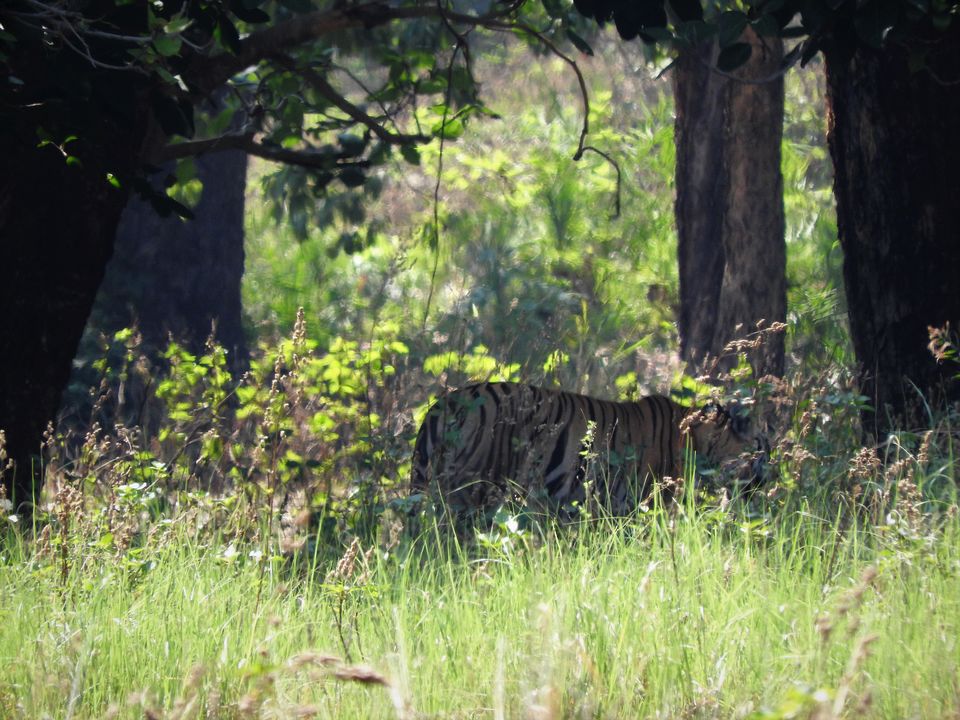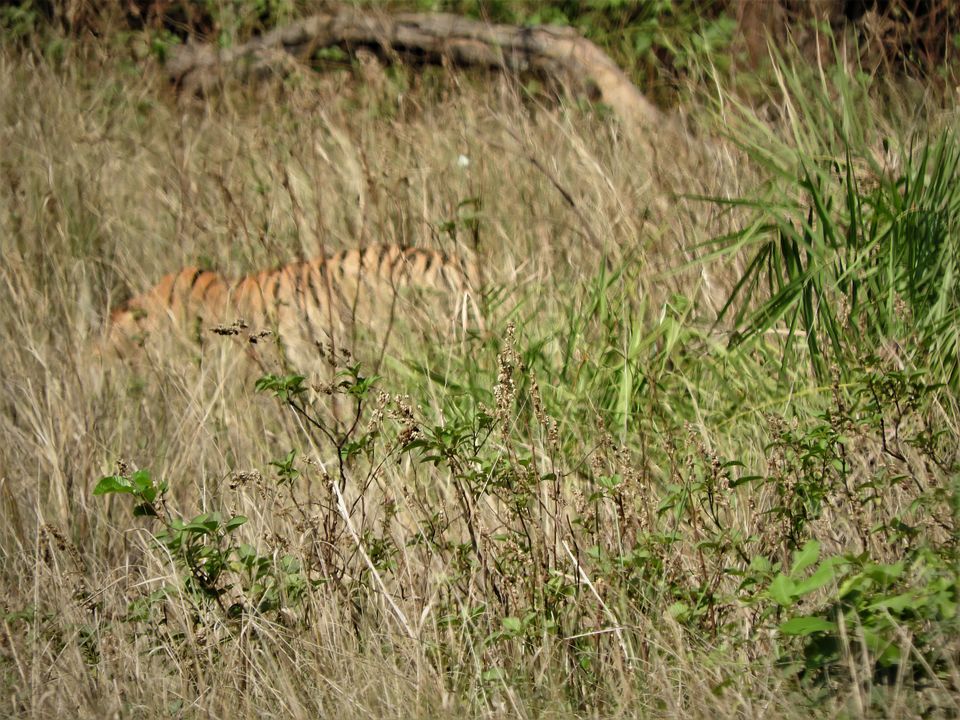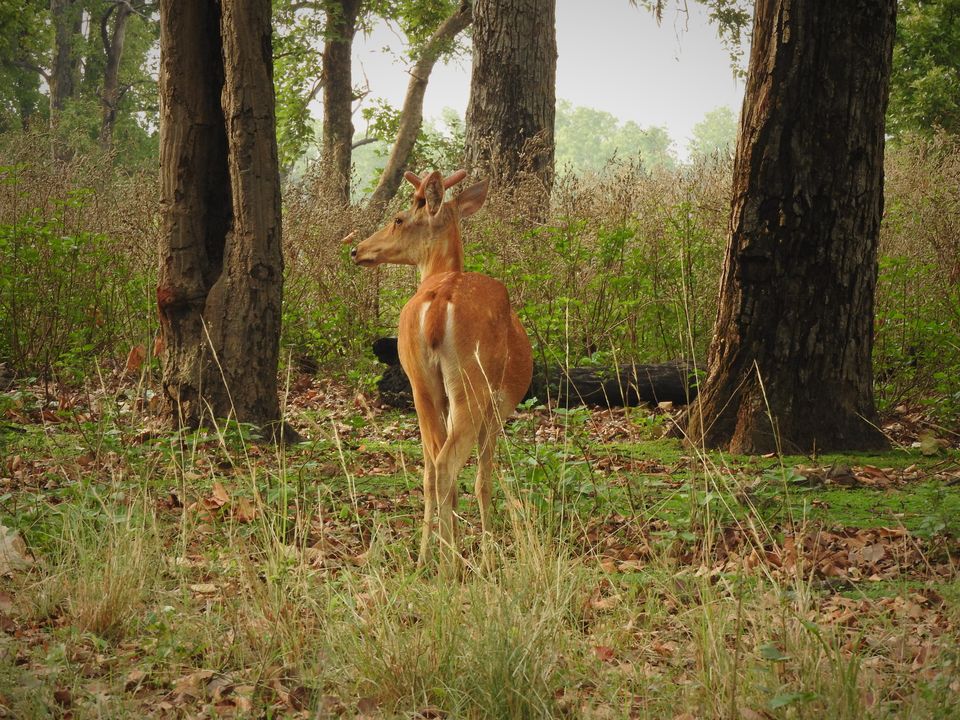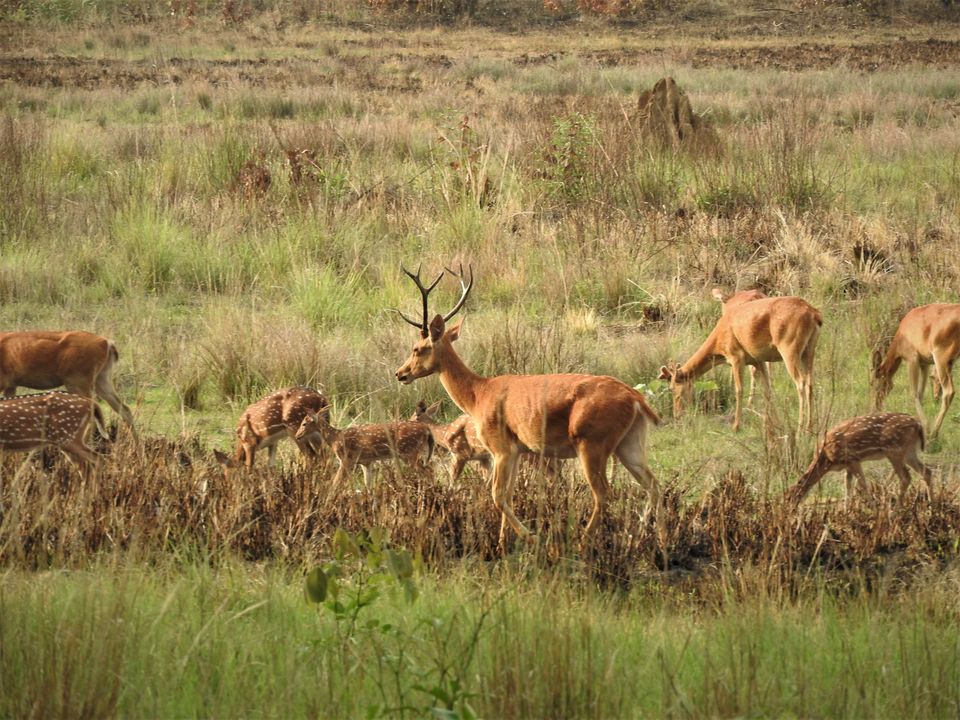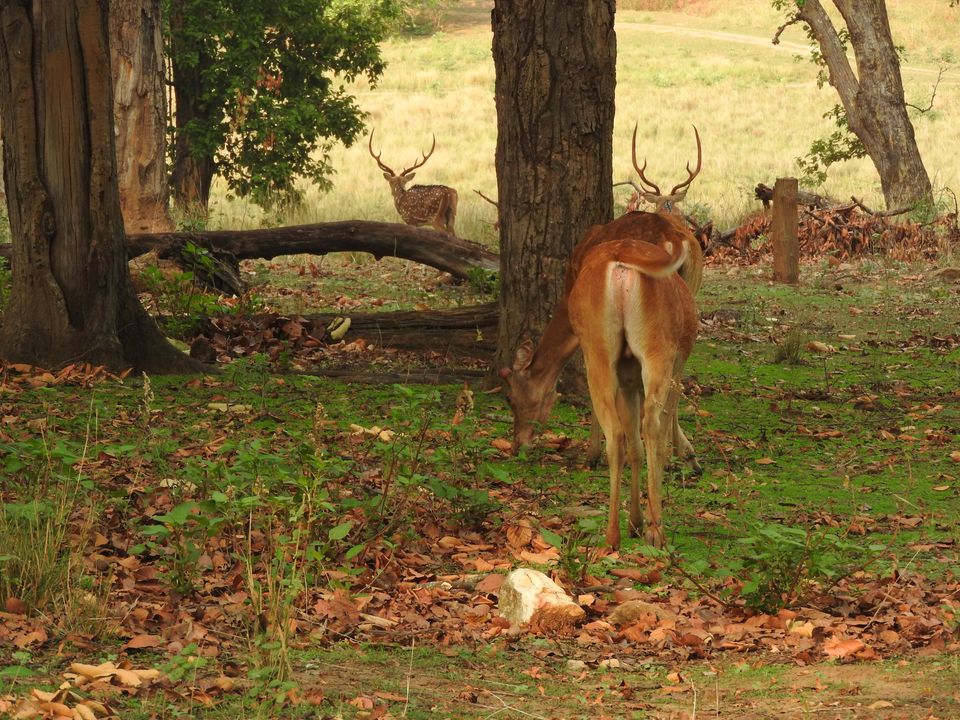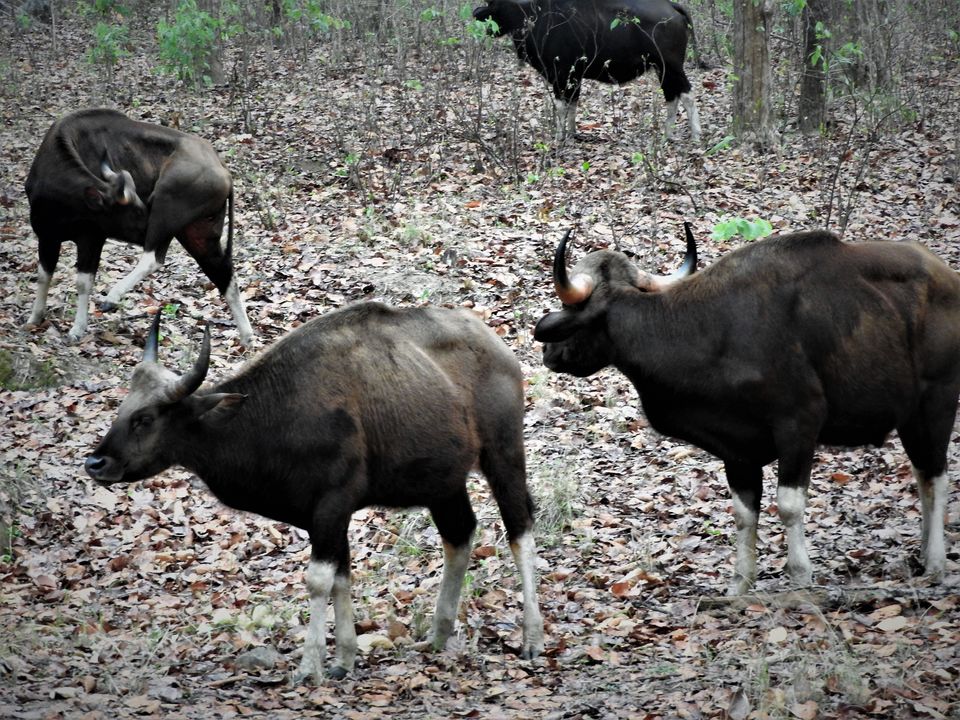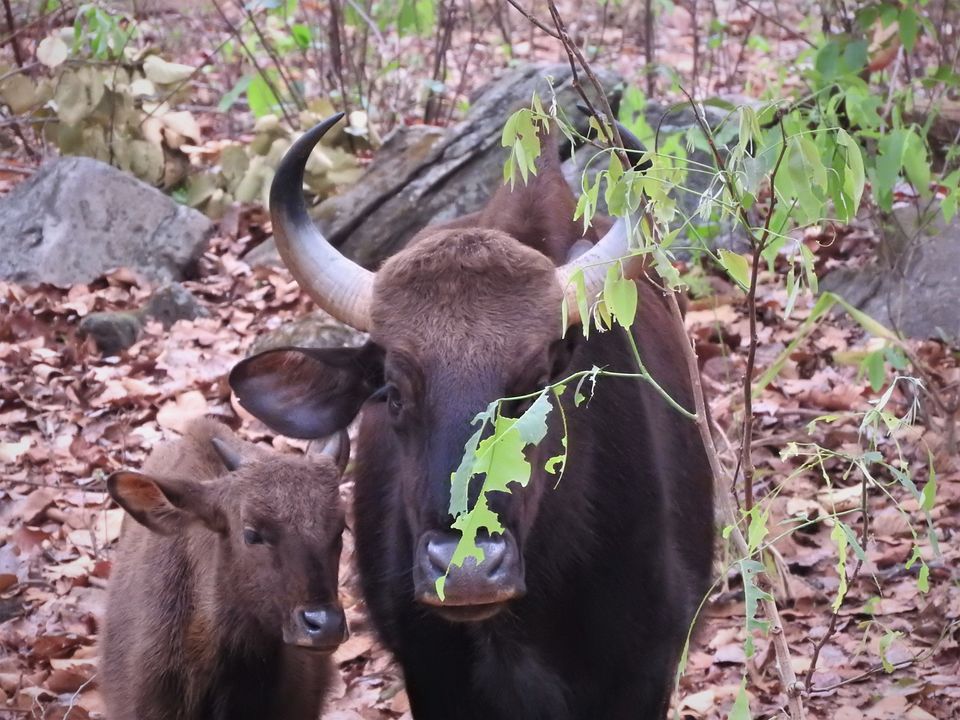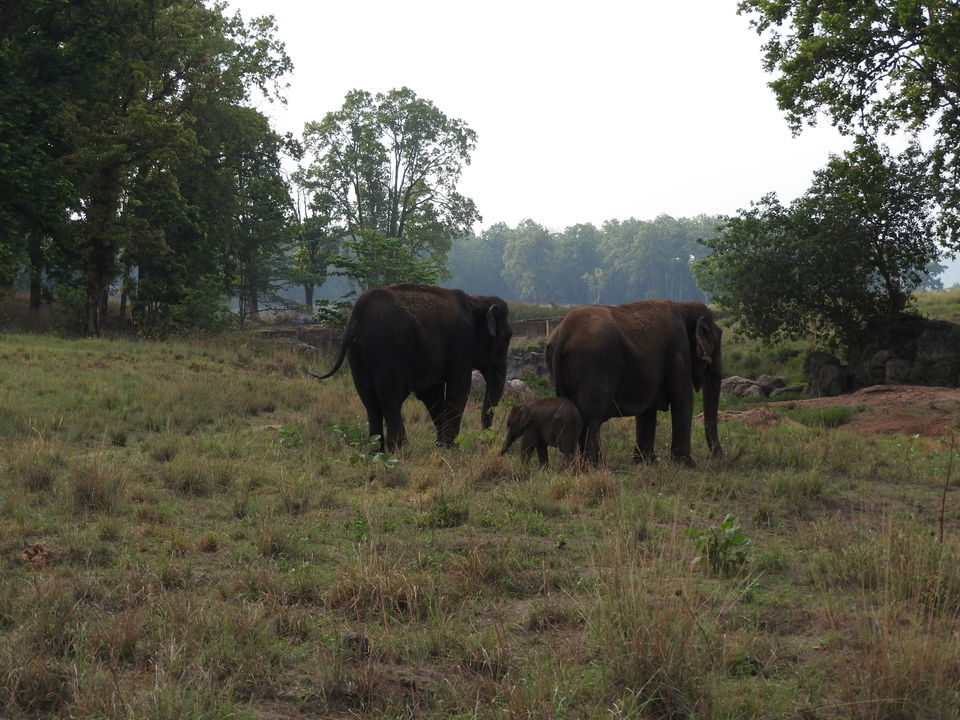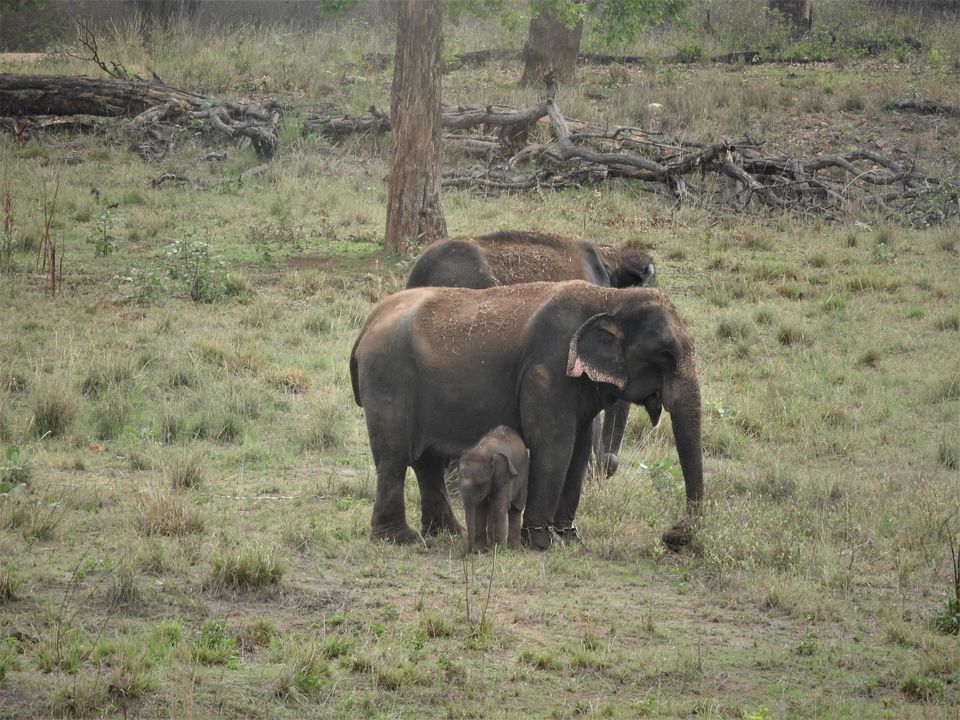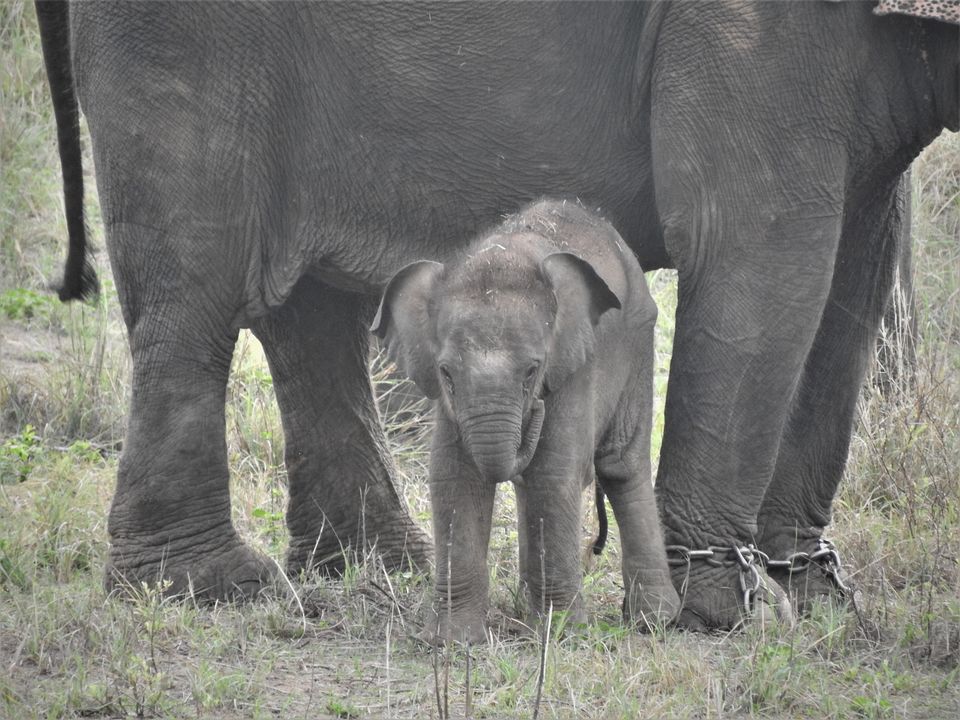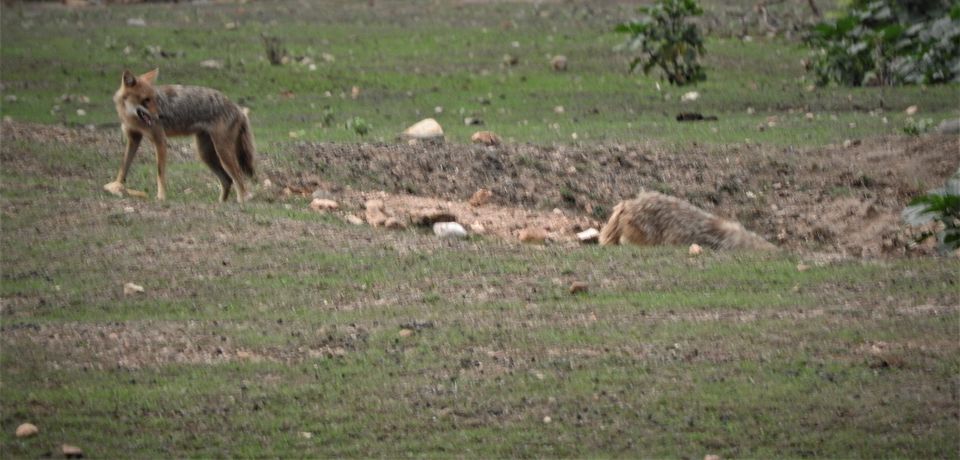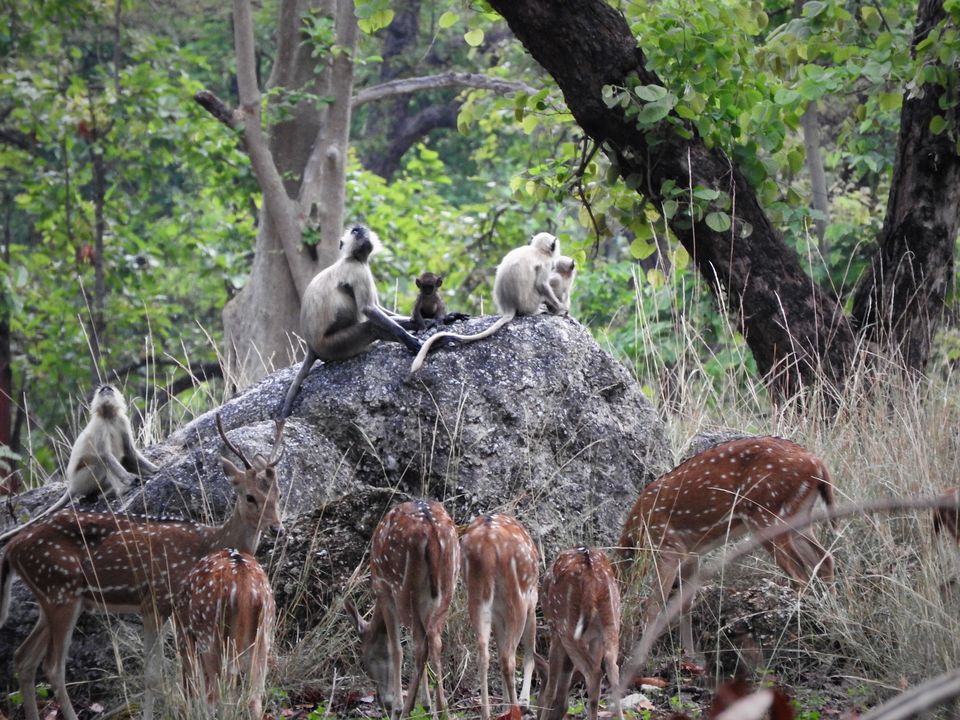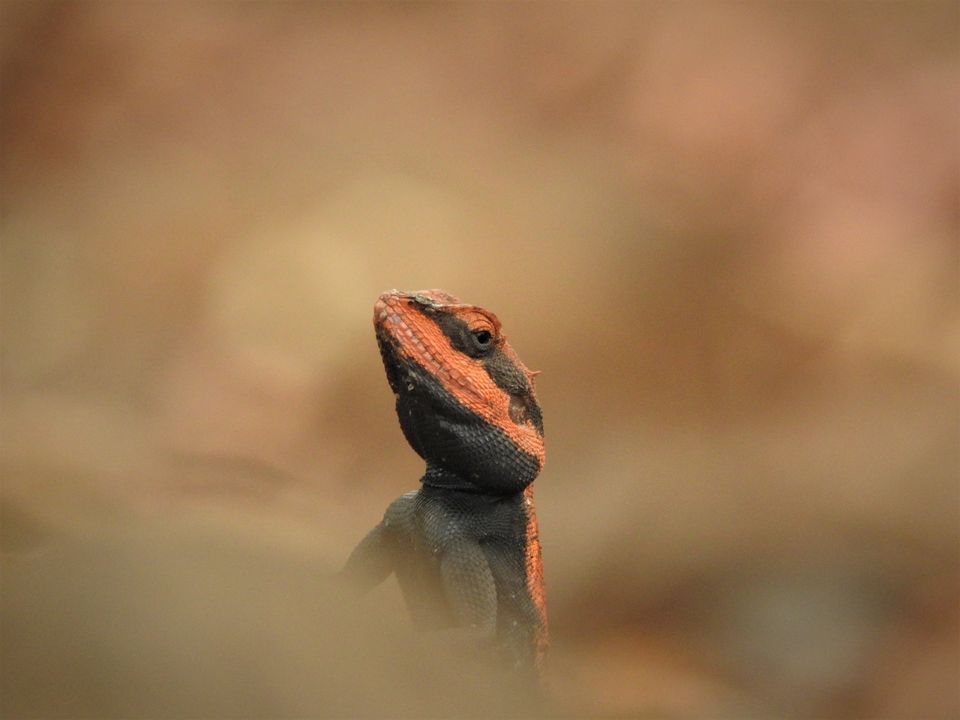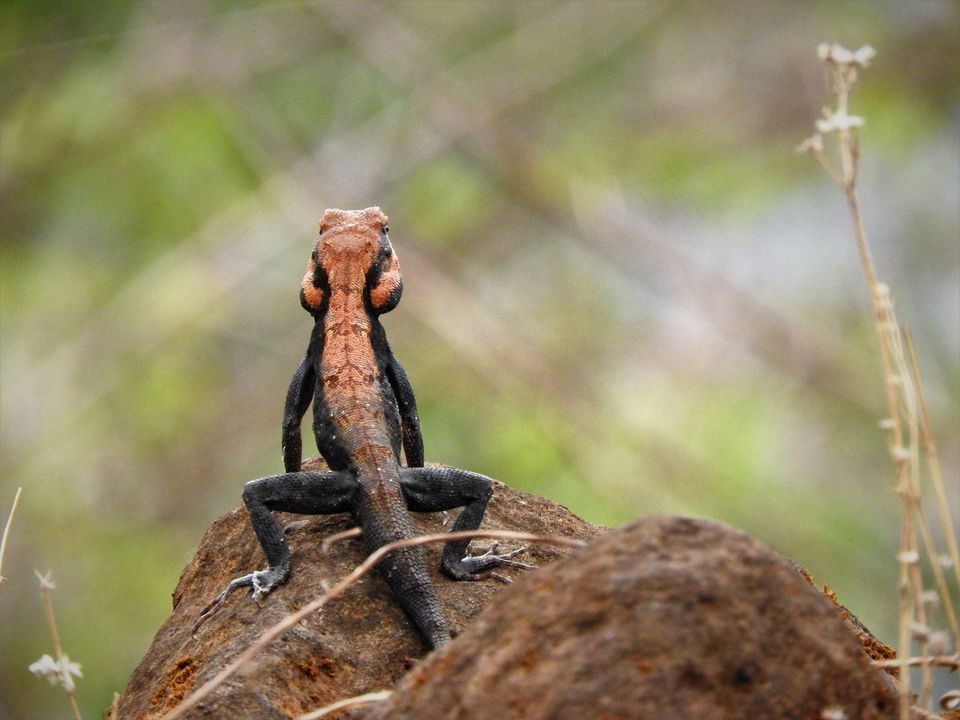 We were dropped at our resort by 11:30 am. An afternoon swim in the resort swimming pool was followed by a buffet lunch. A short siesta, and a very fruitful discussion with the customer relation staff of the resort who persuaded us to shift our membership from white season to red season (for details on this you can check out the Club Mahindra web site).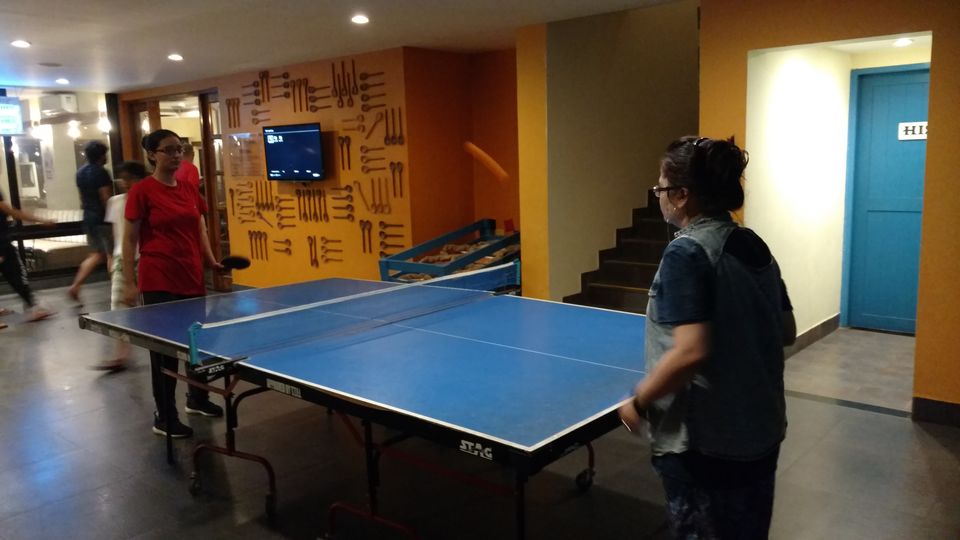 The evening was occupied with a game of table tennis and post dinner stroll around the resort. The resort staff organised various activities every evening and this included salsa dance lessons, DJ night, and small outdoor games. The loud speaker was being used for some of the late evening outdoor activities and we felt that this should not be allowed as the nearby wild life, especially the birds roosting in the nearby trees would be disturbed by the loud noise.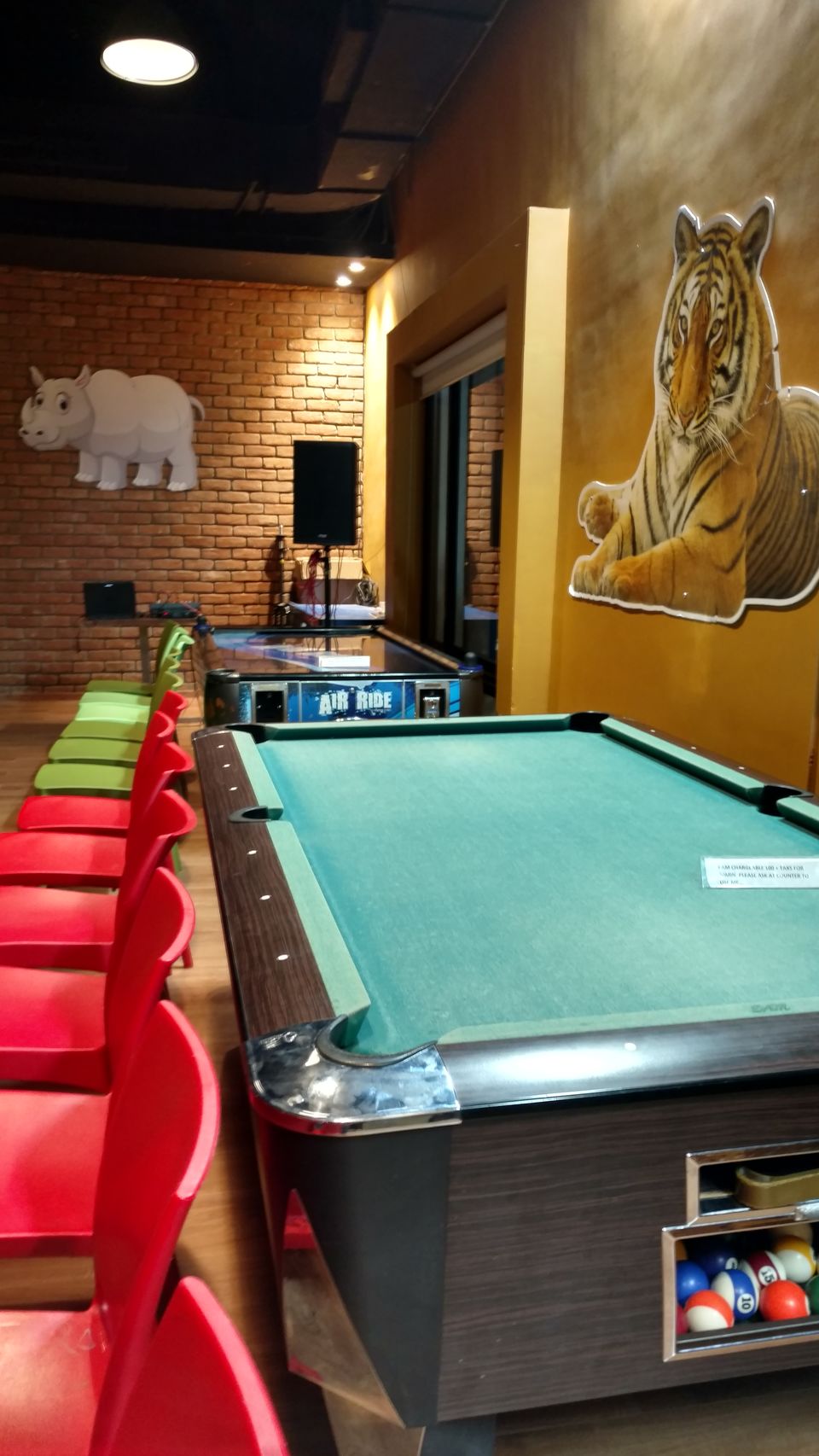 Day 3
The resort arranges a visit to a local village as well as nature trails and bird watching trips under the guidance of Shri Qadirbhai for interested visitors at the cost of Rs. 200/- per head. Qadirbhai took us along a beautiful trek in a forest patch behind the resort and impressed us with his knowledge of local trees and birds. He could identity the birds just by looking at their silhouette or from their calls.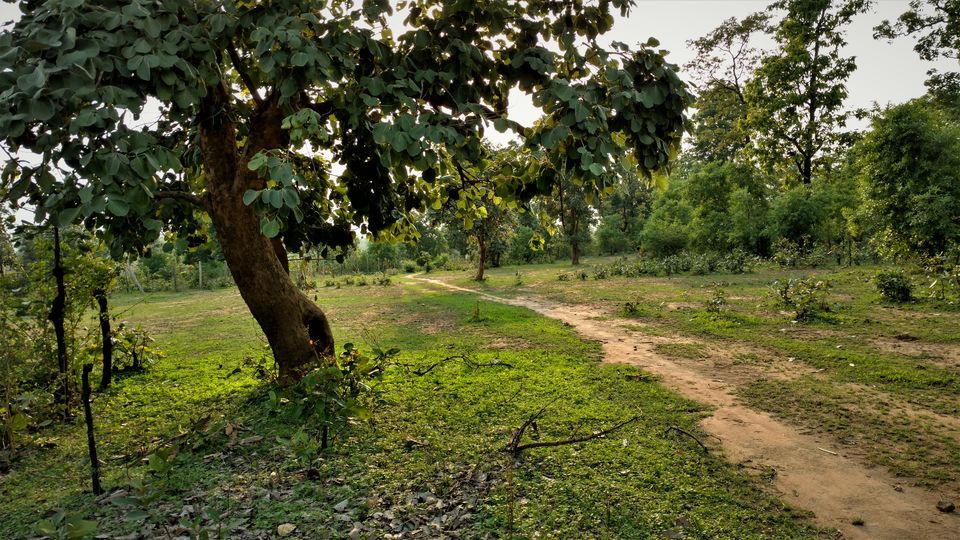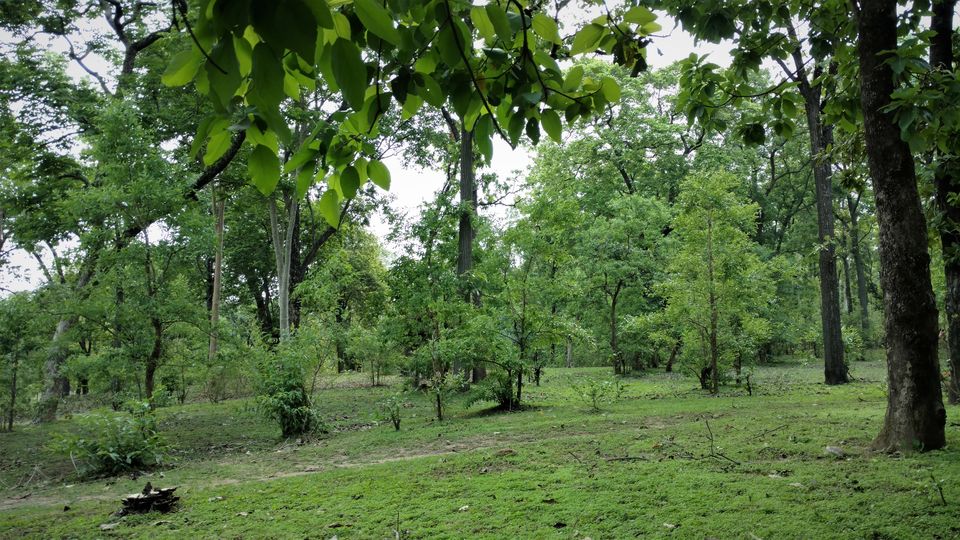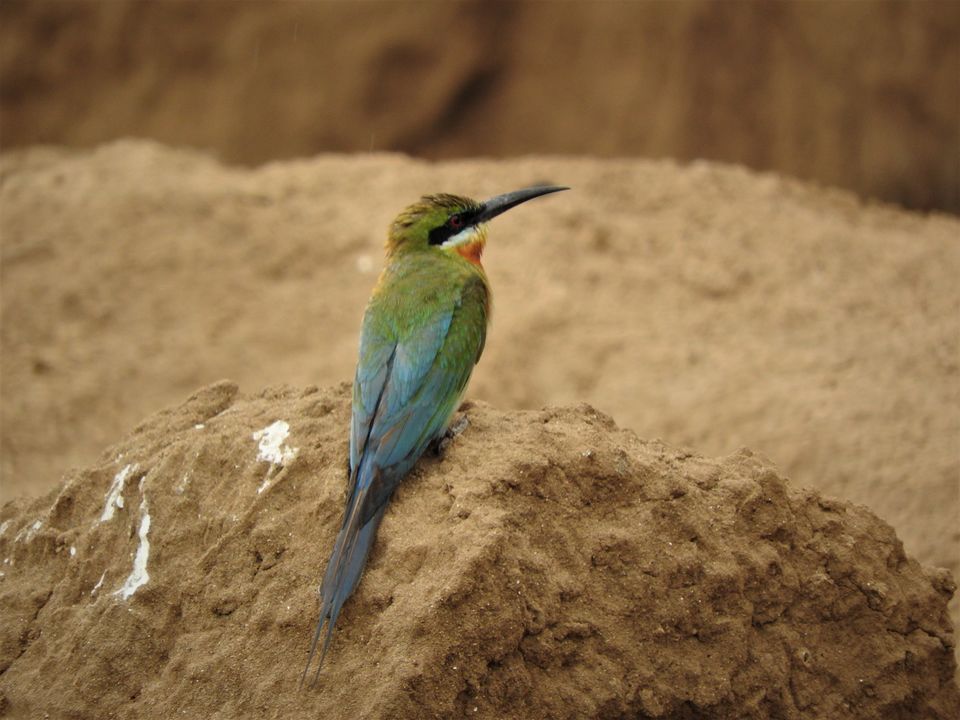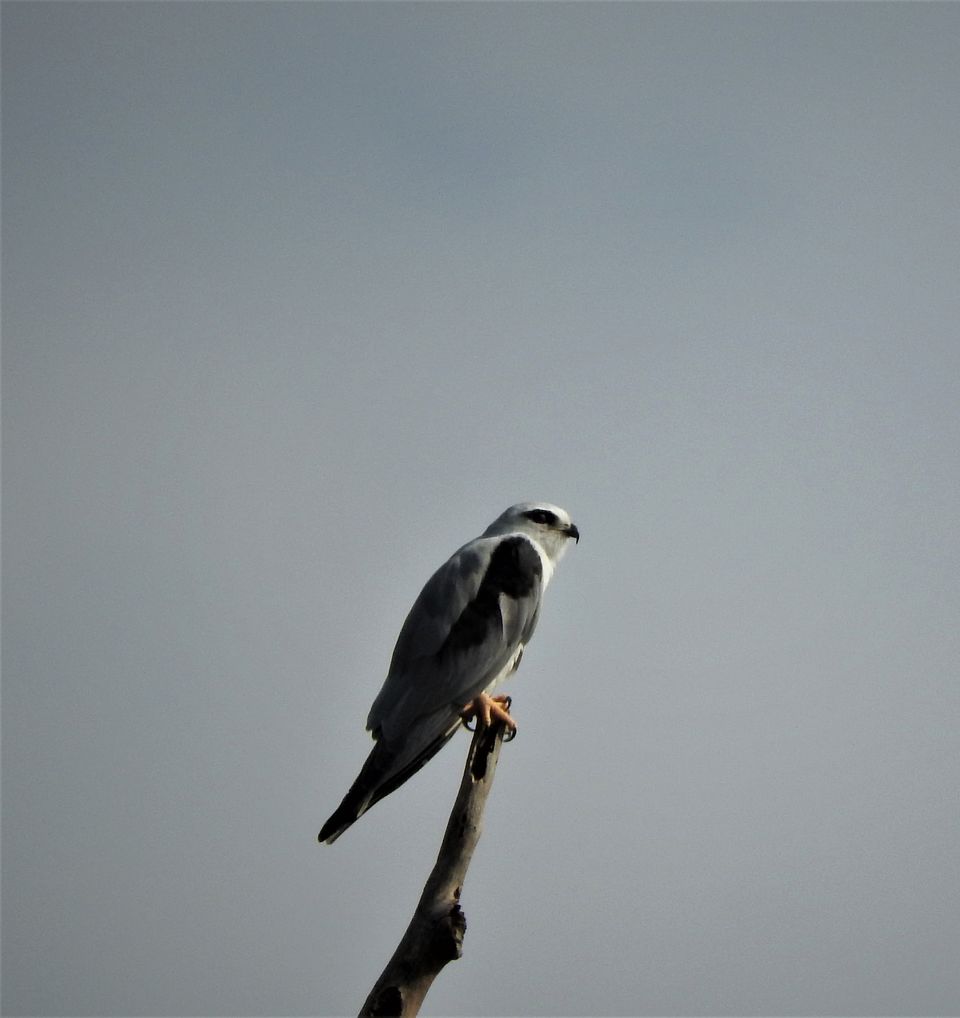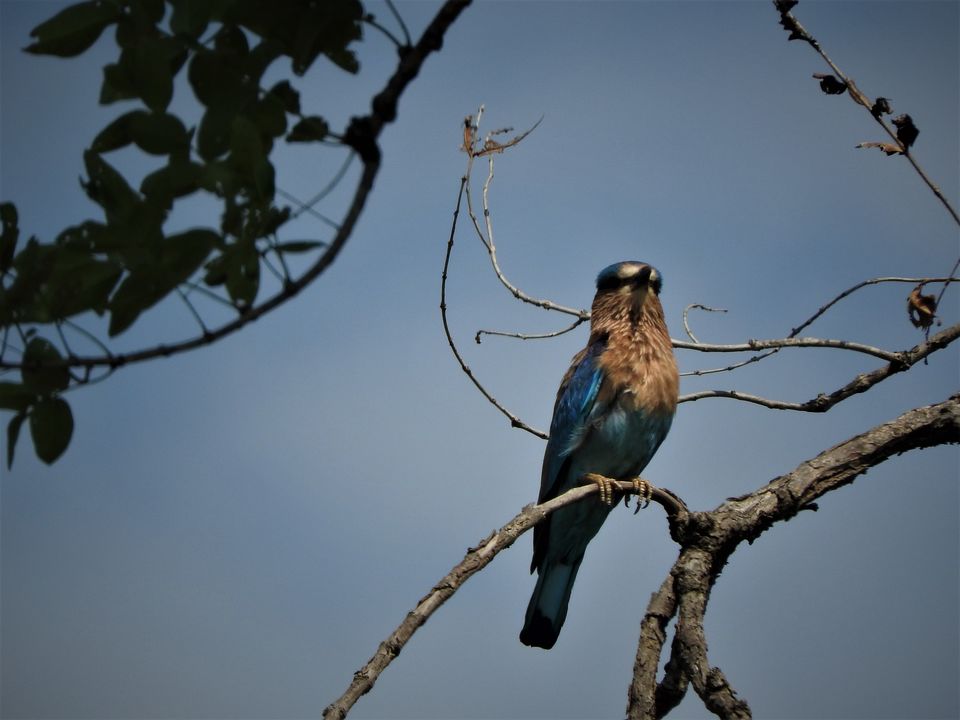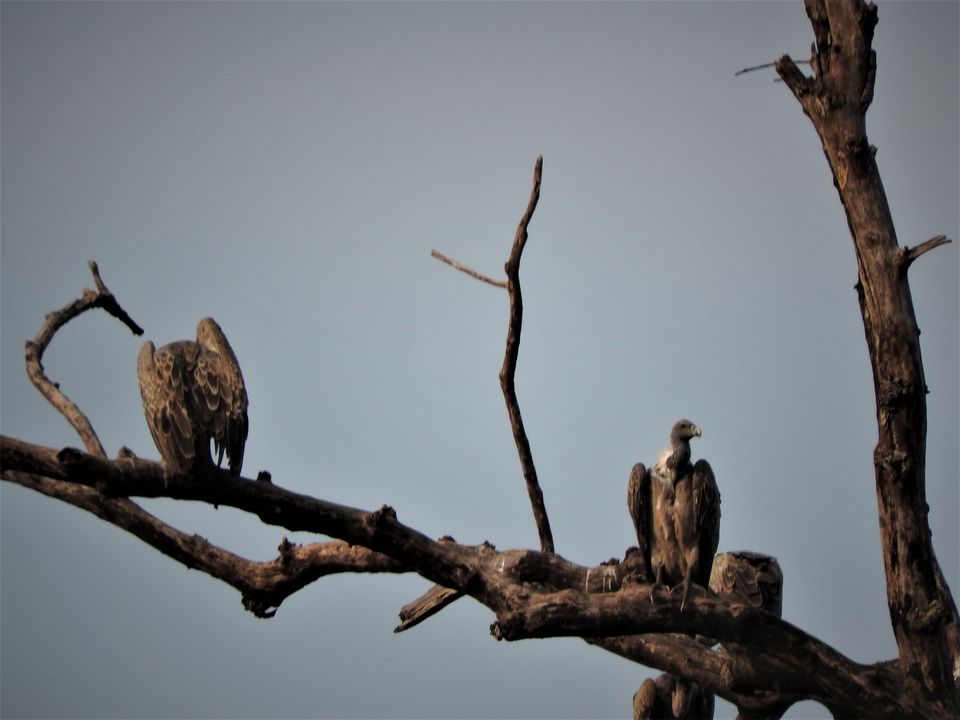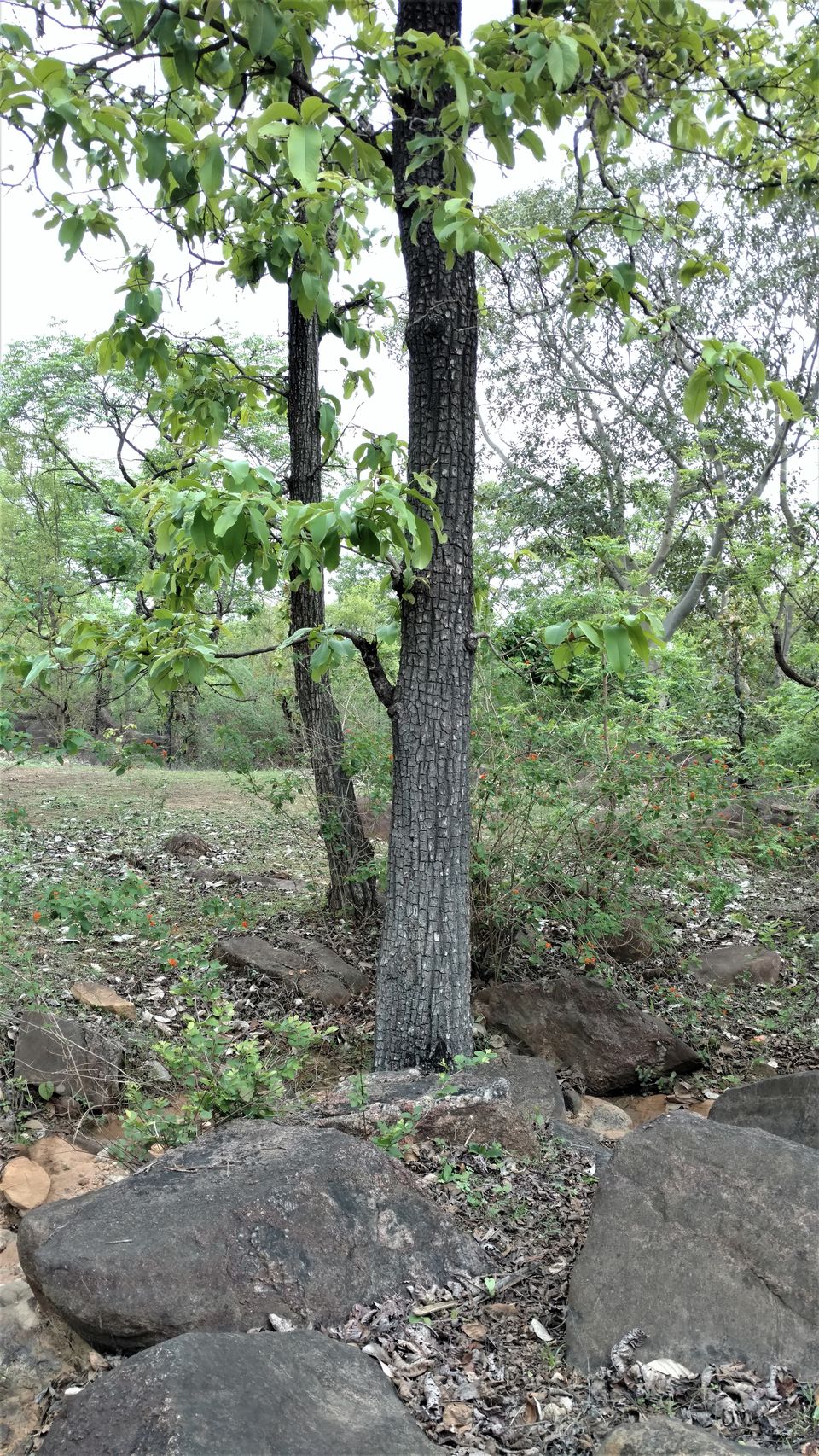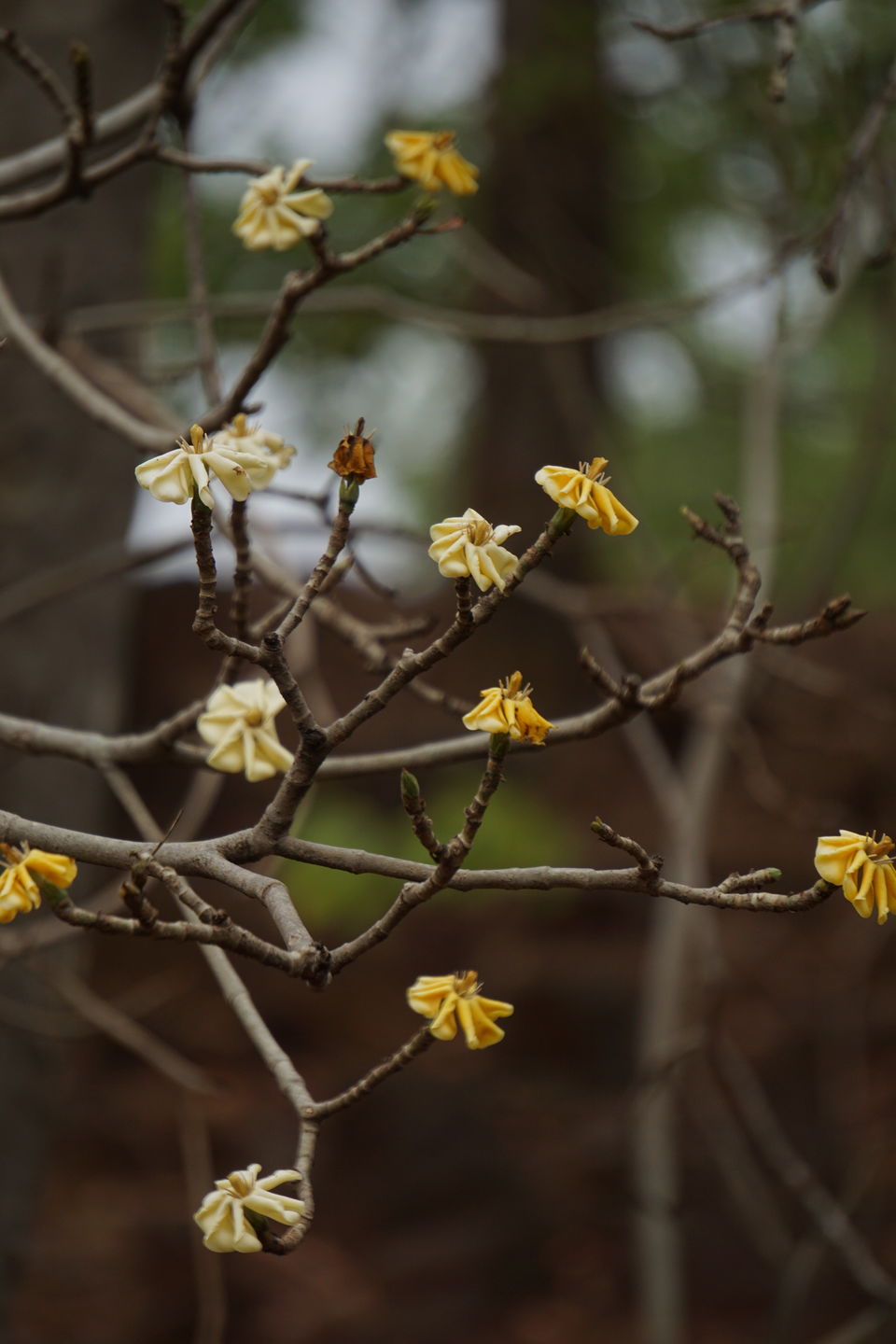 During our nature walk we also chanced upon some locals: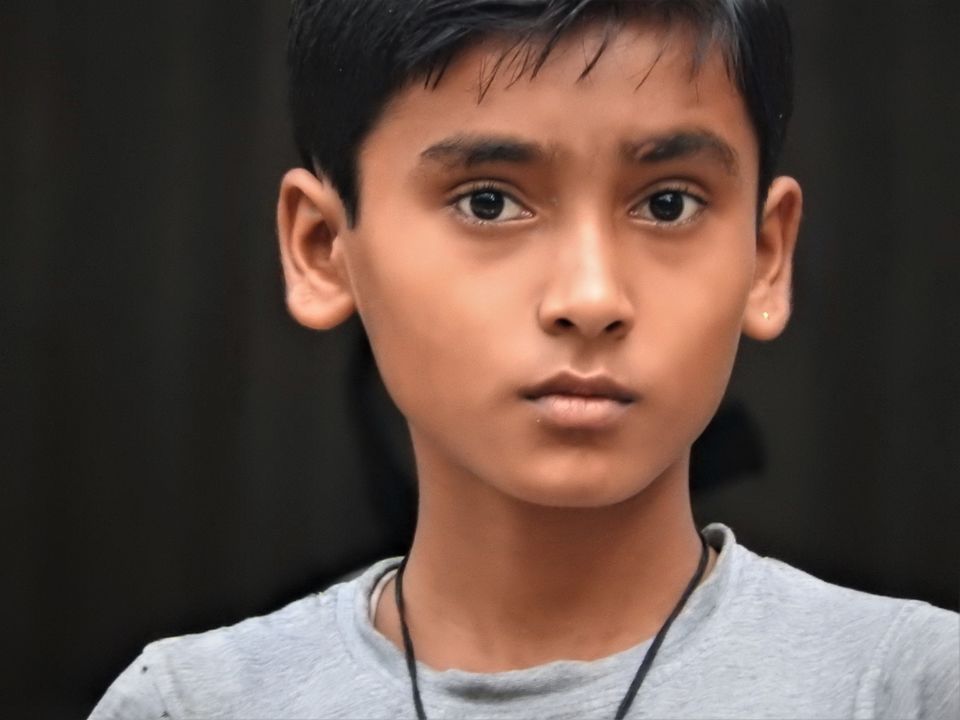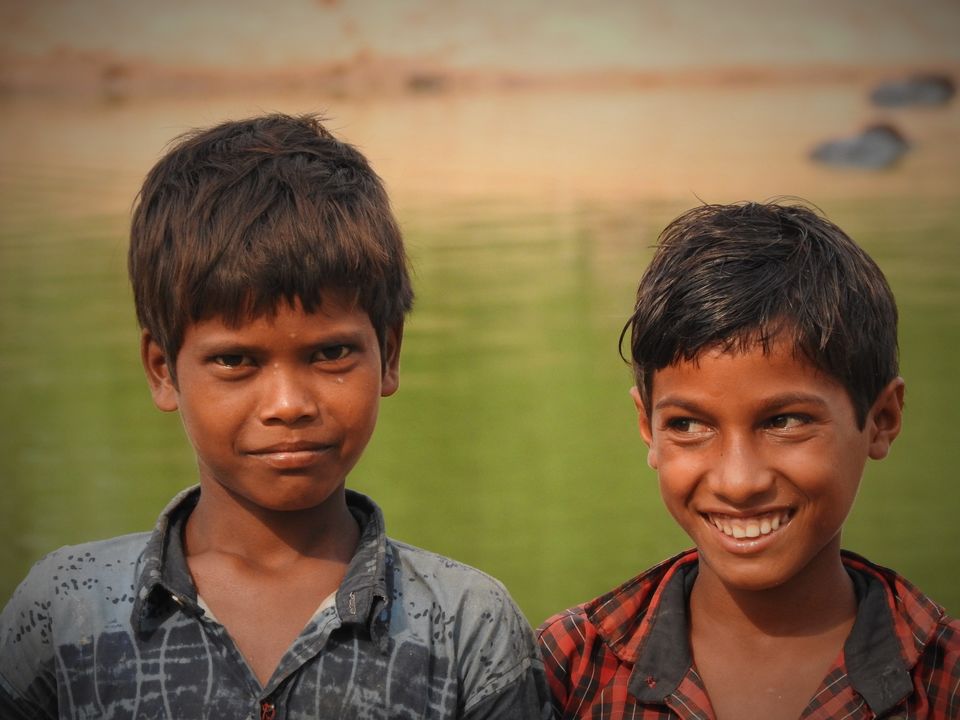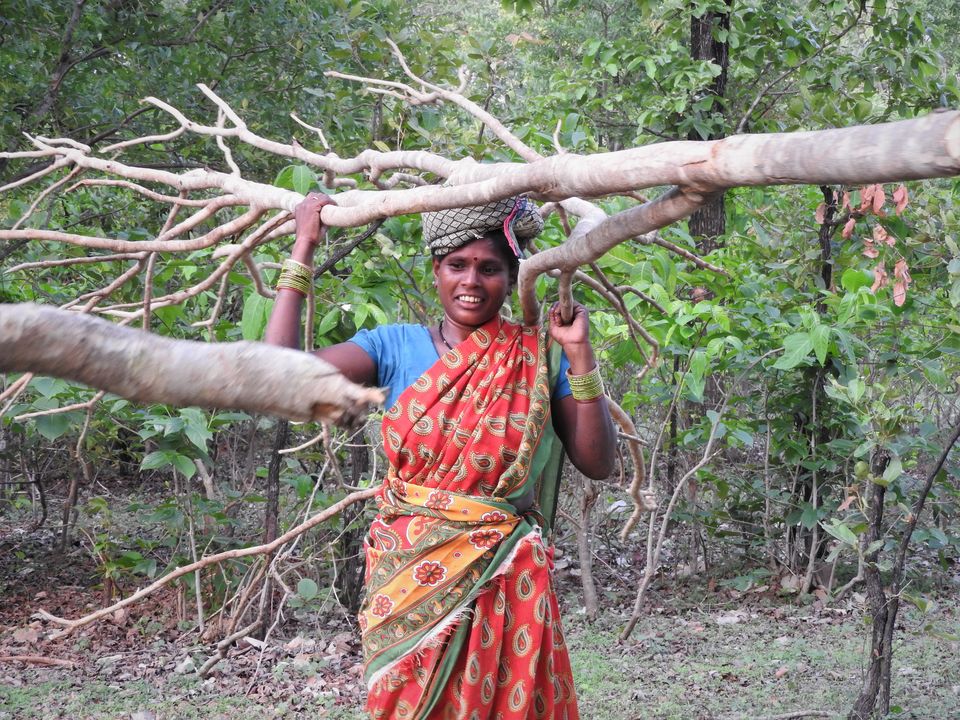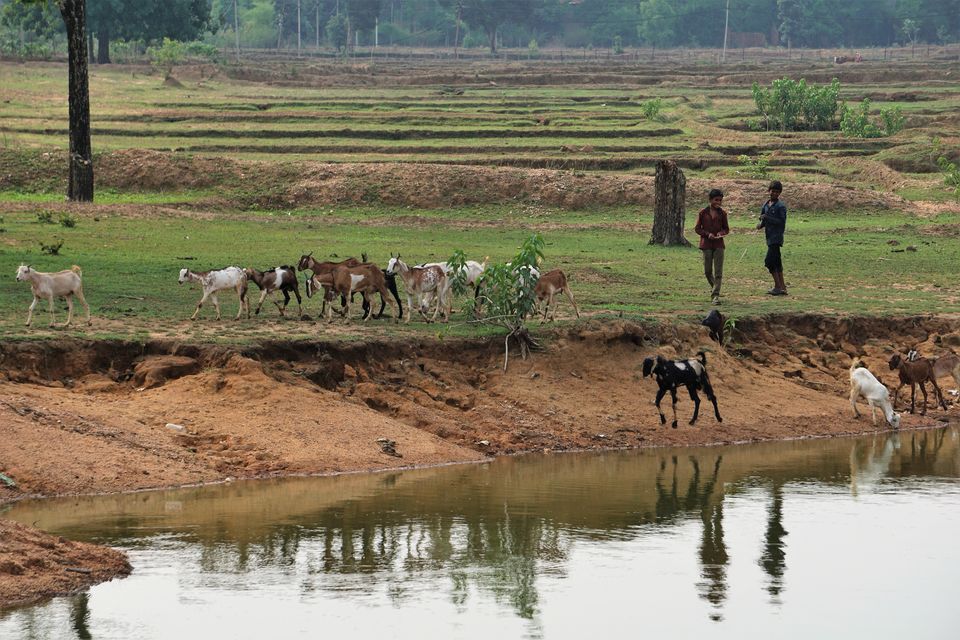 The rest of the morning and afternoon was spent treating ourselves to a buffet breakfast, purchasing some curios from a shop inside the resort, a swim, and buffet lunch followed by a brief siesta. The buffet was like a feast catering to different palates. The local sweet preparations like 'Chandrakala' were simply delicious, and so were the Chicken and egg salads. The Chinese preparations were satisfactory. Most of the main courses were great, but their mutton and fish dishes left something to be desired. The south Indian vada was a bit dense and hard. The restaurant staff was very cordial and went out of their way to please us.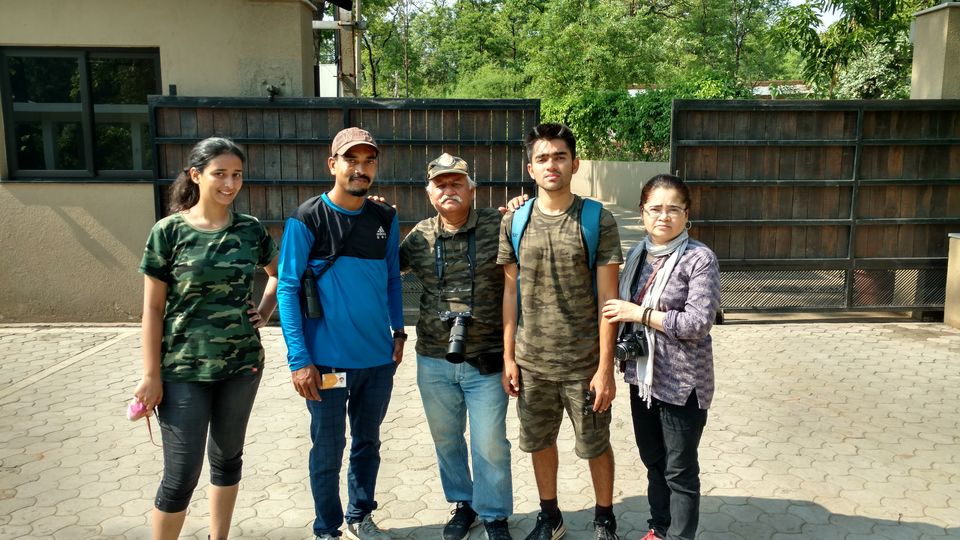 Encouraged by our morning bird sightings with Qadirbhai, we decided to go on our own Nature hunt in the evening, in and around the resort, and boy, were we rewarded !!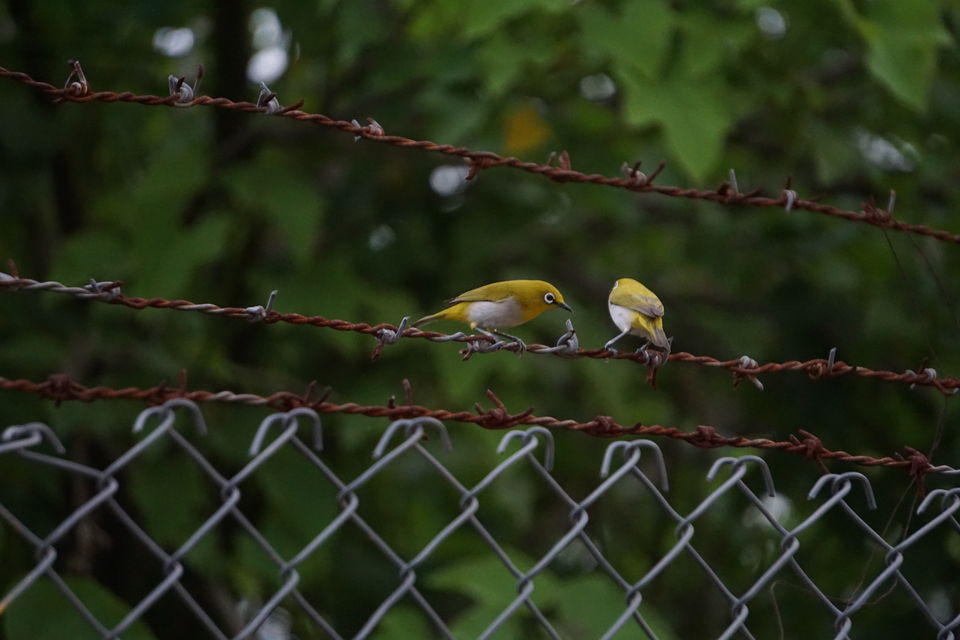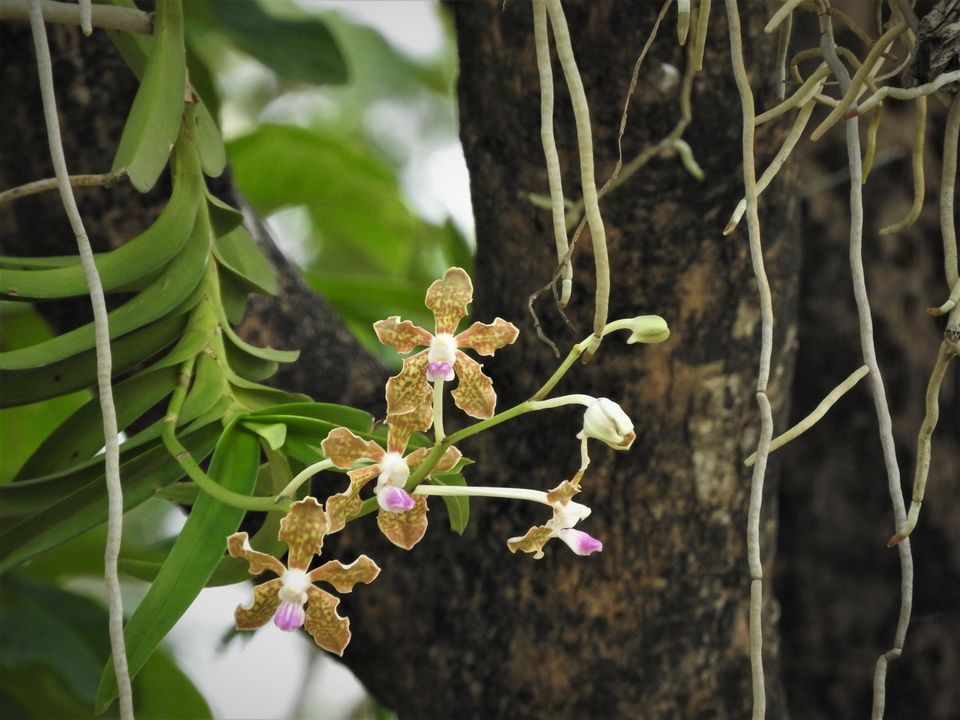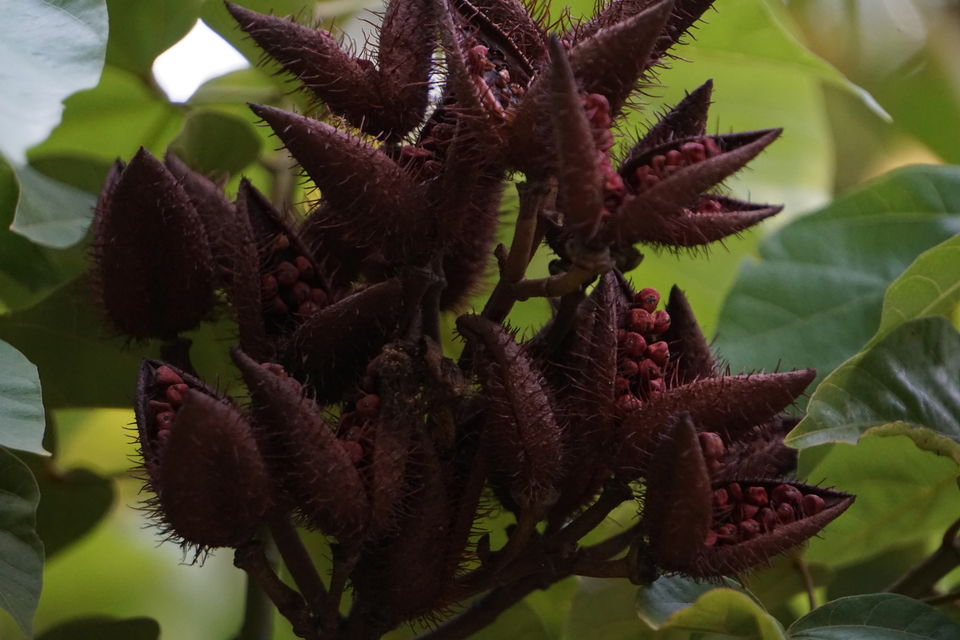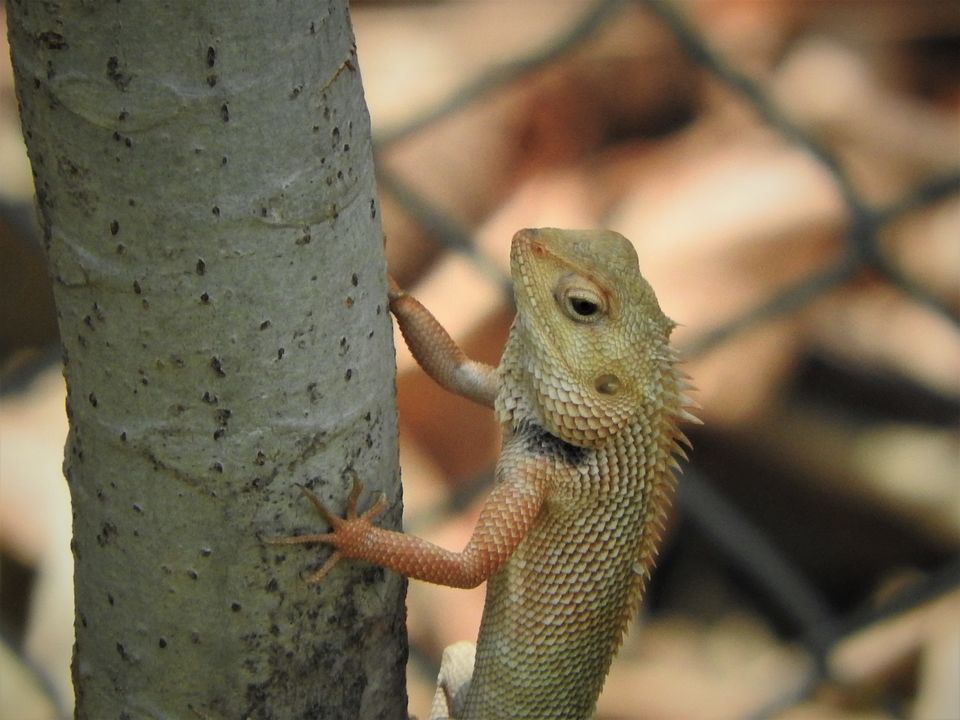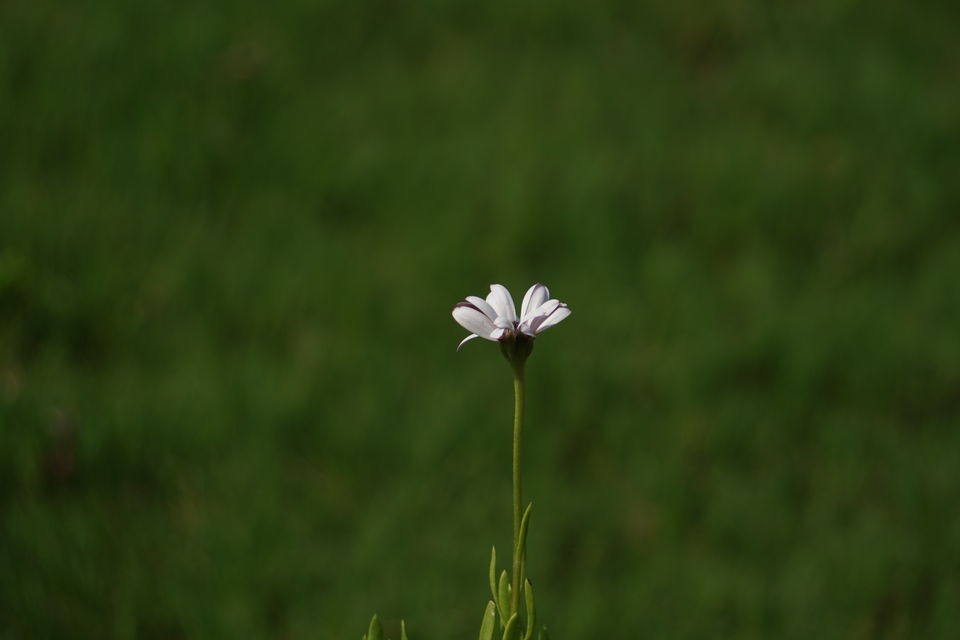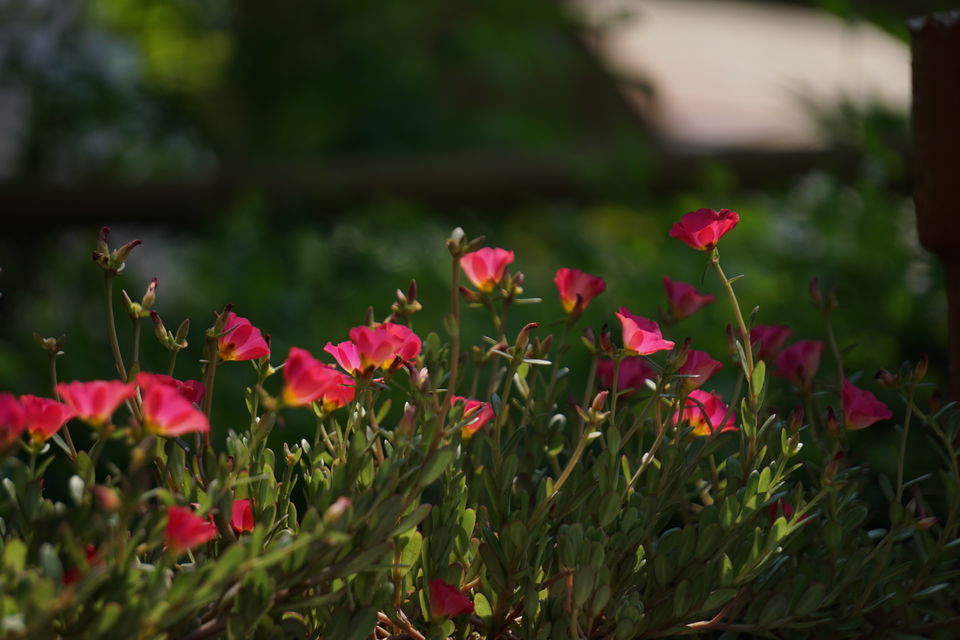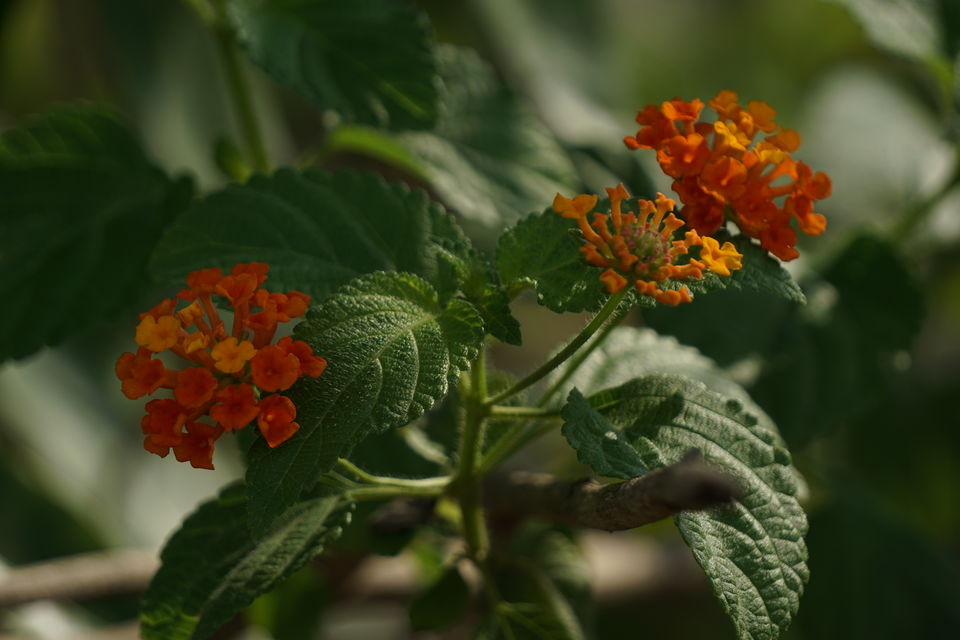 We spent the last night at the resort staring at the night sky while lying on our backs on the charpais that had been placed in the resort lawns.
The next morning our hired taxi arrived on time and we left for Jabalpur after breakfast. The total food bill at the resort for 4 adults was about Rs. 16000/- We had opted for buffets for all the meals. We got a discount of Rs. 3000/- on this as first timers.
From Jabalpur, after visiting Moti Mahal at Ramnagar, we boarded the train to Delhi.
For us the pros of this whole Club Mahindra Resort experience was:
1. Luxury amidst wilderness.
2.Enough to do, you will not run out of activities to pursue, both indoor and outdoor. And most of the activities cater to all age groups.
3. Variety of food is available.
4. Accommodation is very cosy and comfortable
5. Very friendly and co-operative staff.
6. No exhaustive and stressful surfing on the net in search for suitable hotels.
7. All rates are fixed, no hassle of bargaining for discount etc.
The flip side is :
1.Not affordable for everyone
2.Limited exposure to local food and culture. We were told that they used to organize a Baiga dance for the visitors but that has been discontinued.
3.Some of the activities are a bit overpriced.
4. They do have a tie-up with RCI linked resorts but Mahindra itself does not have a presence in every part of the country, such as the north-east. We were informed about some new Mahindra resorts coming up at newer locations. We are hoping that they open up a few resorts in the north eastern states as well as in our neighboring countries like Nepal and Shri Lanka.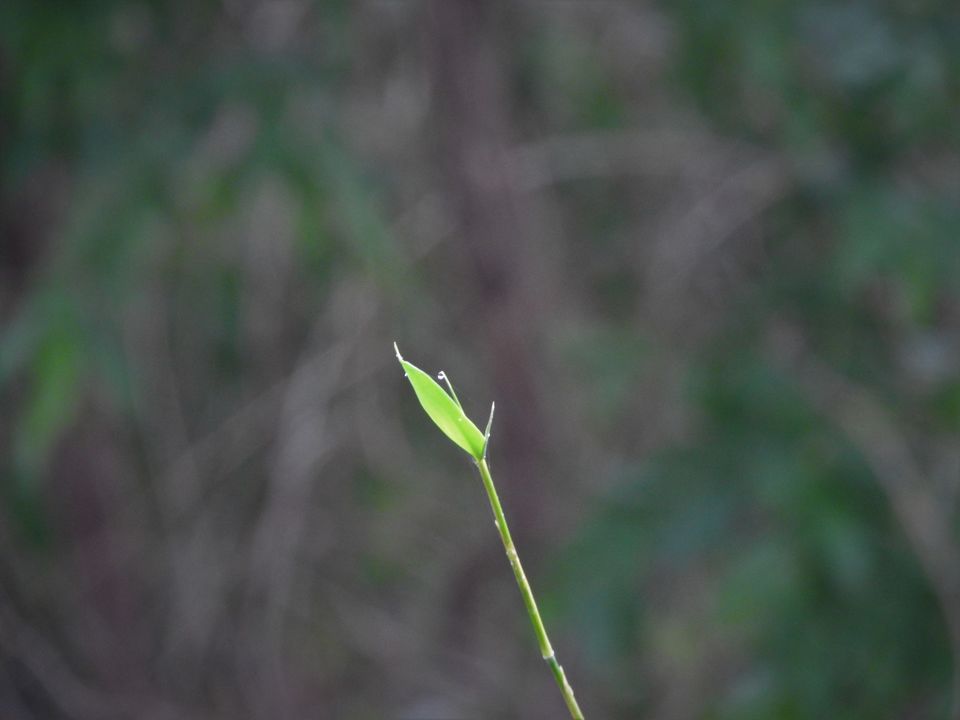 Photo credits: Rupa and Razi Abdi