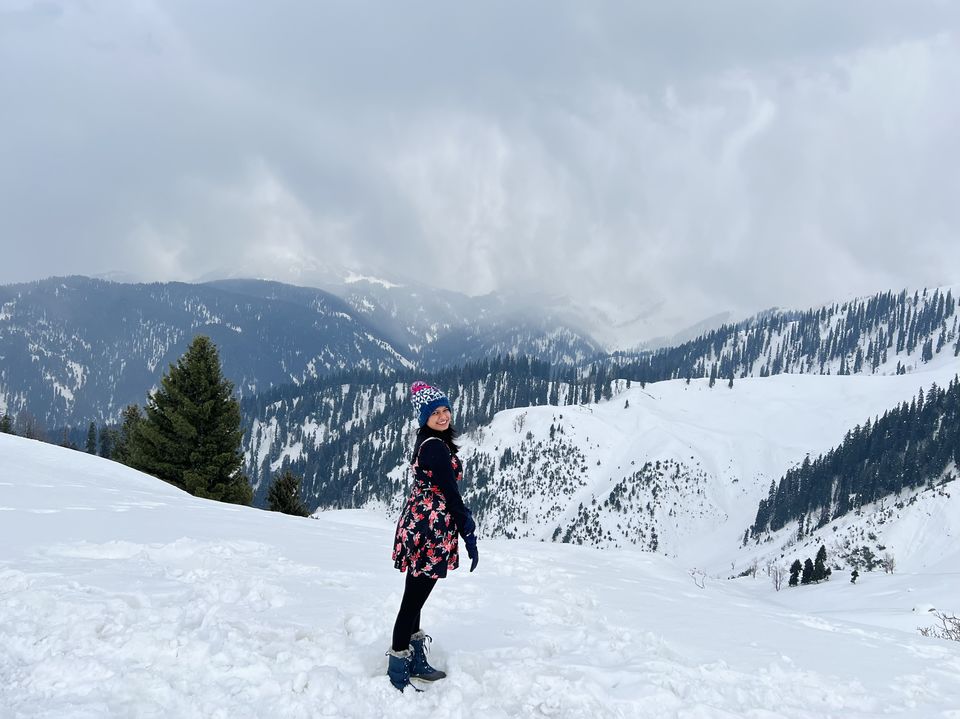 The world is recovering. People are now venturing out of their homes to travel and see the beauty of this world. Travelling to Kashmir has always been a dream and I finally got to fulfil this dream by meeting Rayan Hussain through Tripoto, who helped me organise this trip. I headed to this mesmerising state this February for a 5-day 4-night trip.
The beauty of Kashmir or "Jannat" cannot be described. For me, Kashmir was a feeling of which every moment was to be enjoyed. Surrounded by snow-clad mountain peaks, twinkling lakes and lush green valleys, it simply was an unforgettable experience.
So here is everything you need to know about visiting this beautiful heaven on earth.
How safe is travelling to Kashmir?
It is one of the safest places to visit in India even for solo women travellers. The locales are kind, warm-hearted and generous. You will not have any issues if you have your id card. It is one of the states with zero crime records against tourists.
My Kashmir Itenary
Day-1 Srinagar to Pahlgam
Day-2 Pahalgam to Gulmarg
Day-3 Gulmarg- Drung - Srinagar
Day-4 Srinagar (Locale Sight Seeing)
Day-5 Srinagar-Bangalore
Things I did before the trip
👨‍✈️Booked to and fro tickets (Costed Rs. 10,000 to and fro from Bangalore to Srinagar)
👨‍✈️ Booked Hotel in every city at least 1 month in advance due to tourist season.
👨‍✈️ Made a list of cafes and places I absolutely couldn't miss.
👨‍✈️ Made a shopping list of things I wanted from Kashmir
👨‍✈️ Shopped for warm clothes as it was snowing in Kashmir.
👨‍✈️ Booked a Car Rental for 5 nights and 6 days available to me at all times for 12,500/-The driver doubled as a locale tourist guide saving cost.
👨‍✈️ I found a locale on Tripoto for my photo and video shoots who helped me organise the trip and ensured I have the best experience.
👨‍✈️ RTPCR Test -48 hours before the trip.
5 Must have while travelling to Kashmir
❆ Full Body Thermals - Jockey India makes some great ones.
❆ Snow boots which can double as mountain hiking boots- I got mine from Decathlon.
❆ Caps and Water Proof Gloves- Decathlon.
❆ Snow Jackets.
❆ Warm Woolen Socks.
9 Pro Travel Tip to Kashmir
🌄 Prepaid Sim from other states do n work here. So have a postpaid sim handy.
🌄 Having a locale with you is very important as they know all the hidden gems and help you with the locale markets as well.
🌄 Most Restaurants don't serve alcohol so make sure you buy in Srinagar.
🌄 While flying out of Srinagar- have 3 hours in hand as there are multiple security checks.
🌄 Roads can be closed anytime due to snow. So try to be in Srinagar on your fly-out day.
🌄 Pony ride in Pahalgam is only Rs. 2000/- per person. Ensure to bargain.
🌄 Shikhara ride is Rs. 800-900 per Shikhara for 2-3 hours.
🌄 ATM will be difficult to find in places apart from Srinagar.
🌄 Take an early morning flight and book a seat on the right side of the aircraft to watch the mesmerising snow-clad mountains while entering the state.
We reached Srinagar Airport and felt the beauty of this state 30 minutes before landing with an unparalleled view of the snow-clad Himalayas. After landing at 10 am we directly headed to Pahalgam and reached the valley of shepherds by 1 pm after multiple breaks to simply soak in the views of the Apple orchards, Kesar fields, the walnut trees, the willow trees, the bat market, the Kesar market and the valley en route. You will have to take an instant covid test and get stamped before entering Pahalgam by the locale police.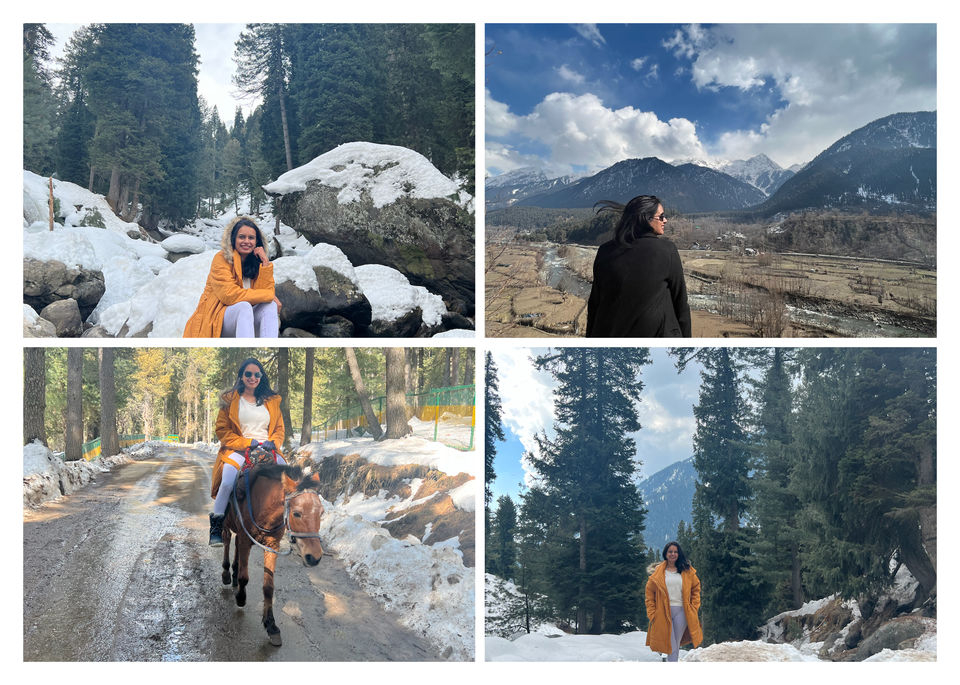 Once there we directly went for a pony ride and I cannot begin to explain the beauty of the ride. We passed through rocky land to find a mesmerising waterfall - small shops serving maggie, kahwa, and food. The view simply kept taking our breath away from the higher we rode. The mountains with pine trees were added with snow and it felt like we were in an alternate universe. We reached the top after a 2-hour ride and wow!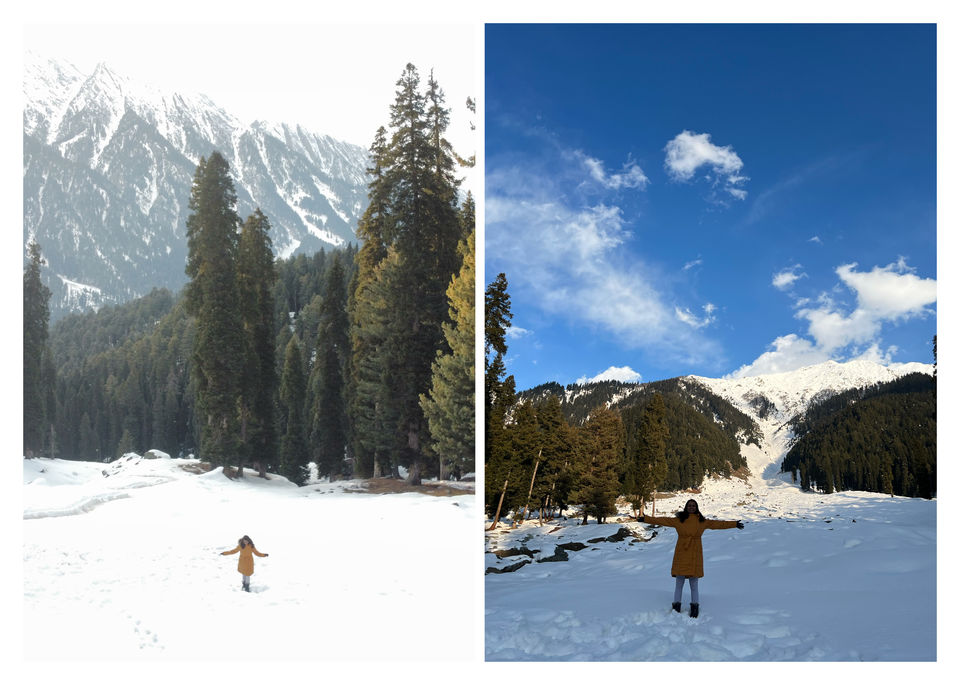 Kashmir valley, Dabyan Valley and Baisaran was simply something out of a postcard.
TIP– At some points, the route is muddy and slippery. But do not panic and hold tight to the horse. They are trained and are well aware of the best route to follow.
Cost of Hotel booking- Rs. 2400/- (Pahalgam Retreat) with breakfast and dinner.
Cost of Pony ride- Rs. 2000/- per person.
Miscellaneous cost- Rs. 500/-
We travelled to Gulmarg after breakfast via Srinagar and the journey took a rough 4 hours as we had to stop and slow down for the Military conveys. You will find beautiful views en route, especially in the small city of Tanmarg. Before entering Gulmarg- there is a viewing point that offers you a 360 view of the valley and the city below. Once you enter Gulmarg- the place is straight out of movies.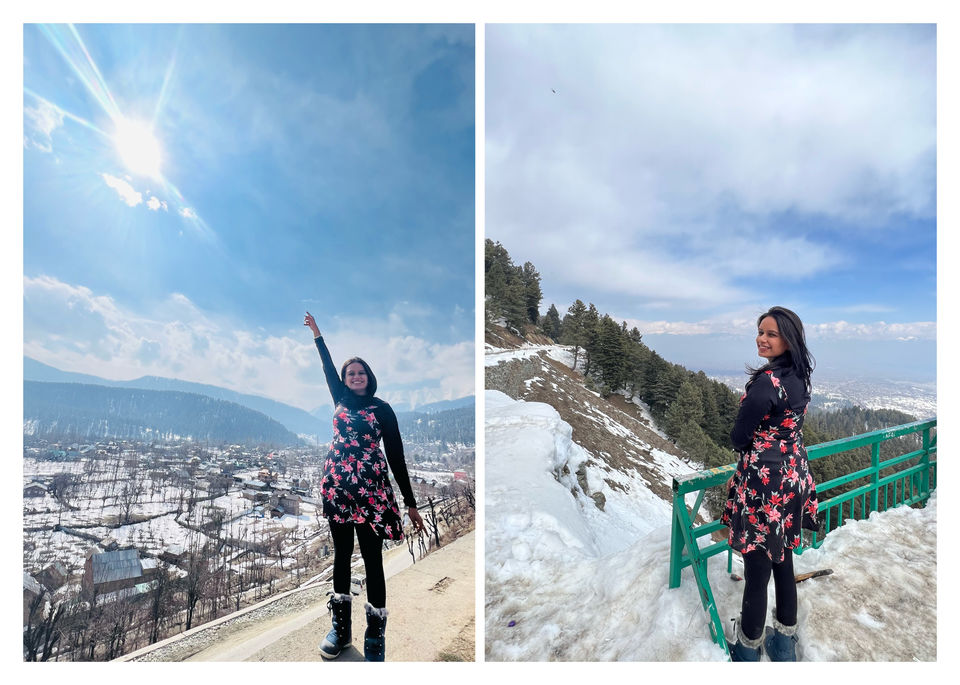 At the centre of the city is a huge land which operates as a ski learning place among other activities during the winter and as a golf course in summer. In the centre sits a 130-year-old Shiva temple.
We had plans to leave our luggage in the hotel and explore the Gandola ride - but to our shock, the hotel we booked sat atop a valley and didn't have motorable road. It was accessible only through ATV and there ATV was not working. Our driver, Mr. Abid being the ever helpful called the locale ATV to help us reach the Gandola while the hotel persons helped us to carry the luggage and kept them in store for us till evening. This really reflected the kindness of Kashmiri locales and their " mehmannawazi".
The Gandola rides are divided into 2 phases and each phase ticket cost is seperate. We chose to visit phase -1 and were advised not to visit phase -2 due to bad weather.
Once we reached on top, we enjoyed the snow mobile ride and crazy views. Riding on the snow mobile is a must have experience if you are here. There are also lot of small veg restaurants available to have your lunch here. The food is good and quite reasonable.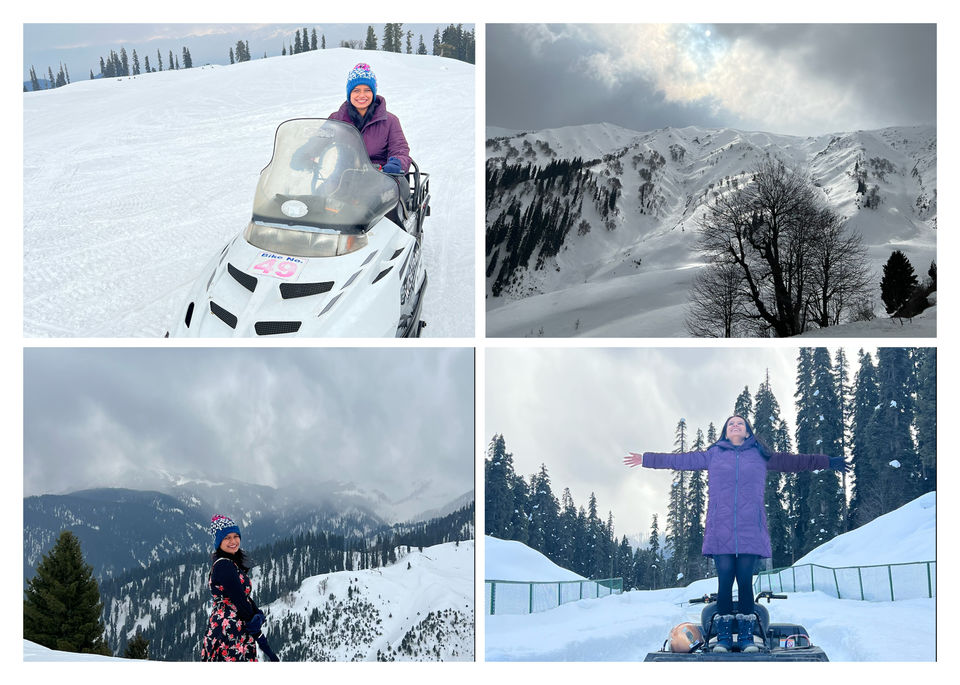 We headed back to the city and rented an ATV for a city tour. The ATV route is filled with beautiful views and you also get to drive the ATV on your own. To our wonder it started snowing and we simply had to get down and enjoy the snowfall.
Gulmarg while snowing should be in your bucketlist. We reached our hotel and trust me the climb up was an experience in itself with stunning view while the city was enjoying a snowfall. The hotel people were really hospitable and provided us with Kahwa and snacks. Dinner was simple but tasty. We called in a night enjoying the beautiful snowfall while making new memories.
Cost of Gandola ride- Phase-1- Rs. 700/-. Phase-2 Rs. 900/-
Cost of snow mobile- Rs. 2000/- per person
Cost of renting an ATV including pick up from Hotel- Rs. 2500- per person
Food cost- Rs.200/-
Hotel Cost- (Gulmarg Ski Hill Resort) including breakfast and dinner- Rs. 7000/-
We left Gulmarg at 10 am and to our wonder snow had settled over the mountain forming layers upon layers of blanket. The view while leaving the valley was simply to die for! The town of Tanmarg looked like a village of a Christmas movie we watch on Netflix. It was then and there I vowed to come back to this pretty place again.
We visited Drung a national park and saw a mesmerising waterfall. Since we went late February half of the waterfall was frozen and the other half water was gushing at full speed.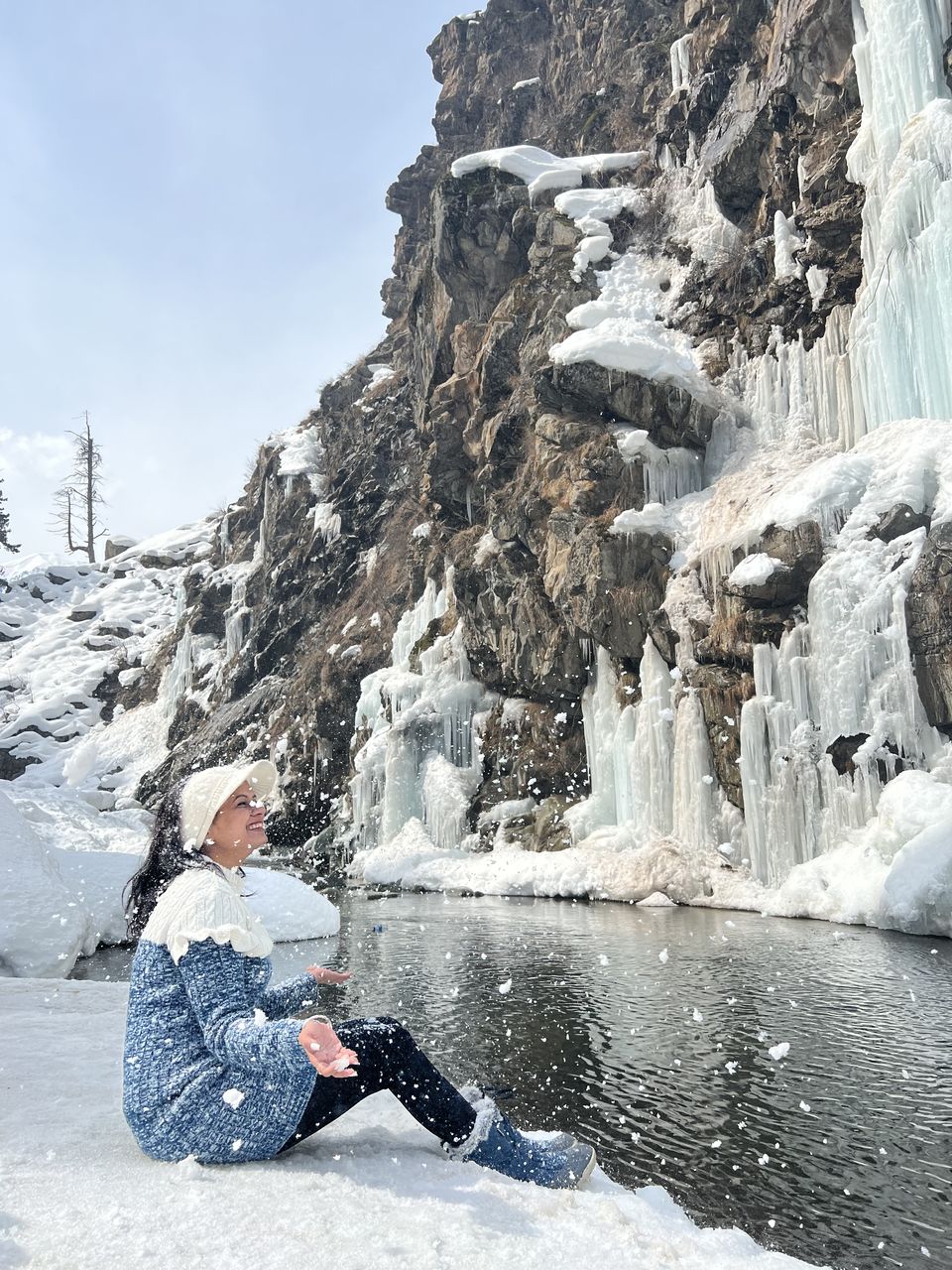 After spending some time we finally left for Srinagar. Once in the city, we immediately went to the floating post office in Dal Lake as it was on my bucket list. The weather was chilly and the snow-clad mountains were hidden by clouds. We took a Shikara and after a hard bargain, we booked it for 6 hours as we wanted to shoot in the lake.
It was like time had stopped for me and I went back to the '60s with no mobiles to distract and simply focused on enjoying the calmness and serenity of the place. Houseboats were lined across the lake along with shops where you could buy travel memoirs.
Stopping at the Char Chinar, I tried on the Kashmiri outfit which you can rent and yes even though it was the most touristy thing to do, I gladly enjoyed myself and felt like a heroine :-)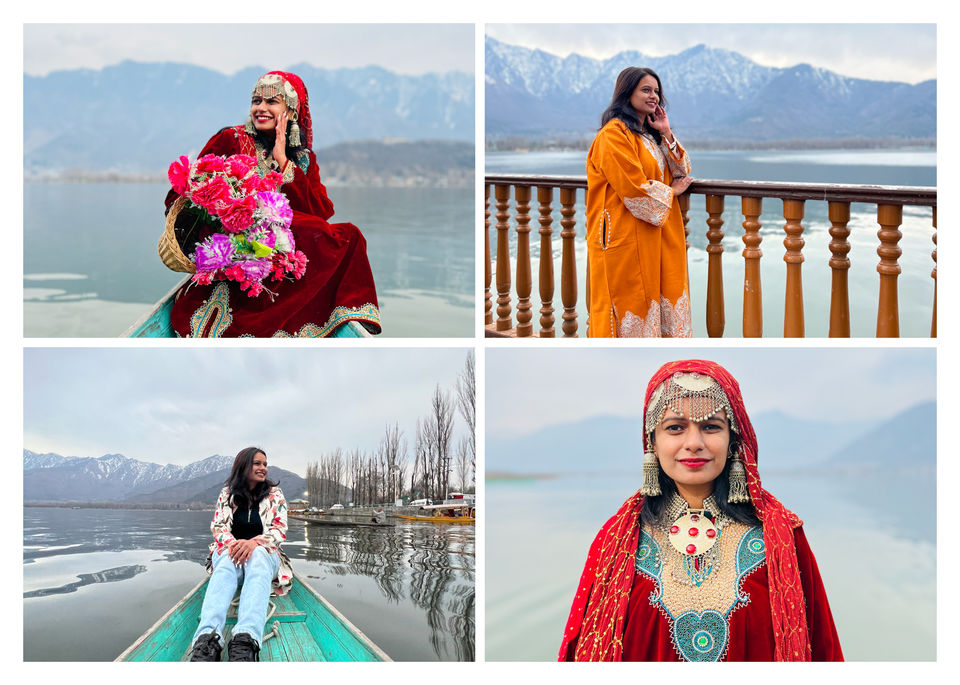 We simply took a stroll back after deboarding the shikhara and had our dinner at Pier15 Cafe and Pizzeria facing the lake. After which we called it a day staying at this beautiful hotel
Shikara Ride- Rs. 3000/-
House Boat Cost- Rs.1500/-
Food Cost- Rs. 1400/- for 2 people.
At 5 am, we headed out to explore Srinagar's most amazing experience " The Floating Vegetable Market". I simply had to experience this and trust me it was not disappointing. I got to talk to the locales and enjoy a cup of Kahwa with them, while waiting for the sun to rise. Daily fresh fruits, vegetables and flowers are exchanged or sold in small boats by the locales while they meet and greet each other every morning. Best time to visit and enjoy this experience is before 7 am.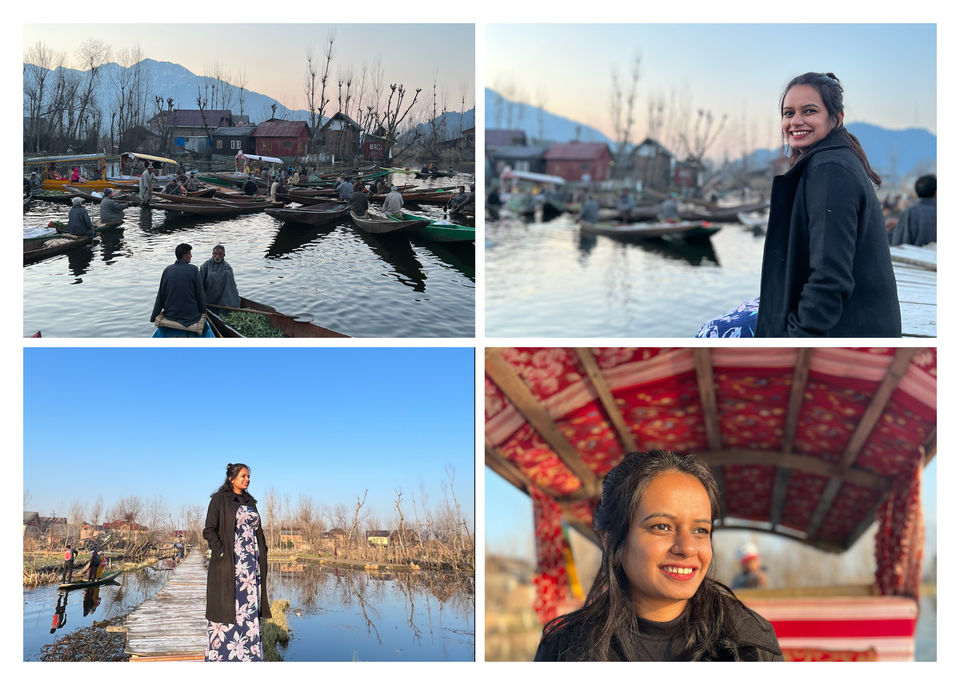 We then decided to take a breather and simply soak in the beautiful city. After taking a stroll through the Dal Lake we visited the Chashma Shahi Garden. It was such a clam and serene place and takes you back to the Mughal Era. It is believed that the water of the spring located here have some medicinal properties. We then visited Pari Mahal and the first thing which came to my mind was what a view! You can see the entire city of Srinagar and the beautiful Dal Lake from this palace. Even in ruins the palace screams of the architecture wonder of the Mughal Era.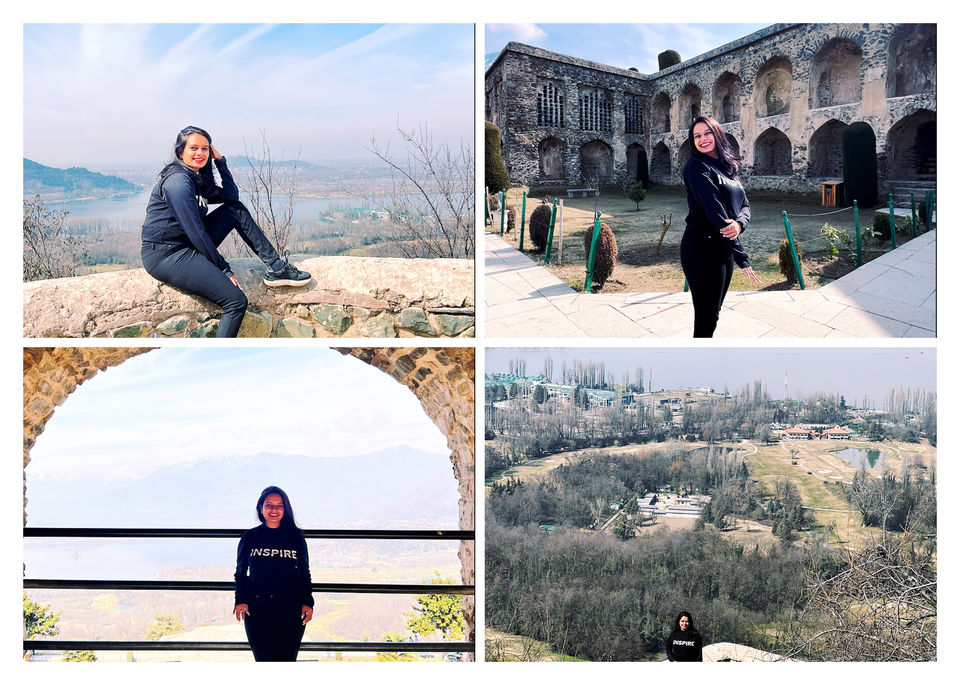 Our next stop after a quick lunch was The Hazratbal Shrine or the White Mosque. Located at the bank of the Dal Lake, you will find hundreds of pigeons enjoying there day, the moment you step foot on this property. Exploring this Masjid was one of its kind of experience. It simply reminds you to be humble and understand humanity. We decided to have a small picnic in the beautiful garden of the Masjid and spent the rest of the day here.
House Boat Cost- Rs.1500/
Entry Fees- Rs. 35/-
Miscellaneous- Rs.500/-
After having a hearty breakfast in the hotel we decided to explore the Meena Bazaar in Dal Lake. We took a Shikhara and ventured out to find the shopping gem of Srinagar. You can buy local spices, perfumes, handicrafts, Kashmiri handloom, sarees, carpets and everything your heart desires.
We then headed back to our hotel, packed our suitcases and left Srinagar full of memories and experiences.
Cost of Shikhara ride- Rs. 900/- per boat.
This is my Kashmir story . A trip to cherish and a place which makes you want to visit again and again.
Follow me on instagram and explore this world through my eyes!
Ready to travel for free? Earn Credits and redeem them on Tripoto's weekend getaways, hotel stays and vacation packages!