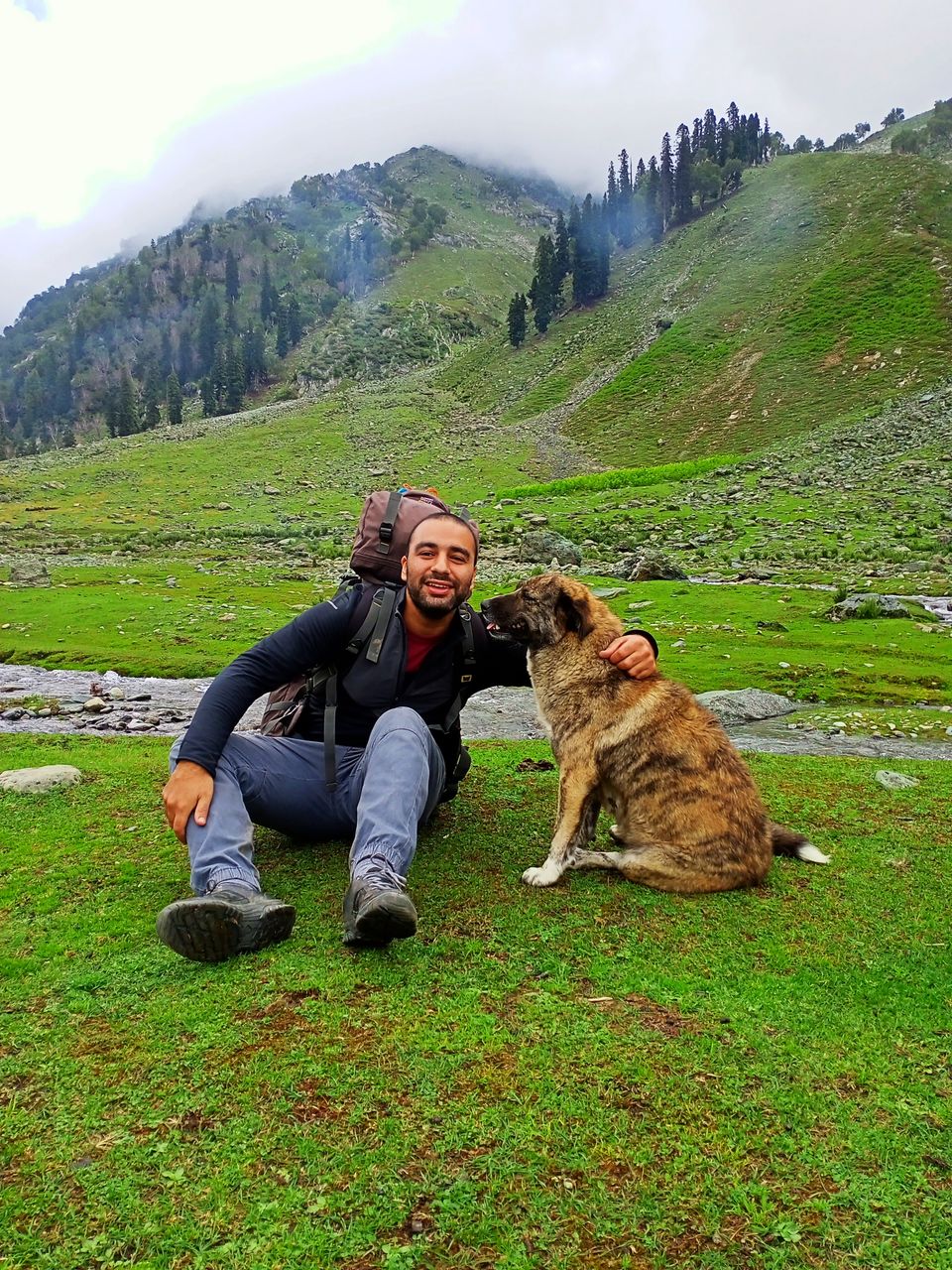 It was in September 2020 we went on a camping trip to Tulian Lake, a tourist destination at Pahalgam in Anantnag District of Jammu and Kashmir. It lies at an altitude of 3684 metres (12,087 ft) above sea level, almost 16 kilometres southwest from Pahalgam and 11 kilometres from Baisaran. The lake often has chunks of ice floating in it in winters. It is surrounded on three sides by mountains that rise to over 4,800 metres and that are usually covered with snow. It is located in a meadow dotted with pine forests.
We camped in the Tulian valley for several days and visited the lake without carrying much heavy loaded bags. Days were sunny and even the night sky was full of stars. Me and my 3 friends had our best moments. Next day when we woke up in the morning on day 2, we saw a dog outside who actually belonged to the bakarwals (nomadic tribal people) who lived nearby. The dog who we named "Jaya" (this name has an another different story) was a fluffy with full of golden brown fur with beautiful black patches and a bold look. She looked hungry and we gave her food while we were camping there and after that she never left and stayed like a watchdog outside our tent in the day and the whole night without disturbing us while we were asleep.
After somedays when we decided to return home Jaya came with us leaving her real owners and was guarding us back and forth on the way when we lost the tracks in the woods while heading towards Baisaran, Jaya guided us through some easy and more short trails we never knew about and saved our time. But when we were heading down from the Baisaran towards our car on the road some other bakarwals caught Jaya and claimed that she belonged to them and chained her up, we couldn't do anything as they had other dogs who were guarding them so we left Jaya with them because it was her home there in those mountains and maybe she wouldn't have been able to live in a different habitat with us. Sometimes we all miss her and just go through the pictures.
And from that trip we learnt that "Bitch is a wrong name given to a worthy women, actually bitches (female dogs) are lovable and they don't break you, its just wrong name given to the wrong living soul. This word is just dishonourable".