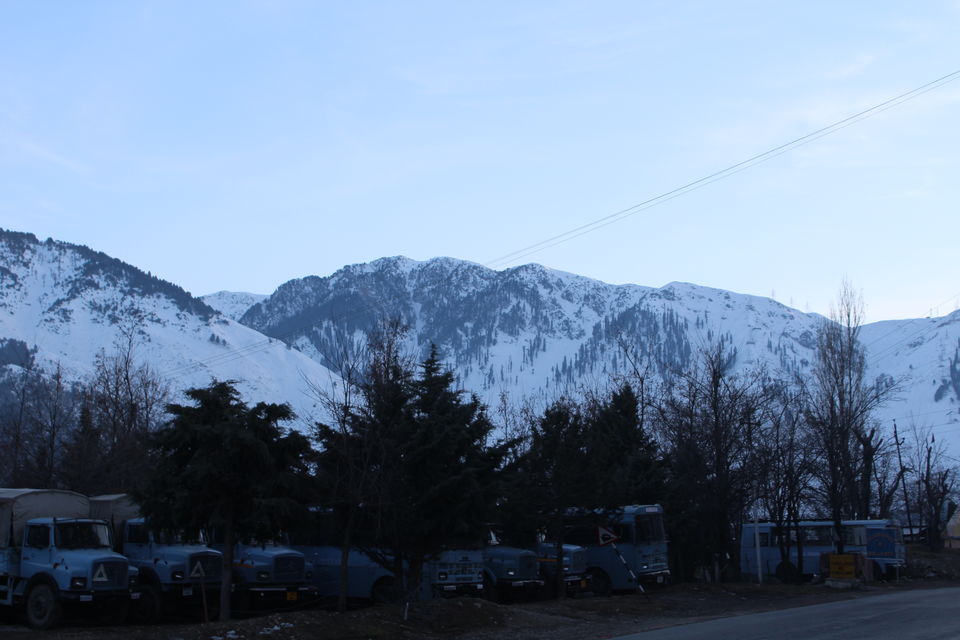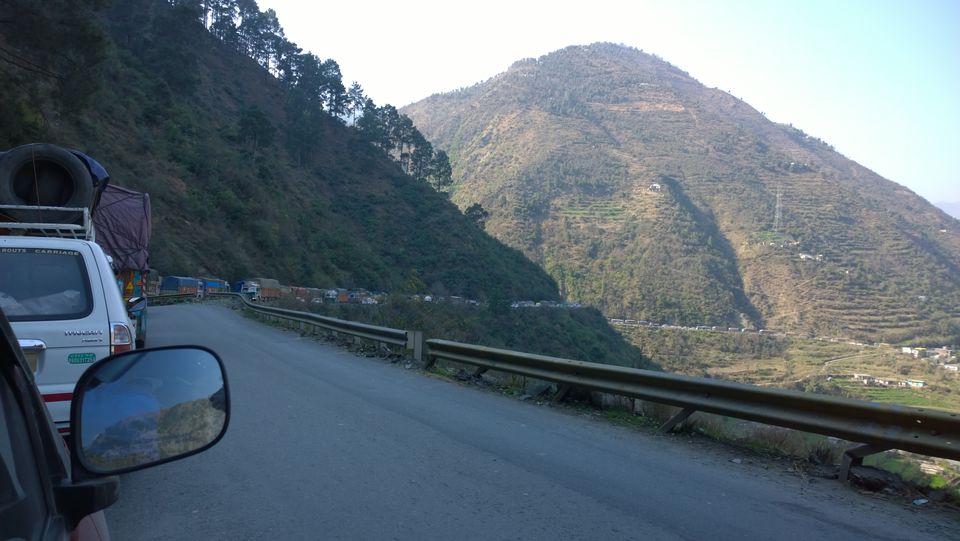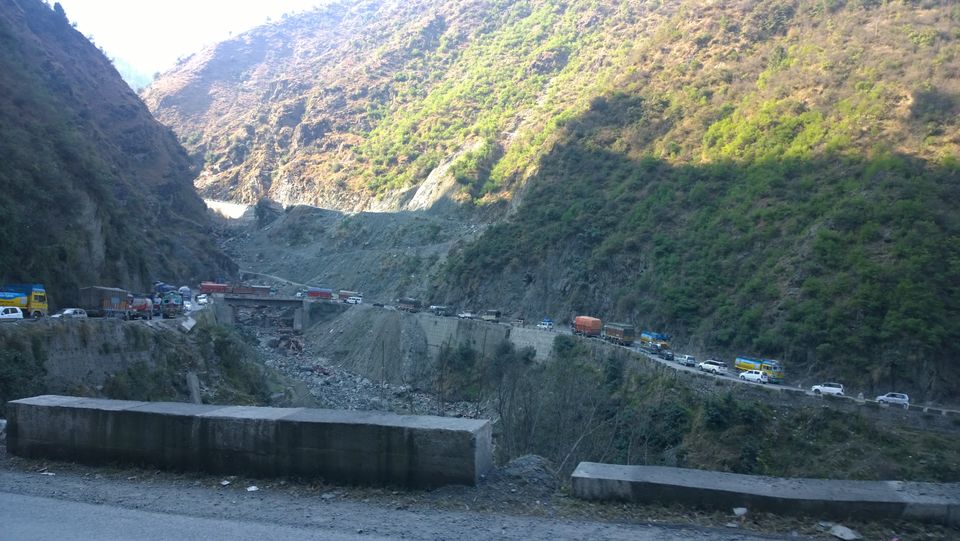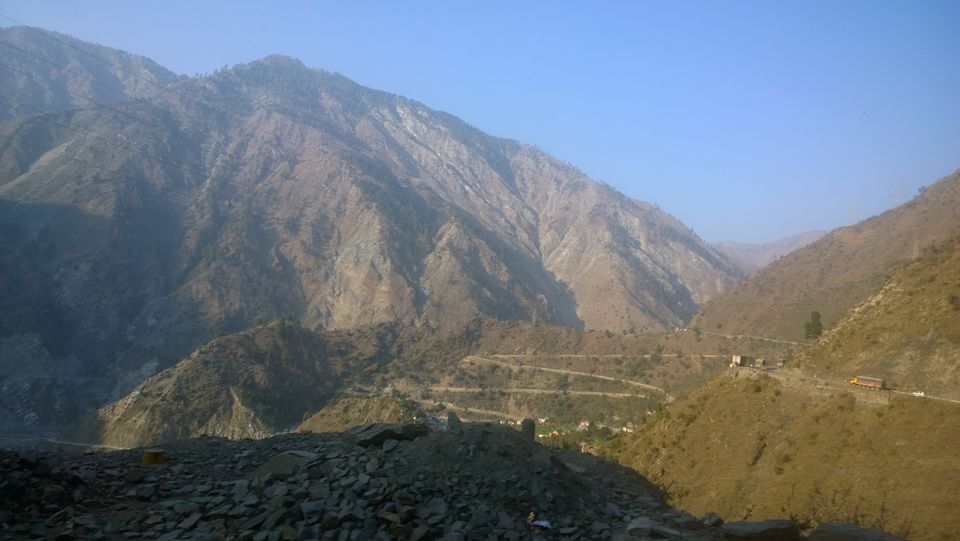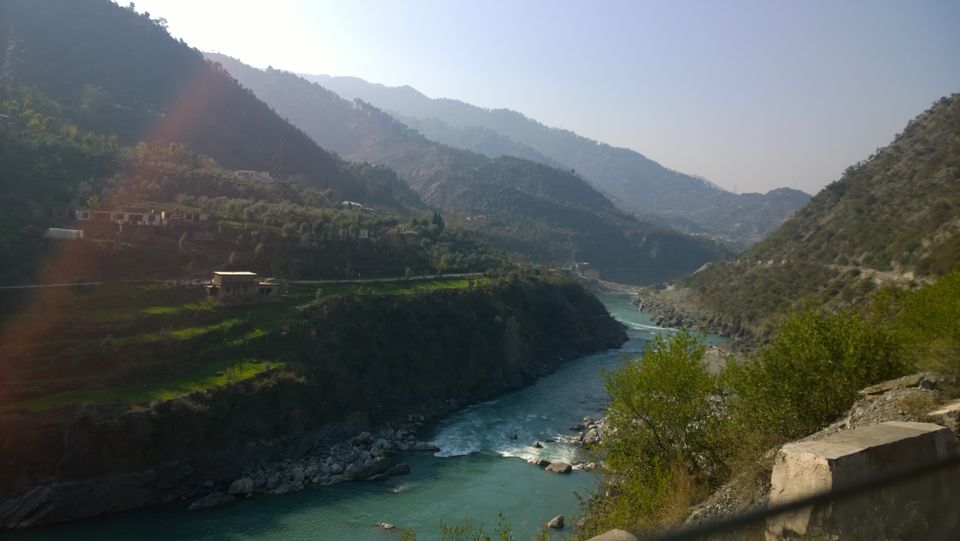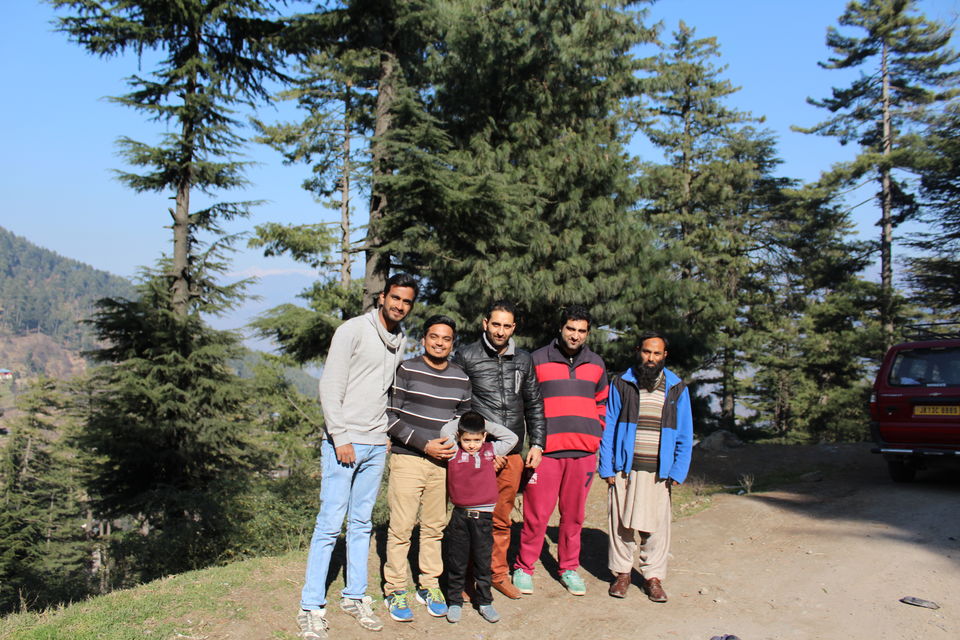 Yesss!! The money I paid to travel from Jammu to Srinagar was only 250 Rs for a distance of 300kms in a Tavera. As 3 of us reached Jammu Tawi railway station we directly headed to a hotel to fulfill our ravenous appetite with delicious aloo paranthas and a cup of tea. With all the luggage and camera we went on a look for a taxi to Srinagar as buses ply rarely from Jammu to Kashmir and we didn't want to take a risk as we were all new to the place. There we met a person who was a driver, guide, and an advisor for us thru our stay in Jammu and Kashmir for next 5 days. We were accompanied by two other persons and an exceptional kid with a gigawatt smile throughout the journey. We started our journey from general bus stand in Jammu and headed towards NH 44, a highway which links Jammu and Srinagar being one of the many roads developed and maintained by BRO(Border Roads Organization). After a 20kms stretch you get a toll and just a 10kms from there you get a linking road to Katra in the left which leads you to Mata Vaishno Devi shrine. Heading from there we reached the next junction Patnitop, 112 kms from Jammu for a short tea break (salt tea with a maize flour - a unique tea). Clicking some pictures on the way in between pine and cedar trees got our first view of a slightly snow capped mountains and later were greeted by the most treacherous and serpentine roads paved through the Chenab valley via Ramban district with hill top villages.
Glancing at the sign boards like "shooting stone area" "Check your brakes" "Be gentle on my curves" "If you love her please divorce speed" "Darling I like you but not so fast" "Life is a journey complete it" and smiling with the concern BRO has on people plying through these roads, we were welcomed by the traffic jam near Shaitan naala, Khooni naala, and a small bridge crossing Chenab river for almost an hour. As it was already 2.30 p.m. we came to halt at a local restaurant named Humdam hotel and had a rishta meal with meat balls costing 130 Rs. Twisting along a mountain road 'the higher we go the more exited it is' on the banks of green Chenab river which is a major river of India and Pakistan. Then we passed the Baglihar hydroelectric power project through the busy streets of Ramban district and reached Banihal.
Tavera passed thru the Jawahar tunnel with a distance of 2.5 kms, which is a connecting tunnel between Banihal and Qazigund with a prohibition on photography and videography inside or nearby tunnel heavily guarded by military personnel round the clock. Built for 150 vehicles this tunnel now witness 7000 vehicles per day. Once you cross the other end of the tunnel you can have a view of black stones and pine trees dotted among the snow filled mountains. Then we had a small pit stop at Titanic view point which is hardly 5 minutes from tunnel and had a first glimpse of extremely beautiful valley of Kashmir. Later crossed Anantnag district and a Kashar market of pampore with Cricket bat manufacturing centers and shops selling Kashmiri kesar, walnuts, almonds, and apricot. Four kms before entering Kashmir you can see stone carvings at Pantha Chowk with all CRPF and BSF vehicles patrolling whole day.
Usually spending 10 hours in front of a laptop, I was spellbound to travel in this stretch. Most importantly the cost I mentioned applies only in winter as people in Srinagar shift to Jammu to escape the minus degree temperature and very minimal number of people travel to Srinagar including off season travelers like us. By 9 p.m. we reached our hotel near Krishna Vaishno dhaba and made ourselves cozy with Kangdi, heater and electrical blankets thinking of the next 4 days in Kashmir.
Disclaimer: Please maintain lane discipline while driving in this stretch as the roads are very narrow and the locals might face problems in their day to day chores as they share this road with enormous number of vehicles in an hostile environment.