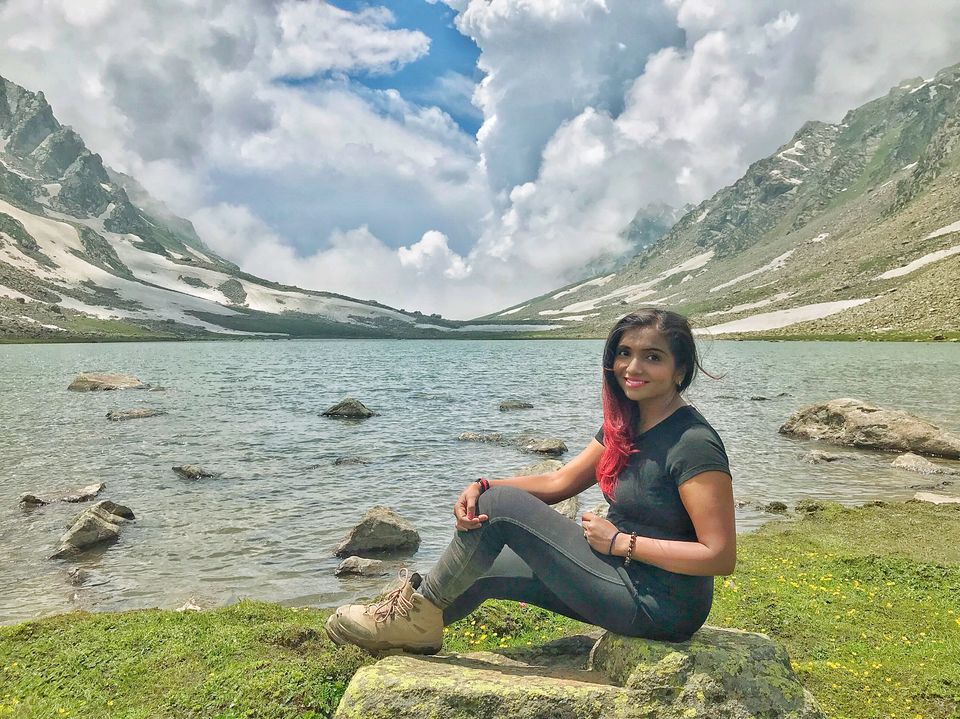 When was the last time you got out of your comfort zone????

8 days of no internet, no mobile network, no comforts of hotel rooms, no electricity, just us in the mountains, cut off from civilization.
That's what the Kashmir Great Lakes Trek gave me.
When I decided to do the Kashmir Great Lakes trek with https://adventure-pulse.com/ I was advised by family and close friends to reconsider my decision, given the current turmoil in the state.

It was my love for photography, impulsive nature and passion for hiking, that pushed me to do it.
To be honest, I was quite nervous about it, especially because I was dragging my husband and 2 other friends along for the trek.
And now that I look back, I am so glad I made this decision.
The experiences I encountered during these 7 days, the people I met, the valleys, lakes and mountains I came across, the struggles I faced, all have been learning experiences I will cherish close to my heart. ❤️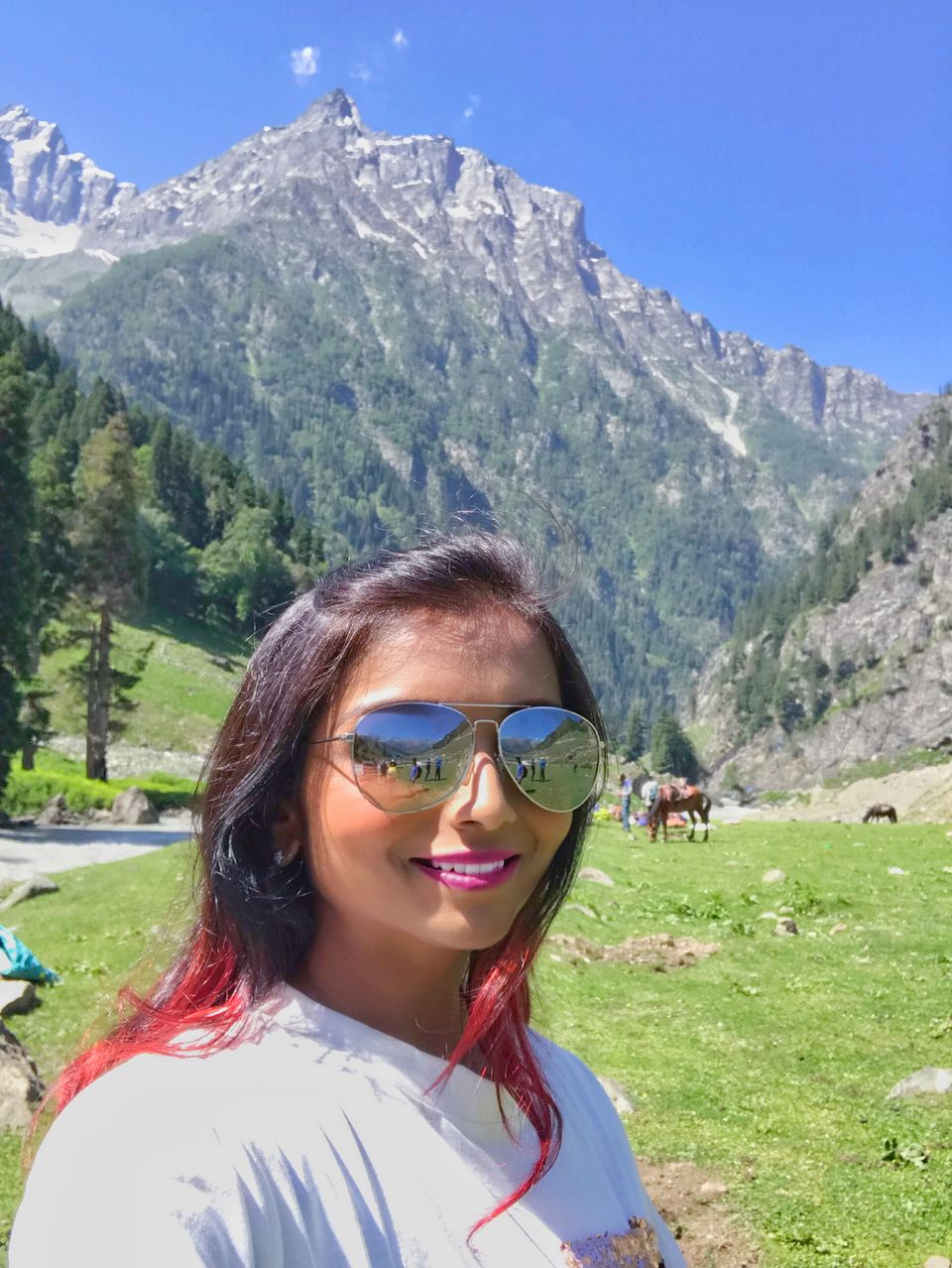 Over the next few days, I have had the most adventurous experience of my life with the Himalayas. Trekking on all kinds of terrain, be it boulders, ice, rains, valleys, rivers, streams, etc.
But ultimately, the most humbling part is the sense of accomplishment that you get after climbing one.
Can't wait to share my journey in the Himalayas and everything that happened over the week.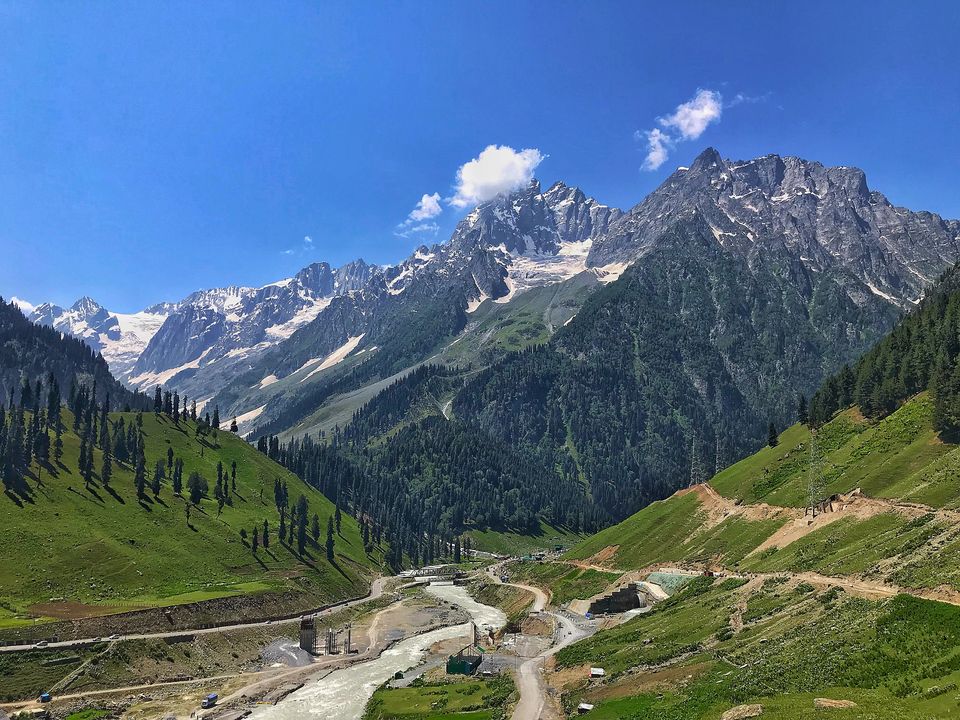 I did this tour with the trekking company Adventure Pulse, https://adventure-pulse.com/

I usually visit India every monsoon during the months of July- August and contacted Adventure Pulse to guide me with any treks around that time of the year.
It was then, Mr. Sauraj Jhingan, the director of AP and also a Mount Everest Summiteer got back to me with the KGL trek and advised me to go for this, and boy I have absolutely no regrets for choosing this.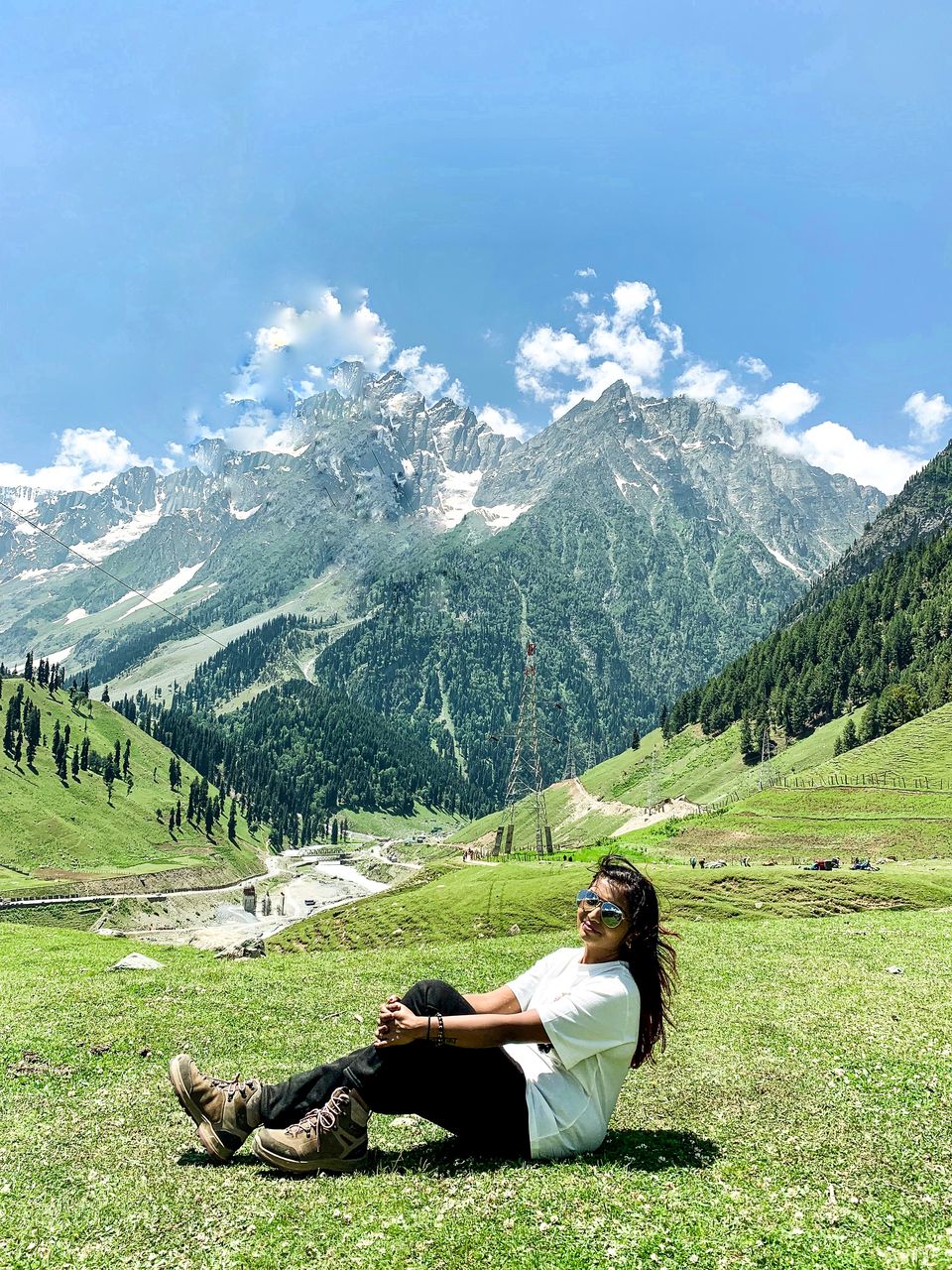 The KGL trek has been an overwhelmingly beautiful trek. The paradise on earth, is truly unfurled during this 7 days walk covering a distance of around 90 Km. Several high altitude lakes and alpine meadows dotted with tiny wild flowers makes this journey a fascinating one.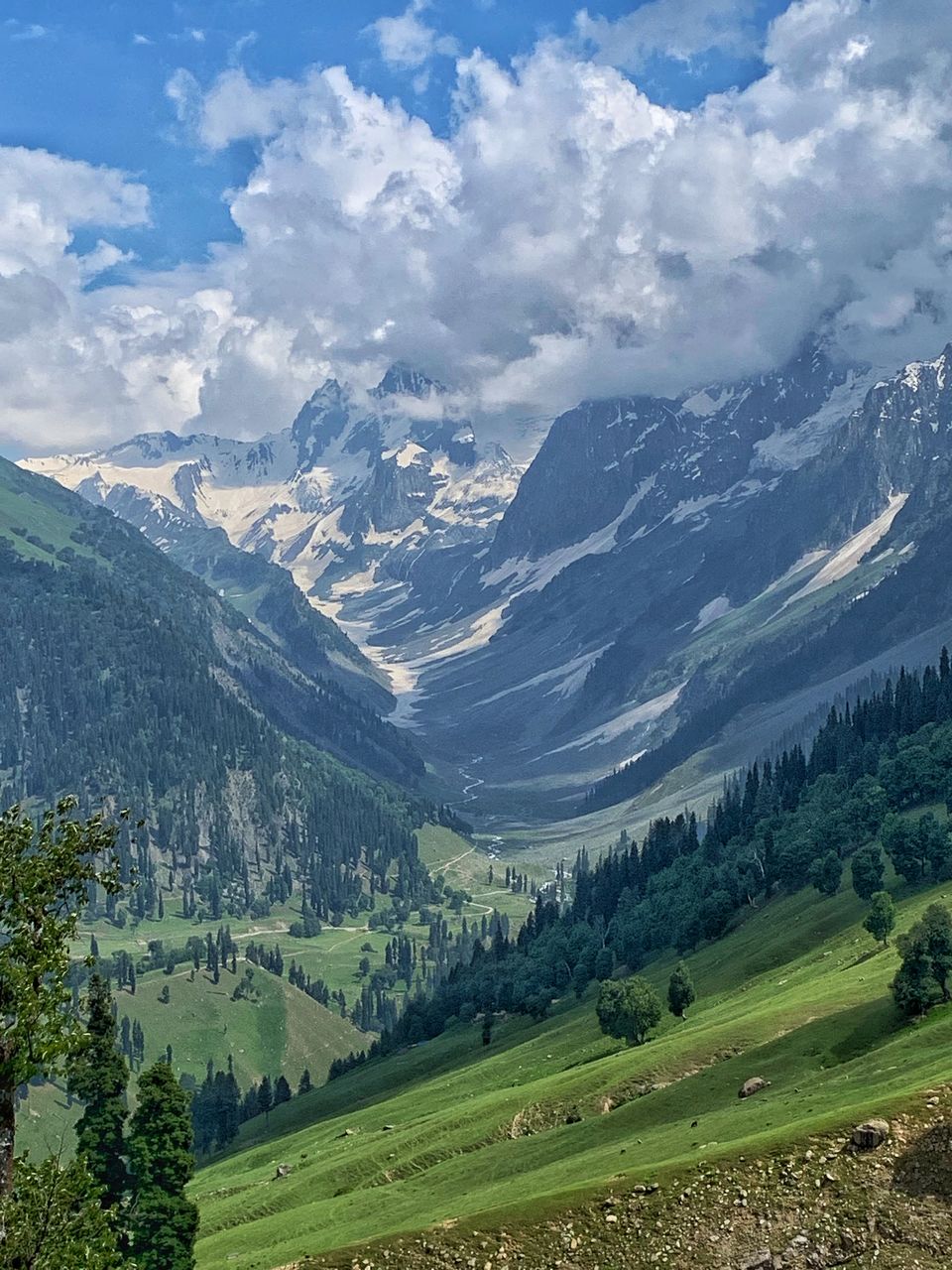 Day 1-
We started from Sonamarg. After walking away from civilisation, the first hour was really exciting. We trekked through some pine forest and meadows of Shokdari. It was a bright and sunny day making the trek a pleasant one. We trekked for close to 4 hours upto our camp. I was awestruck by the serenity that surrounded us.
However there were few challenges we faced, our luggage and belongings being carried by the mules and the local team got to our campsite late, we were however hosted by the local guide and team who served us some amazing Hak and dal chawal which is a Kashmiri delicacy and excellent to combat mountain sickness.
The night ended pretty late by the time our belongings reached the camp site.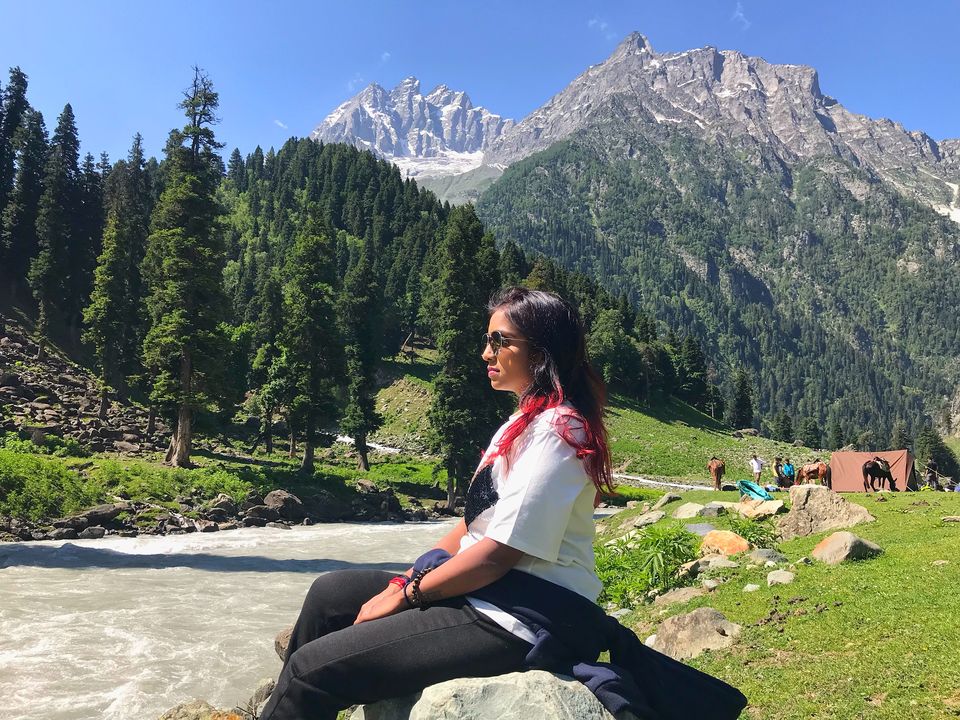 Day 2-
This is what we woke up to..... ????
Room with a view ????
Mornings like these, with the sun rays peeking from the mountain top surrounded by clouds is something I have only seen in pictures, and to witness it for real was mind blowing.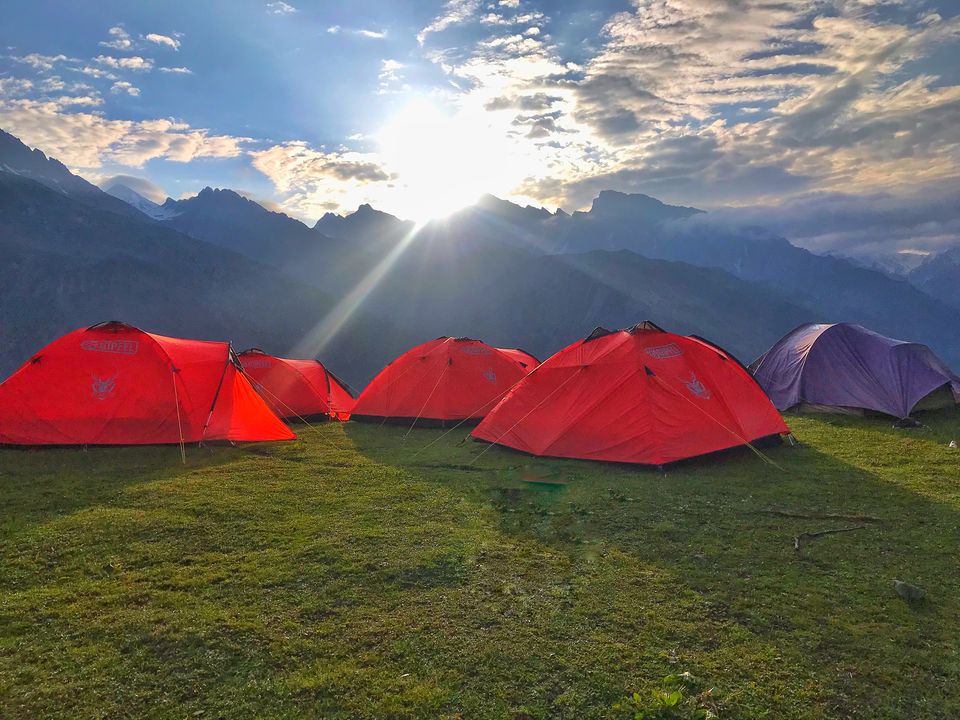 We were so charged up and excited about beginning our day 2. With our bags packed, we were set to begin our escapade.
The day was bright and sunny and we started around 9:30 am as the previous night got late.
We left the Nichnai meadow and started our ascend on the first pass of the trek, the Nichnai pass, 4100 m before descending gradually to reach the camping site close to Vishansar lake.
On this day, we came across some snow-clad glaciers and pinnacles passes, boulders, rocky barren lands, struggling streams and snow!
After passing through some beautiful meadows and gushing streams, came the boulders.... lots of them. It was my first time experience walking through them and it was interesting.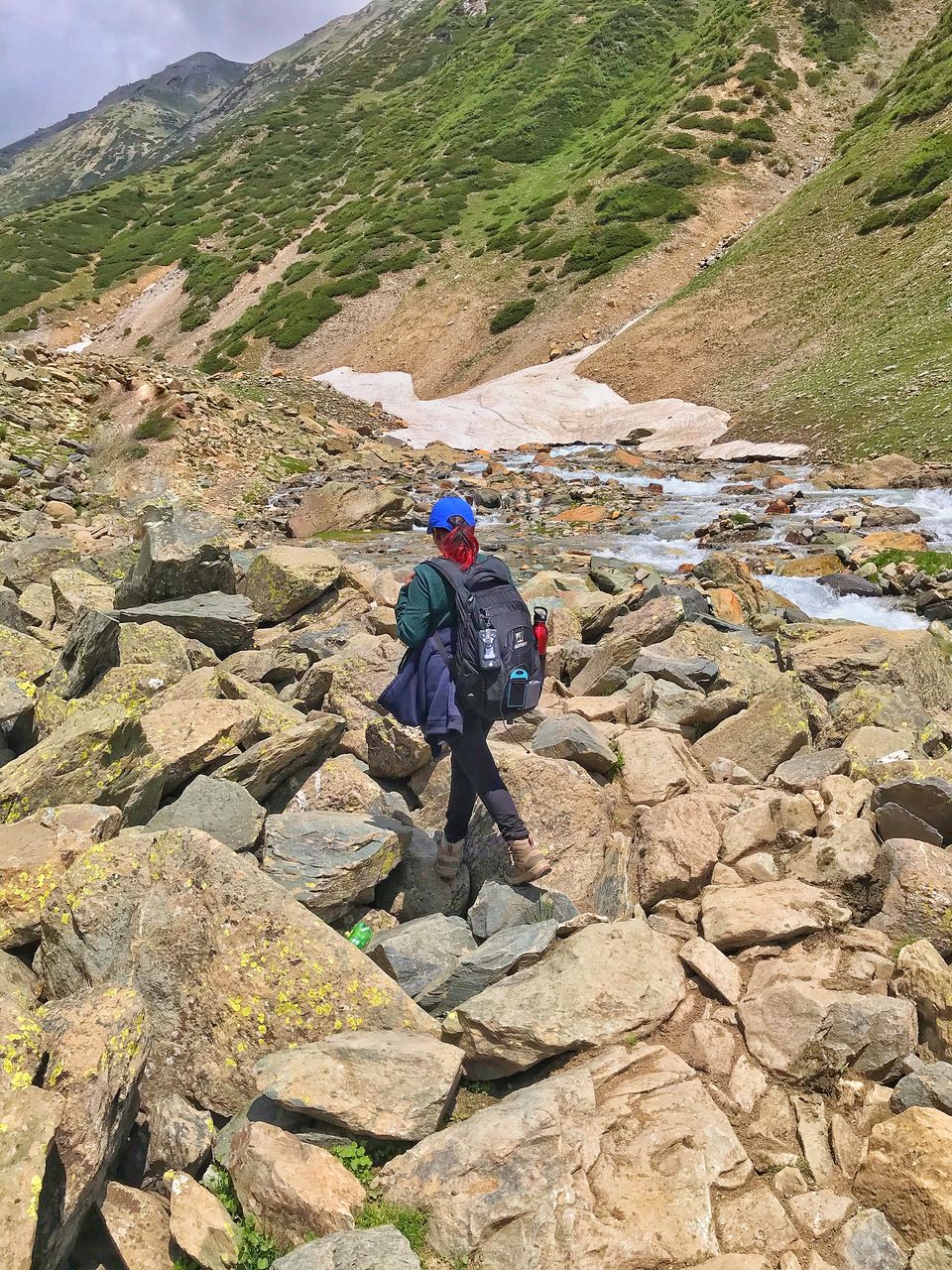 And then there it was, right in front of me......... all that snow land waiting to be covered. The trek wasn't as easy as the pictures made it seem. It was starting to getting difficult. We were crossing one of the three most strenuous passes of this trek on Day 2, the Nichnai pass. We trekked for close to 9 hours on this particular day as we started late and had to make it to the camp site, no matter what!
One of the most important aspects of trekking is to start early and finish early before the weather gets bad. Unfortunately we had to face the wrath of it on this particular day. With rains and snow, making it arduous for us.
There were times I would step on thin ice and my feet would break right through them, resulting in the ice and snow entering my boots and freezing my feet, we were also drenched from the rains and at this point starting to freeze.
One of the biggest lesson I learned was to dress appropriately for the trek.
I wasn't prepared in terms of attire for the rains. I just had a poncho which really dint help. All the rain water got in through the poncho making me freeze and possibly making it all the more harder to complete the days trek and reach the campsite.
Important note to self, carry the rain proof jacket and separate pants always whilst on a trek.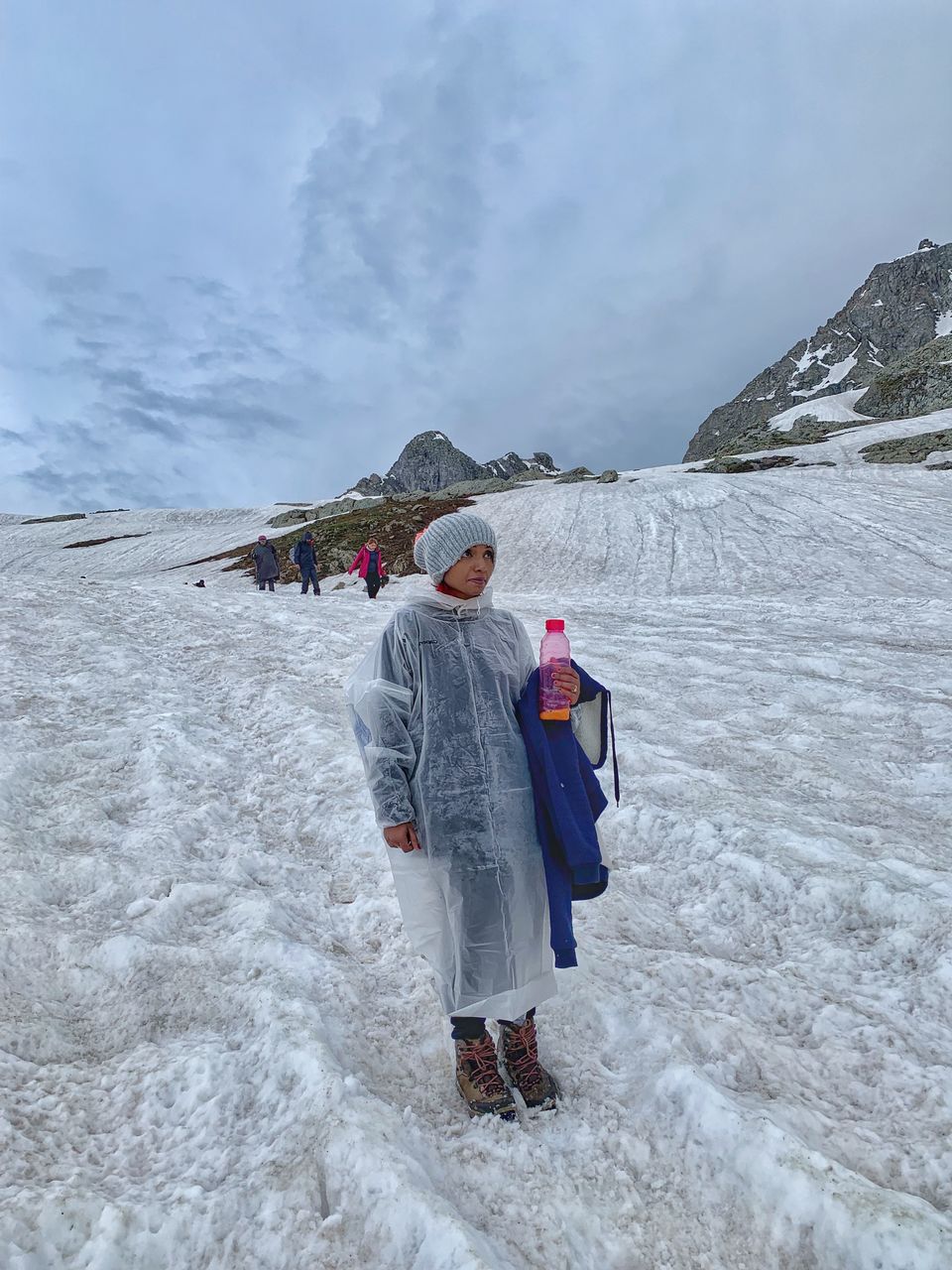 Day 3-
This day would be one of my most favorite day from the trek as it wasn't taxing and we got to view both lake Kishansar and Vishansar.
This is the Kashmir that one cant see on a normal tourist itinerary and the hard work is totally worth it. When I first decided to do the trek, I had a glance into some pictures from the Great Lakes, Kashmir in google. I thought google had enhanced the pictures for the added effect. There's no way a lake could have had those colors.
And then I was in Kashmir right in front of the lake, capturing its real beauty.
The google pictures were real, this is exactly how the colours of the lake are,surrounded by snow capped mountains.
Reflections of the towering mountains are perfect in the placid and still waters of the lake.
Arguably, Kishansar lake is one of the most beautiful things I have seen my entire life.... followed by rest of the Lakes during the course of the trek????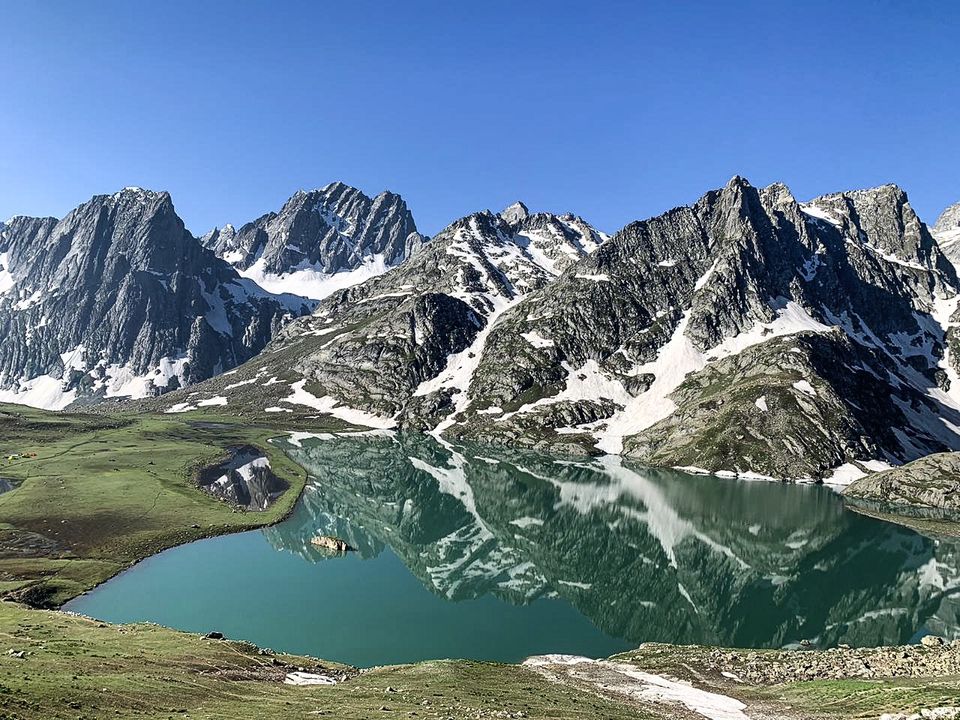 And Ofcourse it was also the perfect place for me to capture some of the most beautiful photographic memories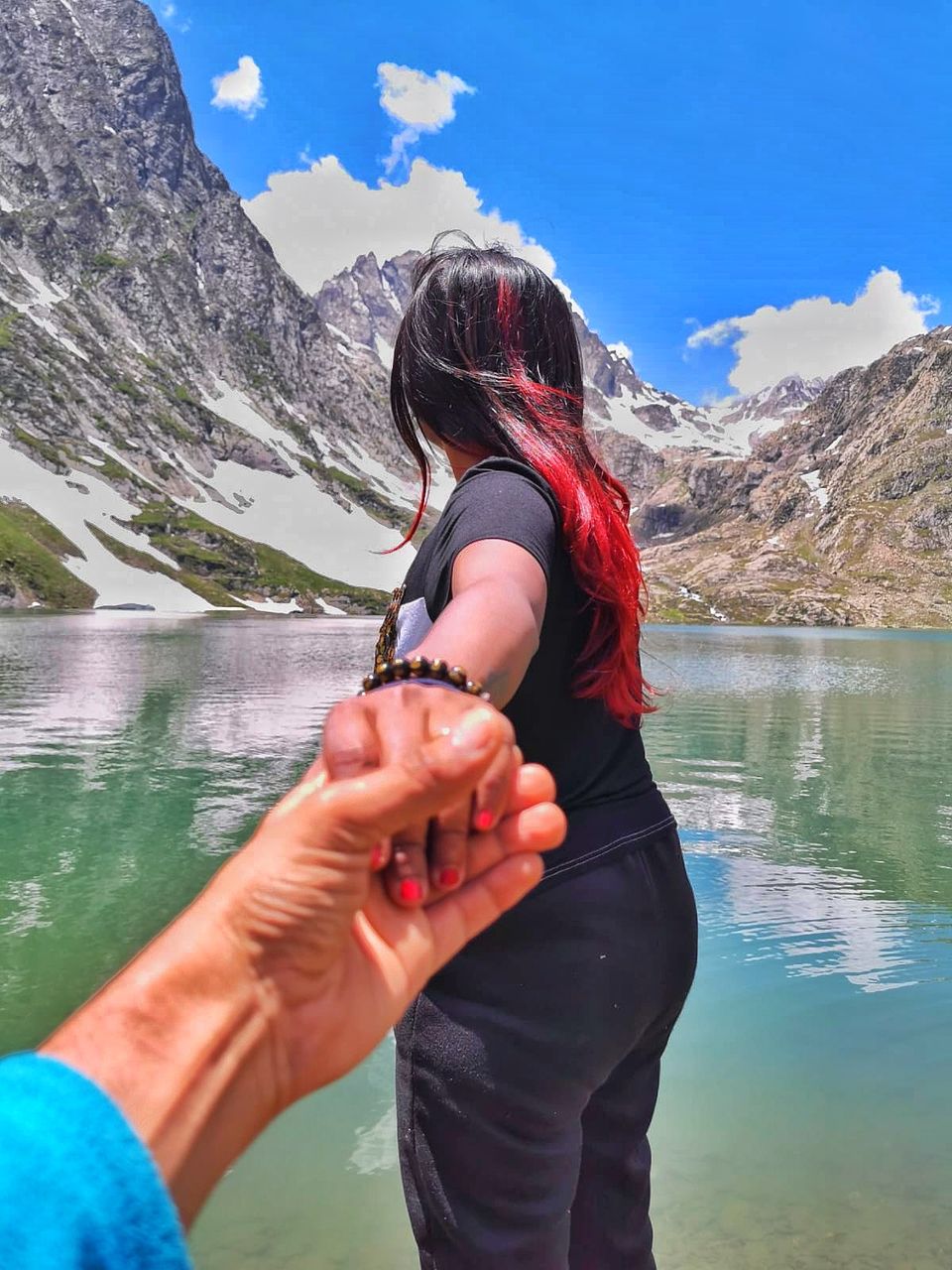 Day 4
Imagine waking up to a view more beautiful than Switzerland ❤️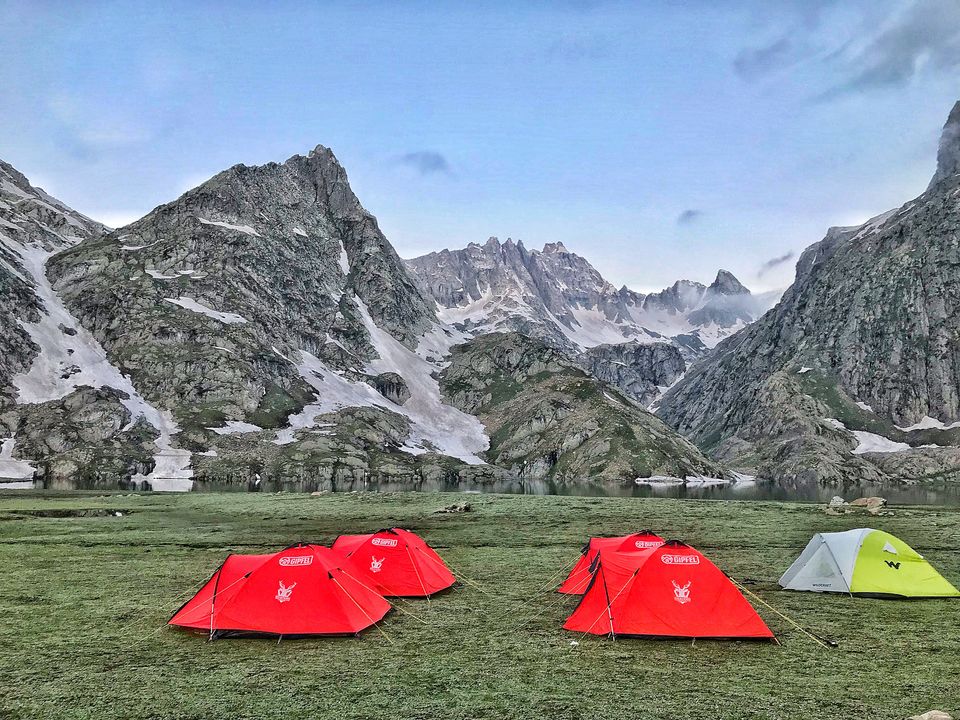 And then came lake Vishankar ????
The waters in these lakes are not only serene and beautiful but crystal clear since they aren't polluted by tourists and public. These are hidden gems unexplored and can only be viewed during the course of the trek.
We got to camp in one of those most beautiful locations and had freshly caught trout from one of the lakes. Our only non vegetarian meal during the course of the trek ????
During the course of any treks, it is advised to have vegetarian meals to prevent any kind of sickness or infection to the body in high altitude. Even consuming alcohol is prohibited to prevent dehydration.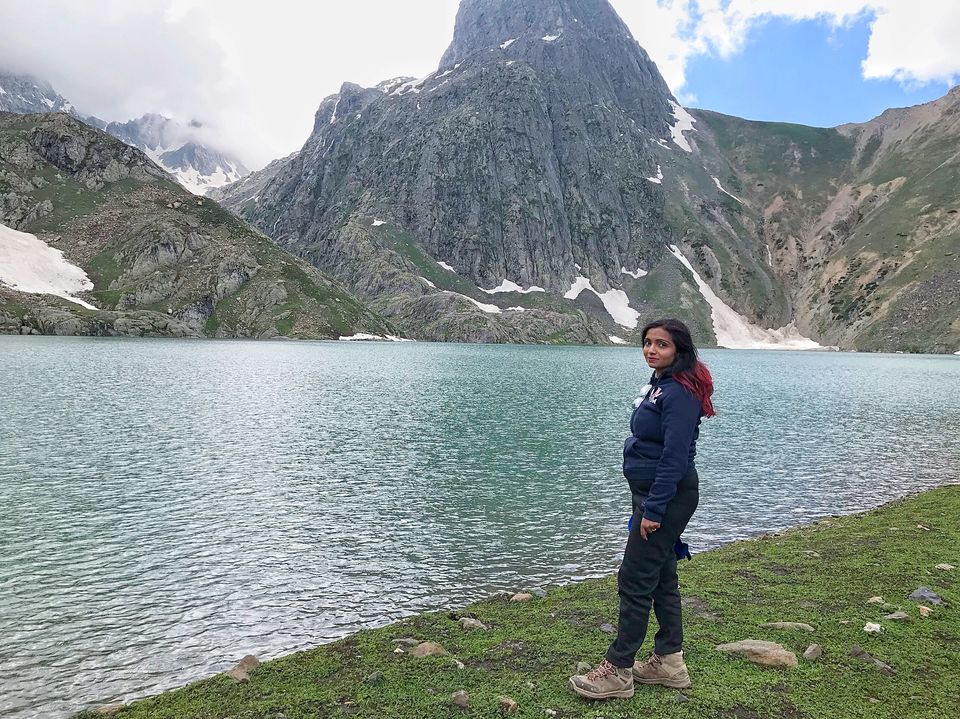 The majestic view after reaching the highest peak of the trek.
What's most important is to enjoy the journey; it's not about reaching the summit first, but rather maintaining an average pace and soaking in the beauty at all points.
We touched the highest point in our trek, en route to Gadsar via Gadsar Pass. The initial few kilometers were basically an ascent to the highest point of the Great Lakes trek (the Gadsar Pass) at an altitude of 13,500 ft. En route, we passed the Krishansar Lake. The most beautiful lake of the Kashmir Great Lakes trek doesn't care to announce itself. It was one such moment when you are walking on the trail, aloof of the wonder of a small water body on the left side. We were crossing another one of the strenuous passes, the Gadsar pass.
After Day 2, I had rate Day 4, the first 2 hours moderately difficult.
During any kind of high altitude treks, ensure you are well hydrated and watch out for AMS symptoms. Do not scale up or down too quickly.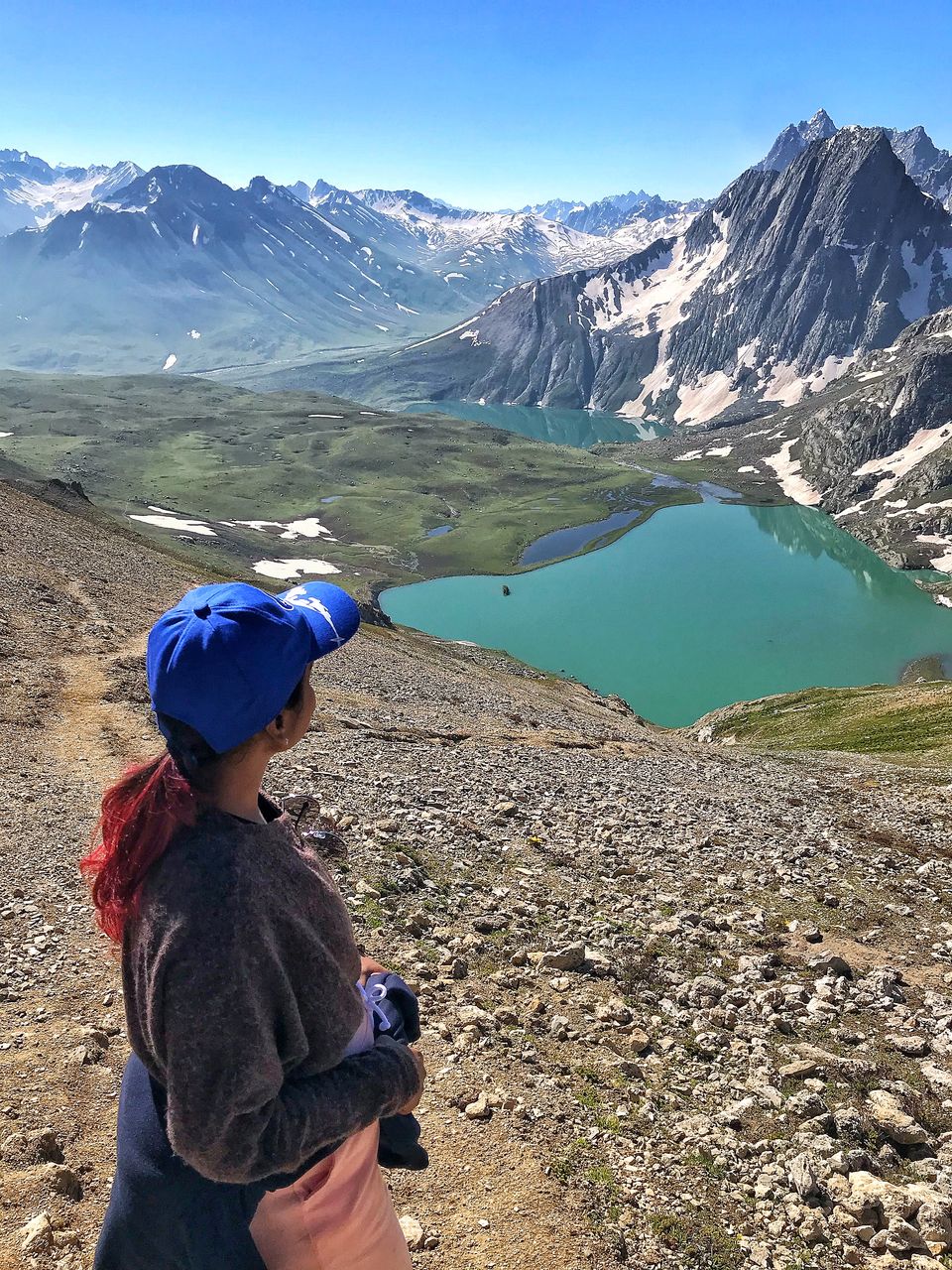 This is where we stopped for lunch.
After crossing the Gadsar pass, the rest of the trek involved descending into the valley and crossing the Gadsar Lake. Unlike the previous lakes, Gadsar may be the most untouched of the lot. This lake is harder to reach, because it is after the highest point on the KGL trek. From a distance it looks like a drop of gem in the middle of no where.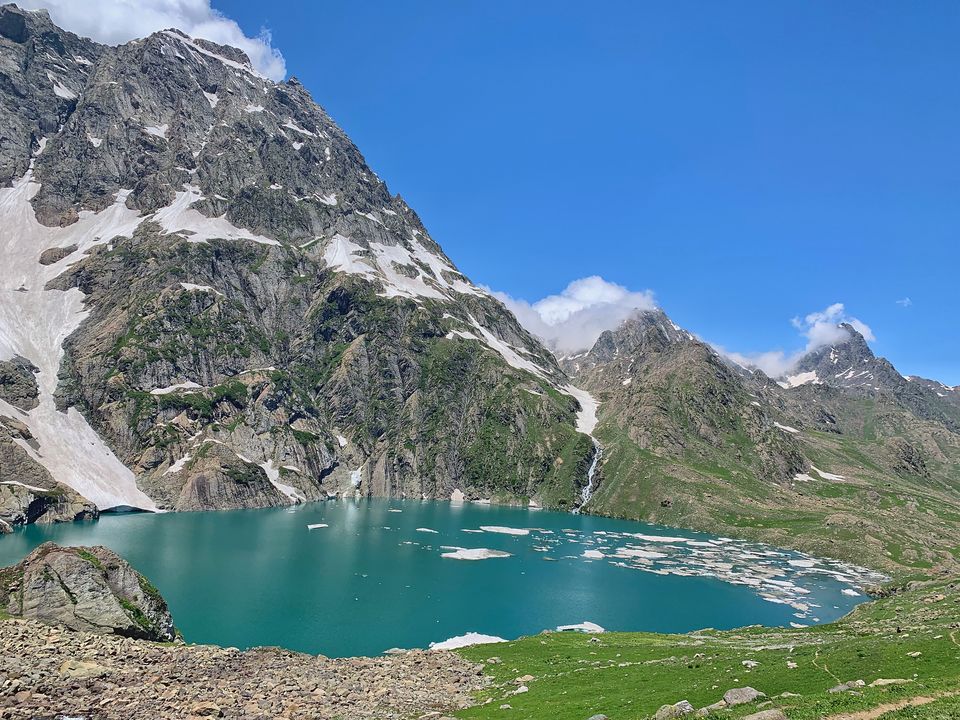 Day 5
Another one of my favourite days where the trek was the easiest and shortest, and we came across this beautiful Lake Satsar. Satsar means 'the seven lakes' is located in the Ganderbal region of Jammu & Kashmir.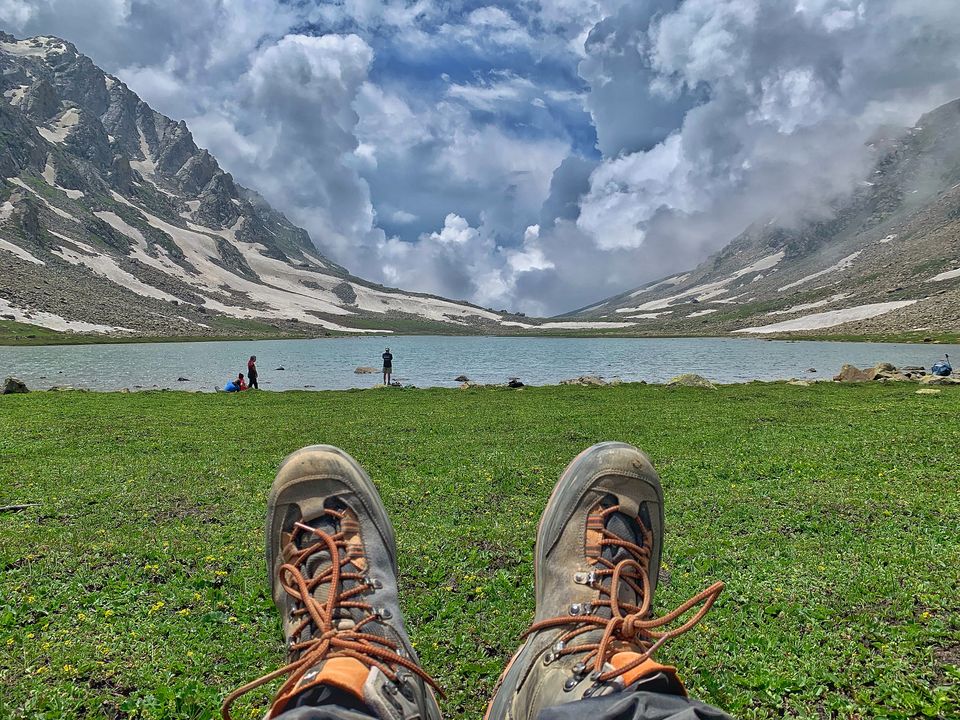 When Day 5 trek was over and I was so relieved to see my campsite just a few metres along with the spectacular beauty of alpine meadows, snow-clad mountain peaks which indeed was a sight that pleases the heart of a wanderlust and ardent explorers.
As my fellow trekkers and mountain lovers might already know, the weather at high altitudes is always unpredictable. It began to drizzle once we reached our campsite, but it just lasted for merely 30 minutes after which the weather cleared and our tents were set up.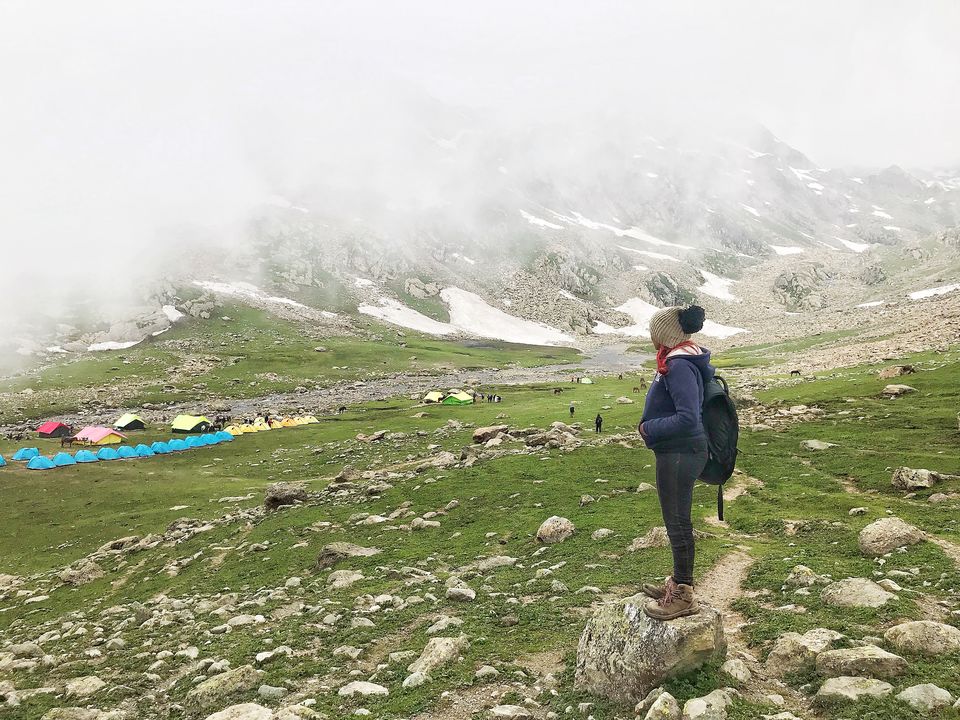 Day 6
This day began on an interesting note.
When we started by crossing over all these......This rocky patch was fabulously enriching as all of us had to mark our steps carefully and ensure that we don't end up slipping or blocking our fellow trekkers' path. As safety measures, it was advisable that people scared of heights do not look onto the other side, which essentially had the deep valley, to avoid any nervousness from creeping in.
I have to say, after completing this terrain, when you turn back and look at the path, you feel so proud of yourself, especially when you feel the adrenaline rush within.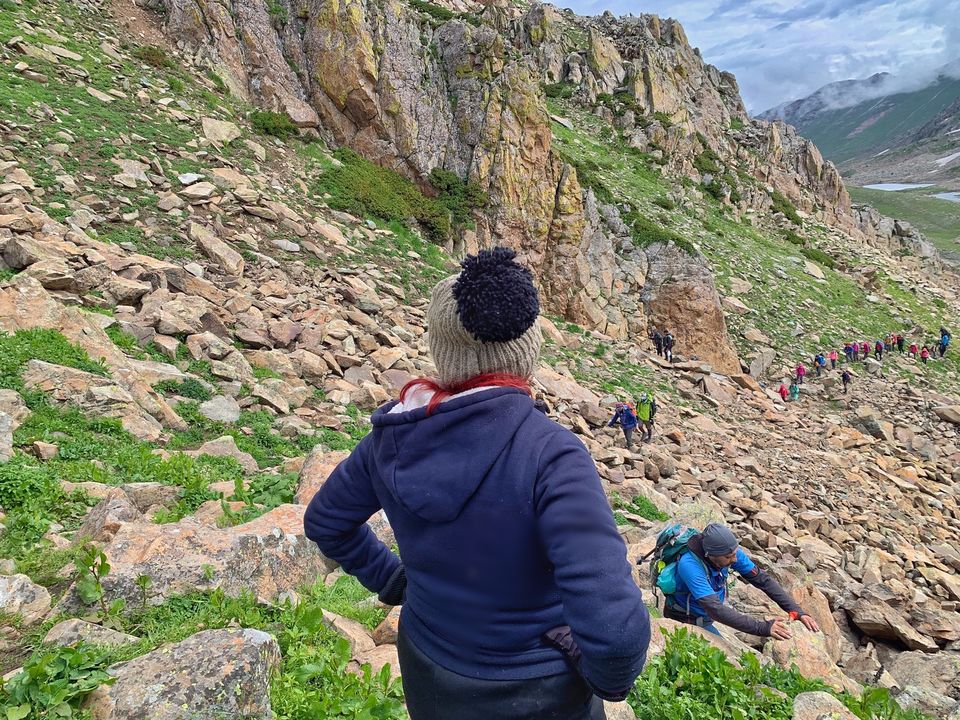 After trekking for couple of hours more, you reach the highest pass of the trek 'Zajibal Pass (4180m)'
Somewhere around this point we forgot all our tiredness as this is what we got to see.... Mount Haramukh (5300m) just standing at our face and at its footsteps lie the twin beautiful alpine lakes of Gangabal and Nundkol.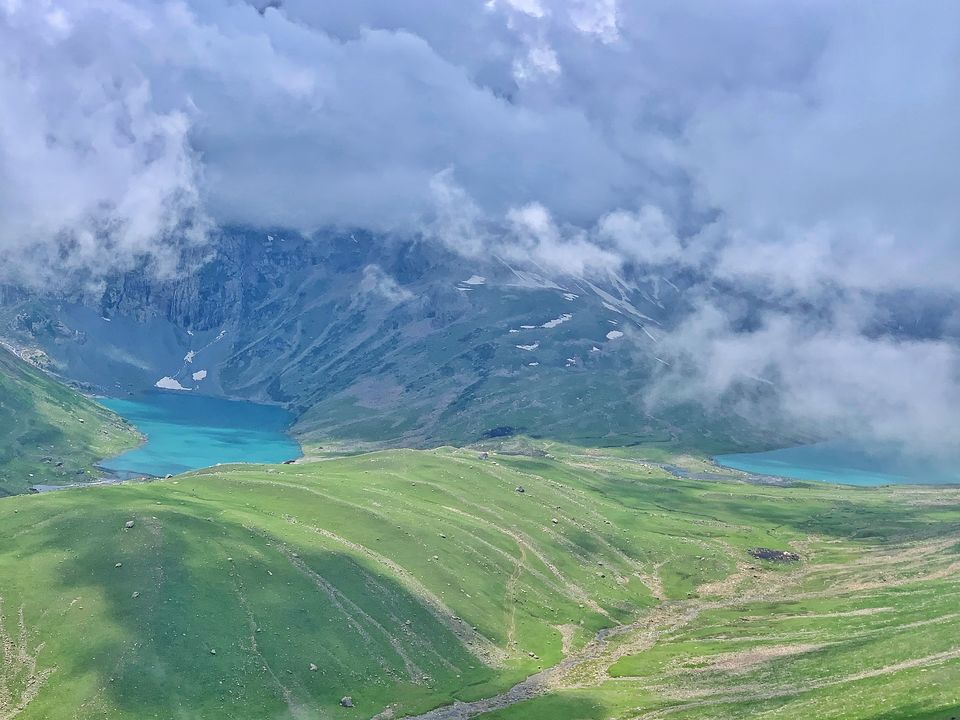 The only time you should look back to see how far you have come!
Ever seen something so magnificent and majestic as this???? Yours truly.... Mount Harmukh ????
When I decided to do this trek and was looking up pictures in google of the different lakes, this particular Harmukh mountain rising above Gangabal lake, at an elevation of 5142m caught my eyes.
Each time I felt drained during the trek, I knew I had to keep going else I would never get to view this beauty, for which I had to wait till Day 6.
This image was what pushed me every time I felt demotivated during the trainings too. If I had to sustain myself till the end of the trek and witness this, I had to go for it.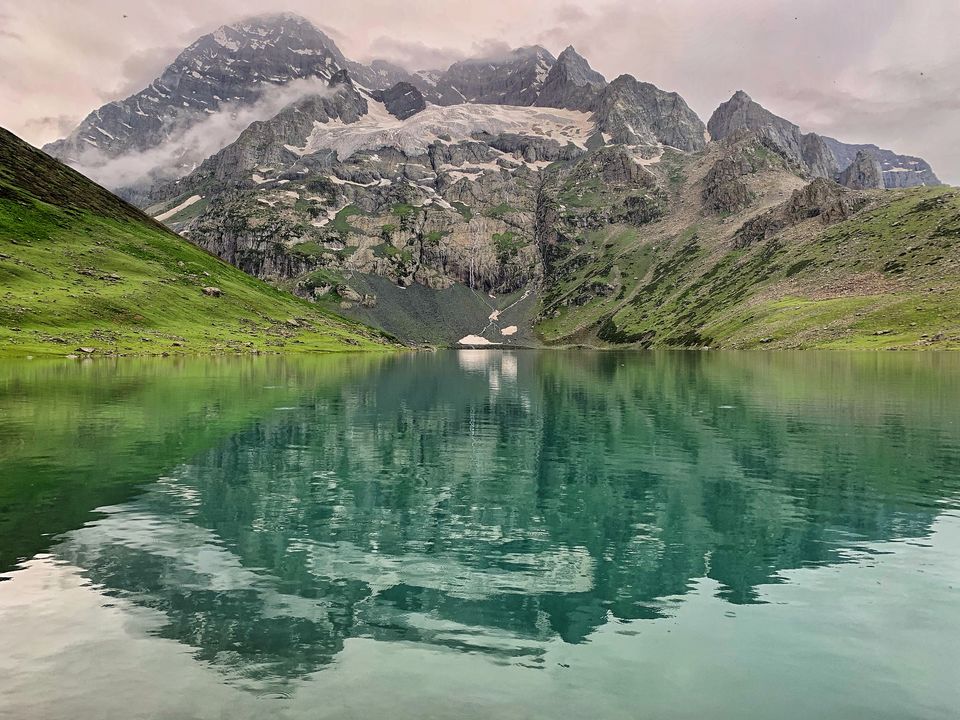 Day 7
And there it was, our 7th and final day of the trek. We all woke up to a bright sunny day, and everyone had a glee on their faces, for many reasons, going back home to our loved ones after a week, going back to civilization after being in the mountains, having completed this trek.
Another reason was, the ascend was completed in the last 6 days, and this final day was just was descend. Some of the conversations were, "descends would be much easier, will be a cake walk, etc etc" ...... so we thought!
Until reality hit some of us!!! But I was really happy when this particular photo was clicked. It was my dream to see Mount Harmukh, perched right behind me. Mount Harmukh is considered a very sacred abode for Lord Shiva by the Kashmiri Hindus.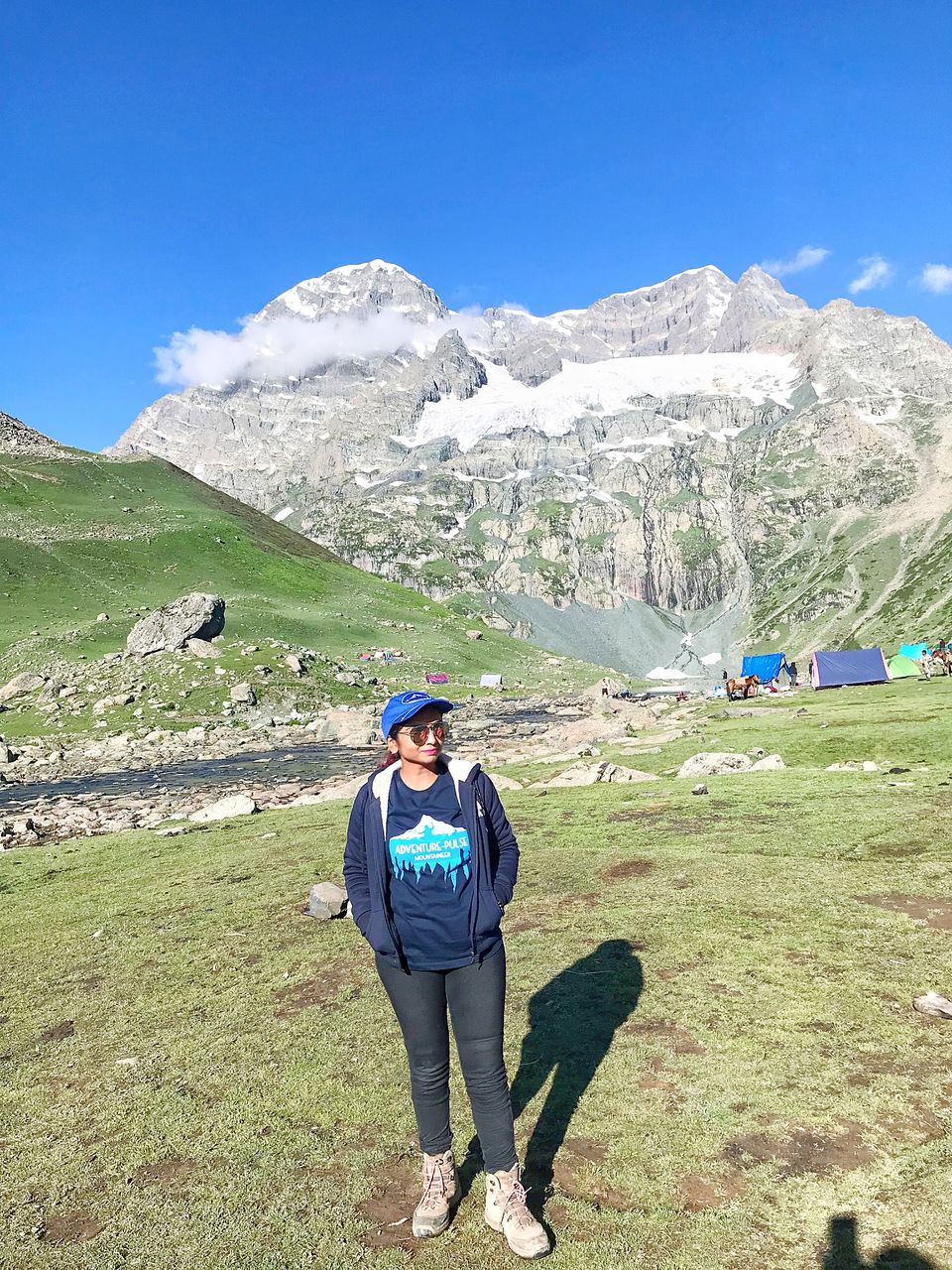 Even on the last day the valley didn't disappoint us and gave us some great views. We reached Naranag by noon. After rambling on grassy land dotted with yellow flowers and pine forest, somewhere during that time, I had a bad fall and hurt my knee on one of the boulders. Luckily the knee pad protected my leg, and I managed to complete the trek for the day, not aware of the pain I was going through, which I soon realised in due course of time. Descends are not easy, the knees are significantly under more stress than when heading uphill or on flat ground.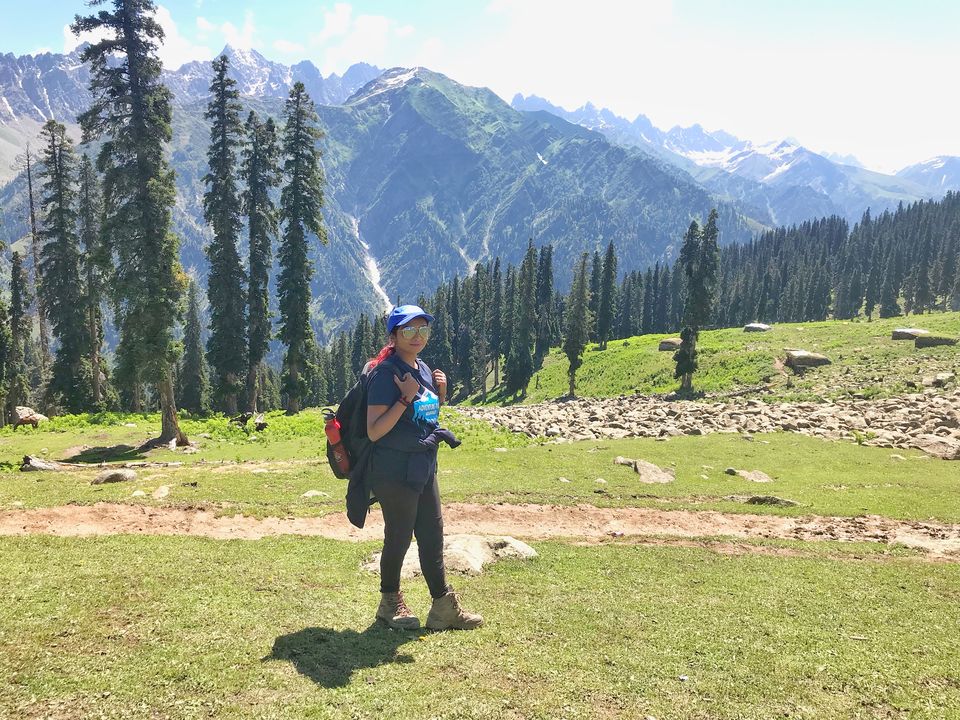 There it was, the final destination, my final descend spot. I could see it, it felt so near, but I wasn't getting there.
It is kind of frustrating when you feel you have been trekking for close for 6 hours and you can see the spot, but you just haven't got there... yet!
I did finally make it there, with bruised, swollen legs, and boy was I over joyed and thrilled.
That was my moment of Joy, when my 7 day expedition was finally over, and I was no more in a high altitude environment freezing. It felt so surreal. And I just thanked almighty for helping us complete this in good health and we were finally able to return to our families!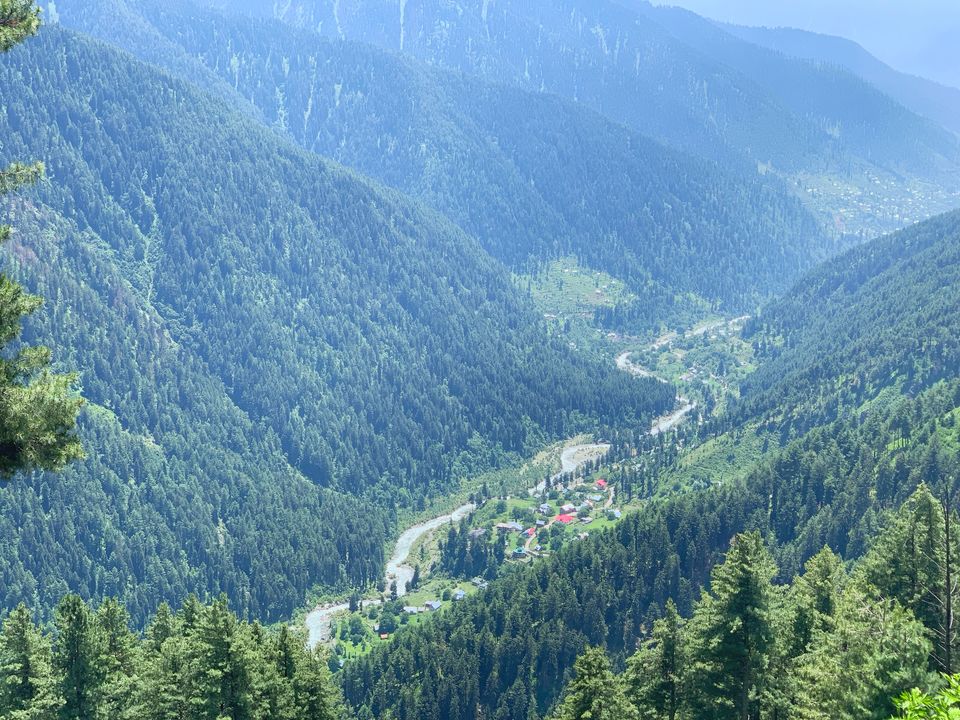 Having you ever been in a state of mixed emotions? When was the last time you were in a state of mixed emotions and wanted 2 entirely different things at the same time?
There I was, after a 7 day trek, having finally bathed after 7 days, with bruised swollen legs.... in a state of mixed emotions, so relieved to have completed the trek and finally go home, finally run to my beautiful children at the same time thinking about the mountains and missing them, missing the sights I saw there, missing the camp nights, missing being away from the rest of the world. Human beings are weird, it's surprising we can think 2 different things at the same time.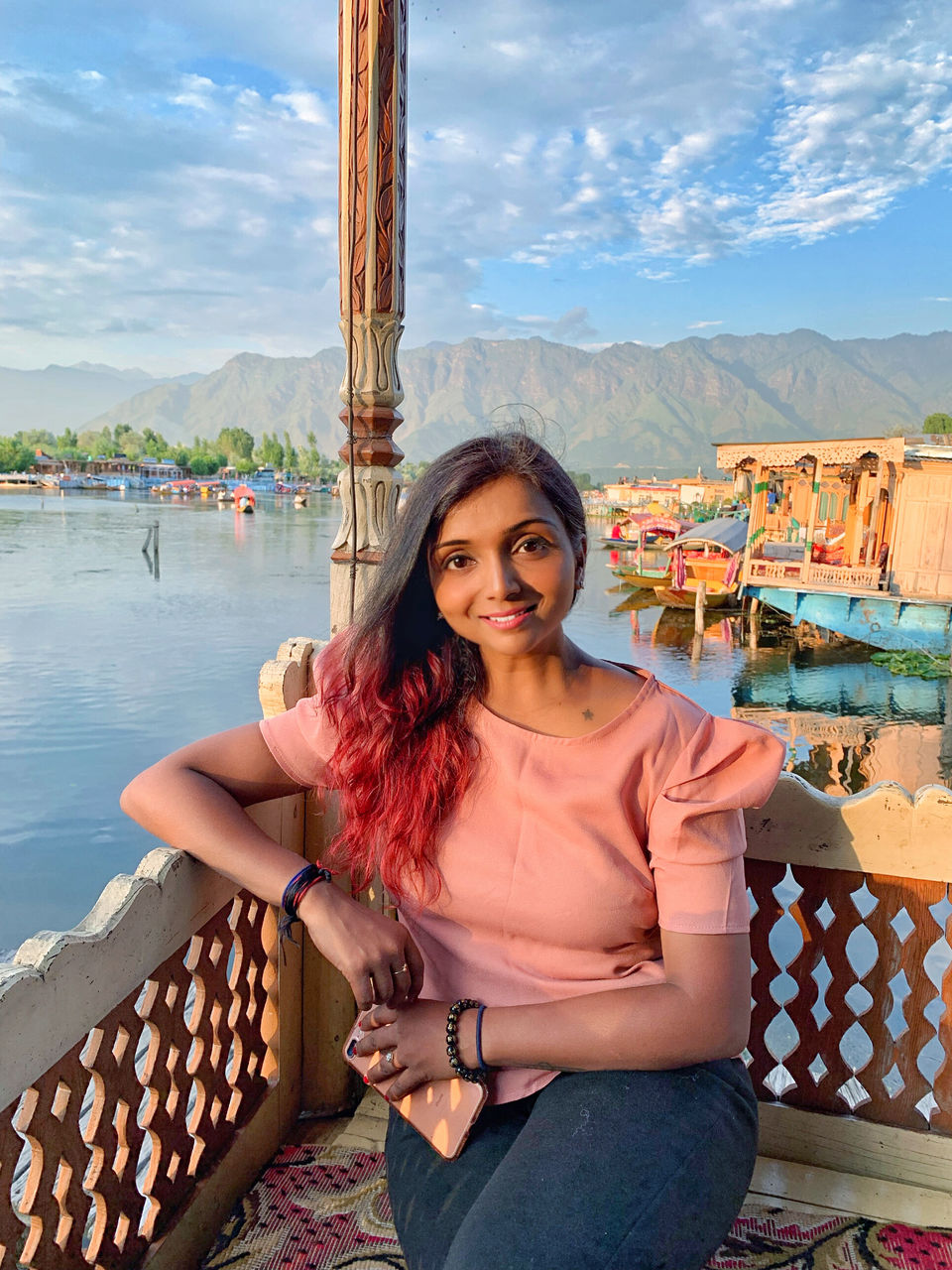 Whilst I sat there, basking in some sunlight, and thinking of my time away in the mountains, the thoughts of sitting in the cosy tents with the team, talking about our lives, singing and playing games, living like a family for 8 days with no connection to the outside world dawned in on me.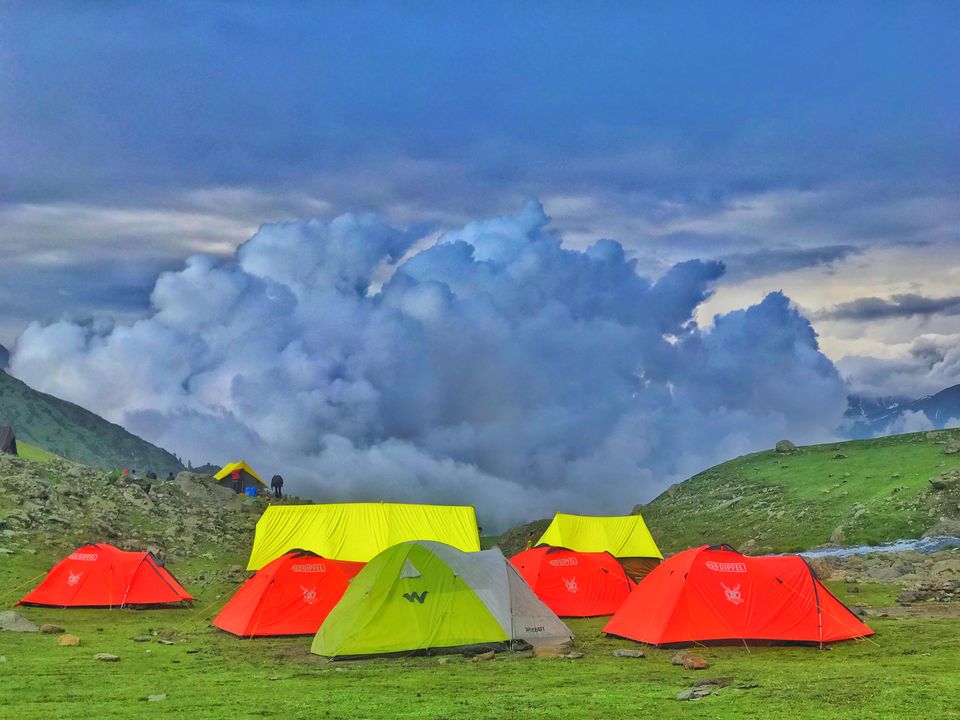 I met some amazing people and made some amazing friends including Umang Dave who is the trek leader of Adventure Pulse without whom I would not have completed this trek. There were times I wanted to give up and couldn't go more. It was Umang walking right behind me who kept saying, "Shabaash Preetha, you are doing great" which kept me going.
Umang stayed right behind with me all through the journey, telling me stories through it, making sure I completed my trek. Perhaps some of those harsh days would not have been possible if it was not for his extra push!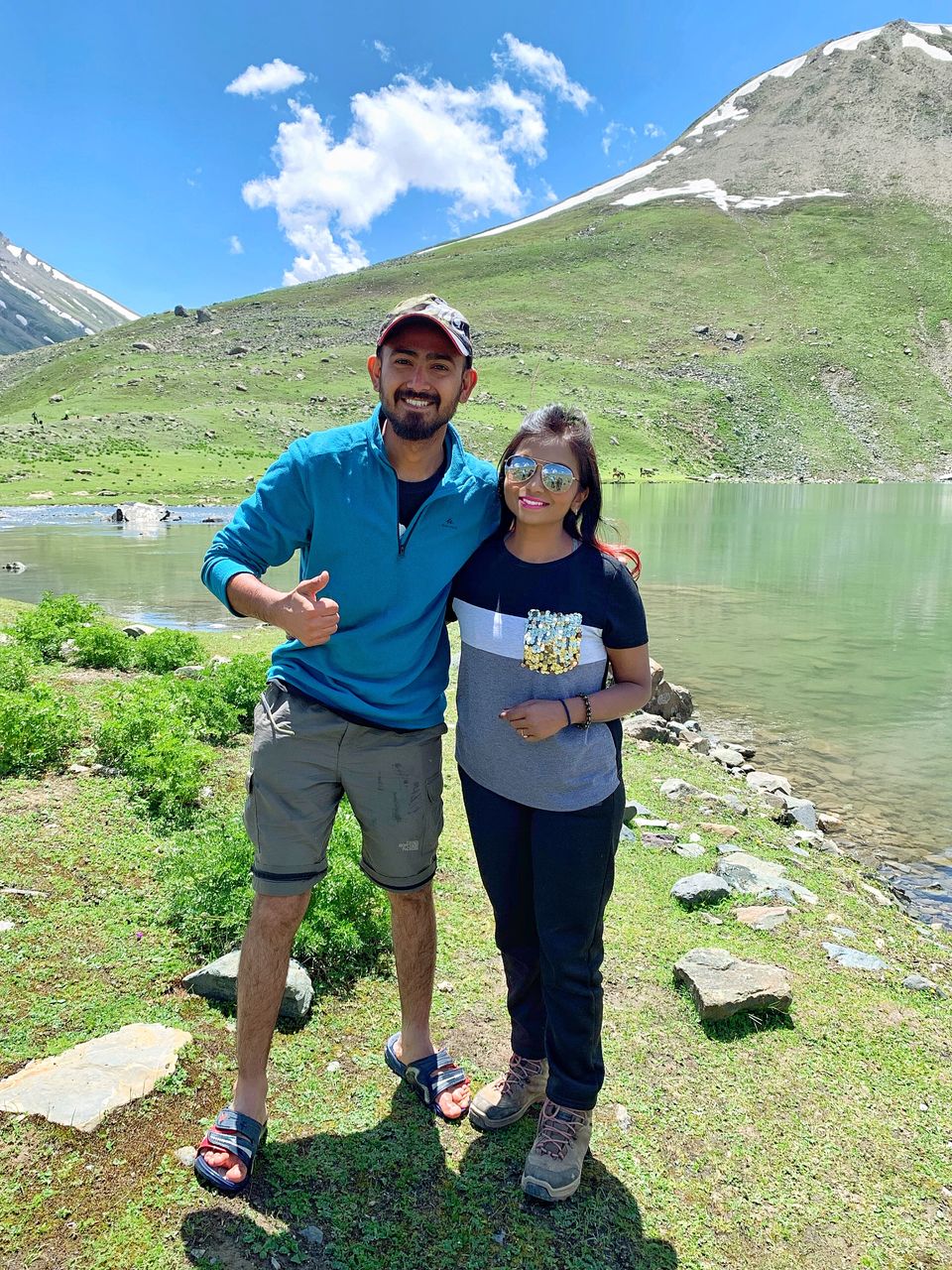 Adventure pulse put us on a one night stay in the famous Shikaras of dal lake. It was like a cherry topping on the cake and the perfect end to our trekking trip to end the note on a serene beauty like this.
After being in the mountains for 7 days and having descending for round 6 hours to Naranag village, we reached Srinagar after a 3 hour drive. This is where we would be spending our night, in a beautiful Shikara in the dal lake.
There couldn't be a more perfect ending to our lovely trip, and it was everything I had hoped for from my Kashmir Diaries!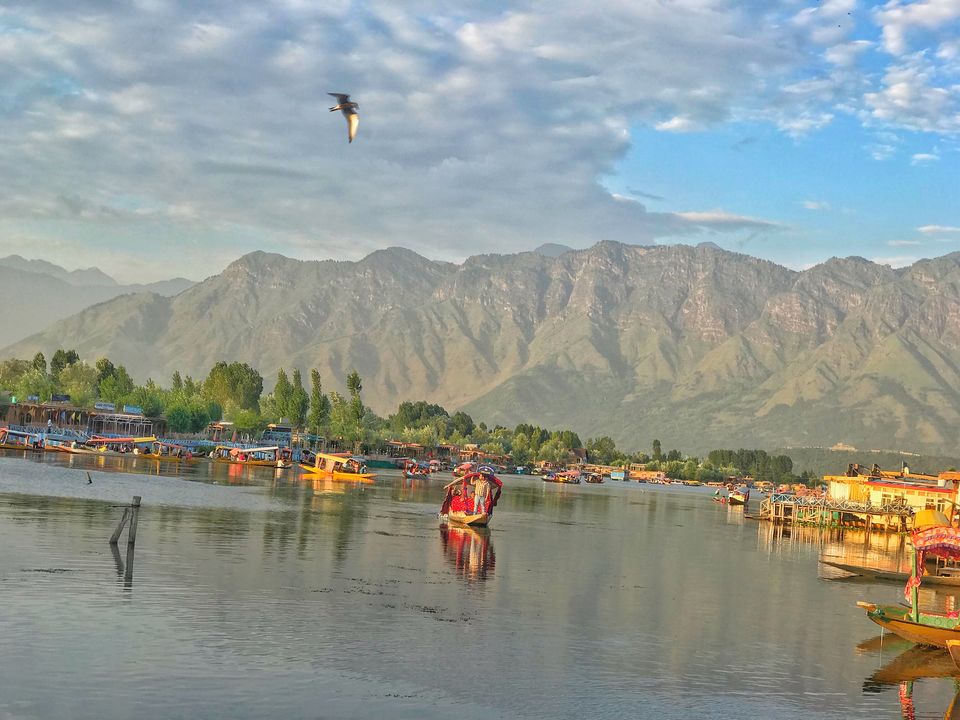 Frequent searches leading to this page:-
kashmir travel blog, top kashmir travel agent package, top resorts and hotels in Kashmir, places to visit near jammu, best time to travel kashmir, most visited places in jammu and kashmir, srinagar package for family, solo trip kashmir package from delhi, family trip package to gulmarg, srinagar honeymoon luxury package, kashmir group trek package, top activities in kashmir, best local site seeing in kashmir