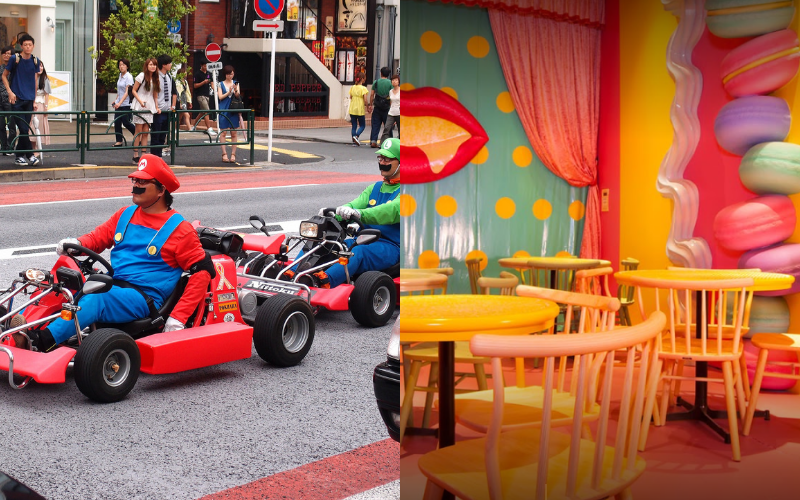 What you will see in Japan, what you experience here, you will nowhere.
If you're jaded with doing the regular touristy stuff that you end up doing everywhere; from the Himalayas to the Alps, travel to Japan!
Give your inner explorer a much-needed breath of freshness with these nine incredible experiences.
1. Robot Restaurant
Descend the staircase into Tokyo's famed Robot Restaurant and enter an alternate reality.
A theme restaurant and bar that is unimaginably trippy, and offers a sensation sci-fi extravaganza with robotic monsters, dinosaurs, cabaret dancers, laser beams, eccentric costumes, blaring pop music while you enjoy food and drinks.
Where: 1-7-1 Kabukicho, B2F, Shinjuku, Tokyo Prefecture, Japan.
Contact: +81332005500, website.
Cost:
Entrance fee 8,000 yen (5000 INR)
Meal fee per person: 1,000 yen- 1,500 yen ( 626 INR – 930 INR)
2. A Real-Life Mario Go Kart Adventure On The Streets Of Tokyo.
Using custom-built go-karts, Mari Mobility and a few other rental companies offer you the opportunity to drive through the city like an unofficial game character - Mario, Yoshi or Princess Peach, take your pick! (They even offer some other costume options like Batman and Superman)
Most go-karts are fitted with GPS and communication bands, and you'll be following a guide at all times, so you don't need to worry about taking a wrong turn!
Where: MariCar is the largest of the companies in Tokyo that specialize in public go-karting, and is located about a 3-minute walk from Keikyu Kita-Shinagawa station or a 15-minute walk from JR Shinagawa station.
Cost: The 1.5- 2 hours duration ride charge is 10,000 Yen. (6,266 INR)
You can book here.
3. Ryusendo Cave
Ryusen-do Cave is known as one of Japan's three greatest limestone caves and has been designated, together with bats living in the cave, as a national natural treasure. The underground lakes have brilliant blue water that is among the most transparent in the world.
Where: Ryusendo Cave lies two kilometers outside of the town center of Iwaizumi Town. The easiest way to get to the cave by public transportation now is by bus from Morioka or Miyako.
Cost: Entry charge is 1000 yen (630 INR)
4. Shop Till You Drop At Don Quijote,The Biggest Discount Store In Japan.
Don Quijote Co. Ltd is a tax-free store that has over 160 outlets throughout Japan. Many of these stores are open 24/7 and sell everything you can possibly imagine!
From unimaginable Kit-Kat flavours, anime collectibles, cosmetics, food, baby products, cute stationery to even sex toys.
Where: The largest Don Quijote in Tokyo is the newly opened Mega Don Quijote in Shibuya, but the Don Quijote in Shinjuku and Akihabara is huge too.
Contact: Website.
5. Visit Some Of The World's Quirkiest Craziest Coolest Cafes.
Japan is home to some really cool and some really bizarre cafes that you will never get to see anywhere in the world.
1.) Kawaii Monster Café
This place is literally the embodiment of all things cute in the world. It houses a merry-go-round of life-sized gummy bears and sweets, a jellyfish cocktail bar, life-size deserts, rainbow coloured food.
Where: Harajuku district in Tokyo.
Contact: 81 3-5413-6142
2.) Ninja Akasaka: Ninja Café
When you first get to this place, there is only one small entrance door that stands alone. Get in through the secret door and as soon as you enter the café, a ninja appears and guides you through mysterious corridors to your private booth.
Ninja stars, katana, ninja-themed dishes, and dim lighting all create the perfect concoction for a night.
Where: 2-14-3, Nagatacho, Chiyoda-ku, Tokyo, Tokyu plaza Akasaka 1F.
Contact: 81 3-5157-3936
3.) Yurei Izakaya: The bar of the dead
A spooky bar with a morbid decor and an eerie chant emanating from the place, where you'll be greeted by waitresses dressed as Japanese ghosts. To call the waitresses, you're supposed to strike a Buddhist prayer bowl and hold up a bloody, severed hand.
Where: 1 Chome-8-11 Kichijoji Minamicho, Musashino, Tokyo, Japan.
Contact: 81 422-41-0194
4.)Pokemon Café
Contrary to what one might imagine, this place has simple décor sans any bright colours or props. It is the food here that is entirely based on the Pokemon theme. The place offers a wide menu of hot and cold drinks, all with a Pokémon theme. For example, you can try a Pikachu or Eevee latte, a Gengar smoothie, or cocktails of the different Eevee evolutions. As for food, there's a range of Poké dishes. Pancakes, fruit salad, burgers and more such as the One must try the Pikachu omelet and the Jiggleypuff cheesecake.
Special souvenirs are for sale here like Poke-ball cups, Pikachu plushies dressed as a cook etc.
Where: Takashimaya department store in Nihonbashi, Tokyo.
Contact: 81 3-6262-3439
6. Collate A List Of All The Madcap Vending Machines Possible.
Vending machines are a common sight in Japan. There are 5.52 million vending machines in Japan, according to the nation's tourism board. However, the Japanese are possibly the most creative and quirky folks in the world! And so, you name a commodity and chances are they have a vending machine for it.
Umbrellas, hamburgers, surgical masks, T-shirts, apples and bananas, neck-ties, party decorations, used ladies' underpants at the ground-floor of M's pop life sex department store, wine vending machines at Niigata Station, latte café at Tokyo's Haneda Airport, fresh underwear dispensing machine the list keeps getting crazier.
The more you explore the country, the weirder vending machines will you encounter.
7. Check out Mandarake: The World's Largest Anime & Manga Reseller.
Established in 1987, a pre-owned manga dealer, Mandrake is Tokyo's largest vendors of used anime and manga-related products. Today, they have more than 25 branches in Tokyo. However, the Mandarake Akihabara is the largest, spread out across eight floors, with each floor dedicated to rare amazing collectibles, figurines, manga works and art.
This place is like a time machine to the origin of Japanese pop culture and in case you're an enthusiast it will take you more than a day to check out the whole place!
Where: 101-0021, Sotokanda 3-11-12, Chiyoda-ku, Tokyo
Contact: 81 3-3252-7007,website.
8. Dress Up And Get Clicked As Your Fave Character At Cospatio.
Cosplay is the practice of dressing up as a character from a movie, book, video game or comics that originated in Japan. Hence, this is a place that does it like nowhere else.
Go to Cospatio, a manufacturer and one of the biggest cosplay stores in Tokyo to witness their wild collection of merchandises, accessories, wigs, hair-color dyes and the cutest costumes relating to legendary characters of Japanese anime, manga, and games. Pikachu, Mickey Mouse, Shin Chan, Naruto, Ash Ketchum, superheroes, sexy damsels these are just a few to name.
Where: G store Akiba the third floor, 3-15-5, Sotokanda, Chiyoda-ku, Tokyo.
Open Hours: Monday to Friday - 11:00 AM to 8:00 PM, Sunday and Holidays - 11:00AM to 7:00PM
Contact: Website
9. Marvel At The Famed Tokyo Skyline From The Tokyo Skytree.
At 634 meters the Tokyo Sky Tree is the tallest structure in Japan and the second tallest in the world after the Burj Khalifa. Its two observation decks offer spectacular views and a photogenic setting of the Tokyo skyline. Try eating some cake at the top of the world at the Skytree café and try not to feel dizzy when you walk on the glass floor over the busy streets and the high-rise buildings below.
Where: 1 Chome-1-2 Oshiage, Sumida City, Tokyo, Japan.
Open Hours: 8:00 AM to 10:00 PM
Cost:
First observatory: 2060 yen (1300 INR)
Second observatory: additional 1030 yen (645 INR)
(an additional 40-740 yen is charged for time-specific advance reservations)
Fast Skytree Single Ticket: 3000 yen (1900 INR)
Fast Skytree Combo Ticket (first and second observatories): 4000 yen (2500 INR)
Skytree Fast Tickets are a special type of ticket available only to foreign tourists and Japanese people accompanying foreign tourists. They are more expensive than regular tickets but allow holders to skip the line and ascend the tower without waiting time.
Travellers who share their pictures on Tripoto get access to free holiday packages and travel vouchers. No conditions apply. Upload your photos now to try it out.