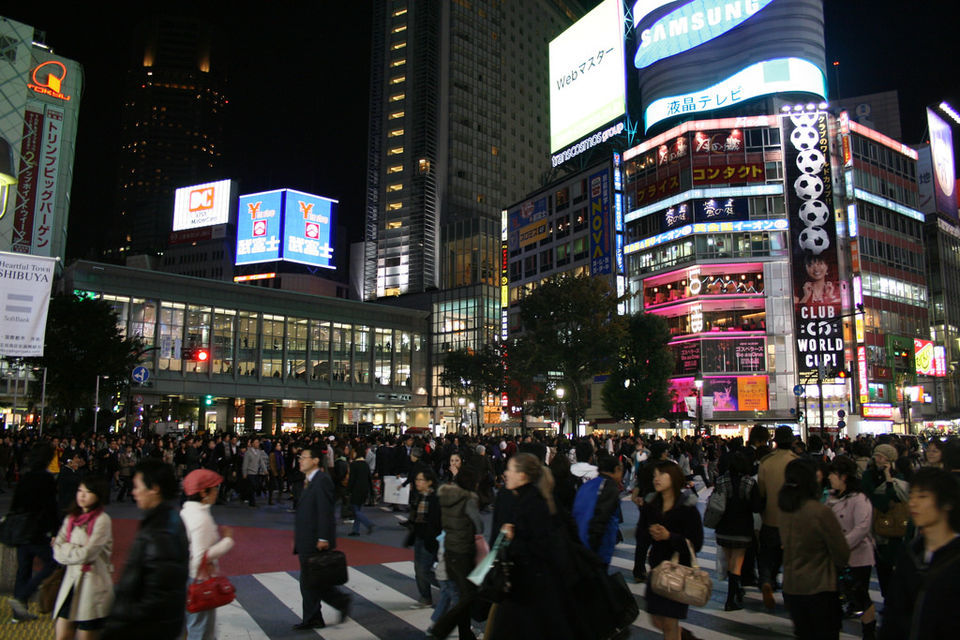 There are few places in the world like Japan. A country that is a seamless symbiosis between its rich cultural heritage, natural beauty and advancements in technology; with Tokyo being the centre of it all. The capital city is the world's most populated metropolitan area in world with a population of 1.3 crore people. This ultramodern oasis epitomises the Japanese cultural evolution from the ancient to the futuristic, and will definitely give you the best culture shock you could ask for!

Getting in and around
The Narita International Airport is the main international airport of Tokyo, located at a distance of 60 kilometres from central Tokyo. There are various ways to get to the city: the fastest would be the Skyliner express train which would get you to Nippori Station in 36 minutes for 2470 yen, from where you would have to take another mode of transport to your accommodation. The cheapest would be bus services that would get you to Tokyo Station, Ginza or Osaki in about an hour for 900-1000 yen. The most convenient method would be either the orange-striped Limousine Bus that runs multiple times a day to various hotels in central Tokyo, and even checks-in your luggage, for 3100 yen, or take the Narita Express to Tokyo Station, Shinagawa, Shibuya, or Shinjuku in roughly an hour for 3020 yen. Haneda Airport is the secondary airport, which is just located 15 kilometres from central Tokyo, and handles a couple of international destinations.
The public transport system in Tokyo is one of the most expansive in the world, and possibly the most confusing due to the large number of forms and service providers of transportation. There are various railway lines that serve the city including the JR Yamanote Line, which forms a loop around central Tokyo; with almost all other rail services connecting to it, and tickets cost between 140 and 200 yen. There are also 9 lines on the underground Tokyo Metro which connect most areas in the city, with tickets costing between 170 and 310 yen. The best way to use these mass-transit services is by purchasing either one of the Suica or PASMO prepaid fare cards (both having the same function) that enable you to travel on any of the Metro/Rail lines. You pay 1000 yen to purchase one- 500 yen being a deposit and the other 500 yen being your initial balance which you can recharge up to 20,000 yen. These cards are work out economical, time-saving, and flexible. There are also bus and metred taxi services, however these are very slow due to traffic and taxis work out to be expensive for 3 people or less. Finally, your best bet is taking this fascinating city on by foot!
Accommodation
Budget: Hotel Villa Fontaine Tokyo-Nihombashi Hakozaki, Tokyo Ginza Bay Hotel, East57 Asakusabashi, Tokyo Hotel Horidome Villa, Smile Hotel Tokyo Nihombashi
Mid-range: Dormy inn Premium Shibuya Jingumae, Citadines Shinjuku Tokyo, Hotel Grand Arc Hanzomon, Hotel Ryumeikan Tokyo, remm Akihabara, Hotel Niwa Tokyo
Luxury: The Capitol Hotel Tokyu, Hotel New Otani Tokyo The Main, Andaz Tokyo Toranomon Hills, Imperial Hotel Tokyo, The Peninsula Tokyo, Four Seasons Hotel Tokyo at Marunouchi, Shangri-La Hotel, Tokyo, Mandarin Oriental, Tokyo
This food hall situated in the basement of the Tokyu Department Store (linked to the Shibuya Station) is a massive indoor food market full of stalls selling sweets, baked goods, food, and wine from all over the world. Everything from high-end meats and fresh seafood, to French cheese and Swiss chocolate; all presented in typical precise Japanese fashion. For your special brunch today; you can either pick up one of the attractively pre-packed bento boxes of sushi, onigiri, and tempura galore, or make your own box combinations from the many stalls serving up street food like grilled meats, fish, curry, rice and noodle- all for extremely reasonable prices, around 200-500 yen. The store opens from 10:00 am to 9:00 pm every day. Also, don't forget to pick up some picnic items like a basket/bag, napkins, trash bags, and a blanket/mat.
From Shibuya station, take a Fukutoshin Line metro going towards Wakoshi and get off at Shinjuku-sanchōme Station (3 stops, 170 yen), from where you walk for 7 minutes to enter the Shinjuku Gyoen National Garden. This huge park sprawls over 58.3 hectares, and consists of gardens of three different styles- English, French and Japanese. Stroll around the park's ponds, shrubs, trees, pavilions, lawns, and the greenhouse; before finding a nice spot to lay out your brunch picnic. You can finally eat the delicious food you purchased at Tokyu Food Show! Shinjuku Gyoen is also famous for its 1,500 bloomed cherry-blossom trees during the season (late March-late April, and early November) that are an absolute delight to view. The garden is open every day but Mondays (open on Mondays as well during the cherry-blossom season) from 9:00 am to 4:00 pm. The entry fee is 200 yen.
From Shinjuku Gyoen, either take a train to Nishi-Shinjuku Station (2 stops, 170 yen), or walk 20 minutes to the Tokyo Metropolitan Government Building. Now, while this stop on your traveller's guide may seem unnecessary, the view from the 45th floor observation decks is why you are here. With the weather on your side, you can see some stunning view of Tokyo and its suburbs, and even Mount Fuji in the background. The observation decks are open between 9:30 am and 11:00 pm every day, and have no entry fee!
A train from Tochomae Station to Yoyogi Station (2 stops, 180 yen) and a 7 minute walk, or a 20 minute walk from the Tokyo Metropolitan Government Building will bring you to the iconic Meiji Shrine. A tranquil walk through the gardens any of the entrances will bring you to the main shrine. A visit during the late-afternoon means there will be lesser crowds, so the serenity of the place is maintained. The shrine is open every day from sunrise to sunset, and entry is free. The entry to the picturesque Inner Gardens of the shrine is for 500 yen.
Exit the Meiji Shrine from the Harajuku exit, cross the bridge, take a left and walk about 250m to the start of Takeshita-dori (Takeshita Street). You will now be in one of the most famous streets in the city, that is hub for teen pop-culture in Japan. The main street, along with side-streets, are lined with trendy boutiques and shops selling the latest in Japanese fashion and some of the cutest objects, especially those related to anime. It will be loud and crowded, but a walk through this vibrant street is a blast!
At the end of Takeshita-dori, take a right, and the next intersection should be the one of Omotesando street. You are now out of teeny-bopper land, and have strolled right into one of the most upmarket streets in town. This wide avenue is not only lined with pleasing trees, but also with every brand you can think of. From Gucci to Louis Vuitton, to H&M and Zara; Omotesando is a shopper's paradise- if you can afford it, that is. If not, window shopping through the impeccably built buildings that hold the stores is an experience of its own!
Walk your way southwards for 15 minutes to enter one of Tokyo's most iconic districts: Shibuya. As dusk arrives, this mecca for youth culture, shopping and entertainment lights up in neon colours that give Times Square a run for its money! The centre of this district is in front of Shibuya Station near the adorable statue in tribute to the dog Hachikō. A sight to behold is when all the traffic lights turn red, crossing lights turn green, and the intersection is literally flooded with pedestrians. A popular vantage point for the same is the Starbucks in the QFRONT Building (with the Tsutaya sign), and it can get very crowded for obvious reasons so get there early for a good spot! Spend the evening here wandering around the gazillion shops, pubs, and clubs.
Your dinner tonight is located 10 minutes from the Shibuya Crossing, near Shinsen station. Kaikaya is one of the best dining experiences you'll get in Tokyo. The loud décor and atmosphere makes it a fun experience, but doesn't take away from the food, which is a gourmet fusion of Japanese, French and Italian, focusing on the former. Some of the best seafood in town, and the special course menu is a must try. There are 3 special course meals depending on the number of dishes and the price: 8 dishes + dessert (3500 yen), 10 dishes + dessert (4200 yen), and 10 dishes + 2 desserts (4800 yen). All have fresh seafood dishes like carpaccio, assorted sashimi, salad, prawns, "tuna spareribs", grilled fish, fried rice, miso soup, and the delightful cherry blossom gelato! The price is slightly on the high side, but it is worth every single yen! The restaurant is open for dinner every day from 5:30 pm to 12:00 am, with the last order being at 10:30 pm.
It's an early start today, making your way to the Tsukiji Fish Market which is in the Chūō ward of Tokyo, accessible by the Tsukiji Station on the Hibiya metro line or the Tsukijishijo Station on the Oedo Line. The Tsukiji Fish Market is an enormous wholesale fish market, one of the largest in the world, handling over 9000 tonnes of 400 different types of marine products every day. Once you reach the outer market at around 8:00 am, you can make your way to any of the joints that serve up a sushi breakfast. Although there are some "popular" places, any eatery here would provide the freshest sushi in town without the long queues. After breakfast, you can make your way around the market area which is a clamour of stands, carts and trucks filled to the brim with all kinds of fresh seafood.
A 10-minute walk from the Tsukiji Fish Market should get you to the Kabuzika Theatre, one of Tokyo's best-known theatres for the traditional Japanese drama form of kabuki. Reach the gates of the theatre by 10:00 am to get tickets for 'one act' of matinee show at 11:00 am. Tickets are for anywhere between 500 and 1200 yen, and there are only 90 seats plus 60 standing for the one act show so you must start queuing an hour early. Don't forget to rent the English translation booklet for 500 yen + 1000 yen refundable deposit. This is a grand experience of Japanese culture you won't forget, not to mention one of the most outstanding forms of performance art in the world.
Take a Marunouchi Line metro heading to Ikebukuro from Ginza station, getting off at Tokyo Station (1 stop, 170 yen). Walk on the broad walkway to the plaza of the Imperial Palace and make your way in through the Kikyō-mon Gate at around 1:15 pm. It is the primary residence of the Japanese Imperial Family, with multiple structures on sprawling grounds. Take the 1:30 pm free guided tour through the grounds. You can make a reservation in advance here or on the day itself. The palace is not open to visitors on Mondays, Fridays, and public holidays.
From Otemachi station, take a Hanzōmon line metro to Kiyosumi-shirakawa station (3 stops, 170 yen), and change trains to take an Oedo line metro to Ryōgoku station (2 stops, 110 yen), from where it's a 2-minute walk to the Edo-Tokyo Museum. A wonderful museum to visit to view the journey of Tokyo from the Edo Period to the recent times; in terms of culture, economics, architecture, and political climate. The museum is open every day but Mondays and public holidays from 9:30 am to 5:30 pm, with an admission fee of 600 yen. An audio guide in English is available for a refundable deposit of 1000 yen.
A 20-minute metro plus train ride from Ryōgoku station to Asakusa Station, changing at Shin-Okachimachi Station (2 stops + 1 stop, 350 yen) and a 7-minute walk should get you to Sensō-ji. The oldest temple in Tokyo, this important Buddhist temple is a great place to be when the sun is going down. The lights illuminate the red temple structure and its grounds in the most eye-catching way, set against the orange sky. The complex is open all throughout the day, every day, and entry is free of cost.
From Asakusa station take the Tsukuba Express to Akihabara station (2 stops, 210 yen), and a 5-minute walk should lead you to the favourite ramen spot for countless Tokyoites. Their signature bowl of Tonkotsu ramenis 1000 yen, with a noodle refill for 150 yen. However, there are a lot of options and add-ons for you to make the bowl of ramen your own. Sitting shoulder-to-shoulder with the locals, slurping on some delicious hot ramen; now that's the way to end your Tokyo trip!
A trip to Tokyo is one that is sure to enable you to experience things you've never seen or done before. And this is what describes the city perfectly. You're in for a true adventure with this city; and now you know how to go about it!