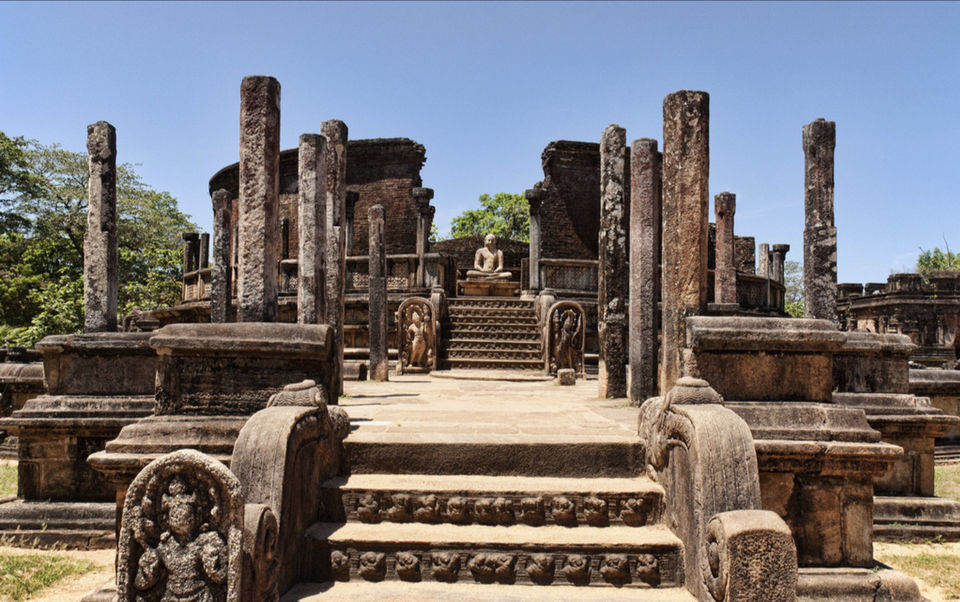 Now known as the Cultural Triangle Sri Lanka, the northern plains of Sri Lanka were traditionally referred to as Rajarata, or "The King's Land". This triangle served as the crucible of early Sinhalese civilization. Centred on the great cities of Anuradhapura and Polonnaruwa, whose grandiose monuments still serve as potent reminders of the golden age of Sinhalese civilization.
I ended up spending 3 days touring the cultural triangle of Sri Lanka & my total expense was 70 USD. Here's a cultural triangle Sri Lanka map for you to get an idea of the location.
If you have a lot of time in hand and wish to travel slow, you can stay at each one of the cities that fall under the triangle. But, if you do not want to spend too much time exploring the triangle, pick a base and do day trips. After much thinking, I chose Dambulla as the base city as it is well connected to Kandy via bus. I also found a stay located just about a km from the Bus Stand and only 3 Km from Dambulla caves.
Best Time to Visit Cultural Triangle Sri Lanka
The best season to visit the cultural triangle of Sri Lanka is the dry months of January to March. Even then try and visit early in the morning to avoid the scorching heat. Monsoon can be a dampner on your plans as they are unpredictable. And the raising temprature of summer months will make the experience uncomfortable.
Dambulla:
Dambulla boasts of being the largest town in the Matale district of Sri Lanka. Dotted with a host of local eateries in the centre and a few retreats/resorts in the outskirts. You can catch an Aircon bus numbered- 41/42/43 for an LKR 300, entry to the caves is free.
I found a quaint place run by a lovely family just about 1 km from the bus stop. It was about 3 km from Dambulla Golden Temple (Dambulla Caves). I would highly suggest this place, for the sheer hospitality of the family. All it took was a sudden heavy shower, an exchange of smiles and the mutual love for dogs. They were kind enough to invite me in and as all mothers do, she fed me well. Book the Sujatha Tourist Inn if you are looking for a budget stay in Dmabulla. Find the list of all the recommended budget stays in Sri Lanka on my blog.
Dambulla cave temple is a sacred pilgrimage site. It is a UNESCO world heritage site and one of the best-preserved temples with over 150 statues of Buddha. Dating back to the 1st century BCE, these are by far the best preserved caves in Sri Lanka. These temples have been remodelled and repainted by kings that reign over the years & yet are suprisingly similar. Spread across 5 caves, the largest is the cave 2 which has the life size statue of Buddah.
Sigiriya
A place I would I ask everyone to visit! For many, it is just a destroyed kingdom, but for me, it was close to an architectural marvel. Many also skip this due to the enormously high fee. Lucky for me it is half the cost for all SAARC nations; make sure to carry your passport along as proof. Entry costed- USD 15 (after discount).
It is an ancient fortress built 1600 years ago by King Kashyap. After killing his father he declared the fortress as the new capital (Anuradhapura being the old capital). It is a 2 km long walk to reach the ticket counter, the walk way is covered by trees on one side and a water canal on the other. After which is the real work a good 1200 steps/300 ft/60 storey climb to the sky palace - rightly named. Despite the fact that very little remains on the top, everything about the sky palace would leave you pondering as to how they made such a palace without using any modern tools or technologies. Right from the water gardens, mirror wall, murals and the lion formation - where it derives its name from.
To get here from Dambulla I hopped on a passing bus which dropped me somewhere on the main road, about a 1 km walk from Sigiriya's entrance. One can take a tuk tuk as well - LKR 800 is a good bargain.
Pollonaruva
The remains of Polonnaruwa, the island's second capital, are more compact but equally absorbing. Easily accessible from Dambulla both by bus and tuk-tuk, best toured on a cycle. Unfortunately, I could not spend much time here owing to the scorching heat.
Wondering what more to do in your Sri Lanka trip? Check out my travel guide to Sri Lanka to answer your questions!
This Guide to Sri Lanka was originally published on the blog Of Miles and Musings