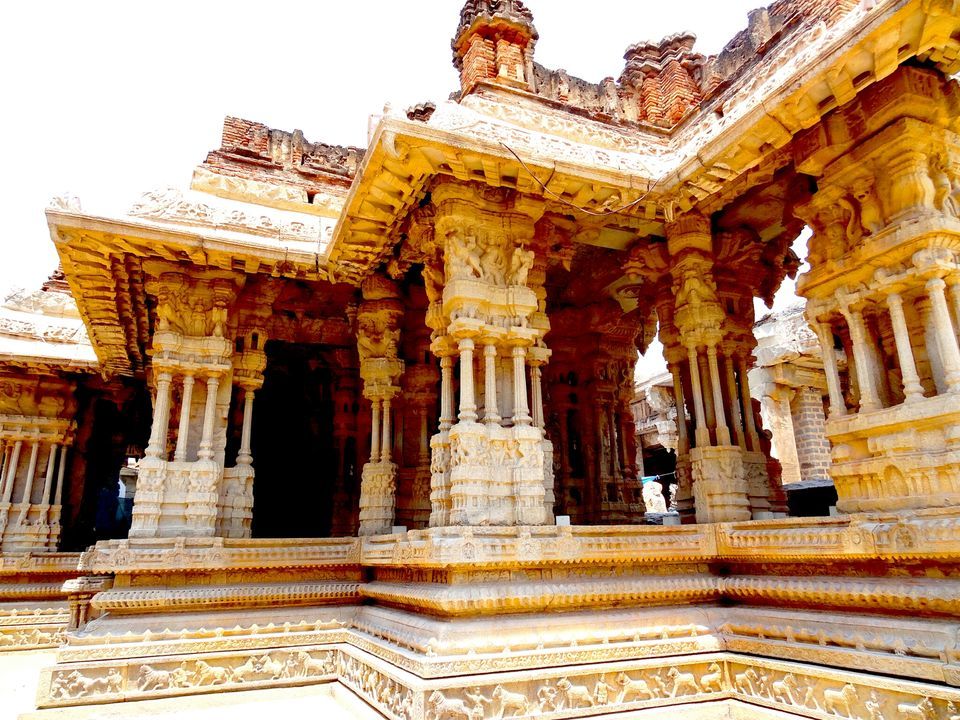 Hampi being one of the UNESCO World heritage centers in India and situated in Karnataka, it was a must visit place for me in my life. But never made it to the place for many years with many false attempts. But this time I had made up mind to at least spend a weekend in the ruins, which was once an architectural marvel in the past. Once upon a time Hampi was the largest and richest cities of India, and still the stunning monuments here define the richness to visitors who visit Hampi even today.
We had our bus booked from Bangalore on Friday night and arrived by 8:00 a.m. at Hospet bus stop just 13 kms from Hampi and we had to take an auto rickshaw from Hospet to reach Hampi. After checking in to our home stay we had a quick breakfast and were on our way to Kishkinda, the place which has a mythological history to it. This place is said to be the place where Rama and Lakshmana with army of Sugreeva rested before moving further south of India. After roaming around this hilly complex we couldn't resist the sun and went back to the home stay to come back in the evening. And that evening we came to Sanapur Lake also called as Lake View from where you get one of the best sunsets to see in Hampi. We sat there watching sun descending after his day's job. We sat there till 7:30 p.m. doing nothing but just mesmerizing the beauty of the place. We roamed around bazaar before we had our dinner that night.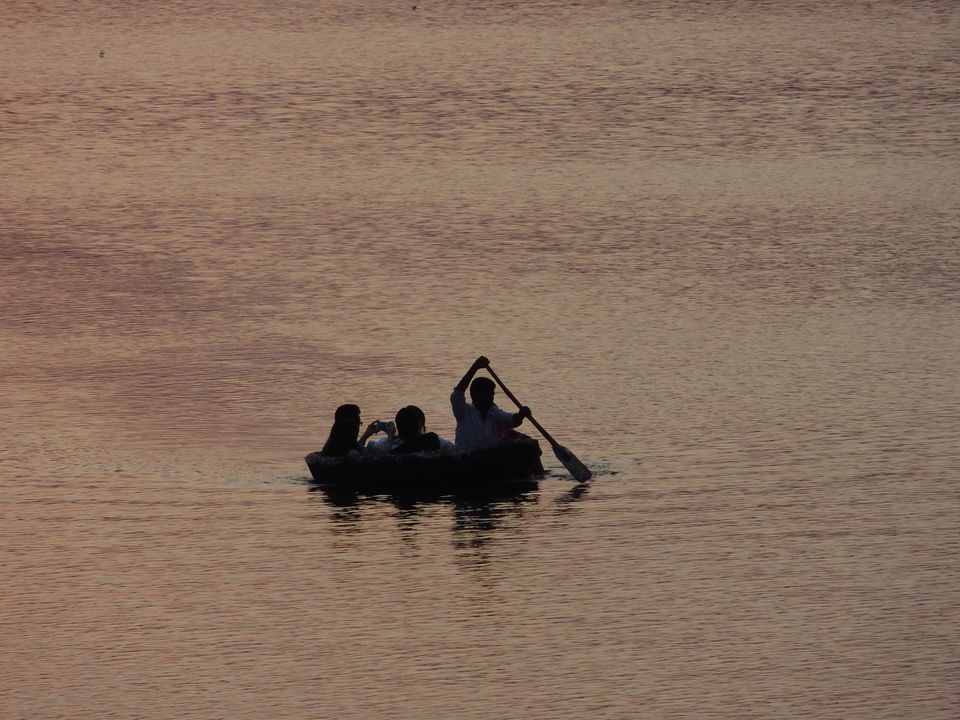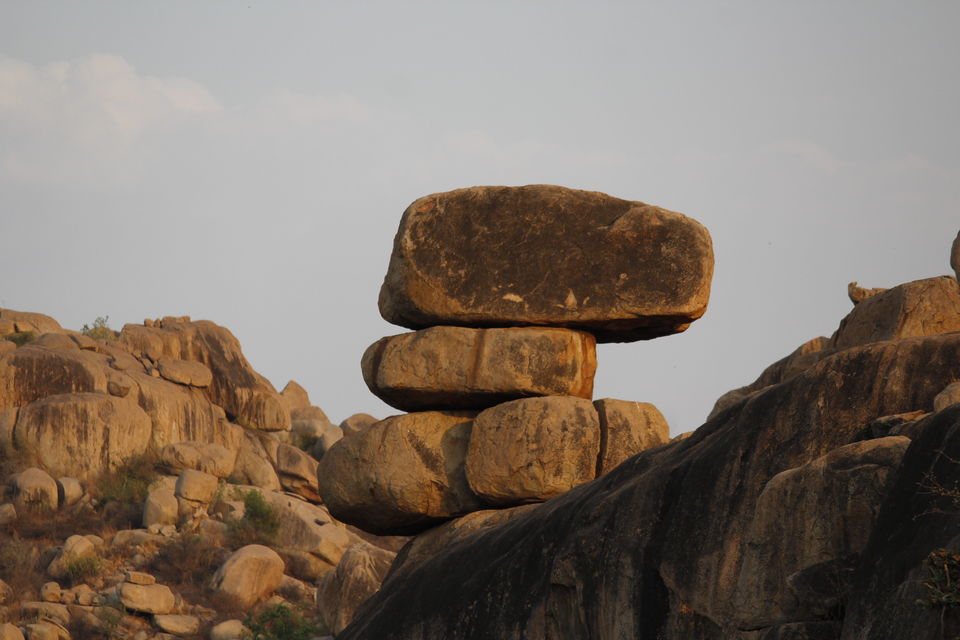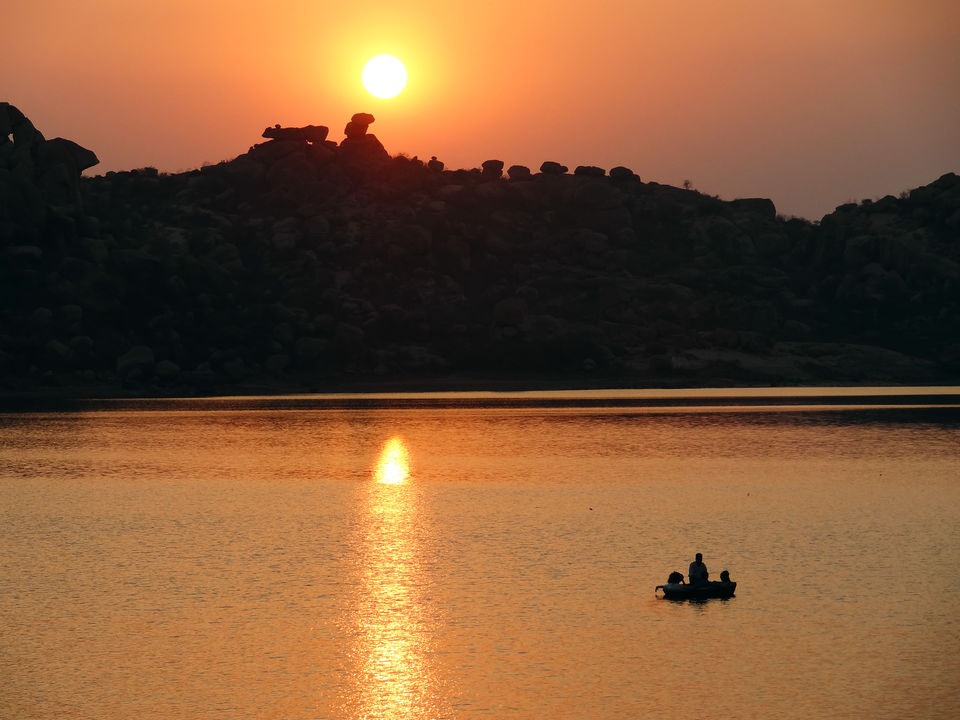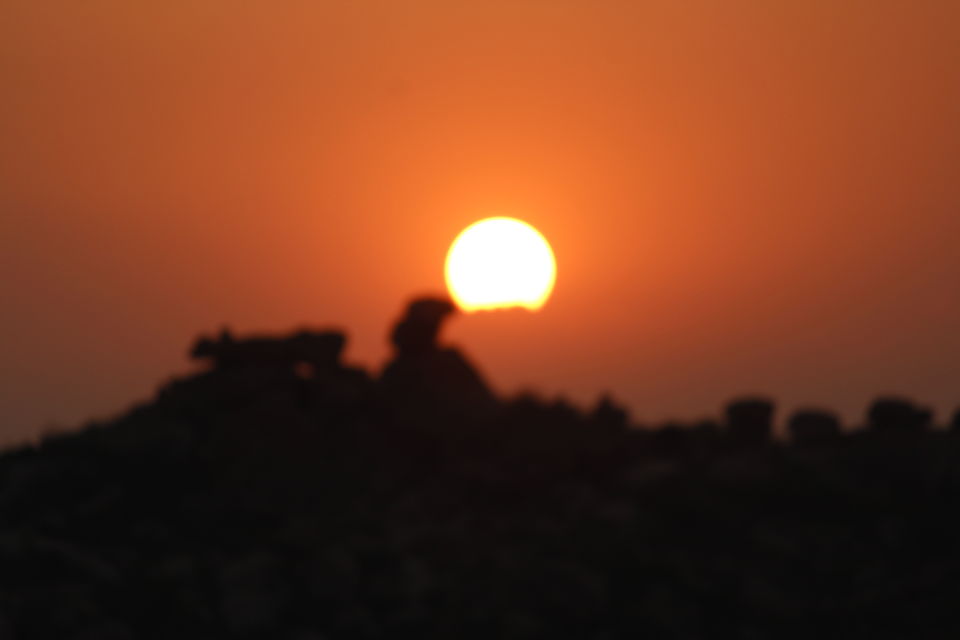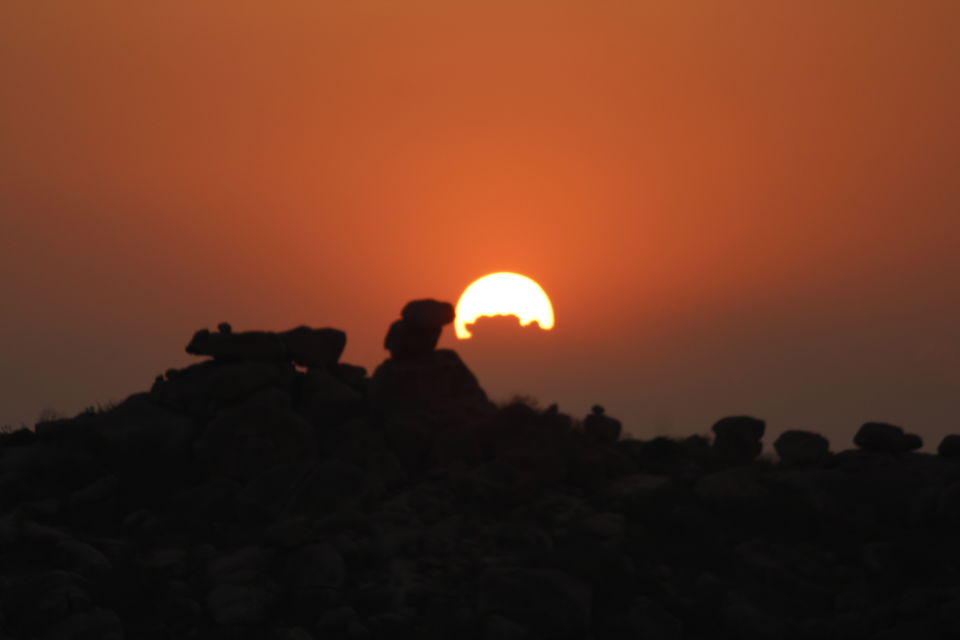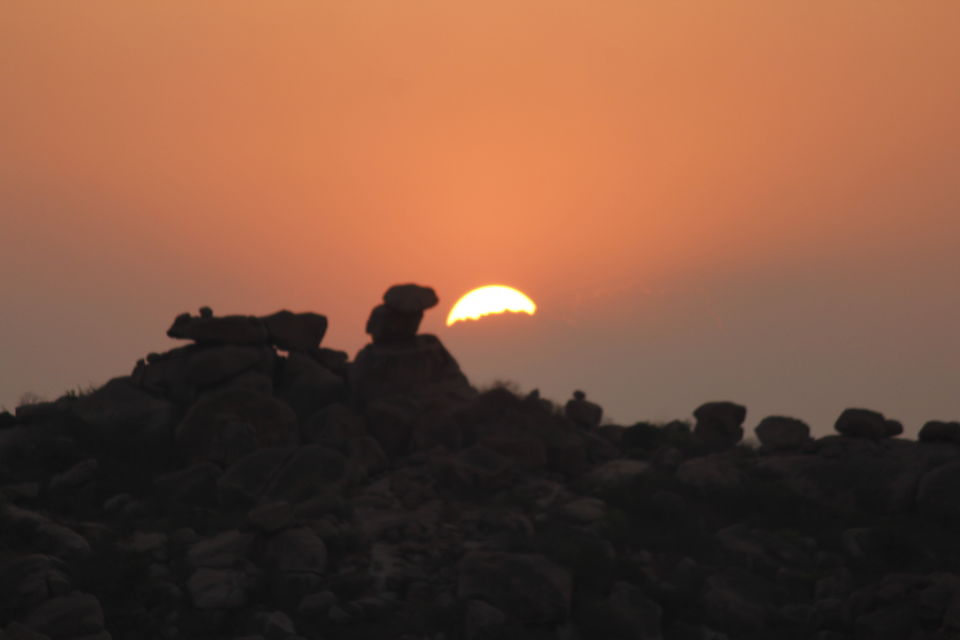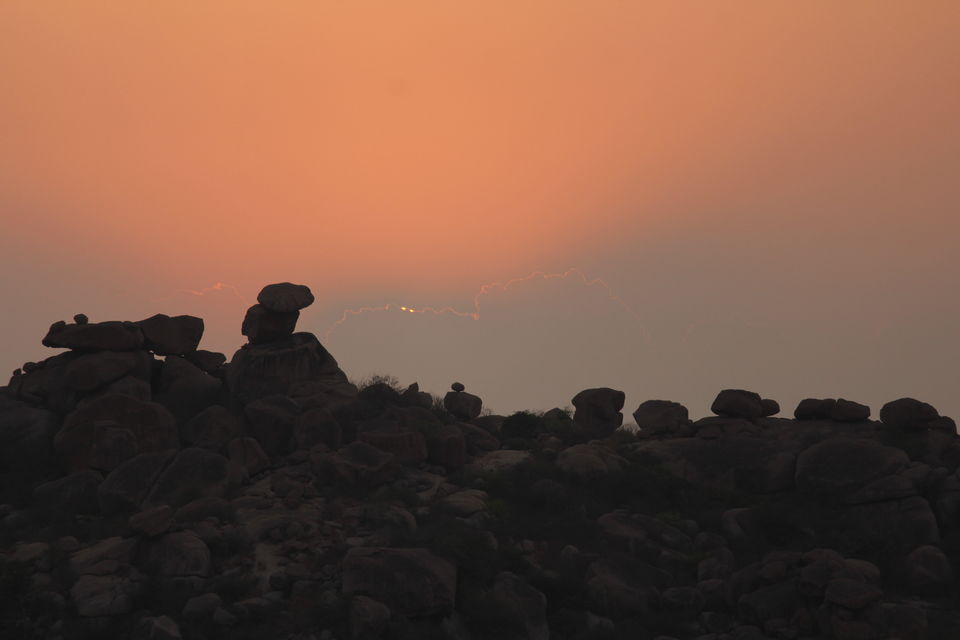 The next day we left a bit early in the morning keeping the scorching sun we had to face by noon. Our first visit for the day was Lotus mahal or Zenana mahal or enclosure. The pillars of the Mahal have exemplary carvings carved on it and look gorgeous. This entire lotus mahal compound and many more attractions to visit and all of them have their own uniqueness to offer for the visitor. After lotus mahal we visited Queen's bath or the Pushkarni, a sunken well with finest design. The next visit was to Elephant Stables, a place where the royal elephants of the Vijayanagara empire were provided shelter. These shelters prove the prominence kings gave to their elephants in the royal kingdom. These stables are the least damaged when compared to other ruins I saw in Hampi. Now it was time for lunch.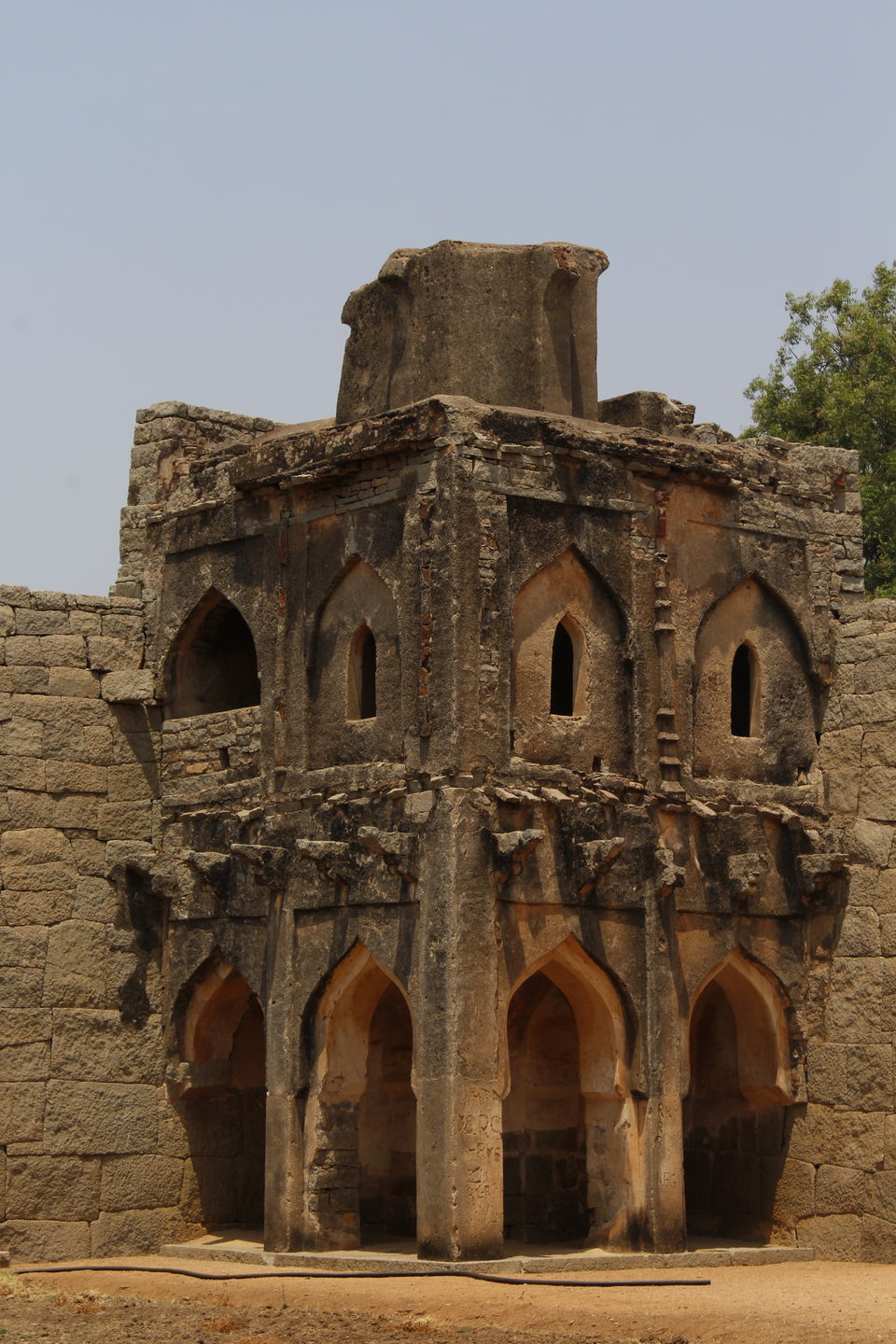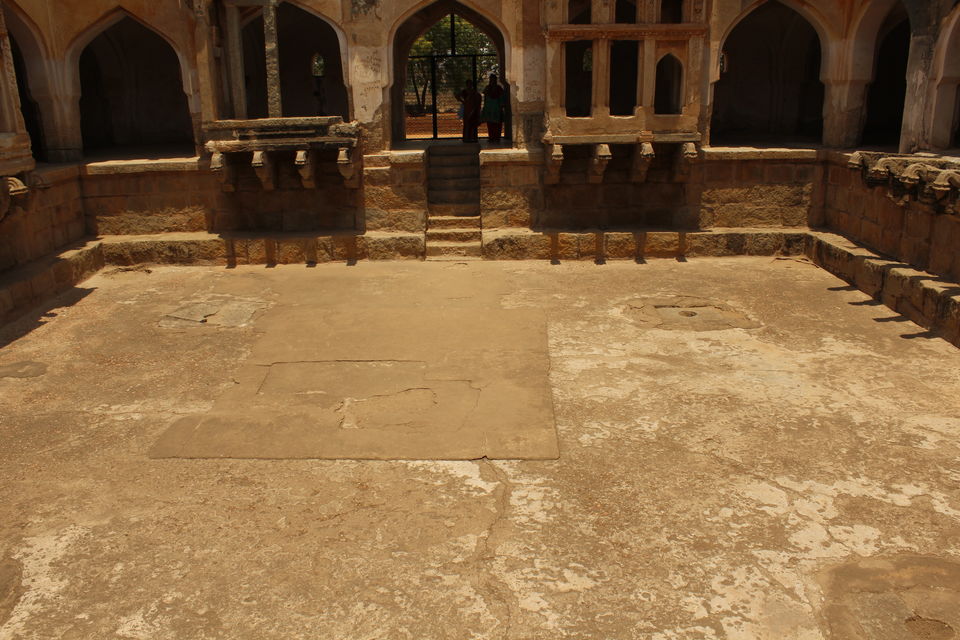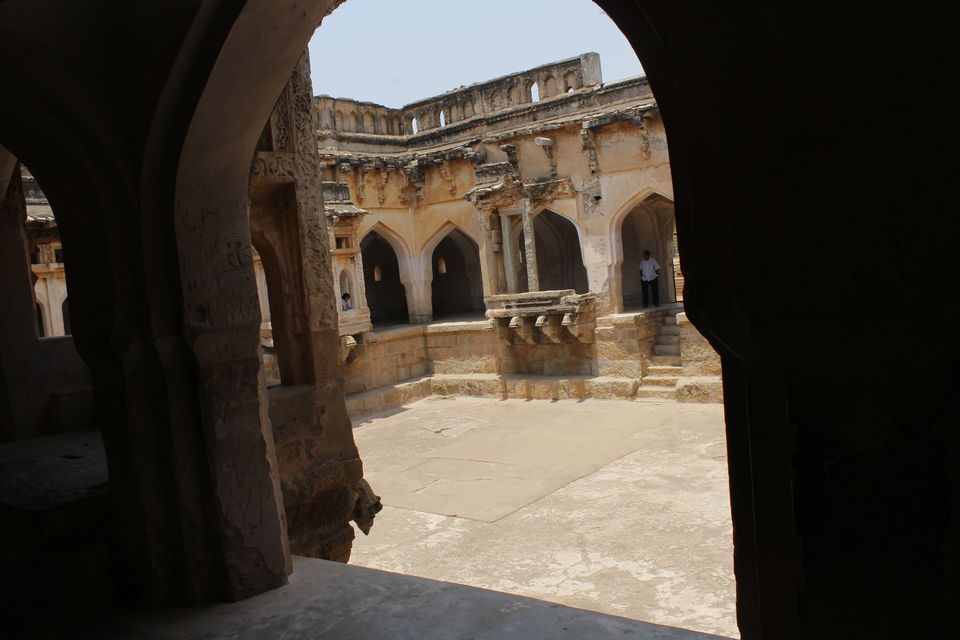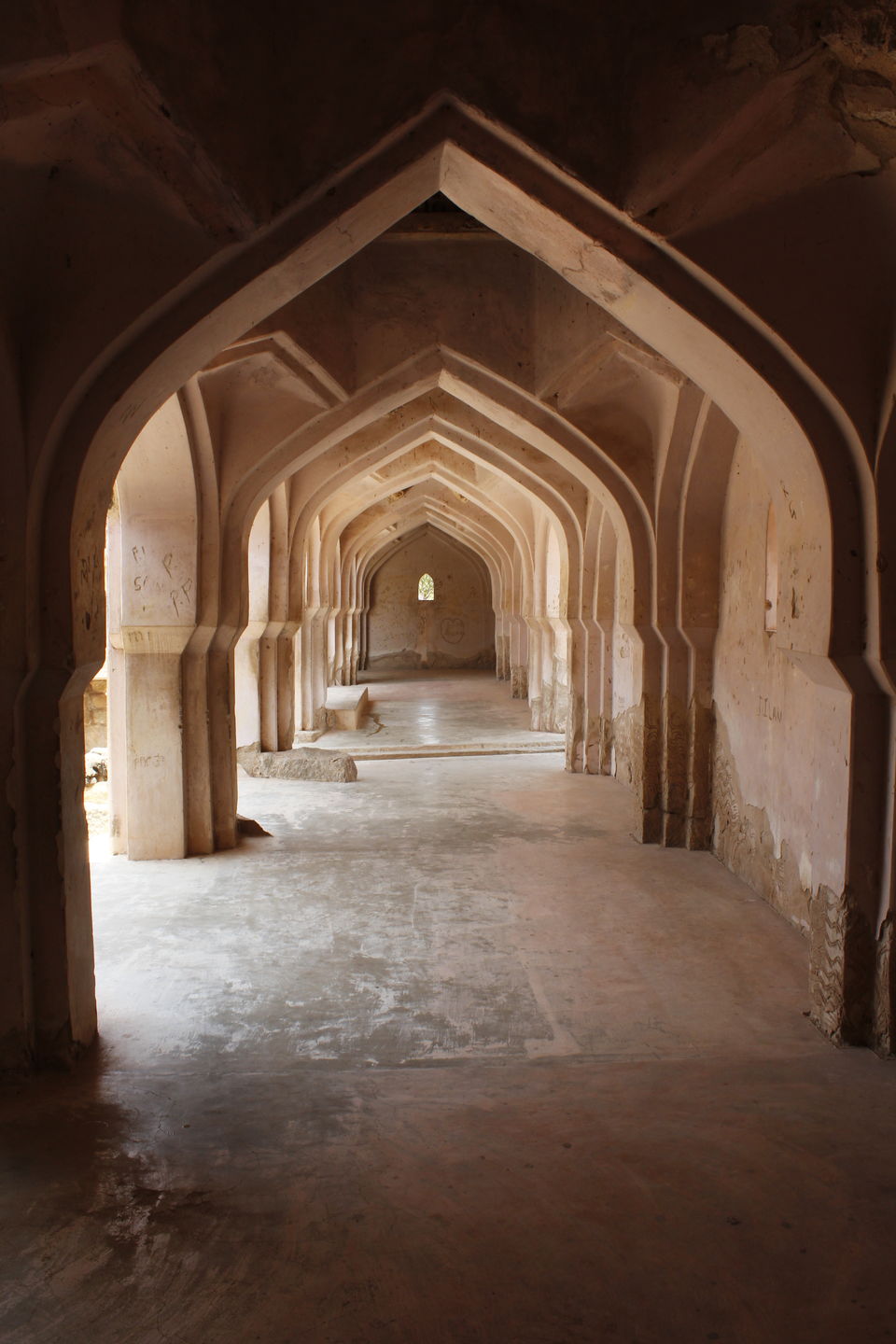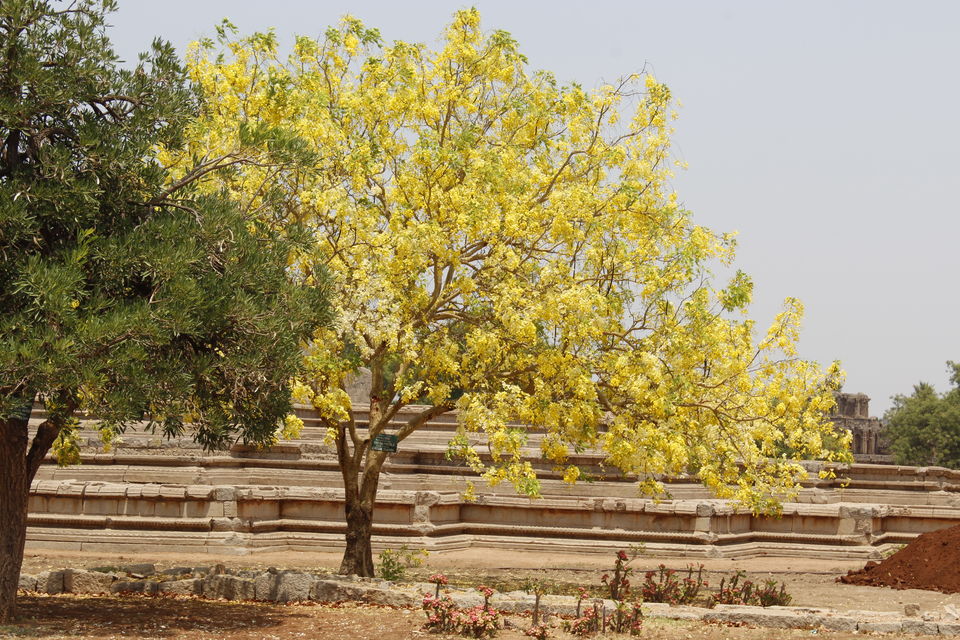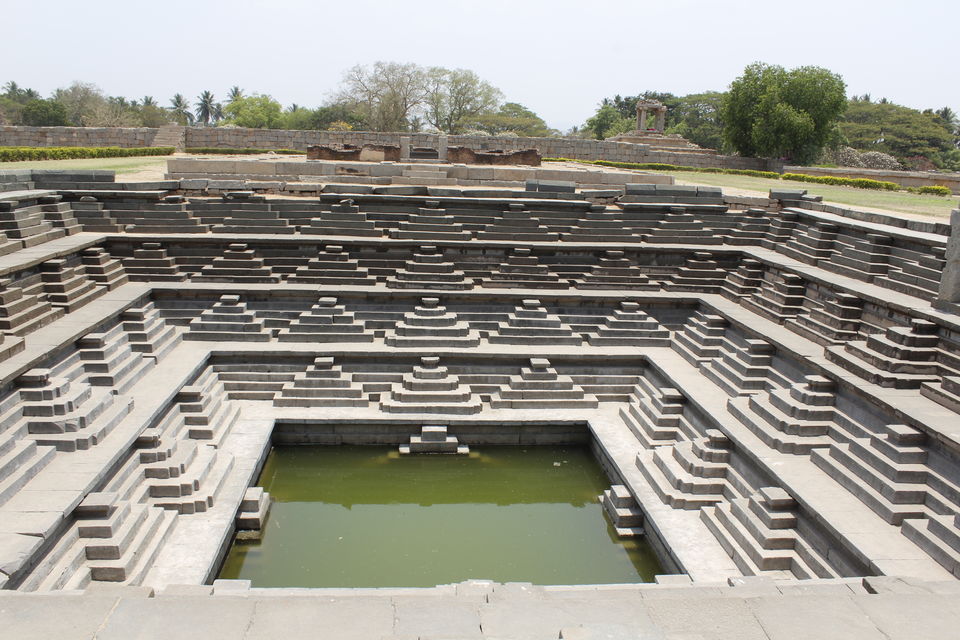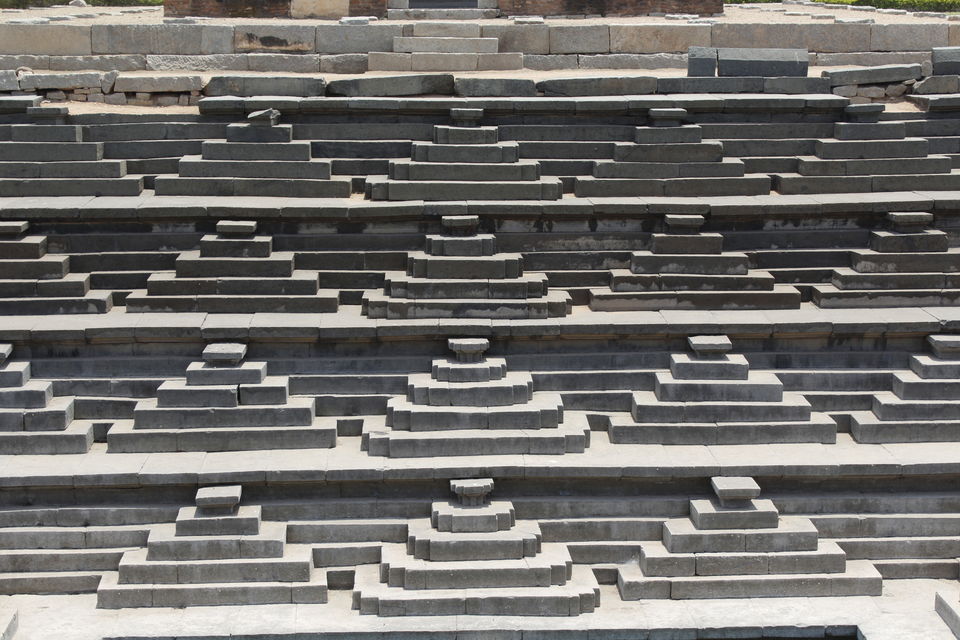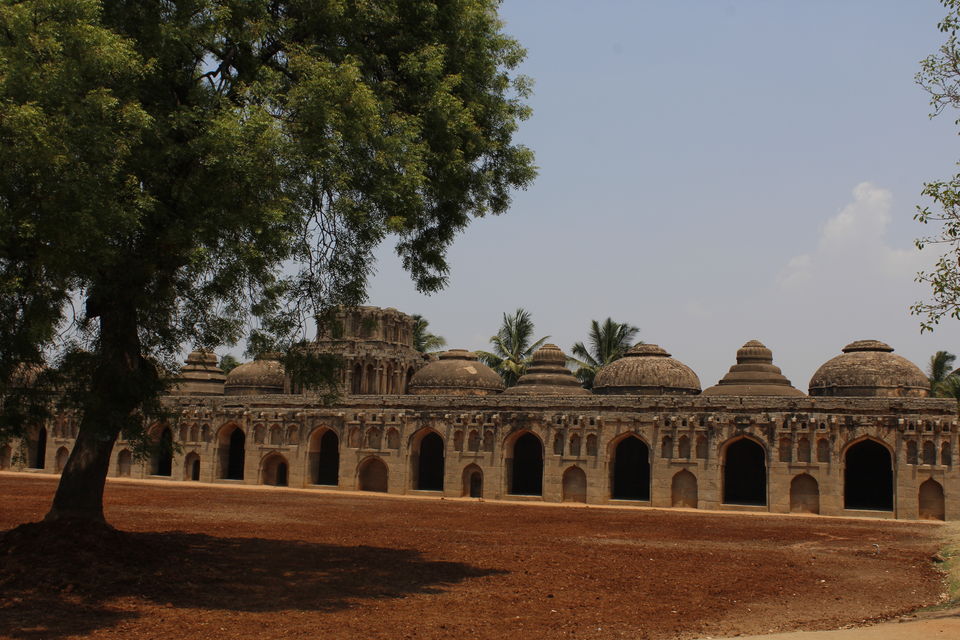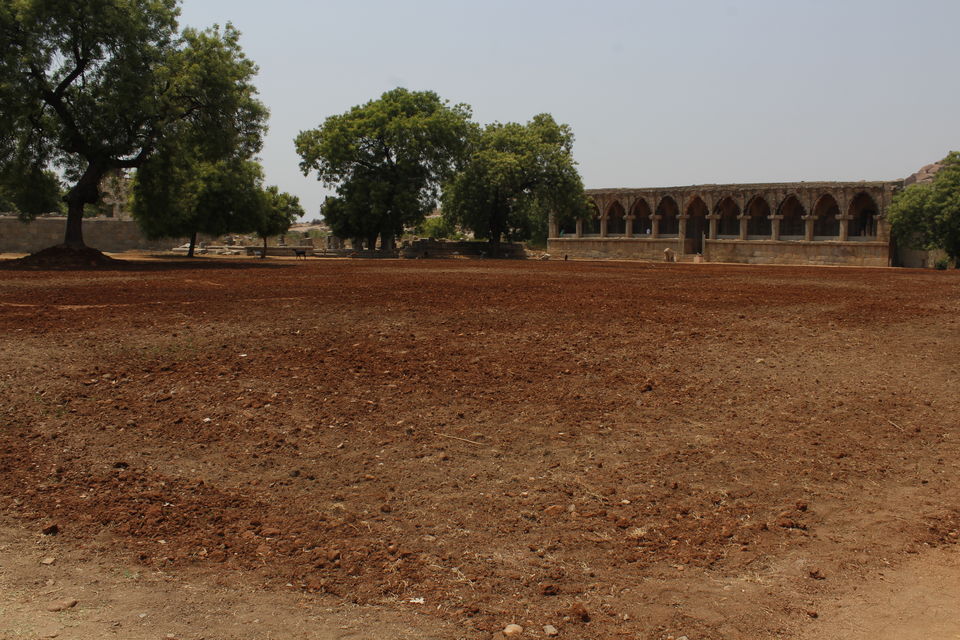 Our next destination was Vijay Vitthala temple complex. This is the major attraction in Hampi for any kind of traveler who comes here. Before that we gave a small visit to Purandaradasa mantap being the place where the famous ancient poet Purandara dasaru had lived and composed his poems there. Vitthala temple also known as Vijaya vittala temple, the temple for Vitthala, the reincarnation of the lord Vishnu. The entire temple complex is built in Dravidian style of architecture with high walls of compound and watch towers around. Many halls, shrines, pavilions all are made of stone. The Maha Mantap is set inside the complex. Next to the Maha Mantap the Rangamantap is present in the complex which has musical pillars. There are totally 56 musical pillars in this temple and every pillar gives you a different sound of an instrument when tapped slowly. These pillars are also called as SA RE GA MA pillars, but now it has been banned to do so as many years of tapping has caused damage to the pillars here.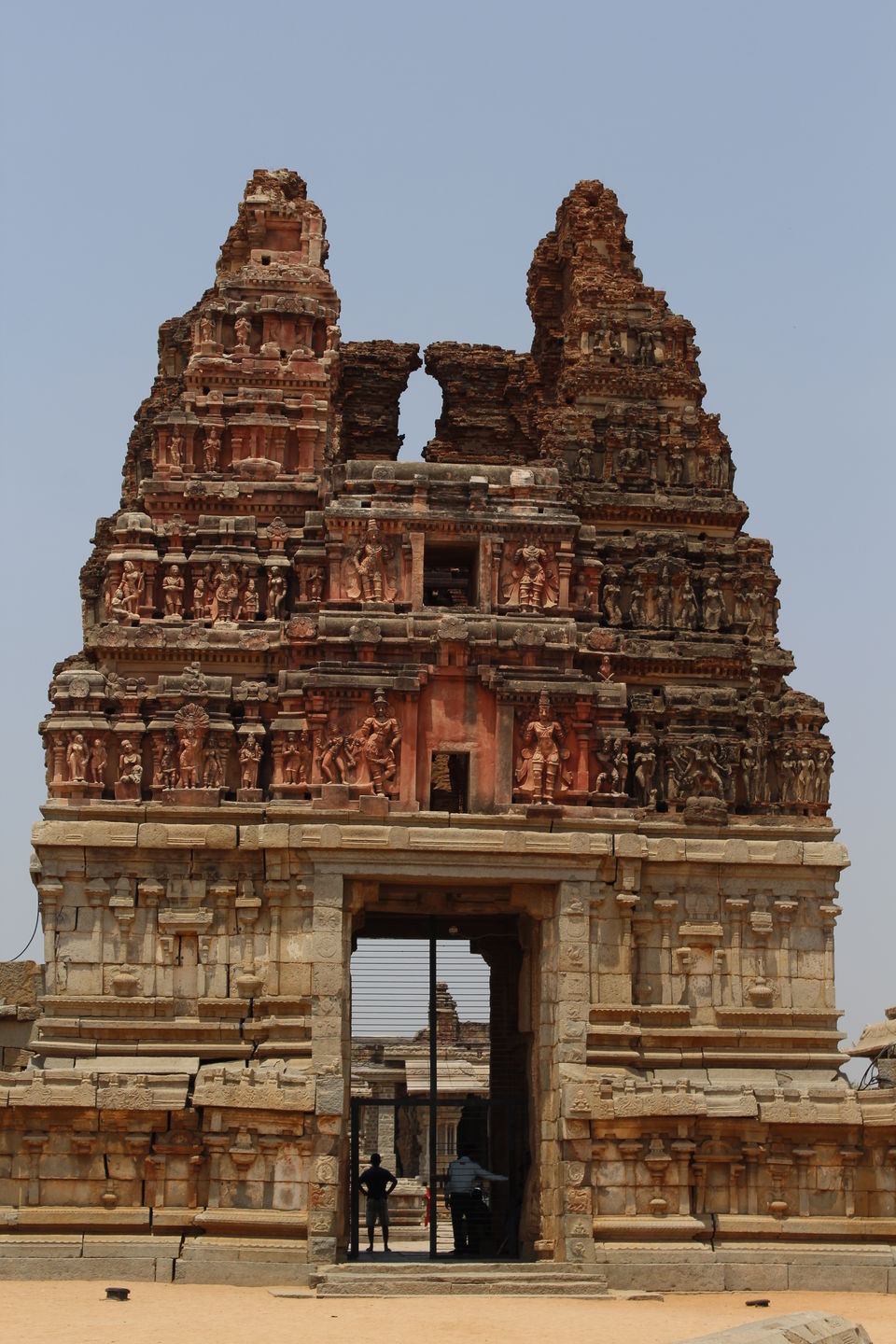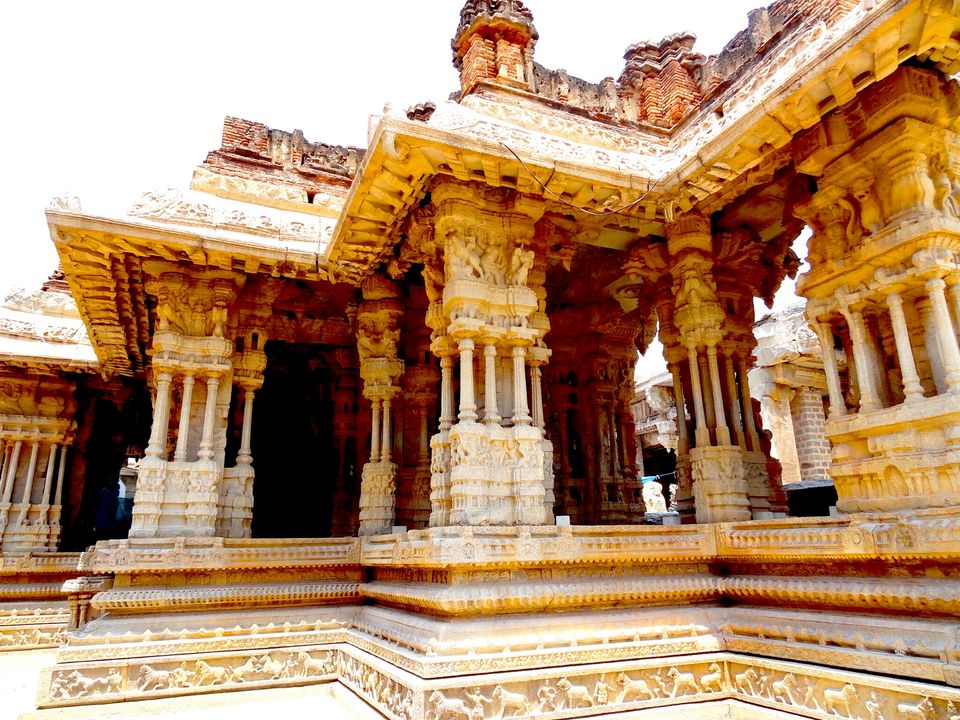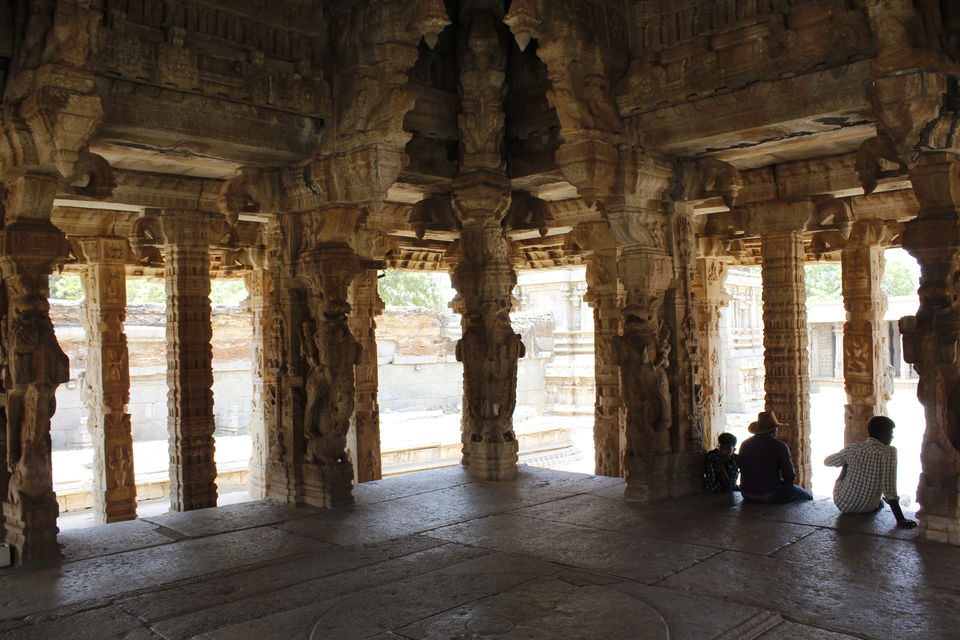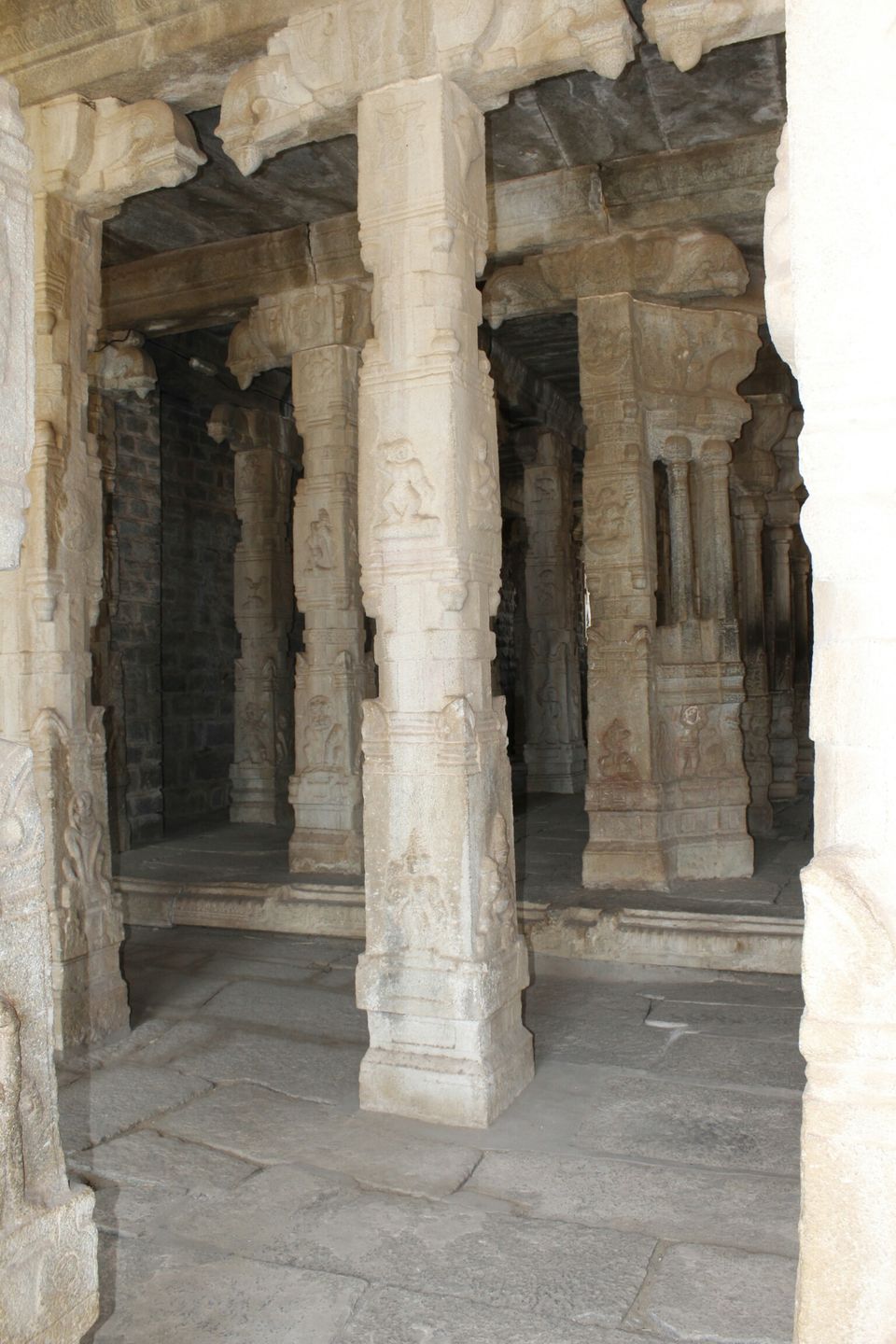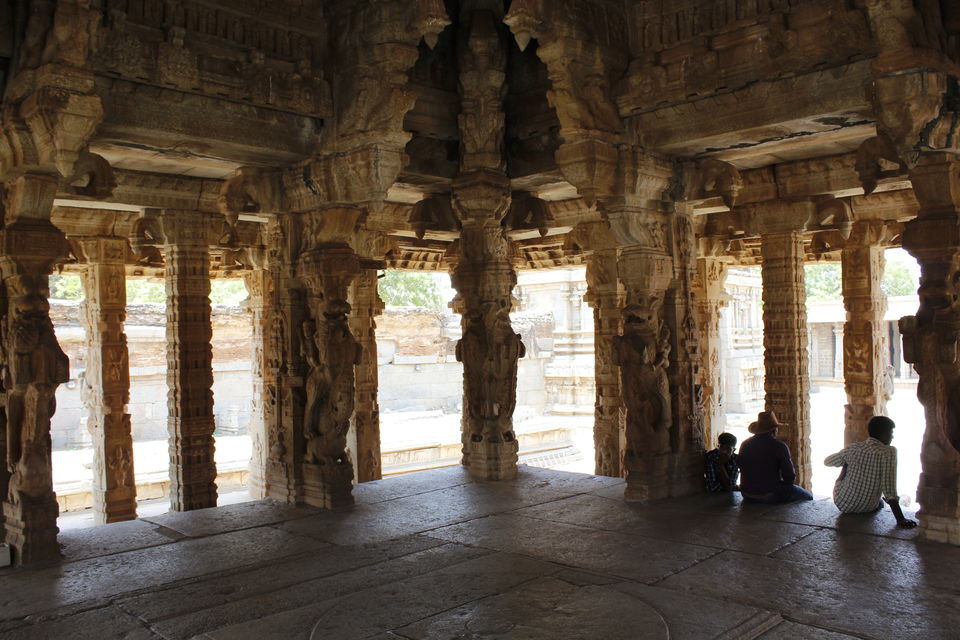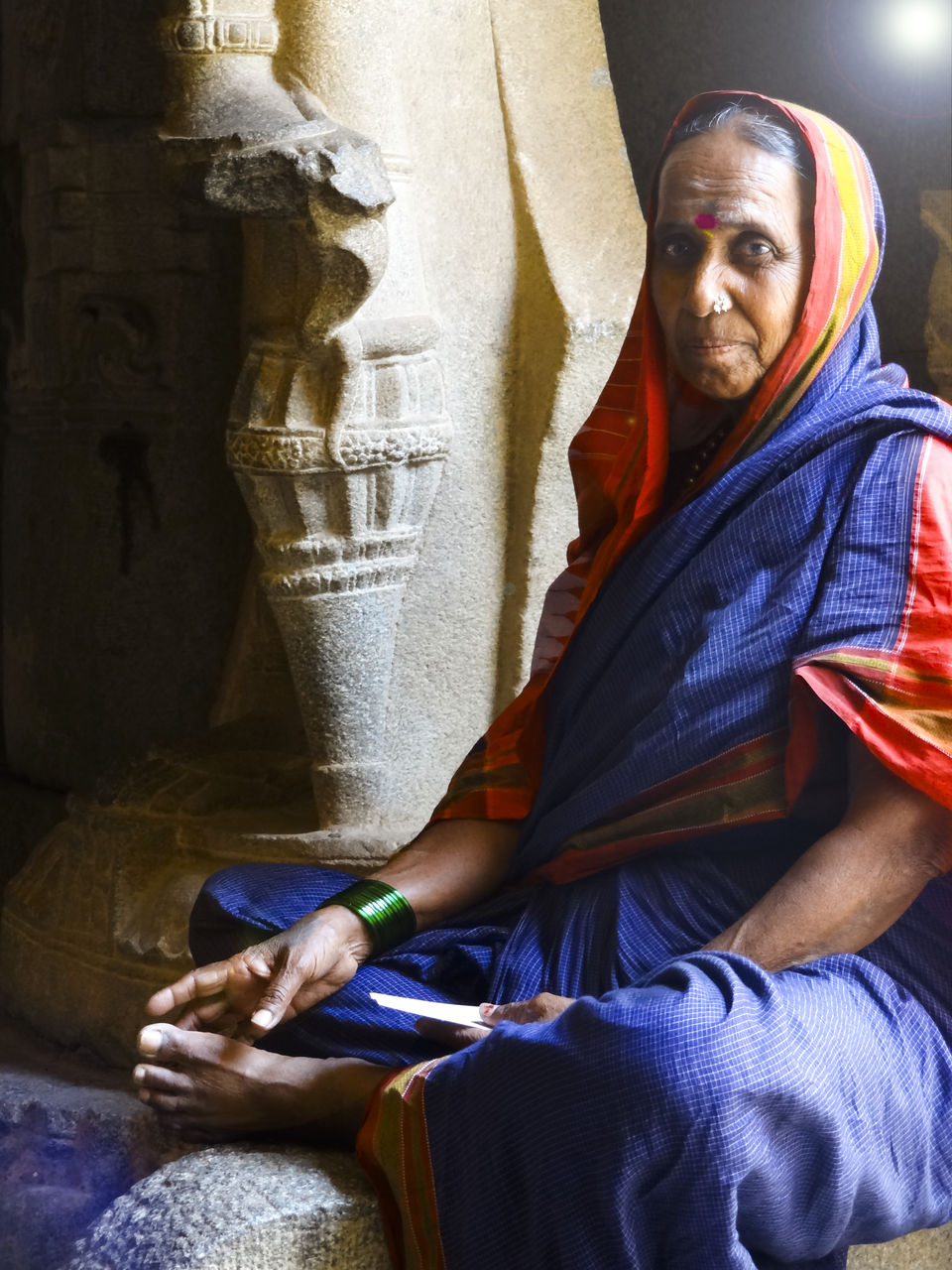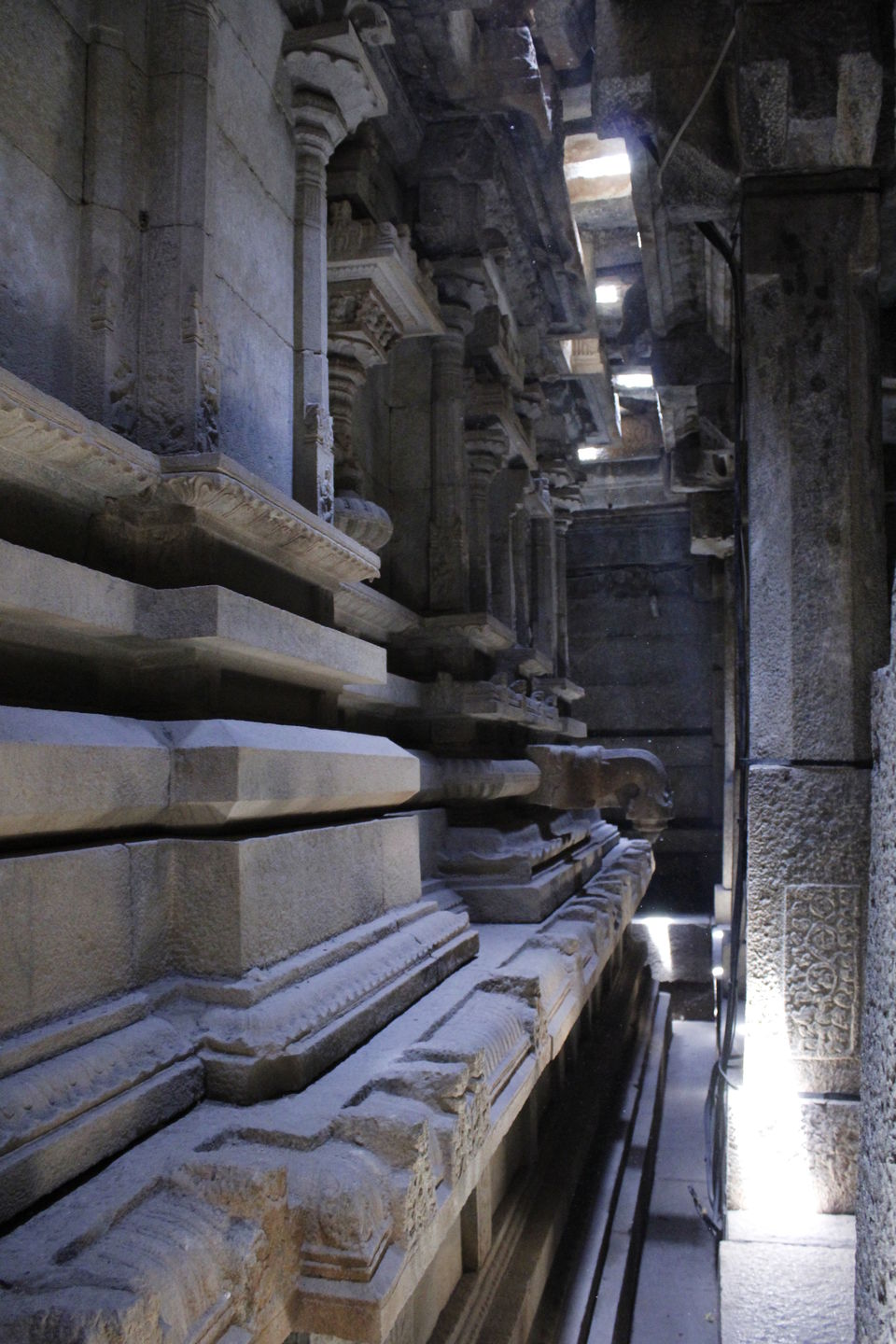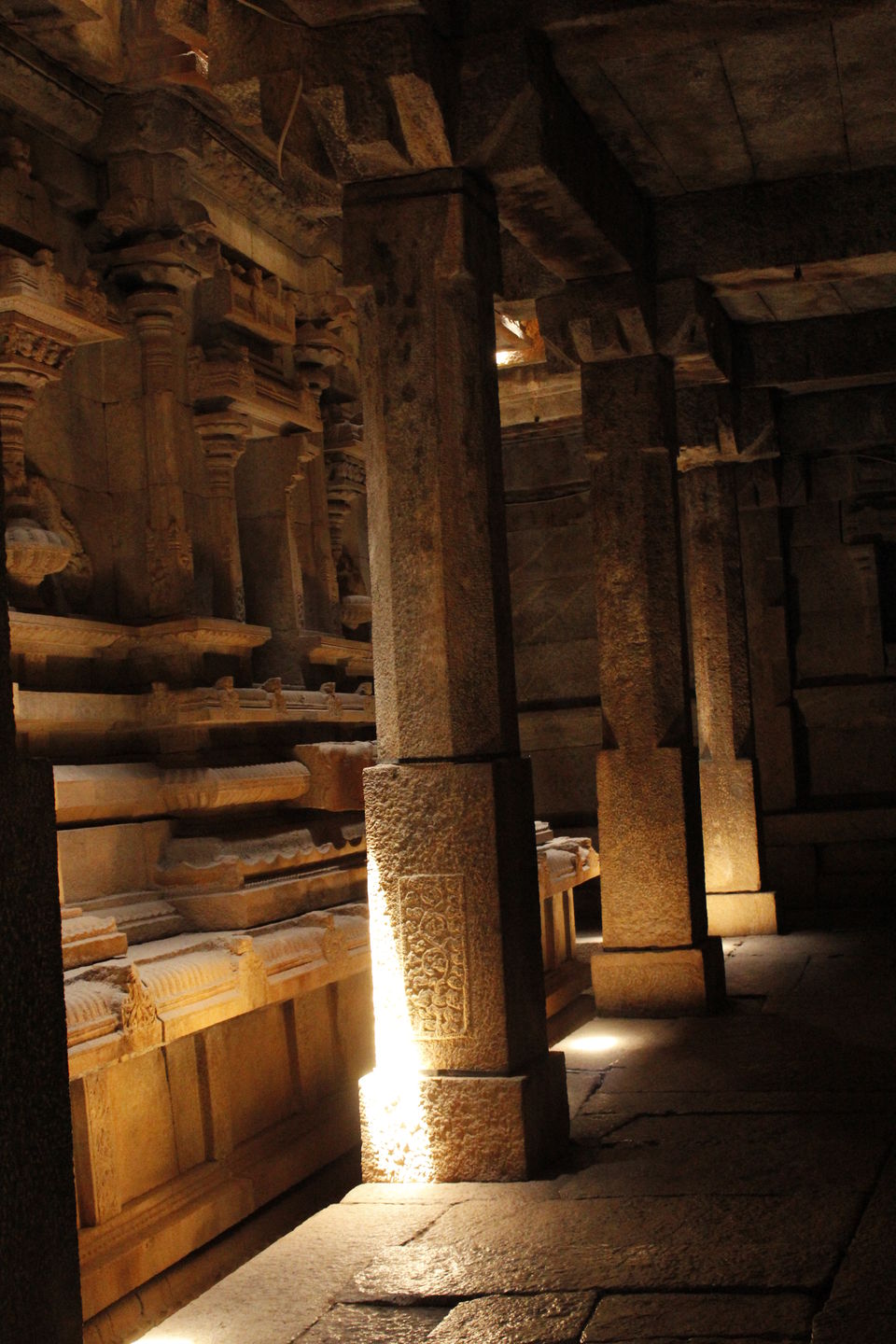 The next attraction is the huge Stone Chariot or Rath in the courtyard of the temple. There are totally 3 chariots of this kind and one is in Konark of Orissa and the other in Mahabalipuram of Tamil Nadu. This chariot houses an image of Lord Garuda in the inner sanctum which is the transporter of Lord Vishnu as described in mythology. There are two elephants standing on either side of the entrance to stone chariot as if they are pulling the chariot. But they are made in the later stages where horses were carved before and one can see the rear leg and the tail of horse as a proof. Outside of this complex one can see the Vitthal bazaar where the horses were sold in the bazaar or market for the foreigners who visited Vijayanagara empire to buy them. It was evening by this time and we had to get back to Bangalore and resume our work. Hampi is a place which needs at least 4 to 7 days to visit every marvel it has in its way to offer us. Nevertheless, it was an amazing experience for me that weekend.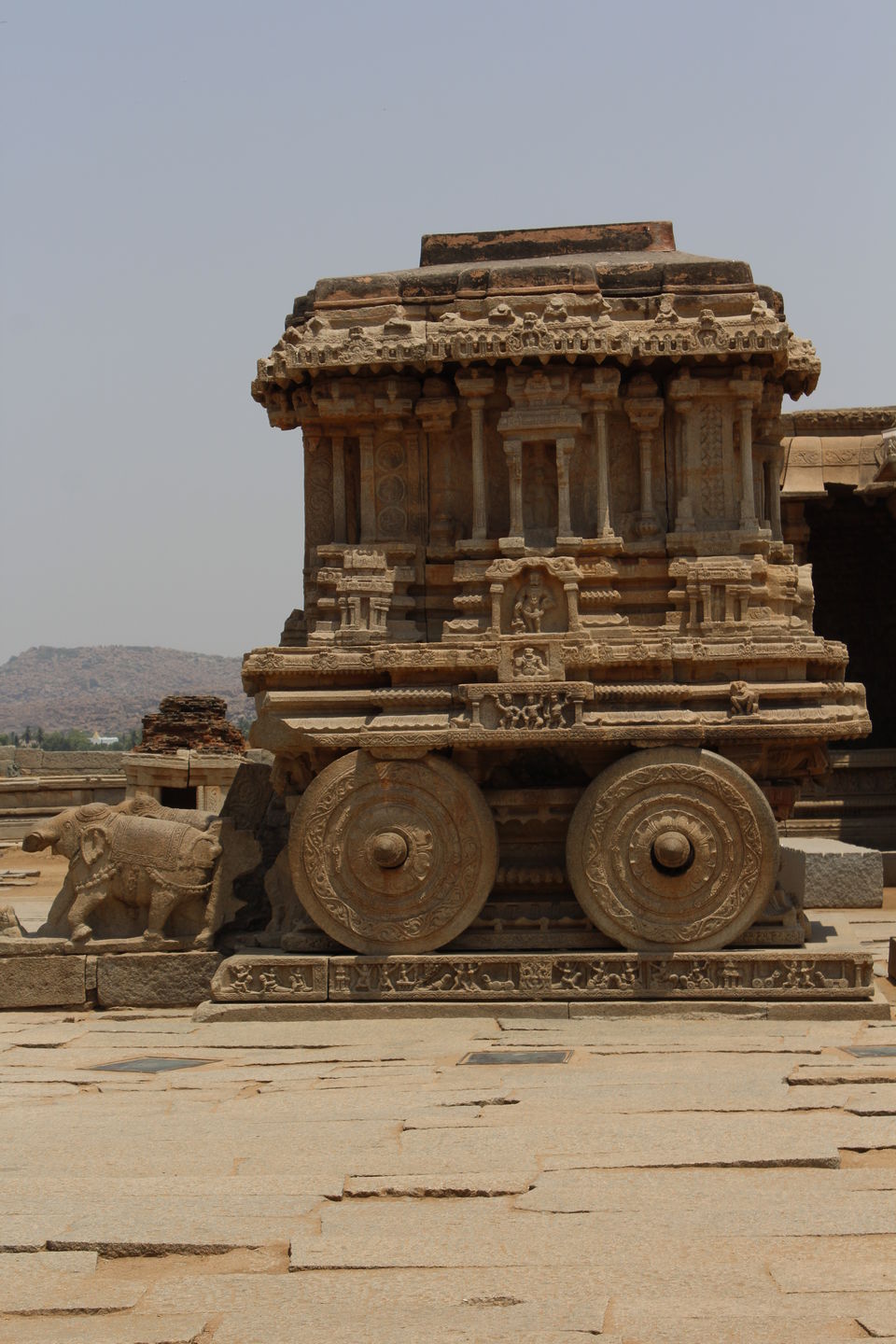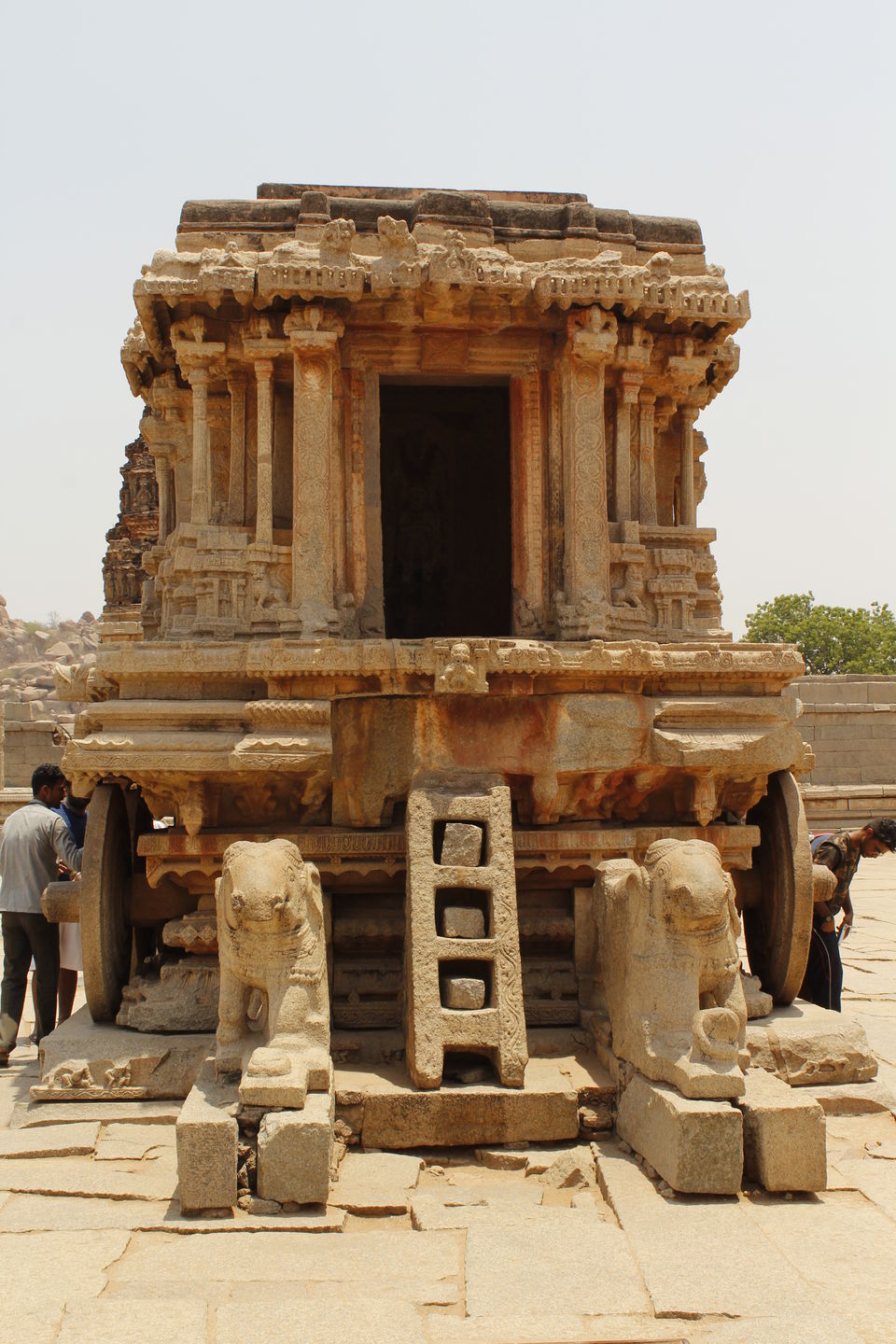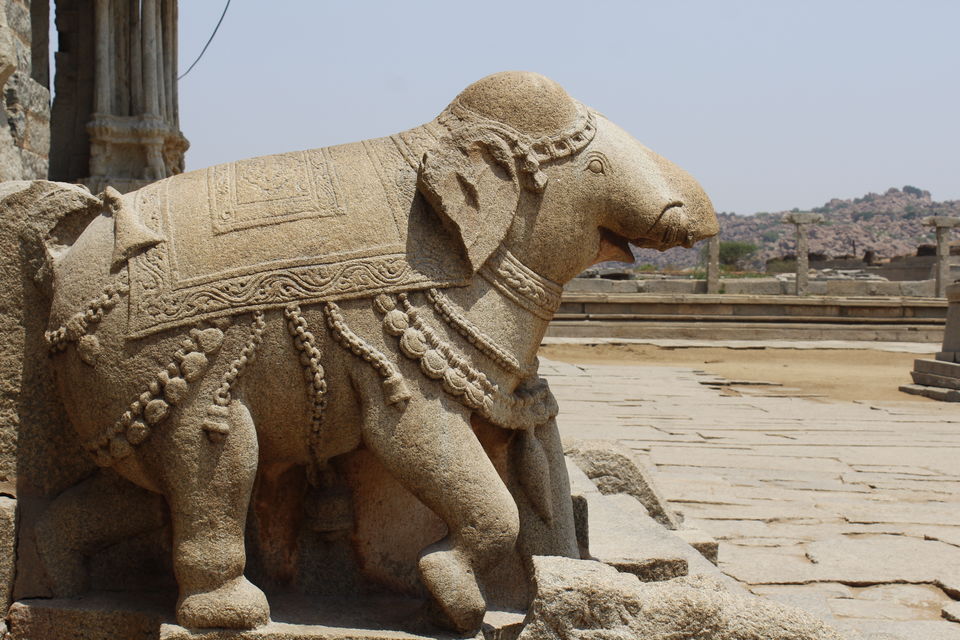 Many other to do things I missed at Hampi were visit to Raghunath temple, Badavi linga, Ugra Narasimha, Uddana Veerabhadra Temple, Krishna Temple, Sasuvekalu Ganapathi, Kadalekalu Ganapathi, Hemakuta hill, Virupaksha Temple, Monolithic Nandi, and Hazara Rama Temple. And also mainly the Coracle ride in the Tungabhadra river.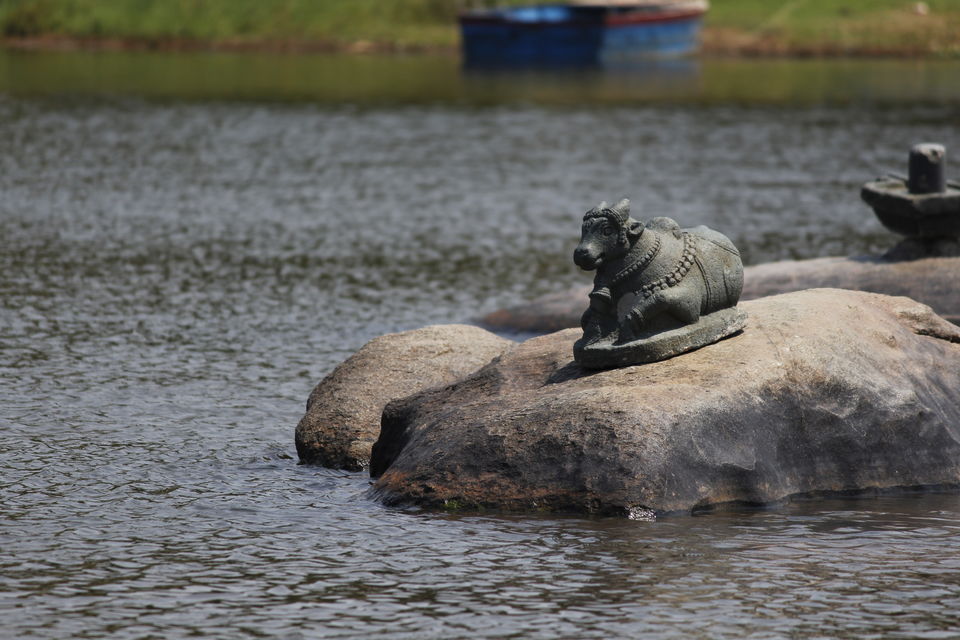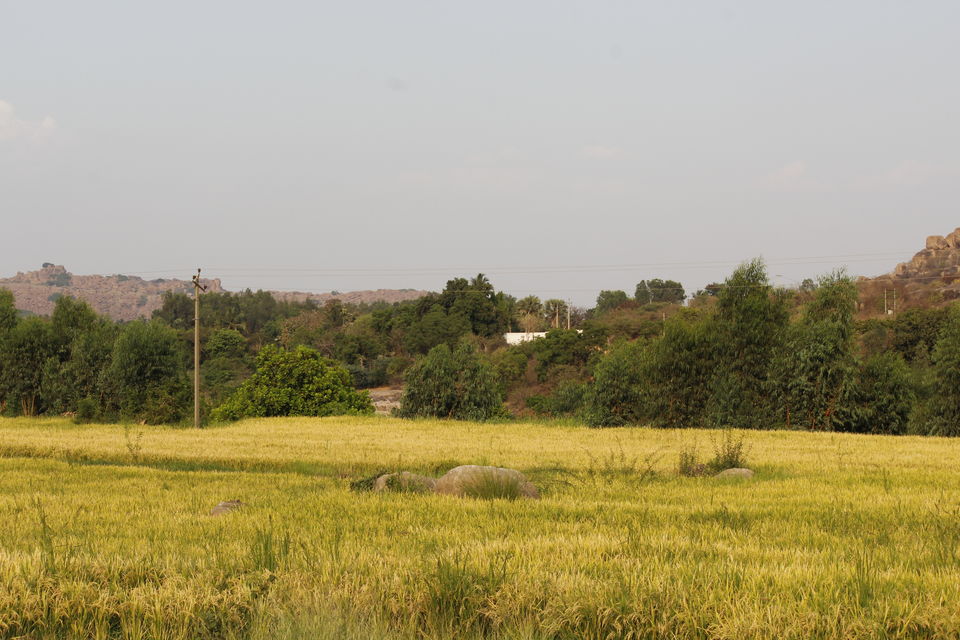 If you are in Karnataka then you should never miss to visit this heritage site Hampi.
Happy Traveling !!!