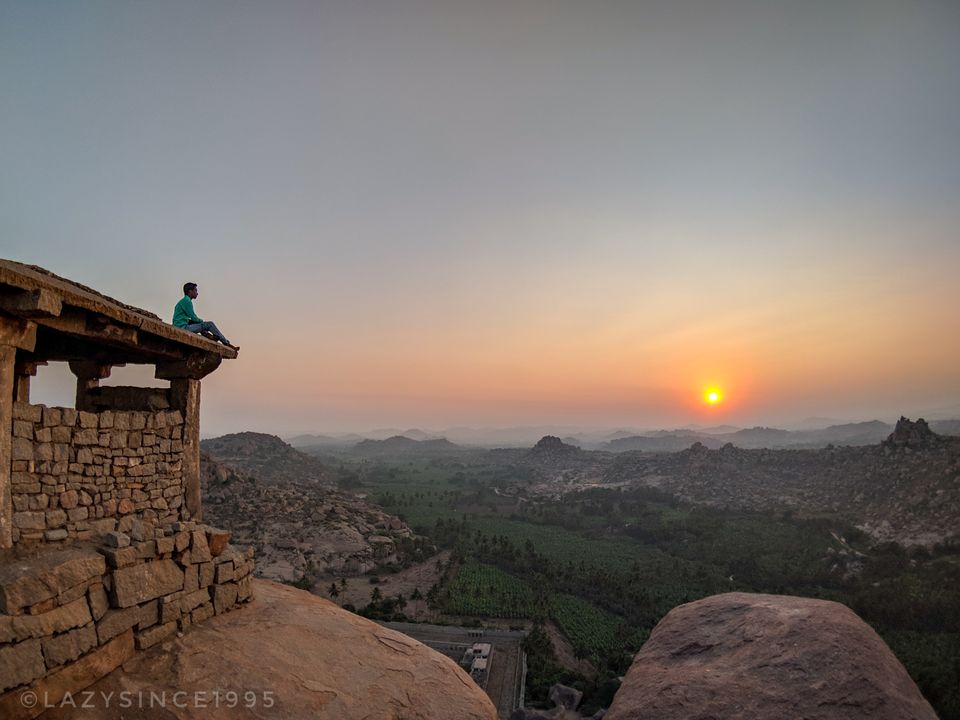 -----------------------------------------------------------------------------------------------
DAY 1 -
Explore market area and choose the room or home stay as per your choice. Price range: 600-1500Rs per day.
After getting fresh we walked to main market area or hampi bazar. In gulley I noticed the board directing to Mango Tree Restaurant. Our stomach was already empty so without wasting time we sat on beds... Yes, you heard right - beds. In hampi everything is so different and have its own unique flavors and style. When in hampi, be relax like king. The idea of having beds instead of tables is, to relax and chill for some time. In restaurant you can order international dishes too. Try mango tree special thali at 160Rs.
TRUE TRAVELERS DON'T NEED ANY REASON TO BE AT.....
-----------------------------------------------------------------------------------------------
After waiting for 2 long long years I finally traveled to #hampi. In December 2018, I came across one stunning picture from hampi and after double tapping on it I couldn't resist myself to plan my next trip Hampi. I shared one story on my instagram profile and found 4-5 of my friends interested for this. Like always 2-3 got cancelled at last moment. But it didn't affected to my plans. Finally the day arrived, as per plan me(Ashish), Tejas & Star started our journey to hampi from our respective cities.
Star & Tejas had bus directly to hospet from mumbai. I chose to travel by train. Because its cheap, convenient and only option from my place... I switched to another train from Gadag. From Gadag, I boarded train to hospet which is just 2 hr. Then (next day) I took bus to Hampi from hospet bus stand. At Hospet Star & Tejas both joined me for trip.
Virupaksha Temple - Visit Virupaksha temple, Which is main center of pilgrimage of Hampi. This temple is dedicated to Virupaksha, form of Shiva. The gopuram of virupaksha is so tall and visible from many sites. There are 3 chambers, pillered stage and temples inside temple. Also having another gopuram at south which leads to tungbhadra river. There is one small pond at right. We were lucky enough to see some water there at pond in hampi. The main temple gets close by 2 pm for 1Hr. And again it's open till 8pm. The carved pillars inside virupaksha will definitely mark their impression on you.
We explored entire virupaksha temple by 3.30pm and we had had to visit Sanapur lake for sunset yet. The main problem is commuting to Virupapur gaddi or Hippie island from Hampi. Tungbhadra river separates Hampi and Virupapur or Hippie island. The only way to cross the river is one need to take Coracle ride/Boat to cross the river. Timings for ferry is 7.30am to 5.30pm. Before/after this timings they offer double or sometimes tripple or even more as per you go late. For one way fare is 50Rs. And it takes hardly 1 minute to cross river.
As its names "Hippie Island", it's Hippie happy place to be at. It's slight different from Hampi. In hippie island you can find many ways to chill out. So many lip smacking food restaurants are available in Hippie island. Also there are a lot of budget friendly stay options than hampi.
We had to come back to river side before 6pm to catch the last boat (with double charges). So we decided to rent scooty or mopped. We tried our best to bargain with local shopkeeper but that guy said 450Rs for 2 mopped just for 1 hr with petrol. But for us it was bad deal and we walked next.As walked some distance we came across paddy fields of rice and banana plantations spread in many hectors.
Near Virupaksha temple we found Swagath Food Stall. Which offers varieties of south indian dishes with chai, coffee etc. The food was mouth watering and tasty too. When you travel new place then you must communicate with locals and stall holders to understand the place. While communicating with omblesh(guy who works at stall) we found that there are many other good stays available than we had. So calculated our expanses we had for whole day. We had spent a lot on unnecessary things. We spent 2400 something for day one. We made our mind to save money and decided to move to Swagath hotel (Homestay). The room we rented had TV, 3 charging sockets(which was not less than any heaven for us), 3 beds with large space( At just 600Rs ). At night after dinner at Swagath food stall, we walked for 15-20 min in bazar and did little conversation with locals about what to visit, timings and entry fees etc.
DAY 2
Kadalekalu ganesh - The kadalekalu ganesh is one of largest statue of ganesha in hampi. It is monolithic statue and one of most visited place in hampi monuments. Many forms for ganesha and other hindu gods are carved very beautifully on tall pillar's inside temple.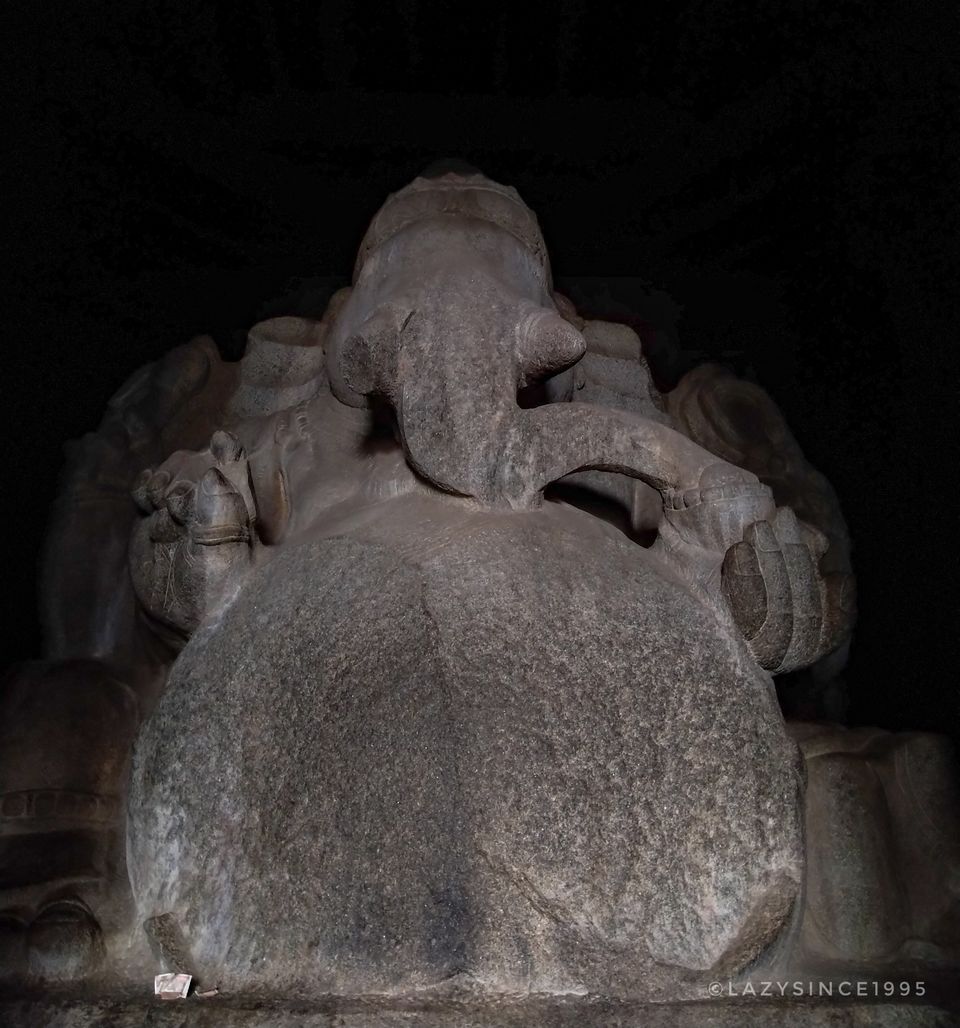 Saasivekalu Ganesh - Saasivekalu ganesha, it's my personal favorite statue in hampi monuments. It's one of major landmark in hampi ruins. Huge statue of lord ganesha(8feet) is carved out in single block of rock. If you look closely to statue you will notice snake is tied on stomach.
Badavalinga & Ugra Narsimha - Another main attraction is at just 2 min walk distance where Badava linga and Ugra Narsimha Statues are present. If you visit early in morning then you will find priest performing aarti at this temple and you can offer flowers.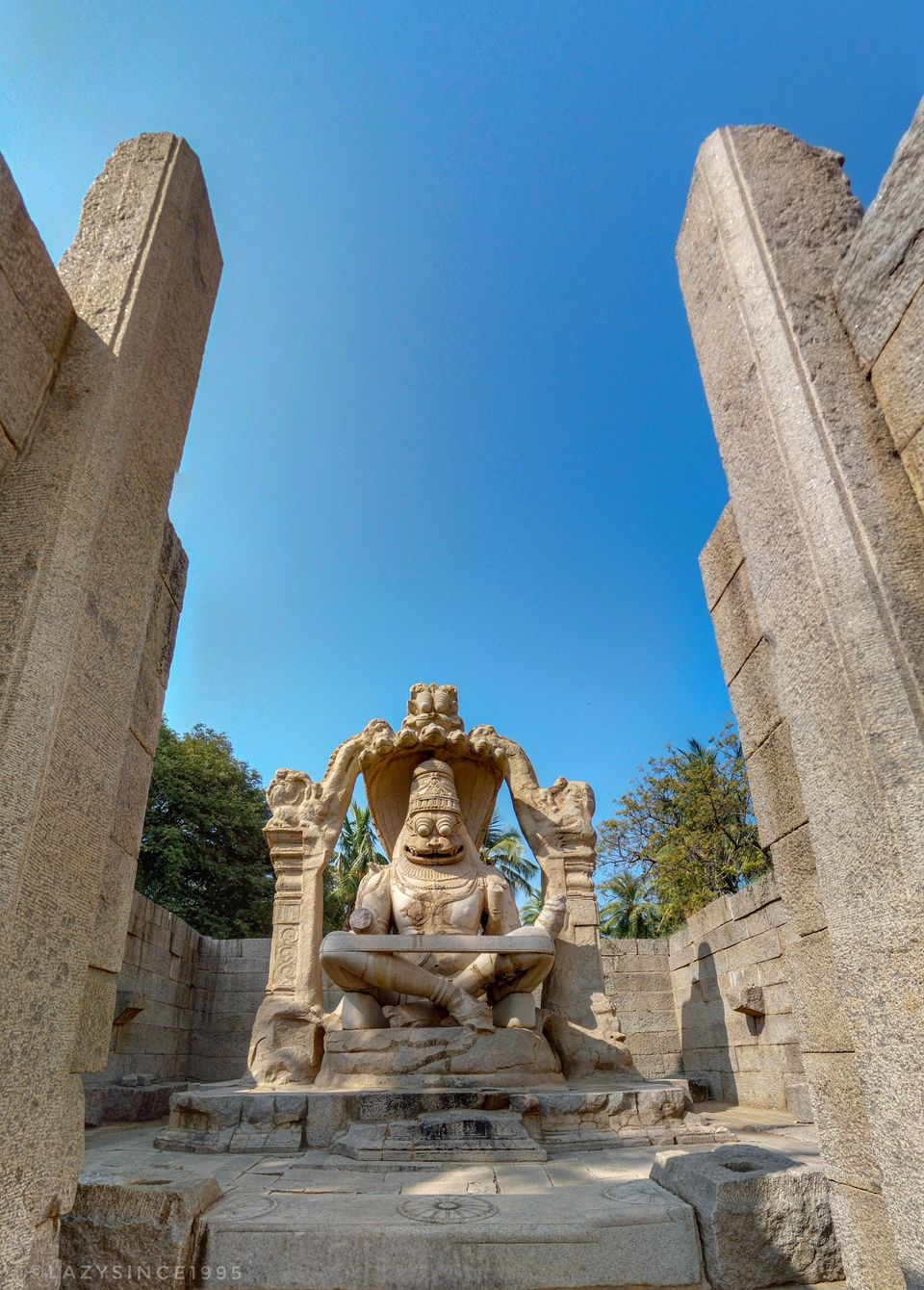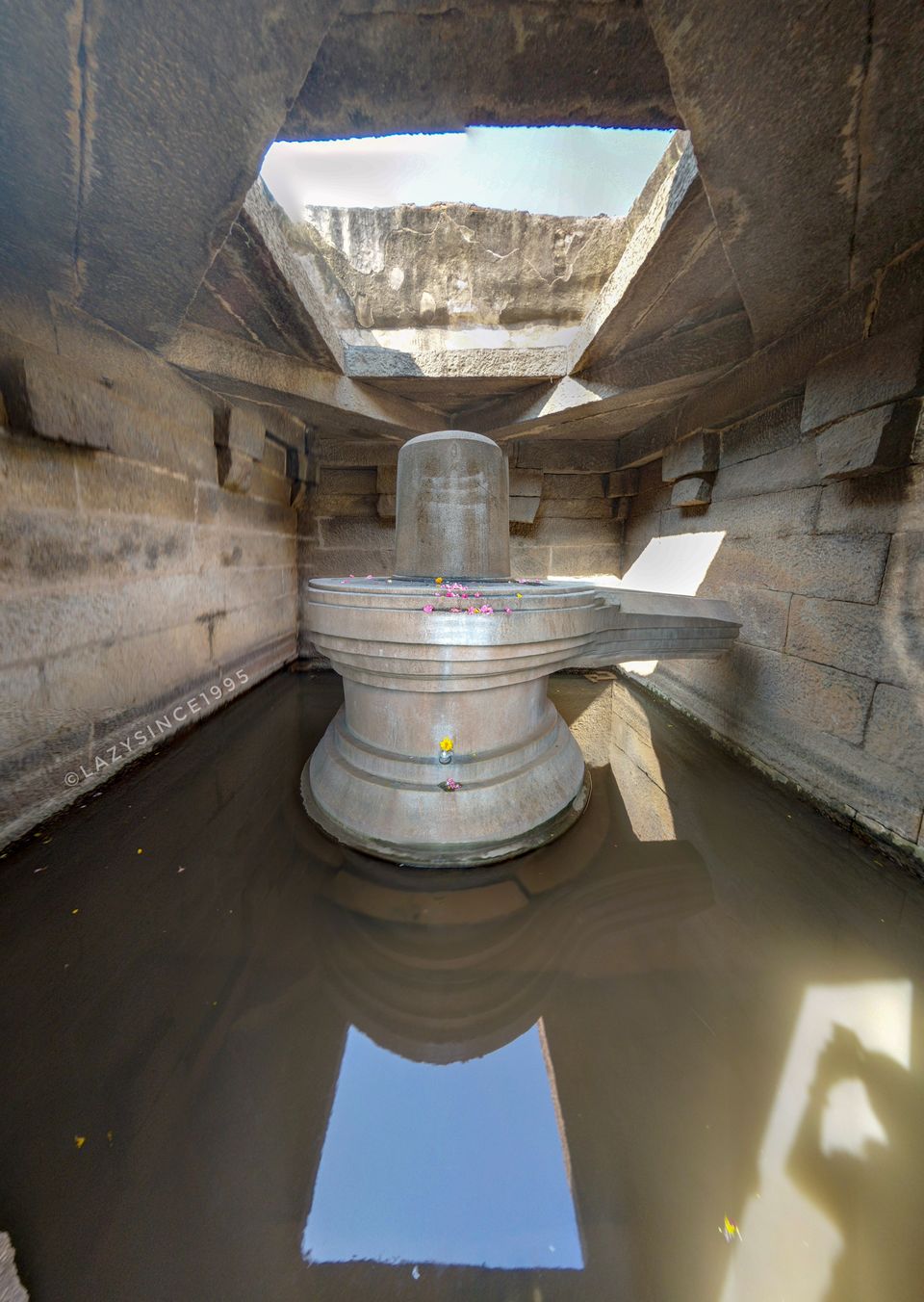 Shri Krishna Temple - Krishna Temple, this is the must see place in hampi. This temple built in 1513 A.D. by King Krishnadevraya to celebrate the victory of eastern kingdom of Utkala (present day - Orrisa state of India). On the walls of temple the story of temple and victory of utkala is carved very beautifully. The main tower at east is under restoration and its impressive sight. The architecture and carvings will make you to get lost back to 15th and 16th century. This temple is dedicated to Balakrishna(form of krishna itself) and this statue is in museum at chennai. Other small shrine are displayed for devotees. After wandering a lot we gulped coconut water, rested few min and again walked till Shri Chandikeshwara Temple.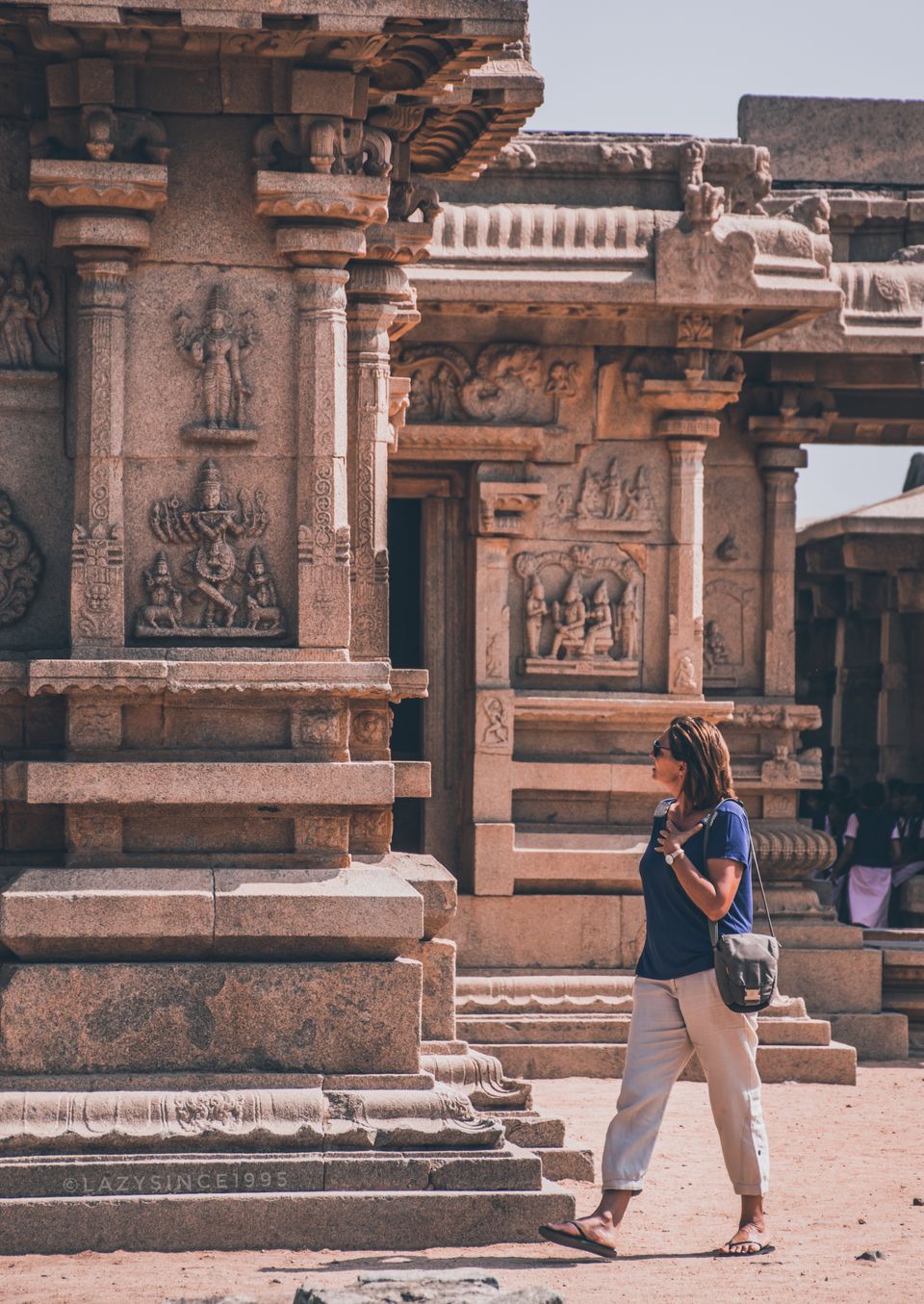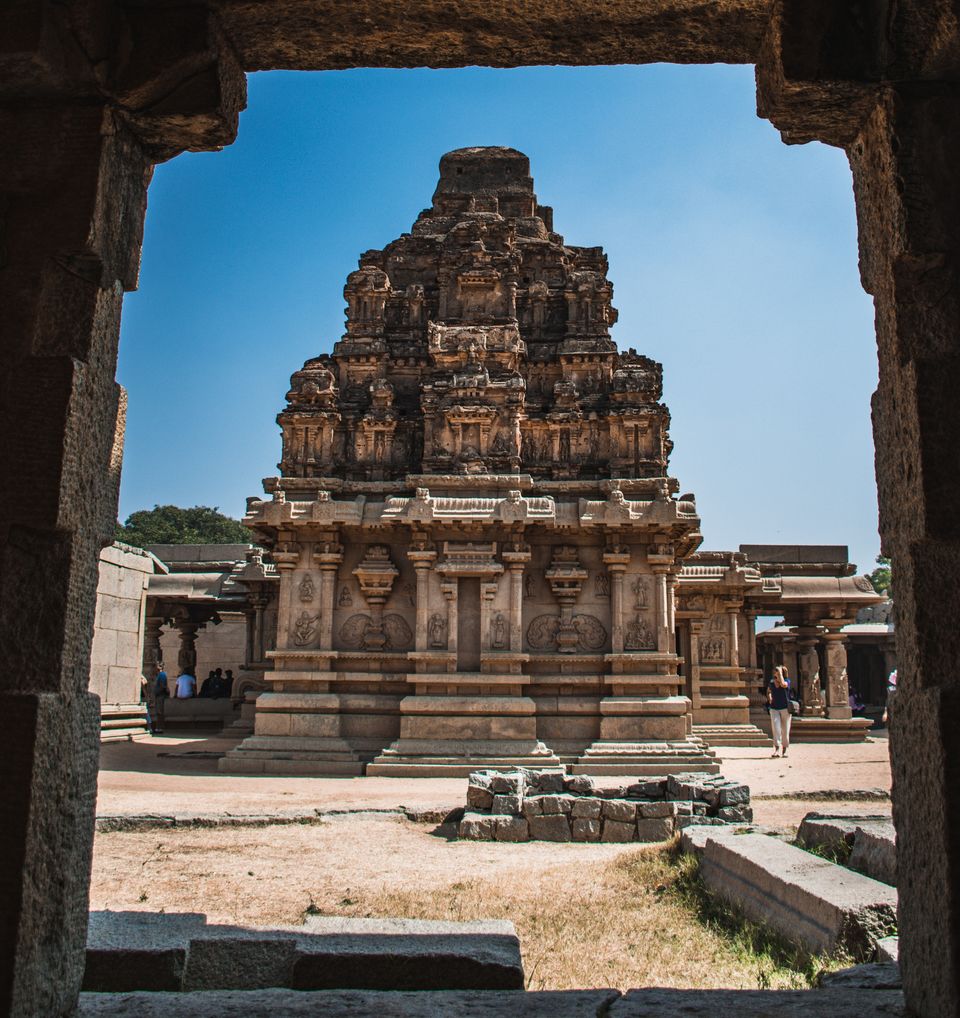 Shri Chandikeshwara Temple, this temple is on main road at 10 min walk distance from krishna temple. This temple is famous for it's architecture and impressive carvings. This beautiful temple is dedicated to Lord Vishnu. Even at this temple you will now find any statue in temple. Which is stolen by Muslim invaders in 1565 A.D. The main attraction of this temple is rich carvings on pillars inside temple. Many animals like Elephants, Horses, Lions etc are carved very beautifully and with so much accuracy.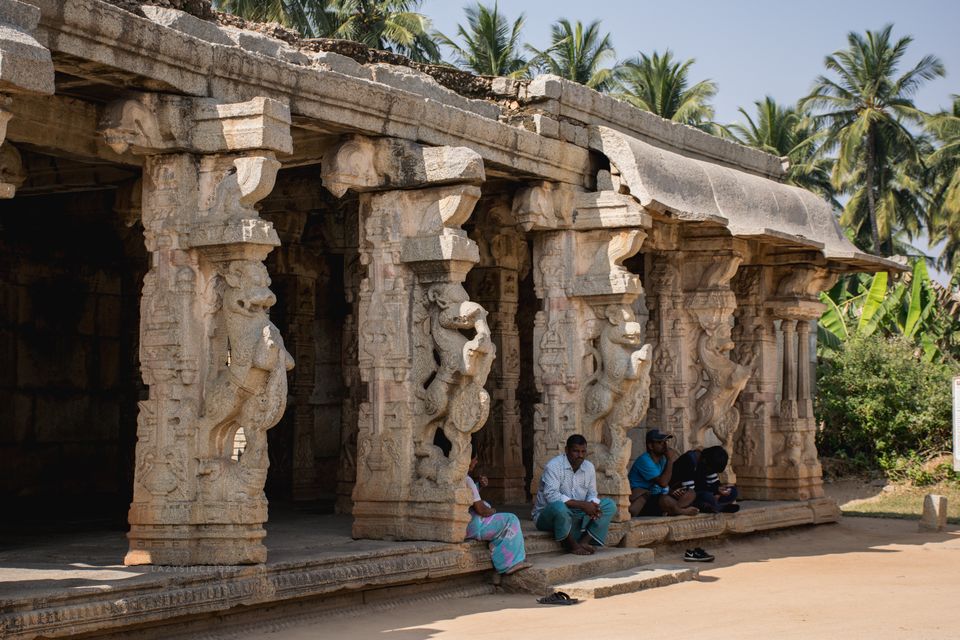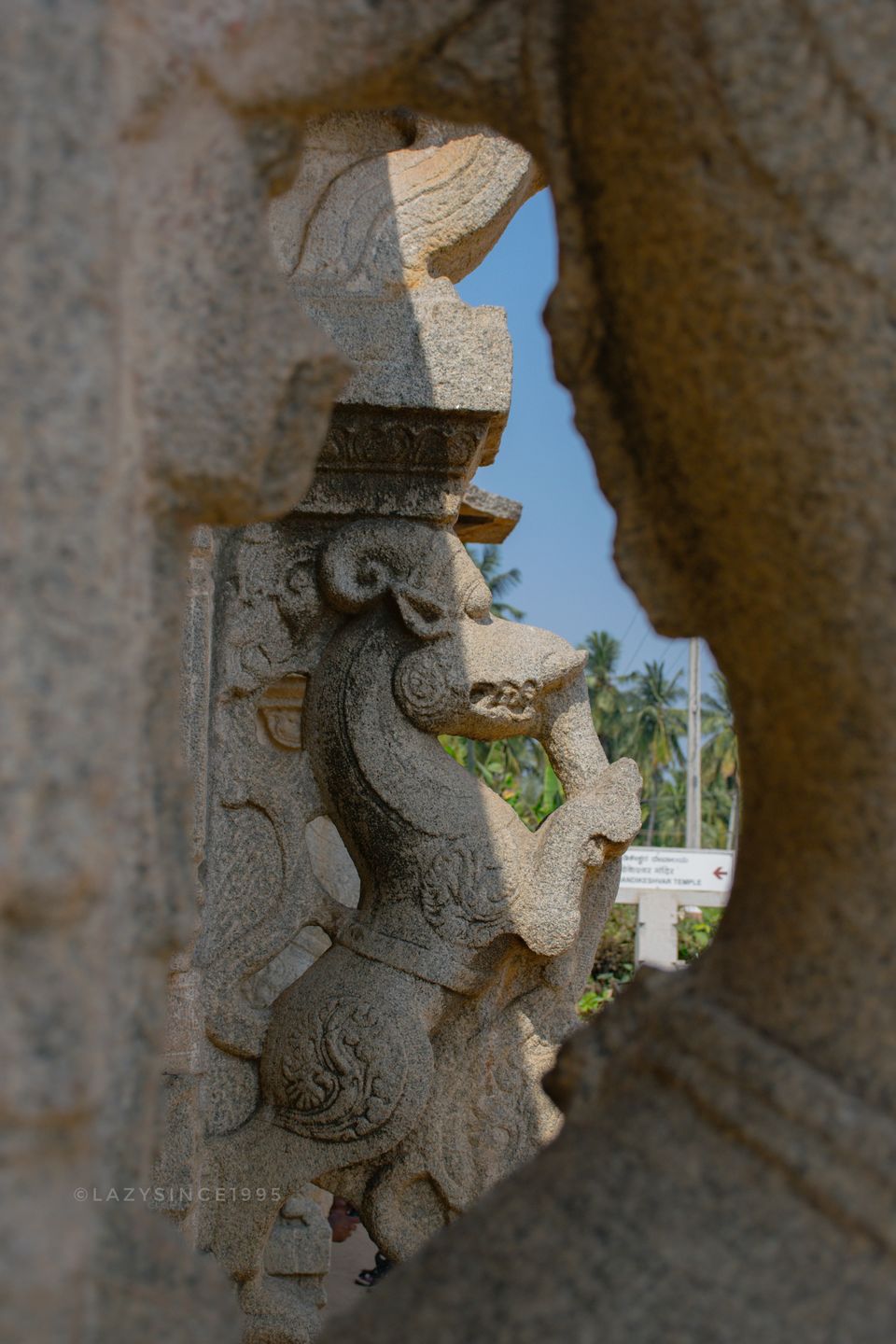 Later we walked down to Hemakuta Temple Complex. On Hemakuta hill is also known as sunset point. But when we were at hill it was just 2.40pm. I rested for 15 min beneath some temple next to iconic hill tree which is so famous on instagram. Like other places even temples at this hill is also damaged a lot but still they quite attractive and worth to visit. Then we went for lunch at Hampi Bazar area.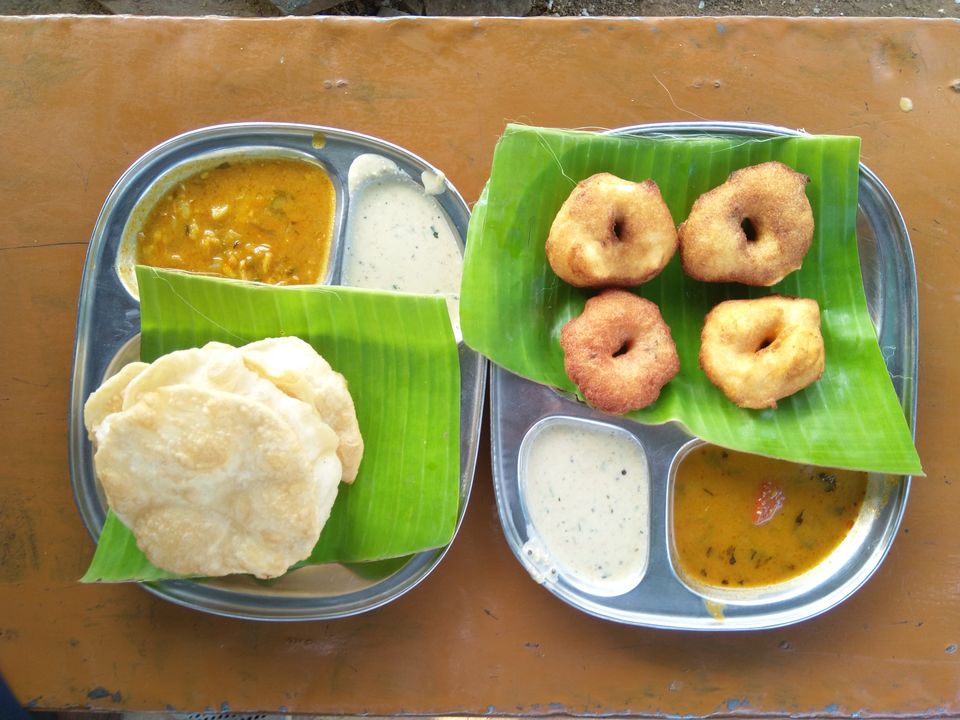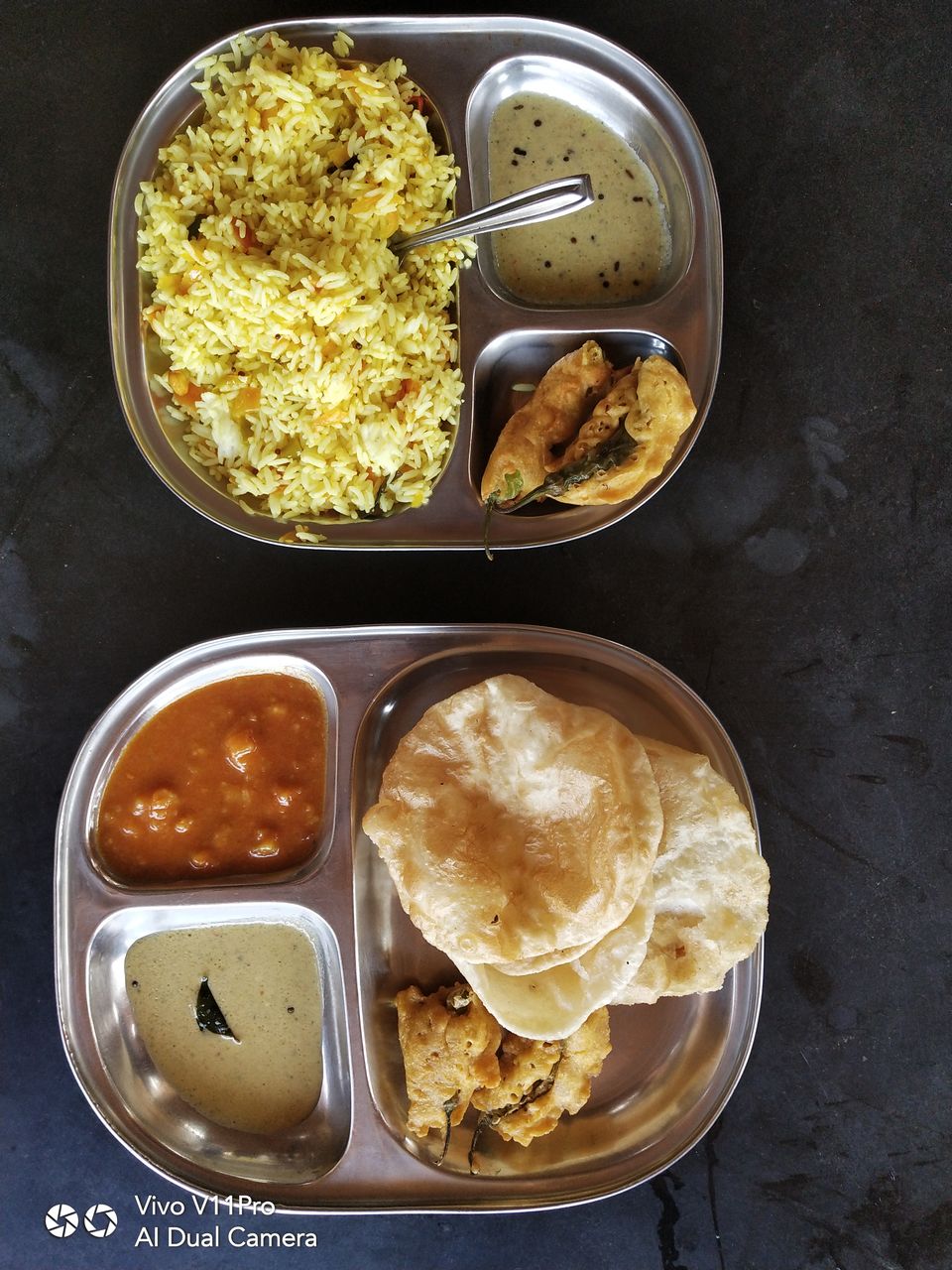 Hampi Bazar, And points less to mention now. We almost wandered 5-6 times hampi bazar since we landed. This bazar is also known as Virupaksha bazar. This market is just next to Virupaksha temple & a km long which ends at foothills of matanga hills. At another end of bazar their is one huge Monolithic Nandi (bull) temple. This hampi bazar is two sided, some of ruin buildings having two story structure and few having basement only.
Hampi photo exhibition center, this one is quite unknown but worth to visit place for everyone. On left of police station at Hampi archaeological ruins. This exhibition center having collection of first photographic record. All the photographs are taken by Alexander Green Law in 1856.
Achyutaraya temple - This temple is dedicated to one of form of lord Vishnu. This temple is spread over large area and due to off location than main attraction very few people do visit this place. Achyutaraya temple is one of last temple built during vijayanagar era. And this one is most advance form of temple in hampi. The fine architecture of vijayanagar will make you to fall in love even if people may call it just ruins. You will start questioning yourself like without having any machine they have built such a wonderful art. It's all beyond our imagination and surprising at same time.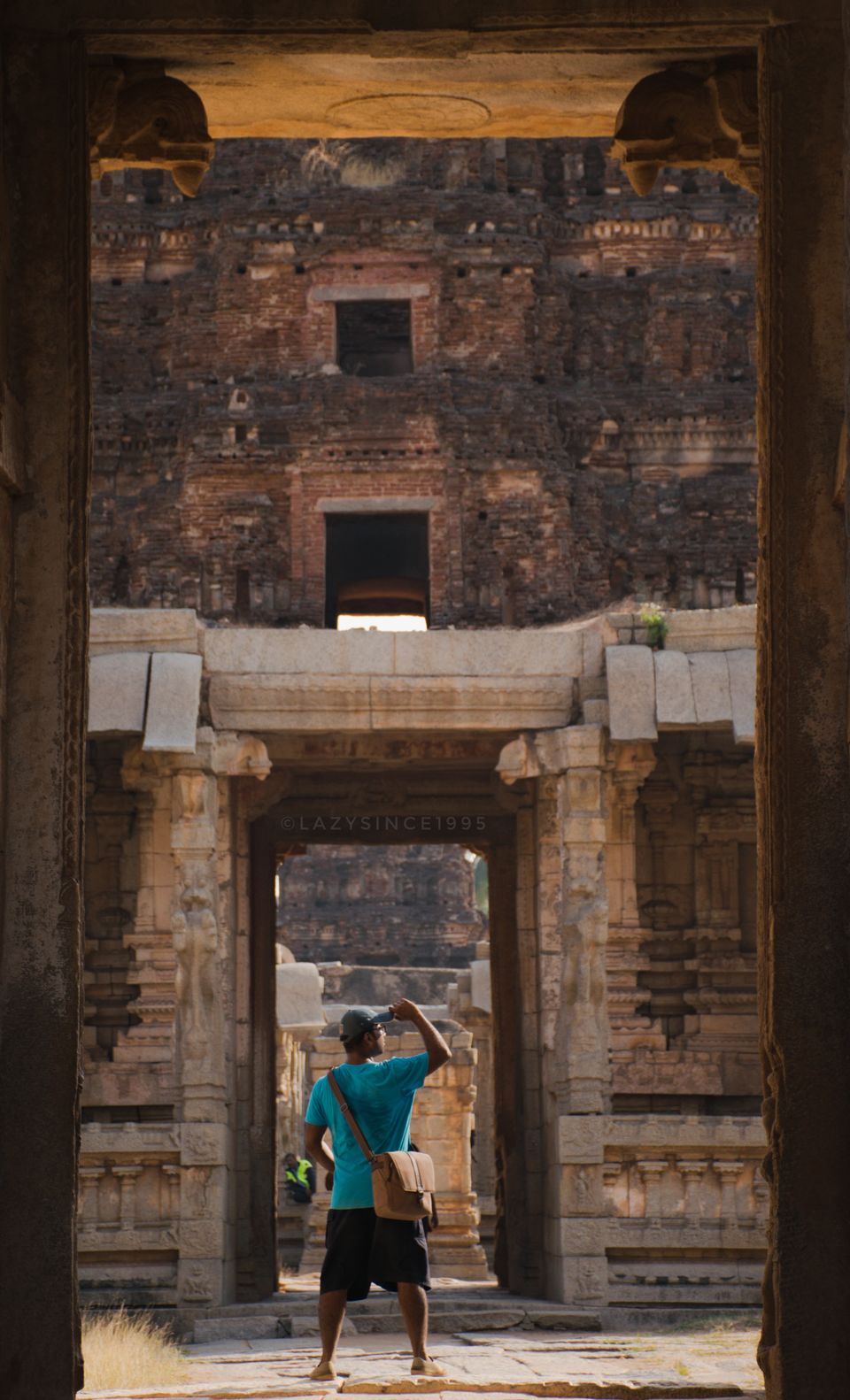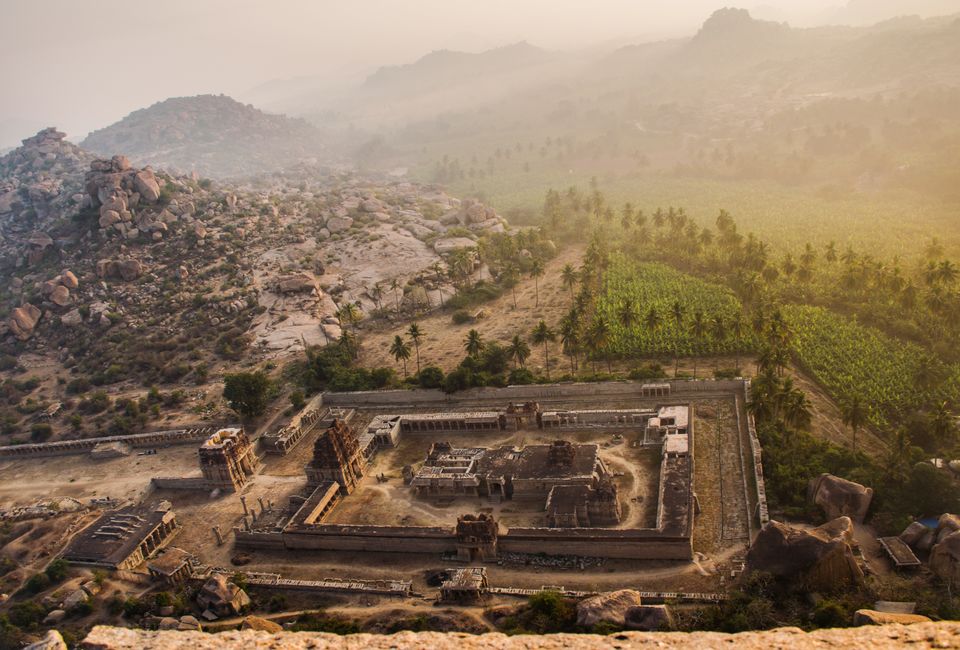 Vijaya Vitthala Temple, it's situated on banks of Tungabhadra river. It's one of largest and most famous as well as most visited place/temple in hampi. The musical pillars, incomparable architecture and stone chariot are major attractions of Vijaya Vitthala Temple. The Vijaya Vitthala Temple is grandest of all temple in hampi. The words are not enough to explain the beauty of temple. The Vijayanagar dynasty had their own set of rules which are high benchmarks for others. The Stone chariot at this temple is one of three other chariots in India. Actually this stone chariot is not built in single rock but very smartly placed one rock cuts on other, inside the carving. Also this stone chariot had horses pulling chariot like carvings but they damaged during fall of vijayanagar. Now we can notice Elephants next to chariot. But one can easily spot the broken leg still attached at chariot at back to elephants. The stone chariot is also one of most photographed monument in India. One thing I didn't liked much at temple is the mentality of indian people. Instead of feeling proud and protecting our heritage we always show disrespect to everything. While photographing stone chariot, people were sitting near elephants, touching the extremely fragile parts of monuments. The entry fees to this temple is 40Rs which can be used at lotus mahal, museum and elephants stable if you visit them at same day.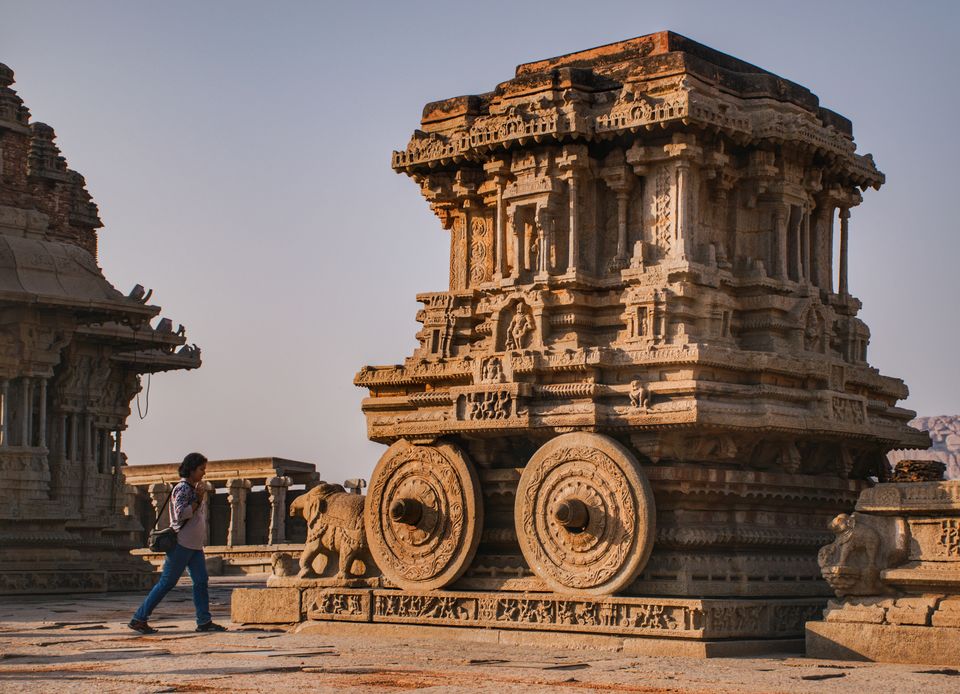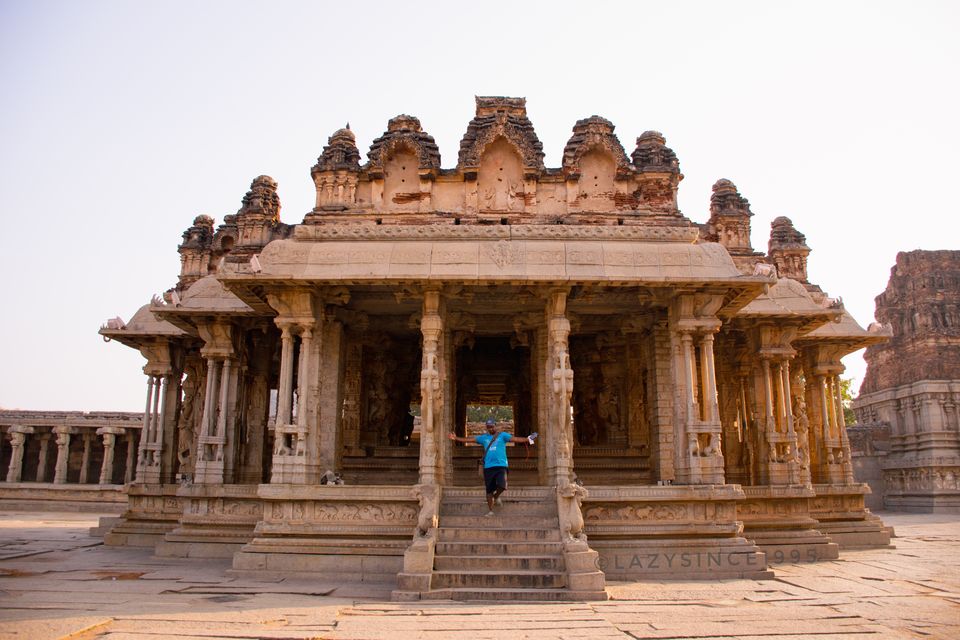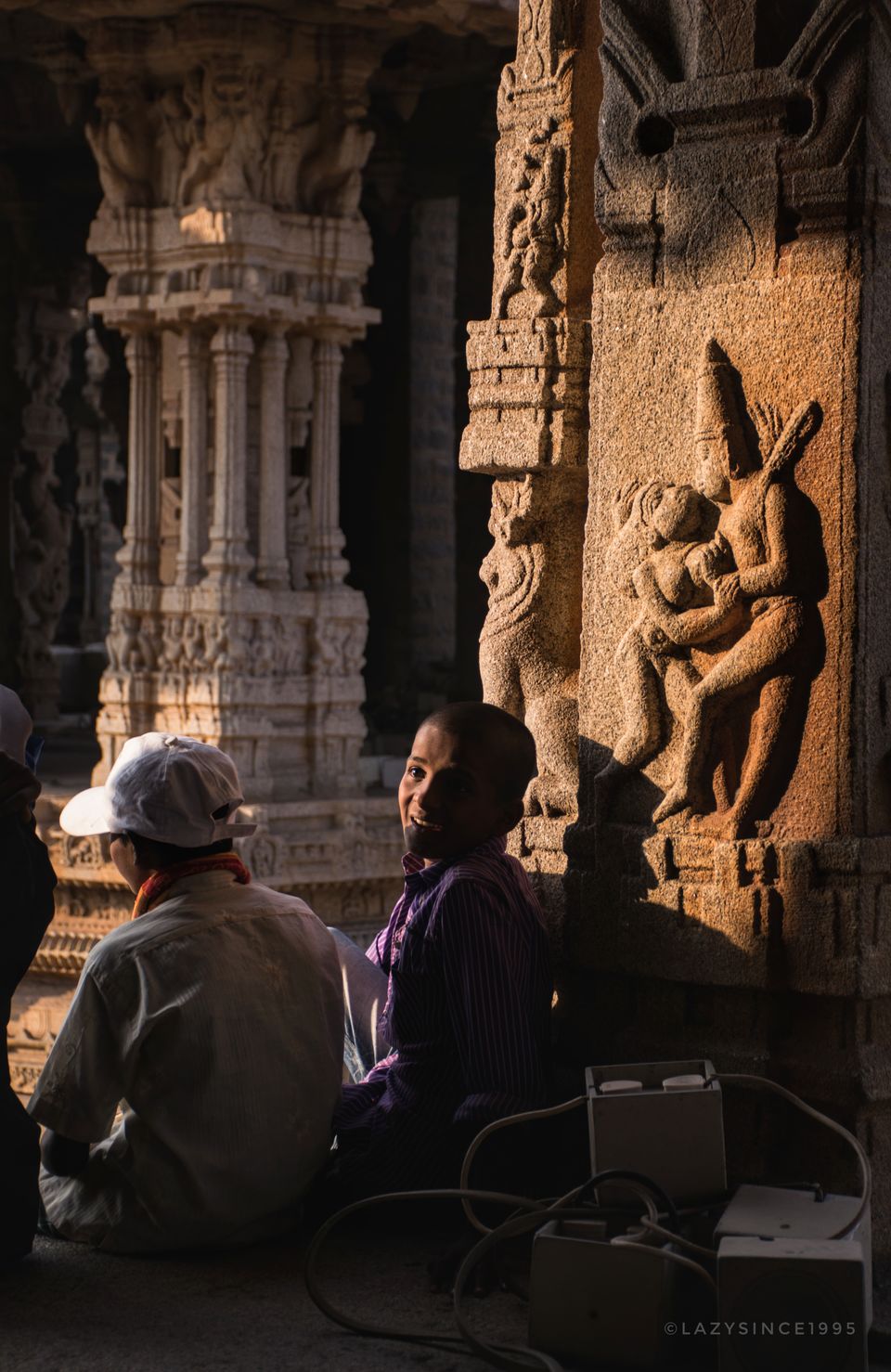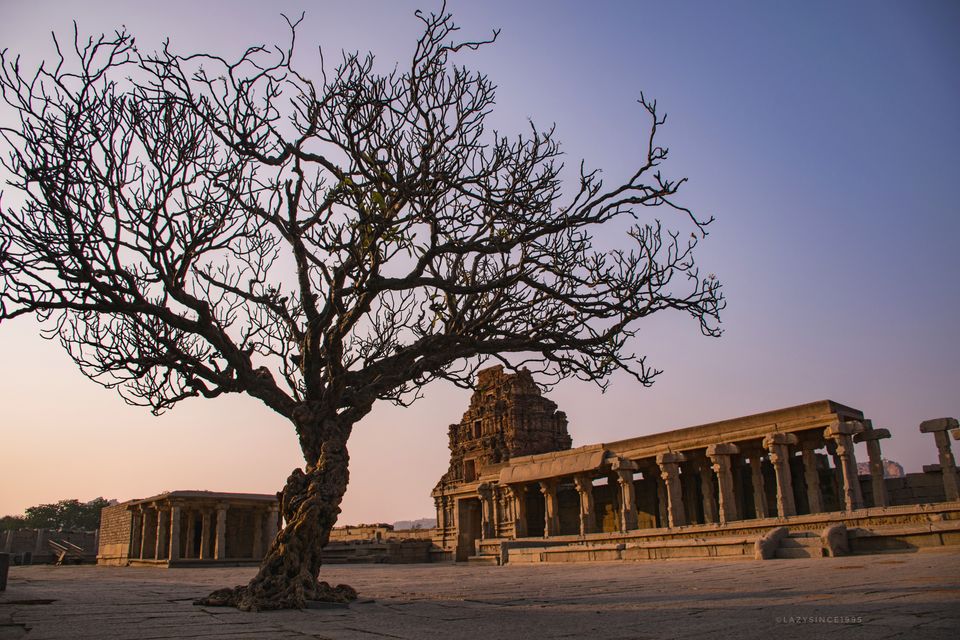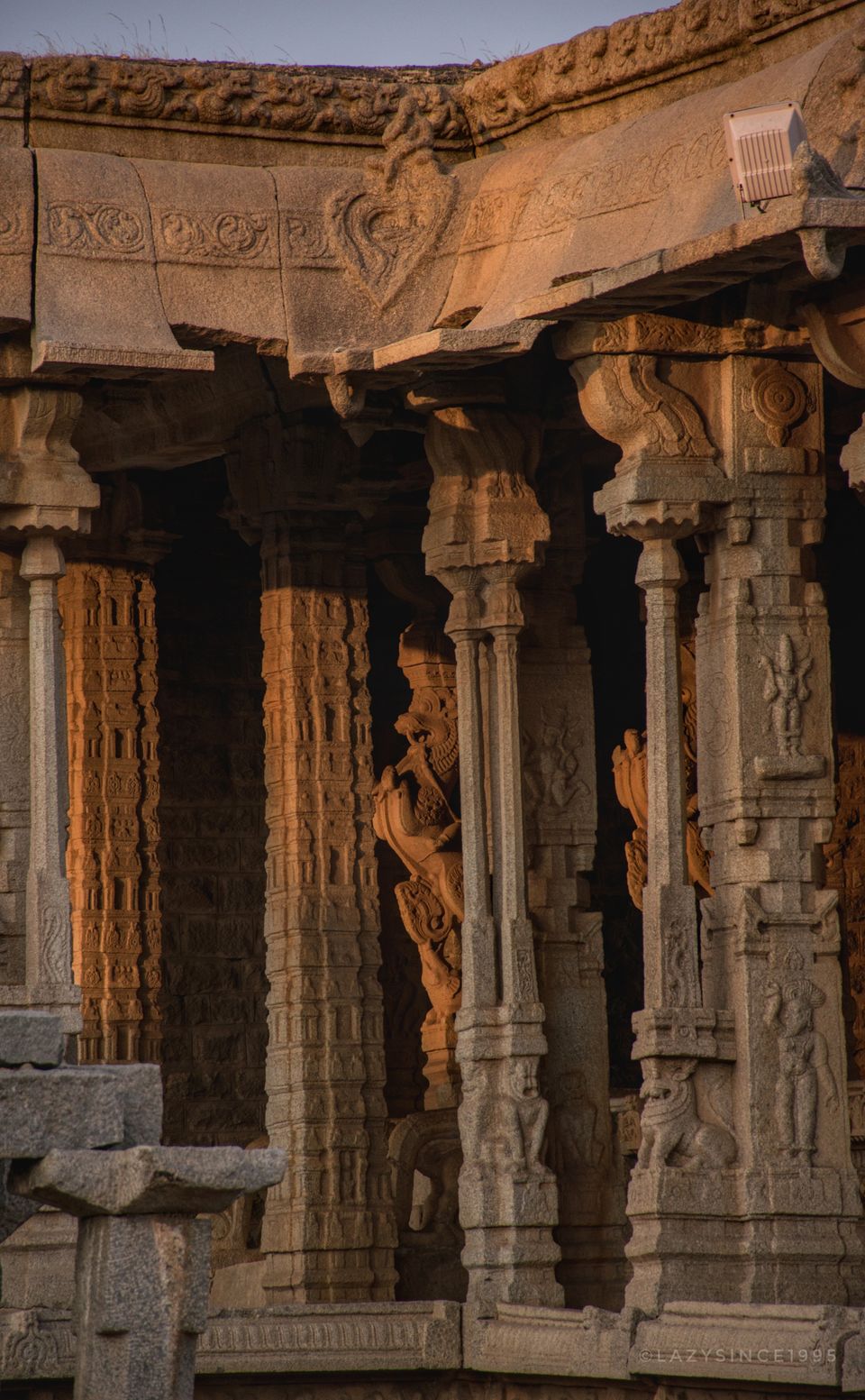 Sunset over Tungabhadra river... While coming back from Vijaya Vitthala Temple we had just few minutes to witness the sunset over river. Unfortunately we missed the moment when sun goes below the hills. But, we were lucky enough to see the dusk and down. Then we came back to our room & rested for some time. For dinner we chose new place which was just 100 meters from our room. We enjoyed "Appe" (South indian dish similar to idli but different one). Over conversation at dinner we come to know that hampi is also well known for leopards and other wild animals which wander at night. So be careful after sunset hours...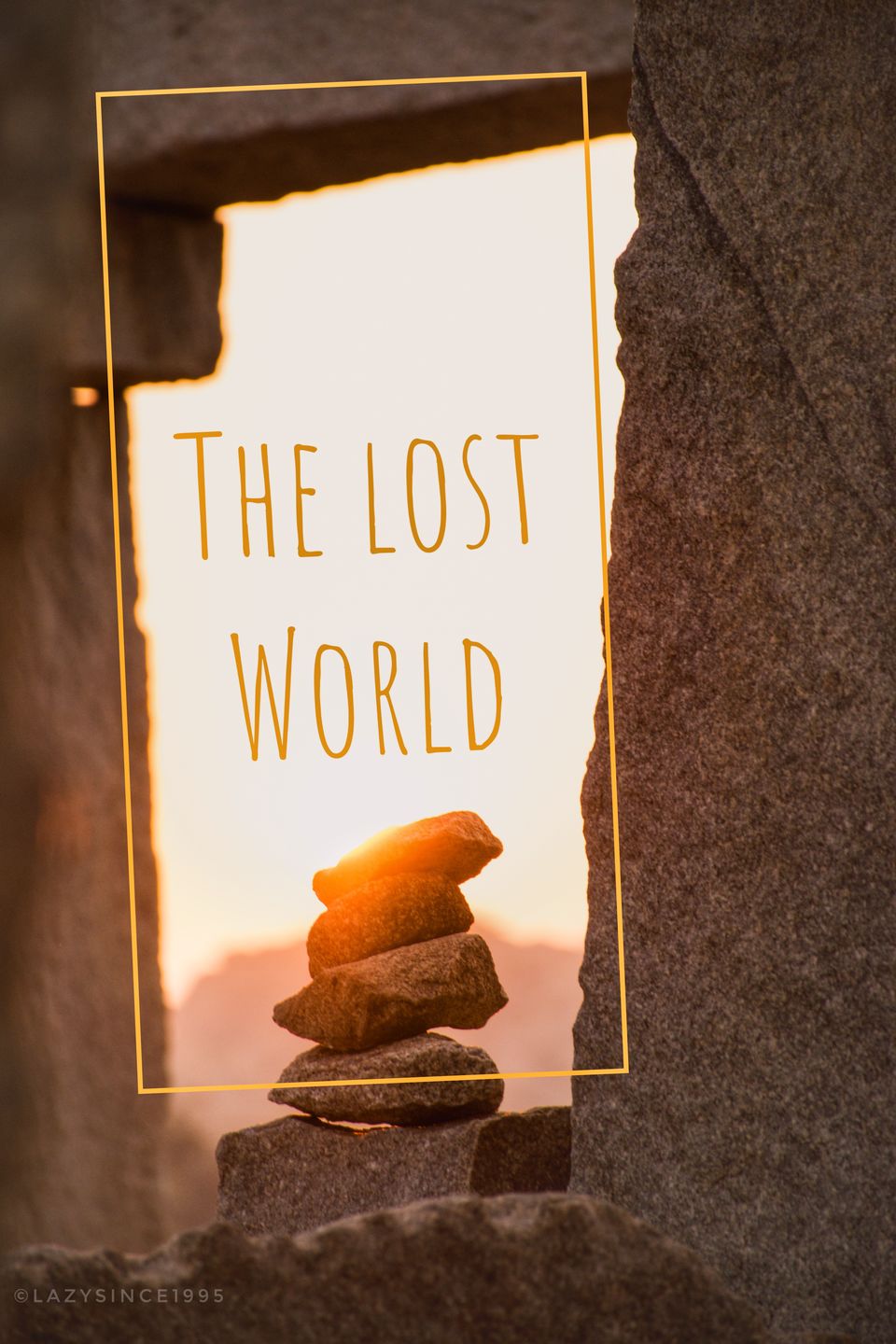 Matanga Hills - If you want to witness magical sunrise with spectacular views then you can't say no to this place. There are many option to watch the sunrise but not all are convenient if your budget is tight or having any time limits. You can try visiting Anjanadri Hill which also offer magnificent view of sunrise as well as sunrise. Only problem is you need to cross river by boat or prefer to stay at hippie island instead of hampi a day before ending trip.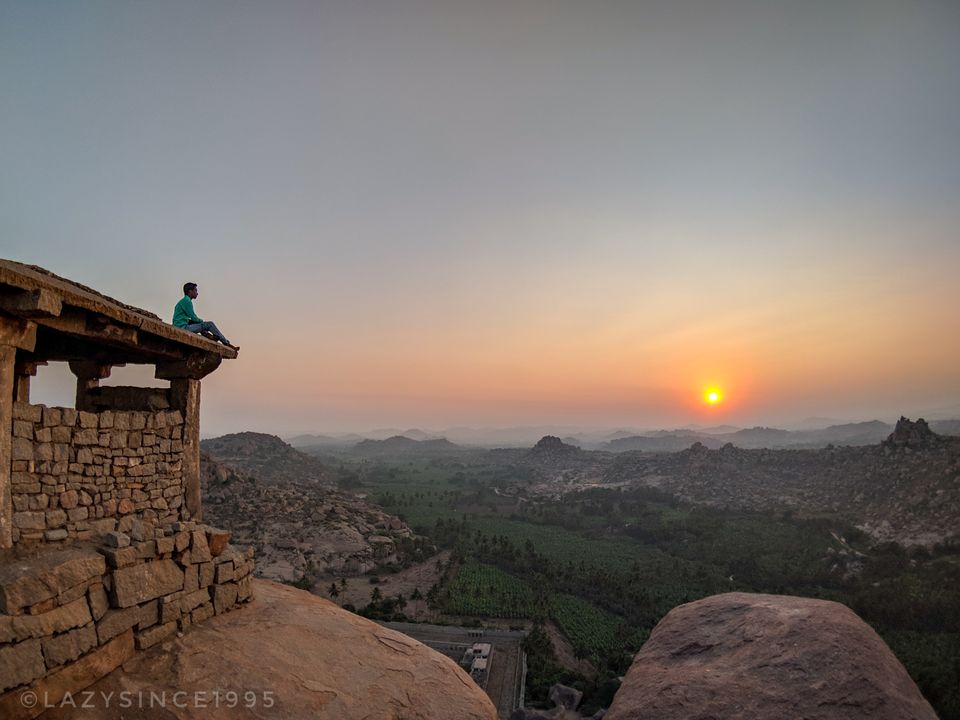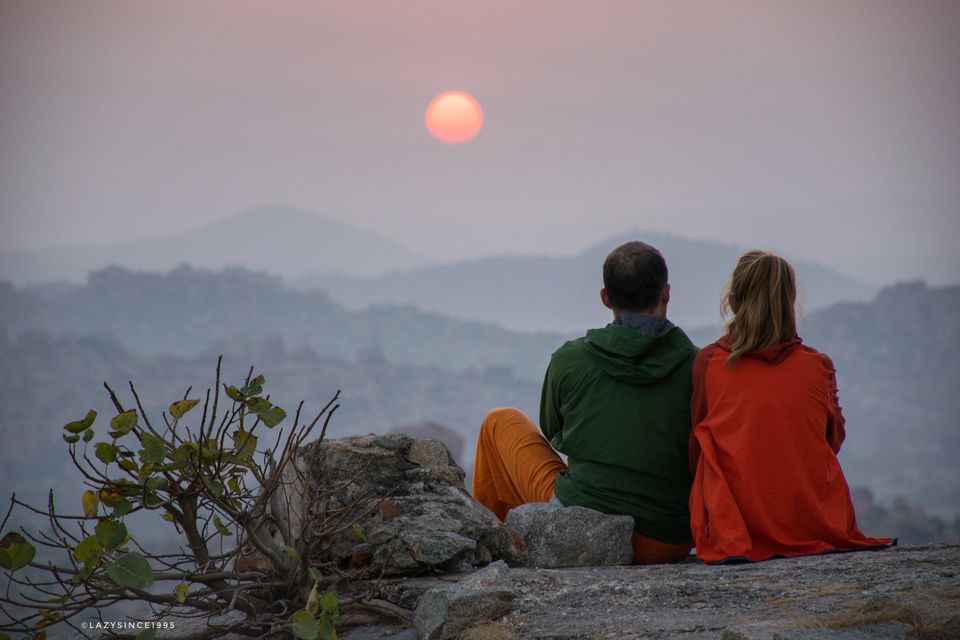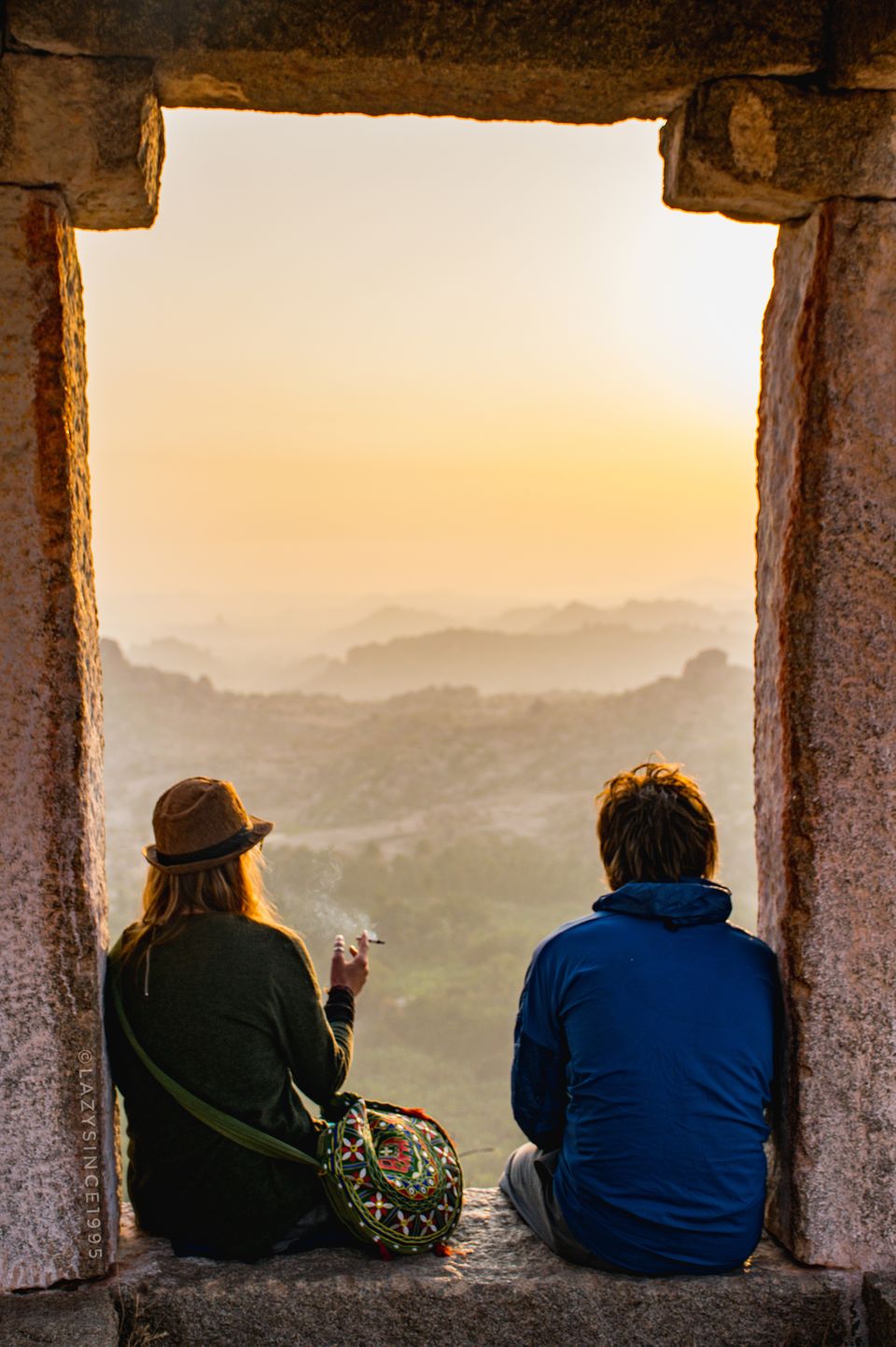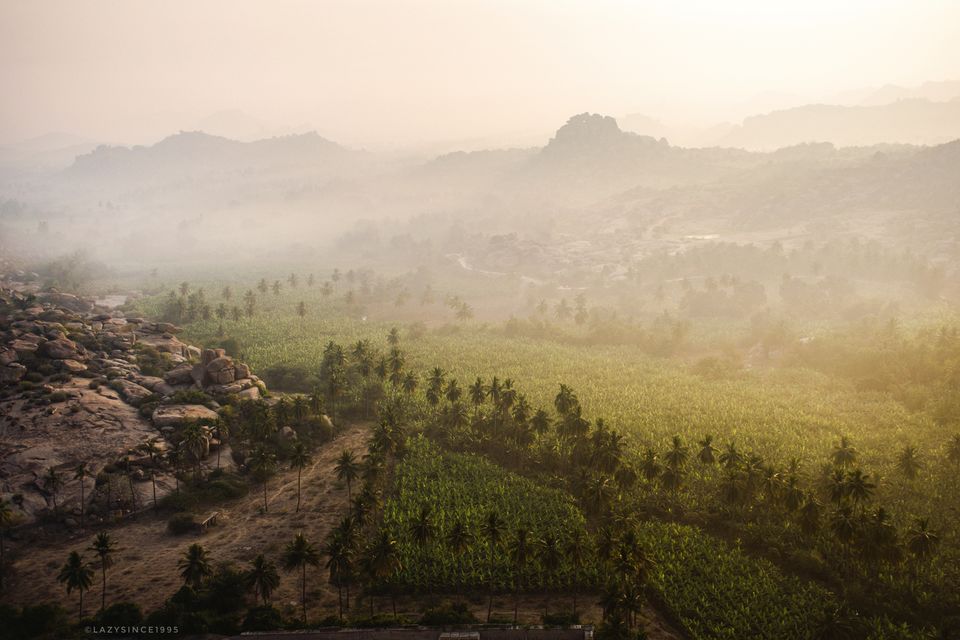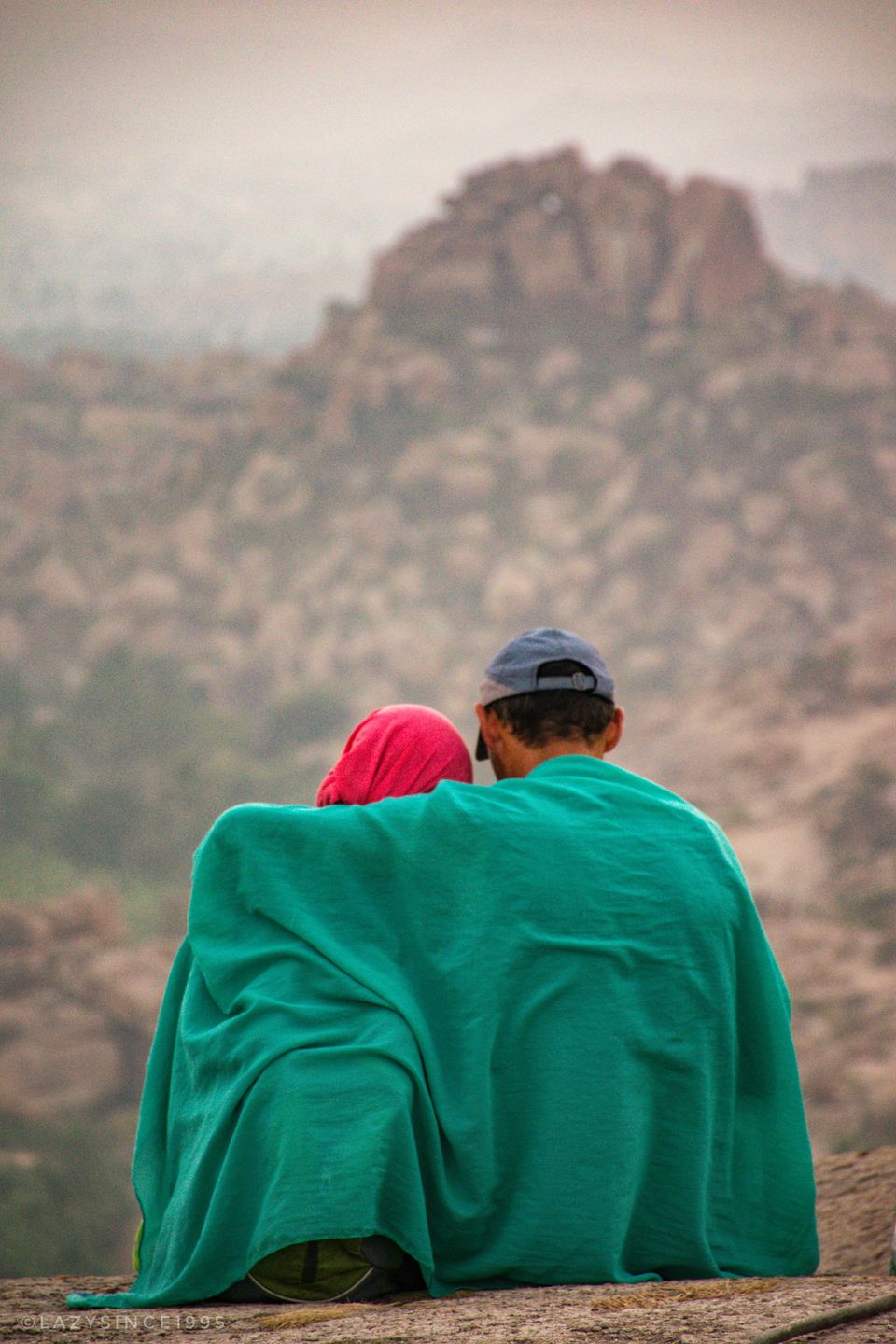 We came back to our room to check out and waved good bye to the boy "Omblesh" at swagath food stall. We kept our bags at TOP SECRET restaurant till evening. At 6pm Star & Tejas had their VRL Bus bookings from Hospet to Mumbai. And I had to take overnight train from Guntakal Jn. (Which is just 2hrs journey from hospet)
On 3rd day too we haven't took any bike or riksha for Royal Enclosure. From virupaksha bazar it's just 2.3km and as usual we explored everything by walk. All the major as well as minor points are near by or within that Royal Enclosure area itself.
Underground Shiva Temple, this temple is built many meters below the ground so it's called as underground. Due to built below ground level you will find the water running around the main shrine. There is one small water channel which is dry now.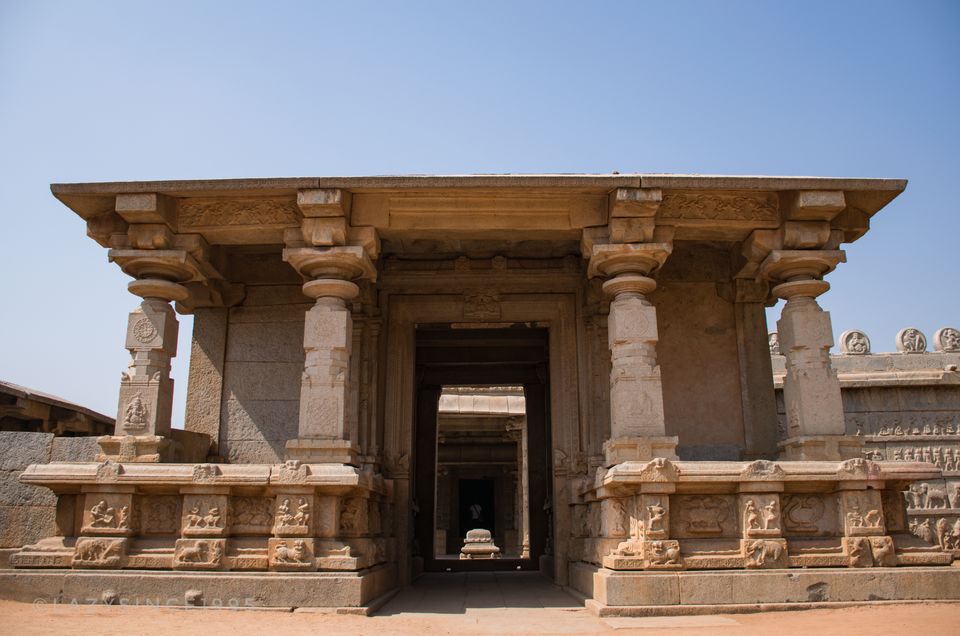 On the way to Royal enclosure, you will find many other points like Nobleman's Quarters, Nobleman's Palaces, Mohamaddens Quarters,Palace Vira Harihara etc. All these places are ruins and there nothing much remained to see. Each place hardly will take a minute to explore.
Hazara Rama Temple, once it was private temple of the kings and Royal family of Viajayanagar Empire. It is smaller but very beautiful and eye catchy. The temple of walls are carved with stories of Ramayana. The fine art on pillars and temple walls will attract you a lot from distance. Inside the temple there is 4 pillars of black granite with carvings on it. For some specific reason they are used. The name of temple is given due to Hazar Rama (a thousand rama). This temple is great example of excellent art.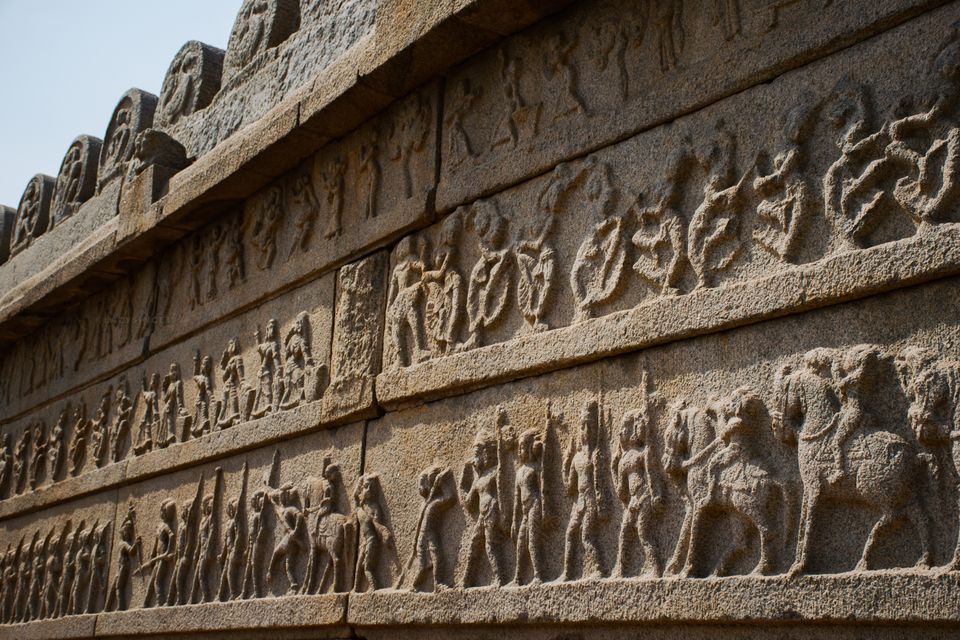 Queen's Bath, don't know the actual reason behind it's name but actually this Royal bathing complex was built for King with his wives. Inside the bathing complex there is varanda with open sky pool at middle. Once it was filled with fragmented flowers in pool water. On each side multiple windows are present.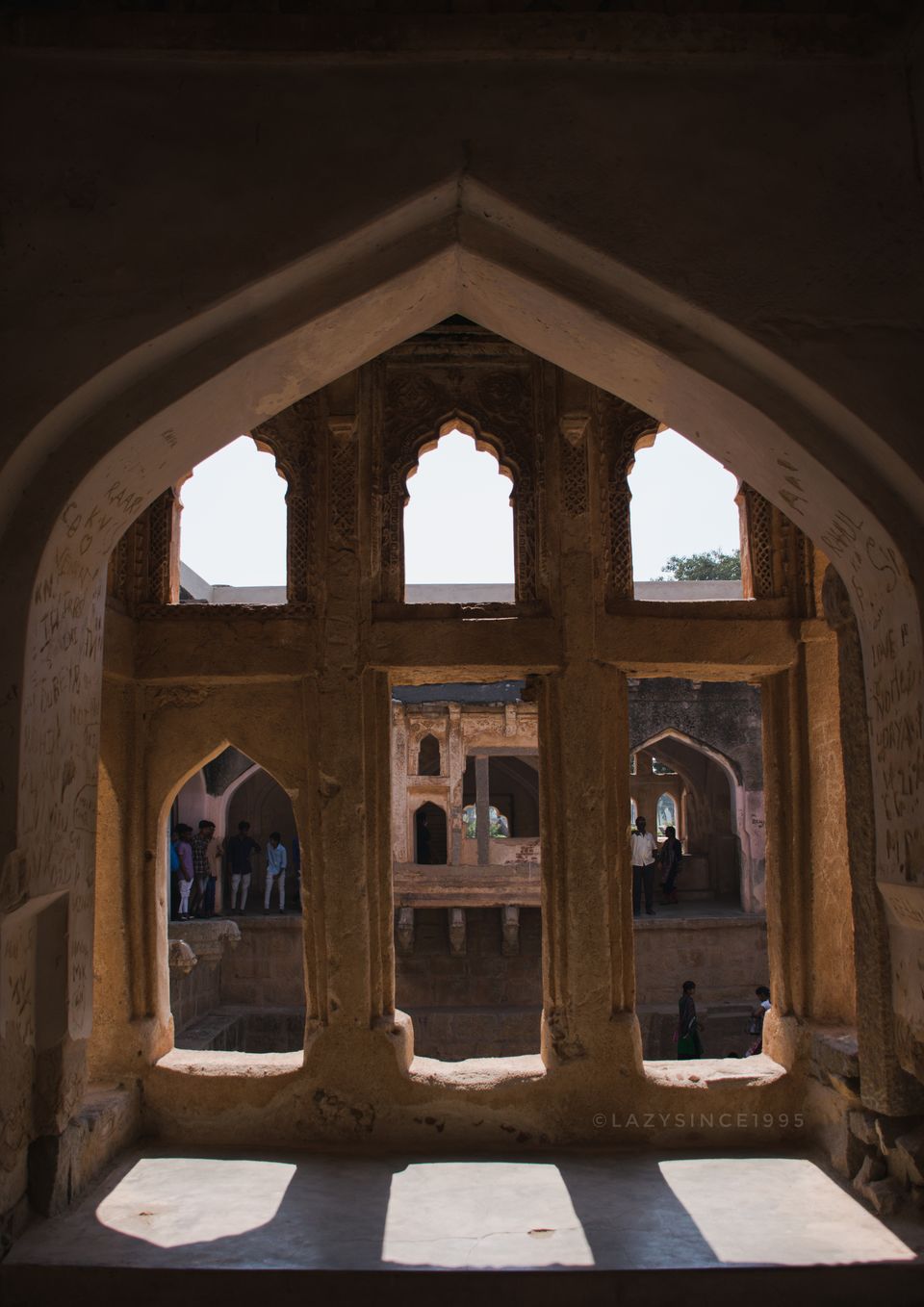 Zanana Enclosure, at entry point we brought our tickets (40Rs per person). A day before coming to this place we had visited to Vijaya Vitthala temple and that time we had already same tickets but these tickets are applicable on same day visit to other payable places.
Lotus Mahal, it was used by royal women of Vijayanagar dynasty. The name is given on basis of its architecture and it's look. It's mixture of Indian and Islamic style. Which shows the secular idealogy was present since that time in India. The dome at middle built in such a way that it looks like Lotus bud. Near this mahal there is another mahal called as "Jal Mahal".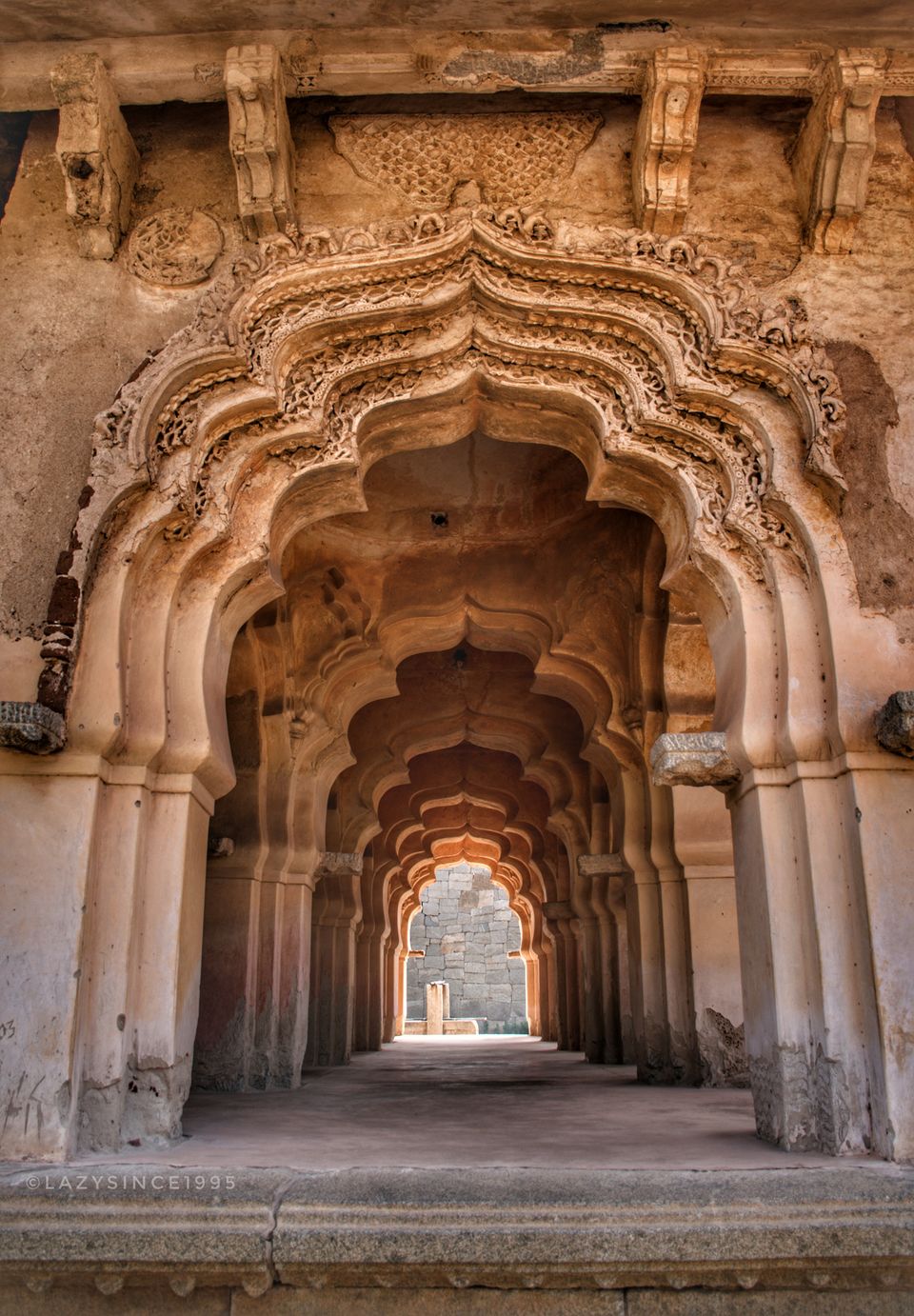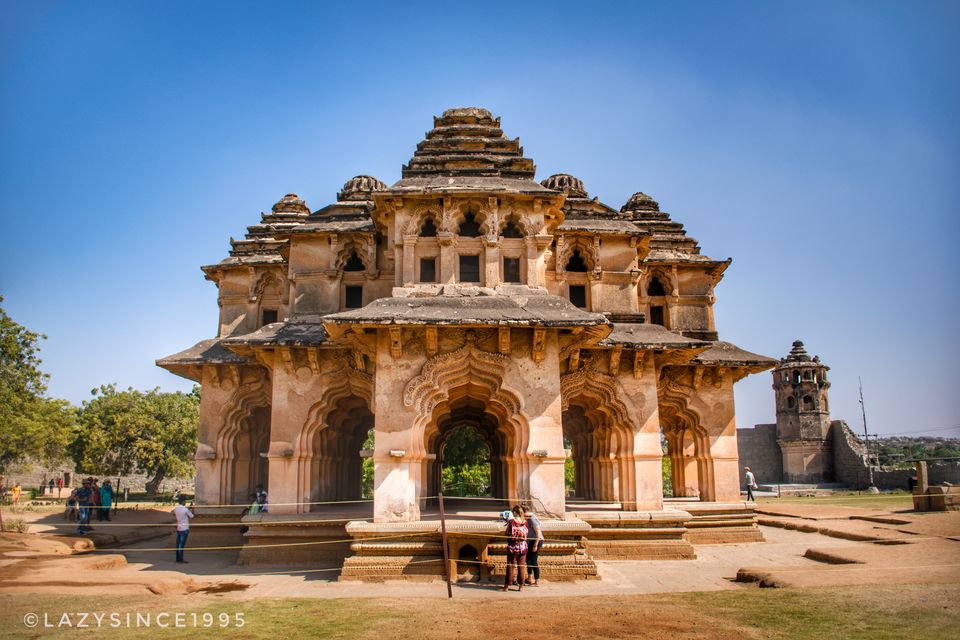 Elephant Stable, this structure is one of less damaged monument in hampi. This is also major tourist attraction in hampi. Built as park for Royal Elephants during Vijayanagar era. The building is consist of 11 domes long and the central one is taller than others. Elephants used to tie at iron rods inside the dome. There is Guard's place named place at left of Elephant's stable, do visit this place which holds all the idols found near by hampi of vijayanagar era. After exploring whole royal enclosure are we walked back to hampi. Rested for some time at Top Secret restaurant and left hampi around 4.30pm.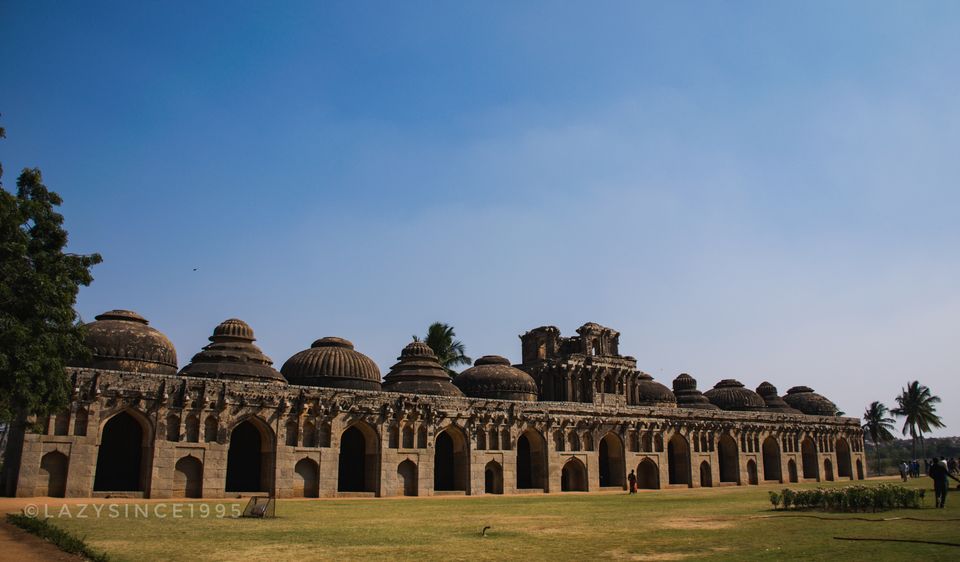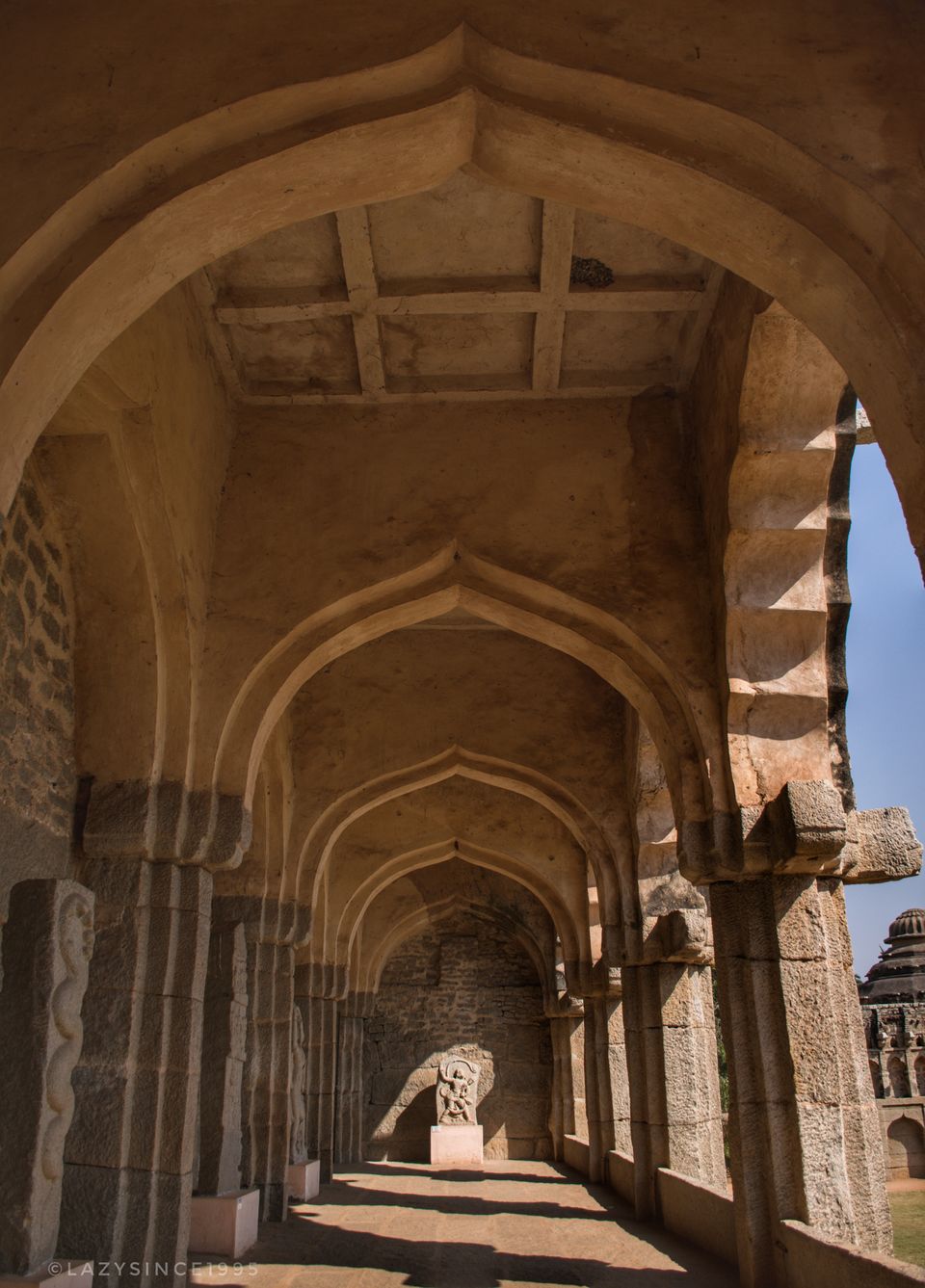 By 4pm we left royal enclosure, and reached Top secret restaurant where we had our bags. With heavy heart we said good bye to hampi... Hampi made special place in my heart now and I'm definitely coming back to this magical place soon.
#HampiPictures #IssSummerBaharNikal