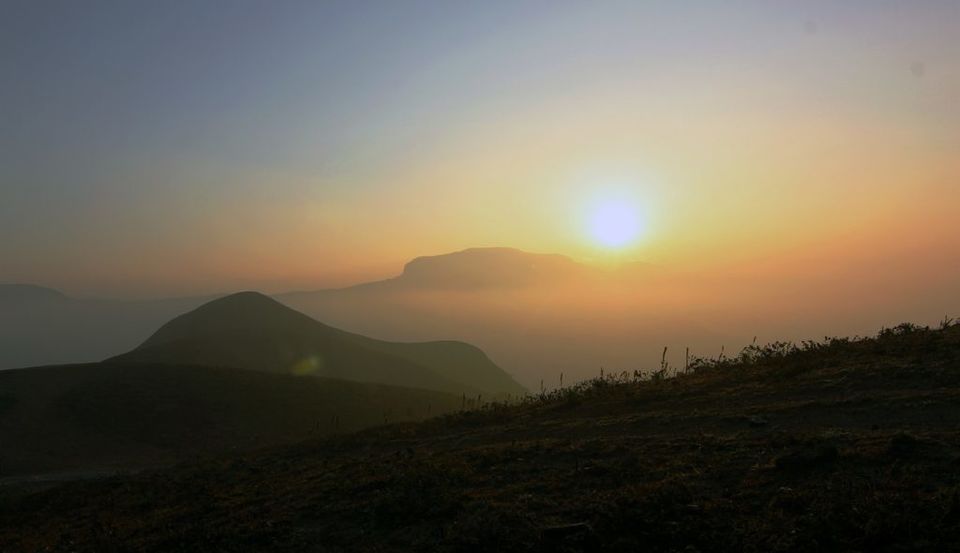 Bangalore, The train journey, relaxing in the hammock, river rafting, elephant safari, wildlife trekking, a renovated palace, camping, tree huts, homestay and more...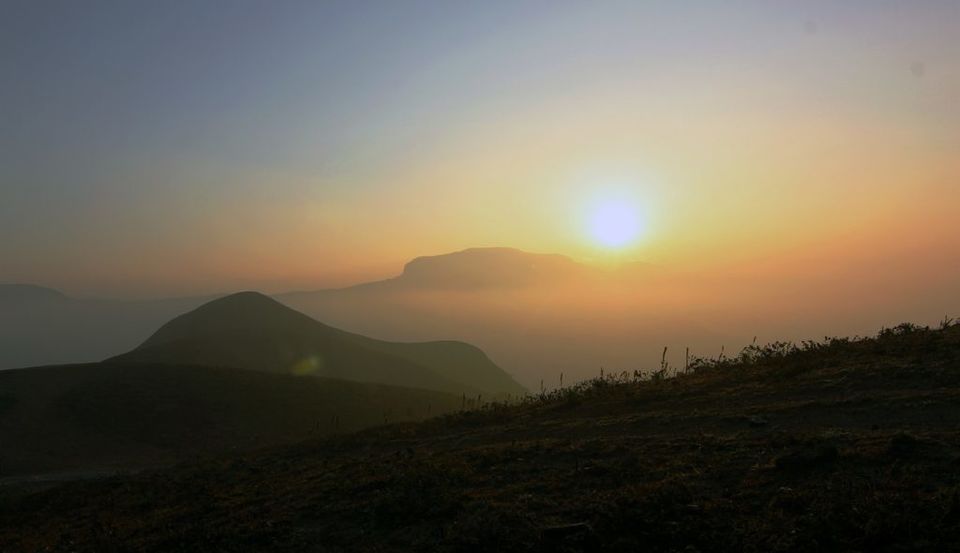 Sunrise, Bangalore
Looking for a break from Bangalore? This countryside and wilderness tour takes you to the southwest of Banglore city - into the depth of the mountains. From a renovated palace to tents in the forests and a homestay in Coorg - it's a tour for people looking for peace, home-cooked food and walking.
Bangalore Tour: 10 days/9 nights
Karnataka: Bangalore, Mysore, Biligiri Rangaswamy Temple Wildlife Sanctuary, Coorg, Bangalore
READ ABOUT LAKSHADWEEP AND ITS FAMOUS BEACH Day one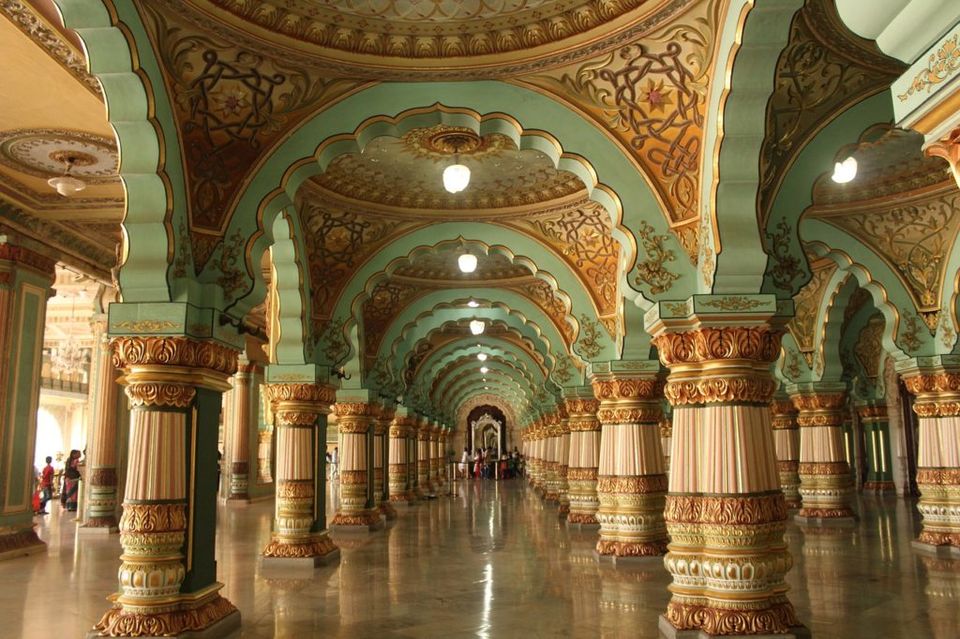 Mysore Palace
We make our way from Bangalore to rural West of the state of Karnataka. The first step of this journey is the 4-hour express train journey to Mysore.
Mysore, Bangalore is a pleasant city, with a cool climate, fine buildings and monuments, broad shady avenues, and well laid out gardens. Mysore Palace - the seat of the maharajas of Mysore - graces the city skyline - there's also a fruit and vegetable market, folklore museum and zoo.
Mysore has a lively history. It was the capital of the Wodeyar dynasty, feudatories of the Vijayanagar Empire, who declared their independence in the 16th century and ruled in Mysore until independence, barring three decades when Haider Ali and his son Tipu Sultan wrested power from them.
Depending on the time, we can take an Insider's stroll or rickshaw tour of the city.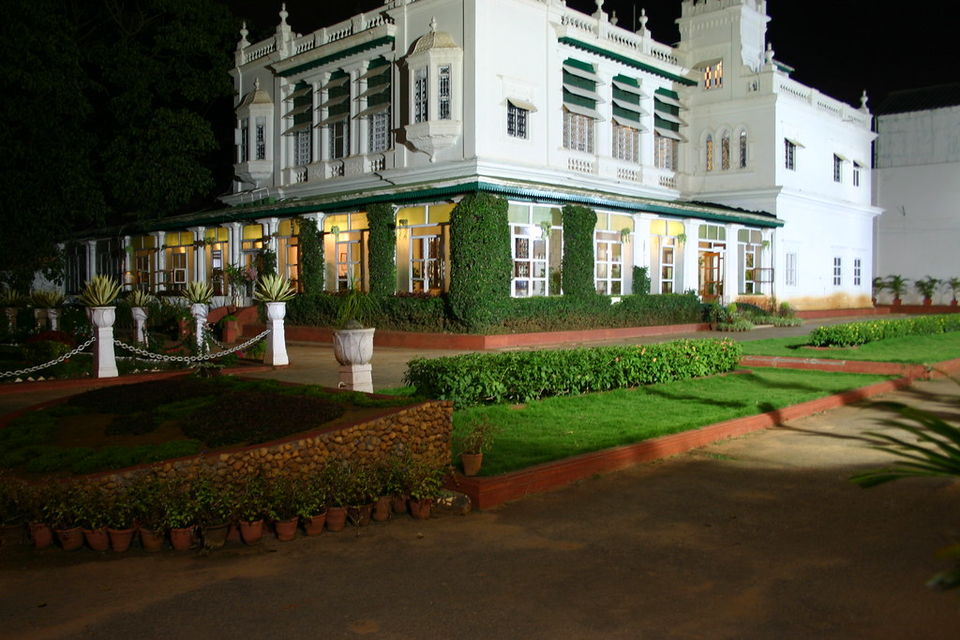 The Green Hotel
Overnight (1 night): The Green Hotel. The Green Hotel is a century-old palace built as a retreat for the Wodeyar princesses. Now restored, the sumptuous 24 bedroom hotel includes spacious sitting rooms, verandas, and library.
Guest rooms have dark-wood furnishings and high, wood-beam ceilings. Its Edwardian drawing rooms are equipped with chessboards, and its extensive gardens include a croquet lawn and shaded pergolas.
The Hotel has been set up as a model of sustainable tourism - food is locally sourced, waste is recycled, the building includes solar panels, and there is a strong policy of employing women.
READ ABOUT KANYAKUMARI Day two to three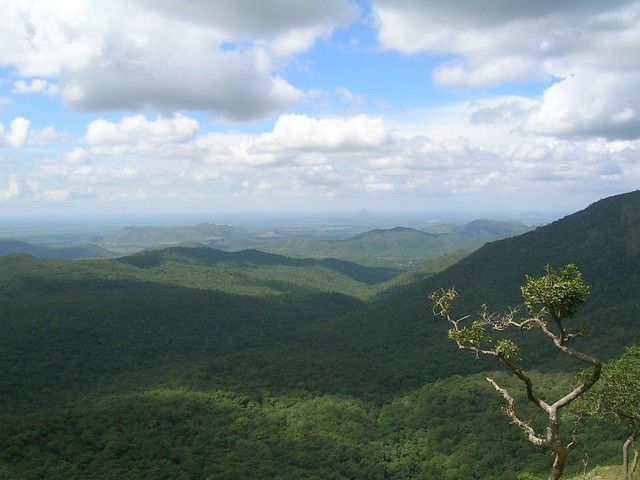 B.R. Hills
We take a two-hour drive to Biligiri Rangaswamy Temple Wildlife Sanctuary (known more commonly as B.R. Hills). The sanctuary is spread over 525 sq km, where the Eastern and the Western Ghats come together. Its hills, forests, and valleys fall under the jurisdiction of the state of Karnataka but its southern edge runs along with the state of Tamil Nadu.
The park is located in dense forests. The area is known for having a good population of elephants. It also has tigers, leopards, jungle cats, sloth bears, mongooses, civets, Malabar giant squirrels, wild dogs, flying squirrels, macaques, many varieties of deer and antelope. The park also has an excellent population of birds with over 215 varieties recorded until now.
During your stay, you can take a boat ride in a coracle (a circular boat, woven with bamboo and lined with buffalo hide), go river rafting, take a 2-hour trek through the forests on an elephant, go trekking, bird watching and fishing, or simply lie in a hammock under the trees.
Overnight (3 nights): within the sanctuary - either furnished twin bed tents or furnished huts on stilts, both with attached modern toilet facilities and lit by hurricane lamps.
There is no electricity on-site, making the evening by lamplight particularly atmospheric. Furnished rooms at the Maharaja's Bungalow with electricity are also available for a bit more luxury.
Day four to five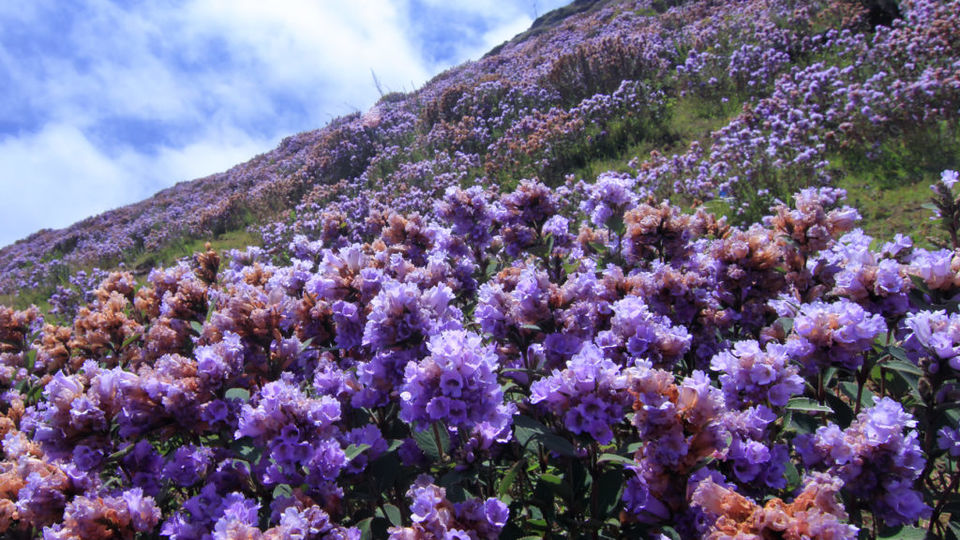 Stobilanthus Kunthianus
We continue south (2-3 hours), crossing the Karnataka border into Tamil Nadu and the foothills of the Nilgiris. Nilgiris - loosely translated means 'blue hills' - named after the Nila Kurinji (Stobilanthus Kunthianus) which blooms every 12 years and makes the hills look lavenderish blue. The next blooming is in 2030.
The Nilgiris topography is varied - open meadows, grassland, scrub jungles, dry deciduous forests, and tea plantations.
We can spend the next two days visiting the tea, coffee and pepper plantations; go walking or trekking, or take a jeep or elephant safari in the nearby national park.
READ ABOUT PLACES IN PERU
There are chances of seeing wildlife (sloth bears, elephants, bison, etc.) at close quarters here. The birdlife is particularly varied and exotic due to an immediate elevation of 3500 feet that provides a variety of climatic conditions.
Overnight: (2 nights). Jungle Retreat. The retreat is run by the Mathias family and is small and non-touristy. Seven cottages skirt the forest, with large verandas that look straight over the mountains and forests. Alternatives include bamboo huts, a tent or one of the spacious bamboo tree houses.
Day six to nine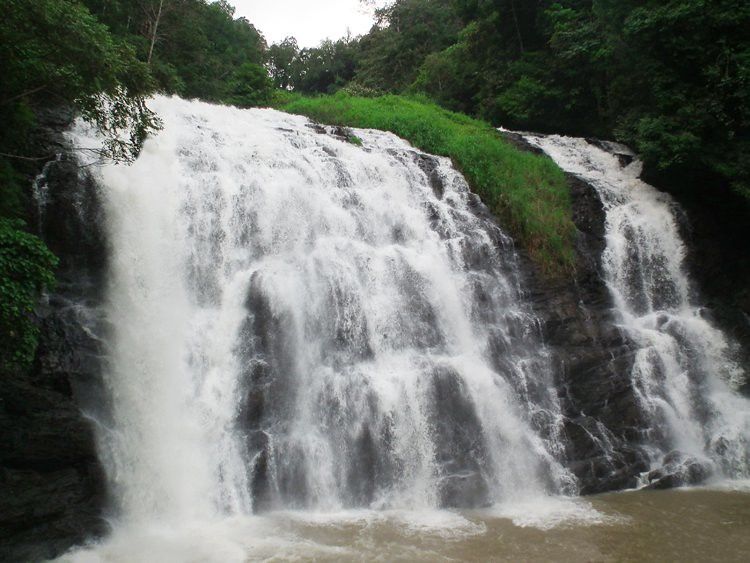 abbey falls Coorg
We make our way north to Coorg (or Kodagu) - a lush forested expanse in South West Karnataka. Coorg is often called the Kashmir of Karnataka for its cool weather and natural beauty. This small district is home to 350,000 people and is known for its coffee and tea estates, and the distinct culture of the people - their language, temperament, and lifestyles.
Kodavas, the natives of Coorg, are a Hindu warrior tribe known for their beauty and good humor. Several Kodavas have actively served in the Indian army and the "Coorg Regiment" is among the most decorated.
In all their years of colonization, the British never managed to subdue the Kodavas. It was a separate state with its own police force and administration until the early 1950s after which it was made part of the southern state of Karnataka.
Coorg has its own language known as "Kodava Tak" - a combination of Kannada, Tamil, and Malayalam. Traditional festivals are associated with either the agricultural or the military nature of its people.
The Coorg wedding is perhaps the only Hindu wedding ceremony where alcohol, dancing and meat-eating, especially pork, are a must. Coffee is found throughout Coorg, literally. Major towns appear as small pockets of life between the mountainous forests and coffee estates, connected by winding roads lined with hedgerows, flowering trees, and spices.
We stay at Honey Valley Estate - in a remote part of Coorg, near the tallest peak in the region, Thadiyandamole. It is possible to reach the 1,700-metre peak by foot within a day from Honey Valley.
Honey Valley
Until 1994, the estate was the largest producer of honey in India (approximately 6.5 tonnes per year) but the disappearance of the native bees stopped production. The estate now produces coffee, cardamom, and pepper, which are all grown as ecologically as possible.
The estate also has a small nursery of anthuriums. Honey Valley is virtually self-sufficient in many respects, including electricity which is generated by water power.
Our hosts at Honey Valley are the husband and wife owners of the estate, Suresh and Susheela Chengappa, who has lived in Kodagu all their lives. They have been at Honey Valley for 18 years and live there with their son and two daughters.
They all speak English and are very knowledgeable about local flora and fauna. Susheela and family daily prepare delicious traditional food, most of which is home-grown.
Your hosts can arrange for a trekking guide, should you need one. They are also able to give advice about shorter walks without the need for a guide.
Day trips to other places of interest can also be organized, such as Telecauvery (the source of the River Cauvery), Nagarhole Game Park and the Tibetan settlement at Bylakuppe. A large collection of reference books is available for guests to use.
Overnight (3 nights): Honey Valley Estate. You can stay either in the main house or in the separate guest house, a few meters downhill from the main house.
There are several guest rooms in the main house (with one or two beds) and more guest rooms in the guest house (the largest contains 5 beds). In addition, a couple of solitary huts are also available for rent.
These are isolated and basic but a stove and utensils are provided. Meals are served in the main house. Warm water and blankets are provided.
Day ten
We'll make our way back to Bangalore for your departure.