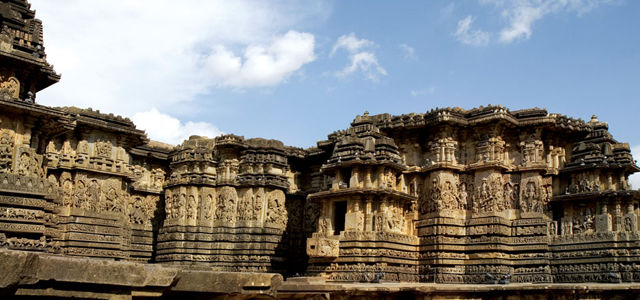 Today's plan was to travel in the first place in Sakleshpur local but the phone had come to know that our partners are coming from Bangalore today, so we thought that the hitchhikard will be here together. So in today's day, we decided to visit Chikmagalur along with the rest of my companions of Shravanabelogola Belur and Halibedo. Even today, we have to leave the hotel at eight o'clock. Now, to go to Belur, we have to go for forty-six kilometers. While leaving we went from Sakalshpur Yehhali road. The road was a bit narrow but was not bad. We did this because of the choice of this little bit, if there is a little more time in hand, then Belur Somervayet Road can also be selected, this road is much better. Looking at the greenery on the way, we stayed in a two-place and reached Belur in an hour.
Belur is known for the temple of Chennakeshava (Vishnu Bhagwan). From the outside entrance door, I thought that the architecture is just a fine temple, but the confusion has gone away from the inside. These temples built in the Hoysala period are very excellent in terms of architecture. Here, the poles in the temple are very fine carved, they were looking closely at as if somebody started a machine. All the small temples that are here are not made from the ground, they have been built on a high platform. The walls of the platform were also carved tremendously. Everywhere little small number of elephants were made. In an elephant it will be very hard, nor know how so much has been made. Apart from this, there were other figures such as God's idols, jewels, and even what do not know. Inside the temple there was a snake-shaped posture, in which people were photographed sitting there. A little bit of photography, we also came out of curry and temple complex.
People who were selling small plots were walking around looking at the child, they looked back, we also took a violin of eighty rupees and saved my life. After this, hunger was also there till now, after moving forward, after seeing some junk food, Dosa Corner was found and stomach was worshiped. The next goal after eating and tea was to go to Halibedu. The distance from Belur to Halibedu is thirty kilometers, and this path is not as good for driving. Well, when you walk once, the floor goes. Halibedu is known as Belur's Twin City. Halibedu means the destroyed city. In the early days it was also known as Dwarasamudra. There are also small big three temples here known as protected monuments. The last temple is known by the name of Kedareshwar temple. It is likely that few people would have been going there only. The door of the temple was opened on our arrival. Until now the heat reached its peak, the feet started walking, with bare legs. From here we got back in a hurry and we skipped the Jain temple in the middle and after this the temple of Hoysalawar was lying. These temples are also very excellent in terms of architecture and the highest maintenance is kept. There was also a park for kids to play in which people were resting. By coming out of here we bought a bit of apples and oranges and byeing twelve hours at Belur Halideu.