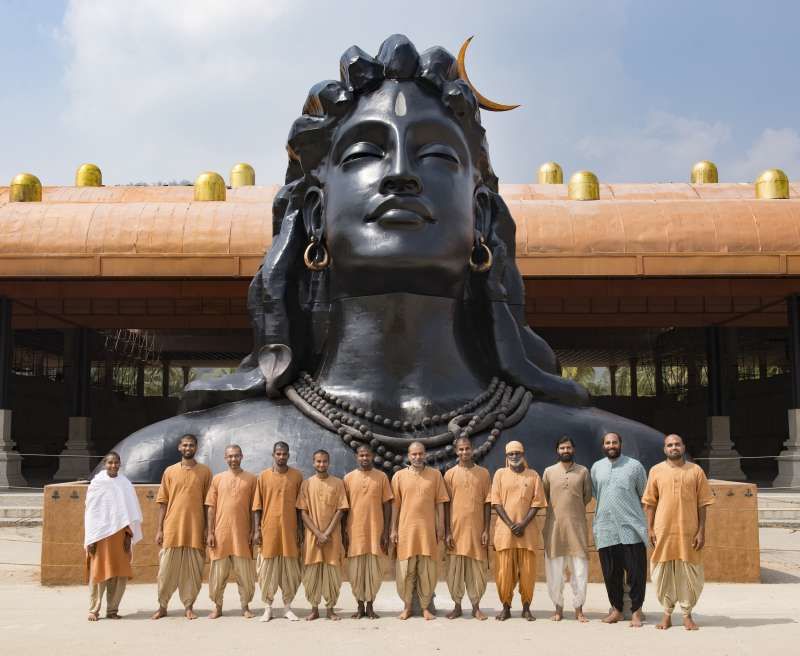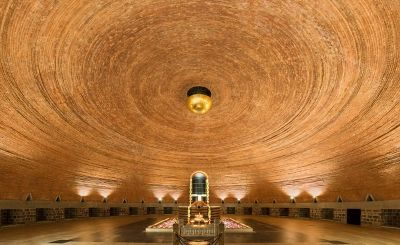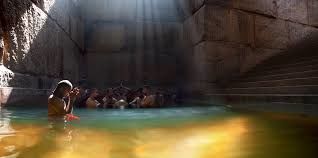 DHYANALINGA – ISHA FOUNDATION
A trip to Dhyanalinga at Isha Foundation near Coimbatore topped my wishlist. Last month, my wish materialized. Me & my two colleagues started off on a late Friday night, to catch the Coimbatore-bound bus at Mysore Bus Stand. Five hour road journey it was, passing through Dimbam ghat with 27 hairpin bends. Bus halts for a while midway somewhere in the jungle, for passengers' refreshment and washroom clearance(!). A sip at the roadside tea shop here at midnight is an experience in itself. We reached Coimbatore at 5 next m.ning, finished morning ablutions and got into the cab. But the driver suggested that we push the Isha foundation visit to the evening, so that we get a good view when lights are lit around the 34 mtrs high Adhi Yogi (Siva) statue there, at dusk. To kill time until then, he suggested that we first go to Marudamalai, the abode of Lord Muruga - a look-alike of Chamundi hills (Mysore) - have darshan there, then move on to Malappuzha dam, a 40-km drive from Coimbatore city - which we promptly obeyed (?). After finishing these, we landed at our star destination - Isha Foundation – set up by internationally acclaimed Indian spiritual leader Sadguru Jaggi Vasudev and inaugurated last year. We could view the gigantic Adhi Yogi statue from a distance - an indication that we are nearing the Ashram. His saffron-cloth clad foreign followers were seen heading towards the Yoga centre, a part of the Ashram complex. Once there, visitors have to park their vehicles at a distance and go on foot upto the statue point. The bust-size statue of Siva Linga built in an open space sans any roofing, is black tinted. Looking at it closeby is stunning. The big ears and the ear-rings literally make a visual treat. The Isha Yoga Centre is fully dedicated to foster inner transformation and creating an established state of well being among individuals. After a go-round of the statue we saw a ticket counter on the left corner where heavy-built bullocks were tied to make-shift carts each, to carry visitors to the Ashram site, a 300 mtrs distance, of course for a price (Rs.10). A small pathway leads to the main ashram building. On both the sides, bookstalls and CD shops are lined up. As one enters the main building, one hears a thunderous sound of water falling from a height causing two waterfalls Suryakund and Chandrakund, below, where visitors are allowed to have a dip; of course separate enclosures exist for ladies & gents. Each one is given a cloth to tie around, while taking bath. Going further, leads us to the main shrine of Dhyanalinga. On the way back, we see a big high-rise platform with a temporary roofing, where people are seen doing various yoga asanas. The walk ends at the other side. Can take a cart-ride back to reach the main Siva statue, or can even walk down the distance. For an experience, we opted for the cart ride while going, and on return, chose to walk. It was dark by then and we were in for a surprise looking at the illumination around, centred at the idol. An inexplicable feel it was. Now time to get back to Coimbatore to board the bus for the return journey.
Entire trip could be covered in a day. But a visit during the mid week would be calm & quiet, with no much crowd around. IT employees can visit once to reduce their mental stress.
Frequent searches leading to this page:-
mysore itinerary for 2 days, 2 night 3 days mysore itinerary, places to visit in mysore, 1 night 2 days bangalore itinerary, 2 nights 3 days package from mysore, mysore 2 day sightseeing