A place where history, mythology & nature meet
Visiting this UNESCO World Heritage Site was much-awaited trip for Tripanians. Therefore, keeping the itinerary crisp and paying due respect to the world famous and ancient place of the country, we planned our road trip from Pune to Hampi during early monsoon period for 4 days. Before we move ahead on this, allow me to provide a brief about this magnificent place.
Hampi, also known as Group of Monuments, a UNESCO World Heritage Site is a place situated in Indian state of Karnataka which extremely rich in absolute ancient history. This place became the centre of Hindu Vijayanagara Empire capital in 14 th century. History mentions that, Hampi has always been a wealthy/grand city, which was also World's second largest medieval era city, situated near famous Tungabhadra River. Let us fly back in time, dear reader, to Hampi's mythical origins.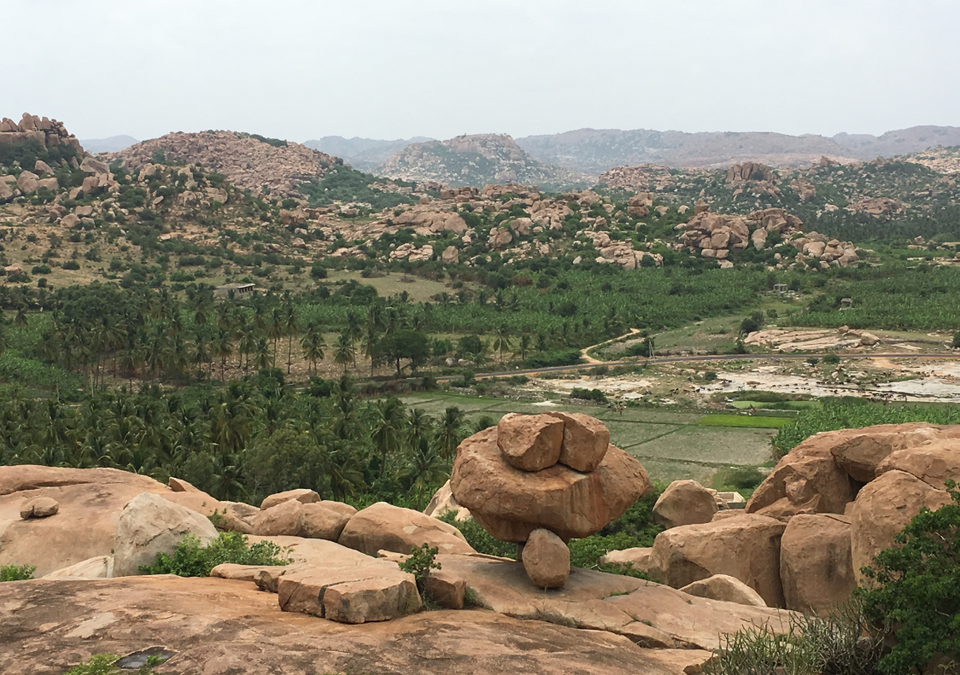 Day 01 - Pune to Hampi (565Km)
We started our journey from Pune in later afternoon in order to avoid traffic over Highways. Soon after we started, it was pleasant evening and roads were calm. We enjoyed some light music in our road rocker, Honda BRV (ideal for road tripping times) and drove overnight. We had some amazing dinner at highway dhaba and resumed the journey. With the only single, 1 to 1.5hr break we continued with the journey and reached Hampi around 3:30AM. Throughout, roads were amazing unless the last stretch to reach Hampi due to ongoing construction work. We were extremely tired so we checked in the hotel and slept off to make maximum from upcoming days.
Day 02 - Hampi Sightseeing
We all woke up early morning with those enthusiastic faces and eyes, keen to explore this historical place. We grabbed some nice breakfast in hotel and started with itinerary of the day, and very first in the list was the Virupaksha temple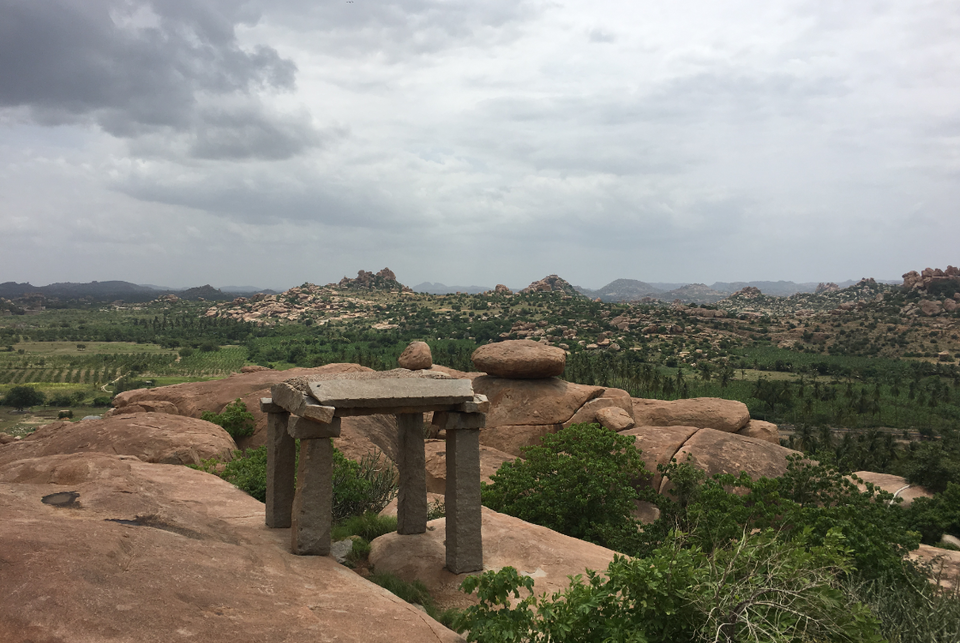 The Virupksha Temple of Hampi is the oldest shrine and attracts many tourists as well as pilgrims throughout the year. The 11 th century temple is spreaded over a vast area consisting of tall & small temples (known as gopurams), a Hindu Monastery, a water tank (known as Manmatha), a kitchen and a 750meters long ruined stone market. We greeted the god therein, spotted many monkeys and a wise elephant ( named as Laxmi) in the temple.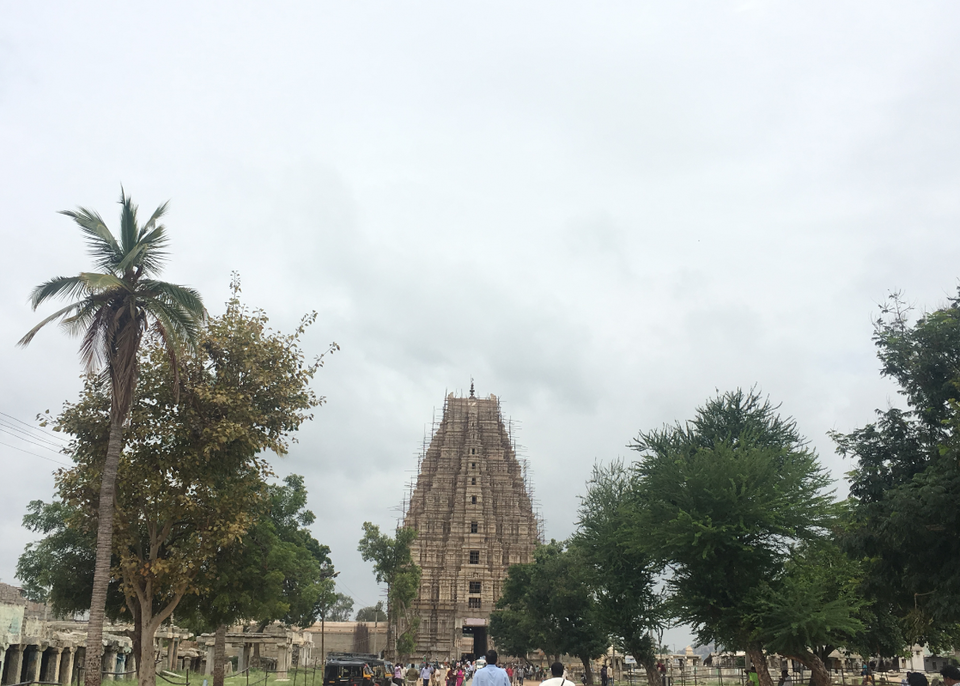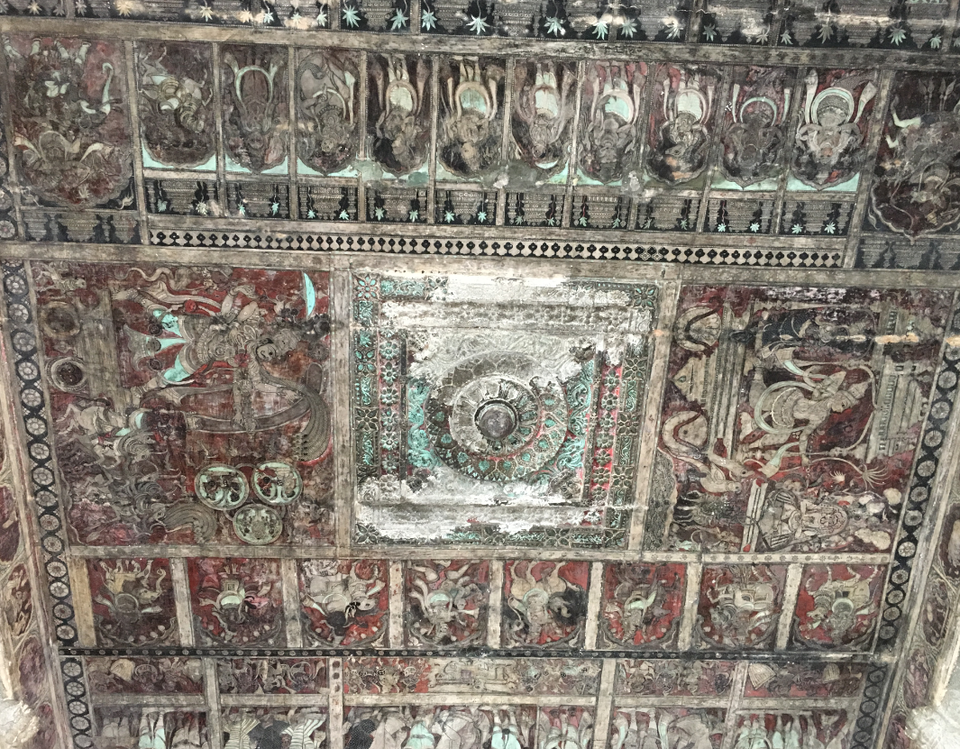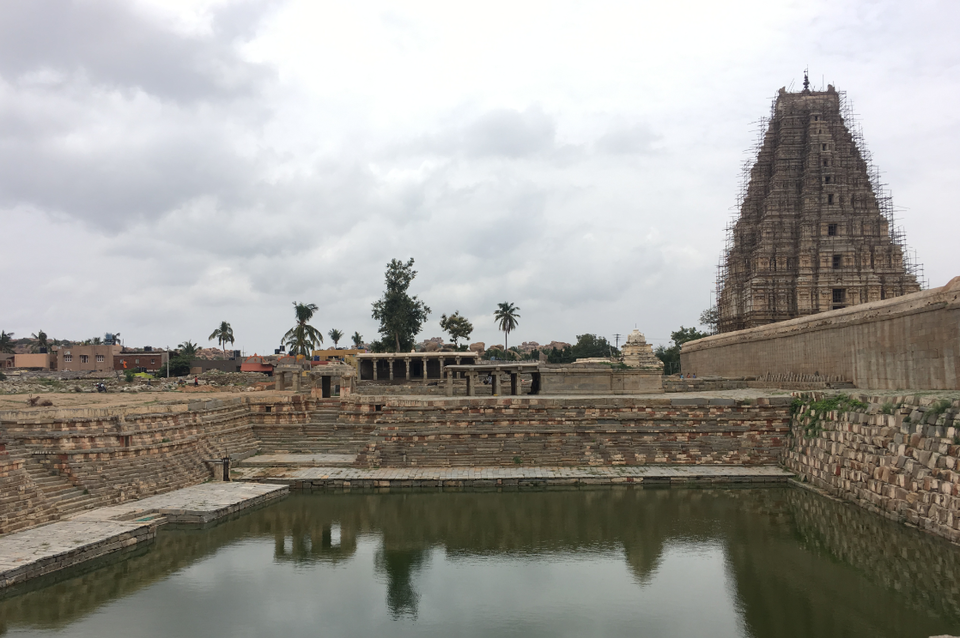 Thereafter, following the list we left the ancient temple and climbed an elevation for spot number 2 , i.e., Hemakuta hill monuments which was near the Virupaksha temple, towards its left. We followed the path and reached the main area, which has around thirty small temples and these hills have the incriptions linking Hampi with the Kampili Kingdom. The most famous temple is one where one can see two massive monolithic sculpture of Lord Ganesha.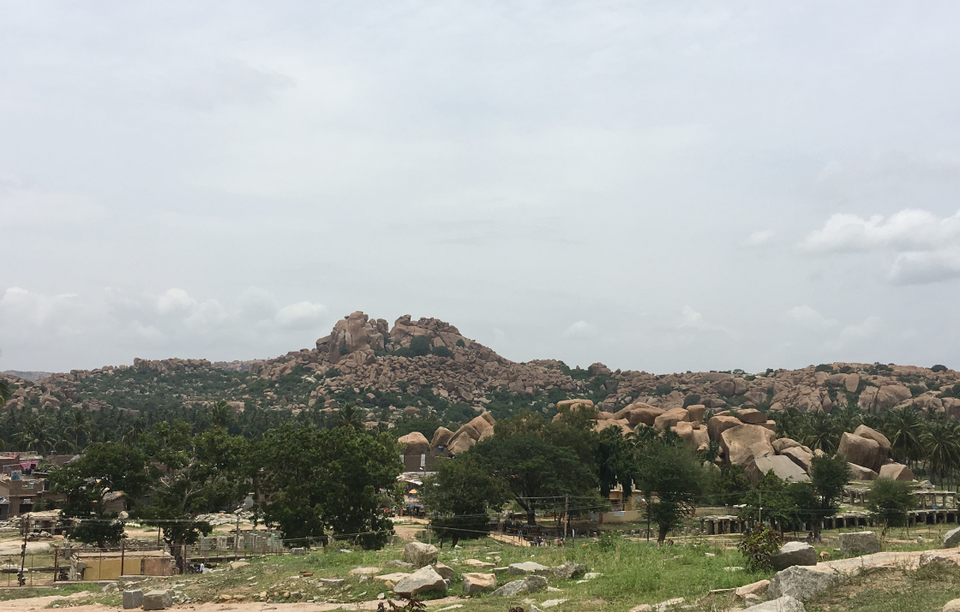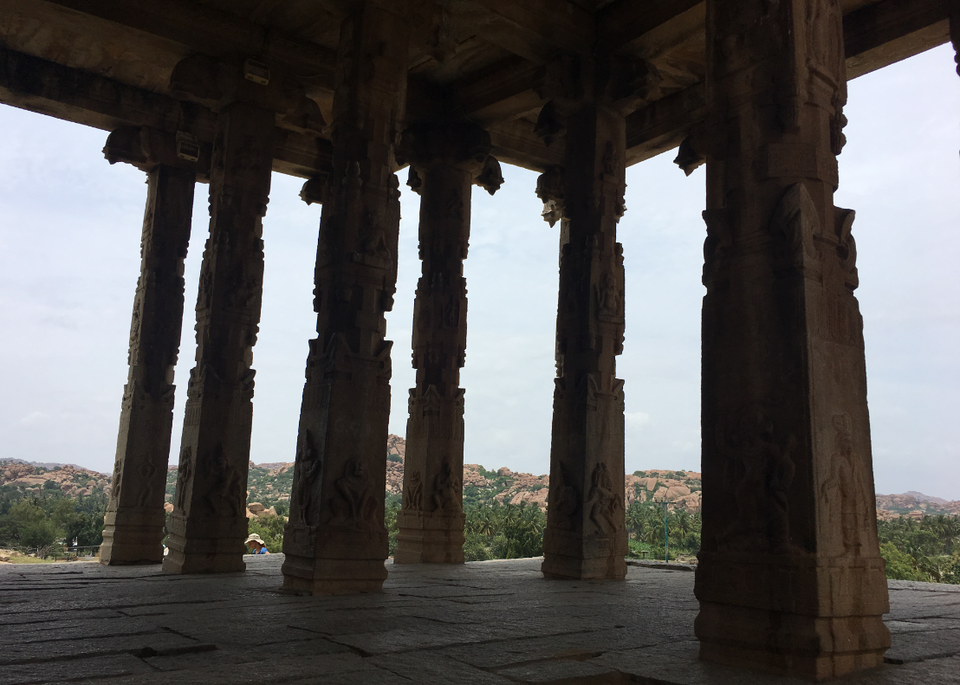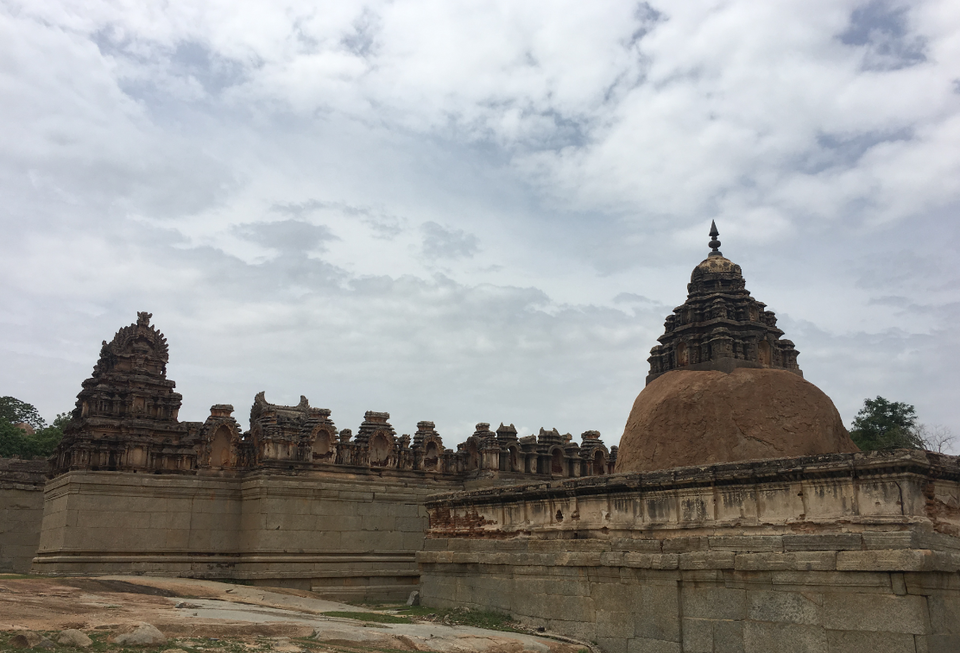 Let me keep you all updated, that even in th month of August, Hampi was extremely hot during day time along with humidity, therefore, a hat & loads of water is necessary while travelling to all these spots.
We hopped onto our third spot of the day, that is, Vitthala Temple & Market Complex. In order to reach here, we opted a local conveyance i.e. an Auto Rickhaw, which was a fun and economical ride to cover distant tourist's spots. One can opt for rented bicycle or motorbike in order to commute. As we reached Vitthala Temple, there were battery cars running inside the complex, which will take you to the temple area, which is nearly 3km from start point.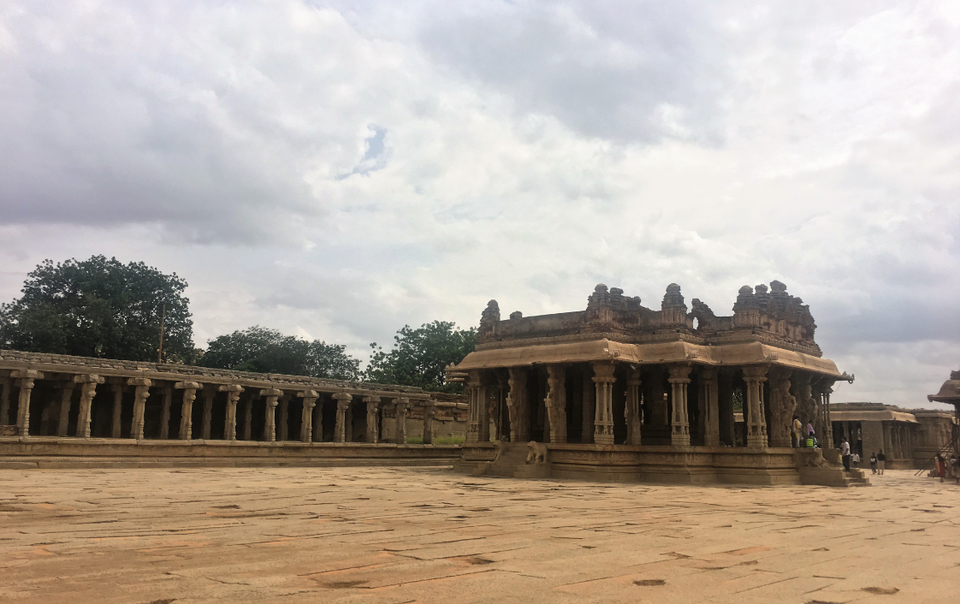 As we enter the temple complex, there was the famous Stone Chariot ( also known as Garuda Shrine), this a classic example of artistic architecture and is often pictured as pictogram of Hampi. In front of the chariot, there was ancient public community hall ( known as, Mandapa) which has 54 beautifully stone-carved pillars, which produces a musical sound.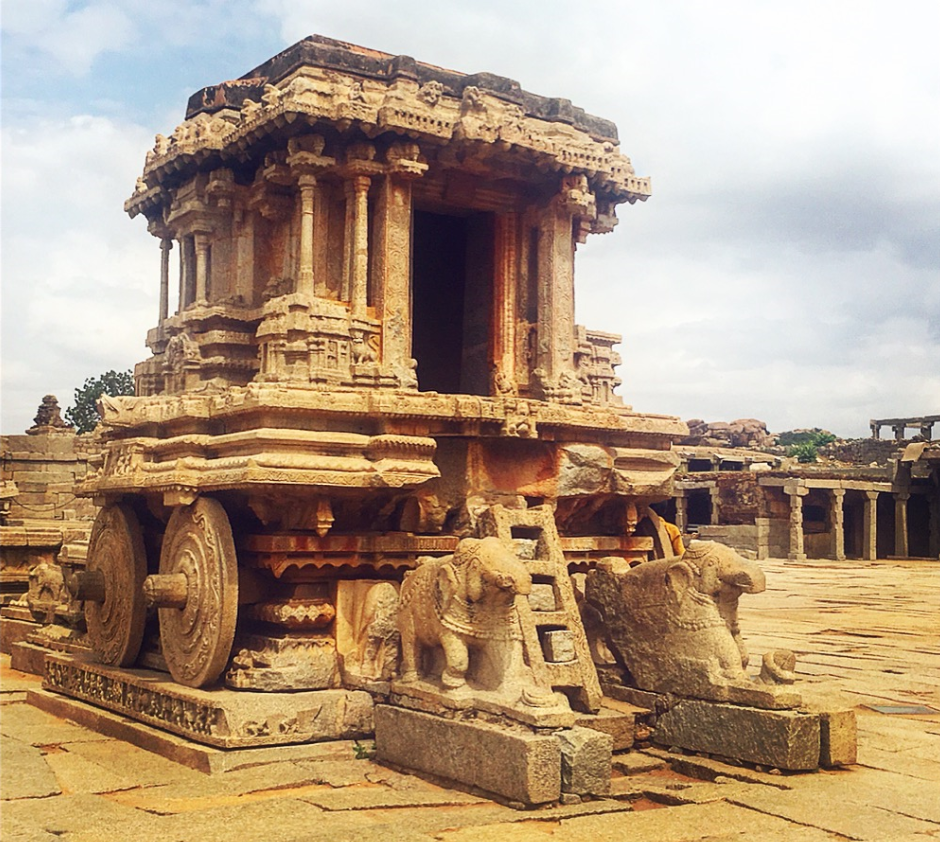 Next, one on list was Hazara Rama temple, also known as Ramchandra Temple. The outer & inner walls of the temples have the beautiful carvings depicting famous Hindu festivals celebrating Mahanavmi, spring ( Holi) and Hindu epic, Ramayana. This temple has beautiful architecture, which depicts clear links with Ramayana. As climb up from a sideway, we reach a cliff area which offers the beautiful view of the city along with small Lord Shiva shrines.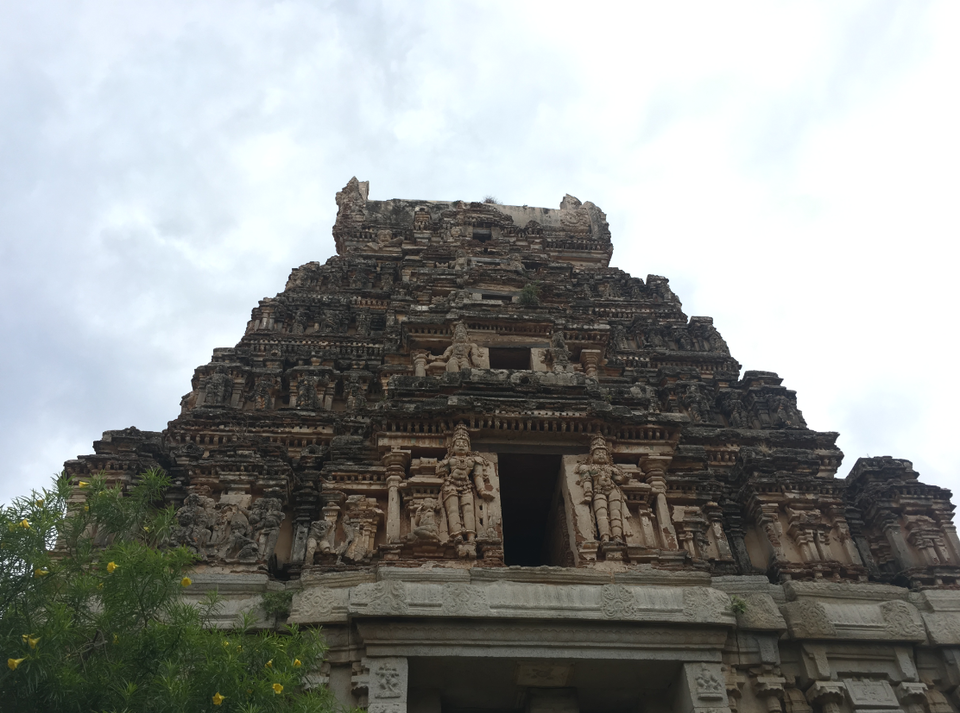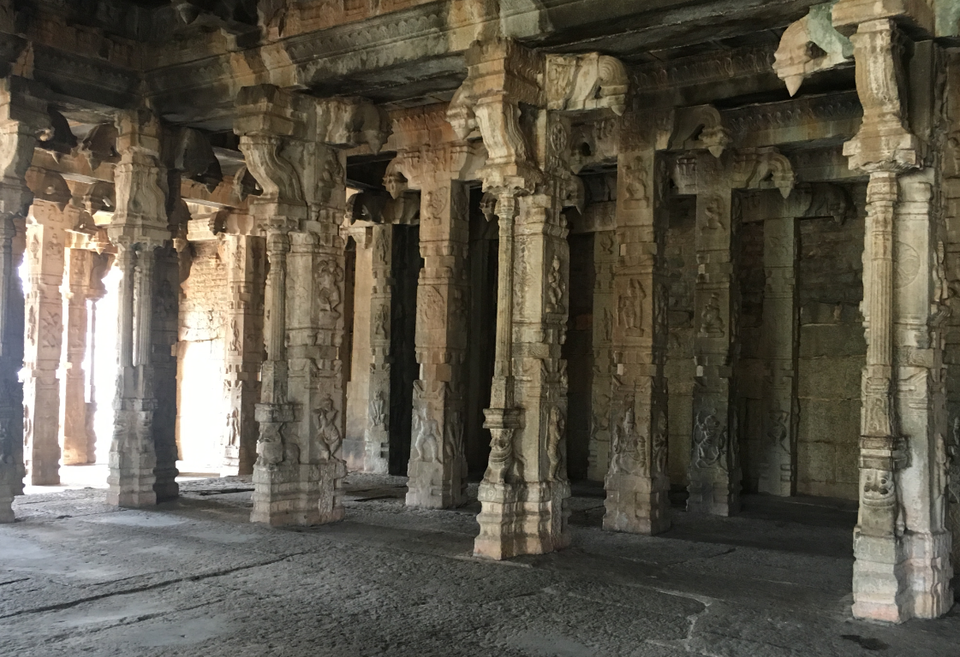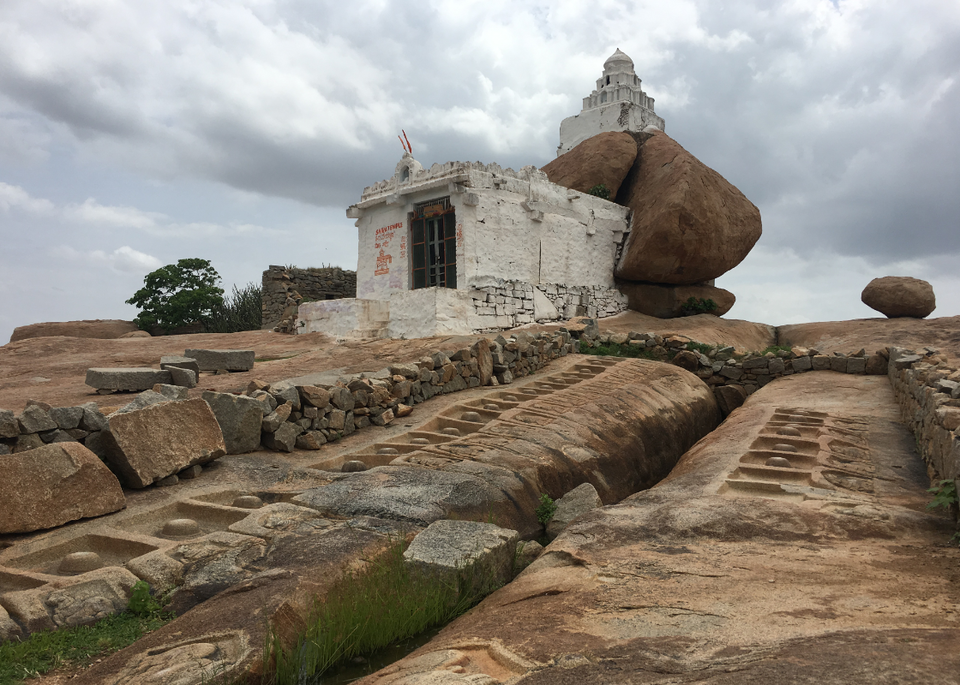 Along with above-mentioned key places, we visited other famous spots like, Krishna temple; Narasimha and Linga; Mahanavami platform; Stepped square Water tank, Lotus Mahal and Elephant stables. All these places made us fall in love with our culture and ancient history; we were spell bound with the architecture, beauty of the city and people.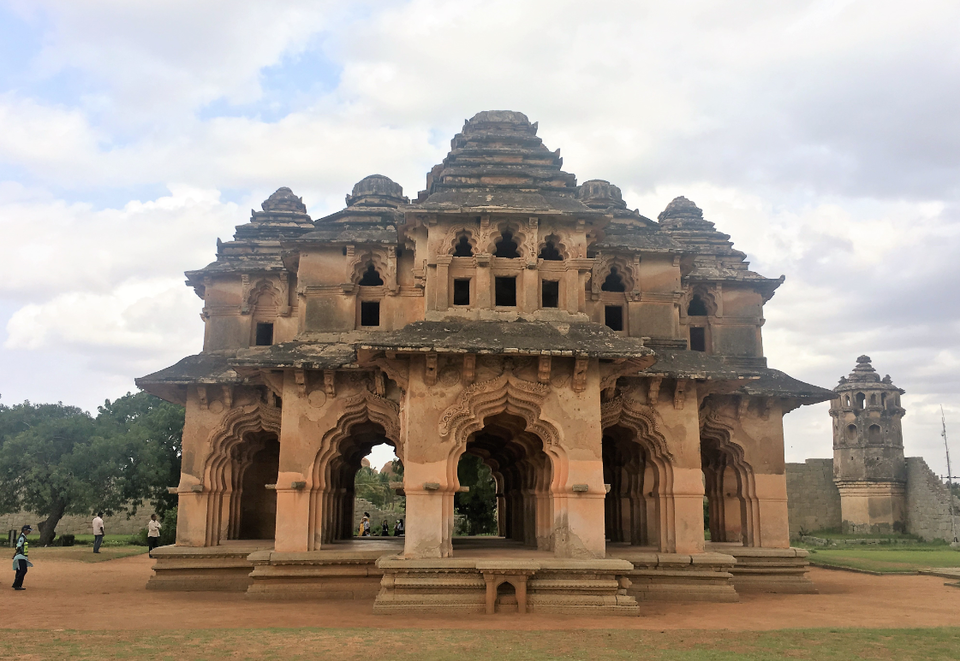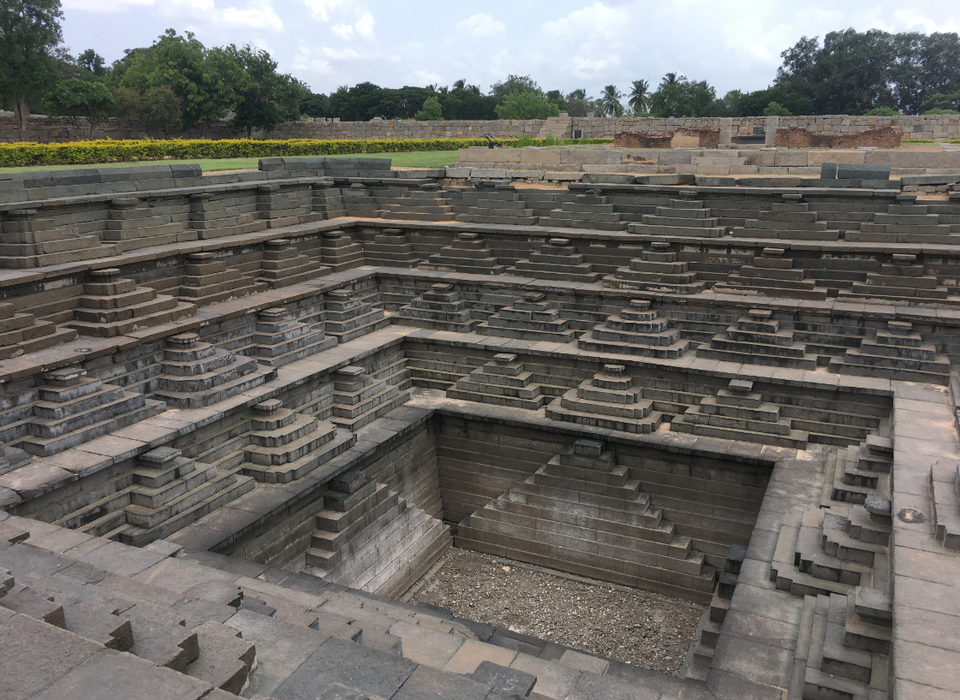 As it was already later afternoon, now were were looking for some delicious food and we found a café near Virupaksha temple area, named as, Mango Tree Restaurant. We grabbed some heavy lunch including paranthas and pizza, and food was finger licking.
To enjoy some nice sunset view, we walked till Tungabhadra River, and sight was breathtaking. Sun was peacefully setting behind those rolling rocks of the city spreading its colors on the ancient God land making it extremely special. That view was an absolute treat to eyes. Thereafter, we reached our hotel, took some nice dinner with light gossip sessions followed by good nights.
Day 03 - Tungabhadra River Boating
Previous day we inquired about the famous boat ride in the river, and we reached around 11am for this. It was a bright sunny day and all of with happy faces were ready for this joyous ride. Let me introduce this absolute new style of boating, that is, Coracle Ride. These Coracles are amazing type of manual boats, which are round like basket. These are quite famous in South India. We were provided with life jackets and sat in the Coracle, and experience was amazing to the core.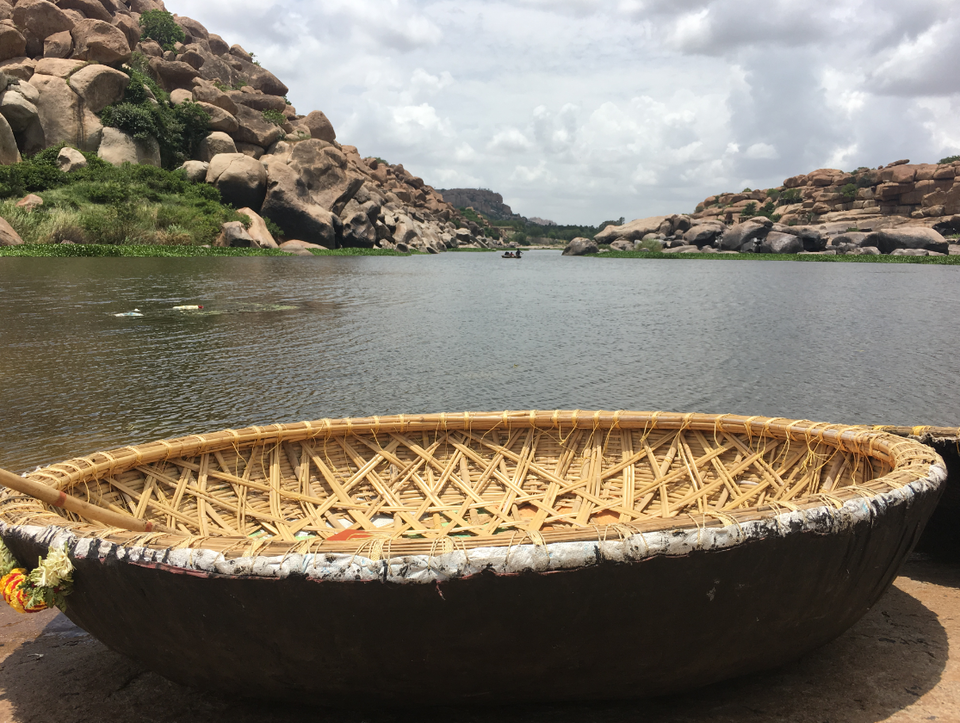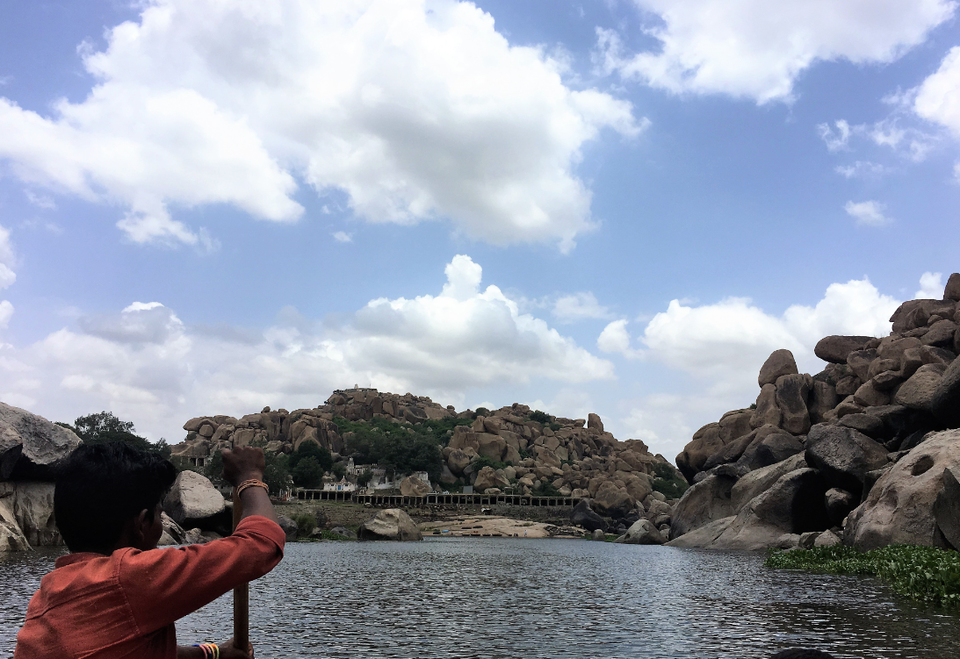 During the ride, the guide told us about few ancient temples there. We parked our boat aside and visited those 16 th century stone temples. It took us ~1.5 to 2hr to cover the entire part along with boat ride and experience was exhilarating.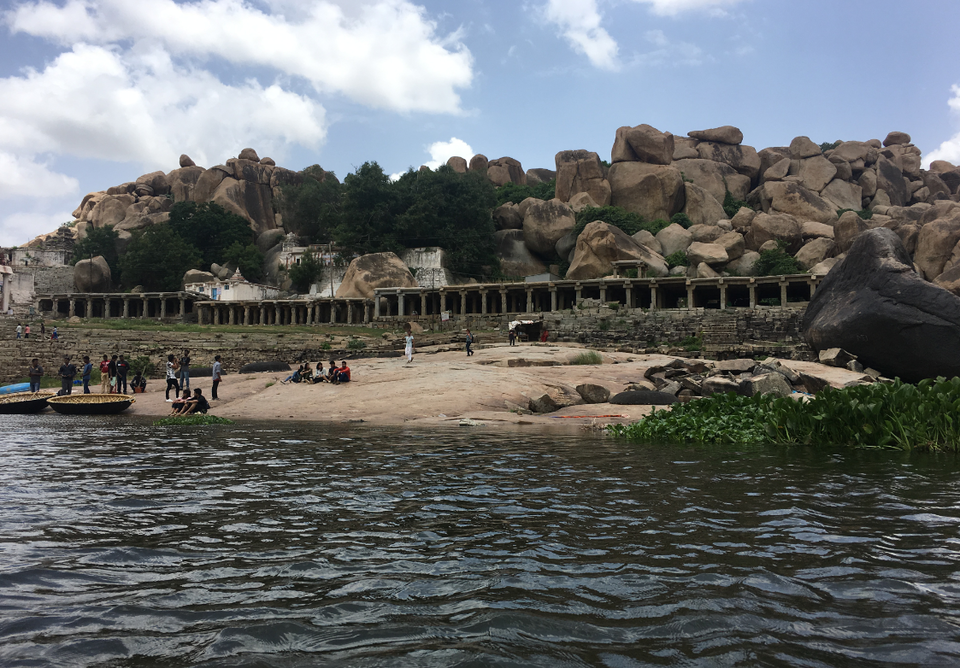 Post this we grabbed some light snacks and started our journey of 565Km, back to Pune, on our way we enjoyed some light showers too. This trip made Tripanians fall in love with Indian history all the more.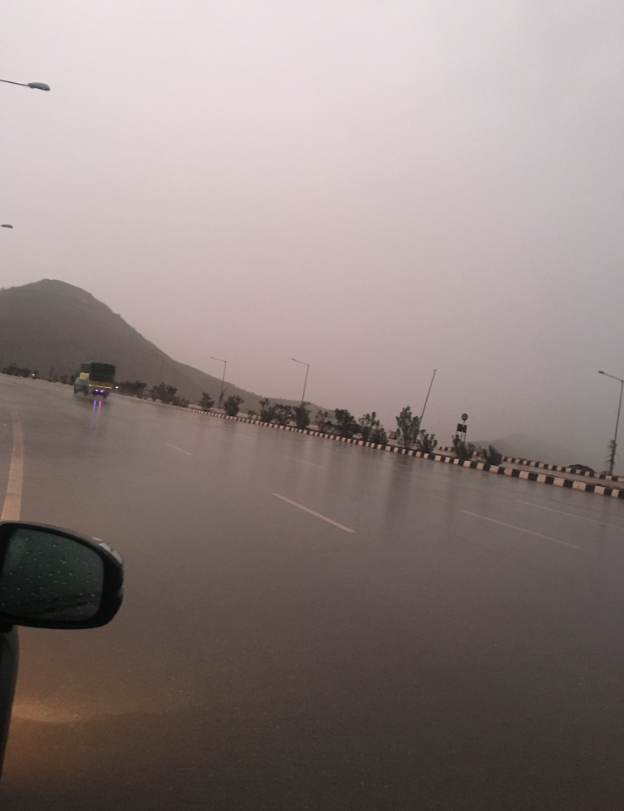 Plese visit https://www.tripanians.com/ and reach out to us if you are interested in similar trips, we provide exclusively curated Self-Drive RoadTrips.