We boarded Matsyagandha Express from Mumbai. (Stops- LTT, Thane and Panvel). The train crossed Panvel station at around 4.30 PM. We travelled as a group and the entire train journey was a lot of fun as we played various games like Mafia, UNO, etc., chatted with each other and had a good time.
We left our guest house at around 8.30 AM and our first stop was Apsarkonda Falls. We had yummy breakfast at a restaurant on our way and at around 10.20 AM, we reached the waterfall. This place was beyond beautiful. Water from this pristine waterfall descends from a height of about 50 feet to a natural pond formed below it. The water is very clear and the roots of trees, small natural hidden caves, branches covered with mosses make the views enchanting. People can take bath in the pond formed by the waterfall.
From Apsarkonda Falls, we hiked a bit though a Park maintained by the forest department to reach the Apsarkonda Beach. The Park has a view point which gives incredible views of the surroundings. This beach is yet another undiscovered gem. Though it is not advised to swim in the water because of strong currents, one can just sit and enjoy the unadulterated views of the ocean. There is a beautiful lagoon with greenish water named Kelginoor lagoon near the beach which adds to the beauty of this place.
From here we proceeded towards the beautiful beach town of GOKARNA. We got down from our vehicle near the parking place for OM Beach and started our hike to reach OM BEACH. The beach is named as OM as it is shaped like the symbol "OM". We walked and reached the other side of the beach, sat on the rocks, clicked pictures, took in the positive vibes which this place had to offer and started to walk towards our next beach destination- the very famous KUDLE BEACH. This beach is my personal favorite amongst all the beaches which we visited on this trip. Just walking along the shore with water soothingly touching my feet is my idea of bliss. After visiting Kudle beach, it was time for another hike to see the incredible views of Gokarna Main Beach. We stood there at the top of a hill and witnessed sweeping views of the ocean below. Then we took stairs and descended to the main town of Gokarna wherein we visited the Mahabaleshwar Temple and then proceeded for a late (pretty late) lunch at around 5 PM. But who gets hungry, when you have so much beauty to absorb. After having food, at around 6 PM, we left for another hidden gem- Belekan Beach. This was a quiet beach with few local children playing cricket nearby. From Belekan Beach, we hiked to the Belekan Lighthouse from where we witnessed a mesmerizing sunset! I wonder if there is anything more dramatic and colourful than a beautiful sunset! After clicking pictures of the gorgeous views, we hiked down to have chai and mouth-watering pakora at a local's place. At around 8 PM, we started our return journey for Murudeshwara. We had dinner at a restaurant on the way and We finally reached our guest house at around 12 AM.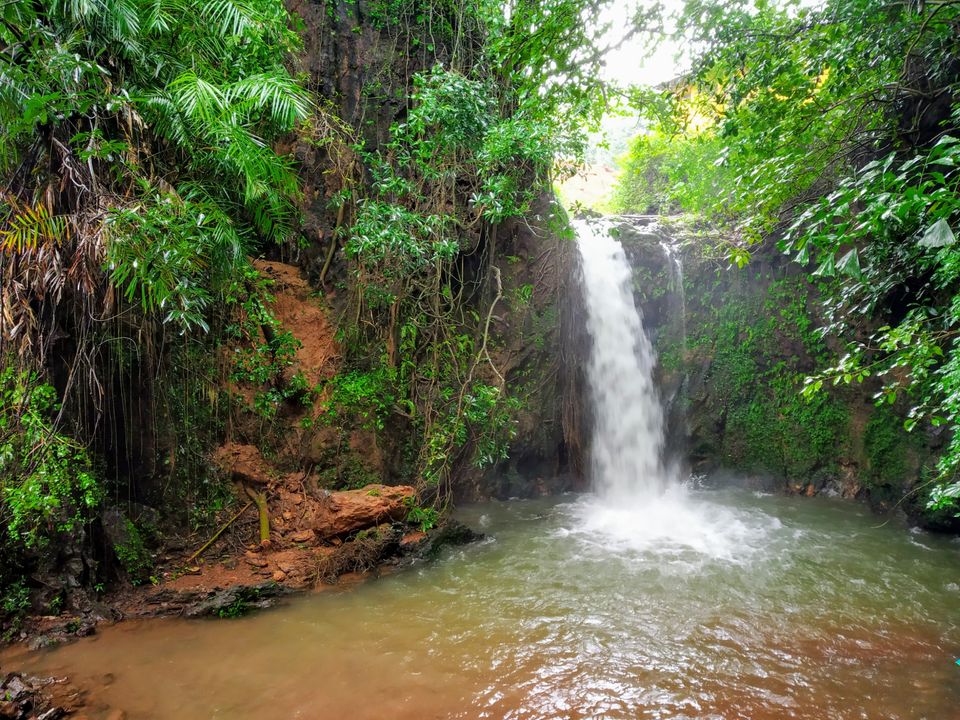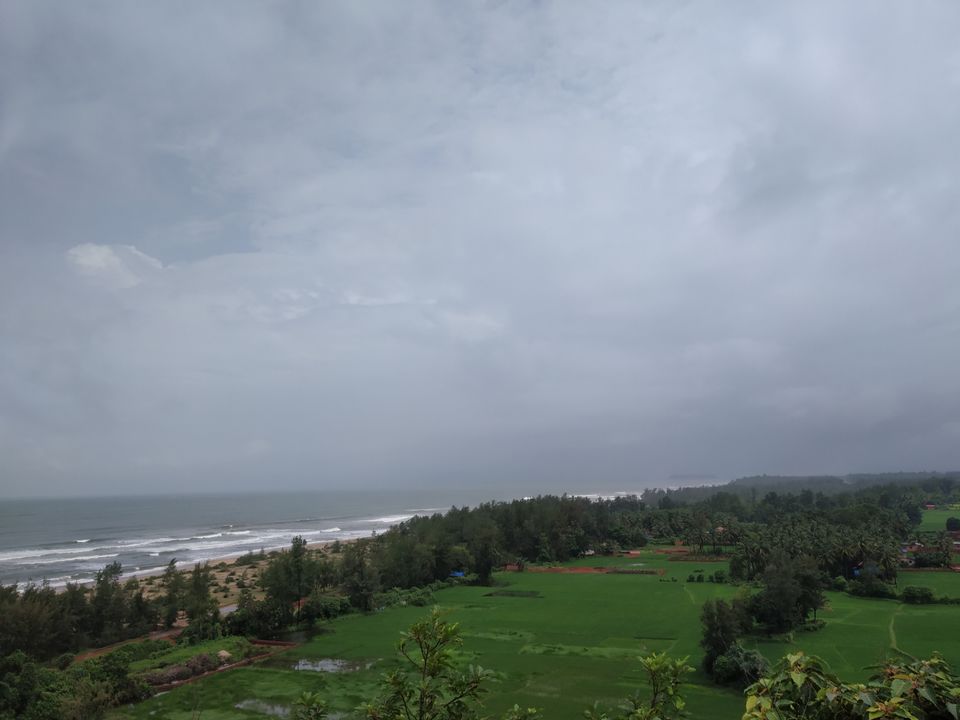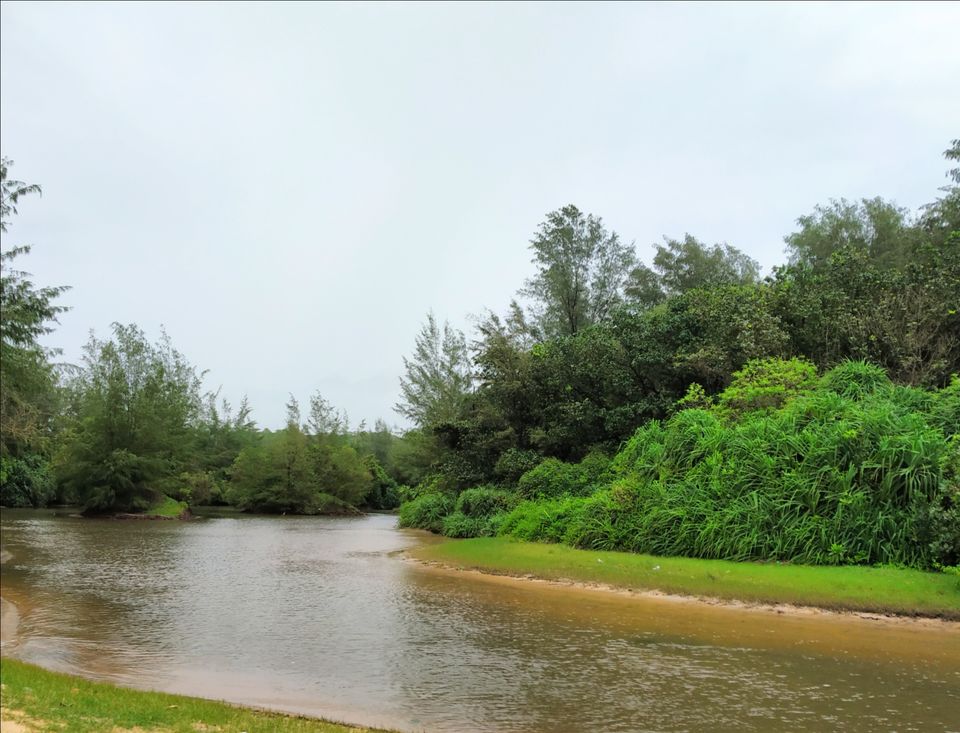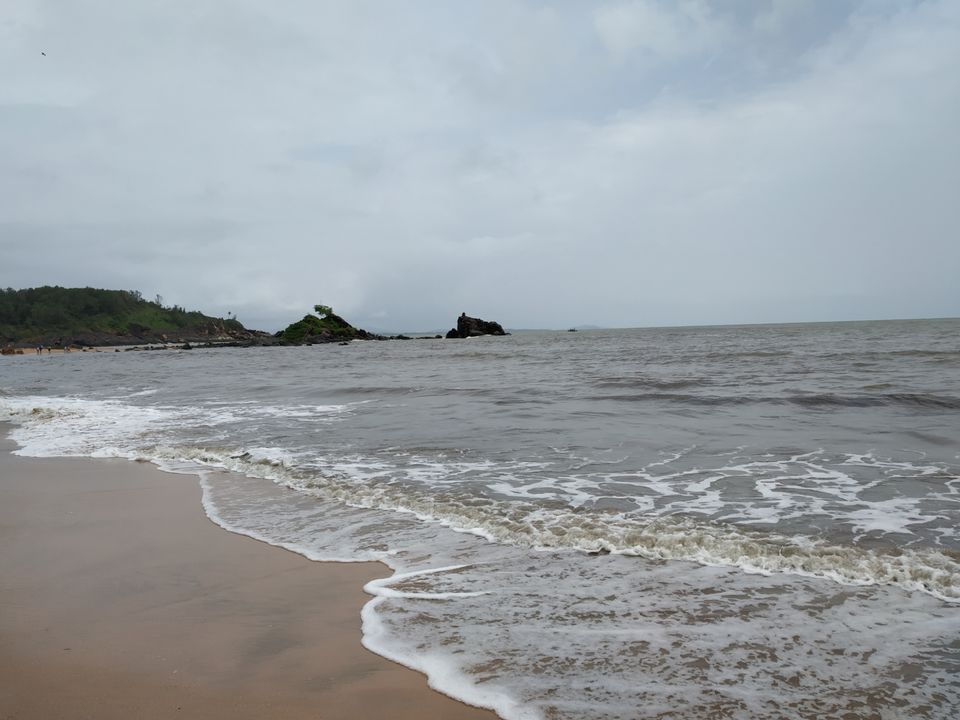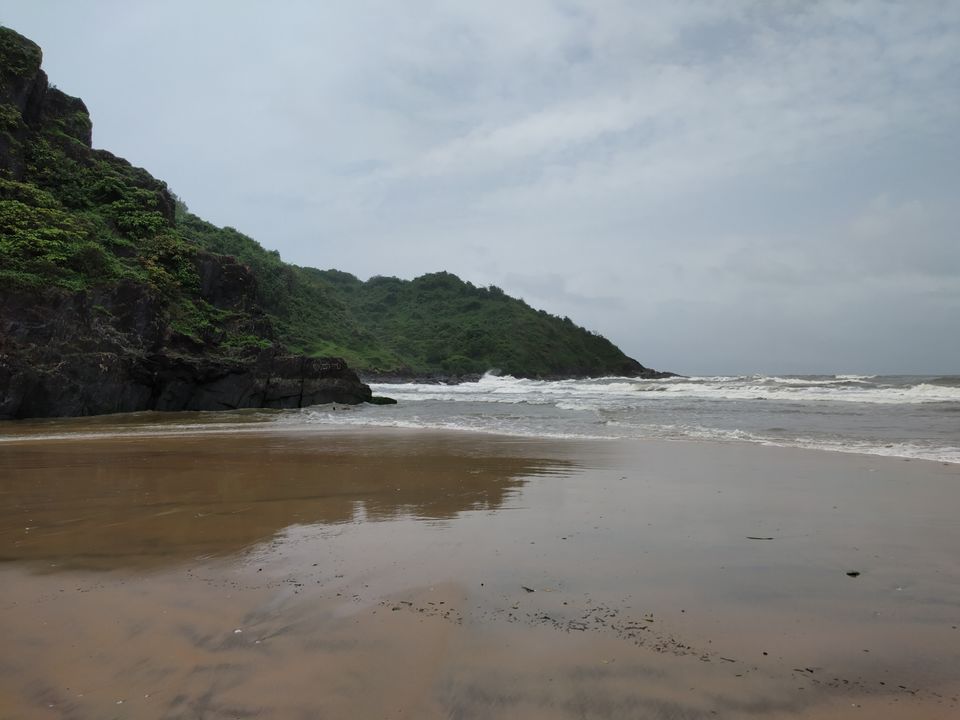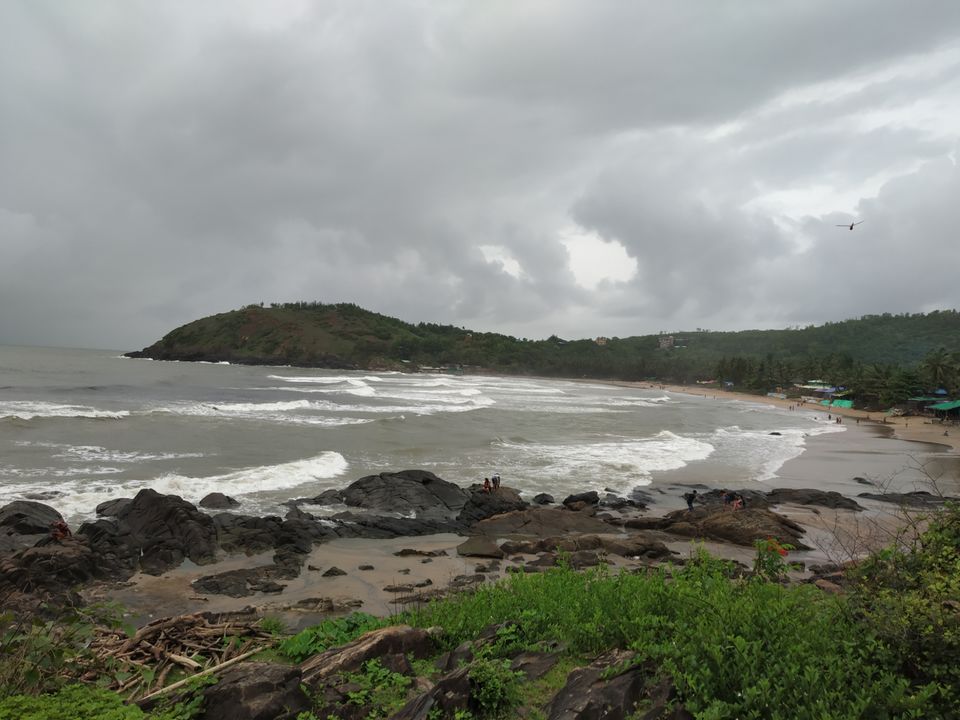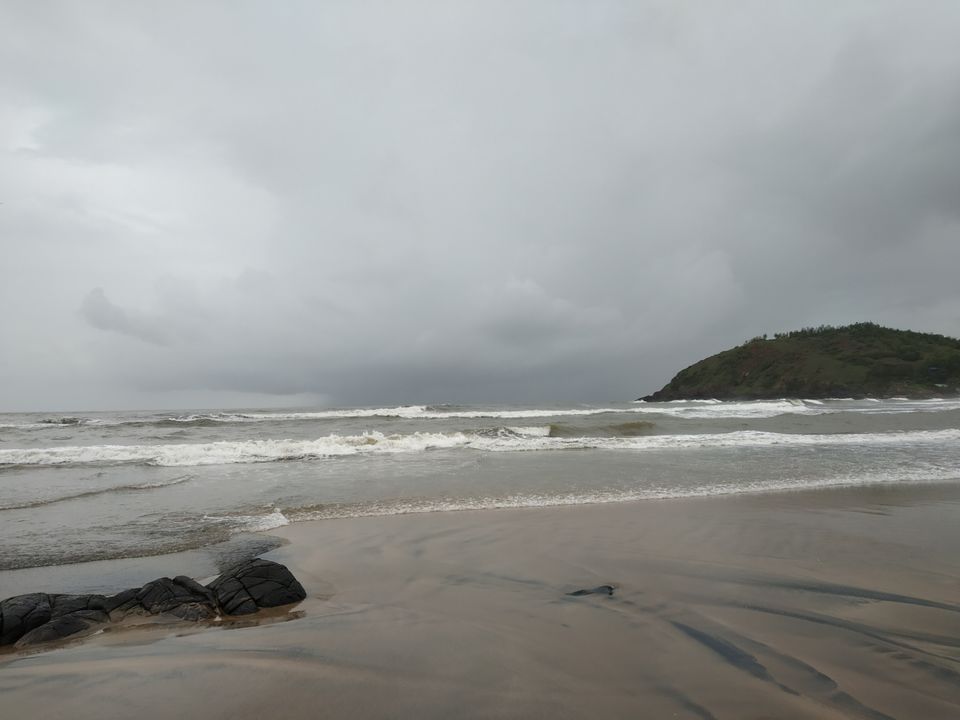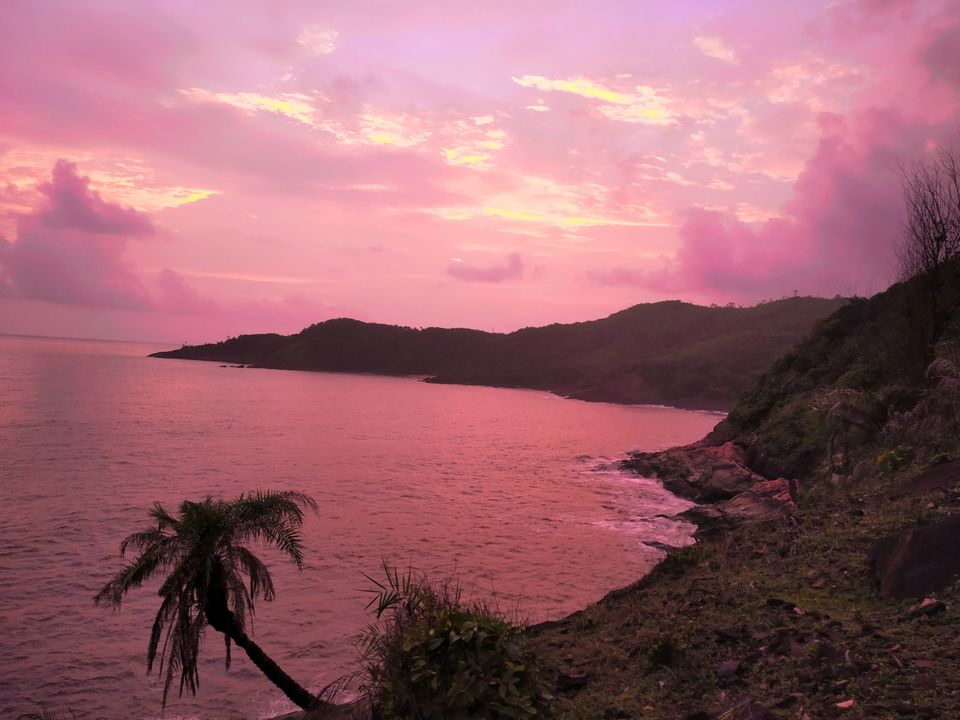 We got up in the morning and went to see the Majestic Murudeshwara Temple. This place is remarkable. Unparalleled sea views, Stunning sculpture of LORD SHIVA which is the second tallest SHIVA statue in the World, Beautiful & peaceful temple complex, and the 20 storeyed temple tower also known as Raja Gopura standing tall with its impressive architecture giving 360 degree view of the surroundings make this place a must visit for people coming to Uttar Kannada. We explored the entire temple complex, went to the museum and clicked pictures to our heart's content.
Then we had a lovely breakfast after which we packed our bags and went to Kumta and had an open air lunch on a hill overlooking the green-blue sea below. Man, I can't even tell how charming the views were. After lunch, we moved towards our last destination of this trip- Mirjan Fort. Mirjan Fort is a green wonderland during monsoons. The entire fort is covered with moss and grass during rains which makes it extremely scenic. The views of fields, coconut trees, streams nearby, from the top of the fort is breathtaking and this is a must visit place during monsoons.
From here, we went to Kumta railway station from where we boarded Matsyagandha Express to Mumbai. We reached Mumbai next morning with happy memories and thus this incredible trip came to an end.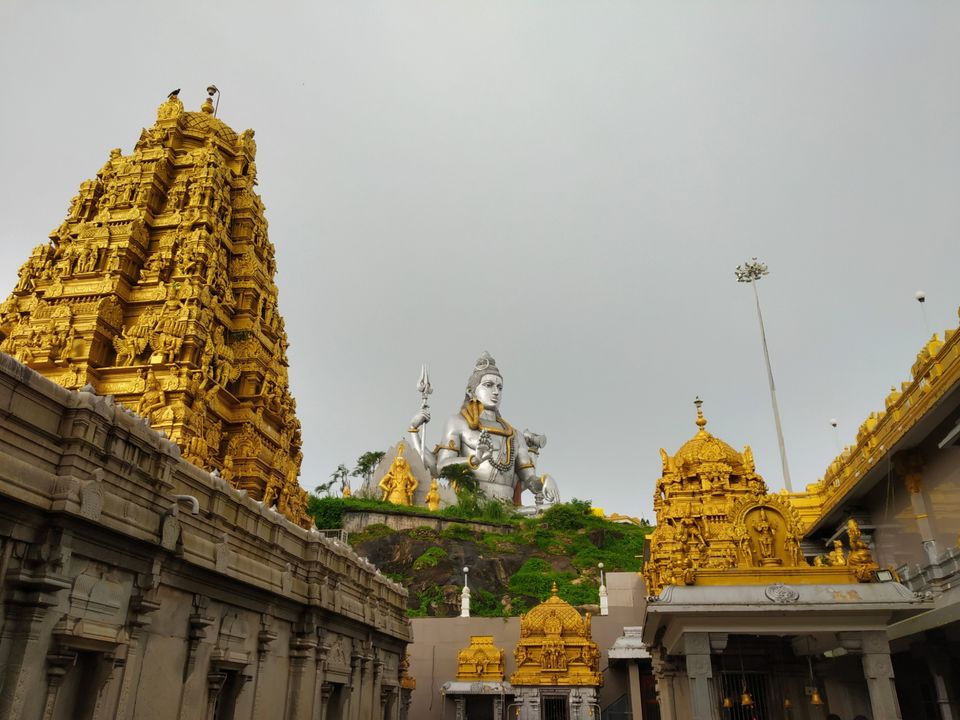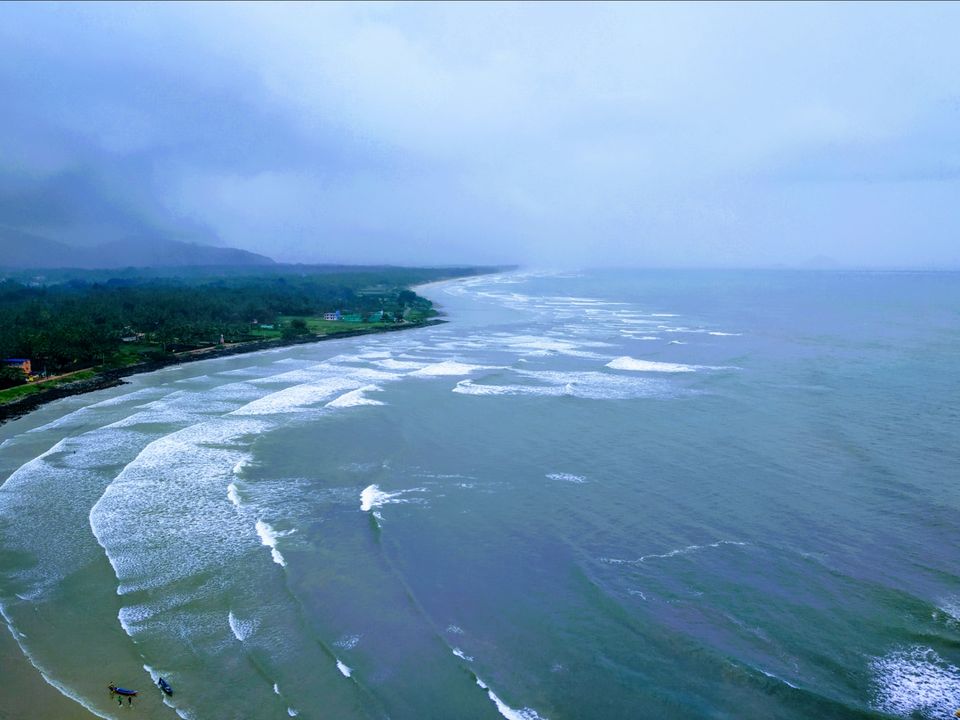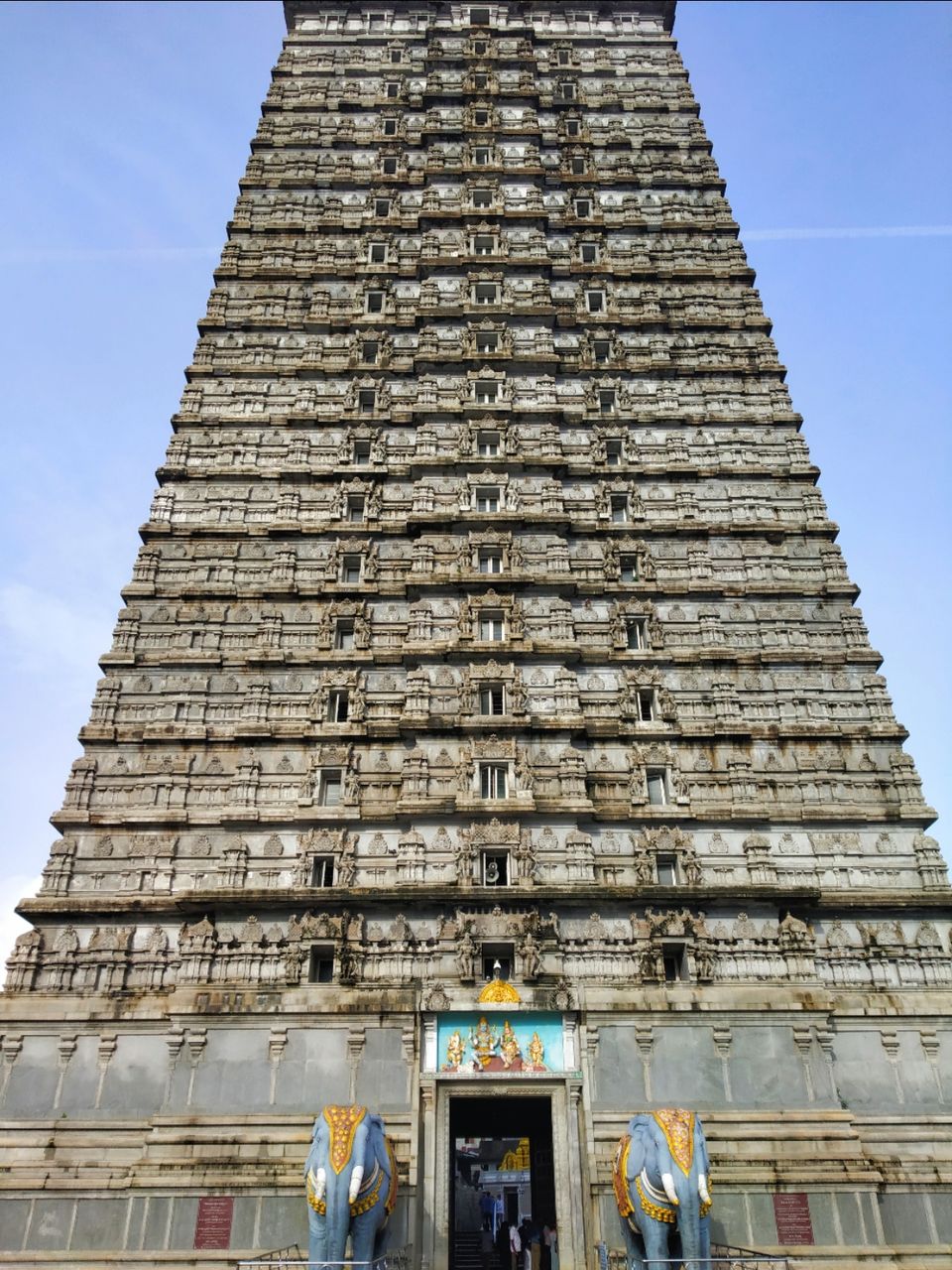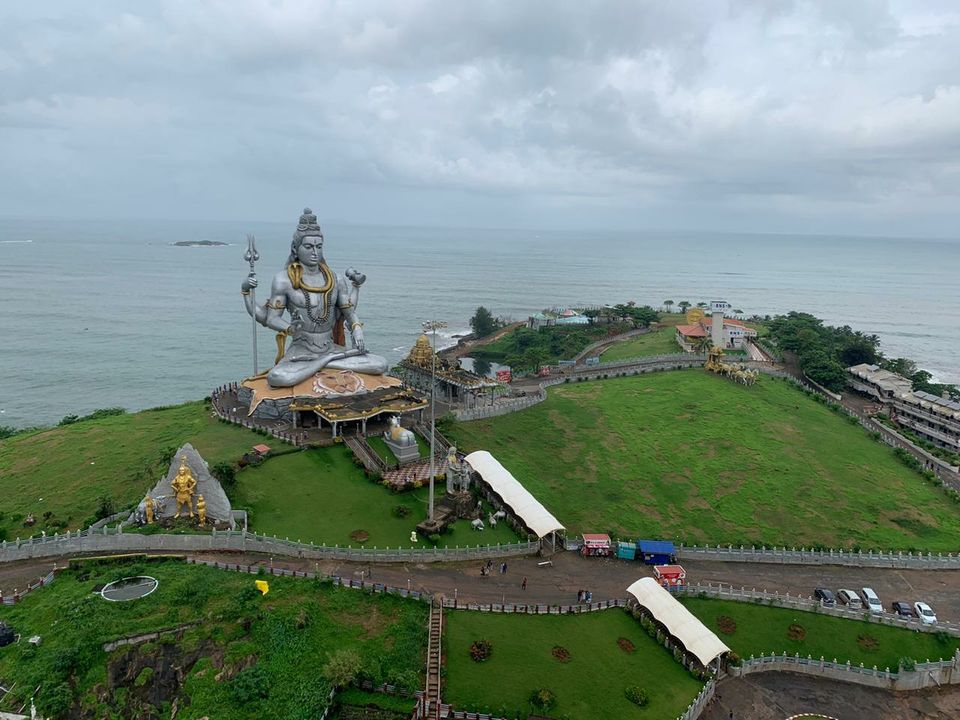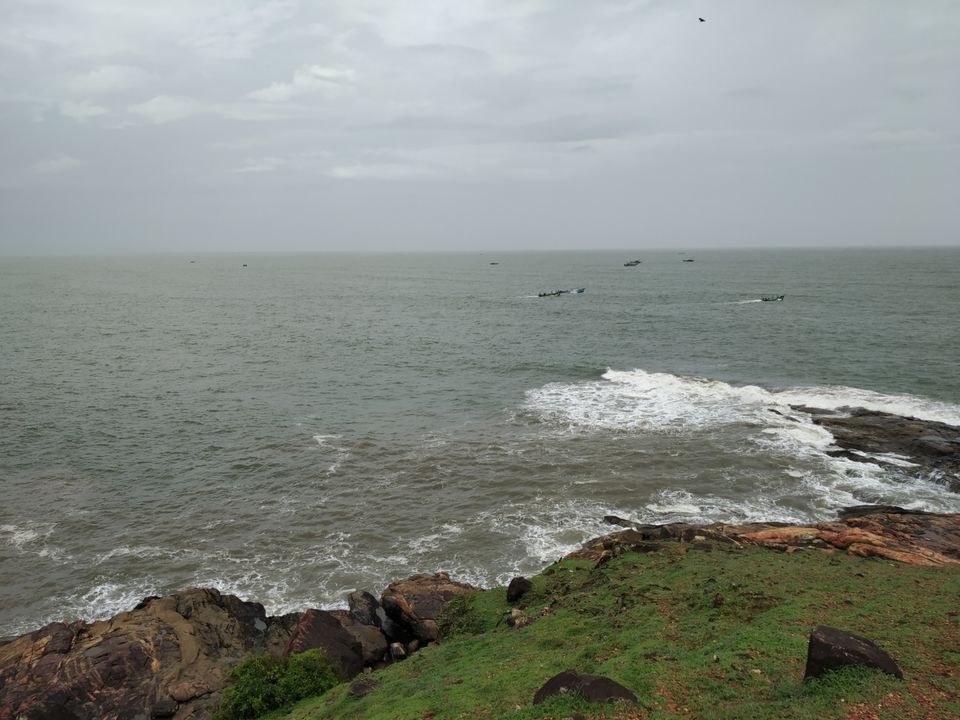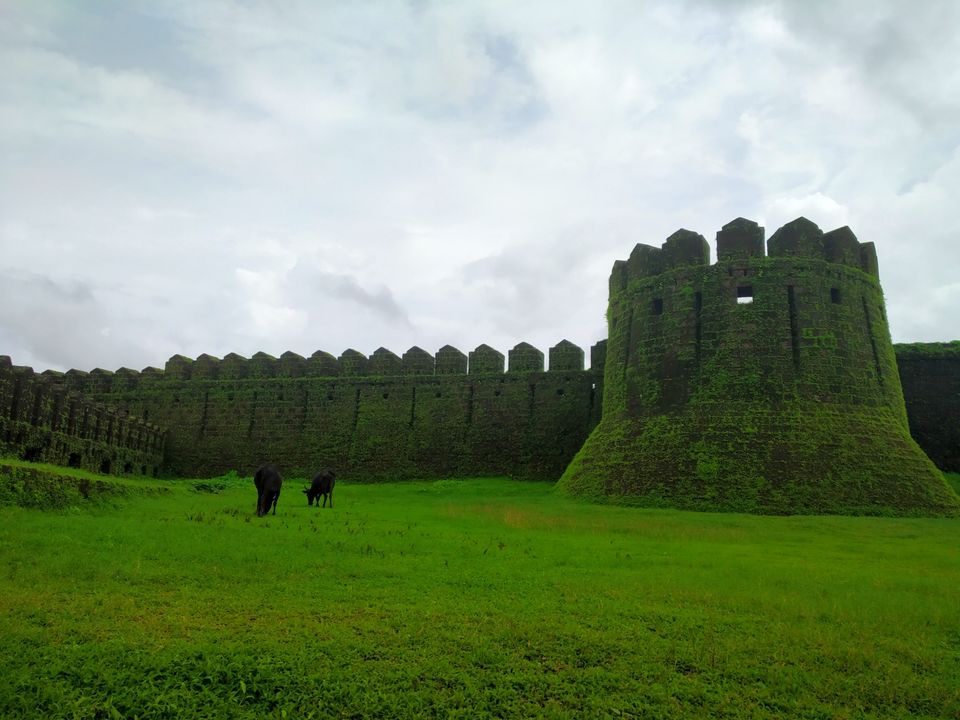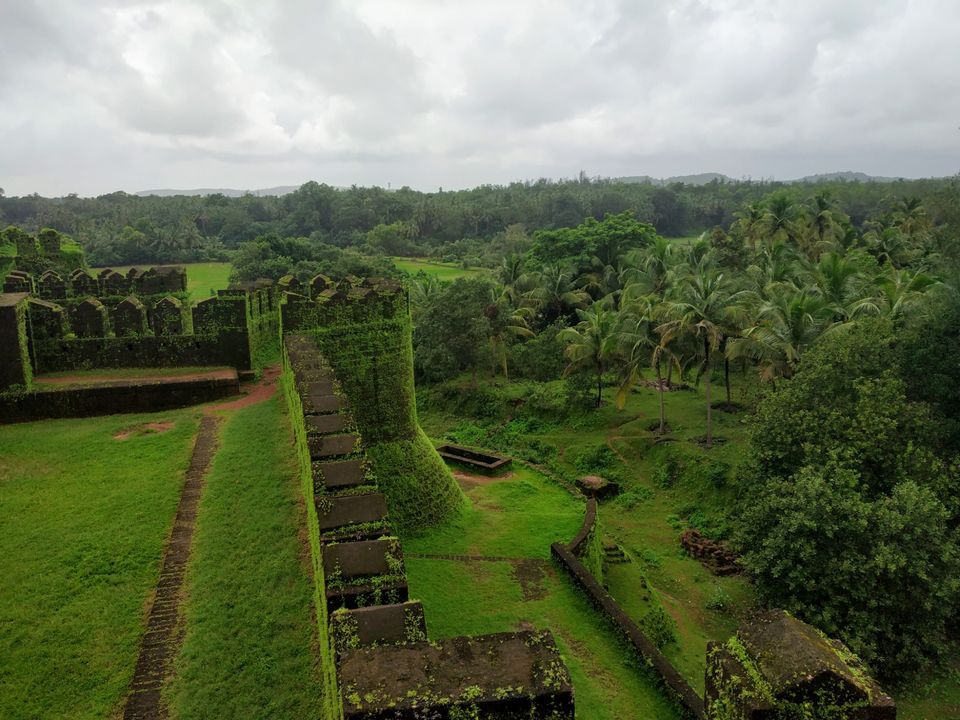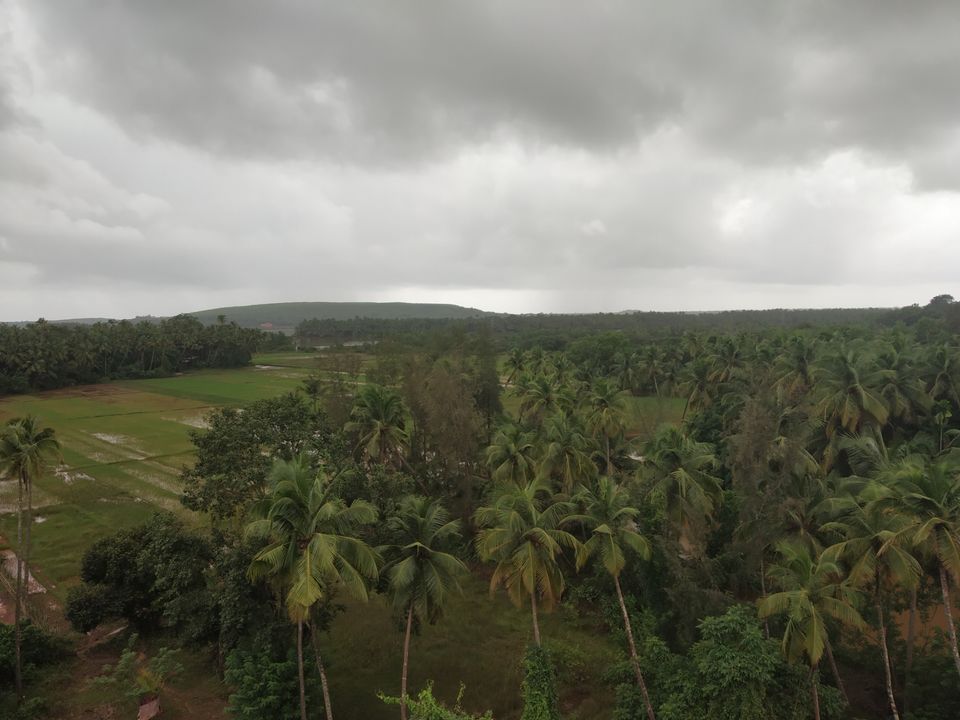 We reached Murudeshwara station at 7.00 AM. I fell in love with this place immediately. The station was green and clean with small hillocks in its vicinity. The weather was cloudy. The air felt crisp and fresh. We reached our guest house and freshened up. After having a hearty breakfast (pl.note banana buns are a delicacy in that region), at around 8.30 AM, we started off for Jog Falls, which is the second highest plunge waterfall in India. It took us almost 2.5 hours to reach Jog falls from Murudeshwara. When we reached, we were greeted by mist, fog, clouds, rains and off course the majestic waterfall all at once. The sheer beauty of the mighty waterfall had us swooning all over it! Though no one is allowed to swim or take bath at the Falls, one can go till the base of the Falls by taking almost 1400 stairs for exceptional views. We clicked thousands of pictures, took in all the beauty that this place had to offer and then bid adieu to this beautiful place to have lunch at a nearby restaurant.
After lunch, with increased energy levels, we were off to our next destination for the day- Honnavar Hanging Bridge. The ride to this place was an absolute delight for nature lovers. The bridge is a suspension bridge on the Shravanti river and the view of the river and greenery all around, from the bridge, was awesome. We crossed the bridge and went till the river bank. There were a few traditional boats anchored there and a speed boat was giving ride to the tourists. There were a few stalls near the bridge selling juices, fruits, tea, etc.
After that, we headed off to our next destination- Eco Beach Kasarkod. Beaches have always been my absolute favourites. My love for beaches is eternal and I have a soul connection with them. As soon as our vehicle stopped, I ran to feel the sand and water. The beach was clean and beautiful and the best part was that we had the entire beach to ourselves. Not a single soul other than our group was around. We splashed, played and soaked in the beauty of this place, while the sun slowly set on the horizon. Since it was cloudy, we could not witness a proper sunset but our hearts were full nonetheless.
Then, We started off for Murudeshwara. We had dinner at a restaurant near our guest house and at around 10.30, we finally reached our guest house. After freshening up, all of us gathered and it was GAME TIME. We played Dumb Charades. Finally at around 2 AM, we retired for the night.