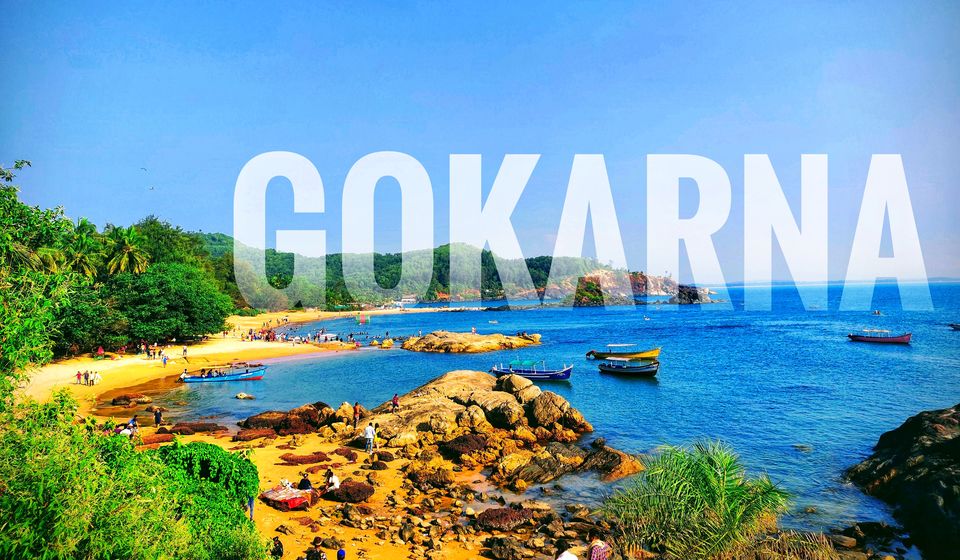 NYE 2020 Bash.! Pub's, Parties, What's your thing?? Here's how I started the year with A Bang!
When comes to travel, I can say Road trips are the best. That too, an unplanned Bike ride always give us the rich taste of it.!
Day away for the New Year's eve, with no plans handy, we three buddies from Bangalore suited up our bikes and kick started for an unplanned adventure. As we ain't decide any place to go, just drove towards the outskirts of city in quest of getting something. After reaching Neelamangla, we saw the sign boards of roads heading towards Mangalore, Chikmagalur, Sakleshpur, Agumbe on left and Goa, Gokarna on our right.
Here's, the never ending dilemma of hypothetical question came up. Yeah, Mountains or Beaches??? Seriously, I think no one's gonna find an answer for this. Each one is beautiful on its own perspective!!
Finally, a toss paved the way for 2020' eve, none other than Gokarna and it was already 11 PM in the night. We started our drive in quest of Paradise.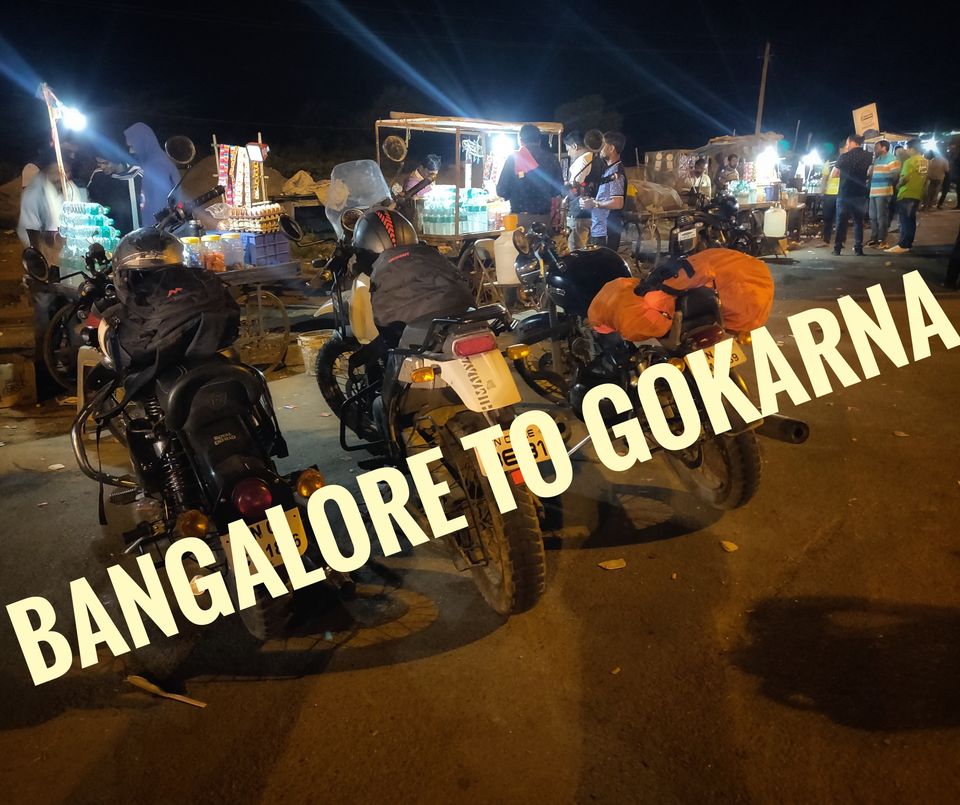 We decided to take the highway of Tumakuru, Chitradurga, Davangere, Sirsi, Kumta and Gokarna. Being awake for the whole day, we were Sleep deprived, but still high on the road. Hopefully, road was better to drive till Davanagere. We took a shortcut from Davanagere and drove towards Sirsi and it was almost 5 am in the morning.
To our Surprise, we were covered fully with Fog and mist. Not an inch of road is visible even though the high beams are ON and we too went cold numbed! It's then we realised that the roads are going through Western Ghats range of Karnataka. Oh boy, Hill Drive's are lit!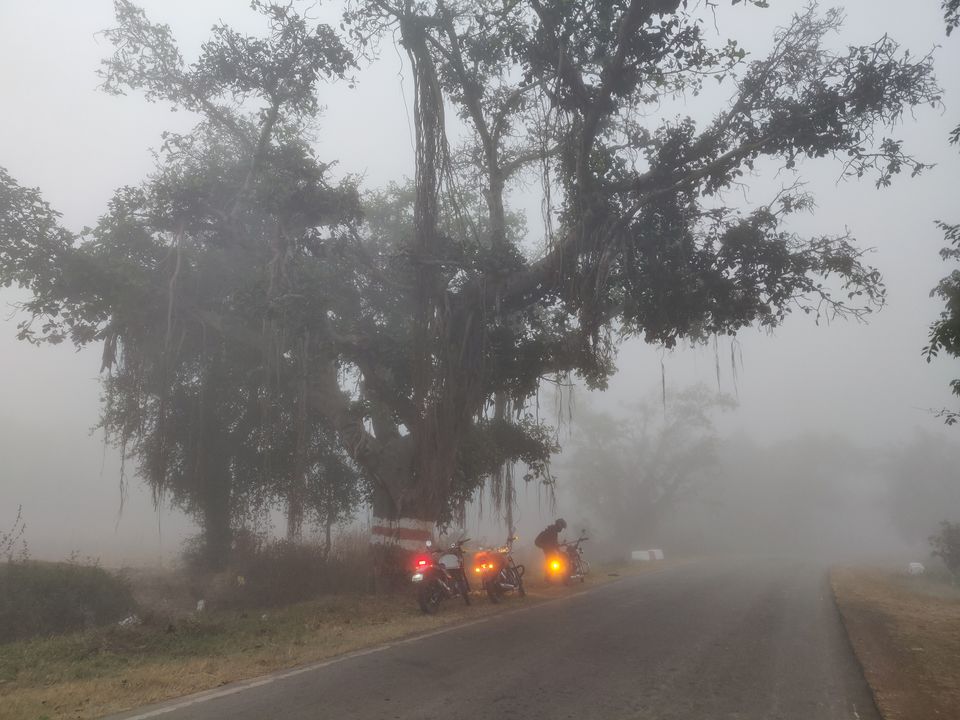 We drove slowly passing through the mist and enjoying the early morning beauty of Hills. At-last by 10 AM, we were out of hills and got to hit the ground of Gokarna highway near Kumta.
We reached Gokarna by 11 AM in the morning and managed to get a Tent Stay accommodation on the shore of Gokarna Main beach. Gokarna Adventures hosted us in a great way and finally settled our ass in the tents for a power nap before the party.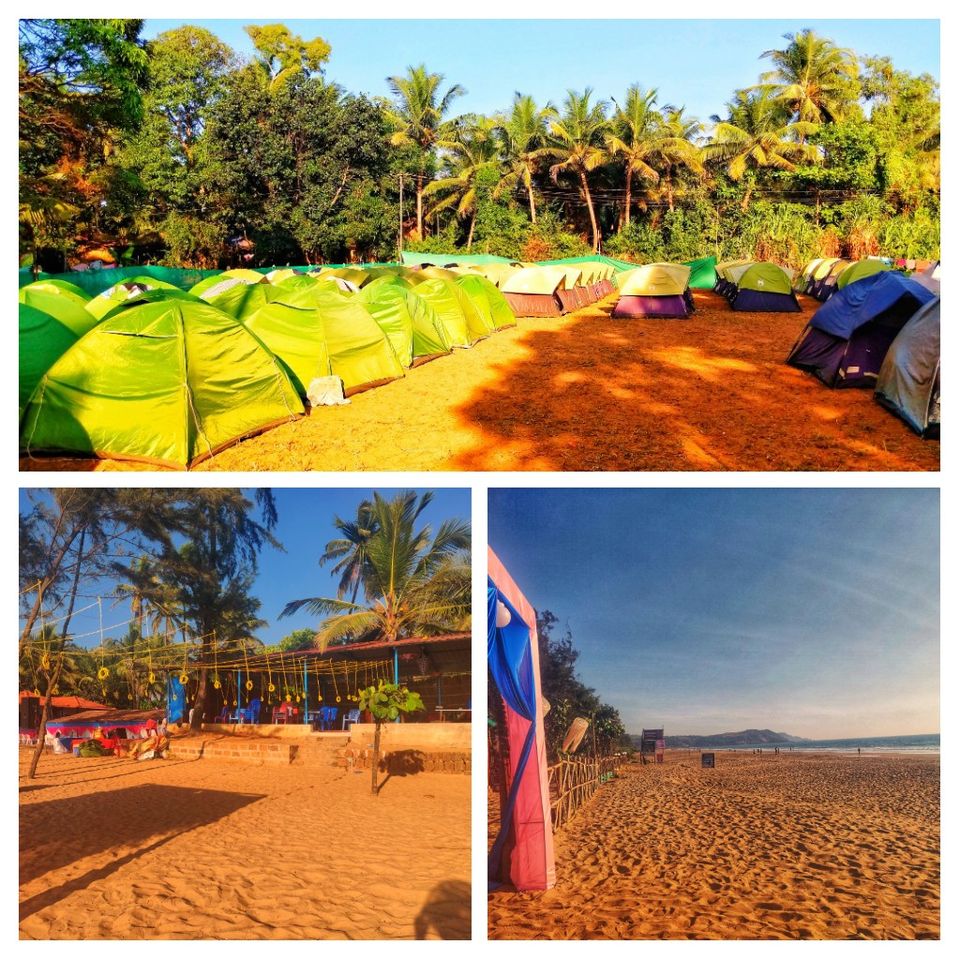 Slept to the Lullaby of Arabian sea waves, few hours by the shore and we woke up to this beautiful sunset view from our tent.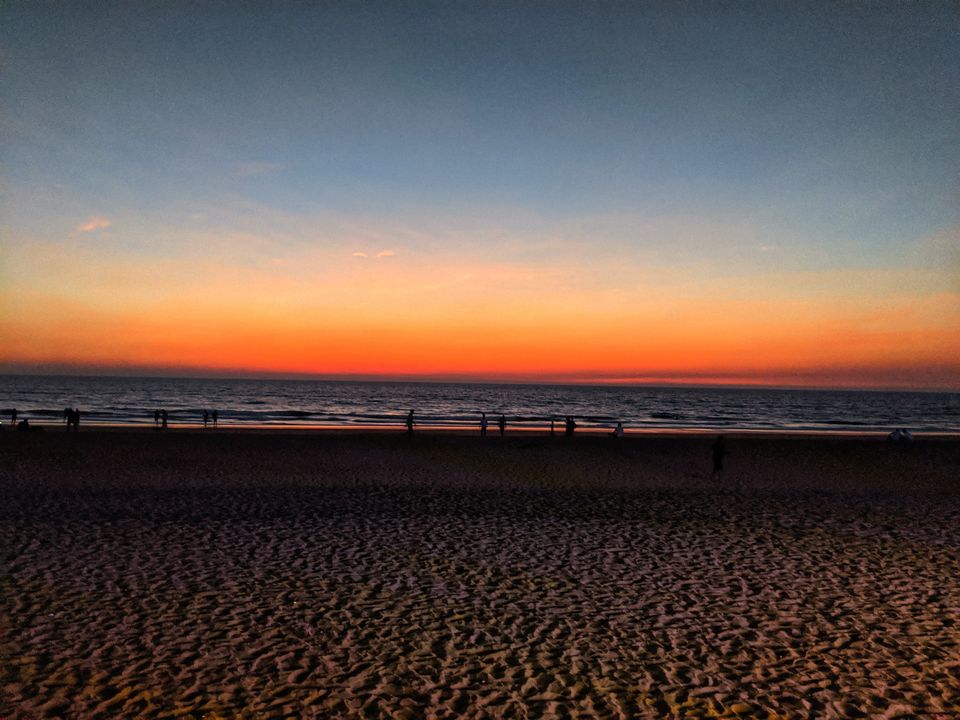 With Sun down, our camp become vibrant in the light of Stars. Dance floors on fire, Drinks at the bay, What more can we expect, finally all set for NYE 2020 bash..!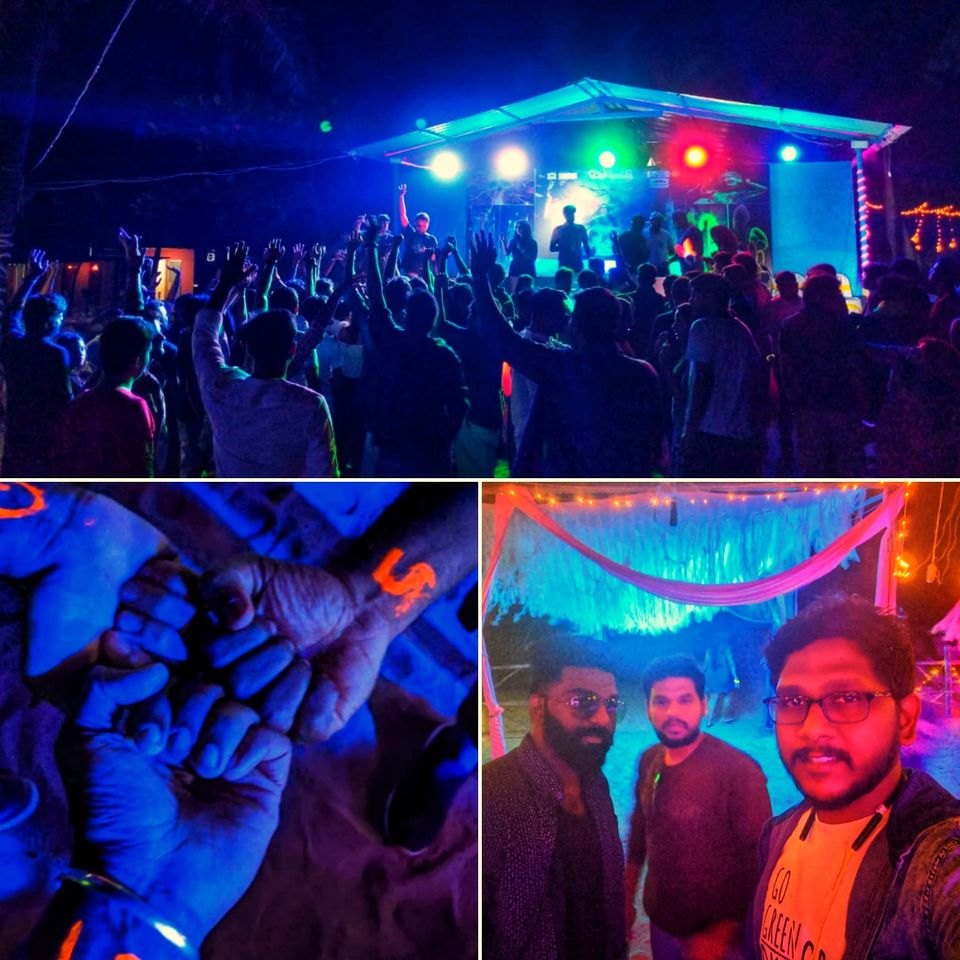 Parties are done and It's a Happy New Year for Everyone!
Yeah, blessed to enjoy the first day of year in a leisure way. We chilled out the day having sun bath at the shore of Om Beach and spent some good time visiting other famous Beach shores of Gokarna. Out of all Half-moon and Paradise were secluded and more enchanting!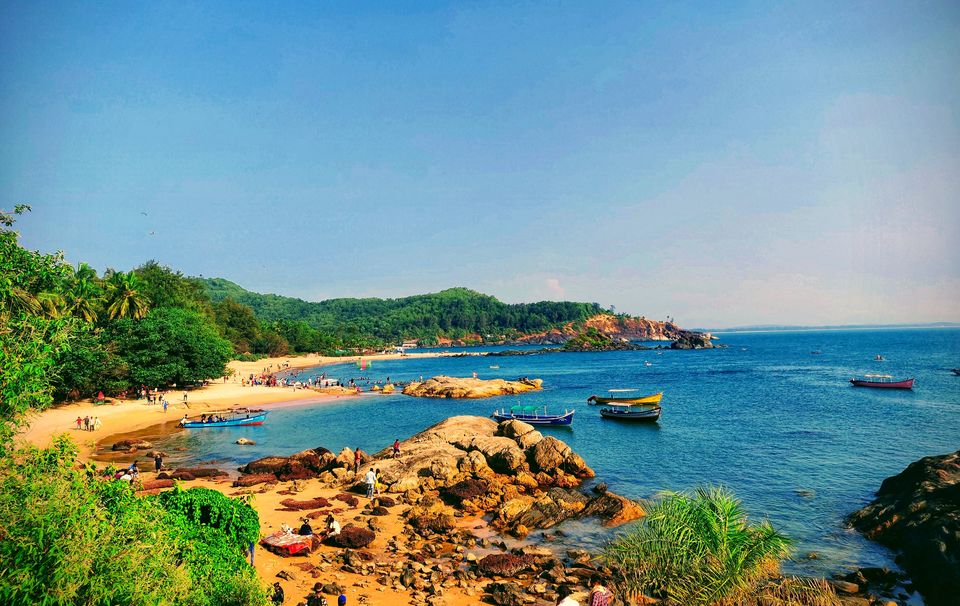 Way back to our camp, we decided to start in the evening from Gokarna to visit the JOG falls in Sharvathi valley range. We again suited up and rolled our bikes to hit the roads. On our way we visited the famous Shiva temple at Murudeshwara and headed to JOG falls.
It's an early morning, Sound of the voluptuous and gushing JOG falls are a gift to the ears. Whoa! Our thoughts were filled with the early morning scene of it.
We headed for a trek down the hills of Jog hills, to view the Majesty of Nature. It was 1400 steps and different perspective view at each step. We reached base after an hour and enjoyed Jog's beauty. Spent some good time down the hills and headed back to the top.
By 12 PM, we started our day long ride back to Bangalore. We drove through Shimoga highway and reached Bangalore around 1 AM in the night.
ROUTE TAKEN:
Bangalore - Tumakuru - Davanagere - Sirsi - Kumta - Gokarna - Murudeshwara - Honnavar - JOG - Shimoga - Bangalore
Top 10 best things to do in Gokarna:
1. Get an camping accommodation by the Bay area and rejuvenate yourself. Chill out!
2. Take a small beach trek from Om Beach – Half moon – Paradise and Belekan Beach.
3. Enjoy the Gorgeous Sunset at Kudle Beach.
4. Visit the Lighthouse at Horizon cliff.
5. Water Sports - Banana Boat ride, Paragliding, Water scooter, Trampoline Rides.
6. Take a Night stroll along the shore of Nirvana Beach to witness glistering Phytoplanktons.
7. Enjoy the Finger licking sea foods.
8. Shop for Souvenirs.
9. Explore the Gokarna village.
10. Visit the nearby places Mrijan Fort, Yana caves, Viboothi Falls, Karwar & Murudeshwar.