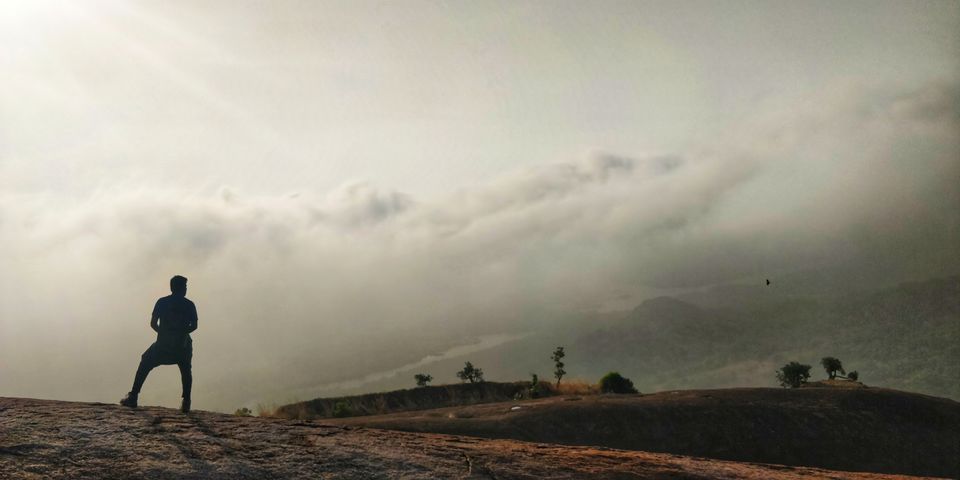 Things to note if you are going for trekking to Savandurga,

Use a shoe with good grip
Keep food (energy bar, energy drinks, snacks) and water in your backpack.
Keep a torch if you are planning a night trekking
Follow the yellow marks or electric post, or else you may get lost on the hill
We were planning for this trip from long time, first we planned it on Diwali but it got cancelled due to heavy rain. After two weeks we finally managed everything, we started at early morning 4.30 am from Indiranagar (Bangalore). Thumping sound of royal Enfield and the cold whether at morning refreshed us We took the Mysore highway and taking a small cut road at right which pass through Kumbalgodu state forest was exciting but bit scary at early morning because we couldn't find more than one or two vehicle in our entire trip. Then we reach savandurga- Manchnabele road by taking a left, on the way we saw the beautiful view of Manchnabele dam. Then through magadi-Ramanagara road and then savandurga road which passes through savandurga state forest we reach our destination.
Savandurga which is considered as the largest monolith hills in Asia was giving us a delightful view from the down. There is a Veerabhadraswamy temple situated at the foot of the hill. we parked our bike there near by and started climbing right away. But the way we choose was hard and steep so we went back and find out there is a better way which are marked with yellow paint which is very difficult to notice at low light.
After few steps itself we find out that it is not going to be an easy task, your shoes should have good grip. In some places slope is almost 80°, we have to do spider crawl. There are the remains of the fort build by kempegowda on the top of the hill as well as on the way were you can take rest in between trekking. We didn't get much exhausted as we were taking pics and videos of the mesmerizing views around in every 10-15 minutes.
As we go up the view was getting better, it was almost 7 but still we can't see sun, sky was cloudy and it was like gonna rain anytime. we know that it will be pretty difficult to climb up or go down if it rains that was sure, because there are small line of water which was overflowing from the small water bodies at the top of the hill, more than twice we accidentally step over those lines and we immediately lost the grip. How much grip your shoes have it is not gonna rescue you if the surface is having water, the slope was like that only. We took little rest in the remains of the fort in between climbing. Finally we reach the place were this steep slope ends, there was some small and big water bodies which are made for water supply in the fort and it's premises. There are some fort remains too, and there is a small first through which we have to travel to reach tallest part of the hill. We lost our way through the forest also because there was not enough light to find out the yellow markings. But we reached the second tallest point of hill from where we can see the tallest part of the hill where a nandi temple also was located. After that we pass through some naturally made caves and steep slopes we reach the top. Believe me the first view of the location will make your heart filled, it such an amazing view from there. The cold wind and the cloudy sky made it more beautiful. We spend a little time there capturing all the views in camera and then we opened our backpack and had our break fast. For keeping our back pack light weight we carried only some energy bars, brown bread, peanut butter and some water. Then we started climbing down, it was easier and more risky. Because chances for slipping was more. But finally we reached safely down, thank god it didn't rain. We really enjoyed the trekking. All the adrenalin pumping we wanted, savandurga gave us.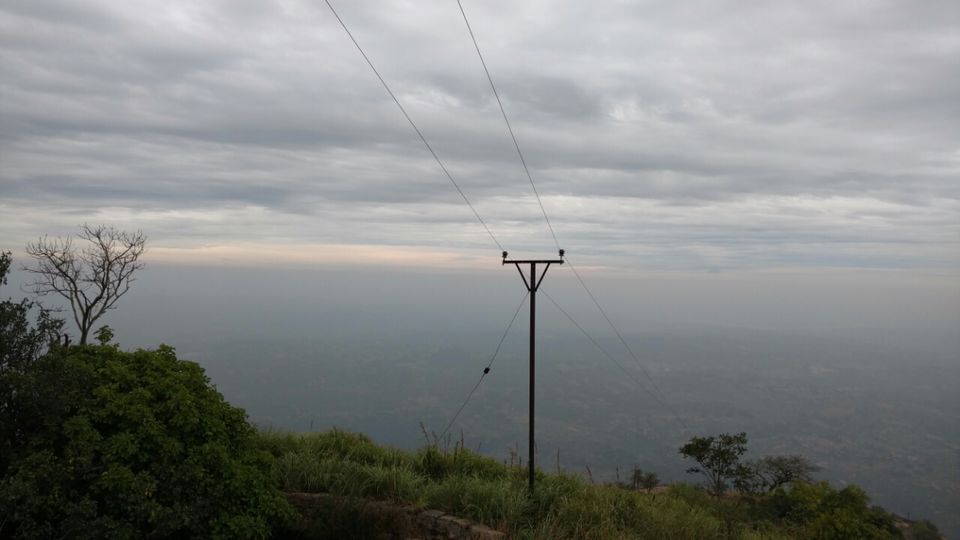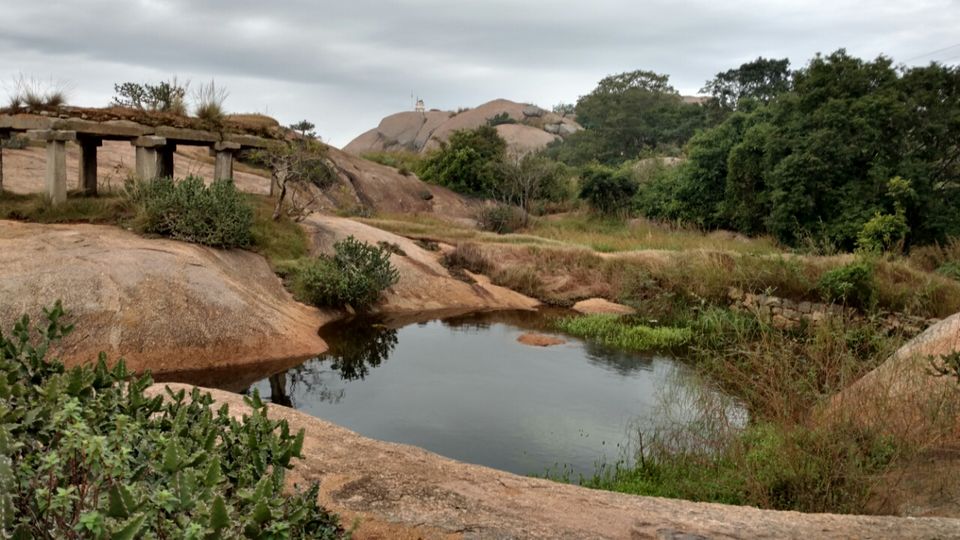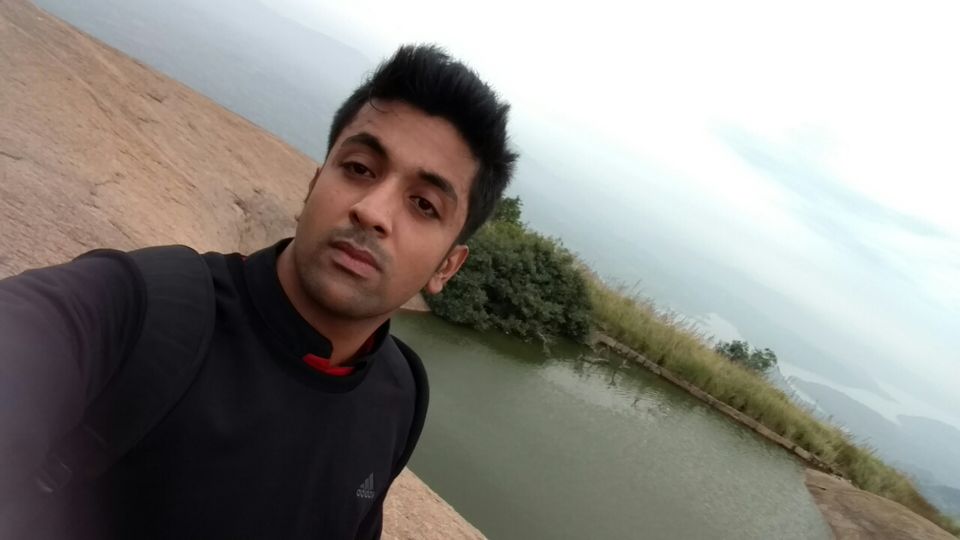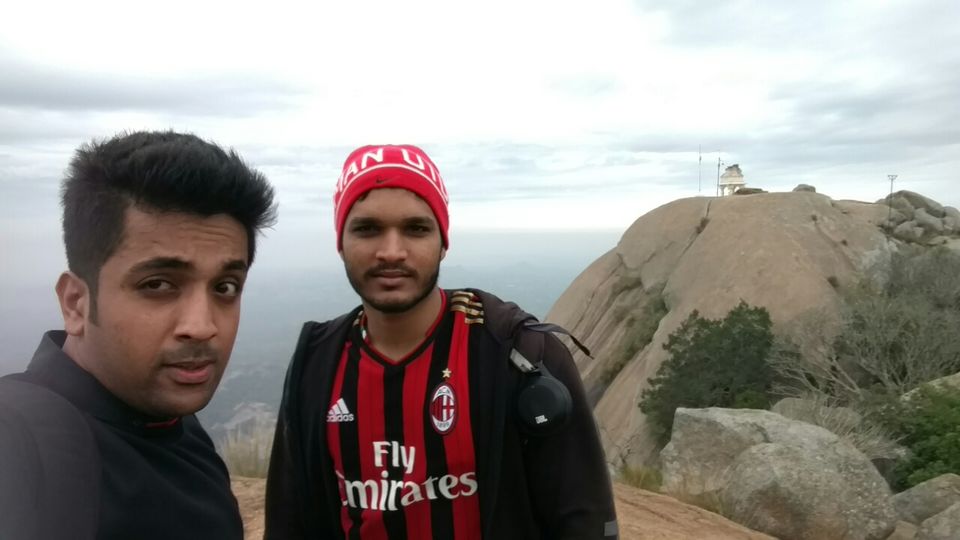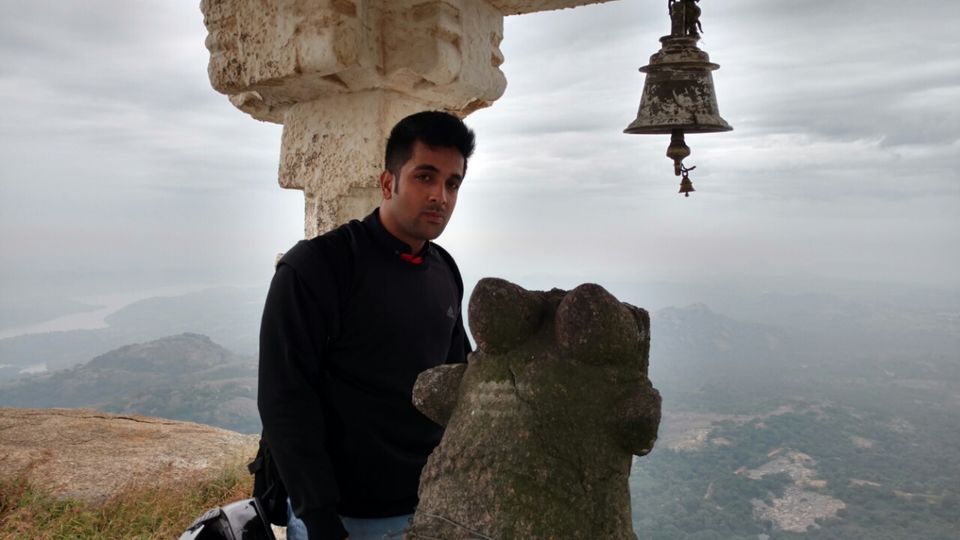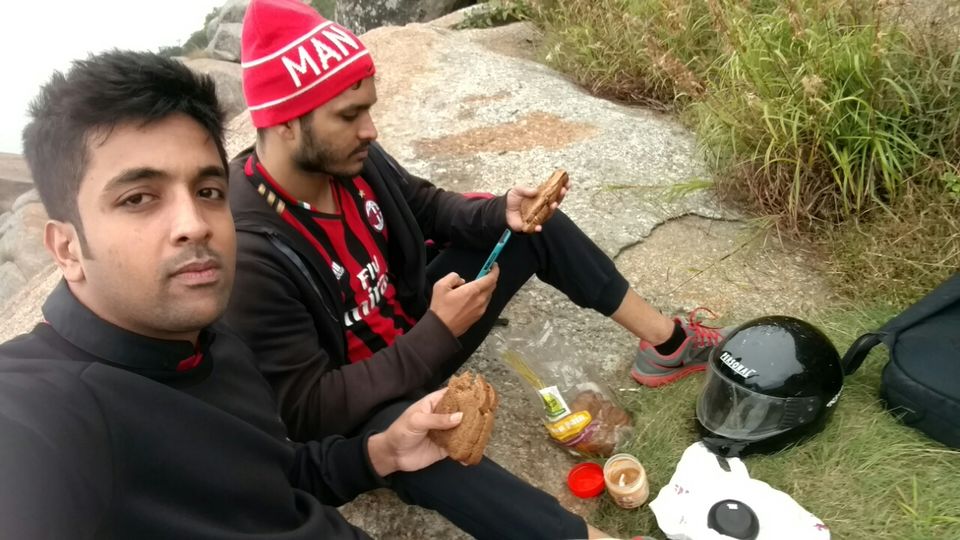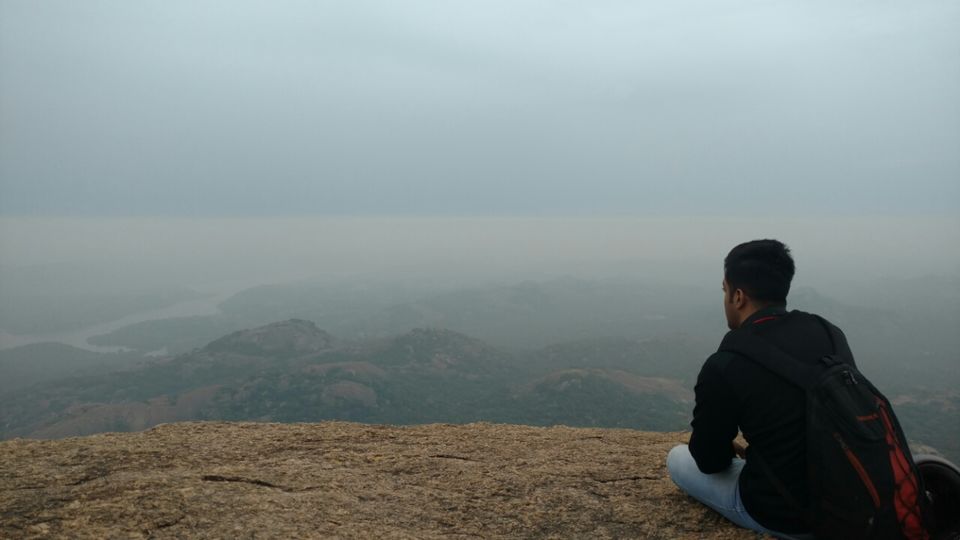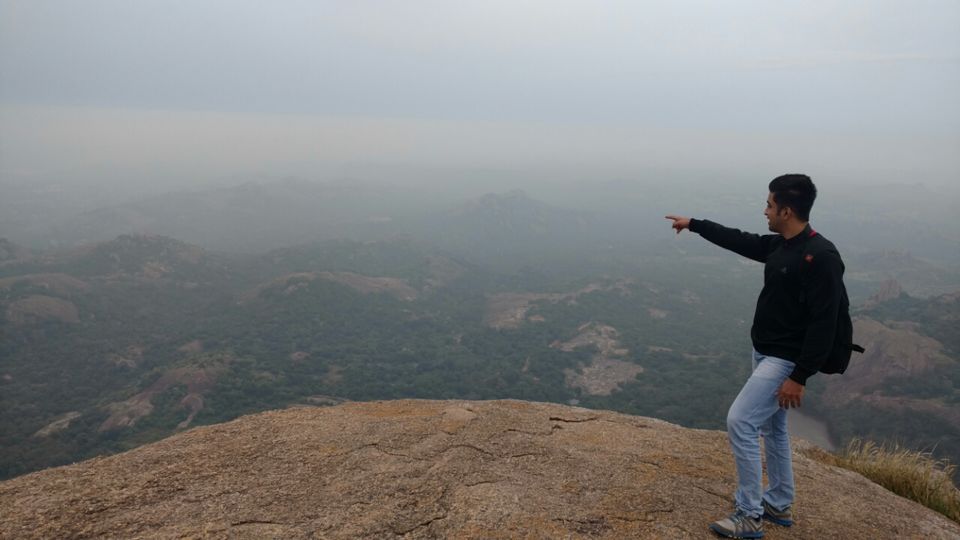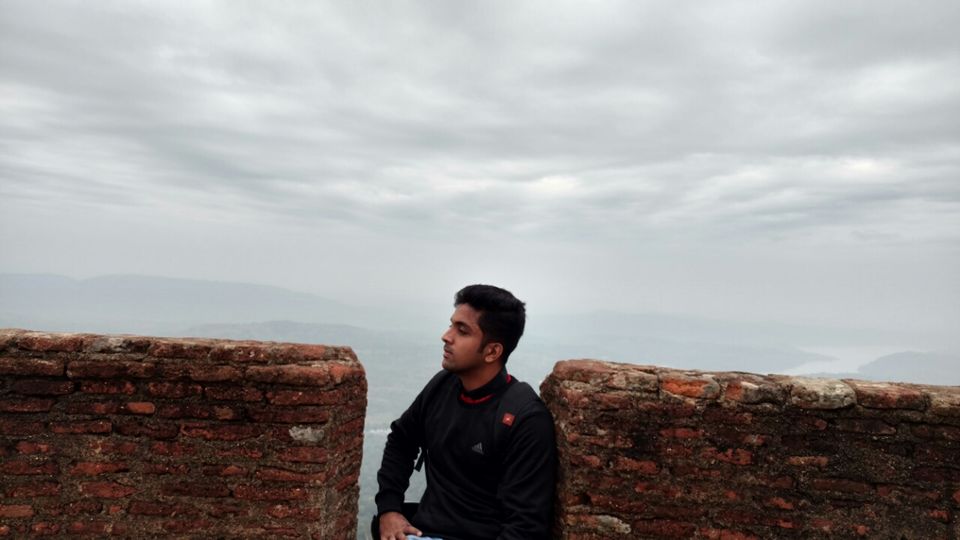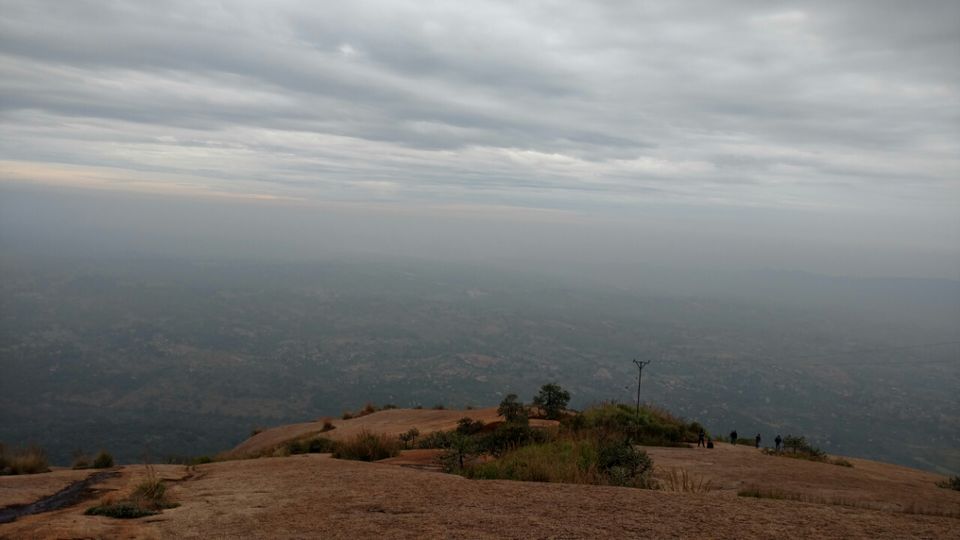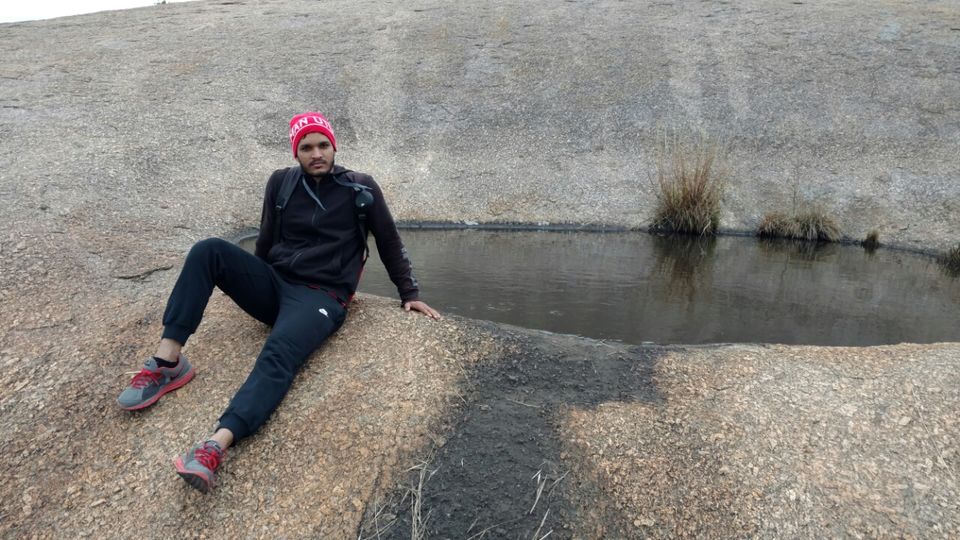 On the way back we stopped in front of Manchnabele dam and enjoyed the view. As it was raining from past few days the authorities didn't give access to enter the dam premises. we have to get satisfied by seeing it from outside.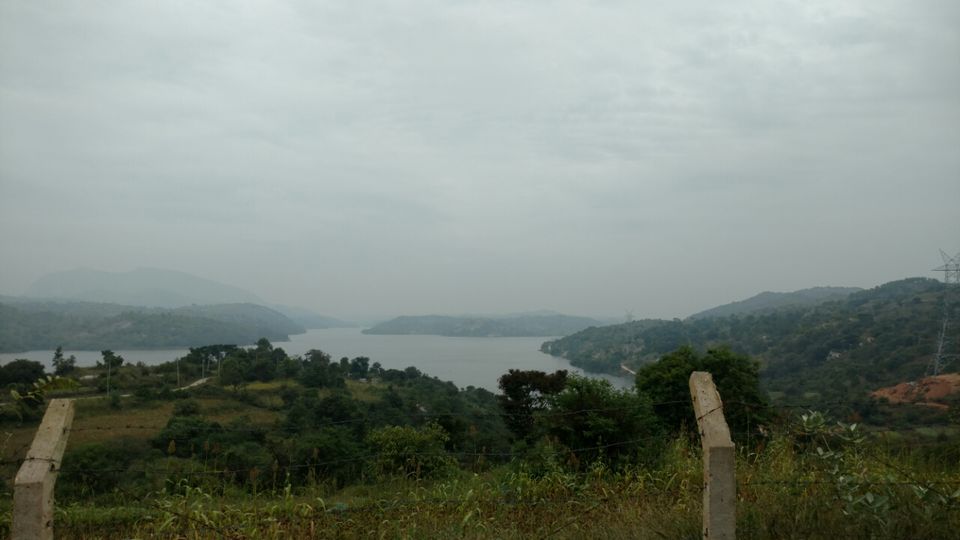 We went to the location of BIG BANYAN TREE, which was one the way. First time I am seeing such a big banyan tree, it was spread over a kilometer. I tried to find out the mother tree but couldn't, from locals I got to know that it got destroyed by some disease or thunderstorm. Then finally we reach our room which is located in Indiranagar (Bangalore) at about 1pm and that trip was worth every penny.