After lots of careful planning, I had started the road trip to cover the entire coastal Karnataka till Karwar. I covered Kushalnagar, Bekal, Udupi, Mangalore and Malpe in my first 4 days. Please read the first part of the blog to get details on tripoto.
Day 5(Wednesday, 28th December 2016, Malpe-Murudeshwar-Gokarna, Travel time: 3-5 hours)
I guess this stretch of the road trip has been covered by many fellow bloggers as Gokarna has emerged as a beautiful alternative to Goa with all its beautiful beaches minus the crowd. So if you are of the type who just wants to start the day with Surya namaskar in a peaceful tranquil place Gokarna is your answer. Our plan was to start from Malpe beahc and head to Gokarna as soon as possible.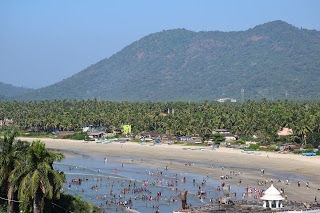 This side of the world even during December was having hot mornings and cool evenings, so we were starting after breakfast so that the hottest part of the day could be covered in the car. The only exception we made was for Murudeshwar. In spite of all glossy pictures of the tallest Shiva statue, I have heard this is not a place to stay and surf. Hence the plan was to visit it en route before heading to Gokarna. The road to the place is well marked and in good condition. Many places road widening exercise is in full flow but alternate routes have been marked not to cause traffic snarls.
We reached Murudeshwar around 10 am and after searching for a place to park our vehicle finally got down. By this time the sun was brilliantly lit and making sure we were getting a complimentary tan. We had great expectation for this place with all those postcards of Lord Shiva idol sitting next to the sea. And well as soon as you set foot at this place you start feeling the mismanagement/over commercialization of the place. Commercial vehicles and Tour Buses are haphazardly parked everywhere and the ground is covered with throwaway garbage like bottles plastic and what not. You can not walk barefoot just because of lack of cleanliness.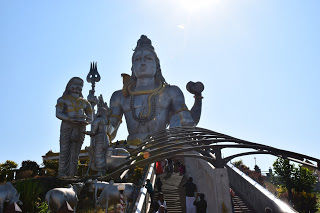 Although things get better once you enter the temple premises as you are not supposed to take your shoes as expected. Just be aware that the place officially designated for shoes just in front of the Gopuram(Entrance Gate) is quite far from steps leading to Shiva temple. But having said that the Gopuram itself is a very impressive structure and is adorned by two huge Elephant statues right and left. There are some very intricate carvings and the height itself adds to the glory.
Once you walk towards the main premise you can visibly notice the place needing some more cleanliness. There are not many steps to the top but in hot weather, with no respite for sun, it was a bit difficult although not impossible. We reached the top and I agree the view itself is excellent with Gopuram and sea beach completing the postcard picture. There are other idols like Sun chariot in distance. We could see one well-maintained resort nearby and would be an ideal location to stay if at all you are planning to.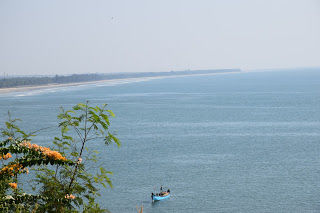 The best view is through at the back side of the temple from where you get the full view of accompanying Sea. Water everywhere with boats floating here and there taking you to a panoramic view. There is a tunnel-like entrance and two more temples in the same campus. We sat there for some time to recharge as there was a cool sea breeze at this height giving a much needed respite from the scorching sun. Still, before starting, we had some coconut water and ice cream. There were some small restaurants nearby but they were not looking very appealing so we ditched them.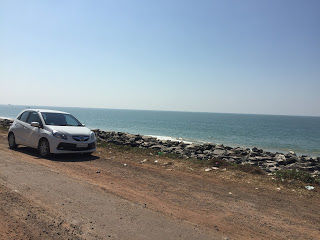 We kept on moving at a good pace till we hit the maravanthe beach road. One of the few roads in India that run parallel to sea and river on either side. there are many small places to park and eat here and should be tried just to enjoy the beauty. Although we were in for a disappointment as we were able to watch the only seaside view, the riverside view was blocked by a flyover construction that is happening at this place. For all of the travel enthusiasts, I really pray the construction company does not end up spoiling the exquisite beauty of the one of the kind place.The road after this stretch started turning hilly and greener and it was really a pleasure to drive amongst them.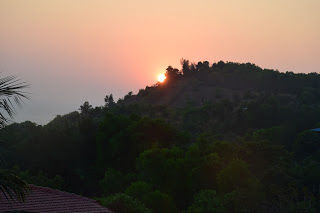 We had touched 6 pm by now and sunset has begun giving us some really wow moments. Although the road is very narrow and you should not stop on the way but we could not resist the temptation and ended up stopping and staring the painted canvas of red and orange skyline. We were touching Gokarna village now and could see everyone busy with their own activities. Our stay Kudle beach view resort was still ahead and through the winding road that lay in front we kept on moving at an idyllic manner. There is no street light in these stretches so be careful while driving.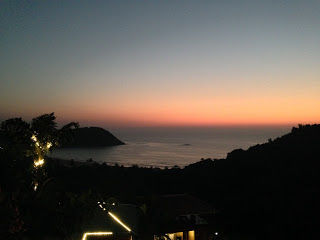 We actually missed our right turn for resort and ended up going towards the most famous Namaste Cafe. Google maps corrected our path and we really had to struggle in taking a U-turn in dark. Anyway, we finally reached our place and wow what a view was waiting for us there. The Kudle beach view resort is rated as the best place to stay in the vicinity and it completely lives up to that. We won't say that at the price we have not seen better resorts but at least in Gokarna, this is the best you can get. The reception and restaurant are very basic and all the rooms are situated below like a terrace garden. Our rooms came up with a portico and garden with chairs facing the world famous cliff beach of Kudle. The rooms itself as done very tastefully with a fully stocked bathroom with 24 hours hot and cold water.
The only issue is food as they will take orders in advance at night if you want to have your food in rooms. They have Russian friendly breakfast buffet it seems lots of Israeli and Russians frequent this area. There is an open yoga arena as well coupled with Spa. The spa is very much in demand here so do book your slots in advance else you might not get one. After the refreshing bath, we ended up having a decent dinner at room and cosy up sipping and talking late at night amidst cool night breeze.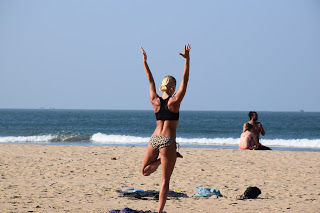 Day 6: Gokarna continued(Wednesday, 29th December 2016)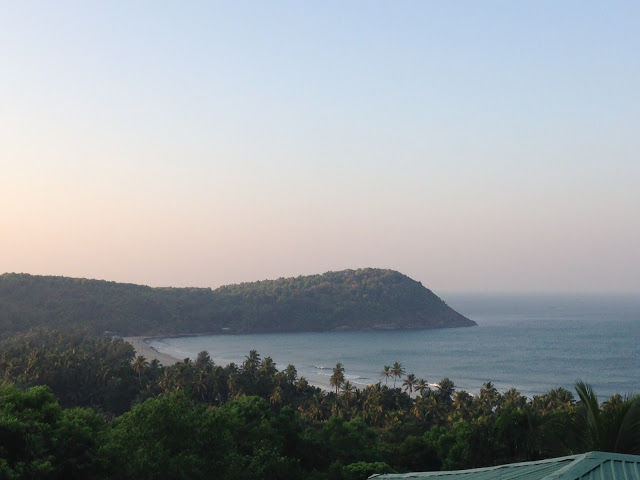 The morning was more tranquil as with the sunrise came the view. The view made us get up and run towards the beach. Ok, now one important point the resort does not have a dedicated path to the beach as it is situated at some height from the sea beach. You will have to walk up towards the main reception take a left till you reach the end of the road near a hillock and again take left. You will find lots of auto and cars parked there.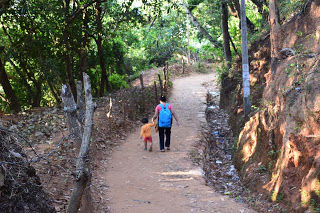 The path is a bit rocky but comfortable still. It's covered in the canopy of trees and you will be welcomed by different bird sounds throughout. We managed to see many colourful and unique birds in the bushes. The steps finally open up near a beach shack and here it is the kudle beach a semi-circular beach with calm waters being guarded by cliffs from both sides.
This beach is kid friendly and you can happily let them play with your watchful eyes. I and my daughter ended up spending hours in the sand, water and sun. Awesome place period. It was 7 am now and the place had the only handful of people mostly westerners either taking morning run or practising yoga. Some of them were just enjoying the sun. You can literally spend your days here doing nothing and relaxing. As I said the most wonderful part of the trip.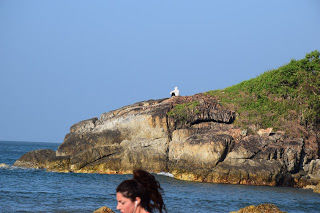 I can now understand why this place was once a hippie paradise, where else do you get a place which is beautifully soaked in sun and yet to so disconnected from rest of the world. around 9 we finally started our journey back as we were really hungry after been in the water for so long. The sandal got dried and dusted off by the time we reached back. The buffet spread was very basic but still warm and good. Maybe it was the after-effect of the kudle beach we were not in the complaining mode for anything. After a long time, we were happy and content both. Once you become close to nature you come close to finding your own innermost sanctum of peace and harmony.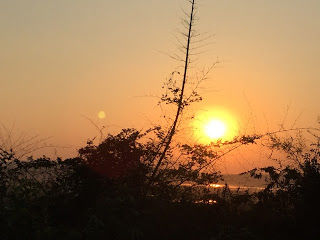 We could not cover two items here one was Paradise beach as it requires to go via ferry which operates only during the day. Also, camping gears are available for night camp at half moon beach if you want to stay under the star and hearing the sea water crash at your feet. My hotel staff told me about a bird sanctuary nearby that has some 200 variety of bird sightings recorded. So nature lovers there is something for everyone here and that too as if you are having a personalised package provided by nature. We did not have time for them so ended up exploring the neighbourhood.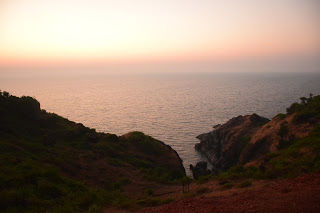 There is a small hillock nearby Kudle beach from where you get amazing views of the sunset, a must go place to have a perfect end to a perfect day. It's walkable distance forms the kudle beach resort and should not be missed. Overall a wonderful stay and we really didn't want to end but here it was the last day here.
Day 7: Gokarna-Karwar (Thursday, 30th December 2016)
In the next morning, we headed for Om beach the most famous of all due to its unique shape that resembles the auspicious universal sound called OOM. This place is also famous for the Namaste Cafe situated at the banks which serve some amazing sandwiches and drinks. They will play perfect host for any custom orders if you give them enough time. As compared to Kudle beach this beach has more waves and is more fun for adventure. Again unlike Goa you can always find one corner for your group away from all others and could reflect solemnly if that is what you want.
This beach has some amazing rock formations that give this place a unique ambience. Just next to the cliff at the end of this beach is Half Moon beach but to reach there you would either have to trek or move back and take full reroute. The fun fact all the beaches including Kudle, Om, Paradise, Half Moon are all connected via a moderate trek through forest and is really an awesome way to explore the place if you are physically fit.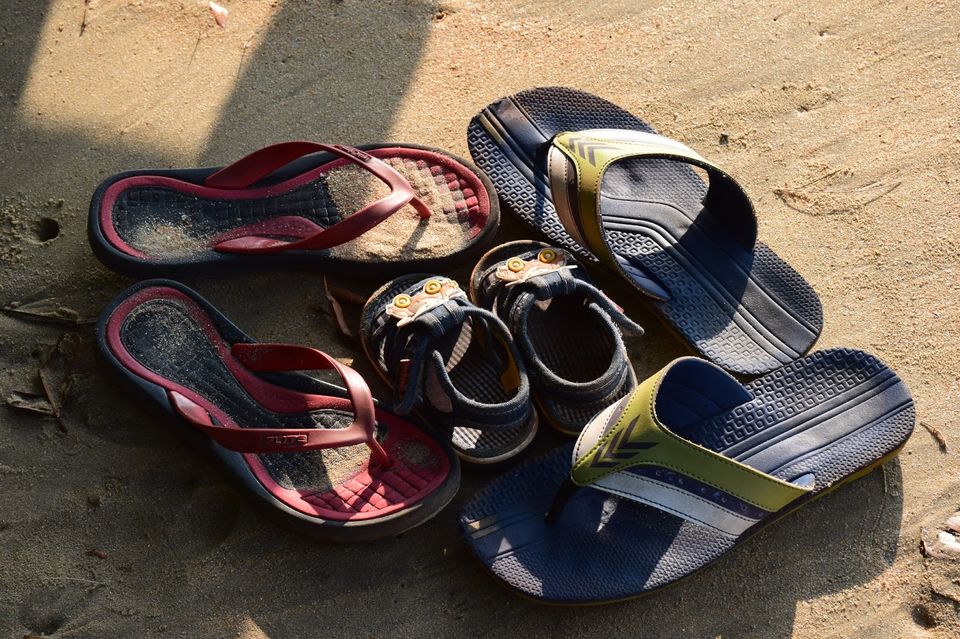 But there is a high chance of getting lost so do take some guide from a nearby shack or your hotel. Finally, after breakfast, we started with a heavy heart to the next destination of the small port town of Karwar.