(Epicenter of coastal tourism & blessed by nature)
It was time for a monsoon trip, hence Tripanians decided to explore some key waterfalls of the country, the very first option was mighty Jog Falls. Well, in our country, unfortunately it is a known fact that waterfalls are not very easily accessible and are not very well maintained therefore, we Tripanians added Udupi as another location into the itinerary.
As we finalized the plan and destinations, came out to be a 4-Day Roadtrip, along with five mates and covering basic itinerary as Pune Udupi Jog Falls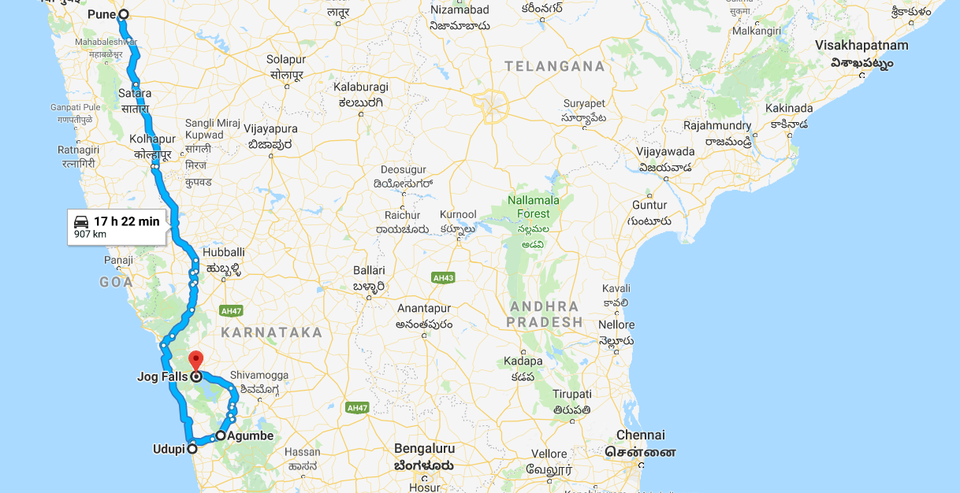 Day 01 - Pune to Udupi (699 KM)
We started our journey, from Pune at around 3:30am along via NH48 and this time rolling factor was Honda BRV, a Comfort extreme & ideal for Roadtripping. As I have mentioned, it was peak monsoon times and best time to take roads in Western Ghats, we started at dawn with some light old melodies as our playlists.
It was early morning, and we all saw the beautiful sunrise while crossing some lush green Ghats. Light showers and slippery roads accompanied Tripanians throughout and yes, the lush green sceneries. It was around 7am and we decided to take a halt at a tapri (small highway cafes). These Tapris & highway Dhabas are best of roadtrips as they offer best snacks/food & beverages which one cannot get in any A list restaurants. We had some healthy/filling morning snacks like, Vada-Pav & Egg bhurji along with Tea.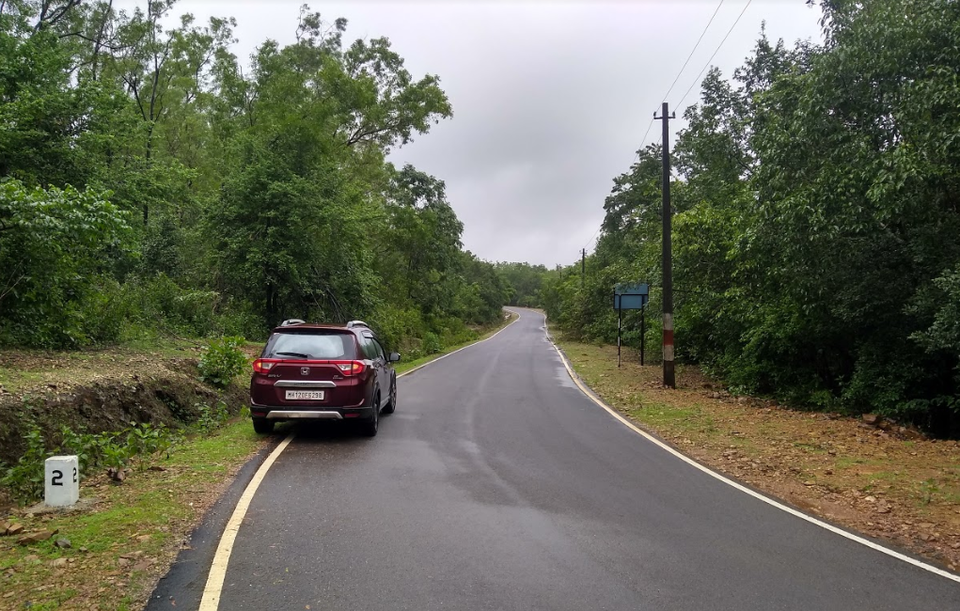 After this small halt of around 30minutes, we resumed our journey to Udupi and now with some chartbuster tracks from different artists. As we drove carefully on those swampy and ditchy roads, each one of us were enjoying every bit of the journey. While following those mind-numbing roads, we suddenly located an unmapped beach (just on the side of the road) and the scene was surreal. We parked the car, and straightaway ran towards a small pier over the beach. We spent some time there, clicked pictures, and enjoyed the Sea Breath along with little drizzling. This beach charged all of us and we were enthusiastic again and resumed the journey.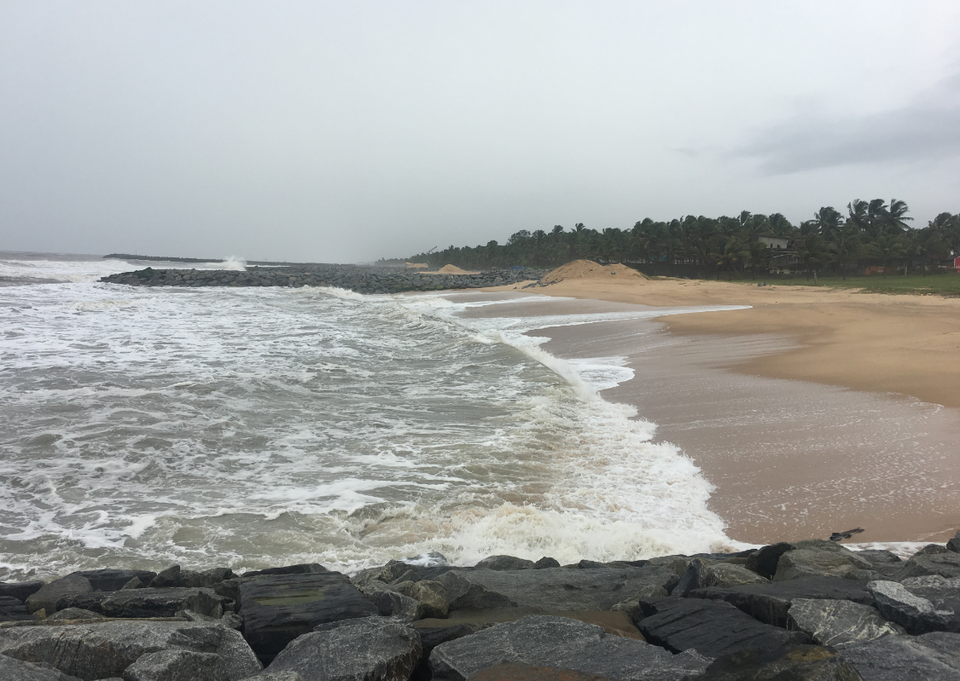 We mapped the Udupi touchdown target, and we reached our resort around 2:30pm. We checked into our resort, Paradise Lagoon Beach Resort situated at Malpe Beach and grabbed some delicious heavy lunch.
After taking small relax break, we decided to explore Udupi by covering few points. First one was, Kemmannu Hanging Bridge over the backwaters. To reach here, we took few extremely narrow roads (where 2 vehicles cannot cross each other), and crossed villages, bridge was hardly 10min drive from Malpe Beach.
Second viewpoint was, Kaup Lighthouse & Beach. Kaup, is a small town which lies in middle of Udupi & Mangalore. The lighthouse is 27.12m tall and was built in the year of 1901, since then it is been guiding thousands of sailors sailing out in the water. Unlike many other light houses, one can climb up and enjoy a spectacular view of the sea, backwaters and vast land with coconut trees, with mere entry fee of Rs.5/- (and photography is NOT prohibited outside lighthouse). Arabian Sea here is comparatively rougher and as waves hit the rocks, one can feel the fierce nature. This place is famous amongst various devotees as here is an ancient temple of Lord Krishna.
Post enjoying such spectacular sea view, we headed towards our resort and some great dinner along with UNO (an indoor game) as our patent indoor game for roadtrips.
Day 02 - Udupi to Augumbe (61.1Km)
Next early morning, we took a walk to a nearby pier and enjoyed some fresh sea breeze and sunrise. Next, we took some good breakfast and checked out from the beach resort, as today's destination was Houseboat. However, on our way to we covered another viewpoint, that is, The Delta Beach. This beach is located in a small sleepy village of Udupi, (also known as Kodi Bengre Beach) and is approx. 10km from Malpe Beach. This place offers the beautiful scenery and is famous for a 'Sangama' ( confluence) of river Suvarna and Arabian Sea.
Post this we reached our houseboat, that is, The Paradise Lagoon Resort & Houseboats which is a wonderful place right amongst nature with all the possible amenities. Soon after we checked in, we started our houseboat ride with some light snacks & beverages; this houseboat was quite luxurious with two rooms and huge deck.
We enjoyed a 2-hour long boat ride covering absolute natural backwaters of Udupi and view were spectacular. Specialty of Udupi backwaters is that they absolutely natural and clean, unlike Kerala (Allepey) and of course, extremely non-commercialized which makes them more beautiful and peaceful.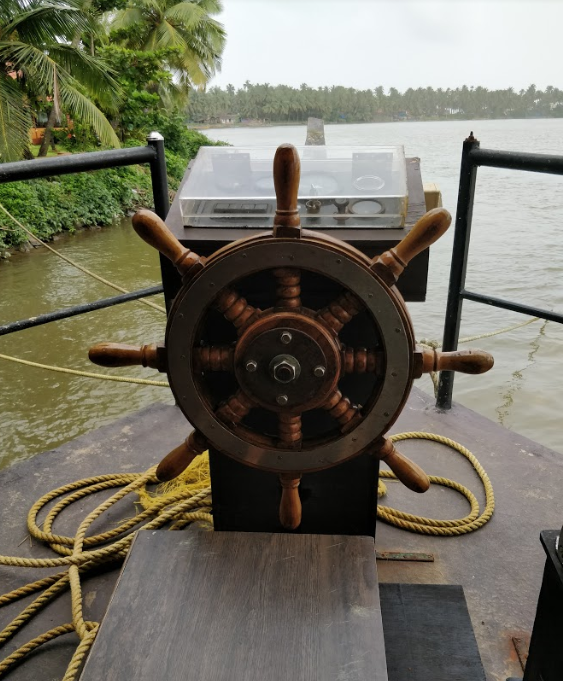 After a long boat ride, we decided to explore some nearby places as we had an absolute free evening, this was a sudden plan, everyone agreed too, and we decided to drive until Augumbe. Udupi to Augumbe drive was breathtaking to the core, light monsoon showers and lush green forests alongside.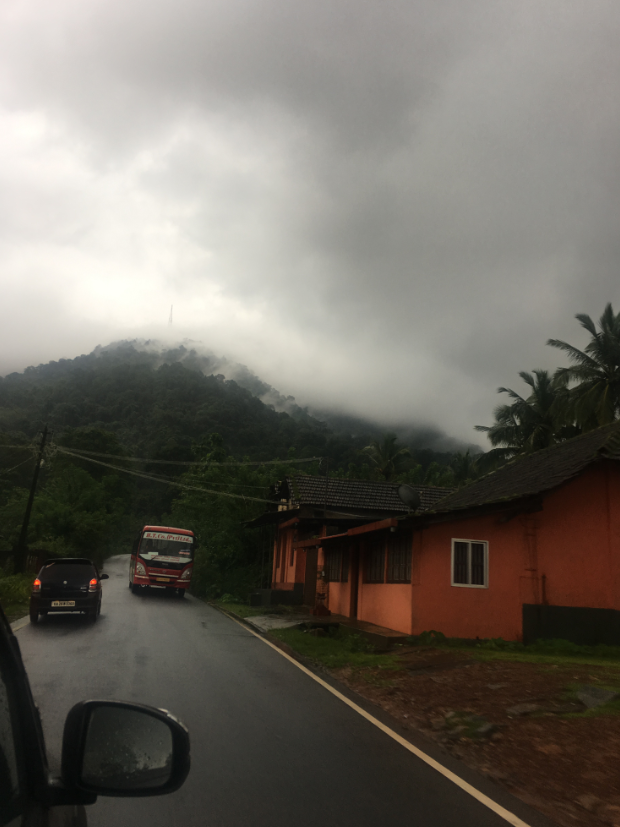 There were small waterfalls all over and the dense foggy roads/ghats, absolute surreal nature. This drive turned out to be, one of the best sudden plans till date. In addition, best part about this particular drive was, we did not have any phone network or GPS to follow particular road/location, all we did was, followed straight ghat roads, this was quite an adventurous.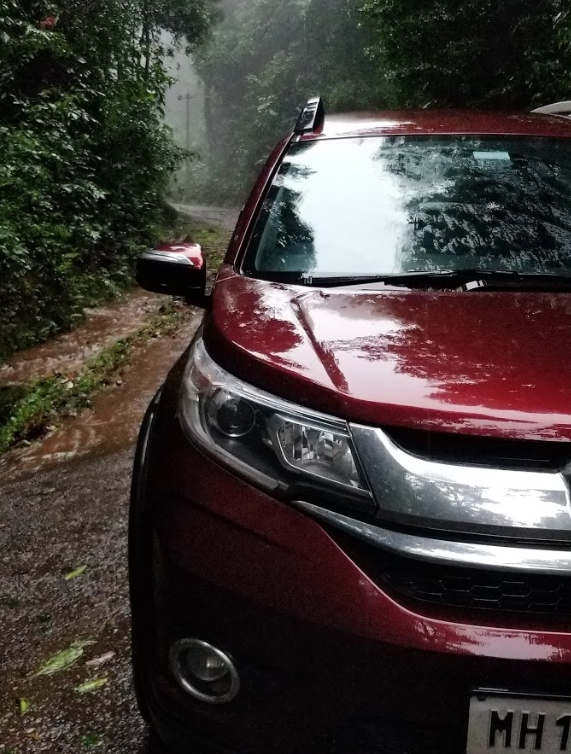 On our way back, we stopped our car in the midst of those monsoon forests and enjoyed the rain ( Barsaat ka mazaa na liya to kya kiya), and this marked an sheer memorable evening for Tripanians.
Thereafter, we returned to our resort, had some amazing starters followed by dinner along with some indoor games like UNO & pool, and yes, some light gossip session sum-up our night pretty well.
Day03 - Udupi to Jog Falls (160Km)
This day was supposed to be another adventurous one for Tripanians as it was a day to visit Jog Falls. What we see the first thing in the morning is, that our resort appeared amazingly beautiful during early morning, quiet backwater, lush green gardens and a tiny infinity pool, everything was simply perfect for a good morning. We had some nice breakfast buffet there with nice backwaters view.
We started our journey to Falls at sharp 7am in the morning. Again, the drive was absolutely beautiful and natural; as it was raining heavily; therefore, it brings in few risks along. However, we always go through necessary vehicle checks ( which is extremely important when involved in Roadtrips), but we bump into a very uneven road and as a result it ruined BRV's one of tyres. Luckily, we could locate a small shop nearby otherwise it was next to impossible to find anything in that forest location. Those guys fixed the tyre quickly and we resumed our journey. Such experiences always give us a lesson to deal with hurdles during the journey.
This drive was also quite tricky and adventurous because of the elevation, hairpin turns and the absence of mobile network/GPS. Yes, there was absolute zero network and we were relying on downloaded google maps. Also, another very important point is, the roadside sign boards will help, only if one can understand 'Kannad' ( a local language in Karnataka state). So, there were times that we were clueless with the direction ( lol, pretty courageous, right) but good part was we enjoyed some good music, new experience while interacting with locals and some amazing tea breaks. Finally, after an elongated wait, we reached our destination.
As we reached, it was a real surprise to us that the entire location was very well maintained by the government, along with a massive waterfall viewpoint deck. We reached the deck, and there were mighty and glorious Jog Falls. I have not observed such a surreal sight in recent time; the huge falls were standing outright there.
The Jog/Joga falls or Gerosoppa Falls is the second highest plunge waterfall of the country located in Shivamogga district of Karnataka state. The Colossal Falls are cascaded by the River Sharavathi ( an Indian river) dropping from a height of 830ft; the falls consist of four segments: Raja, Rani, Rover and Rocket We enjoyed the absolute surreal sight here and had some light snacks here.
After spending some good time here (approx.. 2 to 2.5 hours), we started our journey back to Pune (origin point), a distance of 599KM. We started from there around 3PM and reached our respective dens late in the night around 2AM. This concluded one of the most tranquil, exploratory and nature-loving monsoon trip for team Tripanians.
Quick Run-Through:
Total Distance - 1457 KM
States Covered- 02 (Maharashtra, Karnataka)
Destinations: Udupi (2N)
Contributors: 5 Souls & 1 Vehicle
Viewpoints:
Malpe Beach & Pier Kemmannu Hanging Bridge Kaup Lighthouse & Beach Delta Beach or Kodi Bengre Beach Paradise Lagoon Houseboat Ride
Plese visit https://www.tripanians.com/ and reach out to us if you are interested in similar trips, we provide exclusively curated Self-Drive RoadTrips.