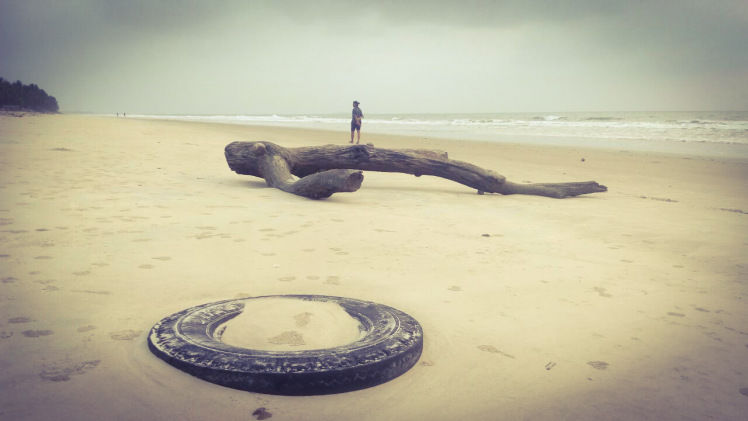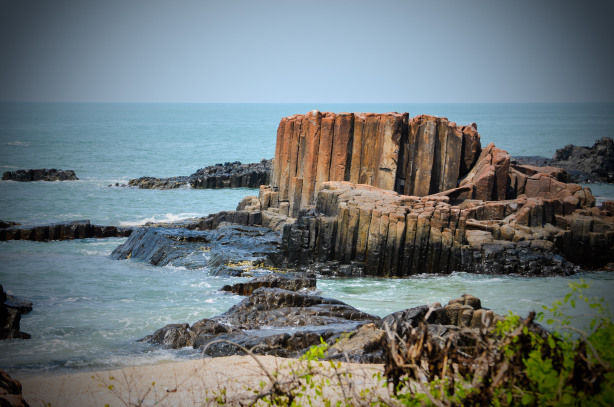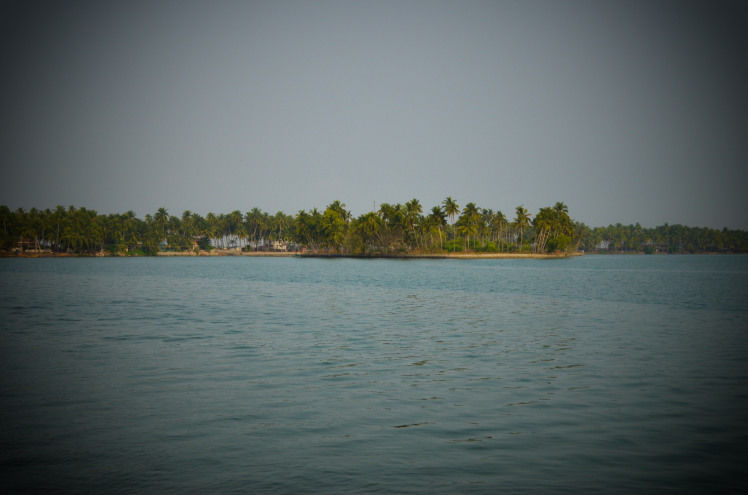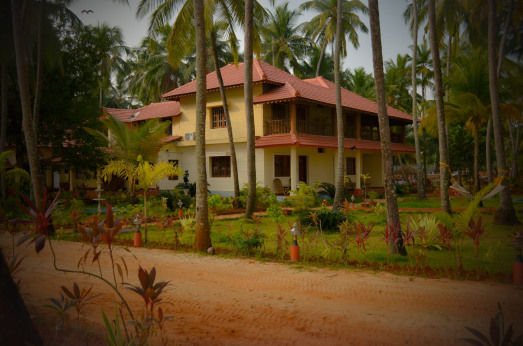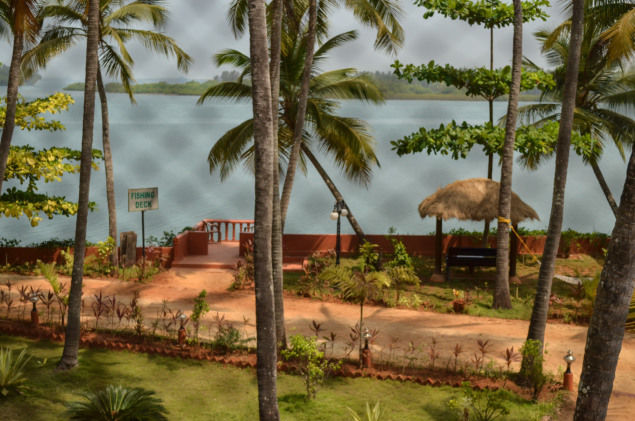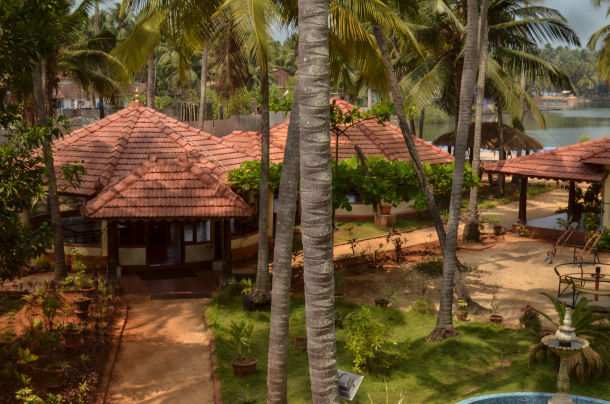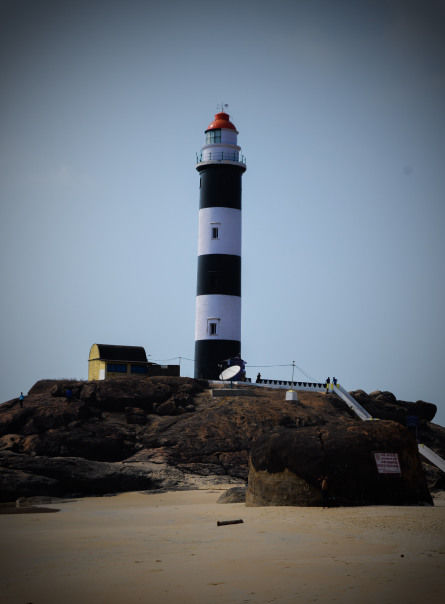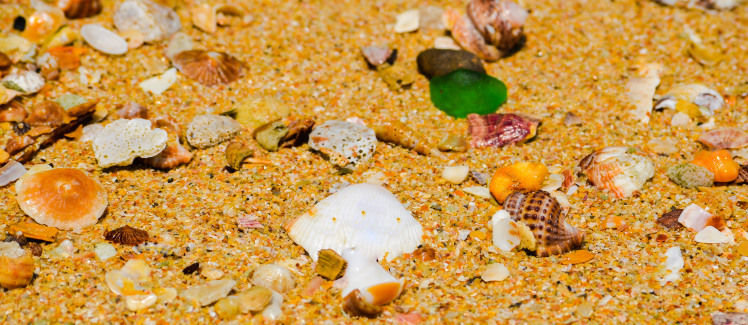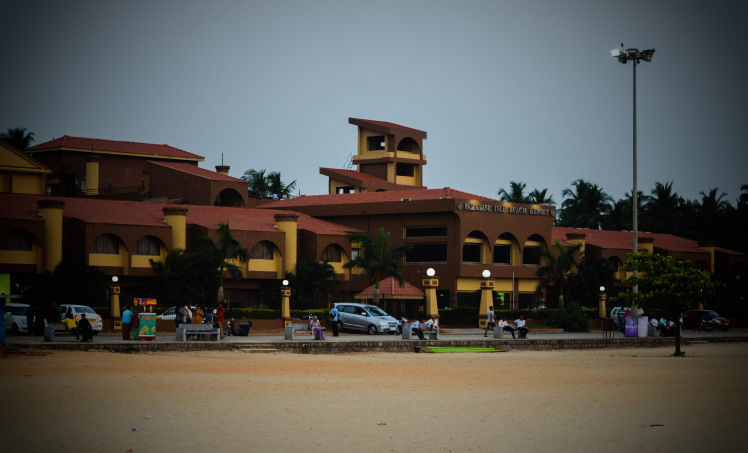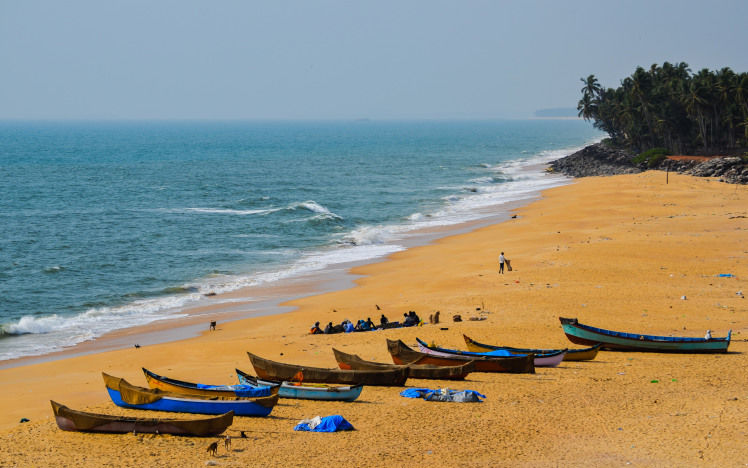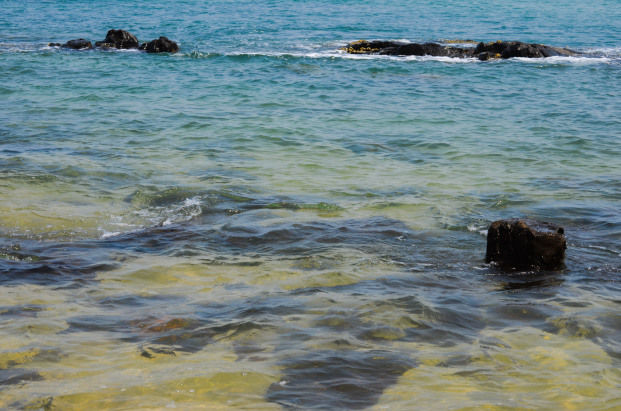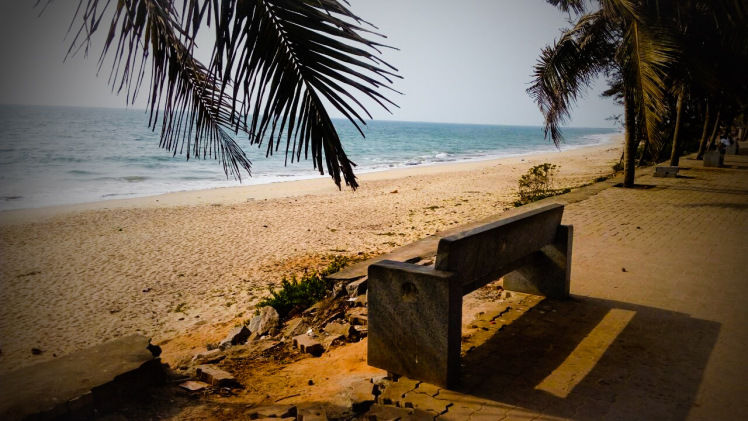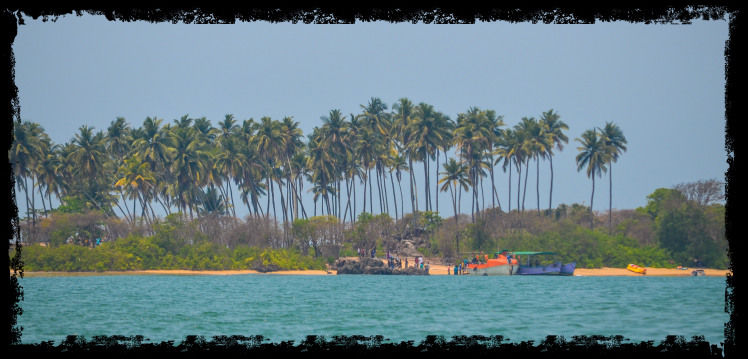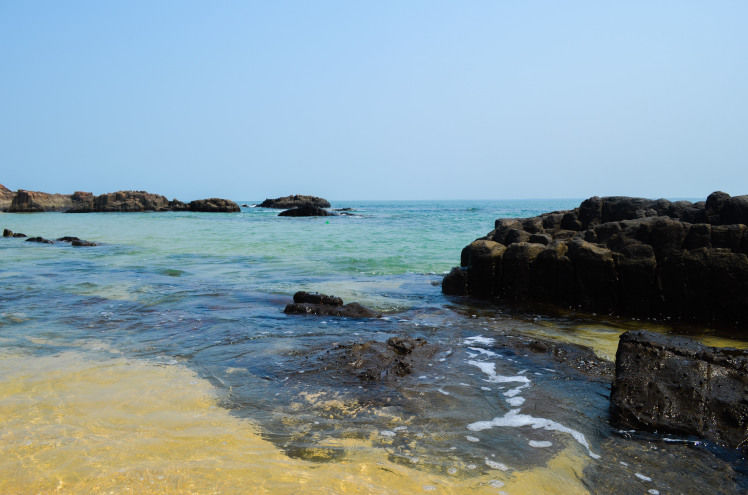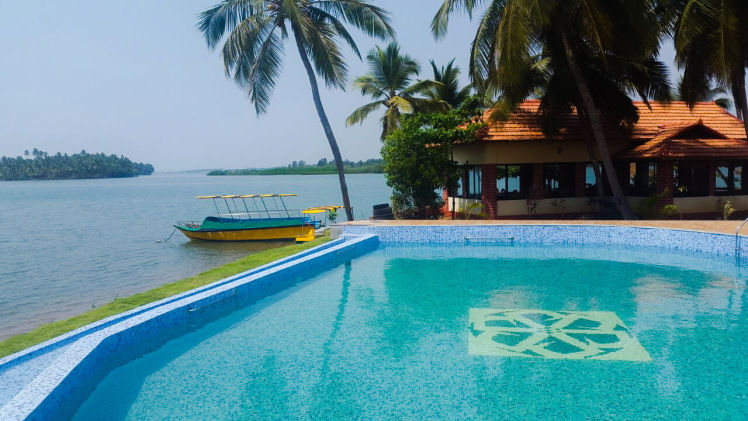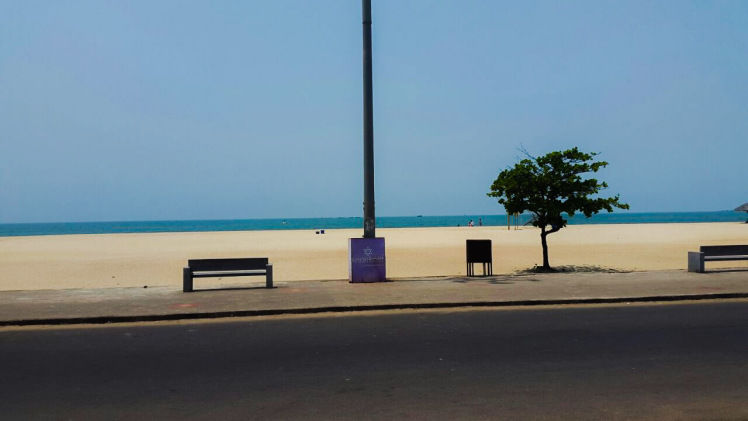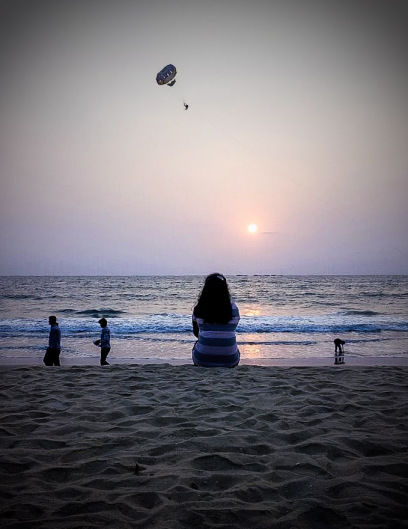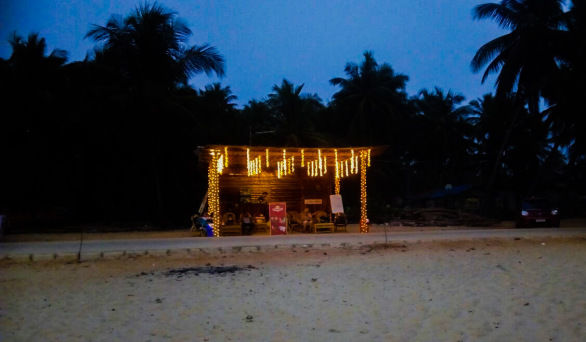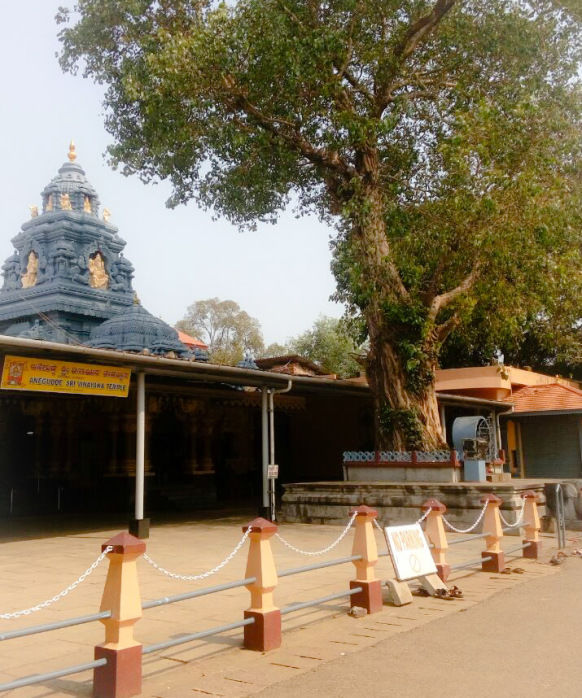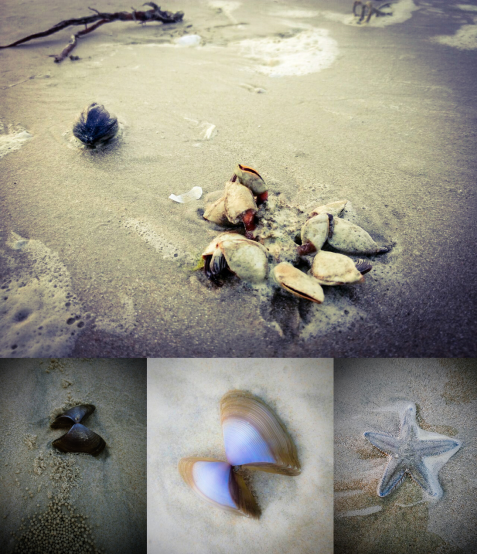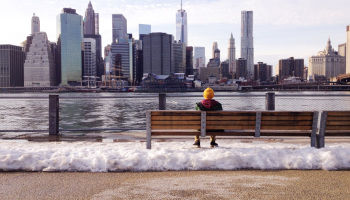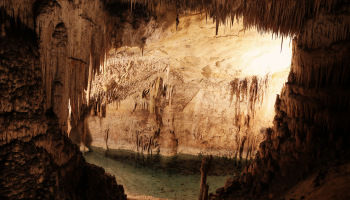 Udupi is known for its Krishna temple but what it's less known for is the beaches, which are located not too far from the main town. You can get to Udupi by train or bus from Bangalore or take a flight to Mangalore and then a bus/taxi. We made Malpe our base, a small town about 7 km off Udupi. We stayed at the Paradise Lagoon Backwater Resort for a couple of days as we wanted some quiet and peace. March is hot in any place in India so we were not too perturbed but the Lagoon offered us exactly what we needed – quiet, homely sea food and a chance to relax.
Paradise Lagoon
The Lagoon overlooks the backwaters of Udayavar River which joins the Arabian Sea at Malpe. The Lagoon has a brilliant view of the backwaters on which local fishermen get their catch of the day. There are some indoor games, you can try your hand at fishing, paddle boat and spend a day in a houseboat if you wish to get into the backwaters. There is even a brand new infinity swimming pool overlooking the water for those who just want to take a dip. The lagoon is perfect if you want to just listen to your inner self – it's that quiet. We were lucky to be staying as the only guests and had that more of privacy. The rooms are nice and rustic – there are some pigeons in the property who keep cooing and have made themselves very comfortable but they are no trouble to you. The food is more like a homestay and the cook will whip up yum coastal Karnataka dishes. The food we had at The Lagoon was even better than the food we had at some of the restaurants elsewhere.
Lagoon is quite secluded other than the Thonse Health Center close by which offers stay and natural therapies. One way to travel is by renting bikes. Royal Brothers offers inexpensive options to rent bikes ranging from Rupees 10 to 50 per hour depending on the type of bike. It's the best option to be on the move and explore other parts of coastal Karnataka.
Kodi Bengre Beach
What's backwaters without the sound of the beach? The Kodi Bengre beach is just about a kilometer away from The Lagoon and we walked it quite often there. Kodi Bengre Beach is where river Suvarna meets the Arabian Sea. As with the many beaches we saw here, Kodi Bengre is unoccupied. Because of its relatively calm waters, learning to surf is possible and Shaka Surf Club is located right here. We wanted to learn to surf but the Club got back to us quite late so couldn't go but we saw a few people catching the waves there. There is something magical about stepping into ocean water with the waves crashing against the beach and watching the sunset. Kodi Bengre also had the largest number of sea-life we saw in all of our trip – just 10 feet into the water and its teeming with all kinds of shellfish.
Paradise Isle Beach Resort, Malpe Beach
After a couple of days at The Lagoon, we made our way to Malpe's Paradise Isle Beach Resort which is just about 100 feet from the Malpe beach. Paradise Isle offers everything – budget rooms, premium rooms, spa, pool, indoor games and three restaurants. We got the sea facing room as an upgrade and it was stunning. The restaurants serve 3 different kinds of cuisines and have a view of the sea. The spa there is ayurvedic and you can hit the pool as well to cool off. The owners of the resort are also planning to renew licenses for diving which might be another crowd puller.
The Malpe beach is a little more commercialized than Kodi Bengre and we saw some crowd towards the weekend but it still is clean and calm. Because Malpe is just about 7 kilometers from Udupi it is well connected if you don't have your own transport. From here, you could go up north toward Murudeshwar or Gokarna or south towards Mangalore.
Kapu Beach
After our visit to the Udupi Krishna temple, we headed south. Kapu or Kaup beach is located about 20 kilometers from Malpe on the Kochi-Panvel highway, NH66. It is known for its lighthouse, built in 1901 and stands about 27 meters above the base. We couldn't go up as the lighthouse was shut but we were told it opens up in the evenings after 5 pm. But you can climb up till the base and get the view of the beach, the fishermen boats and a part of the backwaters. We even saw a shooting of some film with people on All Terrain Vehicles which was cool.
Anegudde Vinayaka Temple
We headed north the next day and visited the Anegudde Vinayaka Temple, where Bheema, the strongest of the Pandavas is known to have slain Khumbhasura with a sword gifted to him by Lord Ganesha. The town is also known as Kumbashi for the reason above. The temple is not commercialized and one can have a quiet visit to see the architecture.
Kodi Beach
From here, Kodi beach is only about 10 kilometers away and is one of the quietest and unexplored beaches we have ever seen. Kodi means shore in the local language. We went totally unprepared but if you have a beach umbrella or snorkeling equipment, do remember to take them along with swimwear – Kodi is almost a private beach and you can spend hours in the sea. There is also a restaurant nearby – Kinara which seemed popular but can't be too sure as we didn't go there.
Maravanthe Beach
Along the same road going north is also Maravanthe beach which is known to be one of the most beautiful beaches of Karnataka. River Saupernika does almost a U-turn before joining the Arabian Sea and the stretch of road is picture perfect with backwaters on one side and the ocean on the other. If you are comfortable with bike rides which are probably the best way to see the scenic beauty of coastal Karnataka, you can also head up to Gokarna which is about 100 kms from Maravanthe. The roads are almost perfect, just a few stretches of uneven ones but you can hardly notice it.
St. Mary's Islands
The next day, we went to St. Mary's Islands which is about a 20 minute boat ride from Malpe beach. The private boats take off from just in front of Paradise Isle itself but there are some government boats as well from the harbor situated about 15 minutes from Paradise.
They are known for their distinctive rock formations of columnar basaltic lava which were formed millions of years ago. These islands one of the 26 Geological Monuments of India declared by the Geological Survey of India in 2001. According to folklore, Vasco de Gama landed here and named one of the islands after Mother Mary before going to Kozhikode, Kerala. The rock formations are beautiful with most of them having hexagonal patterns on them.
St. Mary's is just incredible. The water s are so blue and pristine, it takes your breath away. We spent more than an hour there and if it wasn't too hot, we would have probably spent a few more hours. The only disappointment was the plastic – it was everywhere. Bottles, caps, spoons, plates and covers on the shores. Considering it is a geological monument, it is not maintained too well. It is a miracle that the waters are as clear as they are but unless the government and the people act, it will be too late.
End to an awesome trip
We spent the rest of our time in Malpe watching people fall off the banana boat, parasailing and jet skiing. As we sat watching the sunset, we wondered about the beaches we saw and all the other places that are unexplored and non-commercial. There is so much beauty in India itself and so many places which are yet to be explored fully. We spent 6 days on this trip but if you have more time, you can cover the whole of coastal Karnataka which I am sure is as pristine as what we saw.
* Most of these photos are taken with a mobile phone with some editing done. Some of them are from a Nikon D5100.
This post was originally published on 'Broth of Blogs'.