Kheerganga is a pure bliss to a trekker's eyes as it offers the most majestic and panoramic views. It's a holy place and will instantly make you fall in love with it's beauty. Kheerganga not only offers divine sunrise and sunset views but also a Hot Water Spring that takes away all your tiredness, a small Temple of Lord Shiva and how can you forget the Stargazing at night♥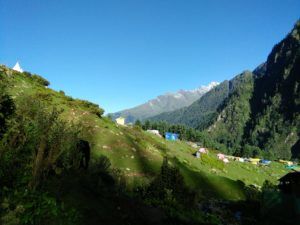 Kheerganga is not just a Trek, it's an experience of a Lifetime. Imagine a bowl of Maggi, a mountain Chai and a free Jacuzzi - all at a height of around 3000 meters. Heaven..Right?? Kheerganga is located in Parvati Valley (Kullu Valley). It is one of the last inhabited village in the Parvati valley.
Why Kheerganga and How to Reach?
I hope I have already given you a worthy of reasons to do a lifetime Kheerganga trek.
Now Let's talk about how to reach kheerganga.
The Starting point of Kheerganga Trek is Barshaini. We started our journey from . In case you want to know how to reach Kasol from Delhi (Refer to this link → you can read my journey here) We spent a day in Kasol and next day at around 10 am we started for Kheerganga. You can take a bus or taxi from Kasol to Barshaini.
Bus arrives Kasol after every half an hour. The taxi fare is fixed at 800/- Rs. which is a bit expensive. So what you can do (like we did to do a budget travelling) is to share your cab with fellow travelers who are going towards Barshaini or Tosh. That way it will cost you as less as 200/- Rs. per person.
Barshaini is a small town with a very few staying options, Basic Dhabas, a taxi stand and a wine shop.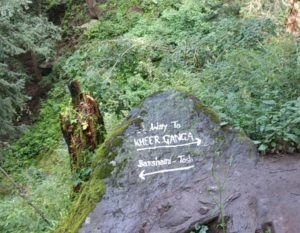 Carrying heavy backpacks won't be a good idea for trek. So, I would advice you to keep your extra luggage at Barshaini or Kasol (if it was your starting point like ours). Only keep essential things required for a trek (Refer to this link for detailed information about → what to carry for a trek).
Trekking Routes to Kheerganga
The trekking distance from Barshaini to Kheerganga is around 13-14 km. It will take an average of 5-6 hours to reach the top by any of the route. You can opt any of the following 3 routes.
Through Nakthan Village. It is the most popular and well marked route for Kheerganga. Walk to the bridge after Barshaini and take a left turn. Ask from anyone for the village route as You will meet a lot of people on this way. Though It's not for the adventure freaks and photographers. We took this way while trekking back from Kheerganga.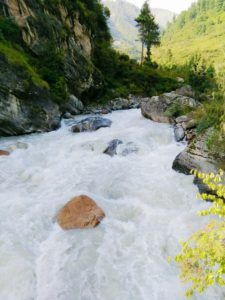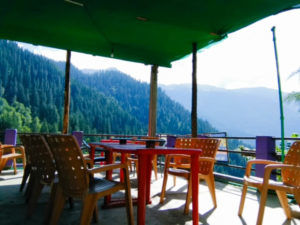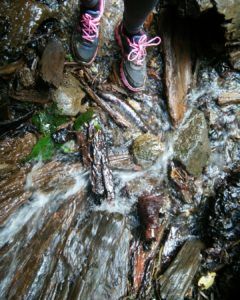 2. Another one is through Kalga. It is known as the Jungle route. From the bridge, take a right to hike up and reach Kalga village. Although after half way it joins the main route. (Being an adventure freak I never study about the place before visiting, I always like to explore places on my own. So, we unknowingly took this route and trust me it was the best decision ever. It's more difficult route but more exciting as well.)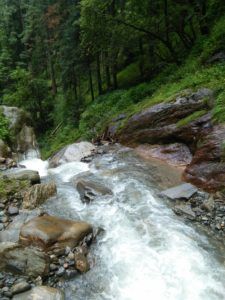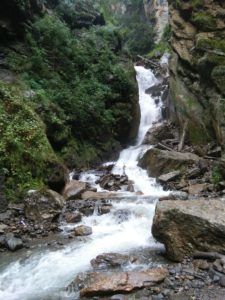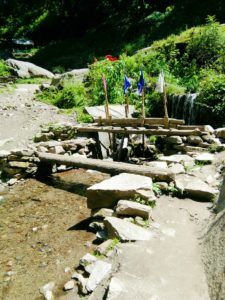 This route passes through dense forests. Every time it feels like a dead end. You rarely meet people on the way. So, its quite possible for you to lose your way. So, I would advise people who are that brave and adventurous should choose this one.
3. Last one is from Tosh Village. This route is mostly used by people who stay in Tosh for the night and Willing to trek the next morning.
Kheerganga is a very popular trekking destination these days. It is very easy to find an accommodation here depending upon the season, weekend crowd and weather. The best option is to get Camps on twin sharing basis which will cost you around 300-500 bucks for a night. You can get your meals from your camps only. Else, there are a few cafe options available as well. Food is bit expensive here as it's difficult to make it reach up there but it's totally worth the money.
Kheerganga is known as the Land of Lord Shiva. The scientific reason behind the hot water is because of some volcano in the mountains. But as per Hindu Saying, It is said that Lord Shiva gifted this spring to Maa Parvati and she used to come here for bath. And this place is known for their Love.
"Best time to visit in Summers: March to May (tho I visited in September, so it all depends on your choice)"
This is a perfect stress and tiredness releaser after trekking for long hours. Remember you are only allowed to take bath till 7 pm in the evening as it's a holy place. So make sure to reach Kheerganga by 6 pm.
A snow trek is always difficult as compared to a normal summer trek. Kheerganga in snow is like a paradise. Anyone who wants to experience Kheerganga in its true essence should visit in winters as there will be less or no crowd and less prices as well.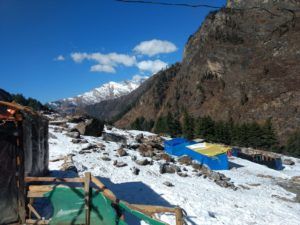 But it becomes a little difficult if you are not aware about the routes and if you are a beginner as it's a moderate trek. So the best option would be to once do it in summers, get aware about the routes and then go for it in snow.
"Note: Make sure to carry at least 6 to 8 layers of warm clothing as the temperature goes as low as -20℃, proper waterproof trekking shoes, food and water as well."
Note: It gets closed during heavy snowfall so the best time to go is between December to January. You can experience the best snowfall at New Year's Eve ????
Happy Traveling !
So, this was my experience of Kheerganga. Hope you will enjoy it as much as i did. If you like the post, do share it with the world around you ????