They Say every Journey begins with a difficult step you take to overcome all your fears.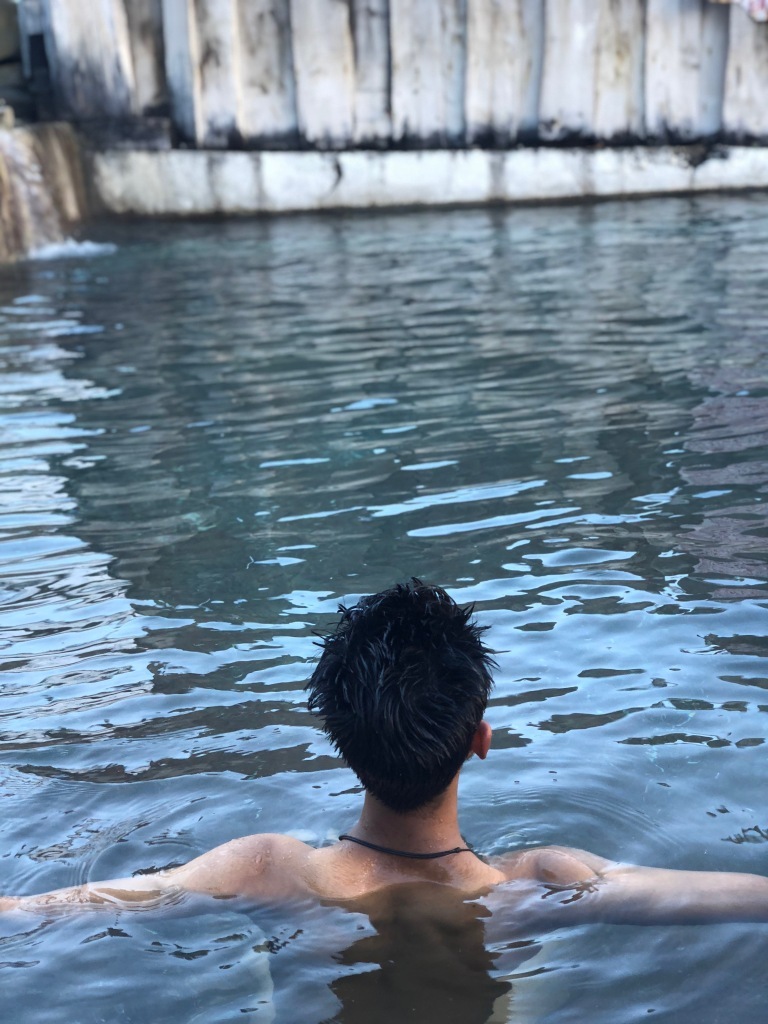 Parvati Kund : The Sacred Natural Hotspring. Weather Temperature Measured -10°C
So for the starters i must tell you this journey was not at all planned we sneaked towards the lovely KHEERGANGA to take a holy bath into the lovely PARVATI KUND. This Trek was so good in many ways it just made my fear vanish into thin cold air. I never thought i could make it.
Note: This 13km trek can be covered in around 4-5 hours at moderate pace. You can complete this trek in a day and come back if you dont want to stay at the top.
After Spending a lovely chilly night at kasol we woke up and left for tosh. And you can imagine how these areas can turn out to be during end december.
As we reached Barshaini - a beautiful village just 16km from kasol. We were stopped by the local saying the trek is closed because of heavy snow fall (later we took a local and sneaked there).
Just for your knowledge to reach kheerganga you've got two route options Tosh and Barshaini. You can take any route, you will reach at a mid point which connects both the routes.
We took a right from barshaini towards the parbati hydal project dam crossed that bridge into the hills.
At first we were so powered and charged up. By the time after walking for like an hour the trail became difficult and due to our inexperience we started taking breaks often.
Note- when you are trekking you should definitely carry essentials like water, chocolates and whatever snacks you can. And when You should carry comfy warm clothes.
Chocolates will help you gain your energy back so eat it whenever you feel like.
The trail includes several small and big bridges and you will actually shift mountains leaving behind the last one after a bridge.
Our first stop was the small yet peaceful and very beautiful village called Nakthan. Old traditional himachali village with not more than 30-40 houses build of woods and stones. It is just around 6km walk from barshaini. There are few cafes, dhabas and shops serving travellers. We rested for 15-20 minutes and then left.
After a walk of like 25-30 minutes we reached Rudranag temple. The name Rudranag comes from a serpentine waterfall near the temple. It is a great spot to actually relax yourself for a bit and enjoy the scenic views and various waterfalls nearby.
Now tell me have u ever seen the trail just disappear completely. Exactly thats what happened with us just walking and suddenly the trail disappeared and we started walking on thick snow (around 2-3feet). Dev (local friend) told us to just follow. The trail is actually a bit dangerous as it is small already and that to covered in snow anything could happen if you fall you gonna end up drowning yourself in the river parvati as it flows just down the side.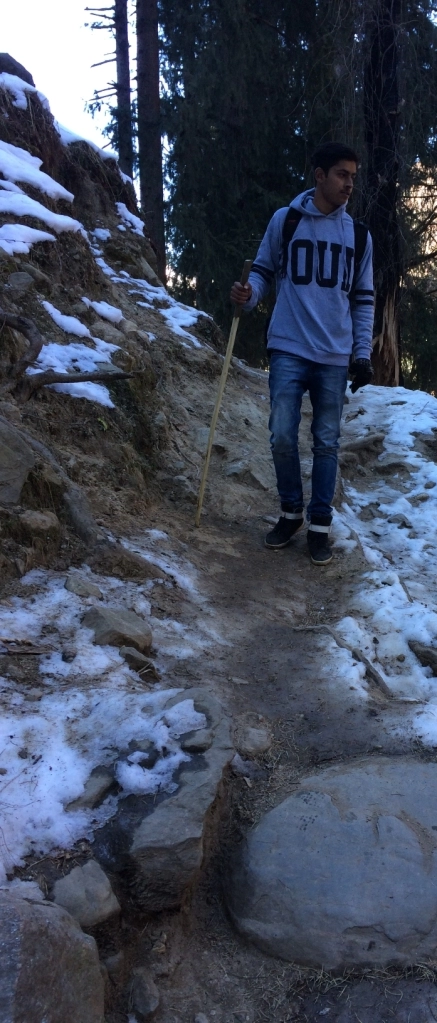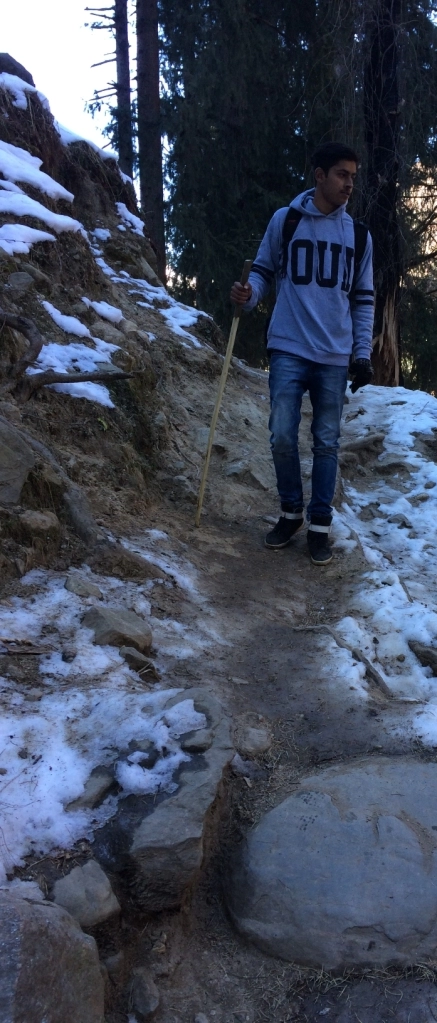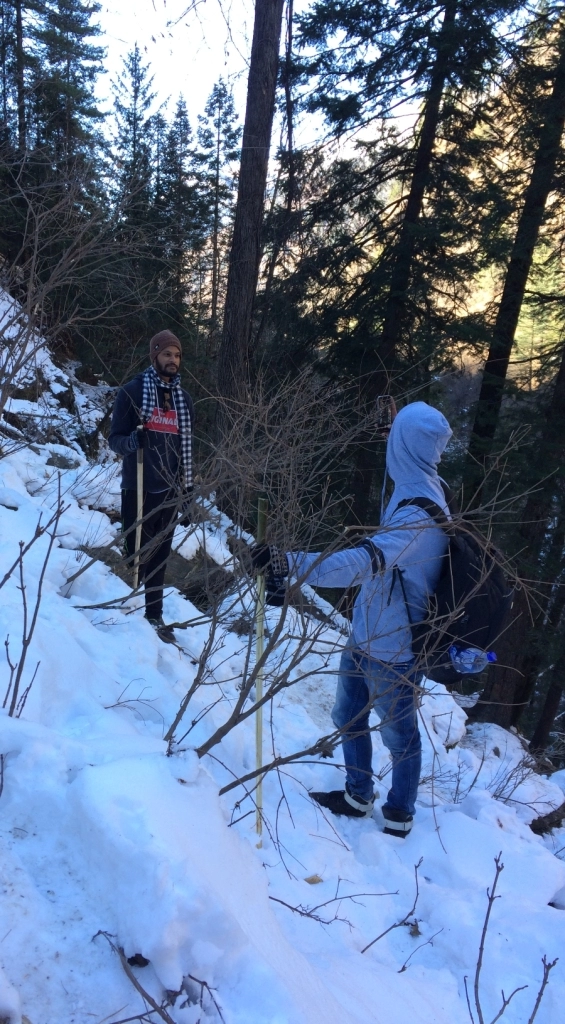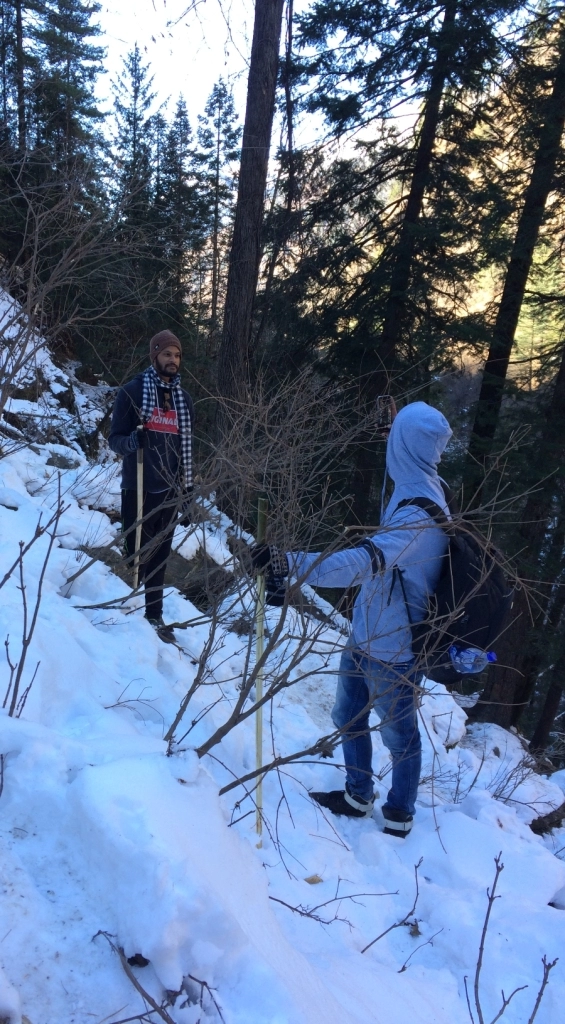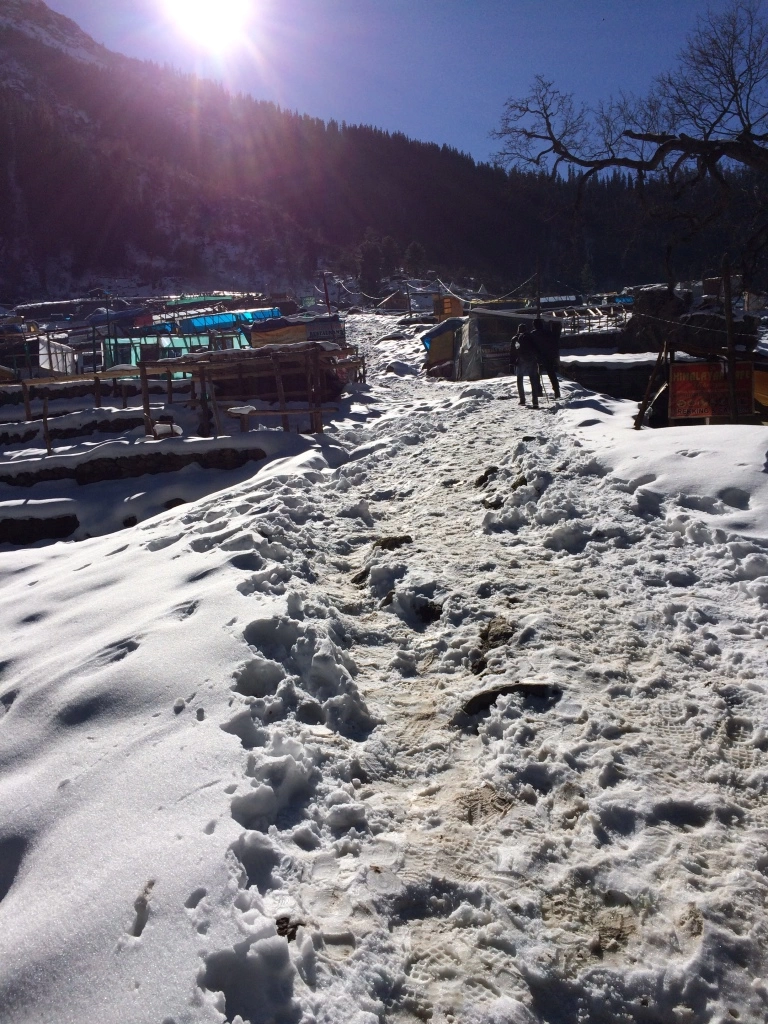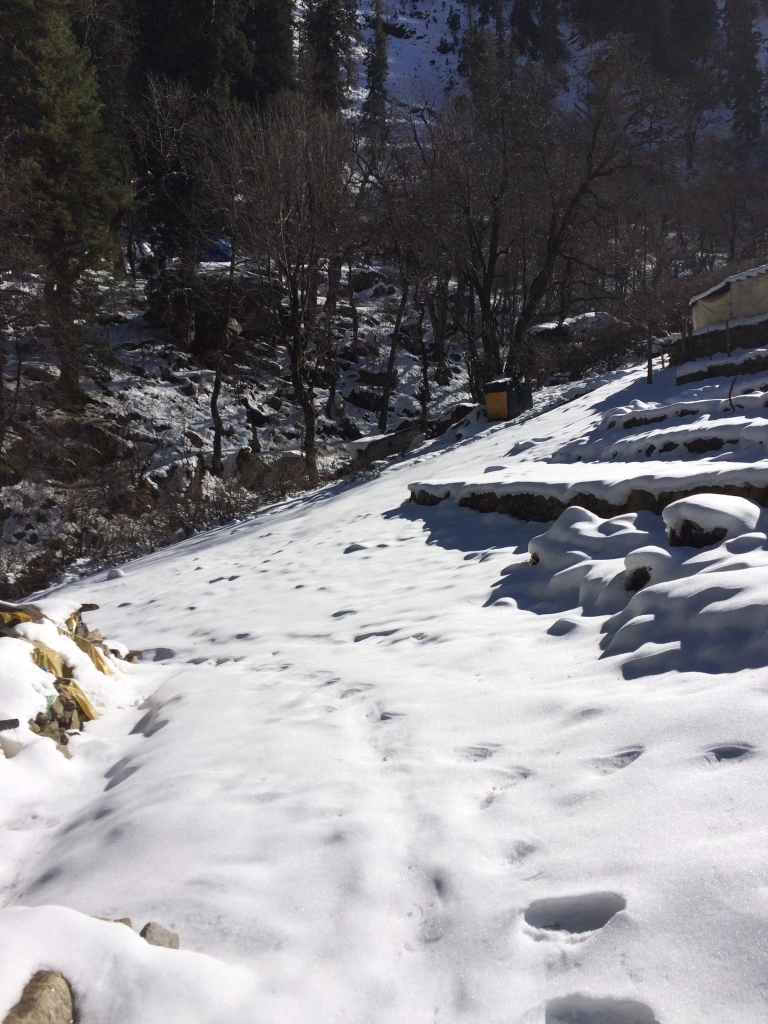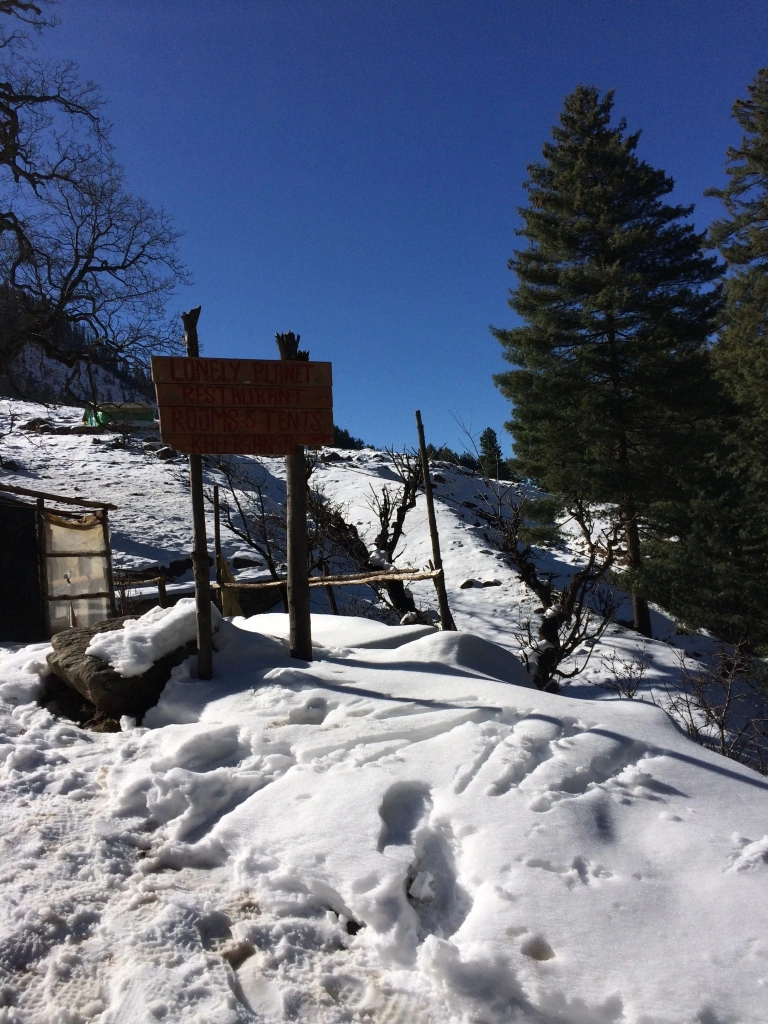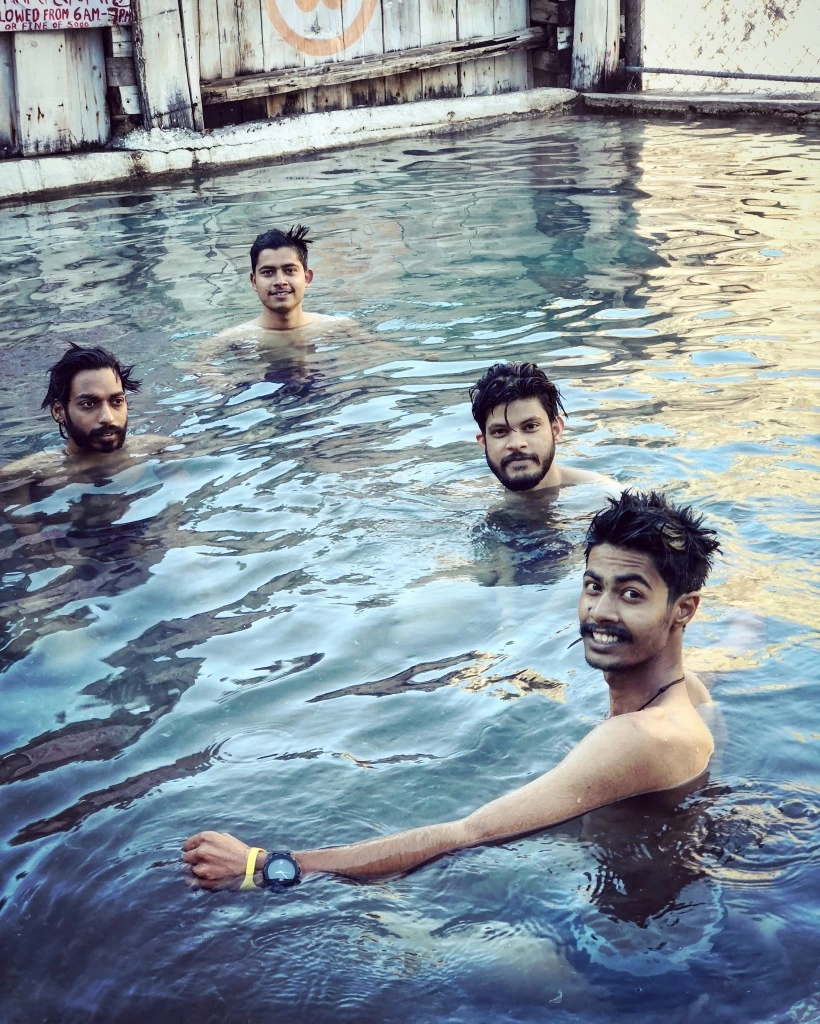 5 minutes before (my younger brother in the picture)5 minutes after.
We didn't see too many people as the trek was closed, mostly we saw the local shop owners.
After walking for an hour we were literally climbing a mountain with a few step as we reached the top (i was the first) the view just took my breath away i mean this picture will not do justice to my level of Excitement my jaw just dropped.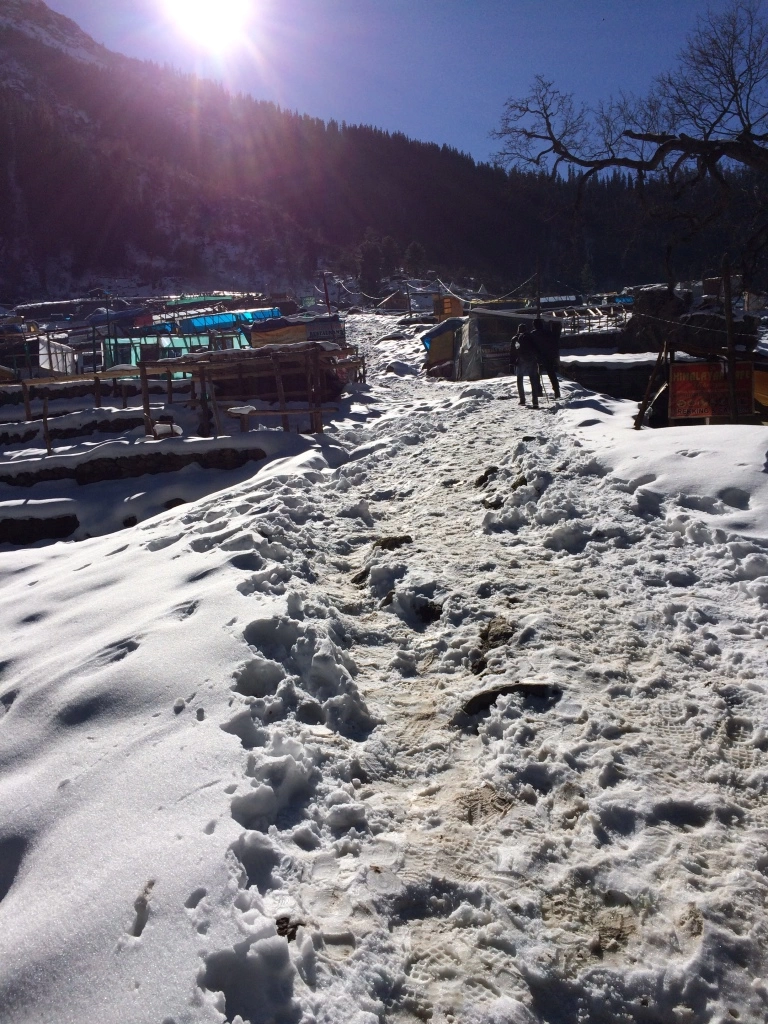 Kheerganga: the unreal beauty. This view just popped out.
The Unreal Kheerganga just popped out from literally nowhere. Looking at the timing of the picture you can imagine too with the sun coming out from the mountains making the snow shine even more and glazed our eyes.
Everything was closed the cafes, homestays dhabas, shops all. I found us a small dhaba who made maggi for us which went cold as soon as it came out of the stove thats how cold the temperature was.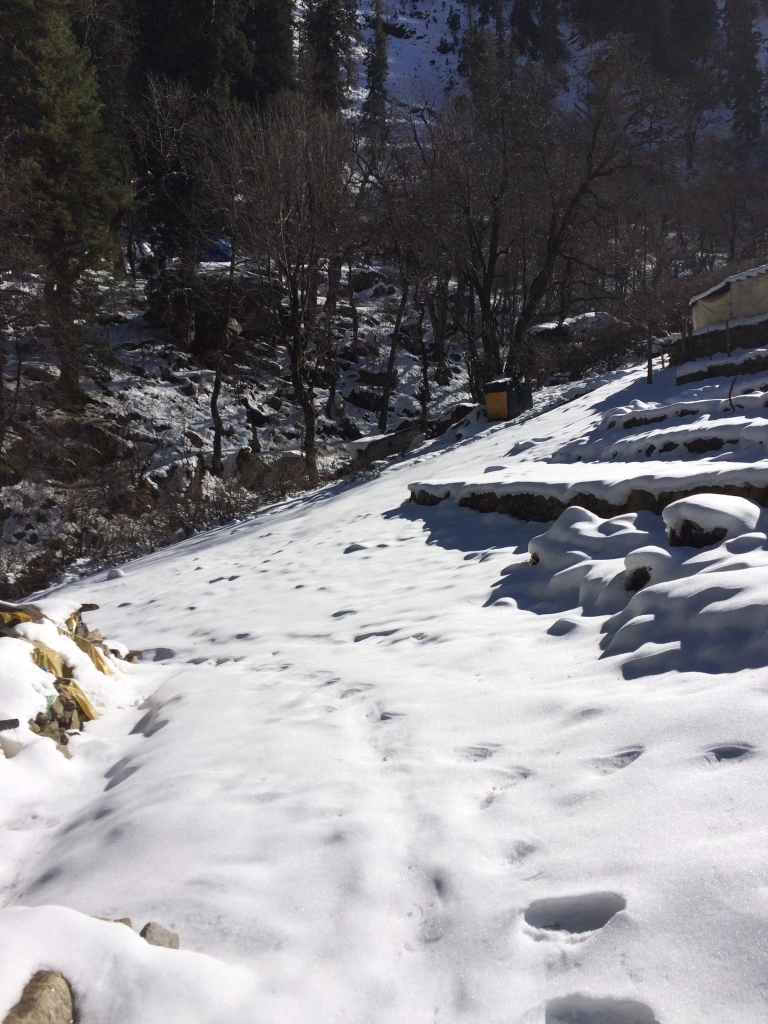 A cafe covered in snow (closed)
The weather was so cold we were unable to hold it, the cold breeze was literally cutting us to pieces.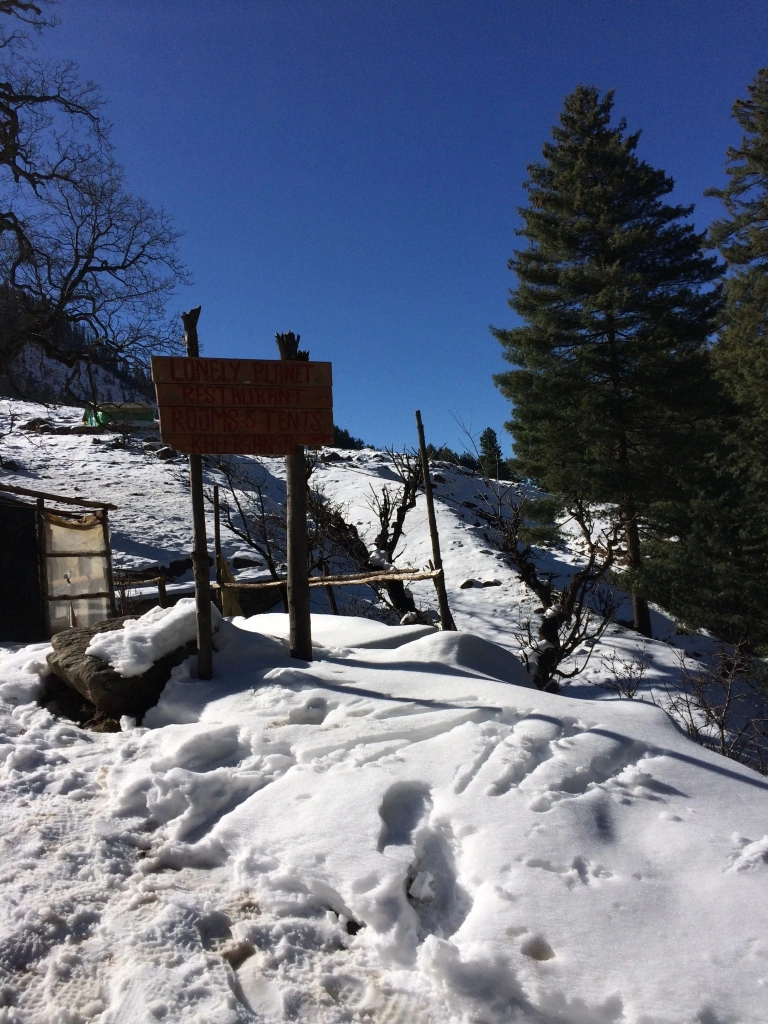 The Lonely Planet Restaurant Signboard.
When you reach at the top at parvati kund and look down you will be mesmerized by seeing the beauty of the snow ocean that shiny snow will make you forget everything.
This experience is unexplainable. We saoked ourselves for an hour and headed back which took us another 4 hours to reach barshaini.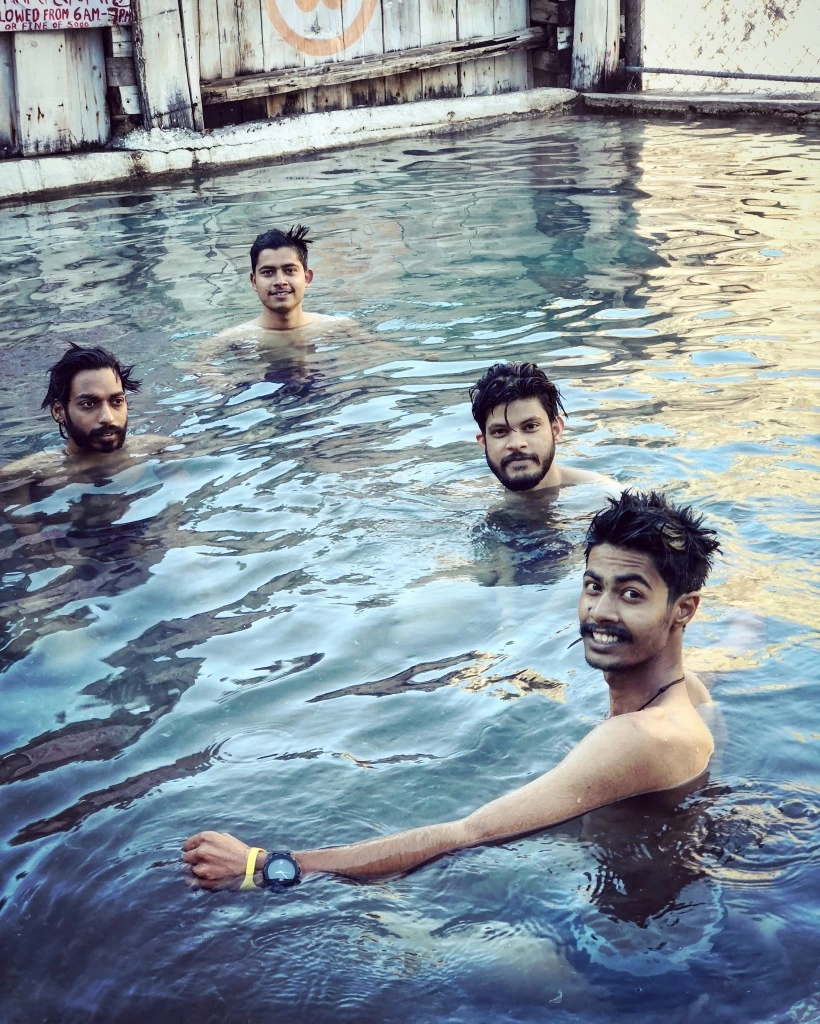 The Happy Faces. In picture from the top rishabh, prashant, abhishek and me.
I am really thankful to Dev who helped us and guided us sneaking into the trek and made our journey so memorable. I still remember the fall we had to take on the hard snow.
At the end i would say one should definitely do this trek and i suggest especially in winters because i believe winter treks are the best.