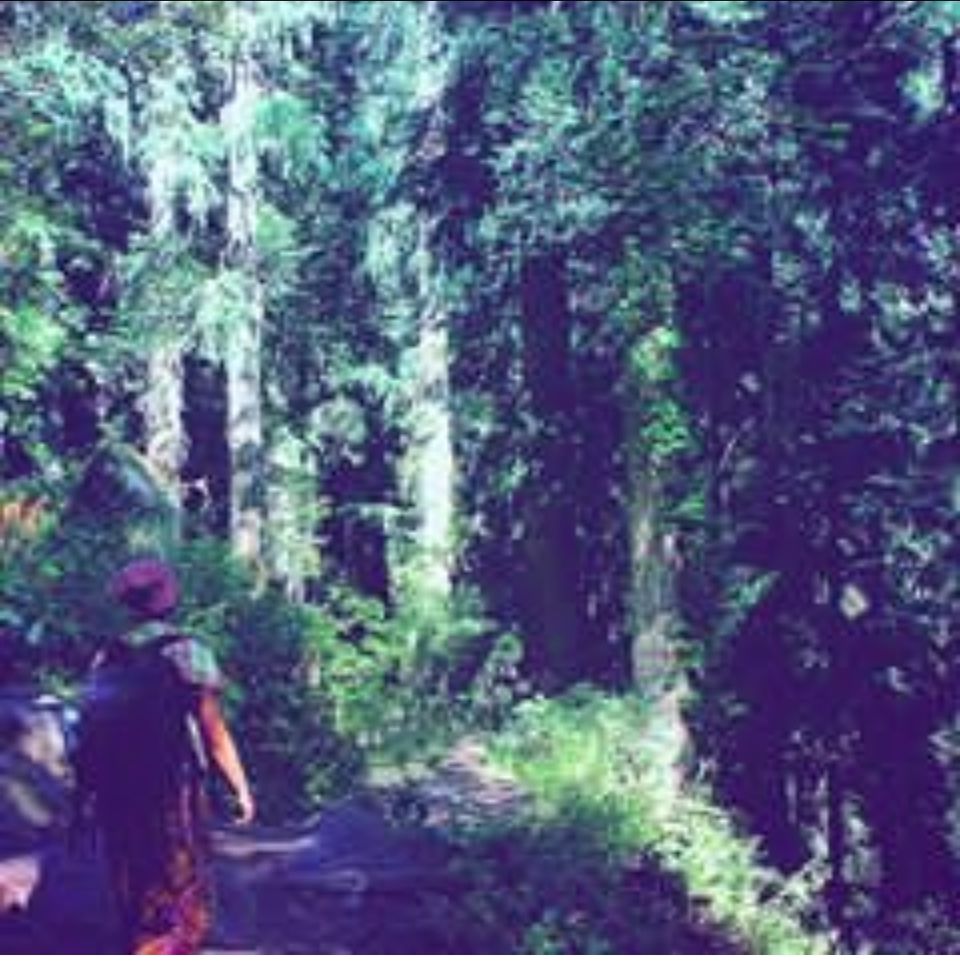 To nature, the therapist.
I have plenty of stories to tell but this one is something which is engraved deep in the hippy hemisphere of my mind.
My First Love: Mountains. The best ever way, I could find, to give the best to my love, is exploring them on foot. This story is about Kheerganga, famous in Hindu mythology and heard to be related to Sikhism as well. It is considered as the land of Myths.
When you talk to the natives, some tell stories of Lord Shiva and others tell the stories of Guru Nanak Sahib. Nevertheless, I felt a strong vibe of spiritual energy in the place.
Kheerganga is an amazing and pleasant meadow amidst the lap of mother nature, in Parvati Valley Near Kullu, Himachal Pradesh.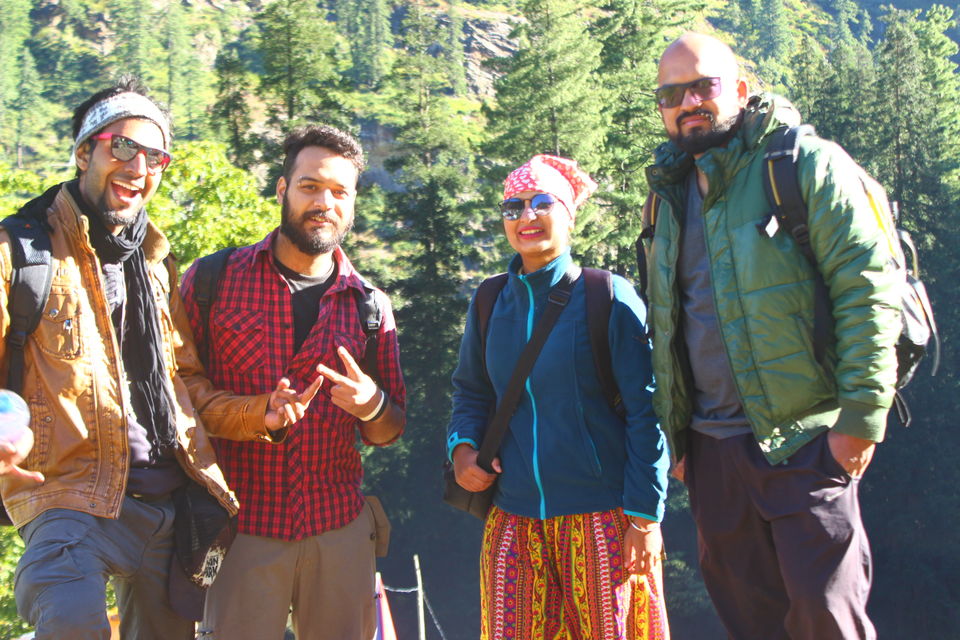 Before I start with the story, of this amazing journey, let me tell you why anyone should go ahead with this plan.
It's a mild trek. Starting from either Barshaini or Kalga (20 Kms from a major tourist station called Kasol). Just 11km trek via the latter and 13 km from the former.
Can be done in a weekend's time.
Can be done in winters, it snows in the place, but winters has its own charm.
Ascent-descent can be done in a single day. Though, you have to start early morning.
Offers you a pure-jungle experience as well, and the mighty Parvati river is the treat to watch.
And here we go.
Day 1: Delhi-Kasol (520km)
I was travelling with my friends, and were a group of 4. We started our journey from New Delhi on 16th September 2017 at 5 am.
Taking a number of breaks in between, including the Gurudwara in Kiratpur plus the Langar
and Manikaran Sahib (close to Kasol town itself), we reached Kasol at around 6 in the evening, after a ride of total 14 hours. One must get enough sleep if intend to complete this journey on a bike. Another thing, Manikaran is famous for its hot water spring. People also say that it is famous for Shiva, who spent eleven hundred years meditating here with Parvati.
Kasol is situated 40 km from District Kullu, and is reachable by any mode of transport. You can choose the stay from a long list of hotels, this place offers everything a tourist or traveller needs. One can choose to stay in Barshaini as well. It is 20 km away from Kasol. Reachable by bus, car or bike.
After reaching Kasol we managed to get a hotel for ourselves and get settled and dozed off early.
Day 2: River Parvati
It flows with grace amidst the valley and Kasol on its right bank. From our hotel, a 10 mins down trail, took us to the river side. It is said to be the most peaceful and calming place in Kasol village, specially the early mornings. And indeed it was.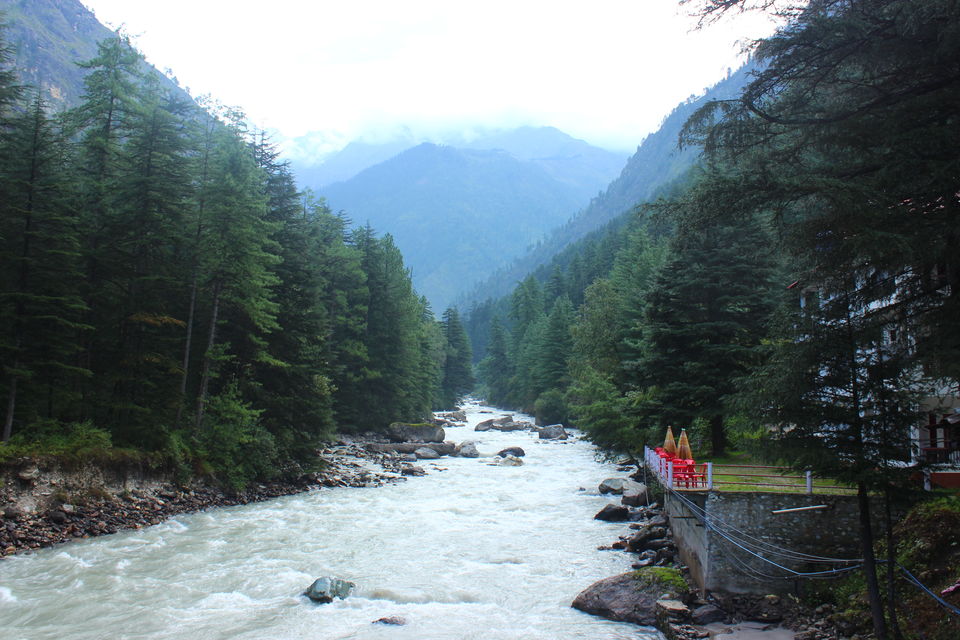 It was close to 10 O'clock. We had already decided to stay the night in kheerganga, so had enough time left with us to start off with the trek.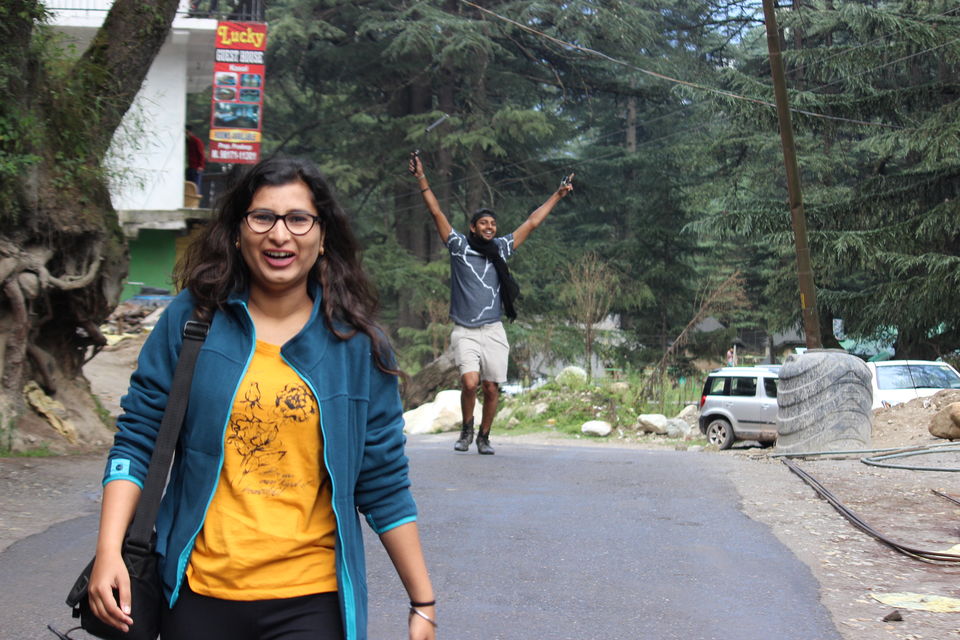 While coming back to our hotel from the River side, we visited the market and had breakfast. Recently, Kasol has grown as a tourist place. It offers Hebrew, Israeli, Chinese and Indian eat out cafes.

Despite of being the obvious base point for Kheerganga trail, the place is hip and rolling for its Maryjane vibes.
Did a bit of shopping and met this sweet kid who simply made our day.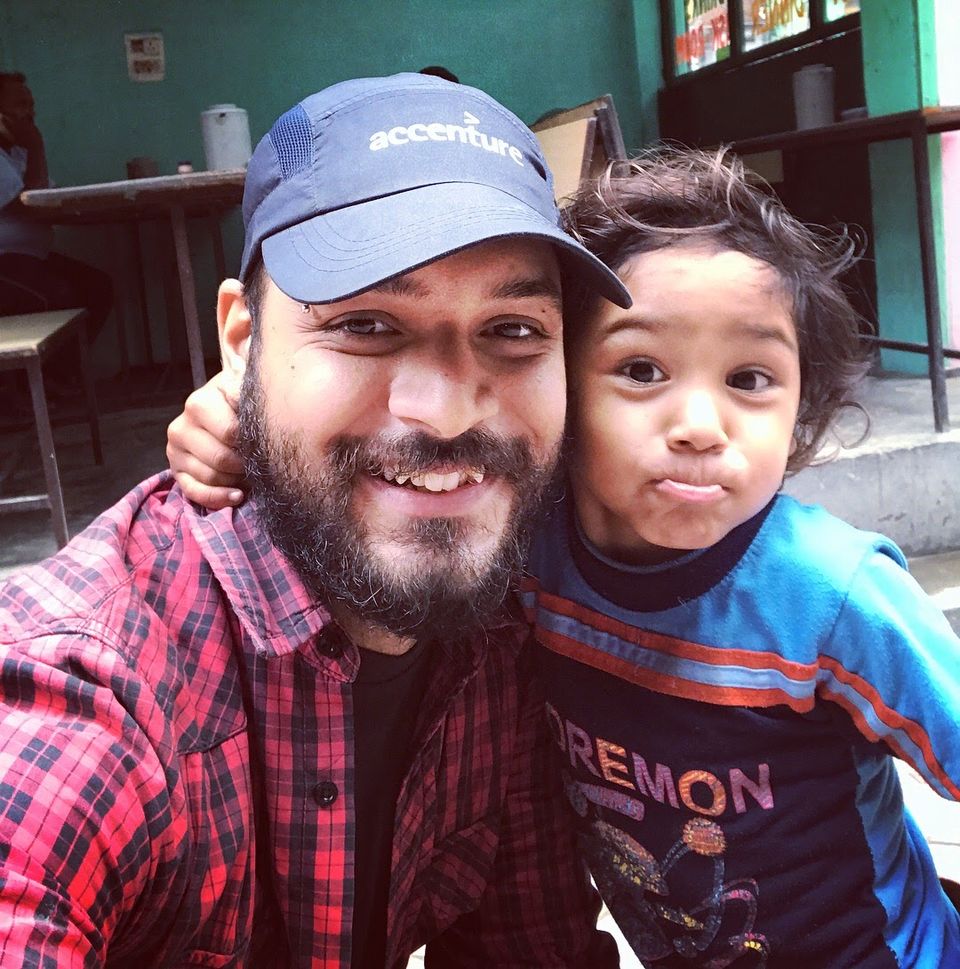 Trek to Kheerganga
Head out to Barshaini from Kasol, and there are three routes from Barshaini to Kheerganga.
1. Walk to the bridge after Barshaini and take the left turn, ask anyone the way to Nakthan village and Kheerganga. This is the shortest and most preferred route and takes 3-4 hours for someone with an average speed. This route is on the left side of Parvati River. The path through Nakthan is the most popular route to trek to Kheerganga and the trail is well marked.
2. From the bridge, take a right to hike up and reach Kalga village. From Kalga there is a different trek to go to Kheerganga. Although it joins the main route halfway on the trek. This route passes through dense forests and it is quite possible for people to lose their way on this trekking path to Kheerganga. Very few trekkers use it because most people do not know about this route.
3. There is a different trekking path for Kheerganga from Tosh village. It also joins Route No. 1 near the village of Nakthan. Tourists who stay in Tosh for the night and want to trek the next morning mostly use this route. Tosh river flows by near this village which joins Parvati river near Pulga.
We went by Route No. 2 while going to Kheerganga, and used Route No. 1 on the way back.
The beginning of the trek is short gentle climb. Towering Deodar trees, line the path from Kalga and the dominance of raw and untouched nature is evident in this route. There are brilliant views of pine forest flowing along the mountain peaks.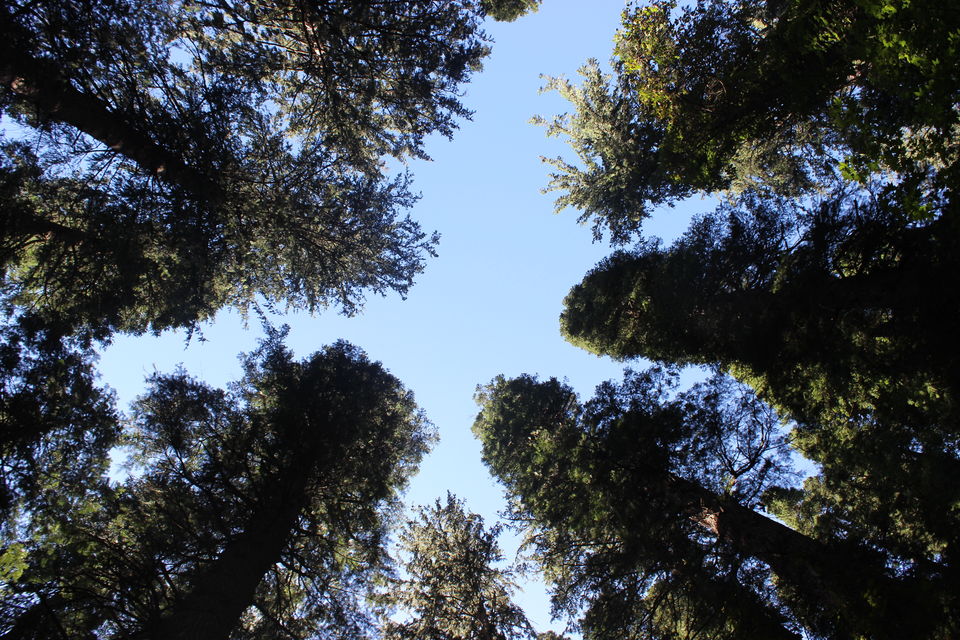 In between, we saw shepherds and their flock of goats and sheep (they cause a jam on the route sometimes!) in these green meadows.
There are a number of shortcuts on the entire trek and it is well advised not to take any of them. The sure-footed locals mostly use these shortcuts and trekkers have many a time, had fatal experiences when they lost the way or worst, slipped and fell into the river after trying a risky shortcut. Being cautious in a foreign place always helps.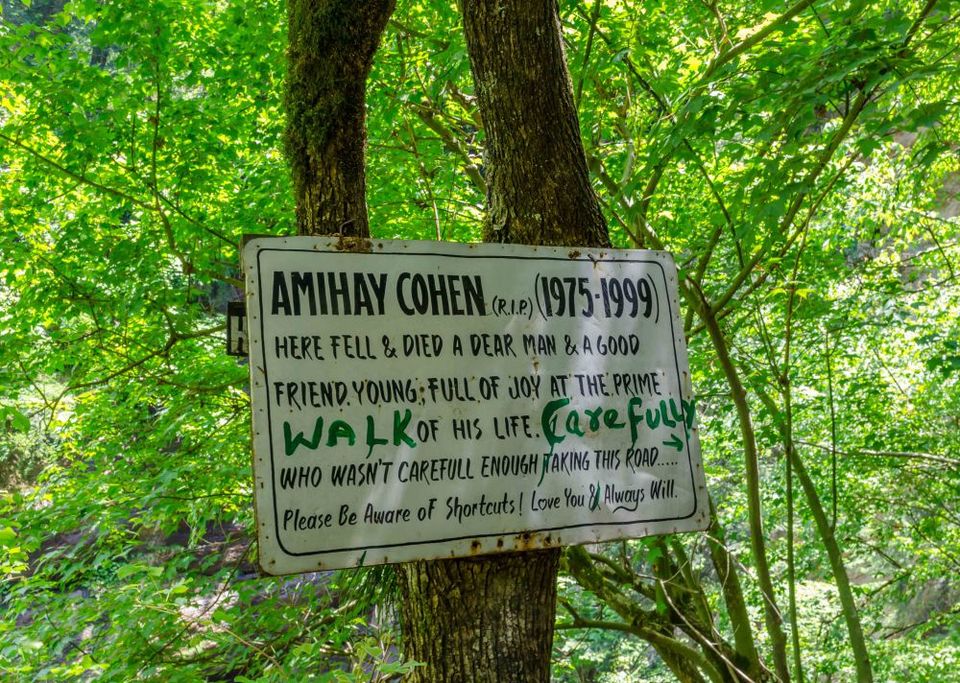 Around halfway, of the trek, there comes a waterfall with a solitary dhaba/café on the right side.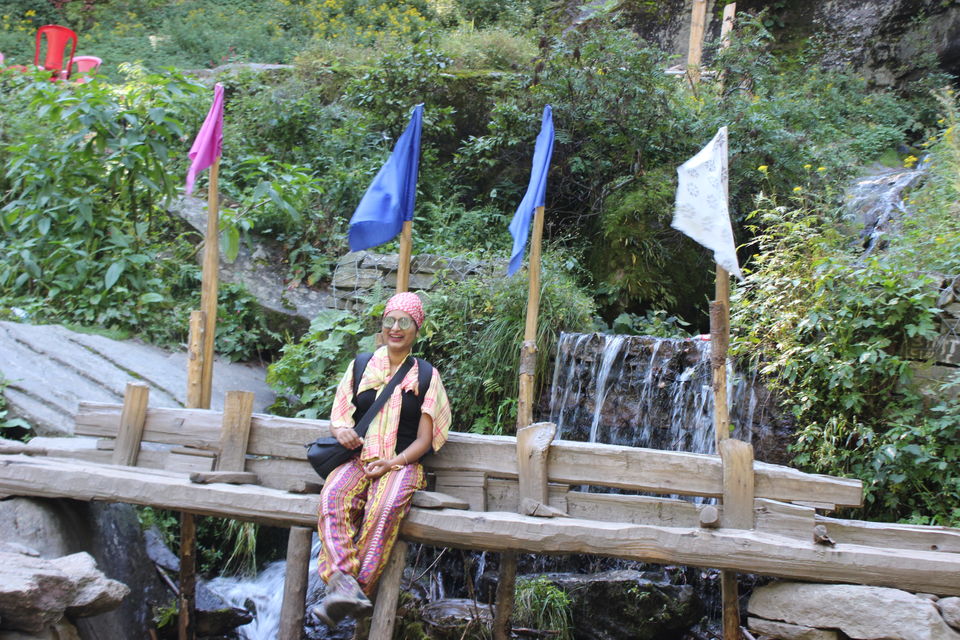 It is recommended to fill the water bottles here, as the water is clean and pure. Most trekkers take a short break at this place named Shalom Waterfall Cafe and enjoy a maggi or some snack, before making the final push to Kheerganga.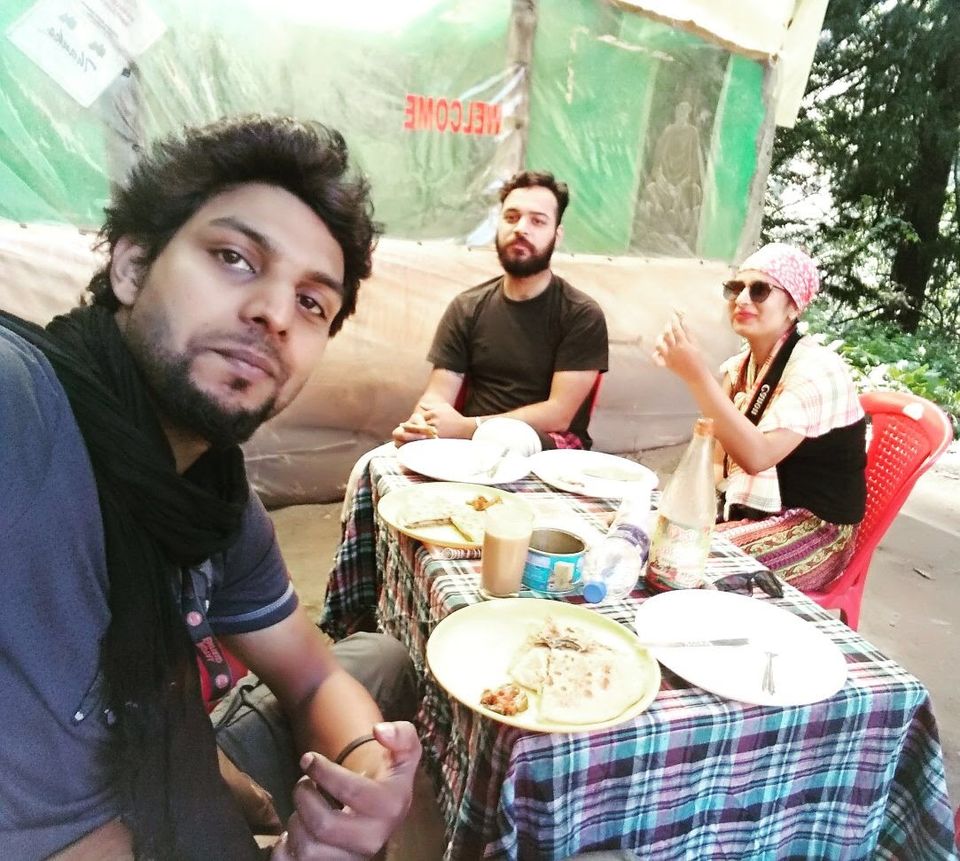 The trekking trail becomes a little difficult after the waterfall; a continuous climb begins which can be testing for first time trekkers. The path is well marked and there is little chance of anyone losing their way. It is good to keep in mind, that its not a race and everyone has their own pace, so walking slow and steady was out motto, to enjoy the scenery of the forest and reach Kheerganga before sun down.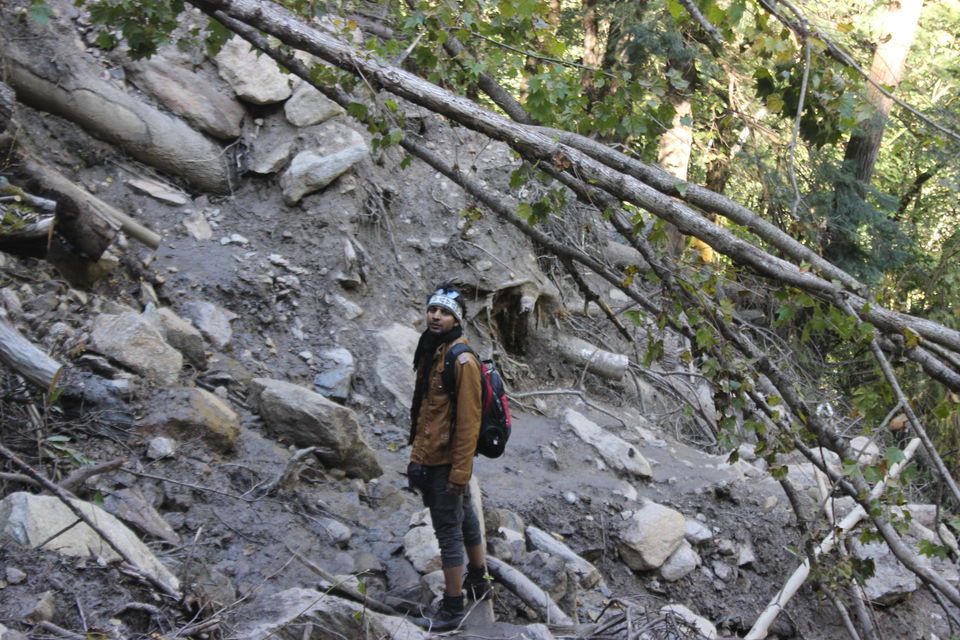 The uphill climb is definitely tiring; the good bit is that, there are nice places to sit in the shade of trees where the cool air helps much in relaxing. Remember to keep good amount water with you and utilizing it well before you reach Kheerganga.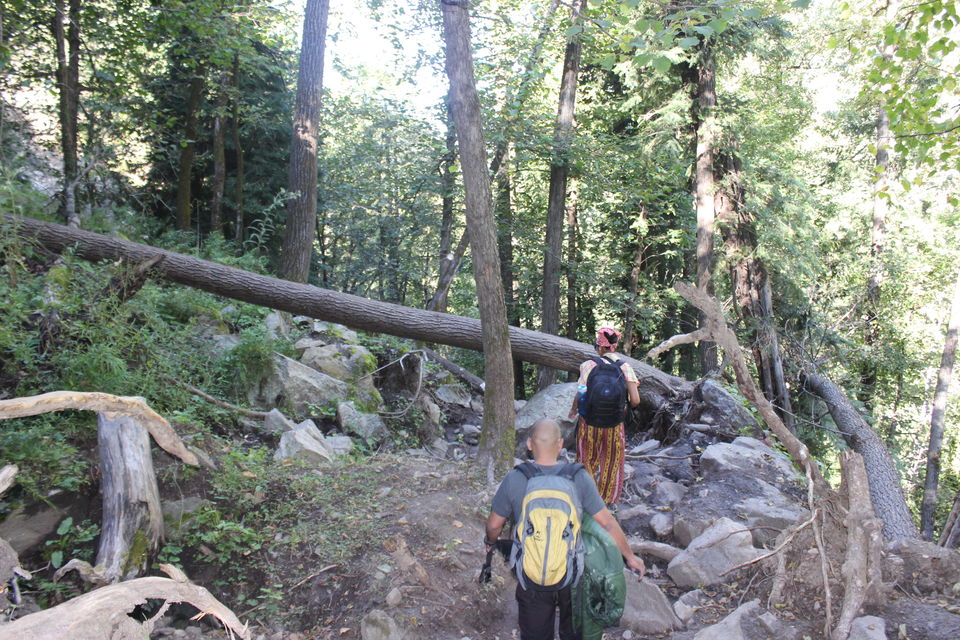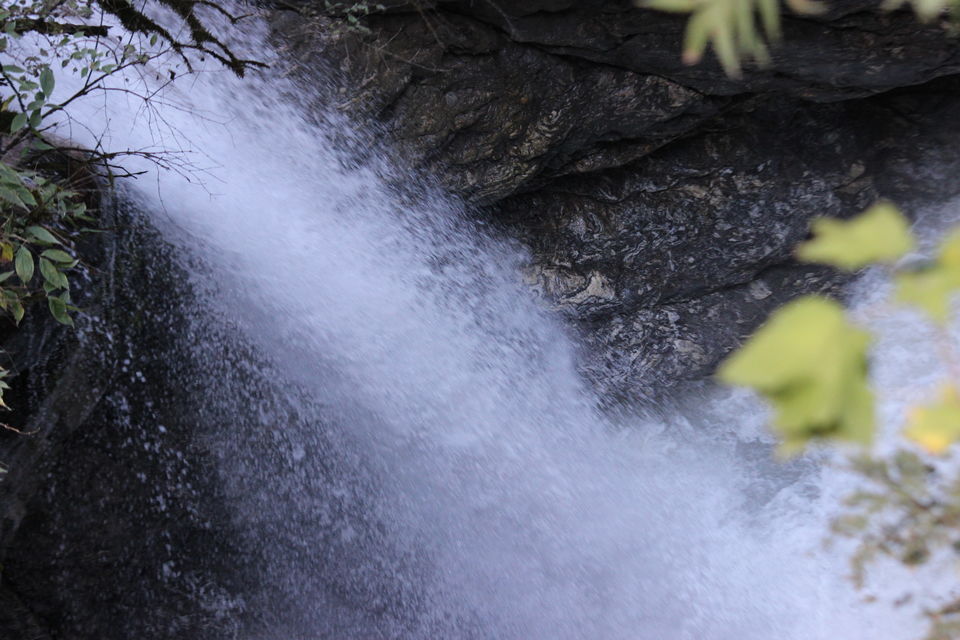 About 2 kms before Kheerganga, there is a beautiful view of a flowing waterfall on the path itself. There are two very scenic cafés with gorgeous views here.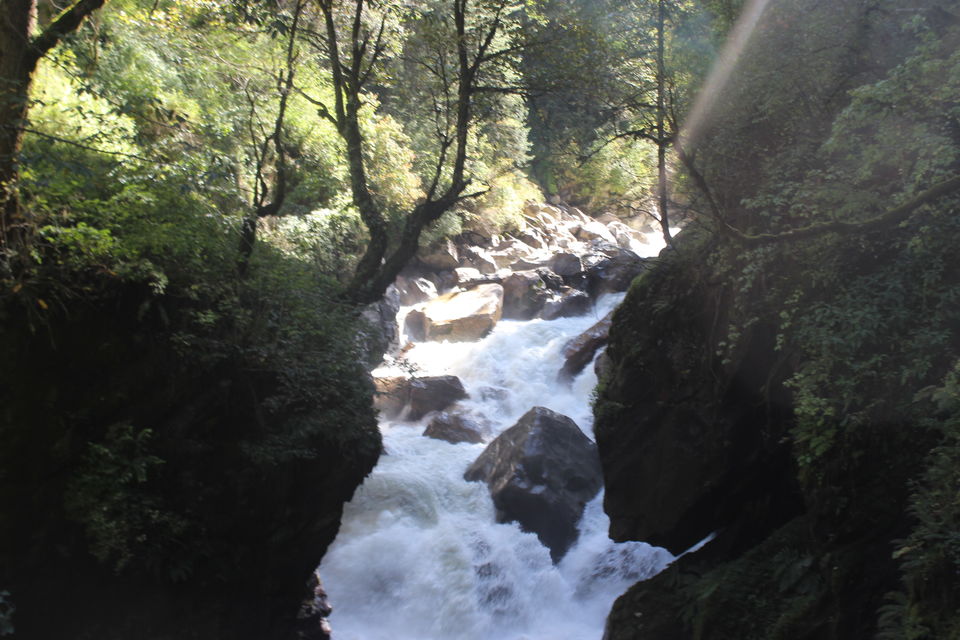 After some continuous walking, the path wind one final time and we got the first view of the yellow and blue tarpaulin covered huts. This is the start of Kheerganga. There is a group of huts and cafés, a temple and a hot water spring. This small cluster lies amidst the lap of a narrow valley. The temple and hot water pool is located at a height above the huts and the campsite.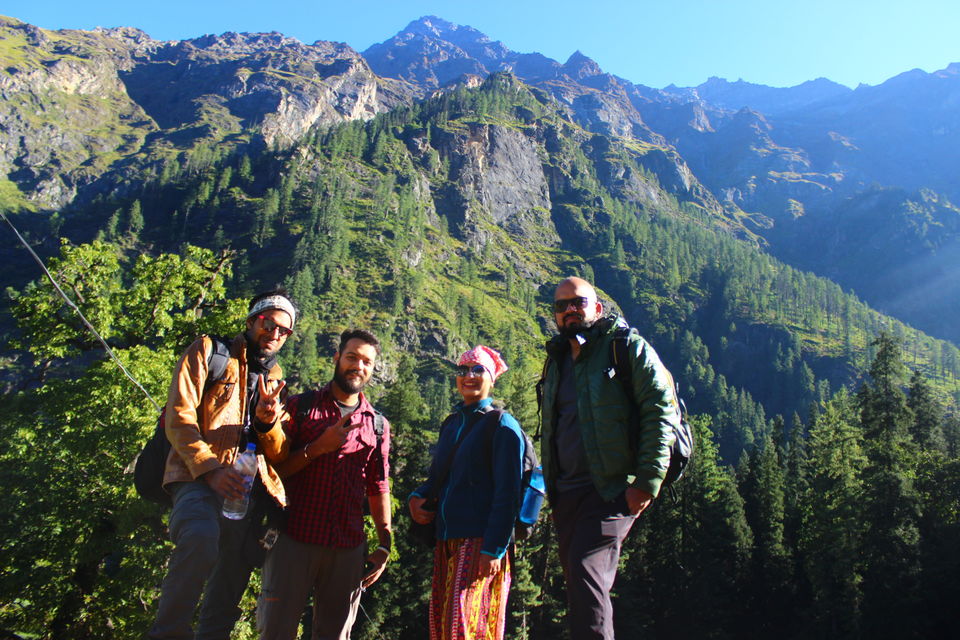 The view from the top was amazing.
Day 3: Back to Kasol
We started our journey back to Kasol, at 8 in the morning and took the route #1. It was longer but even more beautiful.
The reason behind choosing this route while the way back, was to try an another one. It is steep, hence, fast to descent. After 1.5 hours we reached the place Rudranag.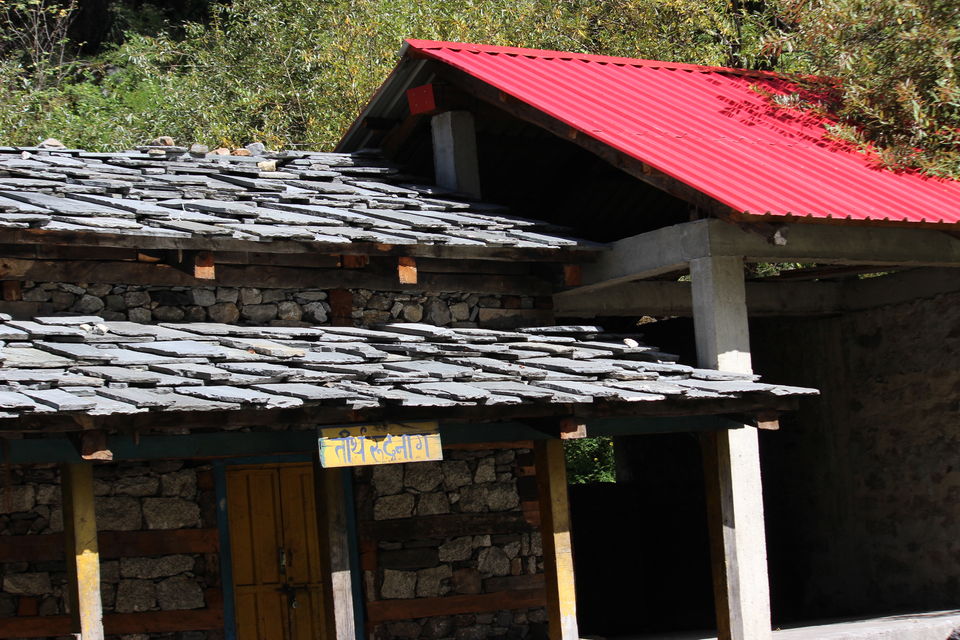 The route was so beautiful, apple trees all around, small houses, lush green meadows and what not for my lust for nature.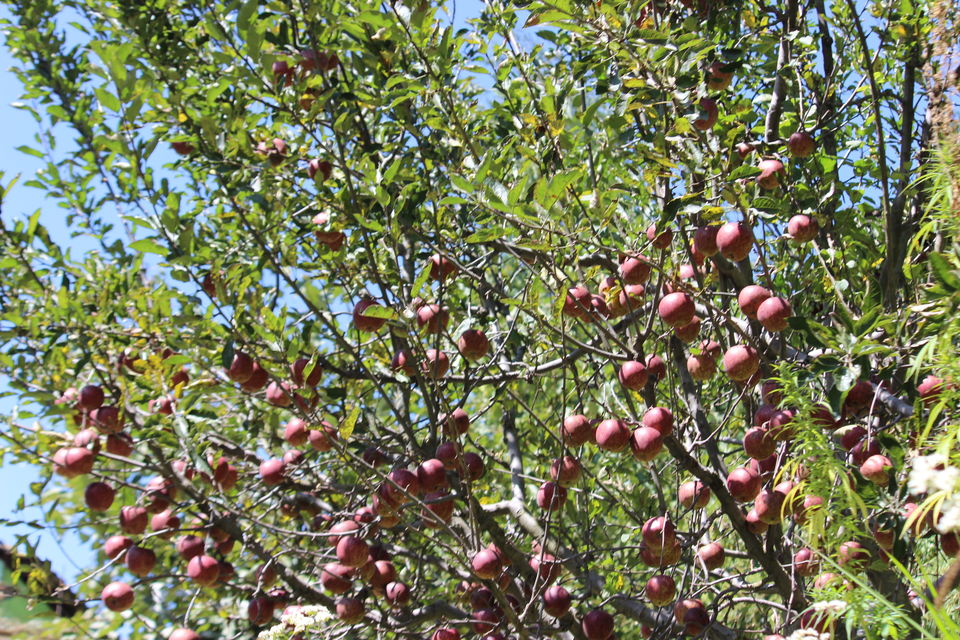 One good thing about the mountains, is the local people. They are helping and one can sense a feeling of content and calmness in them. I miss to find it in this so called metropolitan life and its people. Either it can be just me, or there is really a tangled rush, constantly forcing me to go and spent some time in the calm. I guess that's why mountains are a source of getaway nirvana.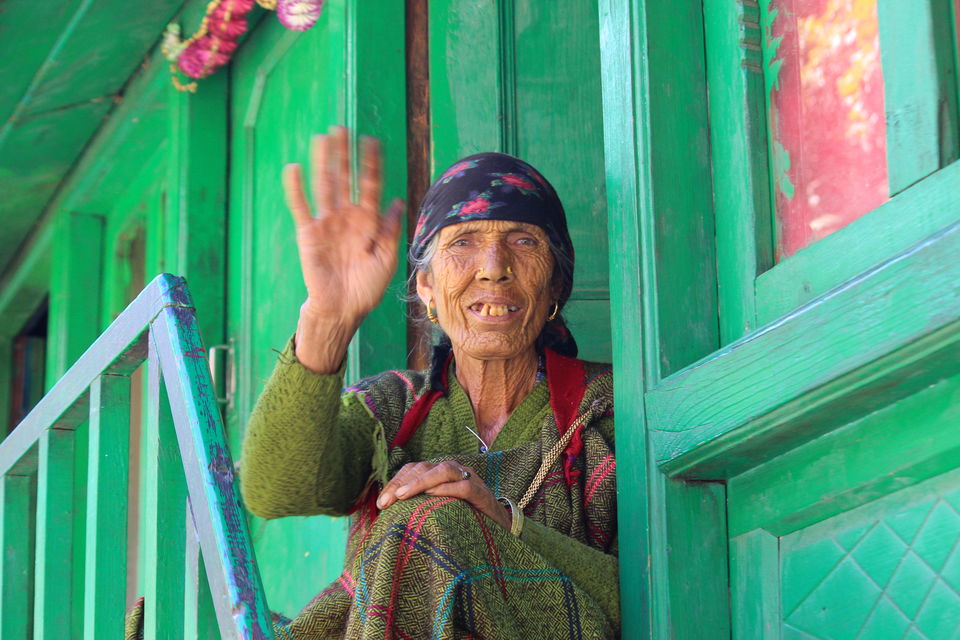 On the way, we finally reached the connecting point of both the routes where we took left towards Barshaini, where we could see the Parvati River. A beauty.
After 3.5 hours of climbing, descending and walking, we finally reached the point from where we started the trek.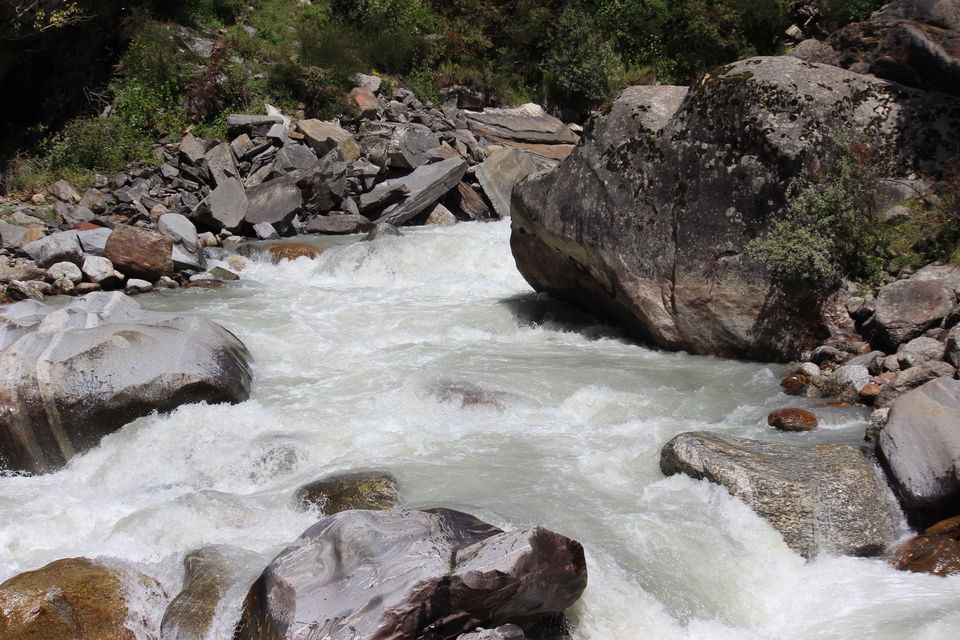 Kheerganga has become so popular that these days a small shopping store has opened there; it has a reasonable collection of essential products and packaged eatables that may be required. A small bakery also sells chocolate pastries and other breads.Though, It is advised to carry a power bank to recharge your electronic devices. ATM services in Parvati Valley can sometimes not work, so it is best to carry the required cash or withdraw from Bhuntar/Kasol. Try to carry as less weight with you in the backpack as possible, and leave the excess stuff either at Barshaini/Tosh/Kalga or the homestay you are staying at.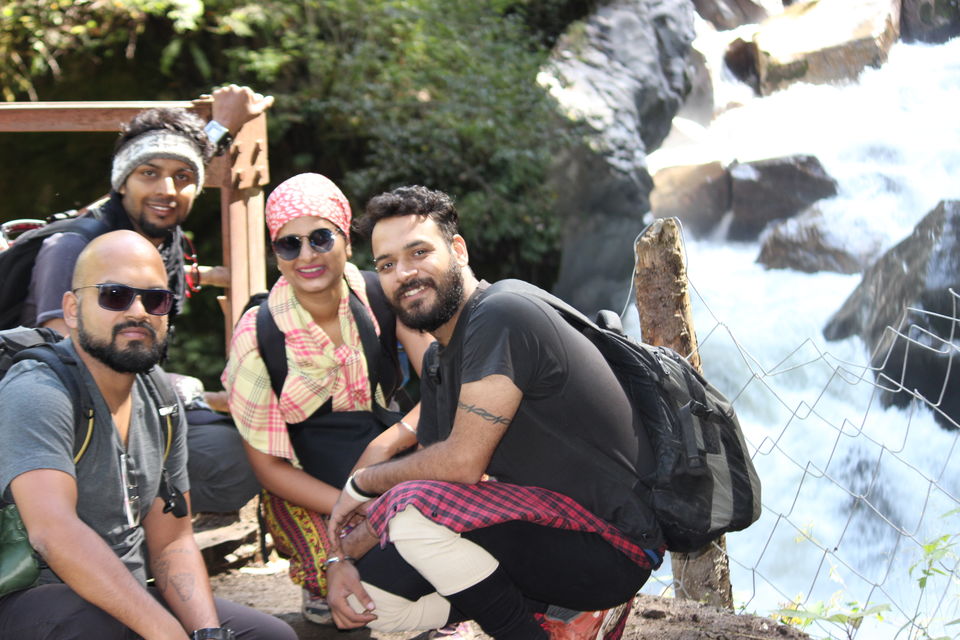 This Kheer Ganga trek ends but leaves you with memories to cherish and a lot to ponder on.
To know more on this travel story, please watch out the video below: