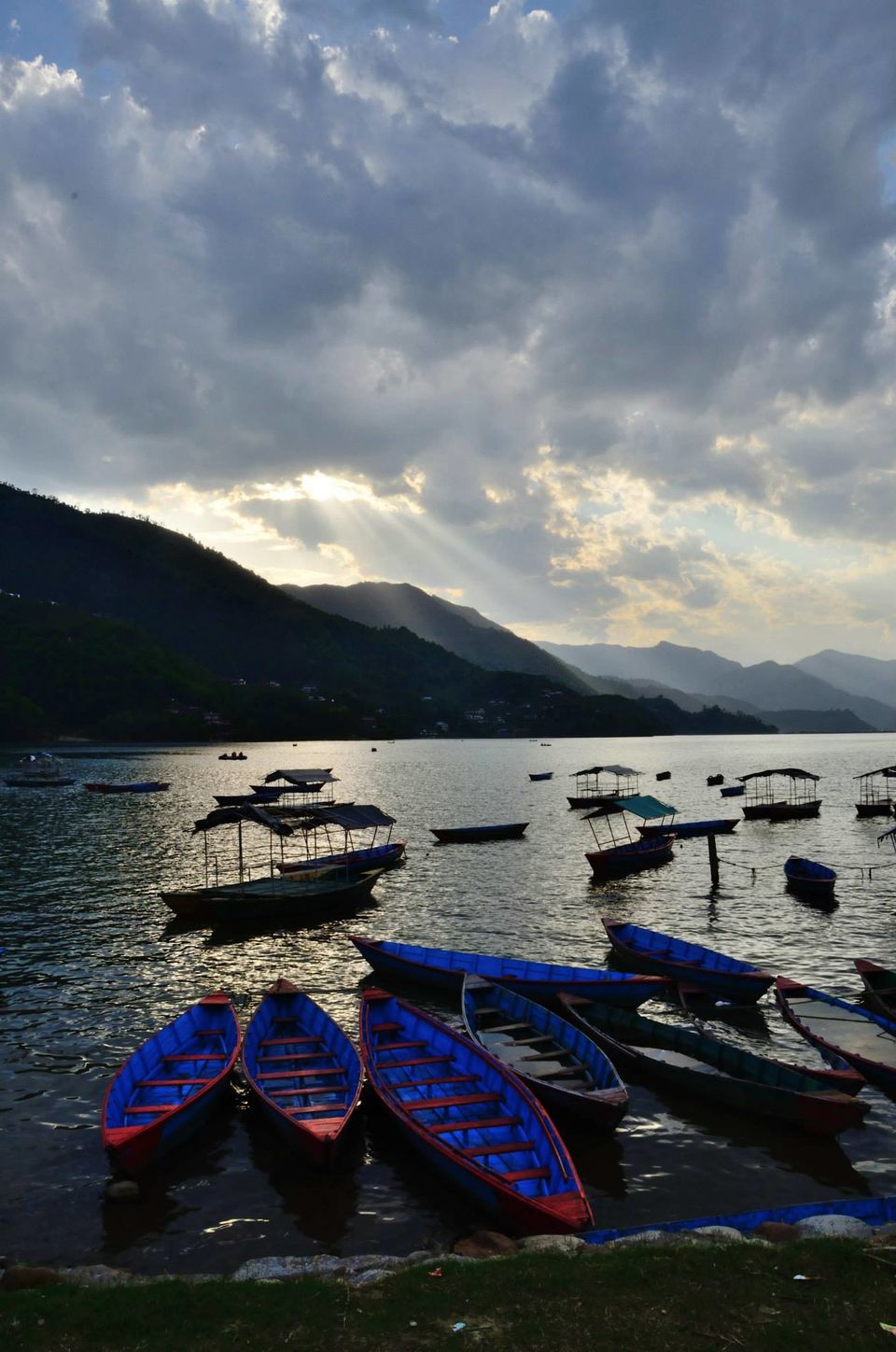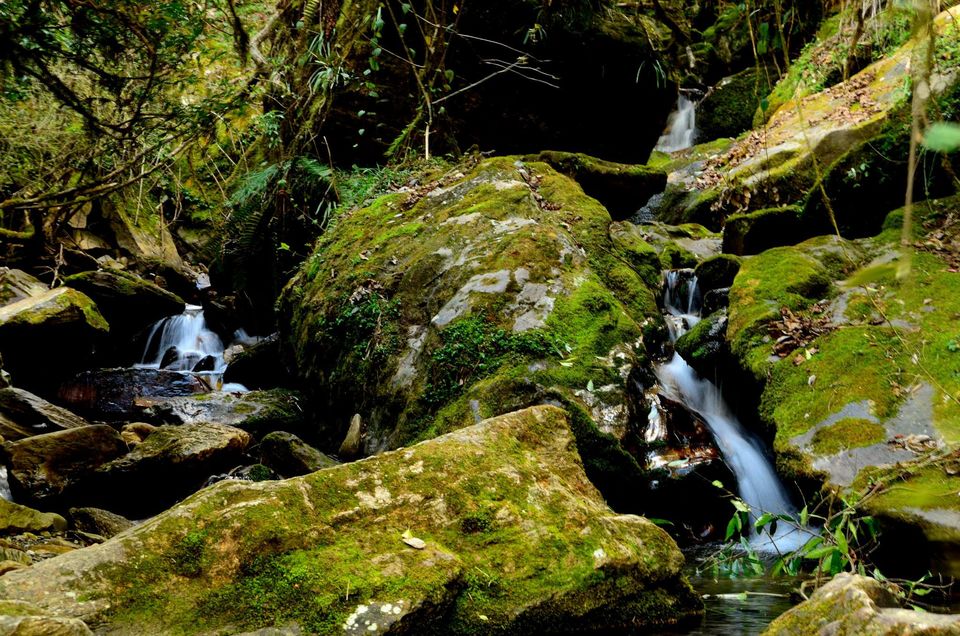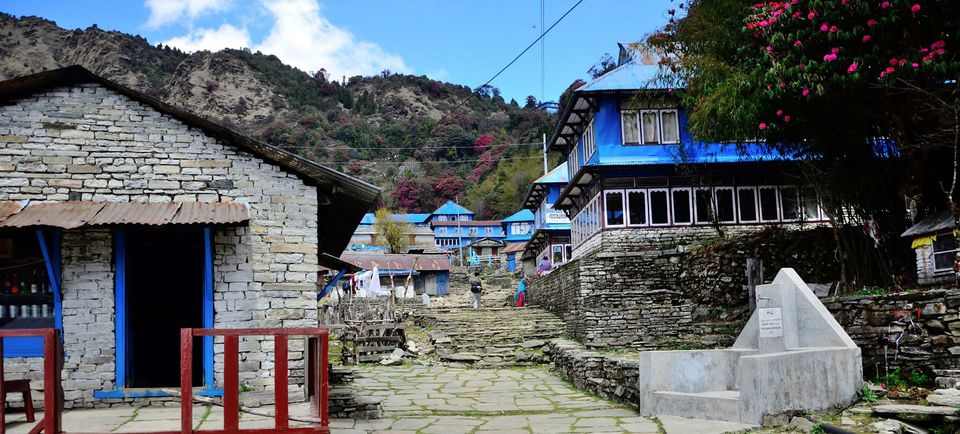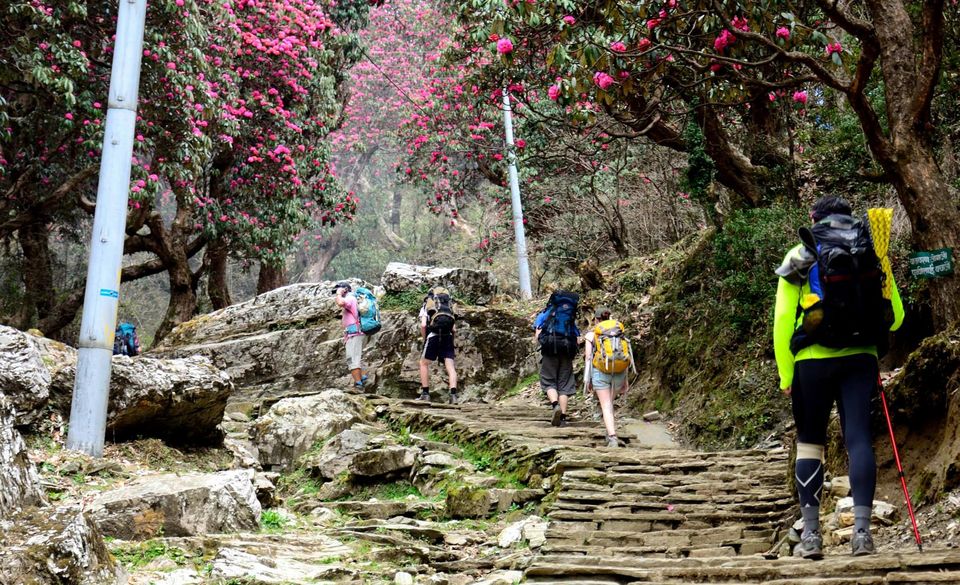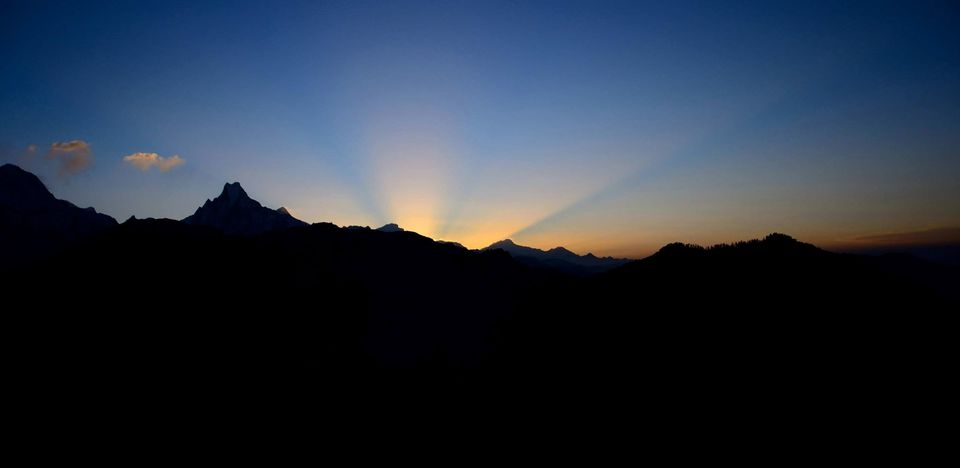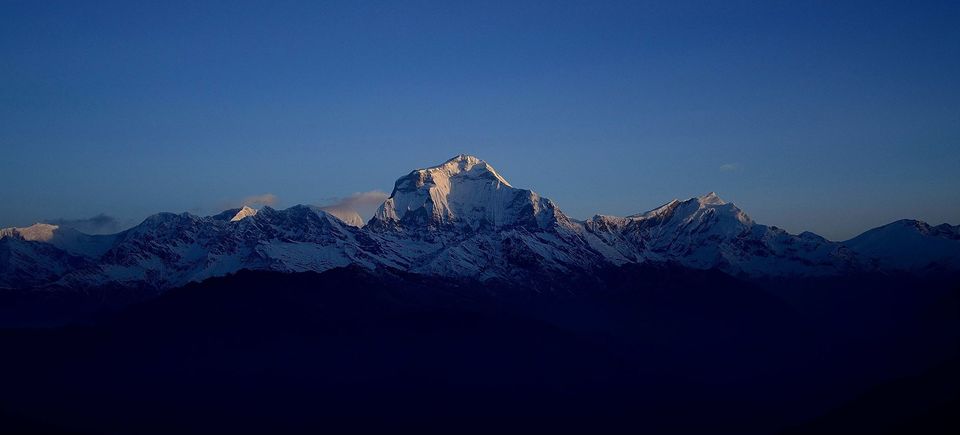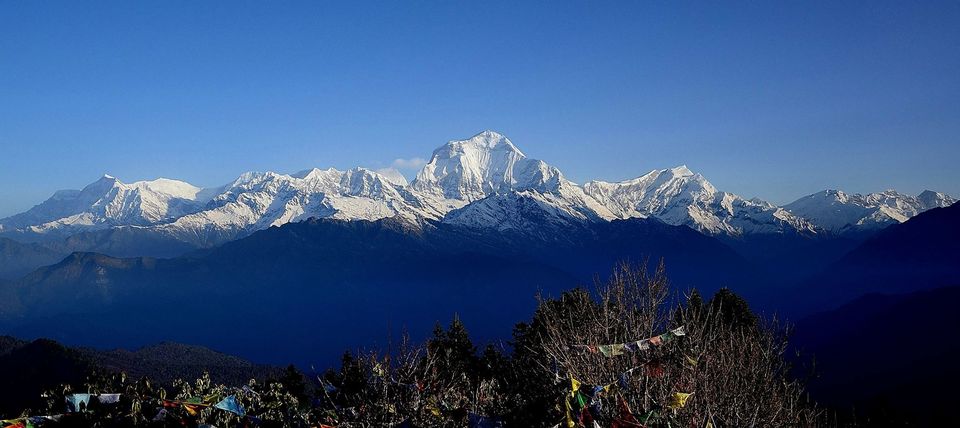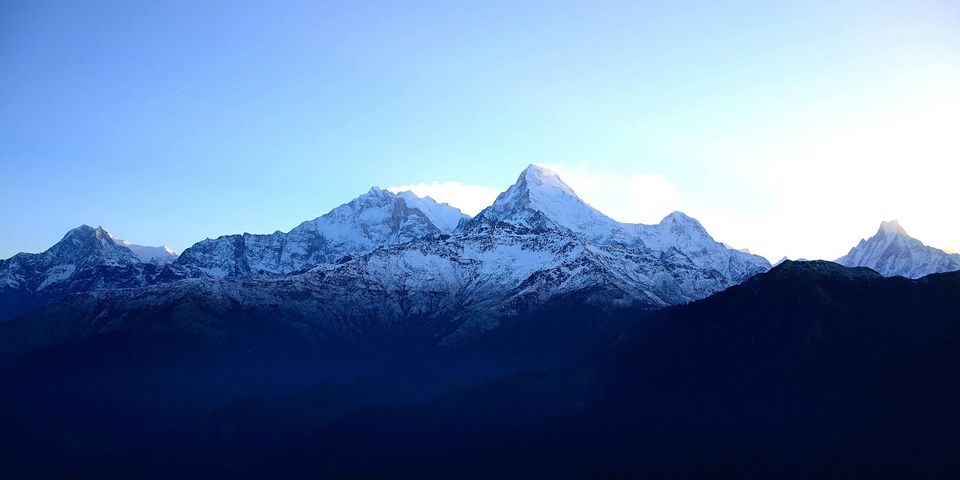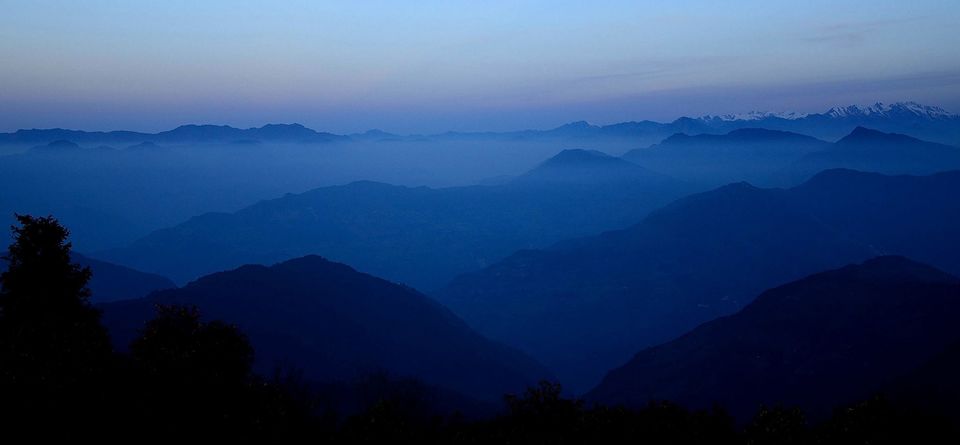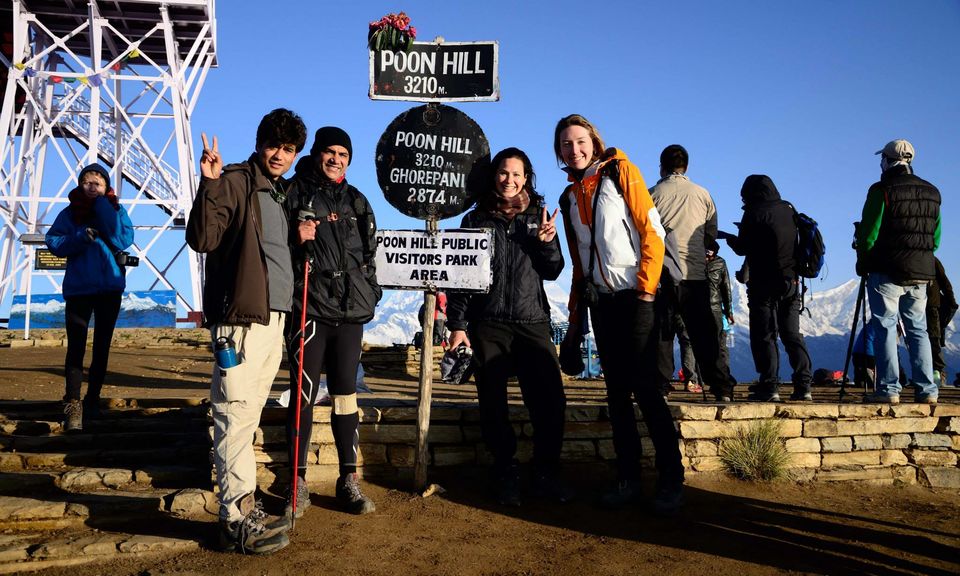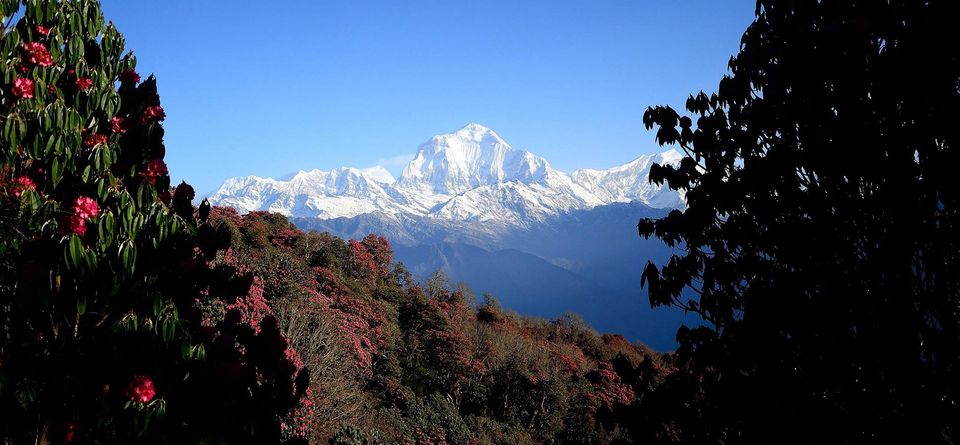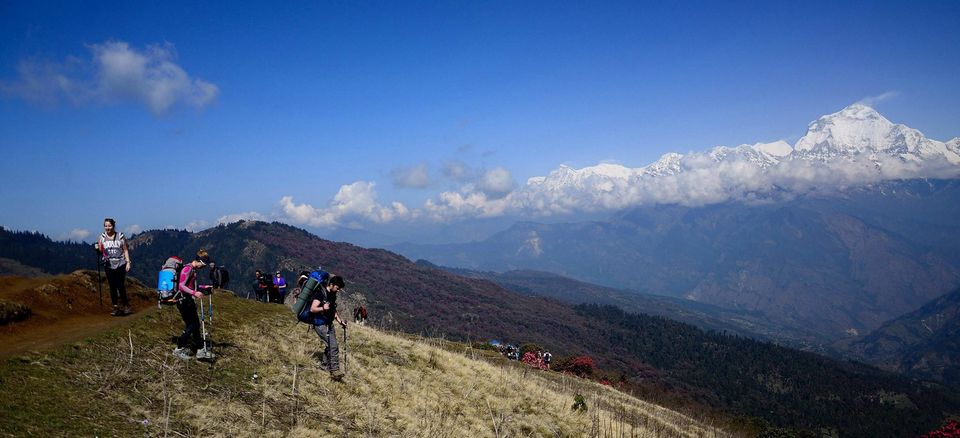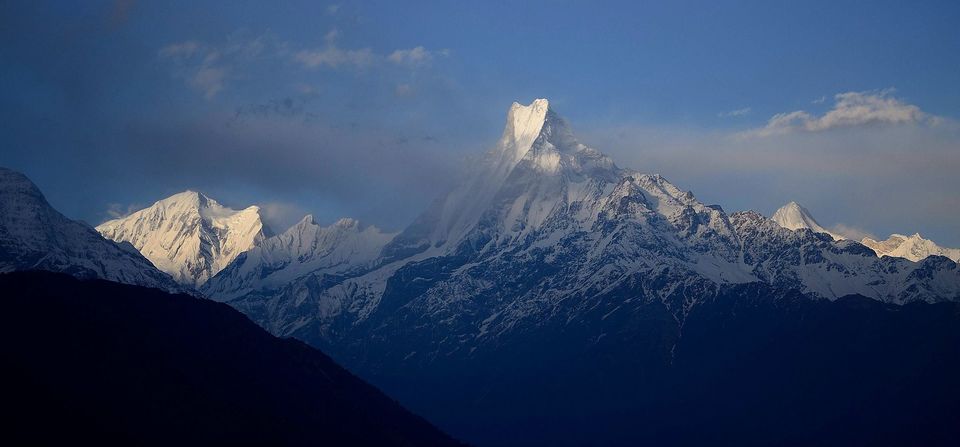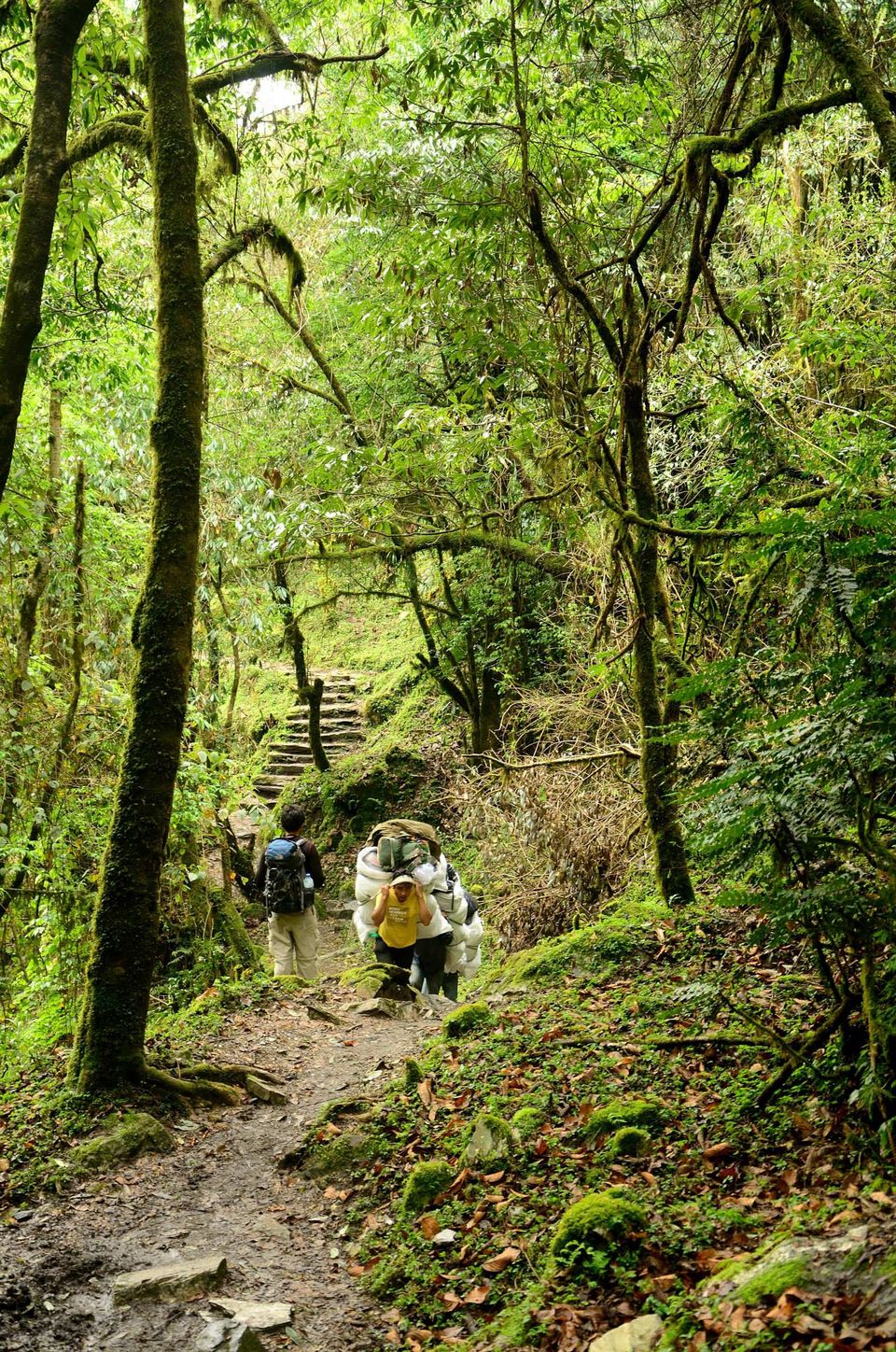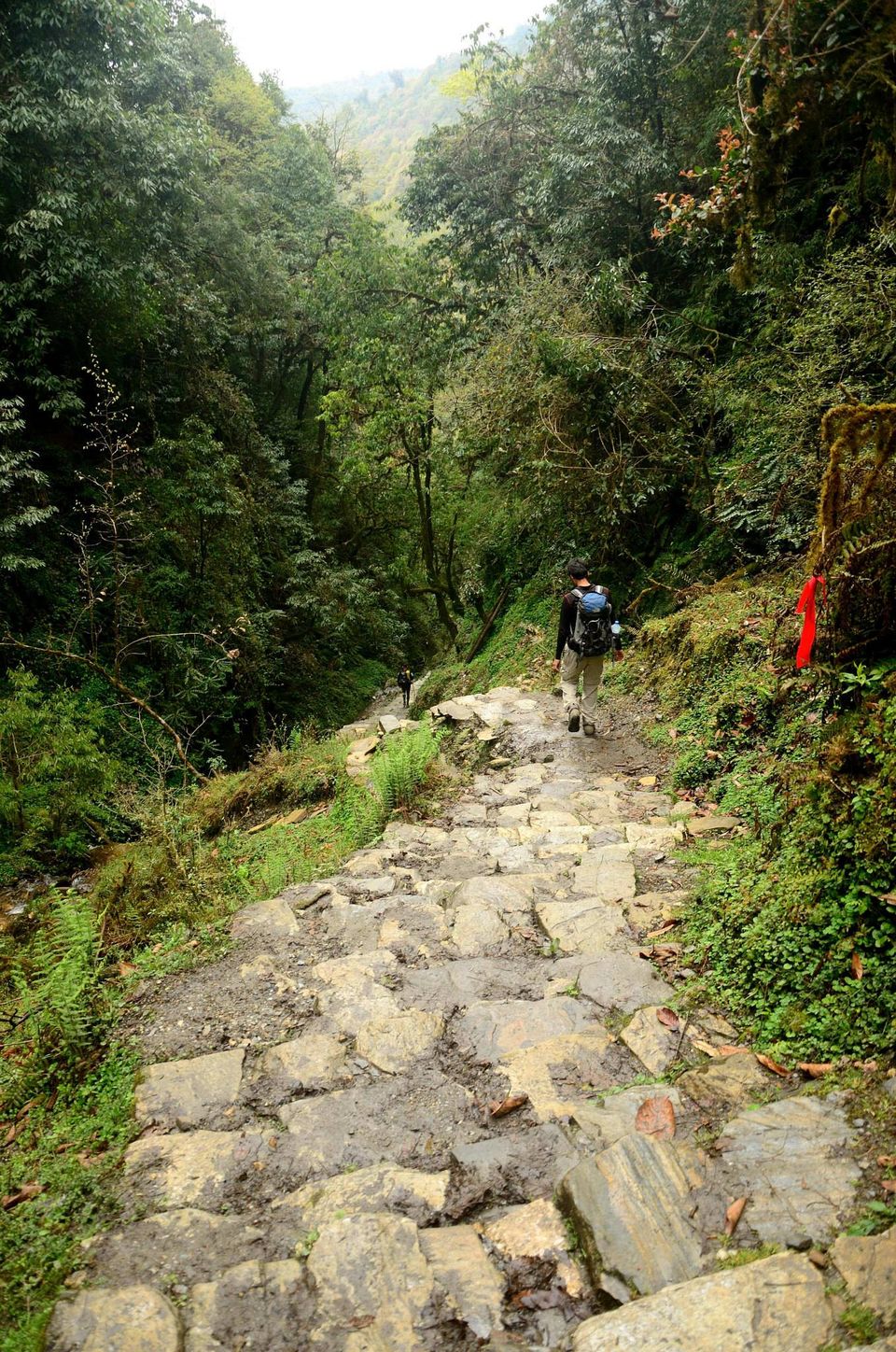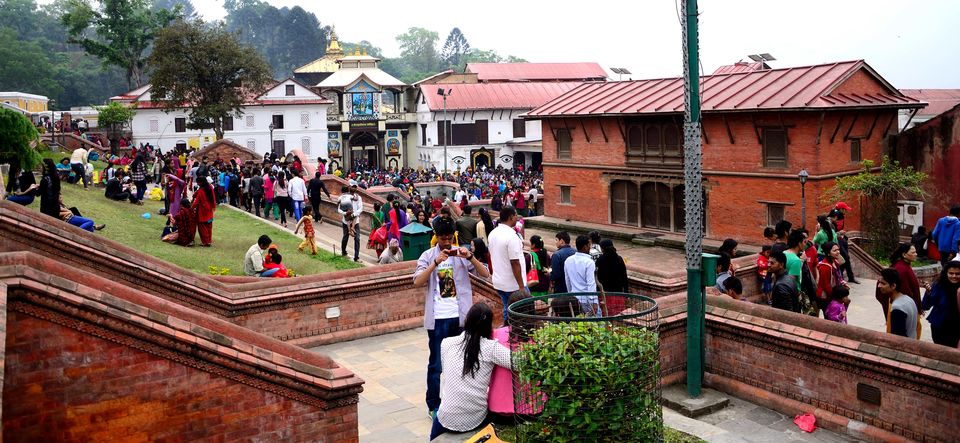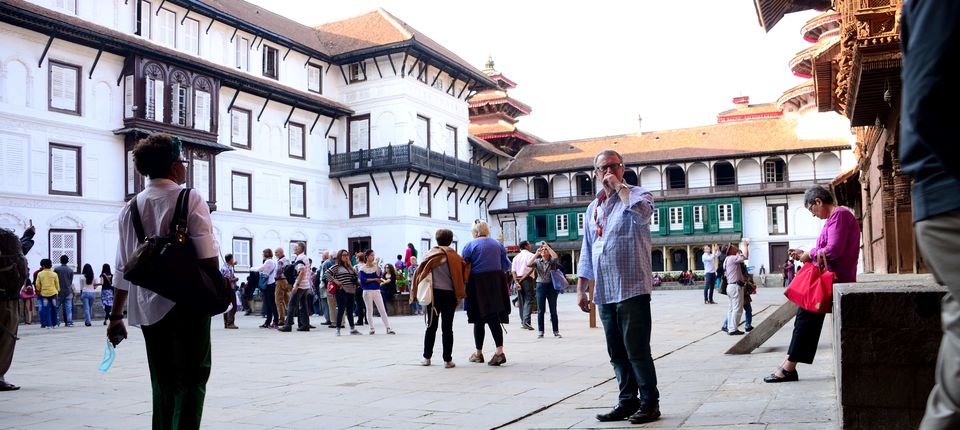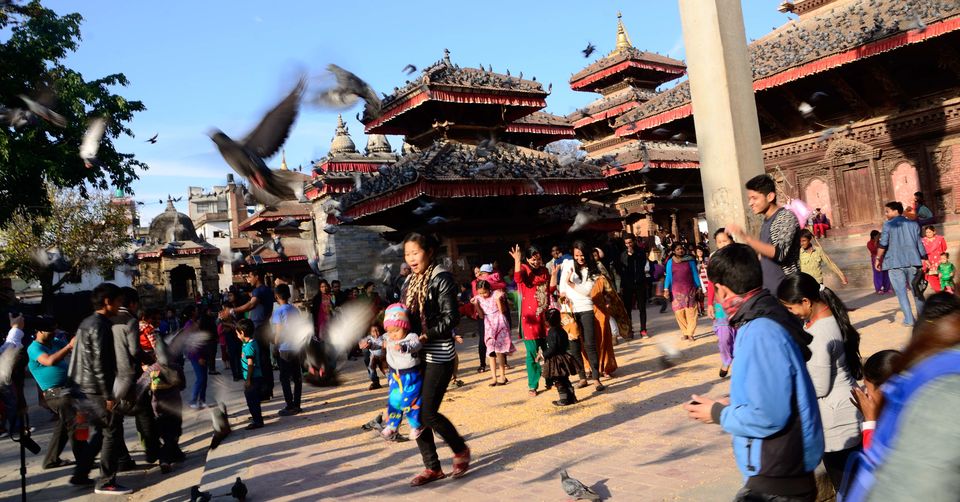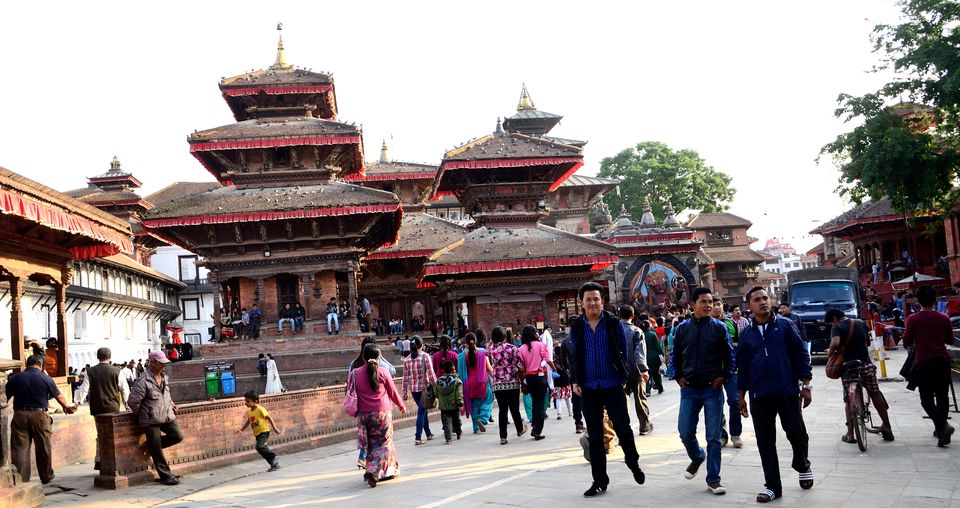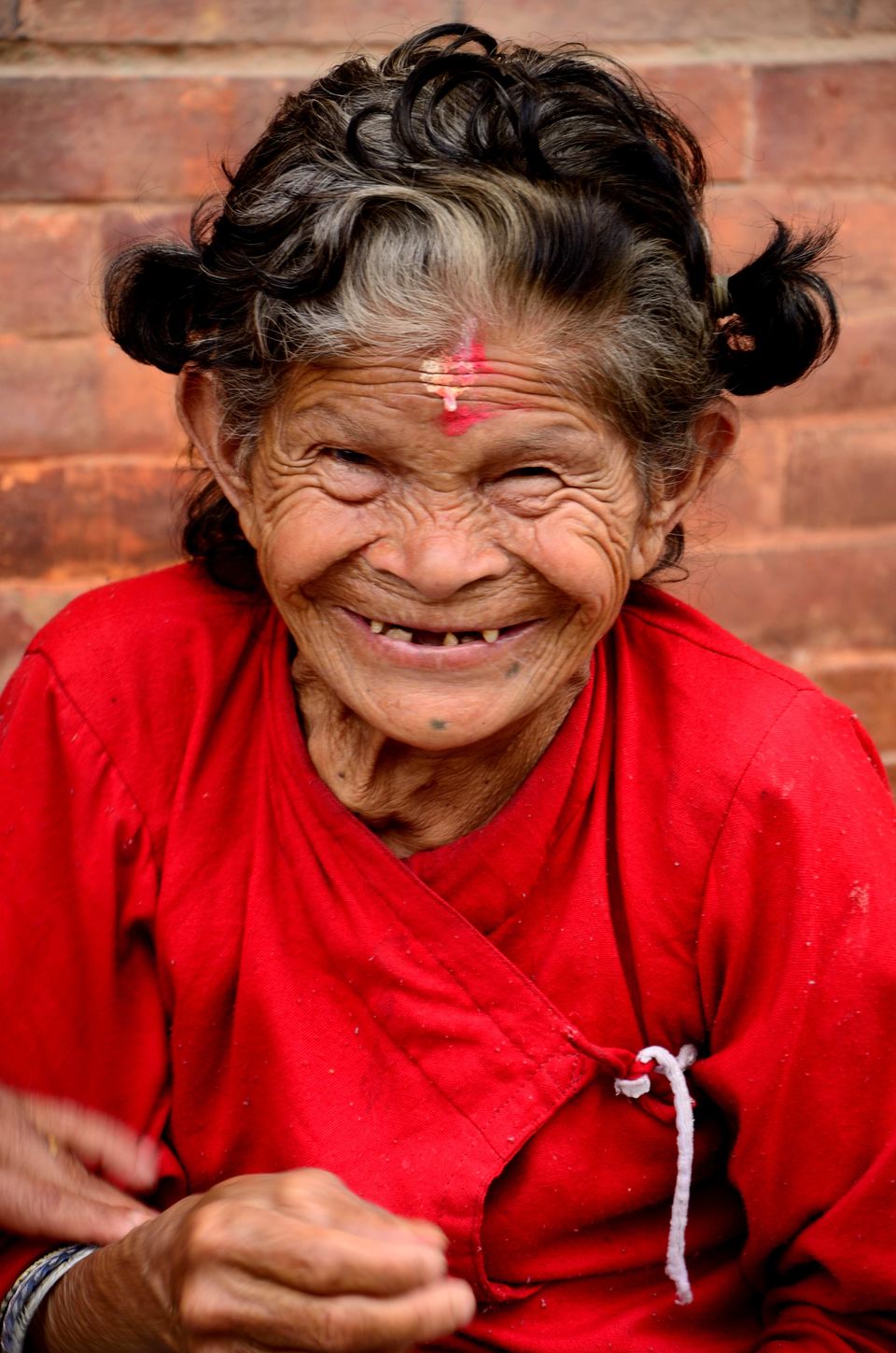 A trekking trip with a bit of a city visit thrown in, this was to be my first outing in the Himalayan terrain, and what an outing it was ! A 4-day trek in total, equally divided between it's ascent and descent, this one is only moderately tough, and can be your precursor to the more straining treks on higher altitudes ( take for e.g. the 7 day Gosai Kund trek ( 5000 mts ), or the 12 day Annapurna circuit trek ). I'm sure this is just a start for me !
Our brief route is outlined thus: Kathmandu ( 1300 mts ) -> Pokhara ( 820 mts ) -> Nayapul -> Banthanti ( 2250 mts ) -> Ghorepani ( 2860 mts ) -> POON HILL ( 3210 mts ) -> Tadapani ( 2630 mts ) -> Ghandruk ( 1970 mts ) -> Nayapul -> Pokhara -> Kathmandu.
1st day was to be the bus travel from Kathmandu to Pokhara. This was covered in 5-6 hrs, after which you have quite some time to relax in Pokhara. Pokhara is a smaller but much more beautiful place as compared to Kathmandu. It's easy to spend 2-3 days or probably more here, but we were constrained by time. Nevertheless, we did enjoy our stroll around Phewa Lake, and the very lively shopping/eating street adjoining it. We were staying on the lakeside so it was all the more convenient. Pretty decent food and night life there !
Our trek started on the 2nd day, wherein we drove a bit outside Pokhara, to a place called Nayapul. After completing the necessary paperwork, we had all of the nature and the trail to us ! This day was one of the toughest during the trek, coz post-lunch, we had to climb a lot of stairs. I remember somebody telling me the count as 3,500; with an altitude gain of 1000+ mts. We did this for 3 hrs at least, and the total trek hrs clocked during the entire day was 6-7, easily. It was a great feeling though, to have made it to Banthanti, just as it was beginning to get a bit dark and cold. Cold, for that matter, never bothered us much except for the 2nd and 3rd nights; we had to use our sleeping bags apart from the blankets during the latter. So, do carry one as an alternative even if you have your accommodation booked well in advance.
3rd day, wherein we covered the distance from Banthanti to Ghorepani, was the easiest during the trek. We start at 8am, and reached our destination by early afternoon, even before lunch ! We had walked deep into the rhododendron forests that day, and it was a pleasant sight every now and then, what with the spring season setting in and the national flower of Nepal ( yes, rhododendron ) in it's colorful best everywhere ! Once in our guest house at Ghorepani, we had good food to relish and a majestic view ( covered by clouds for the most part ) of the mountain ranges to feast our eyes to ! We took in all we could ! It was one of the most relaxed days of the trek I'd say.
Ghorepani is at the foot of Poon Hill, and in order to catch the sunrise there, one needs to start at least an hr before. We did the same, and it's a bit of steep ascent too ( 400 mts ). Nevertheless, it's all worth it when you see the first rays of the sun hit the Dhaulagiri Peak ( 8000+ mts ). This is the highest point of the trek and you get a panoramic ( 270 degree I'd say ) view of the Dhaulagiri, Annapurna and Manaslu ranges from up there. It was quite a crowd up there, but we enjoyed the view for almost an hr before we got down. You get very good views of the mountain ranges even as you get down, and you're free to get trigger happy ! You can, off course, spend more time on the peak and wait for the crowd to subside. We didn't have that luxury though, and after getting down, we started again for our next stop for the day, Tadapani. Weather was pleasant throughout and it was a thick forest as usual.
We reached Tadapani not long after lunch, and once again after a bit of a steep hike. This was the day of topsy-turvy terrain over all. Clouds and rain paid us a visit again during the afternoon, but we were safe inside our accommodations. For that matter, food and stay is never a problem during the trek, and thanks to excellent planning by our guide, the swift-changing weather couldn't affect us much either. This was the end of the 4th day, with beautiful views of the macchapucchre peak ( at Tadapani ) being an icing on the cake, truly !
The 5th day was one of steep descent, and of quite a lot of trekking once again. One of the strenuous days I'd say ( along with the 1st ! ). We were supposed to be rewarded with majestic views for the most part, but clouds played spoil-sport. On the flip side, it was a good day to walk ! By the end of the day, we were back at Nayapul ( our starting point ), after which we drove a bit further to get back at Pokhara once again. Since it was evening already, it was time to have some fun to celebrate our successful trek. We did just the same !
6th day was quite uneventful, as we drove back from Pokhara to Kathmandu. Nothing much to rave about, except for a bit of a long and tiring journey, due to the crowded highway, and more so due to the heavy traffic in and around Kathmandu. Nevertheless, we were in Thamel by the end of the day. It was Hindu new years' eve, and Thamel being the 'party place' in Kathmandu, was decked up quite a bit. Same goes for the crowd milling about there. It was a fun night I'm sure, but we were quite exhausted after our bus journey, and retired early.
Let me just take this moment to project Thamel as the place to put up while in Kathmandu. It has all that a tourist asks for, including plenty of options to put up and to drink your night away! The music scene is alive at least until midnight I'd say ( or may be even further, but I didn't check ! ), and believe me or not, you feel very comfortable roaming around in it's narrow lanes, especially simply because of the warmth emanating from so many bodies that the streets share among each other ! A lively place all in all !
The last day of my trip was reserved for taking in the sights of Kathmandu, and I wandered in the city well until the sun went down ! We could have our fill of the the famous Pashupatinath temple, the Boudhanath stupa, and finally the age old durbar square, with it's old palace and the museum. All of these places were pretty crowded owing to the ( Hindu ) new year's eve that day. Specially the durbar square, which is the old part of town with pretty narrow lanes leading to it. It's quite close from Thamel and can be a late afternoon walk if you prefer. The bustling markets in those lanes are an experience in themselves; either shop or just look around. Those markets are all over the place, and can be best enjoyed on foot !
Summary: Trek to Nepal to see those beautiful mountains up close, and to de-stress your soul ! My trek guide: http://www.mountainconsultant.com/. Very affable people !
Stay/Food: Put up at Thamel in Kathmandu, and at Phewa lake side while in Pokhara. During the trek, it's the guest houses at those stops mentioned above. Some can be booked in advance, but other remote ones can't be. Hence, it is advisable to take a guide ( and a porter if required ) with you, to avoid the hassles. Remember, you can't take a porter with you if you're going on your own.
To/Do: Ha ha ... trek basically, and enjoy natural beauty all around you. You can reserve a few days ( 2-3 ) for Kathmandu sights. One day is simply not enough ! I've heard Bhaktapur durbar square is a pretty good bet, and should not missed ! Pokhara needs another 2-3 days at least.
Chau guys ! Until next time :-) ....
Last but never the least, for a detailed account of my experience, pls do visit my blog: https://myfreewanderingspirit.wordpress.com/
Better quality pics here: My flickr page !