For centuries, Himalayas has been a spot of fascination and wonder for both travelers and tourists. The perennial snow that remains in these peaks provide a sight for the tourists and adventure for the travelers. The high mountains, the vast valleys, the undulating terrains, the freezing temperatures , the pine trees and snow are signature characteristics of an Himalayan range.
Well out of the many many climbed peaks in the Himalayas, Kedarkantha is one which arguably is the easiest. Due to its name one might think it as something that lies in the vicinity of Kedarnath, but these are actually 91.3 kms apart and thus far away. Kedarkantha is one of the best treks to take if you are a beginner and you love snow and mountains.
Though it is said to be the easiest winter trek, you might very well disagree with that. Due to the temperature which reaches a minimum of -17 to -21 degrees and strong winds that blows can chill your bone to the spine. The toughness lies in the temperature only otherwise everything else is well sorted. There are good camping sites, nice trails to follow and one would often come across different tea stalls providing tea, coffee and Maggi at a fairly raised price.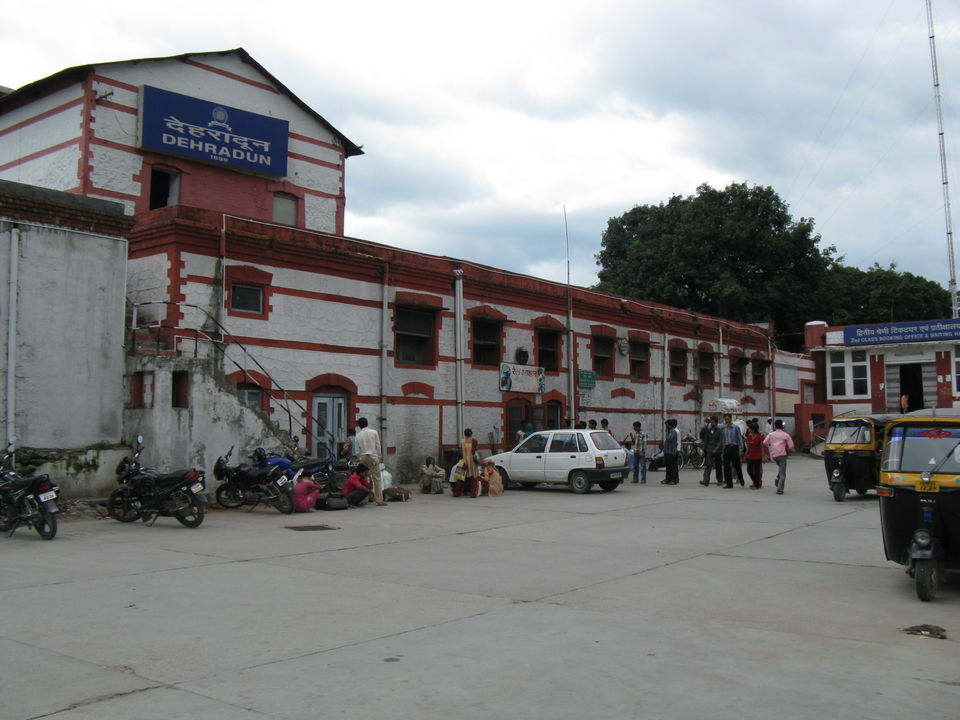 Journey starts from Dehradun. The buses are available from the Old ISBT,near the Dehradun Railway Station. There are three buses which leave Dehradun for Sankri (Trek starts from Sankri).
Bus timings are : 5.30 am , 7.30 am and 8.15 am. It usually takes 10 to 11 hours to reach Sankri from Dehradun.
The journey from Dehradun to Sankri is very scenic as it goes through the Garhwal Himalayas. The buses go the following way- Dehradun >Vikasnagar > Dampta > Naugaon > Purola > Mori > Netwar > Sankri.
Distance covered : 180 kilometer (approx)
Fare charged : 290 / person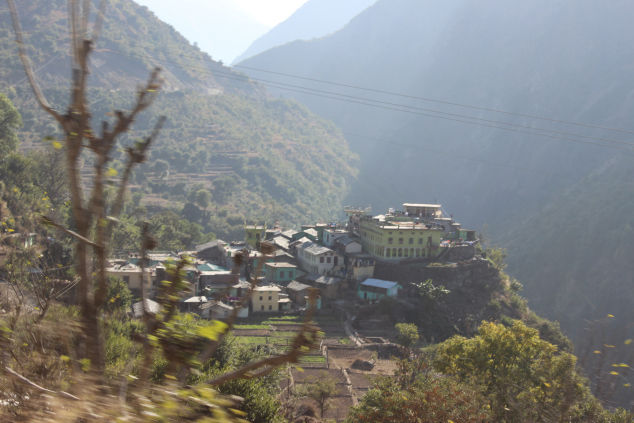 Following the River Tons - the largest tributary of the Yamuna, it reaches Sankri at around 4.30 pm , 6.30 pm and 7.15 pm respectively.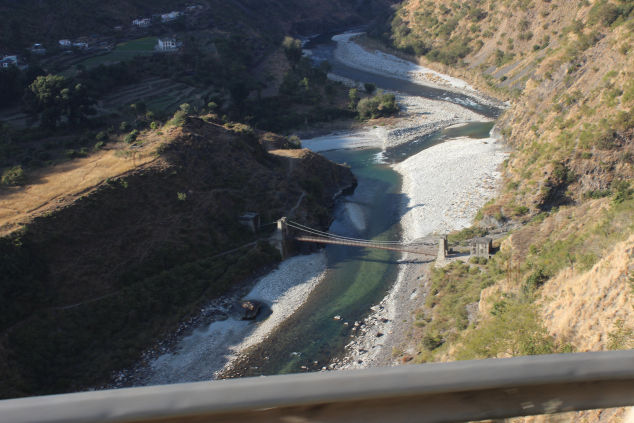 Before you reach Sankri, there will be a place in Netwar where you need to take permission for your trekking activities in Govind Wildlife Sanctuary. KEDARKANTHA is located in this very Wildlife Sanctuary. Thus the cost is ₹1200 for three days camping and trekking activities.
On reaching Sankri, you would be welcomed by high mountains of the Har ki Doon ranges. There you can stay the night in the Govt. GMVN - Garhwal Mandal Vikas Nigam Limited. The GMVN cost Rs 640 per day if you reserve it from before. It is a bargain because they provide 5 beds and 24*7 running water. GMVN are hard to get so it is advisable to book it beforehand. You can book it here www.gmvnl.in
Other accommodation include hotels and lodges are generally in a higher price range. No surprises there !
You can take your meal in the nearby dhabas where the prices are a bit high considering the altitude of the place Sankri (1920 metres).
If you are short of some equipment and accessories like the gaiters, poncho, trek pants, tents and sleeping bags then it can be taken on rent from Sankri but because of the huge demand of these items, it is more advisable to rent it from Dehradun itself.
Day 1 of Trek :
First day starts as early as 7 am. Wherever you stay in Sankri, it would take a 15 mins walk to the base of the hill from where the ascend starts.
Before you start the ascend you need to show the permission letter (taken from Netwar) to the authorities present there.
The ascend is easy to moderate. You will find it difficult if you are carrying heavy bags. It is a long ascend through the jungle. It usually takes 4 to 5 hours to reach Juda ka talav. ( First day campsite)
One can easily complete it within 4 to 5 hours if he/she is an active ascend-er. There are two tea stalls on the way to Juda ka Talav. It is hectic on the first day of the trek. One should not worry about it, the body gets accustomed as the trek progresses. The lemon tea at these tea stalls are a complete rejuvenator. It takes away all the tiredness.
It is only at the second tea stall to the Juda ka Talav that one will find the first sight of snow. That is of course very refreshing in itself.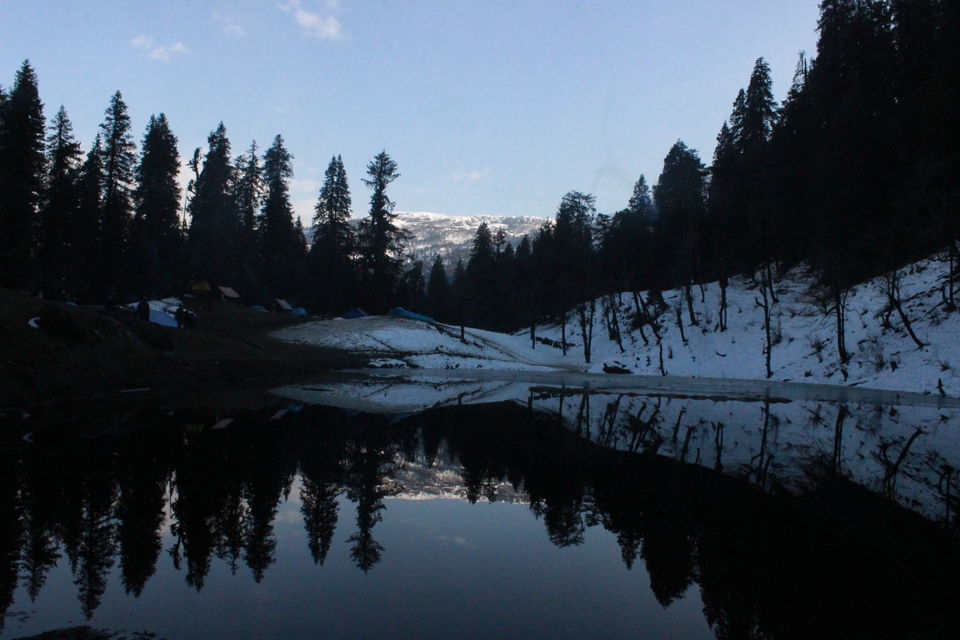 On reaching there you can host your tent and collect woods from the nearby trees if you need a campfire or to cook foods. ( If you are with any Travel or Tour or Trekking companies then you will not be allowed to create a fire)
Distance To Cover : 4 Km (Trek starting point > Juda ka Talav)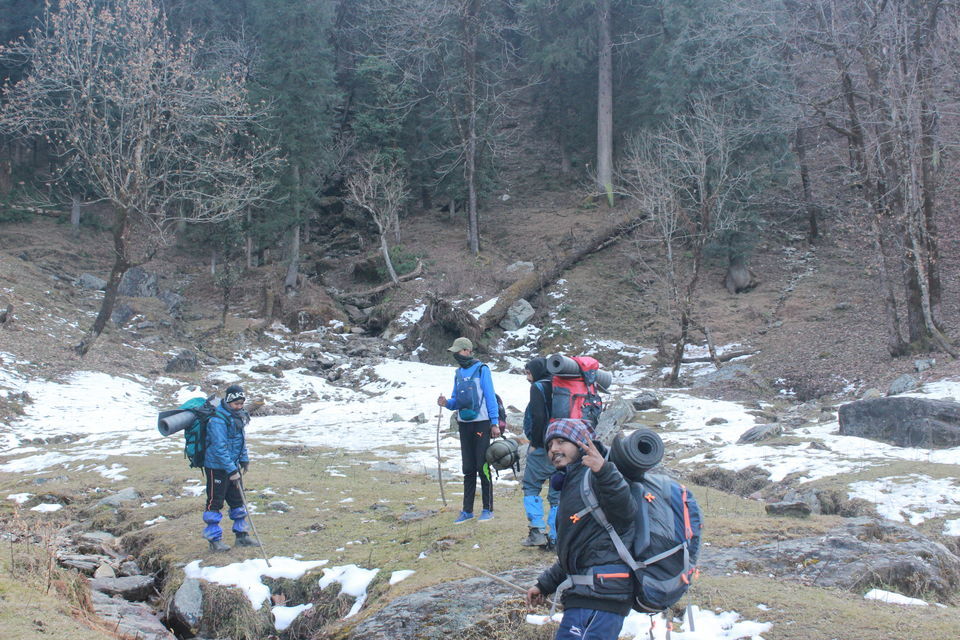 Day 2 of Trek :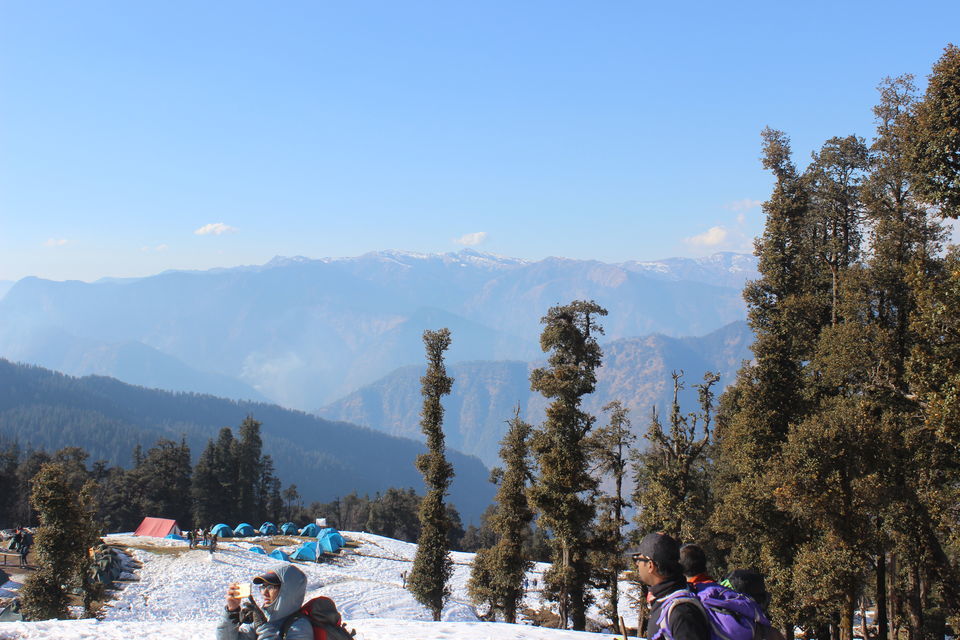 This day trek will take you to the base camp from where you will get the first glimpse of the Kedarkantha peak. This day trek is hardly 2 to 3 hours walking with moderate ascend. Some people reach base camp on the first day itself without staying at Juda ka Talav. So you can possibly get an idea about the distance. It is short and possibly the most easiest day of the trek.
Distance to cover : 2 kilometeres (Juda ka talav > Base Camp)
On reaching base camp, you get the first glimpse of the summit. The Kedarkantha Peak. Covered in snow and stands tall like a white giant under the Sun.
Here the temperature is little lower and the view is extra pristine. The campsite is on a moderate slope of a hill and is very windy. It can get uncomfortable at night if you are short of fire or sufficient clothes to keep yourself warm.
At night under the moon light the Peak shines like a Diamond. But you would not want to stay awake late this night because next day you will be attempting to climb the summit.
Day 3 of Trek :
Today you have to wake up as early as possible. Normally if you want to see that magical sunrise from up the peak then you gotta start from base camp as early as 3 o clock. 3 am in the morning.
The night is very cold and it takes a herculean effort to wake up that early in the morning and start trekking. It takes about three and half to four hours for an average person to reach the peak from the base camp. The trek is moderately steep but trails are well constructed. The good thing about this part of the ascend is that you do not have to carry the big rucksack with you , just a bag for your camera and water bottle would do. The rest of your belongings would stay put in the base camp safely and you need not worry about it. No one climbs so high to steal the gold you carried. ????
Though December was unbearably cold and windy for us, it would take a pleasant effort in the summer to reach the peak from the base camp.
Distance covered : 3 Km (Base camp > SUMMIT )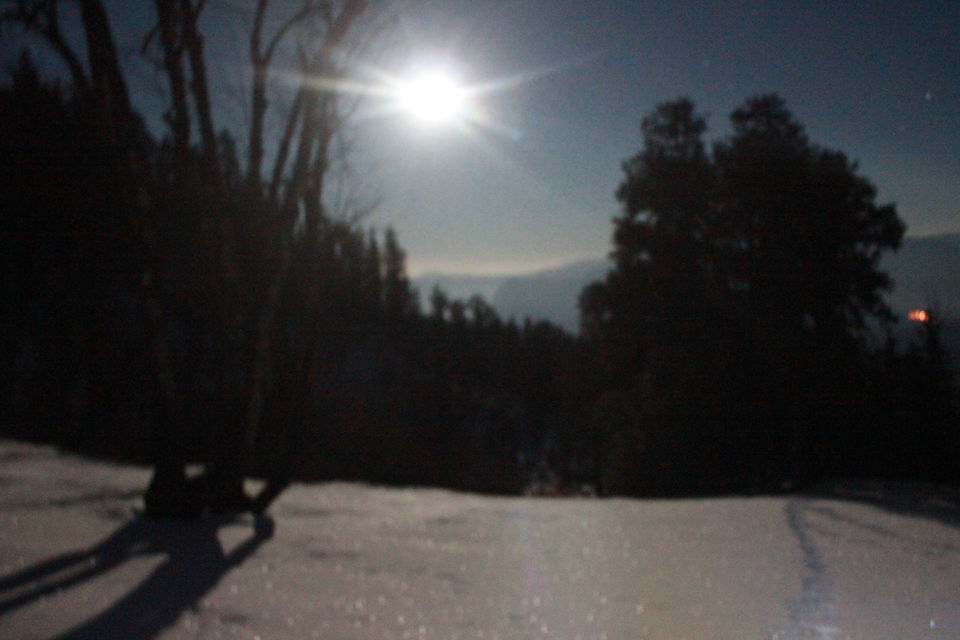 The Snow under the moon makes the surrounding peaks look magnificent, decorated with white glittering snow. You might just want to pinch yourself to make sure you are awake and in reality.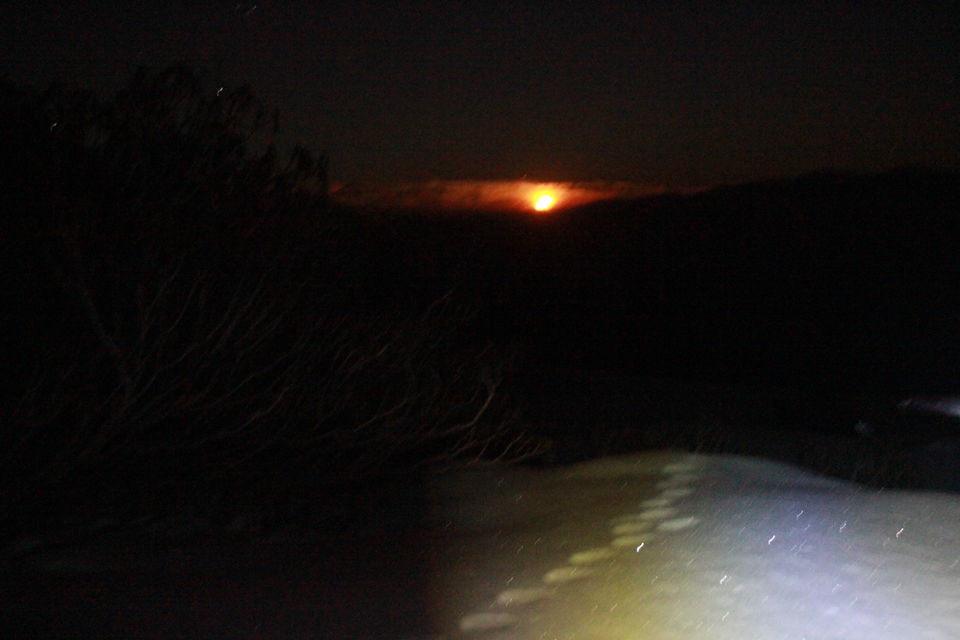 *********SUMMIT **********
Well it is very very tough to reach there in a dawn of a cold winter day. The temperatures along with the wind might be freezing your breath, making it a slight uncomfortable. But like Ned Stark from Game Of Thrones used to say
Everything before the word "But" is horseshit
It is indeed. The Summit in the true meaning of it is the Summit. Looking down to some ranges of small hills in the Shivalik and Himalayan territory, Kedarkantha stands tall with some beautiful peaks with mesmerizing landscapes and decorated names.
Swaragarohini , Har ki Doon to name a few. You could also spot the Black Peak, the highest in the vicinity holding an altitude above 5800 meter.
The Sunrise can give you goosebumps and then I am sure it will take your heart for ever. If you happen to see it, watch it peacefully with silence. There is a strange sound that flows. Not of the wind, not of the birds. Very chiming strange sound.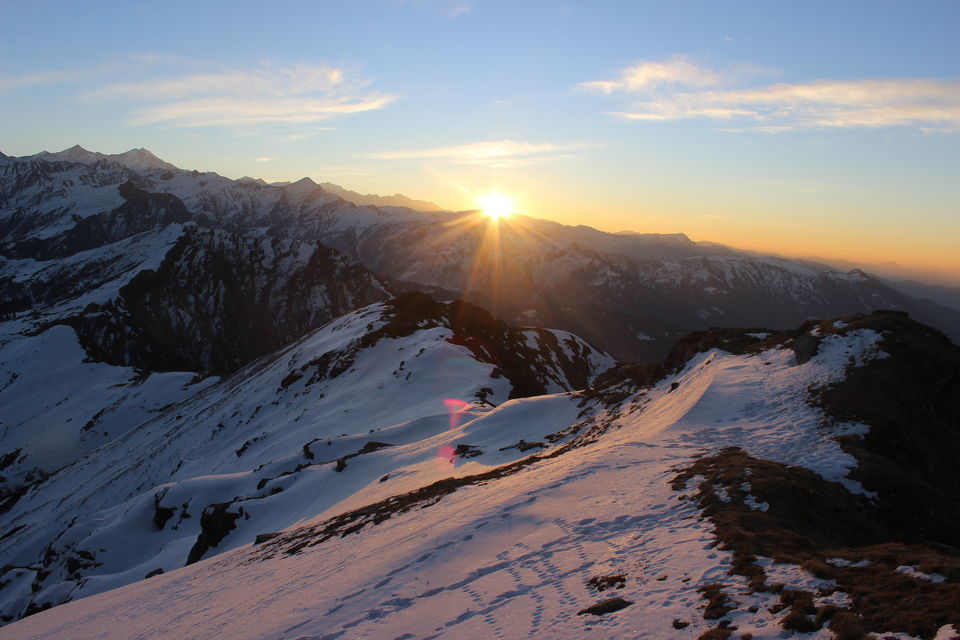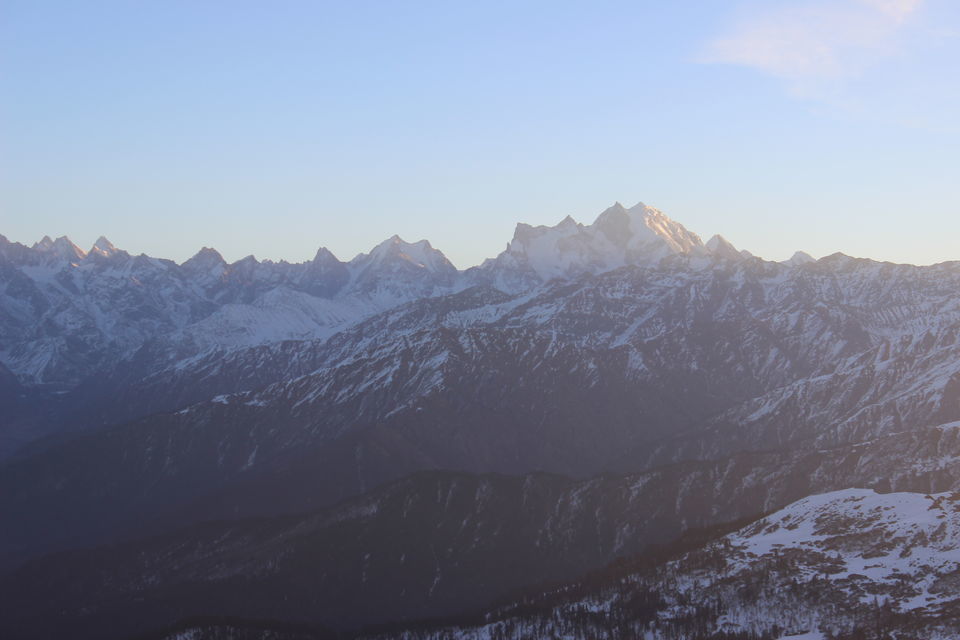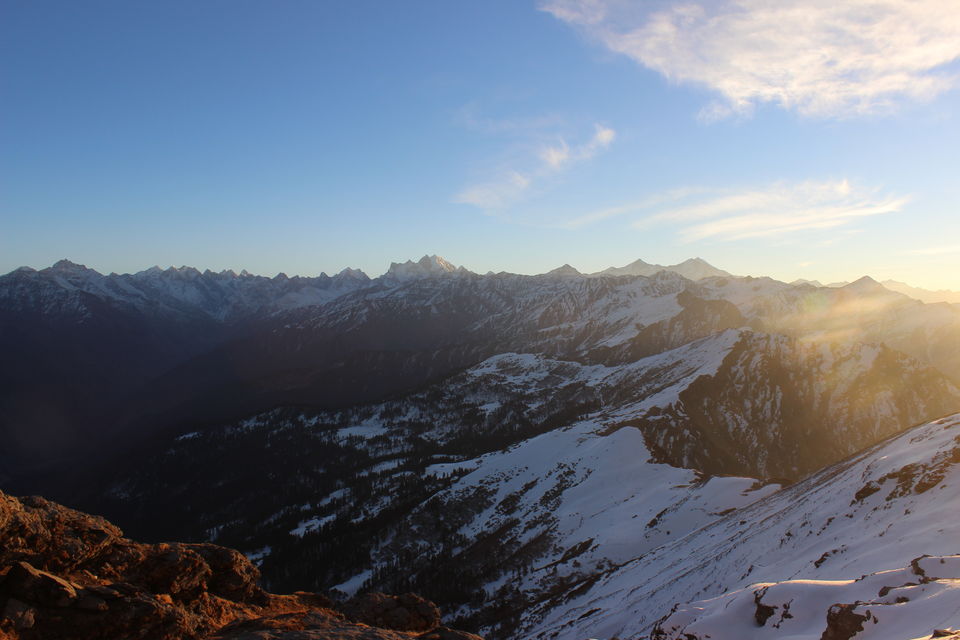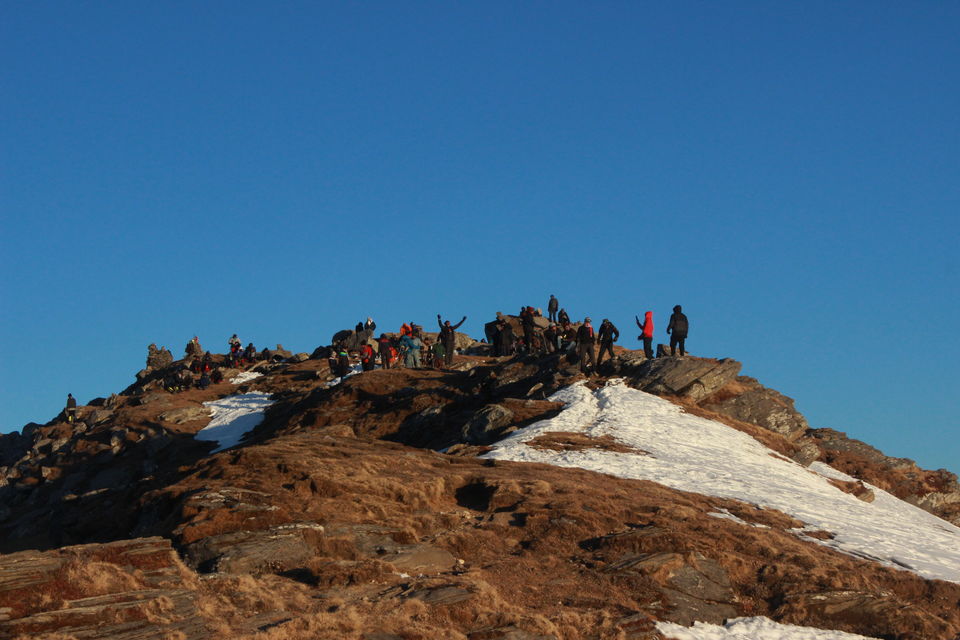 There is a story that goes by, that the main Kedarnath temple was supposed to be constructed in Kedarkantha but there was a belief back then that if during the construction any animal makes any sound then the construction would be stopped right there.
Here the shiva statue was only constructed upto the throat when the priests heard a cow calling out. It was quite unnatural for a cow to be at such a height. They stopped the construction and since it was constructed until the throat (kantha), the hill was thus named Kedarkantha.
Well it was December 31st 2017 and it was a freezing -17 degrees there. We could only last an hour. The winds were strong and chilling to the bones. Cameras drained power like there was a leak. Flashlights would barely work on that temperature. It was cold but it was mesmerizing.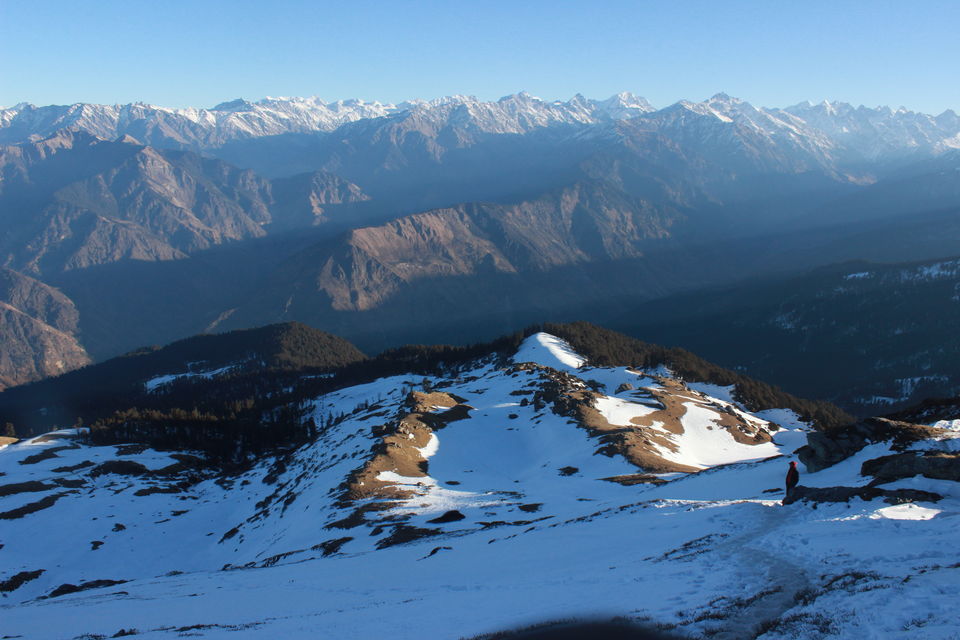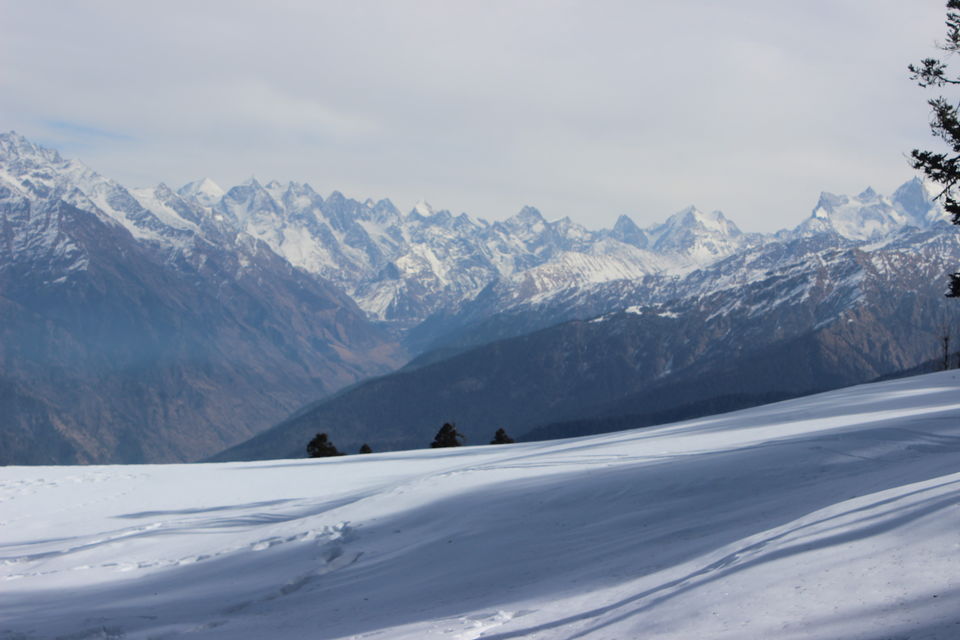 On the return from the peak, the view was straight out from my dreams. It was night when we ascended and did not realize that we were actually walking a paradise. Ruskin Bond would have definitely wrote a book about it. Those three kilometers to the Base camp was all that you have ever wanted to see.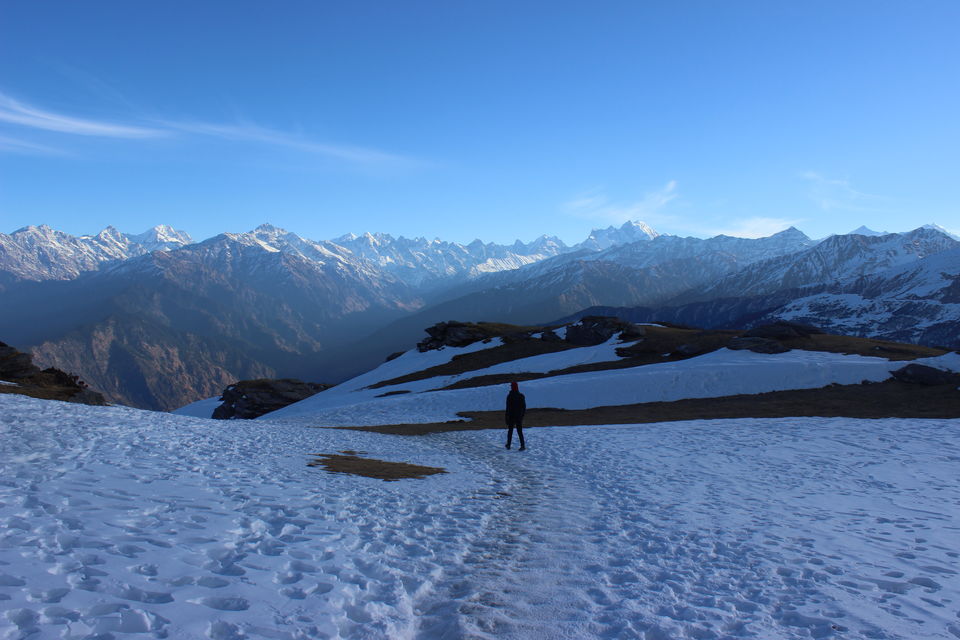 The thick snow and the slide trails would definitely temp you to bring out the child in you. Its irresistible no mater how professional you are. You would want to slide and its okay to do so. Its huge fun. Check for proper slide trails though before jumping in, some contains rock beneath and it might leave you gravely injured.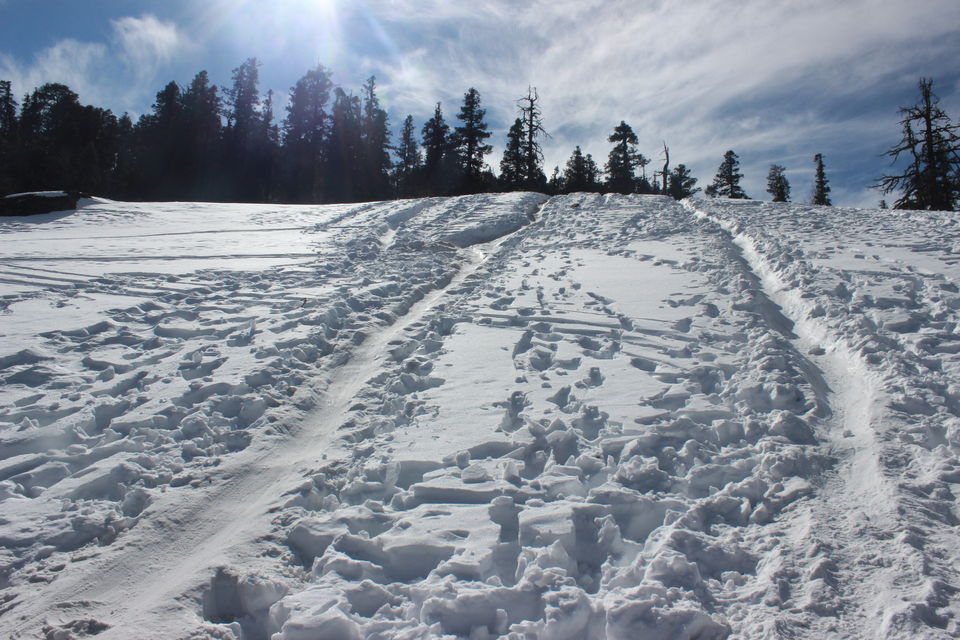 There is a video I posted on Instagram about the descend scenery. The Instagram Video.
If you do not get lost in the beauty then you can make it to your tent and luggage in the base camp in three to four hours.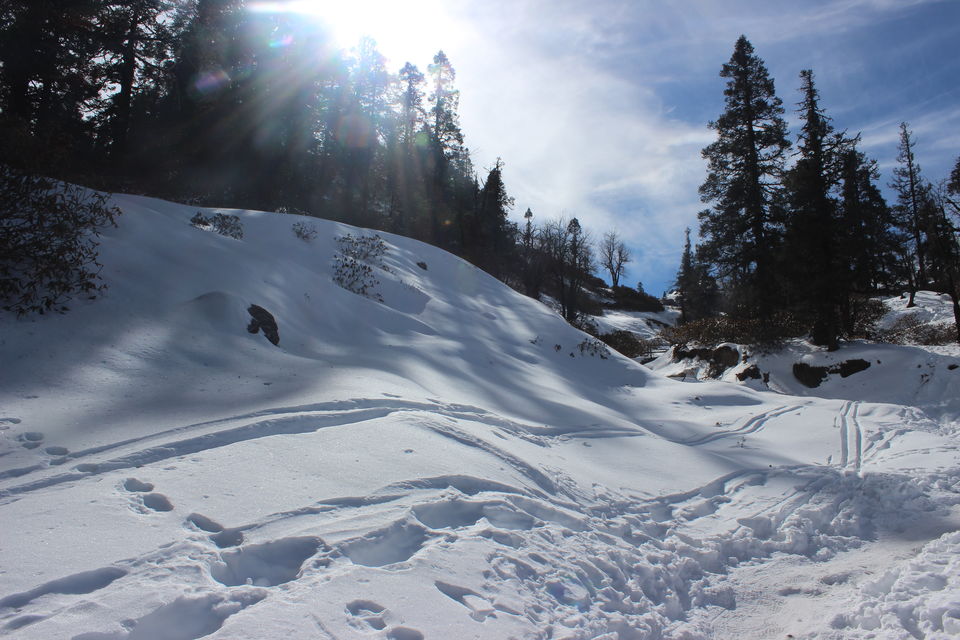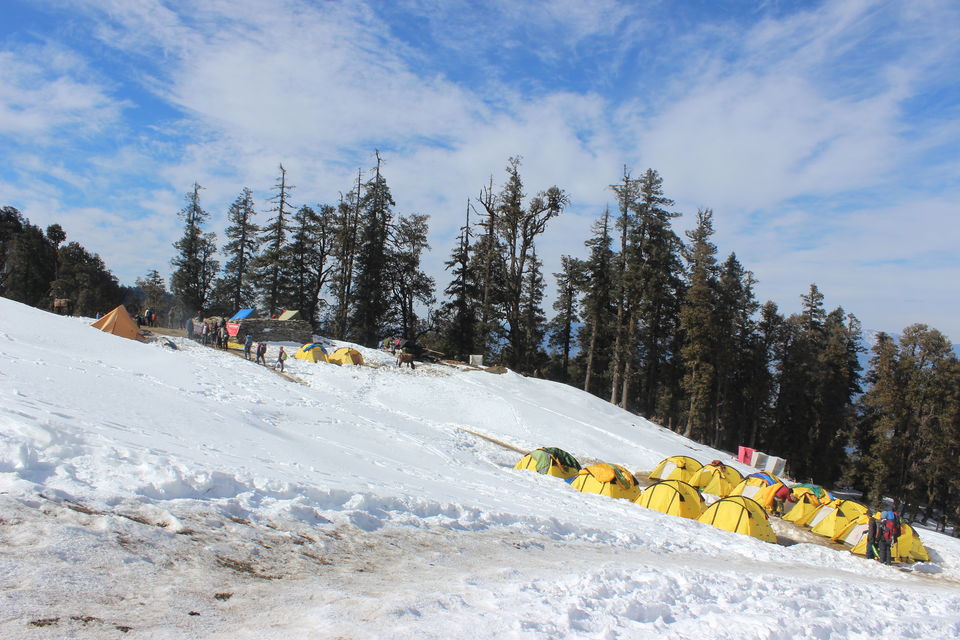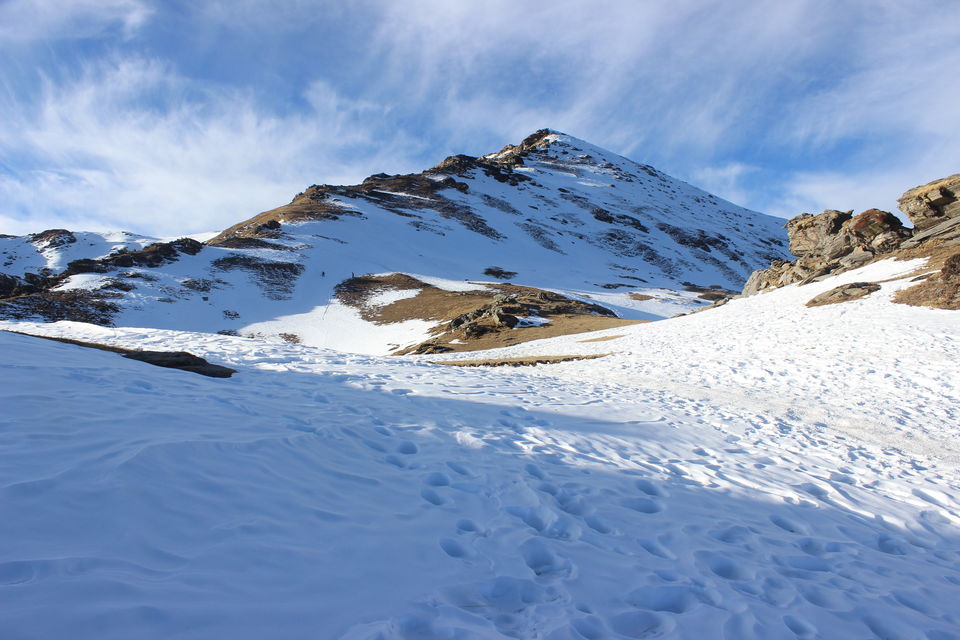 On reaching the base camp you would have to pack your bags and tent (if you are solo) and you can go back the way you came to Juda Ka Talav or to a place much down in altitude named Argaon (some call it Hargaon). The trail is steep and after sometime you would loose snow and enter the forest which would end up in a moderately plain camping site named Argaon. India hikes and Bikat adventures too follow the place as it is less cold than the base camp and there is stream water available.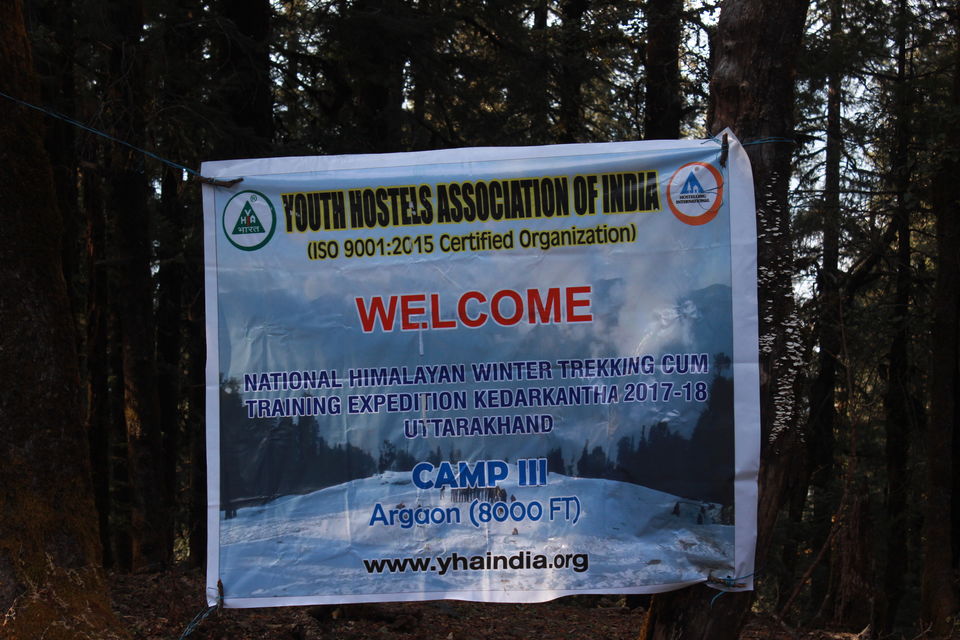 This day would be over before you know it. The tiring body and a comparatively pleasant temperature would just tyrannize you. Rest the day completely, the nearby places are beautifully green but you are a snowman now. White snow runs in your blood. Greenery would not tempt you much.
Distance Covered - 8 km. (2 km ascend > 2 km descend to base camp > 4 km descend to Argaon)
Day 4 of Trek
The trek has nearly ended and it is the last stretch of descend down to Sankri. The distance is around 6 km and it is a moderate descend. The trail from Argaon would meet with the trail to Juda ka talav on the first Tea stall which you have crossed in day 1. You will meet aspiring trekkers who would want to know the weather and conditions in the summit from you. Wish them Good luck and receive the congratulations for making up to the summit and back.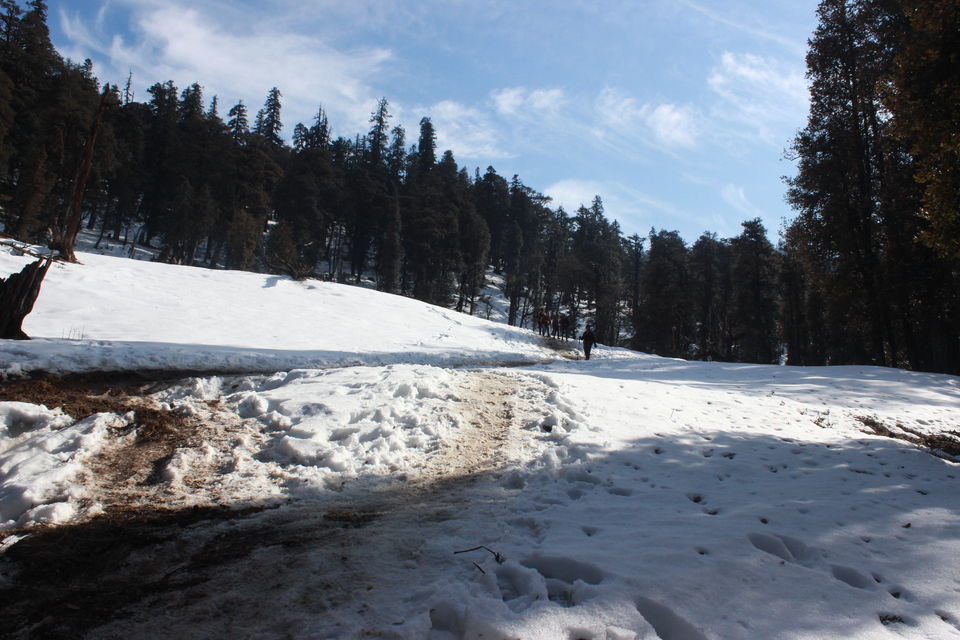 Within 3 to 4 hours you will find yourself in the base of the hill from where your trek started. The buses that ply in the morning would have already left by then, so take a room in the many accommodations available or you can go to www.gmvnl.in
There is a local village that is a little downhill Sankri. You might pay a visit. They make great hash ! In case you are looking for it.
Distance covered - 6 Km.
Day 5 of Trek
Catch the early bus to Dehradun. As early as you possibly can, the 5.30 am bus would do you good in case you have a connecting train or bus to Delhi that very evening. Otherwise the other two buses leave 6.30 am and 8 am. A 11 hour journey along the same path alongside the river tons would reflect the amazing memory you gathered. Until next time you would say while you make up your mind for the departure. You will visit again. You know you will.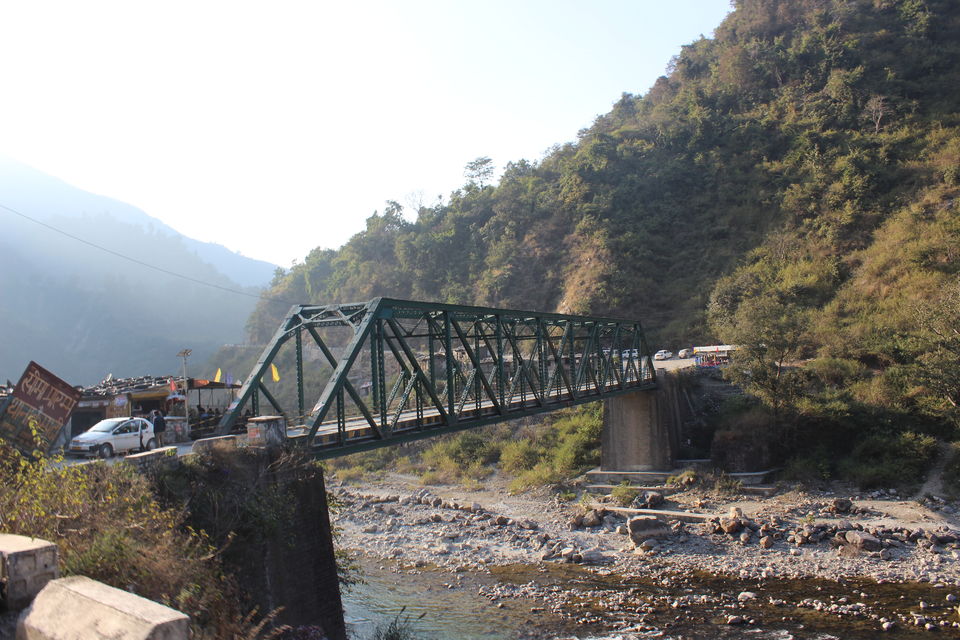 Reach Dehradun around 6 pm and you are now ready to go back to your not so mesmerizing daily lives but at least to the warmth of your quilt and your couch.