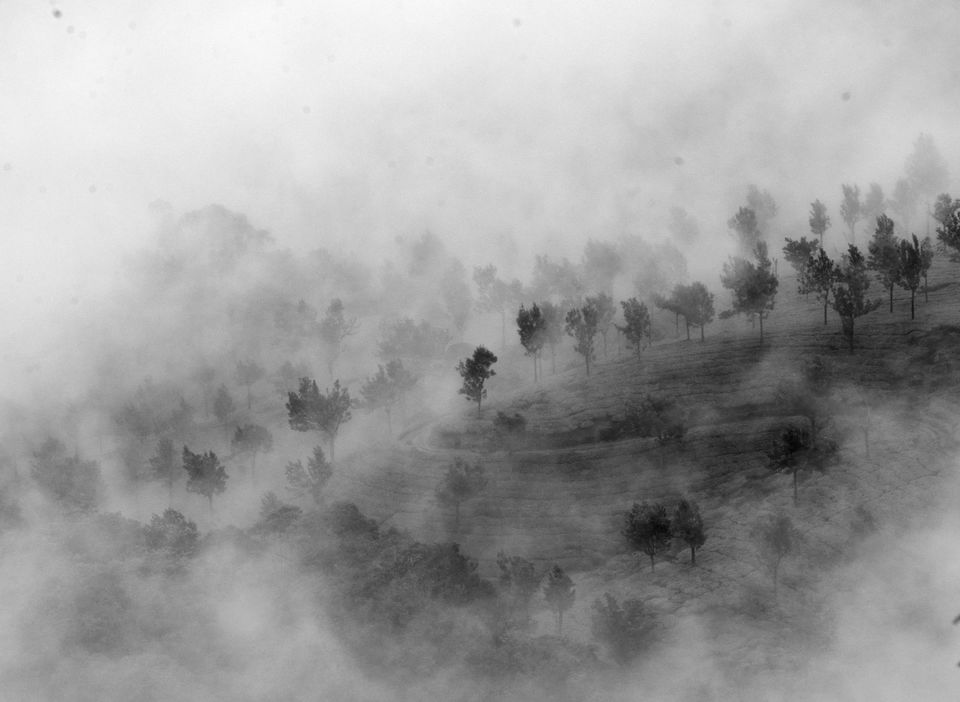 Are these raindrops? I asked my partner while coming out of the washroom of the 4th-floor room of our resort. Couldn't be as these supposedly cold droplets appeared to be floating inside our room! My partner said it may be fog or cloud. Whatever, this was the first time we are literally touching clouds, felt heavenly; like we were on cloud 9! Not even an hour had passed since we checked in Blue Haze Resort, Munnar and we experienced this phenomenon, what a start to our trip. We hurried towards the balcony which opened up to a valley below and it was all white outside. The small serpentine rivulet which we'd seen flowing down the rain-drenched valley a few moments earlier was not at all visible anymore. The cloud did cover the whole valley and adjoining mountains first before entering our room. We could feel the cold droplets of water on our cheeks. Yah, the cloud carries raindrops; we all have studied about this during our primary schooling years. The lessons learned then suddenly appeared so relevant now; I became a little nostalgic. That also meant more exposure to these would make our bed and belongings wet too! Common sense brought me back to the present and I reluctantly closed the glass doors of the balcony to keep our room dry! Welcome to Munnar, I exclaimed! Suddenly the harsh ring of doorbell dropped us down from the magical cloud to the real world. It was the room boy who brought our lunch of hot Dal-Khichdi and Omelet!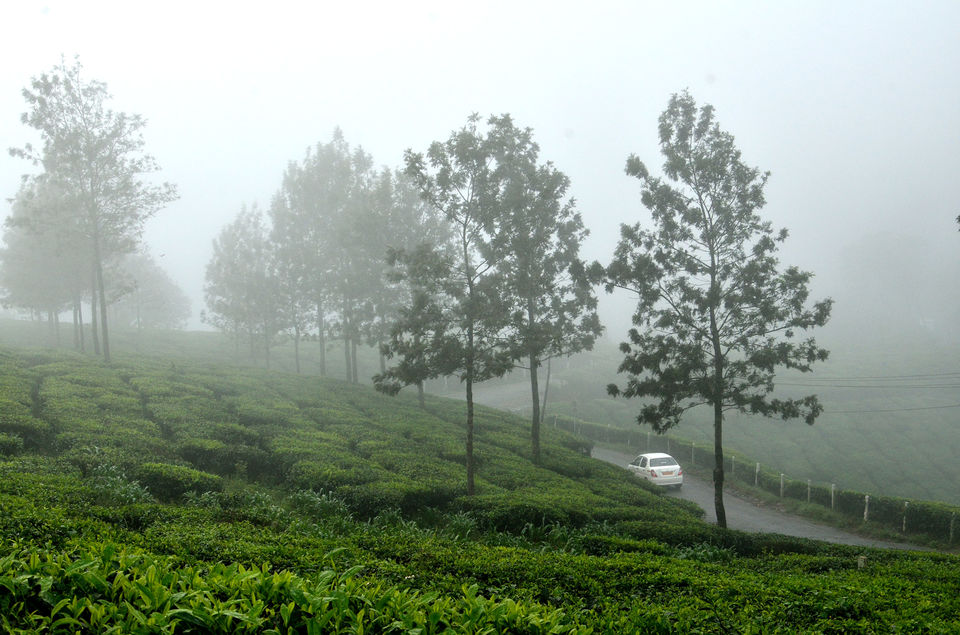 We reached Munnar a few hours back from Cochin . Though it was early September still we experienced rain at several places along the way to Munnar. We stopped several times on this scenic road; hence we reached late at our pre-booked hotel. The room boy suggested keeping the door leading to balcony closed all the time to prevent clouds from coming inside the room and eventually making everything wet. Points noted! Once he returned, we took our plates to the balcony and sat at the small chairs made up of the cane. Well, you don't get the chance of having your lunch literally surrounded by clouds every day! It was worth it! We would have just finished the lunch and discussing the plan for rest of the day when it started to rain. Reluctantly, we came inside the room and sat in the sofas watching the rain, though we could not see it properly as it was cloudy outside but the experience was new for us and we were enjoying every bit of it.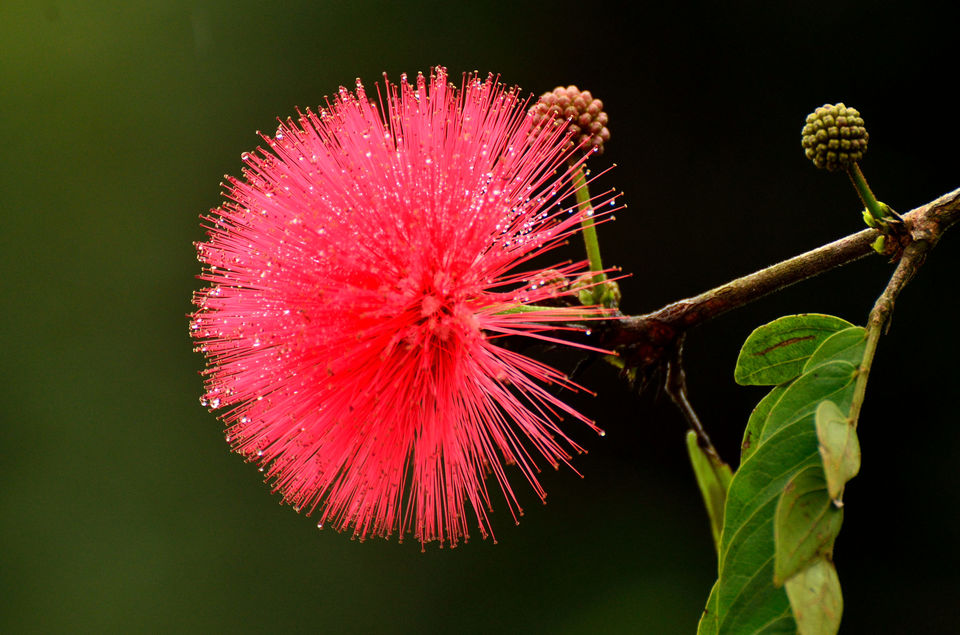 Since we reached late and it was still raining outside we decided against going to any faraway tourist spots and visited Punarjini Traditional Village for watching Kathakali and Kalaripayattu, a form of classical dance and martial art performances. Though watching these performances was not on our cards but itineraries are only guides and subject to modifications as per the situations and such surprises here and there is what makes the traveling interesting. The shows were perhaps wonderful and we were surprised by the performance of the artists. By the time the show finished, it was already dark outside and we decided to come back to our hotel and enjoy a cup of hot tea. In short, we did not push ourselves too much as it was only the first day at Munnar. We had two full days to explore Munnar.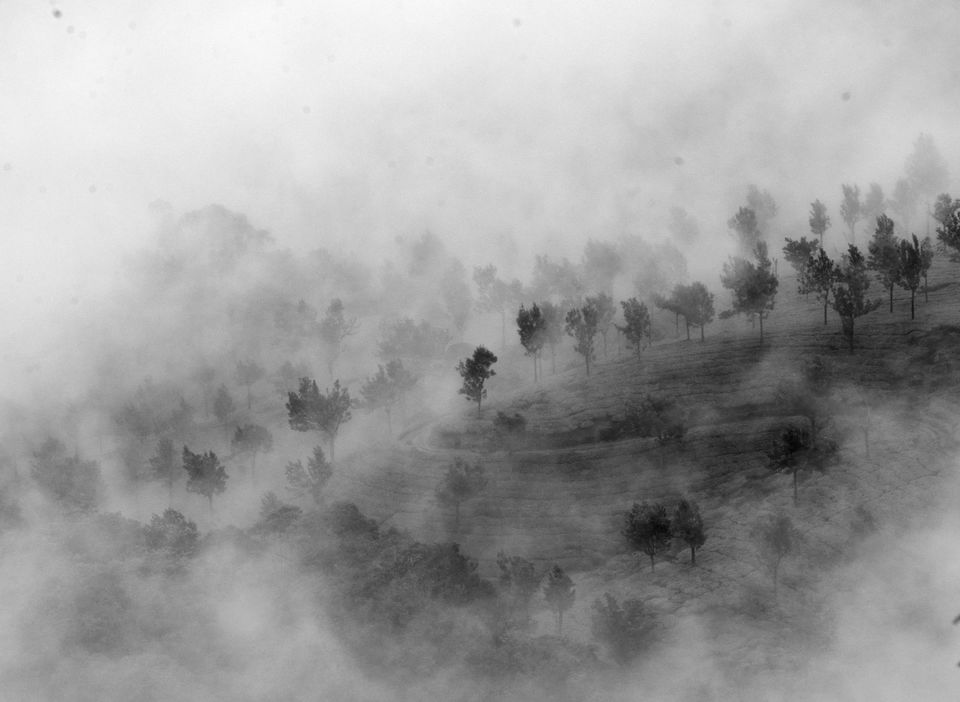 Next morning we started early, in fact, very early for a walk on the winding roads that led to vast expanses of tea gardens. We had made a resolution of wake up early and do early morning walks through the woods even before coming to Munnar. But making a resolution is one thing and implementing it the other. I usually like to enjoy my hot bed tea late morning. Add this with the cool weather and drizzling rain outside, a perfect excuse to not to come out of the warmth of the blanket. But I wanted to keep this resolution at least! So I pulled myself out of the bed, got ready and made a cup of hot tea with the help of electric kettle in the room. Holding the warm cup, I opened the doors of the balcony for a moment and a cold gush of fresh wind mixed with water droplets hit my face. Wow, all the laziness of waking up so early had just vanished at that very moment. We were suddenly feeling very fresh and all charged up. Very soon after this, we were walking around the nearby tea gardens. It had rained all night; the roads were wet, as were the trees and plants. Though it was still drizzling and the same perhaps adding to the beauty of it. Since our hotel was located away from the main road in Pallivasal, a good 15 km from the Munnar city hence traffic was not there and bearing few locals and diehard morning walk fans no were present on the road. The set up was very romantic as well as photogenic. I was just trying to do justice with the camera. The roads were winding, full of ups and downs but we were also not in hurry. We leisurely walked past small huts, a yet to open tea stall towards a tea plantation nearby. Walking through the space between the rows of tea plants amid foggy morning was an experience in itself and we were in the midst of all this. We sat there for quite some time on a rock overlooking the clouded valley on one side and mighty hills on the other. The sun was playing hide and seek with the clouds. While coming back, we both had a cup of hot tea each from the small tea shop we crossed in the morning. By the time we came back to the hotel, it was 9 AM. We spent nearly 3 hours enjoying the pristine nature. Such walks, albeit to different directions would be our daily routine for our whole duration of stay at Munnar. In fact, I found these small walks were far more captivating and enriching than visiting many of the places that appear on most bucket lists about Munnar! Of course, opinions may vary.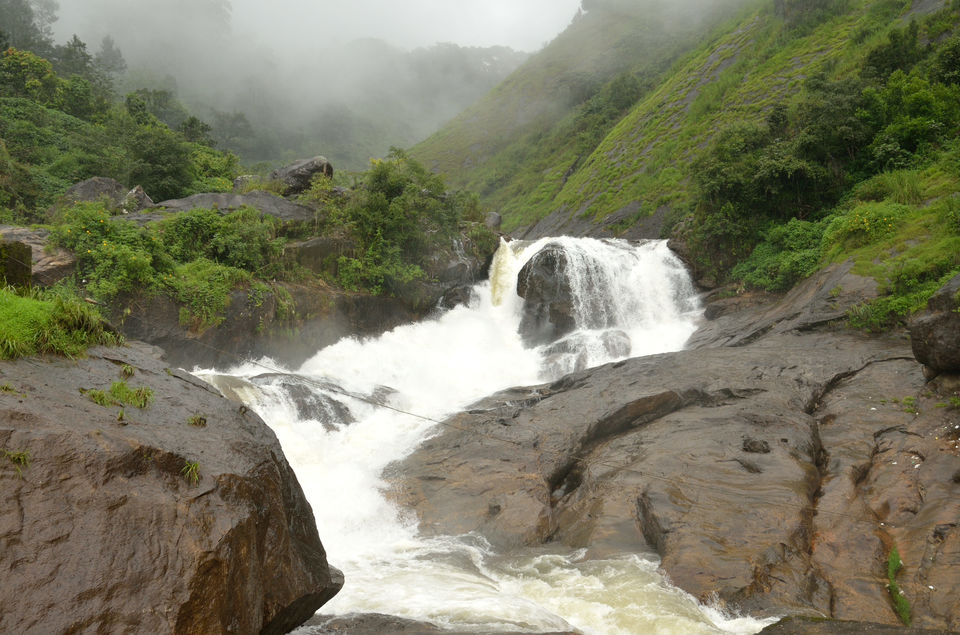 Though we asked for the cab to visit local places of interest at 9.30 AM I told the driver to come around 10.30 as we wanted to take some rest after mornings' long walk. We needed to finish breakfast too. We started around 10.45 AM and our first destination for the day was Attukal waterfalls. The road to this waterfall was as beautiful as the waterfall itself. The road was very scenic and went up and down through the tea gardens. We could hear the sound of water falling onto rocks from quite far though we could not locate it yet. Our car stopped before a narrow bridge and we walked to the middle of this bridge to witness the waterfall in all its glory. The incessant rains during the last few days had made it look splendid with powerful currents. It was wonderful but that's the thing about monsoon rains in hills, it creates many small and big seasonal waterfalls which appear for just a few months and overshadows everything with all their glory and then disappear or reduce in size once the rain stops completely. Having said that, it cannot take away the beauty of this Attukal waterfall.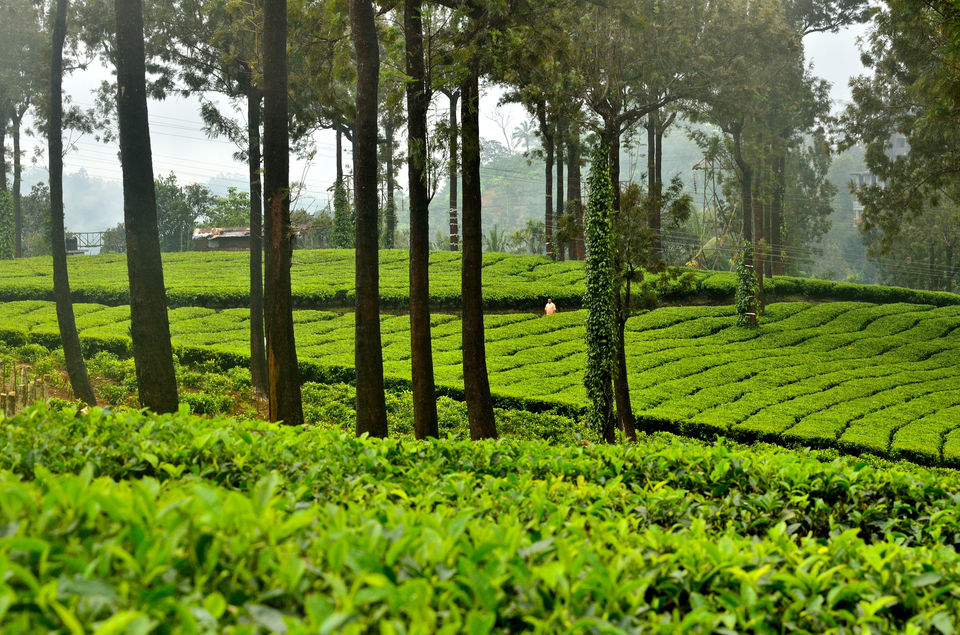 Our next stop for the day was a spice garden. This garden boasts of many medicinal plants and spice plants but I did not find it that appealing enough though I must say the quality of spices and medicinal oils were superb. Here one can also enjoy the elephant ride. We spend about an hour at the spice garden and by the time we started from the spice garden, it was 1.30 pm, lunchtime. So we directly headed to Munnar town for lunch. I must say the main town area of Munnar is congested, though not at the scale of being feeling irritated. We thanked our decision of not choosing a hotel in the town area. We had a local veg thali for lunch at a small restaurant. It was Ok since we needed to go Eravikulam National Park so we just kept it simple.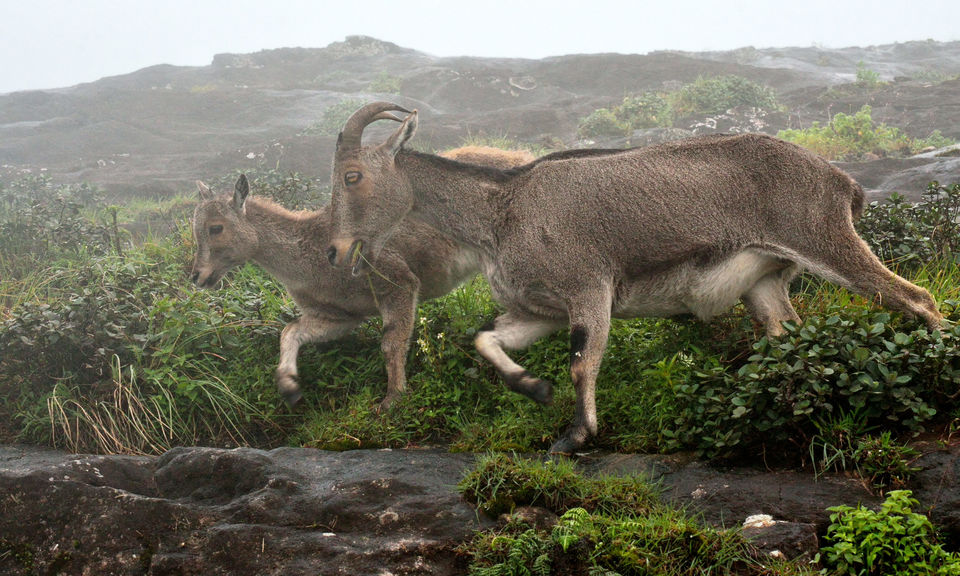 After lunch, we straightaway headed to Eravikulam National Park, 13 km from the Munnar town. This park is known for Nilgiri Tahrs, a species of wild goats endemic to this region of Nilgiri mountains. The national park boasts of many other animals like leopards, jackals even the Tigers, though not commonly seen but it is the Nilgiri Tahrs that make this park unique. Having interests in wildlife photography, visiting any national park or wildlife sanctuary always pushes the adrenaline high. This time was also not different just a slight irritant was rain, continuous drizzling. Keeping fingers crossed, we purchased tickets from the reservation counter right at the parking area. From that point onwards no private vehicles are allowed. The park provides its own small buses to ferry the visitors in and out of the park. This small journey was the best thing happened till that point time of the day. The winding road goes through the large expanses of lush green tea gardens. Since the park is situated at an average height of above 1500 meters, the clouds were playing hide and seek with us. The bus dropped us at the designated spot and from there it was all walking. It felt awkward initially because normally we were used to guided safaris inside the national parks we visited earlier but this was going to be different. We walked with other visitors led probably by a forest guard or caretaker. The distance covered depends on the visitor though we went up to the last point permissible that day, it could be 2 to 3 km of an uphill walk, though it was not tough. While going up the whole route was covered by thick cloud and it was raining slowly. Everyone was under umbrellas. We could not see anything, not even the valley below. No sightings of Nilgiri Tahrs, having visited other parks I know how luck plays role in animal sightings. I kind of started to believe this visit would be a zero sighting visit then the luck smiled on us, albeit for a while when the clouds were blown away by the wind. The wonder of wonder was a group of Nilgiri Tahrs quietly grazing unfazed by our presence just a few meters from us. These animals are used to the presence of human beings. Though conditions were not perfect I took as many pictures as possible in that short span of time and before we realized another layer of thick cloud covered the whole area. The animal disappeared as quickly as they appeared. Ok, not bad at least we could see the animals that close.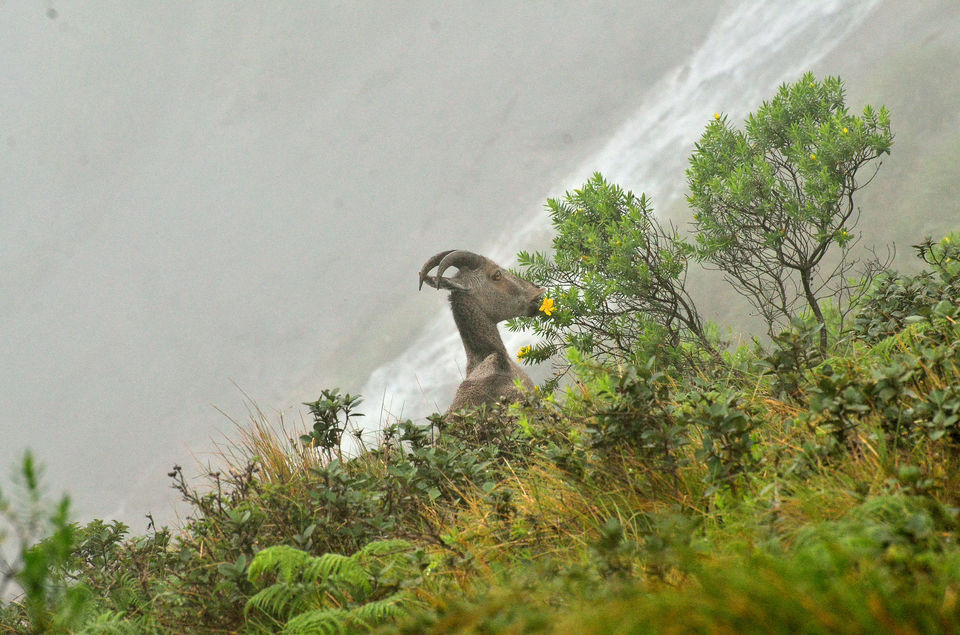 But we missed many things like the stretches of vast rolling hills, the view of Anaimudi Peak, the highest in South India and the overall beauty of the park due to weather conditions. Well, some inspiration is required for next visit! I consoled myself! By the time we came back to our hotel after a nice Ayurveda body massage at Munnar town, it was 8 PM. We were hungry and sleepy like anything. We quickly finished our dinner and crashed into bed.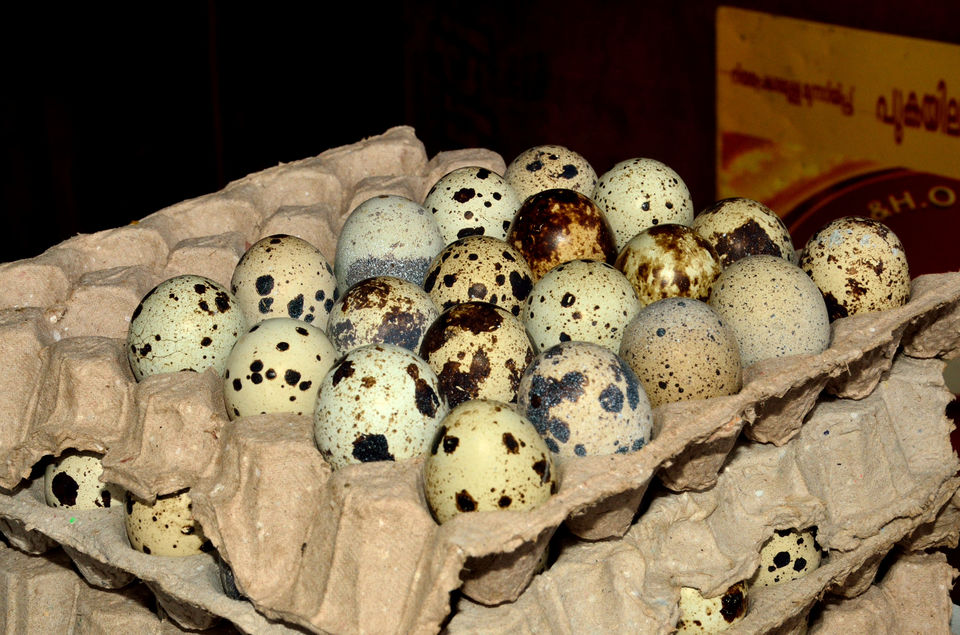 After fulfilling the days morning walk quota it was again the time to visit some of the so-called places of interest. Today we started little earlier than the day before. The plan for the day was to go to the Top station, a viewpoint some 40 km from our hotel at Pallivassal. At 1850 meters Top station is the highest point of Munnar. Before that, we visited Hydel Park near Pallivasal. It is a nice lake formed due to a nearby hydroelectric project offering boating facilities. Nothing great but can be visited if you have time. Another lake which we visited enroute was Mattupetty Dam. Though this was also a lake made for the purpose of generating electricity but it offers better views. The thing fascinated us the most of easy availability of Quail's eggs. Though much smaller in size than a regular hen's egg but the taste was just awesome.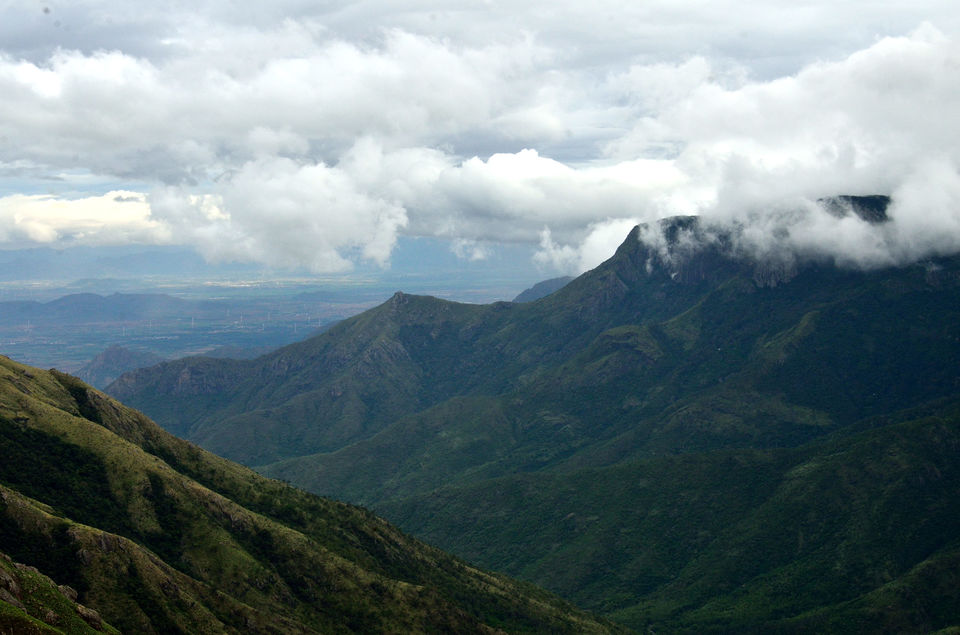 Our next stop was Top Station but the scenic route made us stop for many photo breaks. For a while the weather also changed for good, giving us ample opportunities for capturing this beautiful place, albeit by means of taking pictures. By the time we reached Top Station, it was well beyond lunchtime. We decided to have lunch of hot Maggie and omelet, though very unusual combination but we enjoyed it thoroughly. After lunch, we leisurely walked towards the viewpoint which has made this place so famous. And Yah! The place was good. It offered spectacular views of the valley below. Situated at Kerala- Tamilnadu border this place offers great views of distant Theni district of Tamilnadu. It is a nice place to sit for some time in awe of nature. Apart from Eravikulam National Park which we visited the day before we enjoyed the most at the Top station. After spending quite some time there we returned to our vehicle for the hotel. In between, we stopped for some time at Echo point. As the name suggests the Kundala lake and the adjoining Shola forests would eco your voice. It was a fun place to be there. Since it was getting dark and started to rain, we returned to our vehicle and proceeded towards our hotel.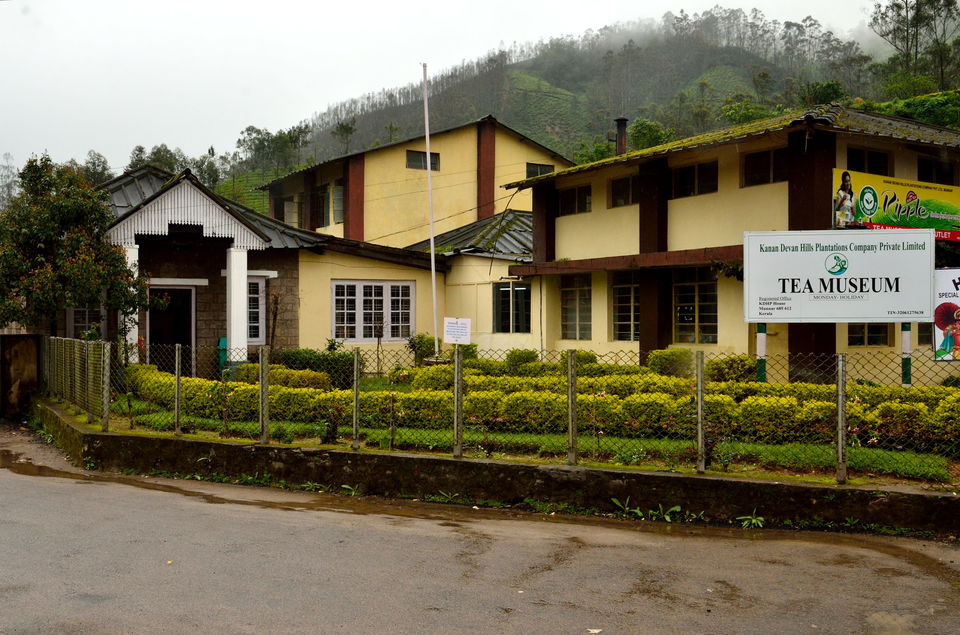 Next day was also our last day at Munnar, we visited TATA Tea Museum before leaving for Cochin. The museum carefully preserved the history of the place, tea plantations, photographs, government orders of the time etc. The museum also has a small tea factory where one can see the whole process of tea making. It is wonderful to know how different types of tea come into being; one can also buy different kinds of fresh tea from the sales outlet here. In all, it takes nearly 45 minutes to complete the tour of this museum. Our trip ended with a hot cup of hot tea freshly brewed tea provided by the tea factory. There could not be a better parting gift than this. With our souls recharged with all positive energy, we felt ready to face the daily grind back home.
Note: Eravikulam National Park also boasts of Nilkuringi flowers bloom once in twelve years. This year i.e. in 2018, it will bloom again and the best time to witness this phenomenon is from September to January,
How to reach: Nearest major railhead and airport is Ernakulam or Cochin, Cochin to Munnar distance is 130 KM. Taxis and other private transports are easily available at Munnar.
Stay: Being a hill station there is no shortage of good hotels and resorts and can be booked online as per need and budget. There is normally heavy rush during the holidays and long weekends. I stayed at Blue Haze Resort at Pallivasal, Munnar and found it pleasant.
Local transport: Hiring a car is the best option though carpooling services are also available from Munnar town. Hiring can be done on per day basis or on lump sum payment basis if the stay period is more. Auto rickshaw service is also available.
Connectivity: All major mobile networks work here and connectivity is satisfactory.