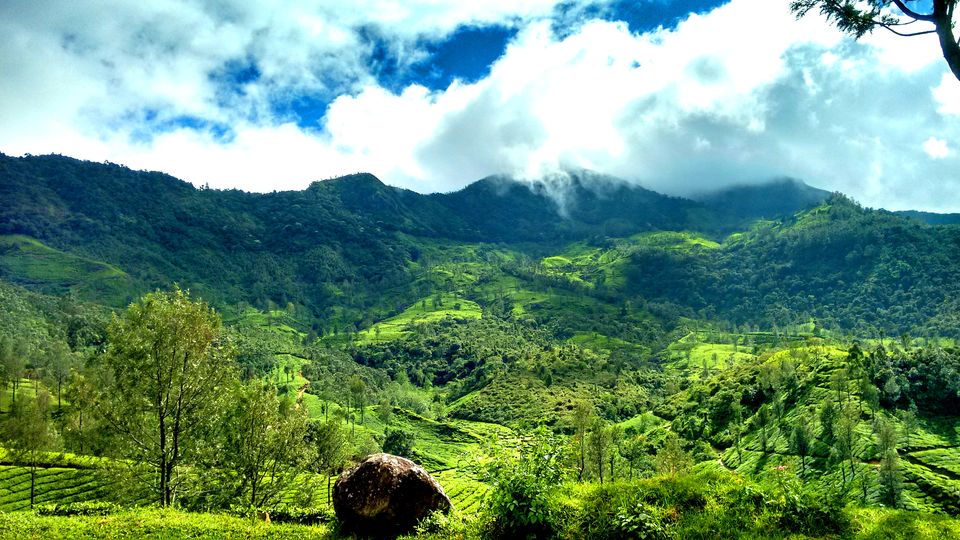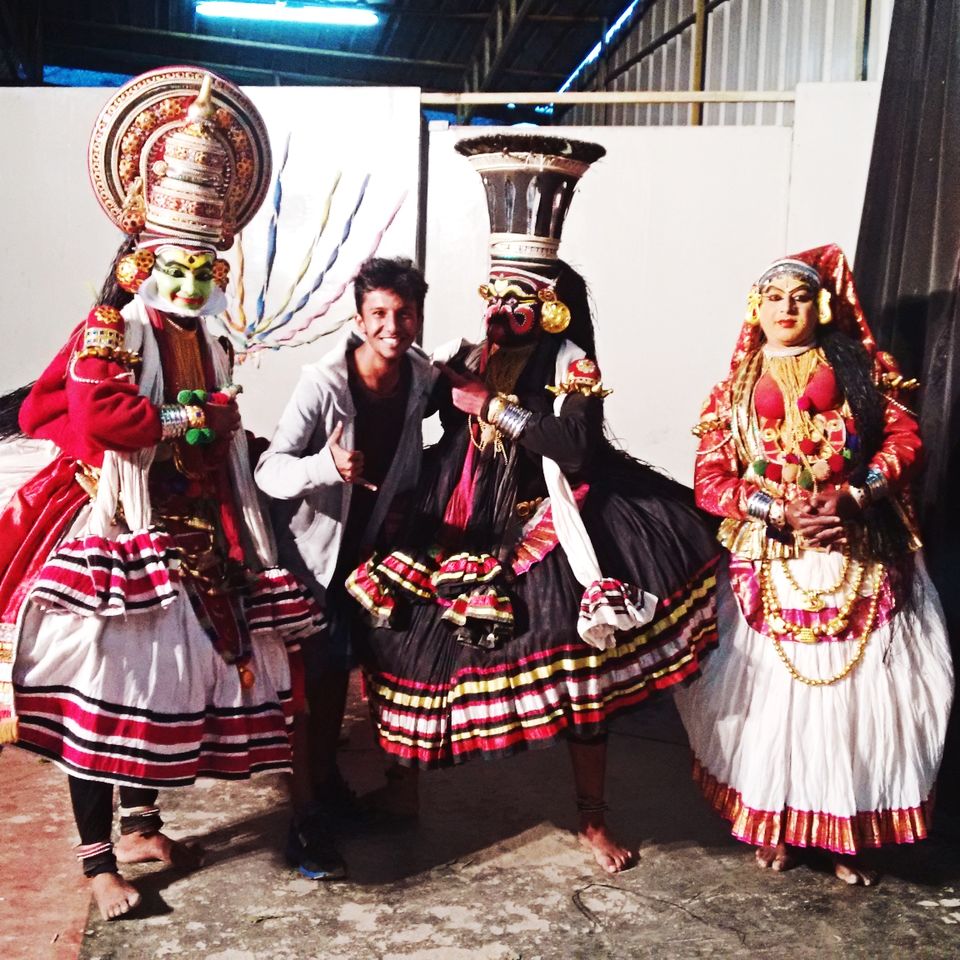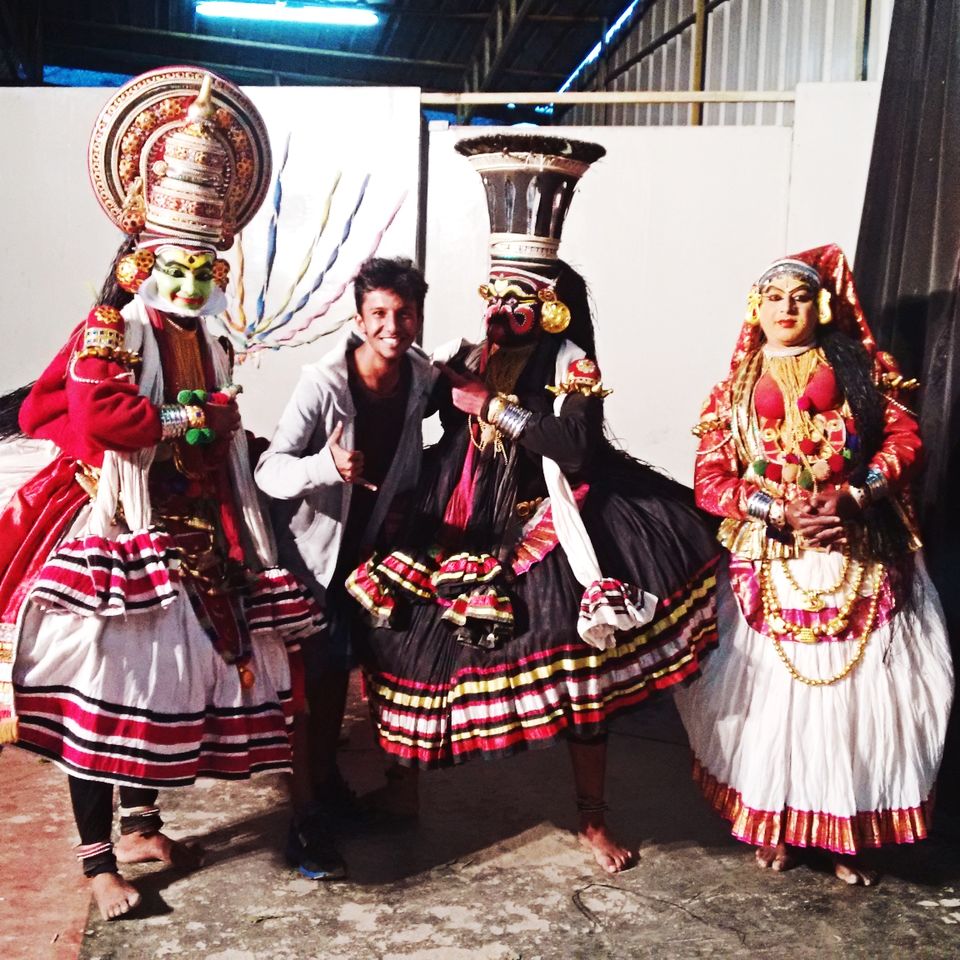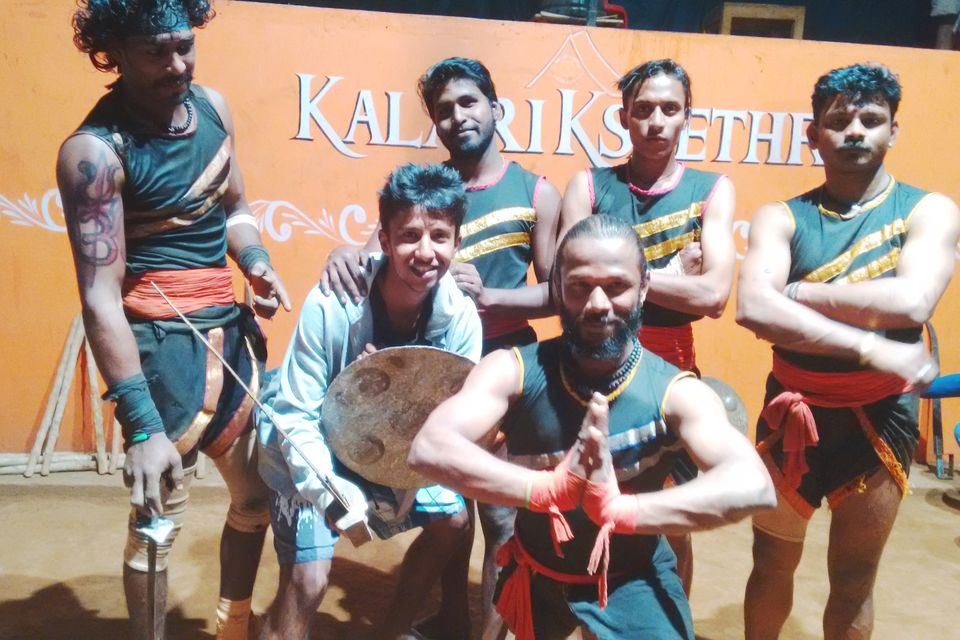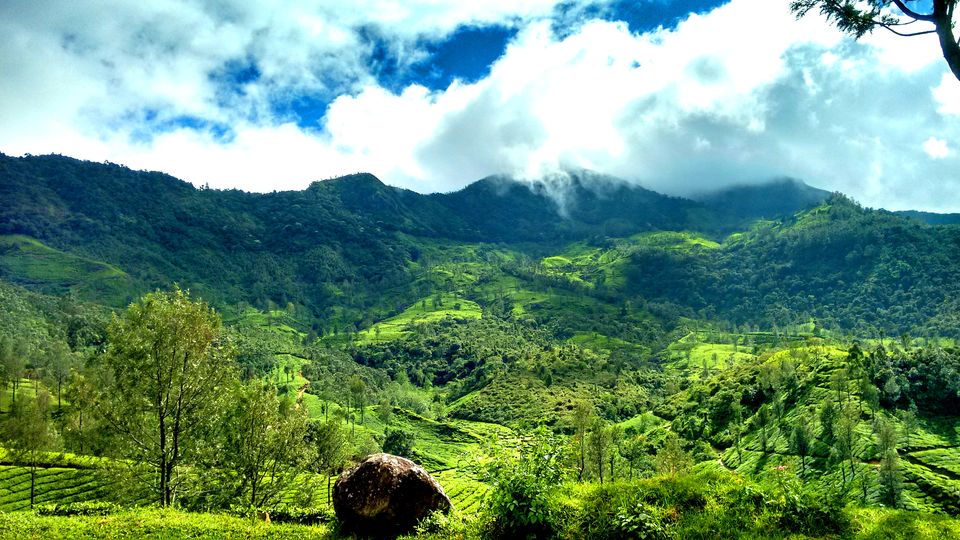 Munnar is beautiful beyond words. There is much more to Munnar which meets the eye. People visiting Munnar stick to hotspots or often follow the guide's instructions. The journey is more enjoyable due to vivid sceneries, lush green forest and it does get cold on the way to the top. Travelling for almost 4 hours, I finally reached Munnar at 4.00 in the evening; I could actually notice tea selling shops. They serve tea in a huge glass almost like a milkshake, price may differ from one shop to another i.e. (10-15 rupees) but the quantity is almost the same. The town is crowded and obviously commercial, filled with hotels, motels, shopping districts. However Munnar is also special for home stays which cuts you off from the regular routine and takes you deep into the jungle and Tea estates which have been hardly explored. Home stays also have pick up and drop facilities but it is chargeable. However the first pick up and the last drop does not come under the payable category. The stay is peaceful and beautiful since it is surrounded by greenery and small river streams.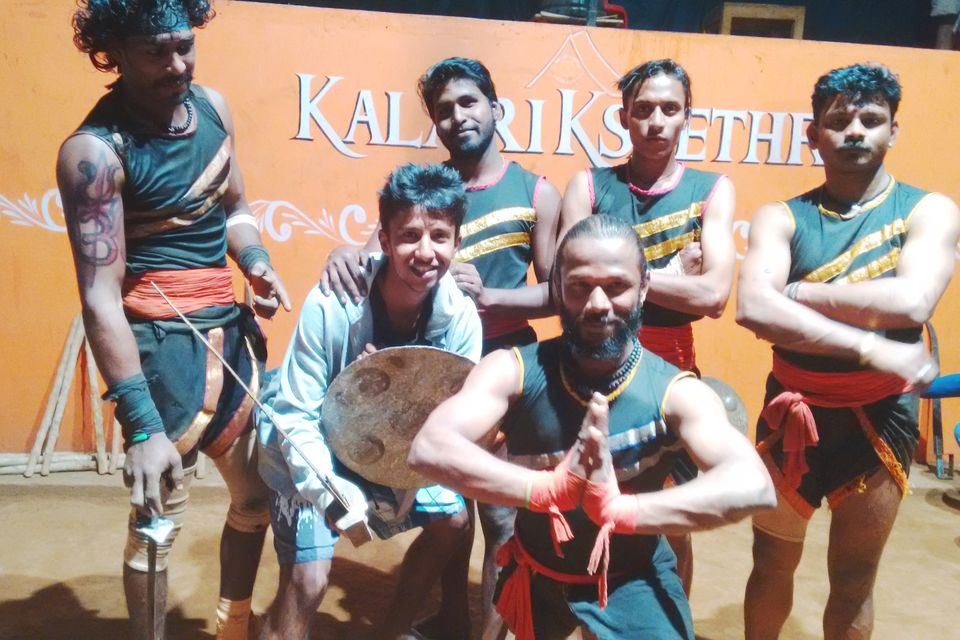 The Kalarippayattu combat specialists!
They accepted me as a warrior in their clan!
The caretaker of the home stay, Tony picked me up from the bus stop and drove me to the room, on the way it was really difficult for tony to drive because of the thick mist which blurred his vision. We couldn't see anything ahead up to 10 meters. I enjoyed being covered in nature's arm. There were several children waving at me and it really felt heartwarming and welcoming. As soon as I reached the room I had a hot water shower and took a power nap, woke up at 5.30 in the evening! Tony had a surprise waiting for me and asked me to get ready and he drove me to a small auditorium.The first thing I noticed was that the stage was not at the center but it also had a muddy ground suitable for Kabaddi. Kerala is famous for their dance art form Kathakali. This is a cliché but it is also the home of kalarippayattu. It is a martial art which originated as a combat technique in Kerala.
Kalari basically means battlefield or combat arena. The weapons used in this form of combat are spear, shield, machetes, tridents and swords of all types. The elite warriors of the Sangam period or dynasty dating back to 2nd century B.C are known for this combative techniques used in the warfare. It is still practiced in Kerala and many parts of the country. Well it really was breathtaking and a feast to the eyes. I could watch both the shows kathakali and kalarippayattu for just 400 rupees. The performing artists were humble and obliged for a few photographs. I felt privileged to have watched their irrefutable talent live. This also gave me Goosebumps since the weapons used in the show were real and super sharp. I thanked tony for this great experience. We drove and packed some food on our way back.
Took this picture when I was half way to the top! Already tired!
Next day I began my trek to Lockhart gap (6.k.m from Munnar) in the noon since it had rained the previous day. Mountains are slippery and not suitable for trekking conditions. The wait paid off and finally after 45 minutes I trek my way to the top. Reaching the peak was one of the best moments of my life. It truly felt like being among the clouds and the silence almost felt like meditation. The view ecstatic! Some places do require expression of admiration, so I decided to sit in silence; it was the most beautiful, peaceful place on the planet that moment. Lost in thoughts in the arms of nature will remain with me for a lifetime. The descend was not an easy business, it took a lot of balance and patience, one small slip could get you rolling like Neymar Jr! and out of the game! Not football but Life. One small disappointment, camping not allowed.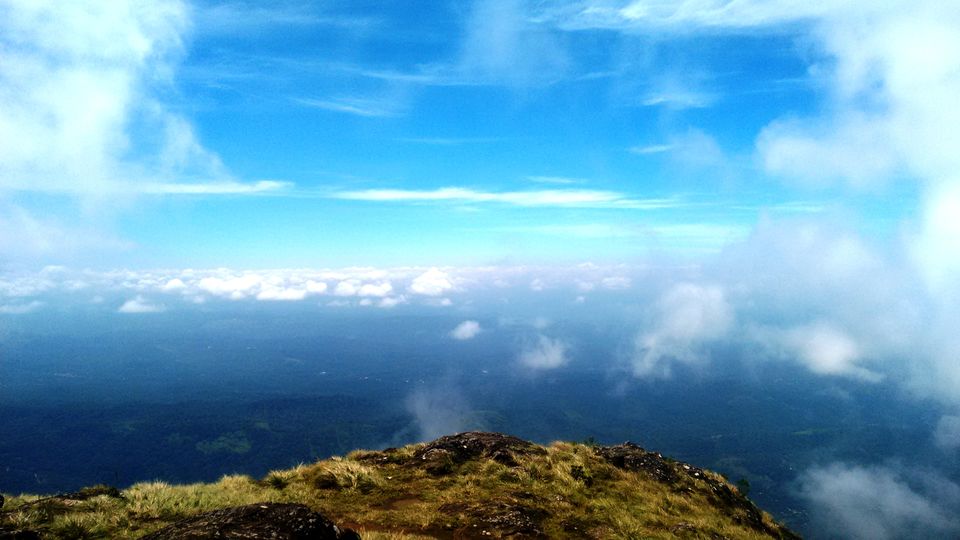 That moment when you realize you are just a tiny spec on this planet.
I finally reached Lakkom waterfall. It was afternoon, luckily the weather turned out to be warm as the sun was shining bright. The sight of clear blue sky charged me up further, without much delay I dived into the water and swam to the waterfall with great happiness. I stood under the waterfall which felt like a thumping on the head because of the sheer force of the water. There was plenty of time left to click pictures, so I decided to layback on a big rock sunbathing. It felt like 5minutes but 30 minutes had passed, any human being going through this phase of pleasure would try hard not to get up and go anywhere. Many people may call it laziness but I would totally disagree and feel that every human being should take time off to get lost in their own thoughts. Time had passed quickly but I managed to click some really good pictures, picked up some snacks on the way and sat down near a tree eating them till evening.
Solitude in the wilderness!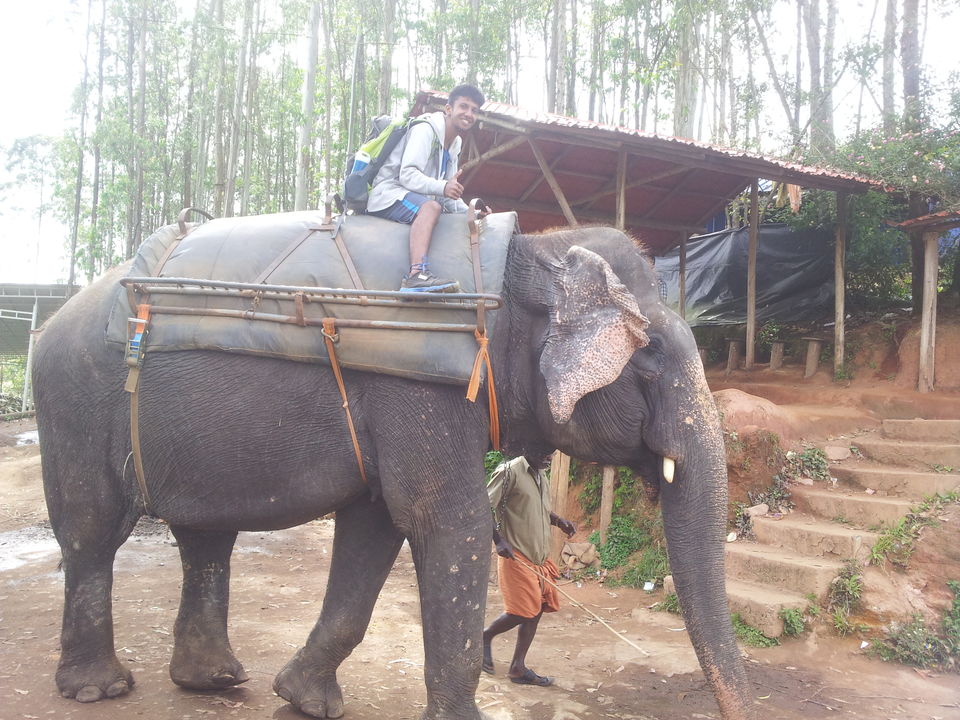 This has been my biggest achievement, I persuaded the elephant to give me a ride! It was an enjoyable ride that lasted 5 minutes costing me 300 INR. A rip off but they had mentioned only group rides were allowed and I had no group, so the price tag is justified and single rides are fun because it gives you that king like feeling..!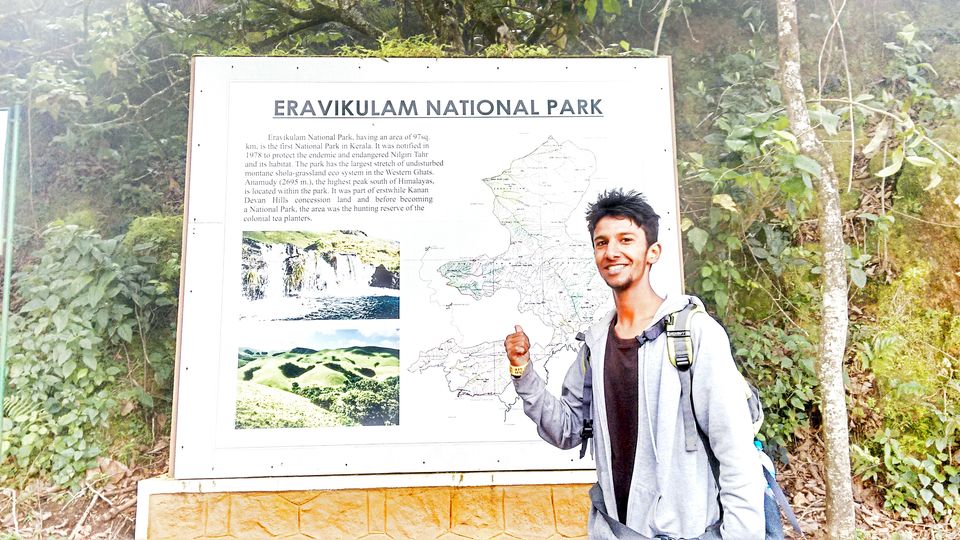 Looking for Exotic Goats Anyone?
You Know Where to go now!
P.S These are not for sale!
Nilgiri Tahrs are the main attraction of the national park. It is a rare breed that could only be found in southern parts of India. I took some pictures and came down as quickly as possible because it was turning dark. I had a two wheeler and taking the road after dark didn't seem like a good option as I was still in the forest limits.