"Never pass up an opportunity to enjoy nature's beauty - its the handwriting of God!"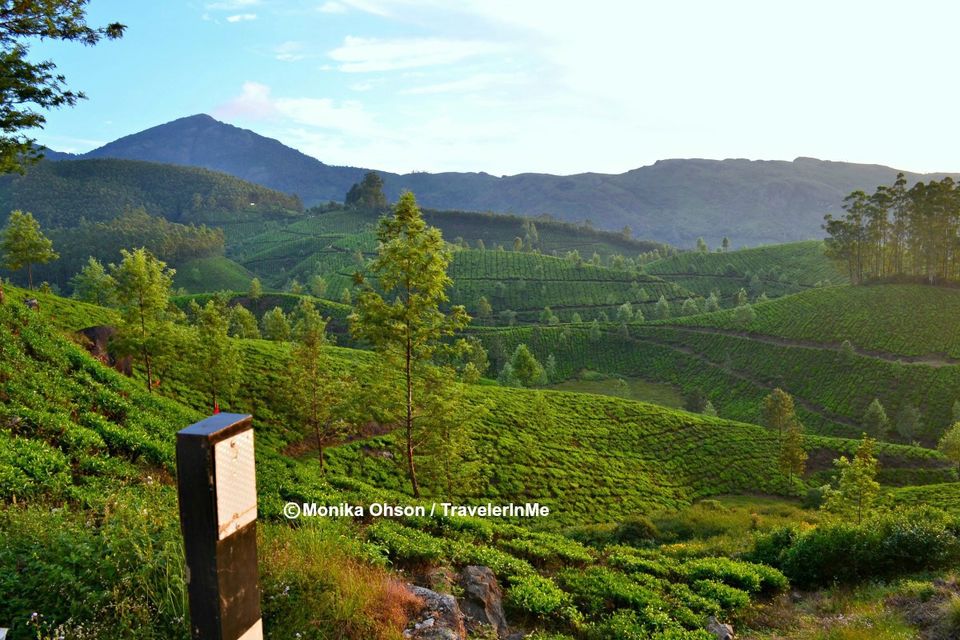 Munnar for me is synonymous with color blue (skies), green (plantation) and white (clouds) Dreamy, right!! 'Moonu Aar' literally means three rivers as it lies in the confluence of river Mudhirapuzha, Nallathanni and Kundala.
We headed from Alleppey to Munnar by road and my heart started playing a happy tune as soon as we started uphill. The balmy air was now a cool breeze and I greedily took in my dose of Vitamin H (Hills). In fact Munnar is blessed with almost every shade of green.
Our first stop was at the Cheeyappara waterfall which cascades down in seven steps making it a pretty sight. The sad part, we tourists. Plastic bottles and snack wrappers had been dumped by some and it was an ugly sight at the bottom of the falls. I really don't understand why we cannot do a simple thing -- keep our surroundings clean! Come to think about it, it actually tells about the person we actually are -- bitter truth!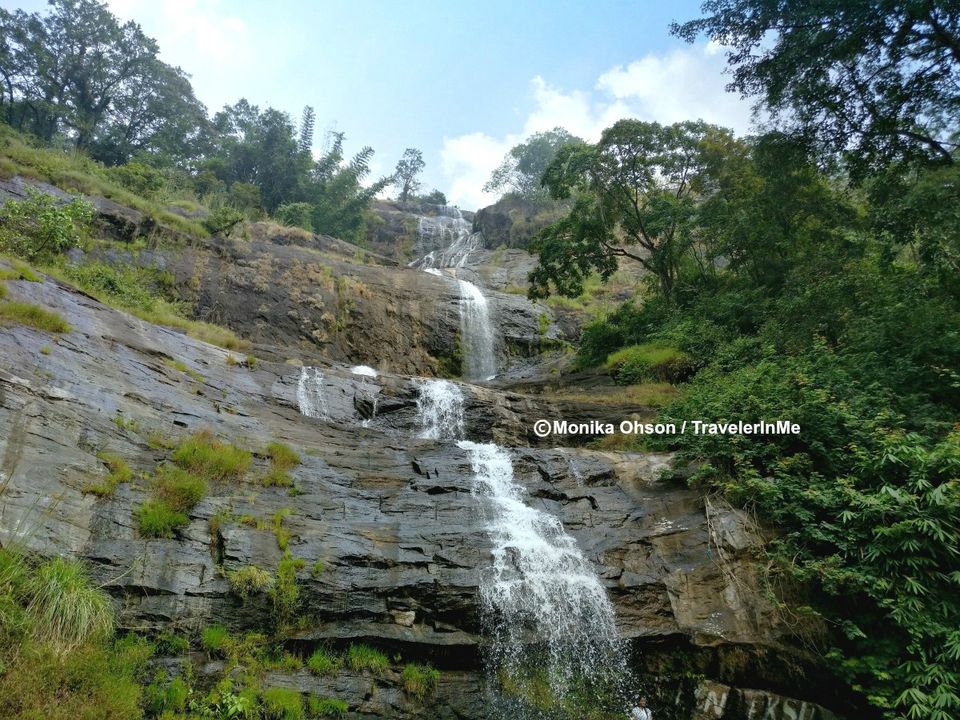 Our next stop was the Valara waterfall of river Deviyar, originating from the Western Ghats. I loved the untamed beautiful view of the falls surrounded by thick green forest. Its actually a chain of falls and has a closer access from Munnar. The Thottiyar Hydroelectric Project of Kerala Electricity Board is very close to these falls.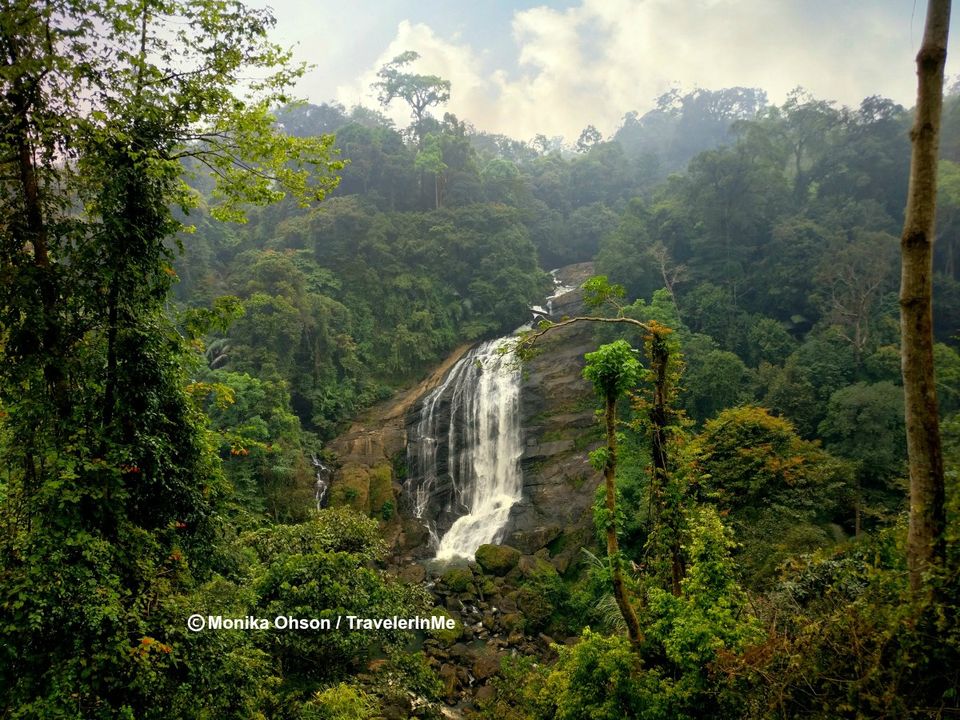 Both of these water falls are on the Kochi - Madurai Highway, around 40 kms from Munnar and also known for trekking. They were the first glimpses of what I call a piece of heaven, Munnar
This beautiful hill station of Kerala is situated on the Kanan Devan Hills and known for its beautiful tea estates and tea cultivation. The first plantation started way back in the 17th century on 50 acres land and now, wherever you look all you will see is miles and miles of unending tea plantations.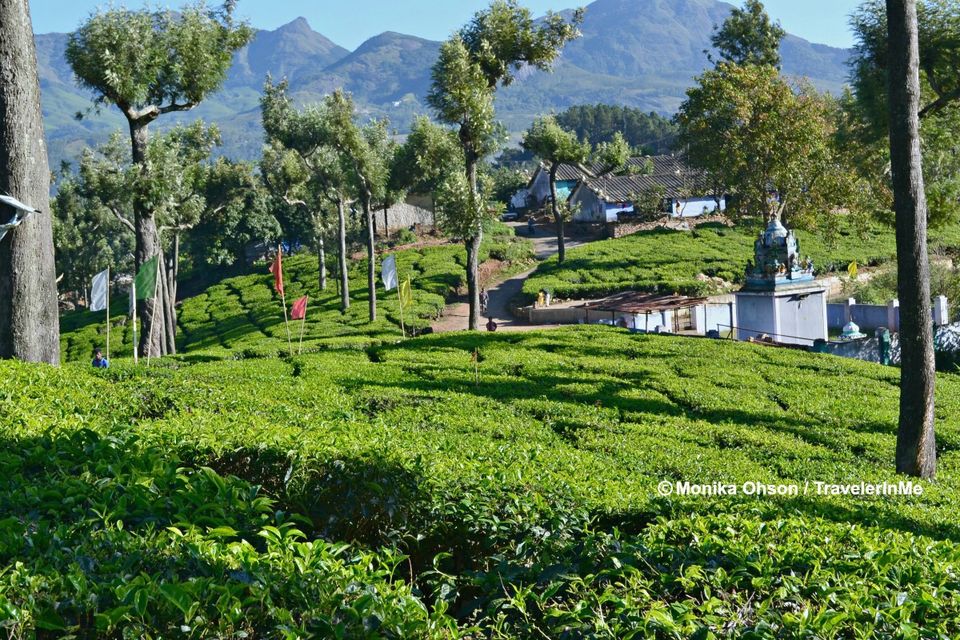 It was evening by the time we reached our lovely home stay nestled in the valley of Suryanelli Hills, 18 kms from Munnar.. We checked in and after a rejuvenating cup of tea headed to the Anayirangal Dam. As soon as we took the turn into the road that led to the dam we were stopped by some forest rangers and asked to head back. The reason being some 6-8 wild elephants that were spotted on the opposite side of the road. We clicked them from a far before heading back with mixed feelings -- happy to see the wild elephants but disappointed that we were unable to go to the dam. However we managed to enjoy its scenic beauty from the top.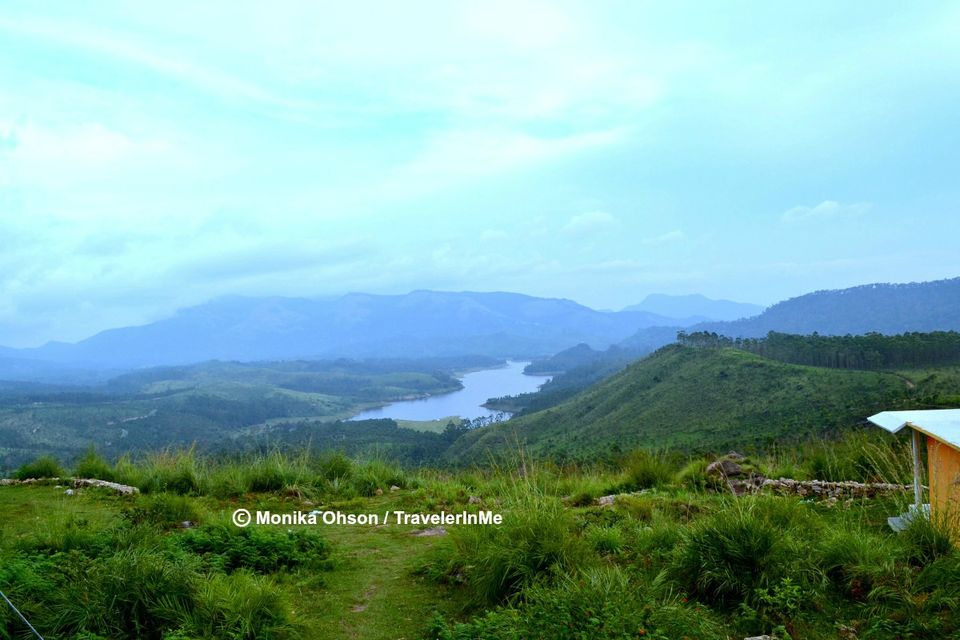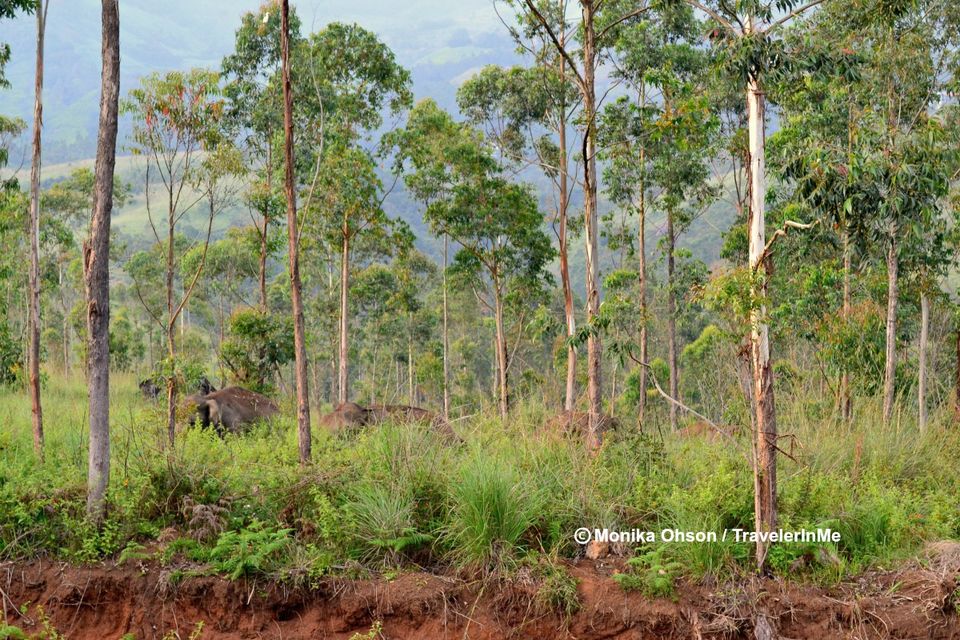 The next day we headed to the Eravikulam National Park in the Rajamalai hills. It is advised to book your tickets online and reach the place well in advance to avoid 'misses' in the huge tourist rush. Also you are not allowed to carry any eatables to the park (strict checking is done) so leave all of it in your car. You can carry water though. Since rains are unpredictable here, carrying an umbrella will not hurt. The buses of the park take you uphill till a designated drop off point and from there you are on your own to enjoy the verdant beauty of this place. The park has an eating joint, their eco shop 'Tahr Shop' and an amenity center.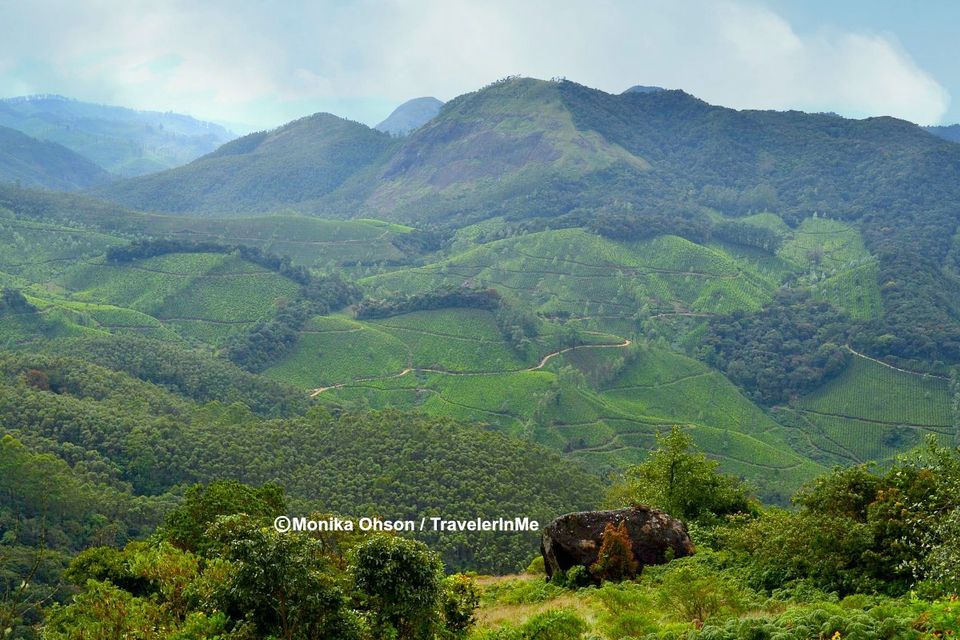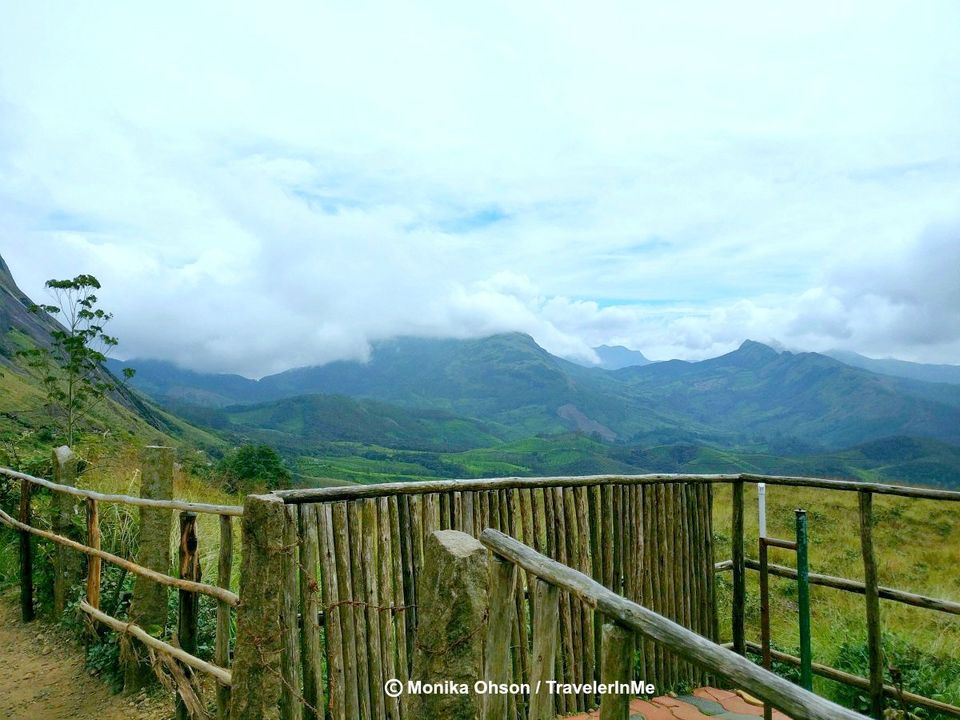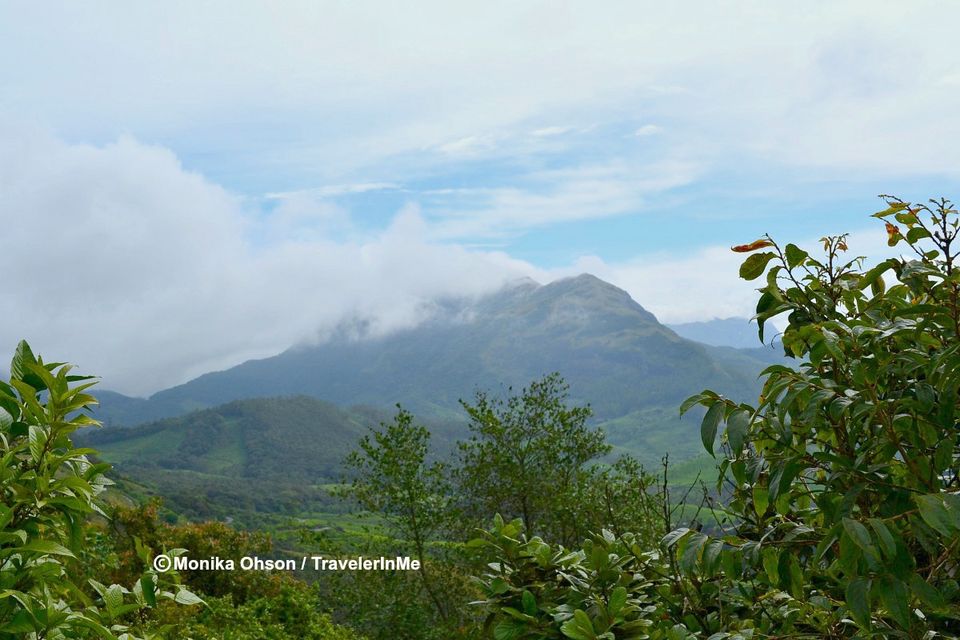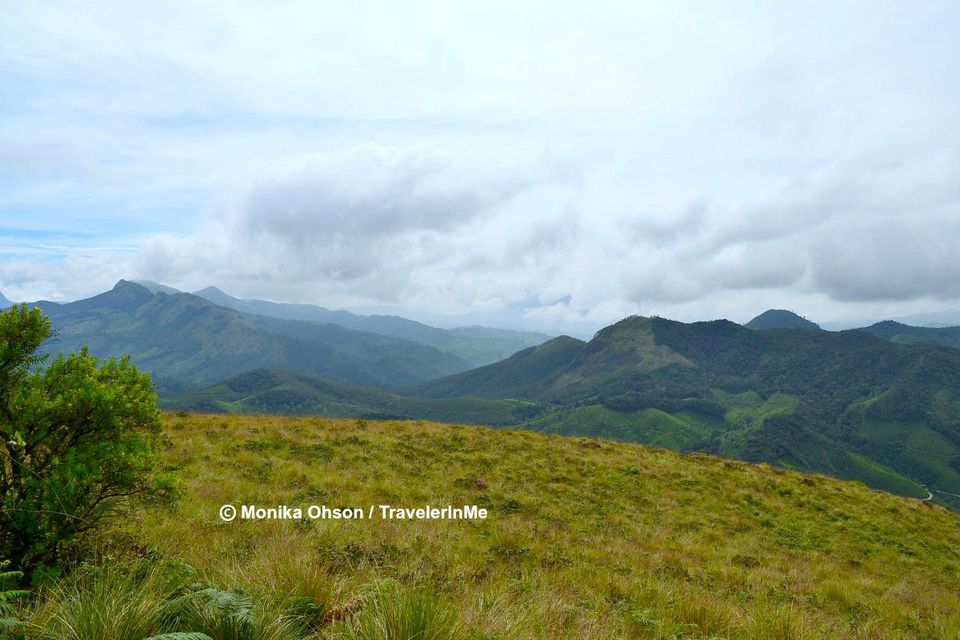 One of the main attraction of the park is the endangered Nilgiri Tahr or Nilgiri Ibex that's endemic to this part of the Western Ghat. The park closes between Feb - April every year during their calving season. These Tahrs are closely related to the Himalayan and Arabian Tahr though they are considered to be more related to the sheep family. A happy fact is that the national park has the largest (and growing) numbers of these Tahrs.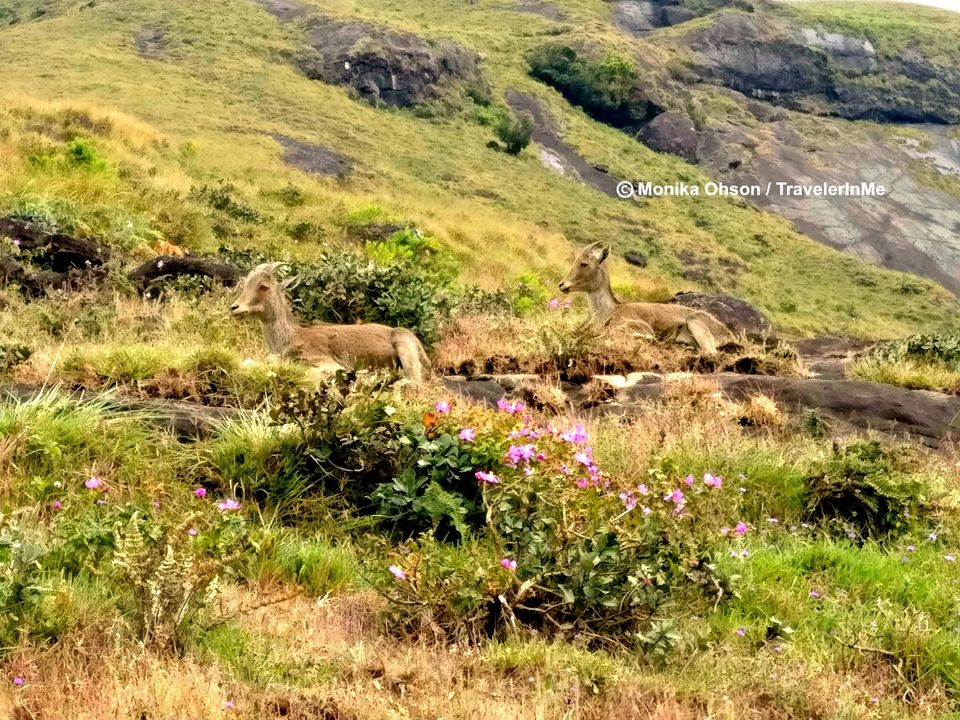 The park is also known for some rare and exotic flora, one of the much sought after is the Kurichi or Neelakurinji. It blooms once in 12 years and covers the hills with its beautiful lavender-blue hue (next bloom will be in 2018). Kurinji is endemic to this part of the Western Ghats.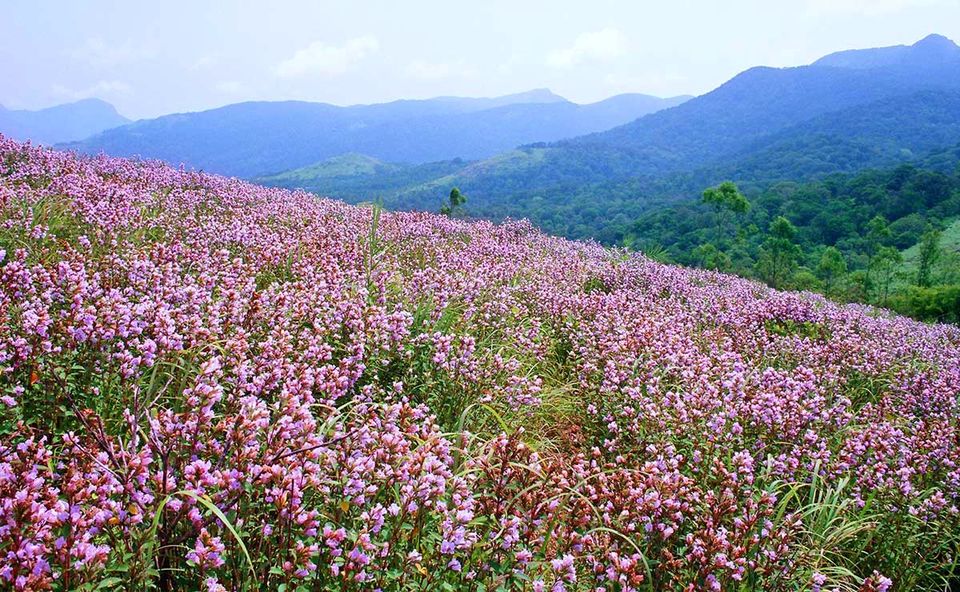 The Kanan Devan Hills Planation's (KDHP) Tea Museum in Munnar is India's first ever tea museum and here you can have a journey through the tea history of this place. The documentary film on Kanan Devan Tea Planation is a good watch and there is a retail outlet within the building that sells the plantation's produce and some tea accessories too. You can also buy some tea wood (for making furniture or as a decor) and some do some shopping from Tata's Srishti Welfare Centre (1.5 kms from the museum)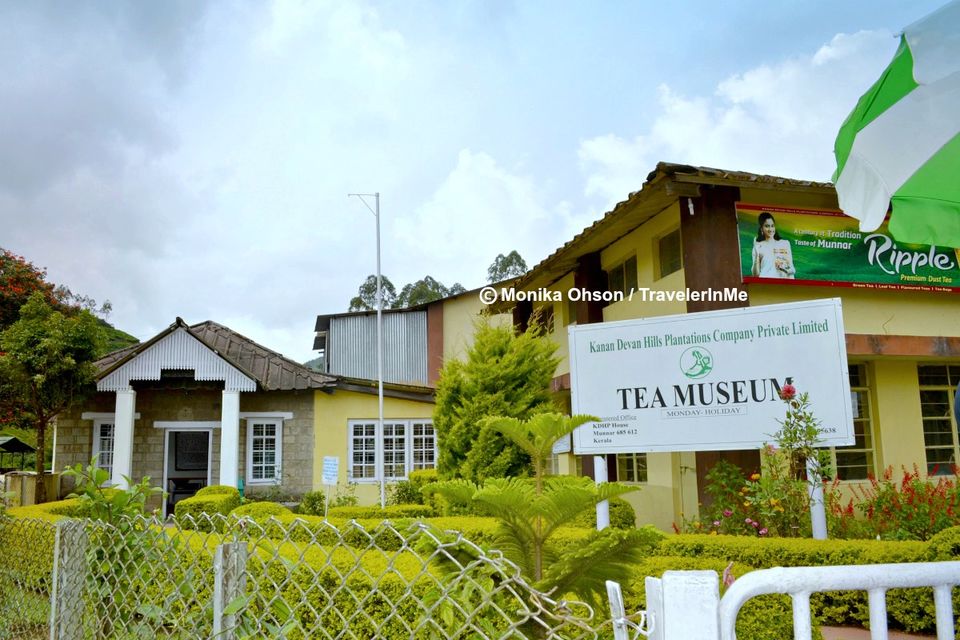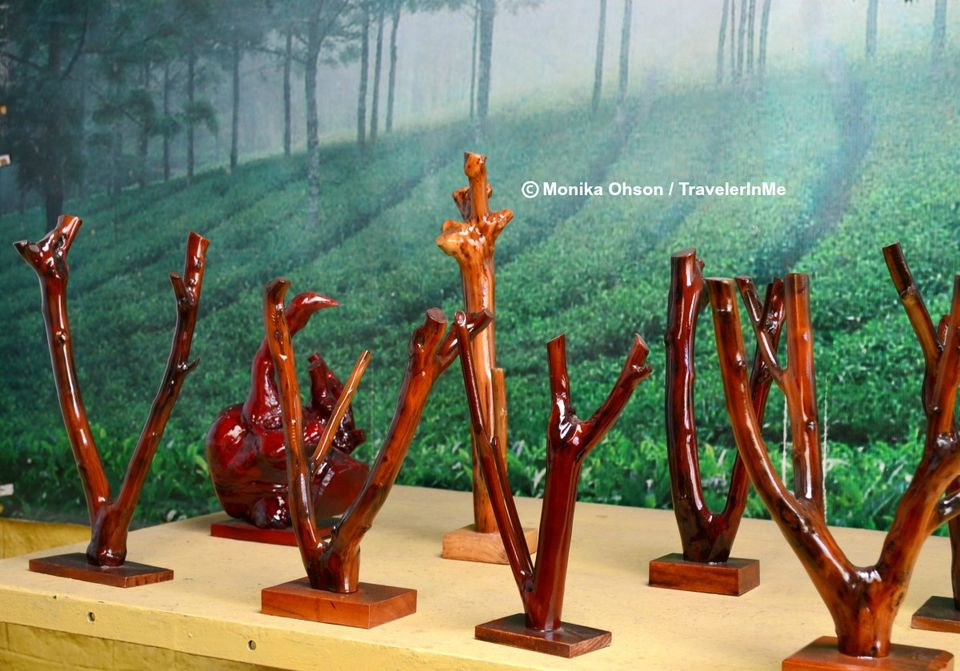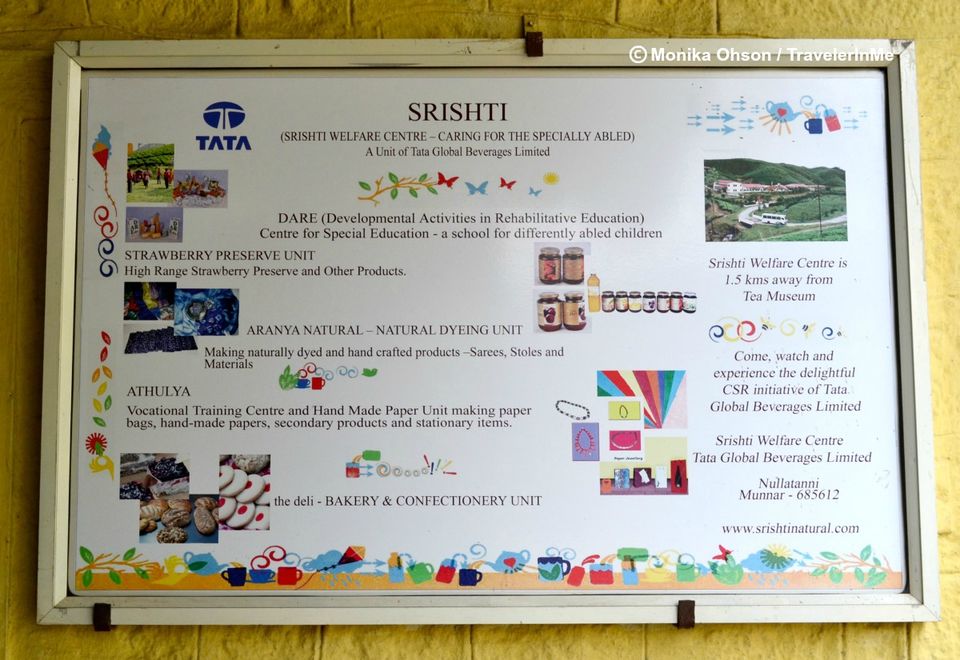 We made a quick stop at the Carmelagiri Elephant Park en route to Mattupetty but did not opt for any ride. I leave it to individuals to decide whether they would like to indulge in it. The park offers various options which range from a 1 hour ride and even half day or full day elephant ride.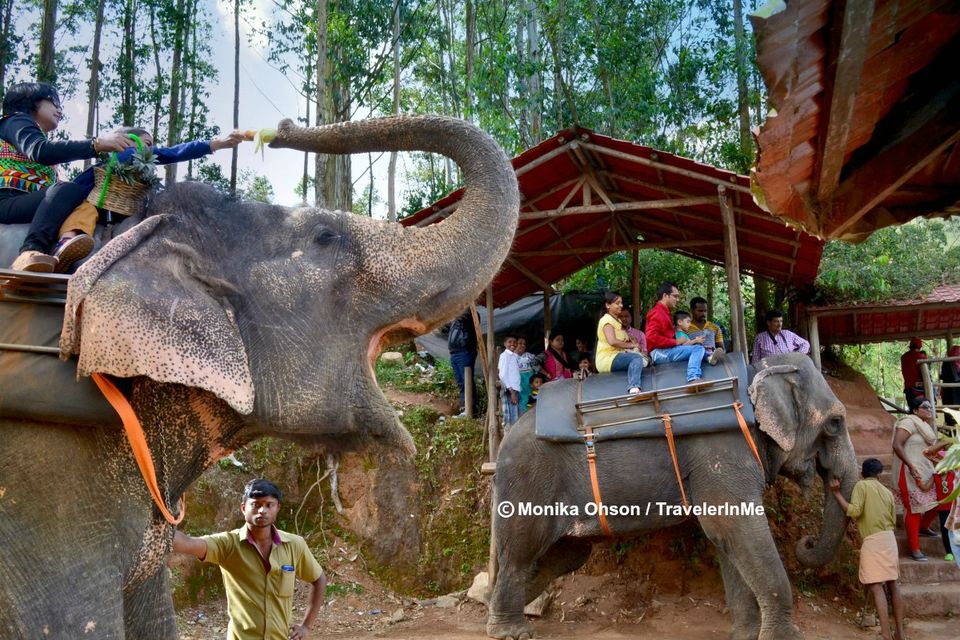 The KDFC Floriculture Centre or Mattupetty Rose Garden is a stop before the dam. You will love the varied hues and types of flowers in the well maintained / landscaped garden.
The sight at the Mattupetty Dam left us spellbound. We have often read the description of beautiful places and here I was seeing them in a glance ...... clear blue skies & water; mountains, trees et al in all shades of green; fluffy white clouds; clean cool air!
If you go further down the dam you reach the Echo Point. With so many tourists around its more of a cacophony of echos. I was lost in the beauty of the place and all I did beside soaking it all in was go click! click!
If you value spending idyllic time with nature, this is one of the must visit place. Every time of the day had something beautiful to offer, like the sunset (below) which left us mesmerized. You can spend time taking leisurely strolls up / down the winding paths surrounded by tea gardens on both sides. We usually do a 1 or 2 day stay at Munnar along with other places in our itinerary. But what I realized and thus suggest, is a sole trip to Munnar for atleast 3 full day stay. Now this is highly dependent on kind of traveler you are!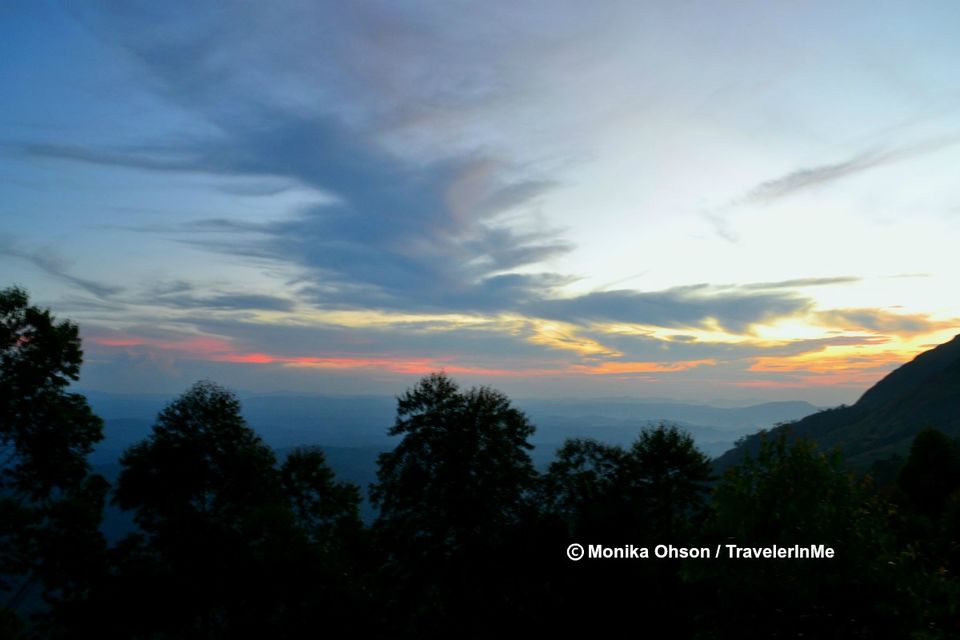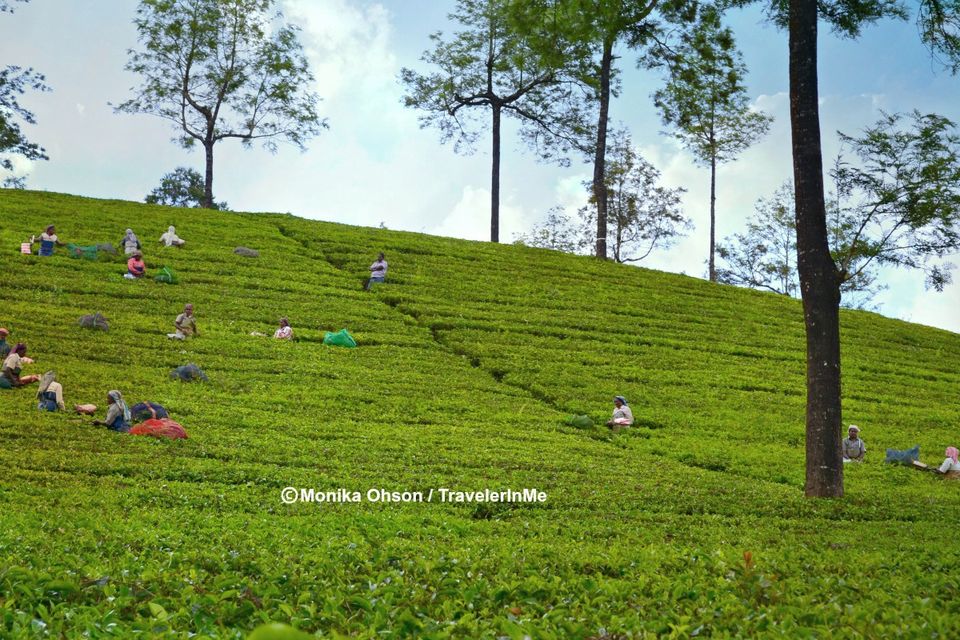 There are some places that leave an indelible mark in your heart, Munnar is one such place for me. I have already decided my next visit to this picture perfect place. If you have not been then yet, you know where to go this year!
For my other posts of Kerala or my travels follow me & keep discovering India through my travels!
HAPPY TRAVELLING!
Monika Ohson / TravelerInMe
This post was first published on my blog travelerinme
Frequent searches leading to this page:-
Kerala Budget Family Tour Packages, Kerala Holiday Vacation Packages Price, 3 days honeymoon packages in Kerala, Places to visit in Kerala for 4 days, things to do in Kerala