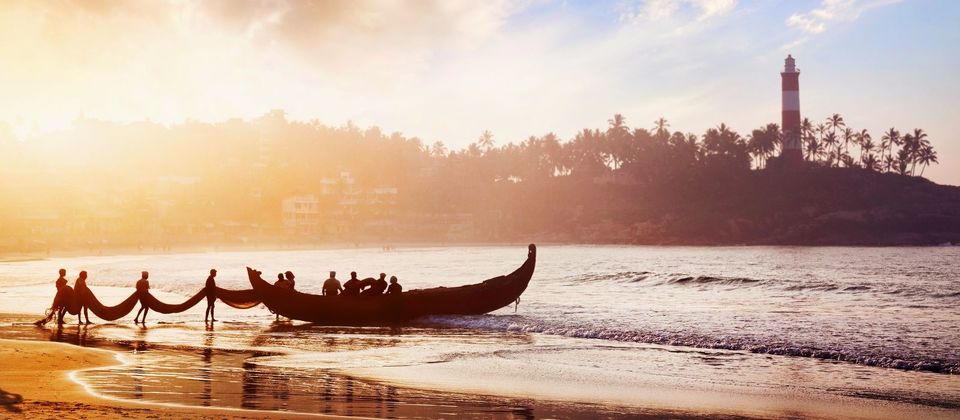 I love traveling but not able to travel much because of my studies and college, but last year I had a brief but memorable trip to the capital of Kerala, Trivandrum. I was always fascinated with the Kerala and what I see about it from travel shows and movies. Lush green landscapes filled with coconut trees, clean beaches with golden sand and serene backwaters. The place I always wanted to be in was Kerala.
As I said, I don't get much time and opportunity to travel because of my studies and college and as every student can relate, my pocket could never allow me for such a long trip, but last year I had my chance as one of my elder cousins was going to Trivandrum for some conference and she also wanted to see the beautiful places of the city, she roped me in and convinced me to travel with her on her own expenses. I was on vacations so I grabbed this God sent chance and packed my bags too.
It was mid of July, we took a flight from the terminal 1D of Indira Gandhi Airport in Delhi early in the morning and reached there an hour before noon at the Terminal 2 of the Trivandrum Airport. My cousin had already made her booking a hotel near the place where she has to attend the conference. That hotel was near the place called Papanamacode, it's a place a little away from the center of the city but accessible from all the public transport such as bus, auto, and cabs.
We reached there on Sunday morning and were there for around 5 days, my cousin had two days for her conference and last two days we have reserved for some sight-seeing together, for rest of the time I was on my own to explore the city.
In the start of the trip when I was alone, I visited some of the main attractions inside the city such as Hawa beach at Kovalam, Vizhinjam lighthouse, Shanghamugam Beach, Napier Museum and Trivandrum Zoo and also relished some of the tastiest seafood I ever had, but the main highlights of the trip were the last two days when we visited the Poovar back waters and Ponmudi Hills.
We already knew that the best places to visit in Kerala are mainly Alleppey Backwaters and Munnar hill station, but we neither had the time or budget to see these places, but we were told by some locals that we can have a taste of both these places in Trivandrum itself, by visiting the Poovar Backwaters and Ponmudi hills, so my cousin delegated me with the task of finding out the best and cheapest way to reach these places, since she only had the time to visit these places after her conference.
So I found out that there is a frequent bus service from Papanamacode Junction for Poovar, in fact, there was a bus every 10 mins. And there are two morning buses from the Thumpanoor Bus Station to Ponmudi every day, so we planned for Poovar for next day since Papanamacode junction was at a walking distance from our hotel, we took the bus around 10 and it was not crowded as we expected, conductor charged only 37 rupees for both of us, we reached Poovar in 45-50 minutes and took an auto for a place where we can get a boat ride in the Poovar backwaters, Auto took around rupees 50 and dropped us at a place where we can hire the boat service. But the prices for the boats were really very high at that place, they were charging around 3500 rupees for one and half hour ride, but I had already read on internet that we can bargain on these charges, so we negotiated hard and brought him down to 2500 rupees but for two and half hour ride.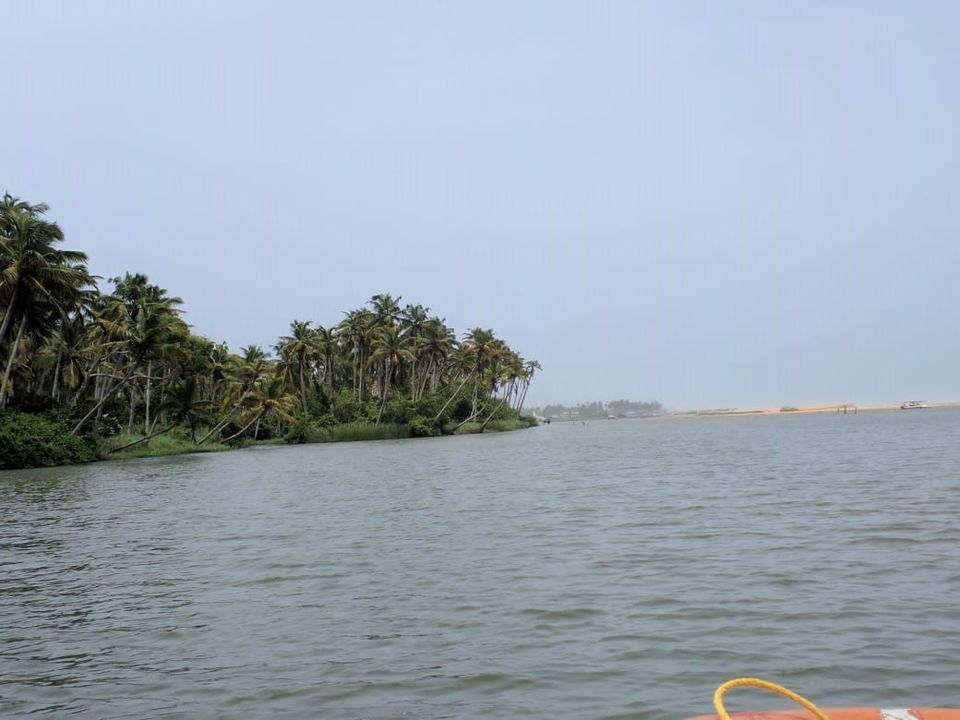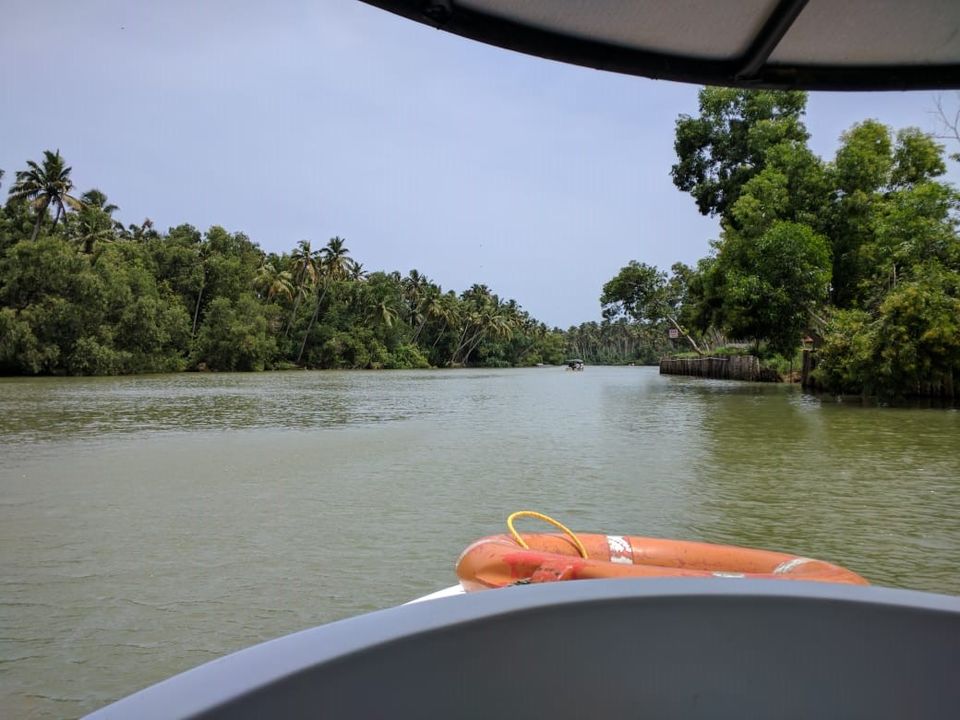 Finally, he agreed and we wore life jackets and hopped in into the boat, he took us on a long boat ride with scenic views on both sides, from backwaters countryside to the lush green marshlands and coconut trees plantation we reached near a small island which was at the junction where Arabian sea and that river met, that small Island was known as golden sand beach, the boat driver asked us to get down at golden sea beach for 15 minutes and said he will wait for us at the shore. We got down from the boat and strolled for 15-20 minutes on the beach while watching the raging sea. We again boarded the boat and then he took us to a floating restaurant, we ordered Malabar fish curry and enjoyed lunch at the floating restaurant. After the lunch, he took us from the forest area we also watched the migratory birds while having that ride. Then after about two and half hours, we reached the same point from where we started, it was the most fantastic boat ride of my life but it was only a small glimpse of what we could have enjoyed at Alleppy. While returning we took the same bus back to our hotel.
Next day we woke up early in the morning because first bus to Ponmudi from Thumpanoor start at 7:30, and we have to also take an auto to reach Thumpanoor, we reached Thampanoor around 6:45 and enquired about the Ponmudi bus, we somehow reached the depot from where we can board the Ponmudi bus, but when we reached there we found that the bus was already jam-packed, and there was no place to accommodate anybody, next bus was 2 hours later and we don't want to waste 2 more hours for bus and reach there late because the last bus to return from there was at around 4 O'clock in the evening, that means if we board the next bus at 9:30 we will have less time to spend there, as the bus would take at least 3 hours to reach Ponmudi. So we decided to hire Ola Outstation, we immediately booked the cab on App and decided to wait for the cab while having breakfast at Indian Coffeehouse, we ordered our breakfast and immediately got a call from the cab driver, he said he is very near and will reach within 5 minutes, we told him that we are having breakfast and it will take about 15 mins, he said he will wait. After finishing our breakfast, we called him and reached the point where he was waiting for us. We got in the cab and asked him to take us to Ponmudi hills, after some time during our casual talk with the driver he told us about Meen Mutti waterfall which is en-route to the Ponmudi Hills, he said it's very beautiful place and we should also go there, he said he will take us there while returning from Ponmudi.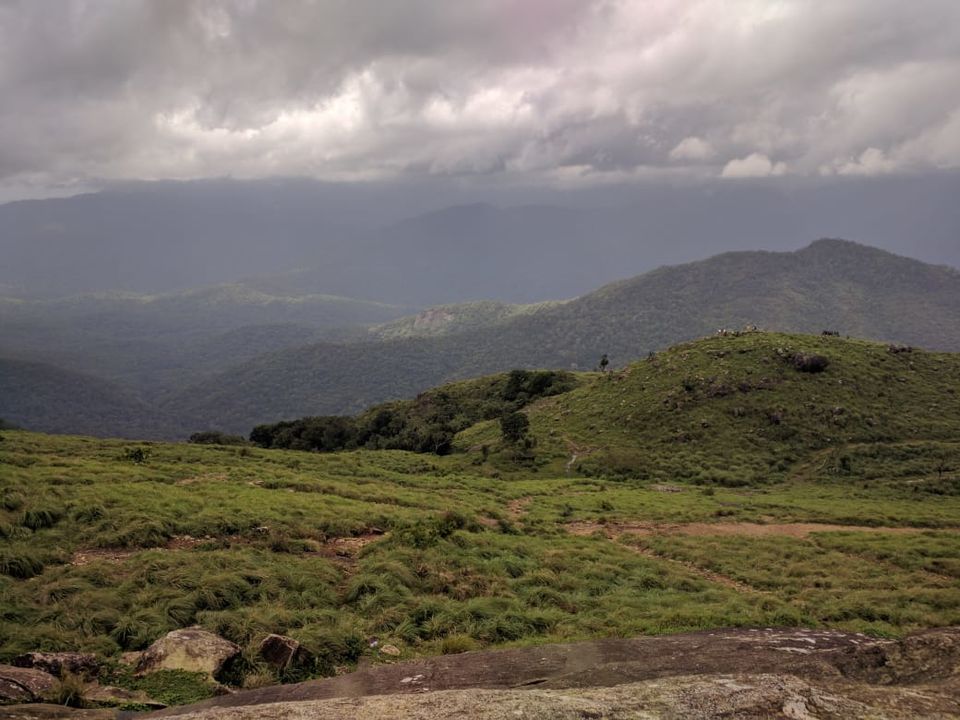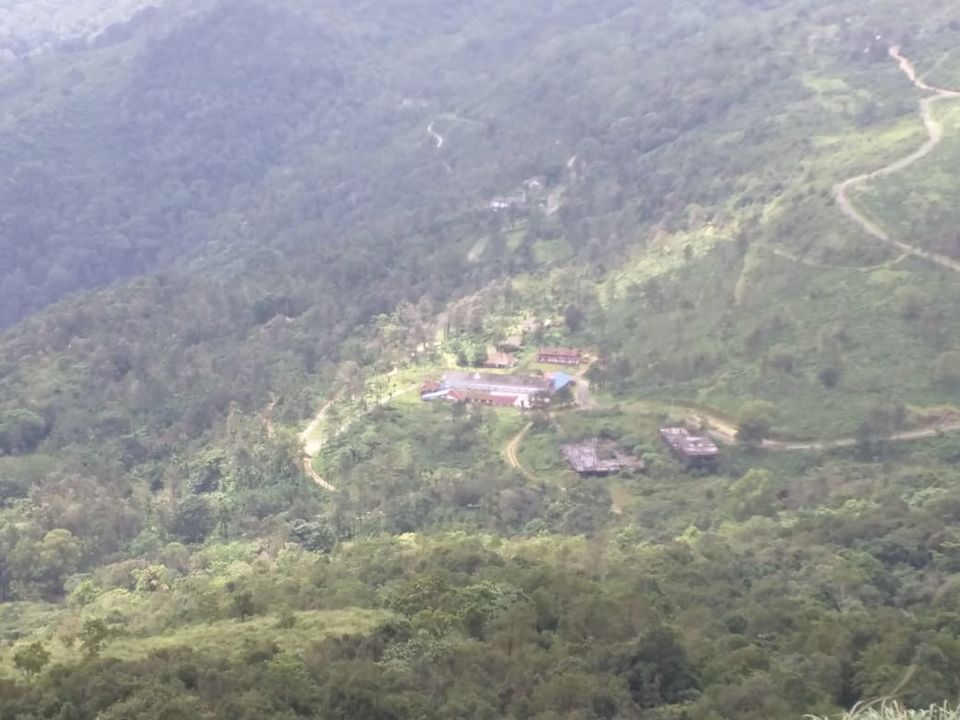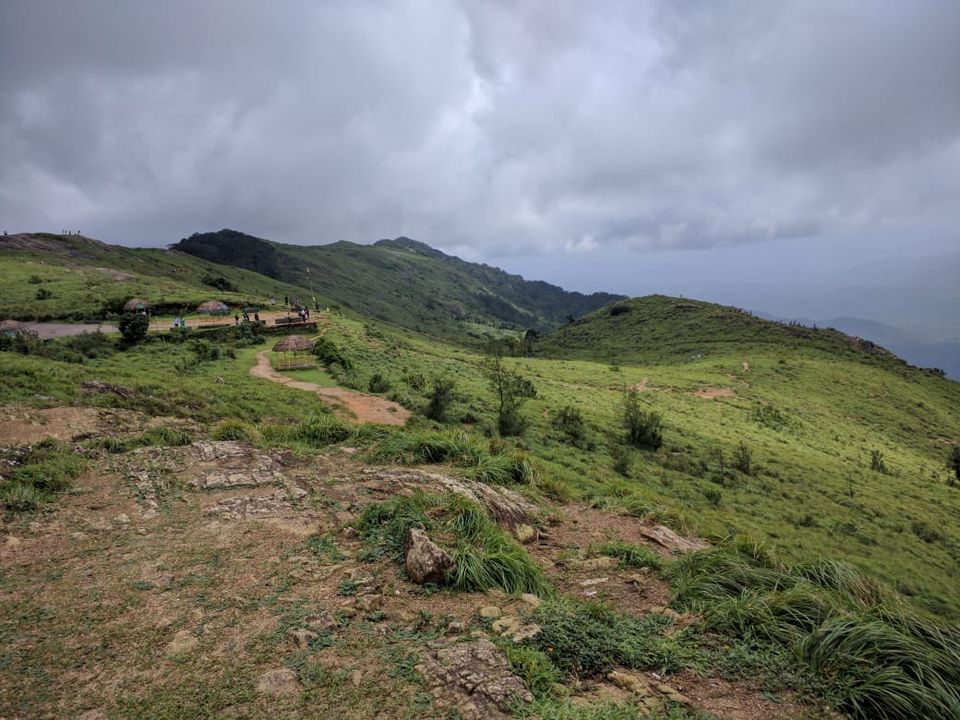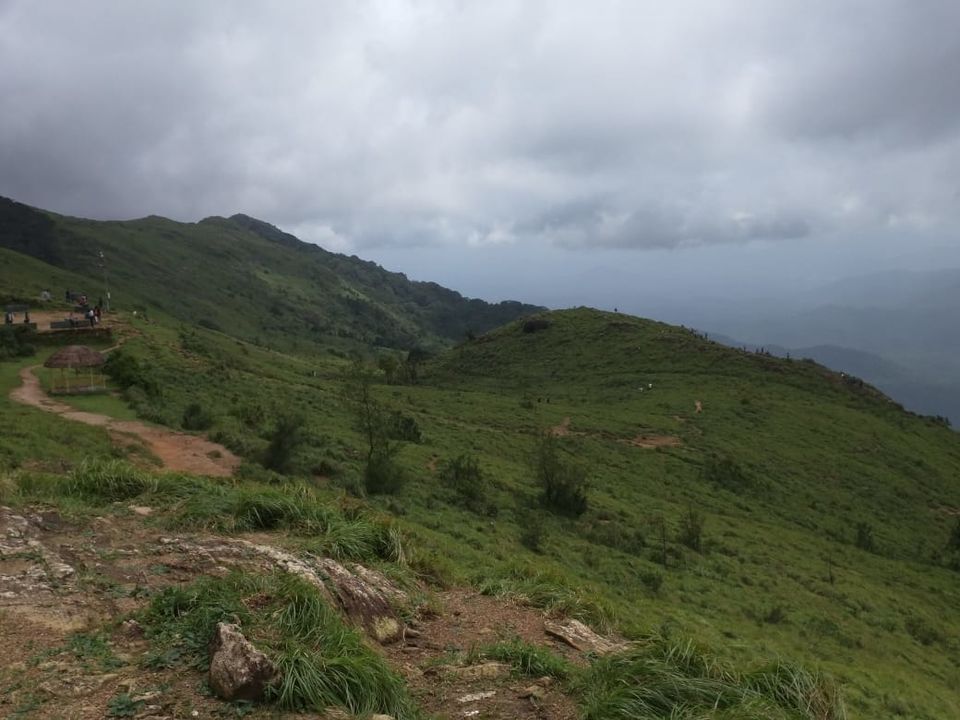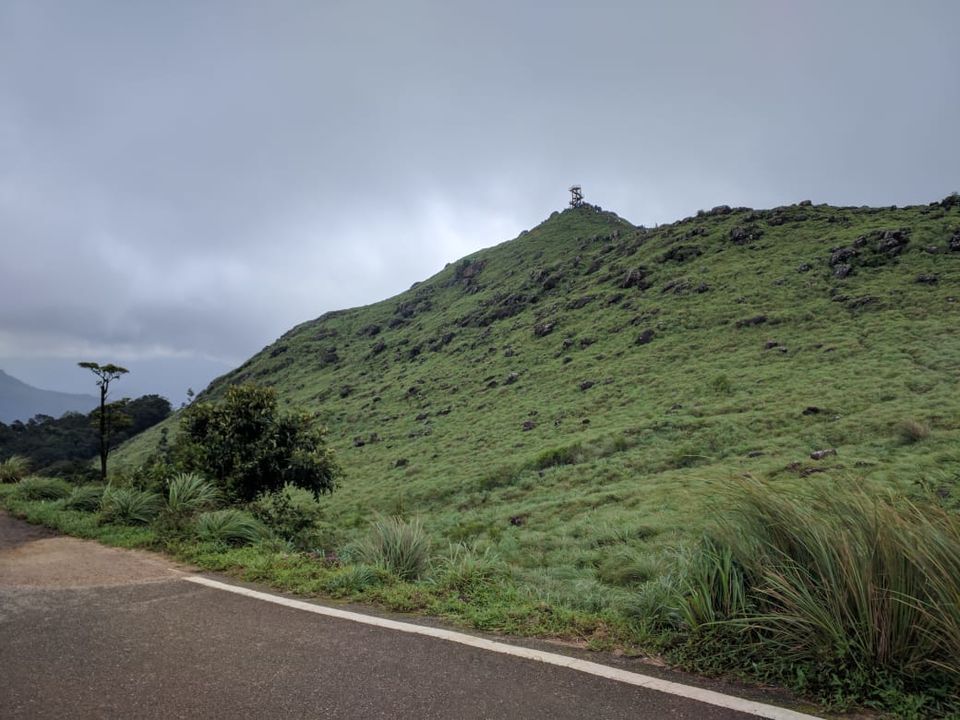 After a two hour drive, we reached Ponmudi and it was beautiful hill-scape with lots of small hilltops, lush green with mountain grass and trees. There were also some tea plantations nearby but they were not open to tourists. We climbed up and down on every hilltop while watching the clouds hovering over us, for some time it was all hazy and after some time it all cleared and that repeated for almost after every 10-15 mins. We watched the other hills changing color from dark green to light green due to the shifting of clouds from one location to other. And appreciated why it is called God's own country, because God paints his own masterpiece so dynamically.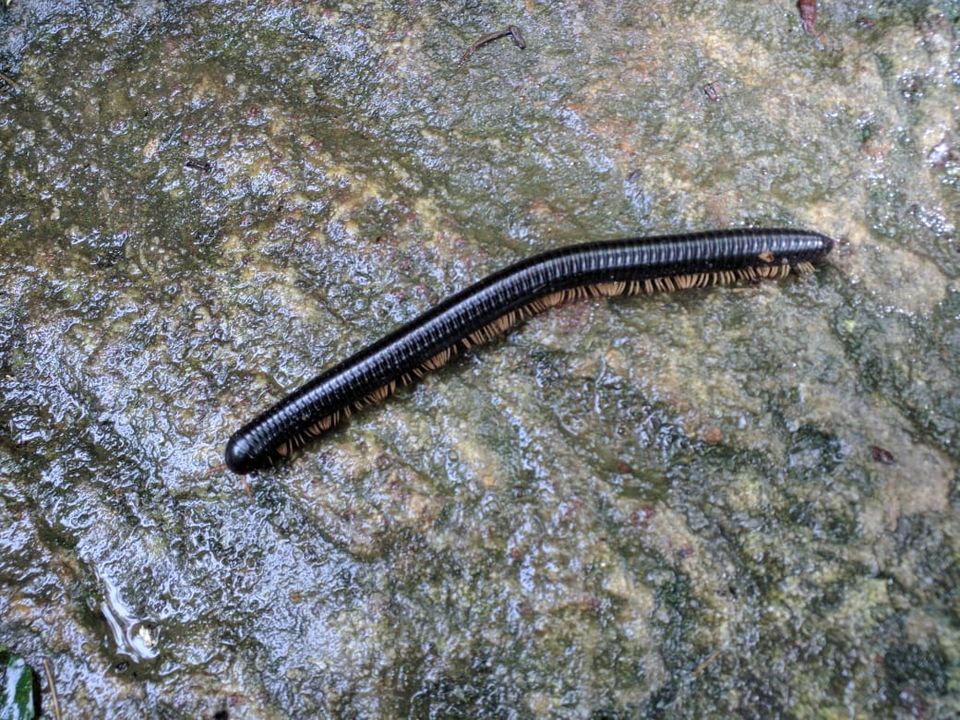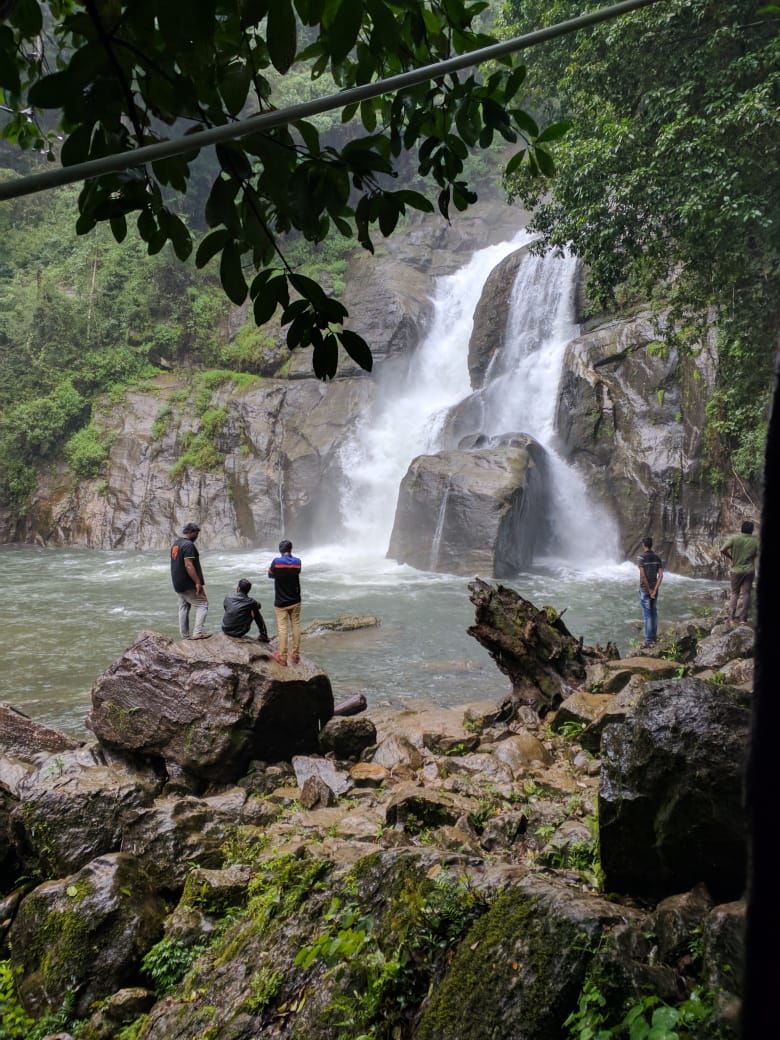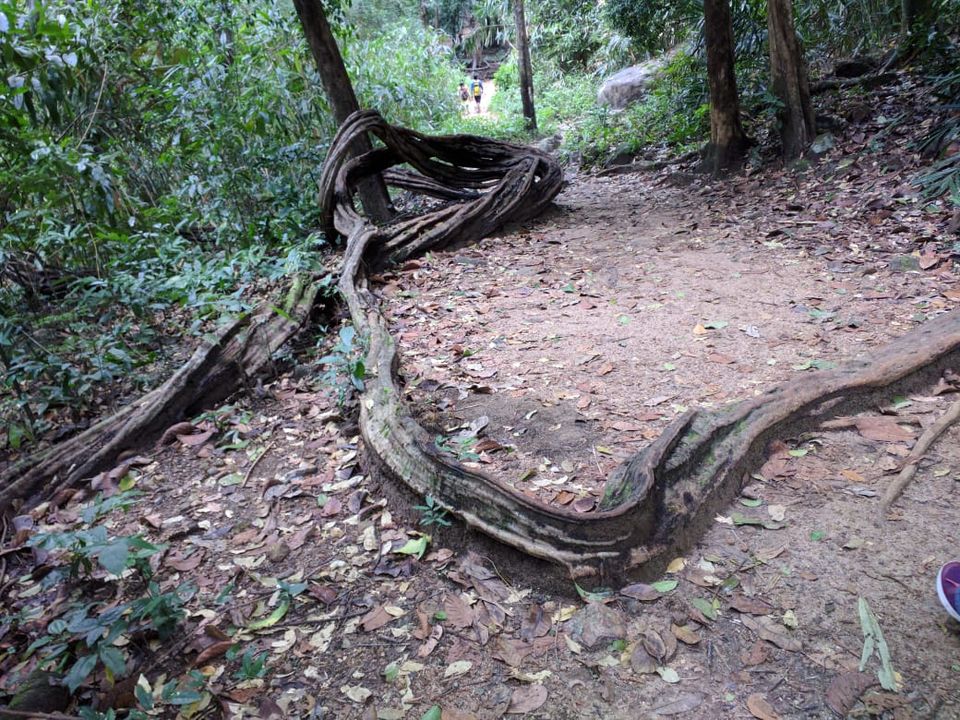 At around 2 O'Clock we reached for our taxi and asked the driver to take us to the Meen Mutti Waterfall. It took us another 40 minutes to reach Meen Mutti, and at the waterfall entry, we bought the ticket for two people and parking charges for our cab. They told us that we can go inside by cab for another 1 Kilometer, after which there will be foot track for around 1.5 Kilometers to the waterfall. We thought it would be an easy walk, but it was one of the most adventurous tracks of my life as it was all zigzag sometimes with climbing on natural staircases and then getting down while holding only a rope to our sides. It was like a tropical rainforest with tropical flora and fauna with butterflies, millipedes, and salamanders walking on our track.
We can hear the roar of the waterfall like its near but it was like very far, it also started raining before we reached near the waterfall and we got all wet despite us having umbrella in our bags, because we know we cannot walk while holding the umbrella, after another 10 minutes' walk we reached the waterfall and it was awesome. We wanted to go near that waterfall but the guard sitting near it did not allow us because water may come gushingly in large quantity while it's raining, so we watched it only from a distance apart.
This was the most amazing and adventurous trip of my life and I will look forward to visiting Kerala again, but next time I will surely visit Alleppey and Munnar. It also saddens my heart to see the beautiful state of Kerala being devastated by the recent floods and I urge each one you reading my article to donate generously for the relief of the beautiful state of Kerala, God's own Country.