It was a trip with my favorite gang. Ten people were to go for it but two busy singles opted out of it so it ended up being an eight people couples' trip. By the way Alleppey wasn't our first choice. We were supposed to trek to Munnar Top Station and stay there for a couple of days but the trek got cancelled due to heavy rains and also, we incurred some losses with train/bus bookings and also trek advance which I'm yet to get as of date. Anyways Alleppey suited the bill for everyone. Everyone had transport from their place and we booked for it.
Day 0 - Start with a twist
8/22/2019

Most of my journey would be in train and if unavoidable, by flight. I avoid buses for most part but thanks to the mess which happened during Tatkal ticket, I booked bus this time. It was costly, uncomfortable plus annoying as I was constantly getting a feel that this happened because I couldn't take Tatkal.
The bus was from Perungulathur so we had to first take local bus from our place to Perungulathur. If that was not enough, we had to buy an extra ticket for luggage. If we had put some more money we could've gone there comfortably in cab. We were supposed to have dinner there but not a single place was good. Finally, we ate dosa in some corner which wasn't good. After waiting about an hour, we got into our bus.
We were dead tired and slept immediately. Even though it was a sleeper bus, it wasn't very comfortable. In fact, I find the non-AC sleeper buses to be the most uncomfortable.
Day 1 - Lazy lounging
8/23/2019
In fact, the whole trip was a lazy one but I guess the first day was the laziest of all. The bus reached well beyond time. Being a sleeper bus, I wasn't able to even sit properly and look outside. When I woke up, it was near Angamaly. That's the time we were supposed to reach Alleppey but were easily three to four hours behind. After uncomfortably adjusting in the top seat for an hour, I went down and sat in seater comfortably. With rains and wet road, the sceneries were a treat to watch. Especially when it got closer and closer to Alleppey.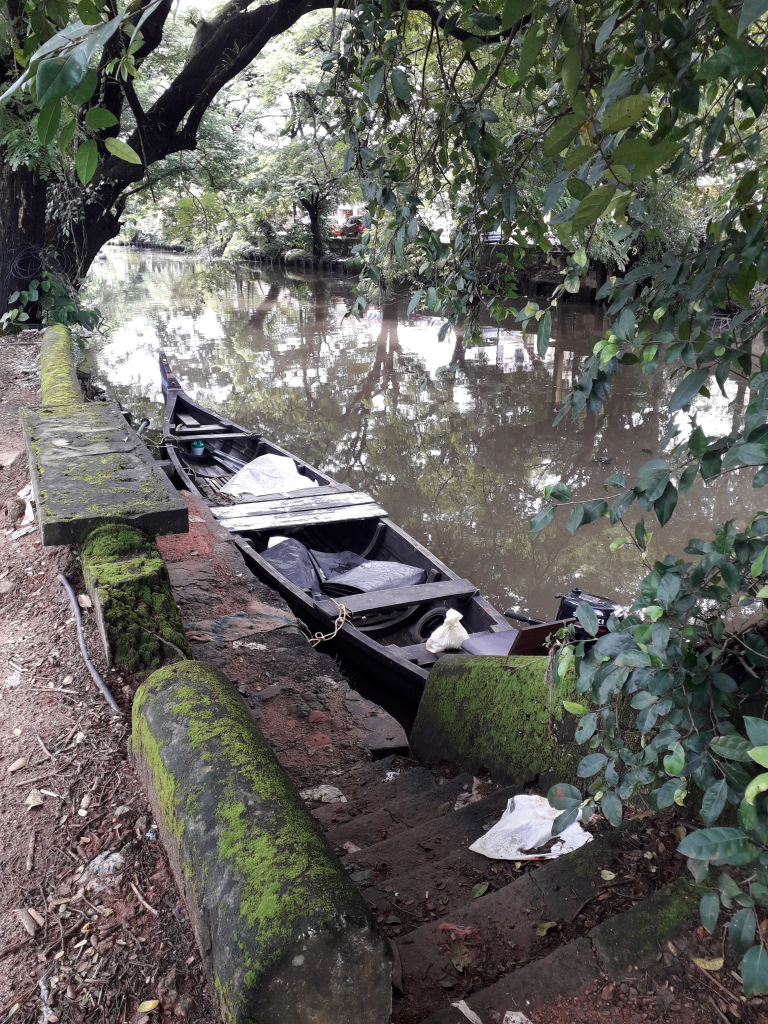 I expected Alleppey to be different. It was more secluded and calmer than I thought. I thought it would be more touristy and would have more vibe. Anyways thanks to that, I liked it even better. Our Lake and Paddy Resort was near the place where the bus stopped, we took an auto, by far the best option in Kerala. Even then I could see that they were charging a bit more for us than locals. The place was economical but beautiful. Total value for money. There was lot of space and we were the only guests there. The host too was a pretty cool guy and was really helpful.
Smitha and her Husband, Mani had reached the place much earlier and gone to beach as the rooms were not ready. It wasn't ready even after we reached so we just took a walk around the place, had great breakfast in Annam Restaurant and came back. Smitha and co. had reached by that time. While we were lazing around, John and his wife Shilpa too reached. Everyone had a story before reaching there. John had high fever and had taken injection. Soma had met with an accident and I think I had bad cold too. In spite of all that everyone assembled, that showed the dedication and how much this trip meant to everyone.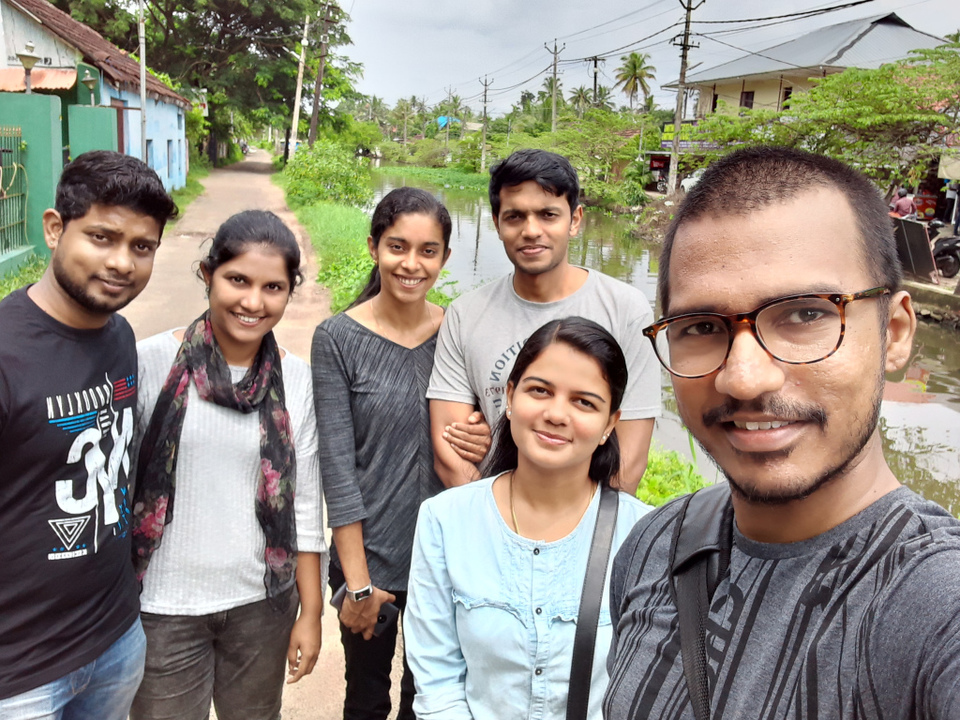 Soma and his wife Rekha were supposed to reach the next day so for that day our team was set. The rooms were still not ready but we didn't mind. Soma, Smitha, John and I were part of a theatre group and we know how we are. No matter what the place is we could just sit, talk, talk and talk the day out. That's why even the pictures are really less in this travelogue. We hardly feel like clicking pics. In the last trip which Soma, Smitha and I went. We just took one selfie of us, that too for the sake of it. But with our spouses we didn't know how it'd turn out. Smitha and I were thinking about this a lot. But we had an inner feeling that they'd enjoy the company too. That became evident within the time we checked in our room where we had like good two hours to talk.
Around 1 PM our rooms were ready. Rooms were quite spacious and comfortable, especially for that cost. We were all damn hungry so as soon as we freshened up, we went to a famous non veg restaurant nearby called Thaff Delicacy. We feasted with Fish Rice, Biryani, Beef and Fish Fry. Everything was great. Even though not a great fan of Kerala style Biryani, I love it with Papadum.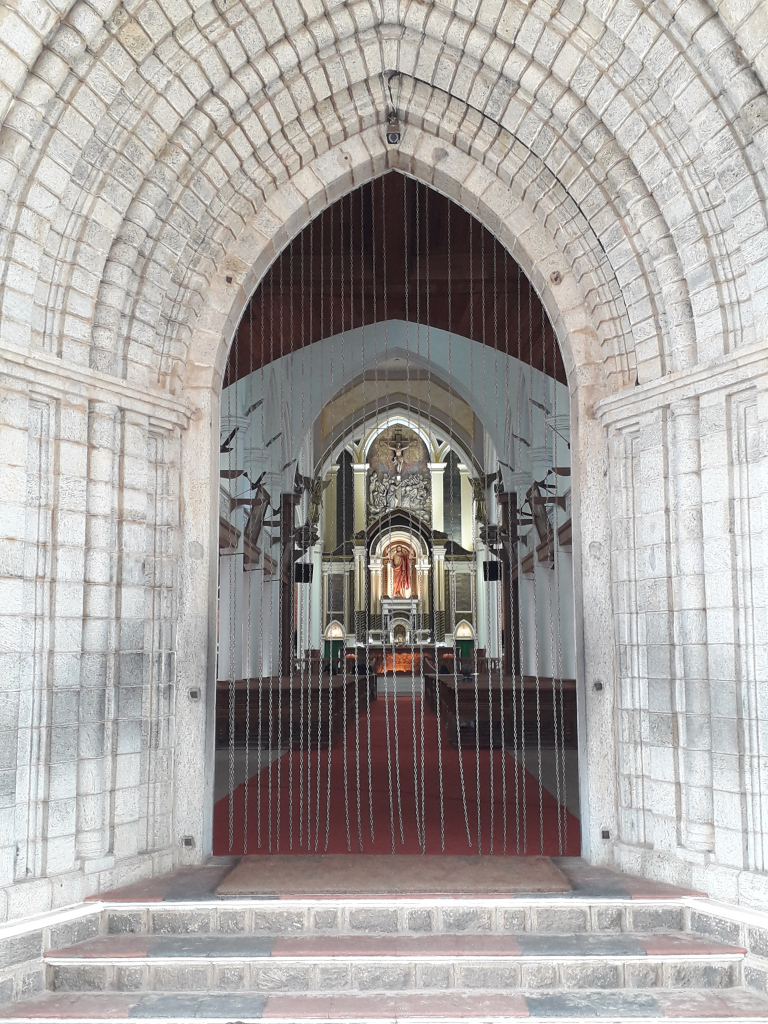 For the remaining part of the day we chose to do sightseeing. As usual took autos and local transport. First took a bus which goes to Cherthala and got down at Arthunkal Church which was beautiful but as there was some shed in front of it, couldn't take a proper photo of its elevation. There were a lot of churches which were beautiful on the way. From there we walked to Arthunkal Beach, a calm beach across the church and took a bus to the more famous Marari Beach, which was shabbier than the former but to our luck we spotted Dolphin there. My wife has a knack of spotting animals which was evident in Nagarhole as well. I thought the whole Dolphin spotting thing was a myth but when I saw it live it felt awesome. They go together with a formation so it was nice to watch.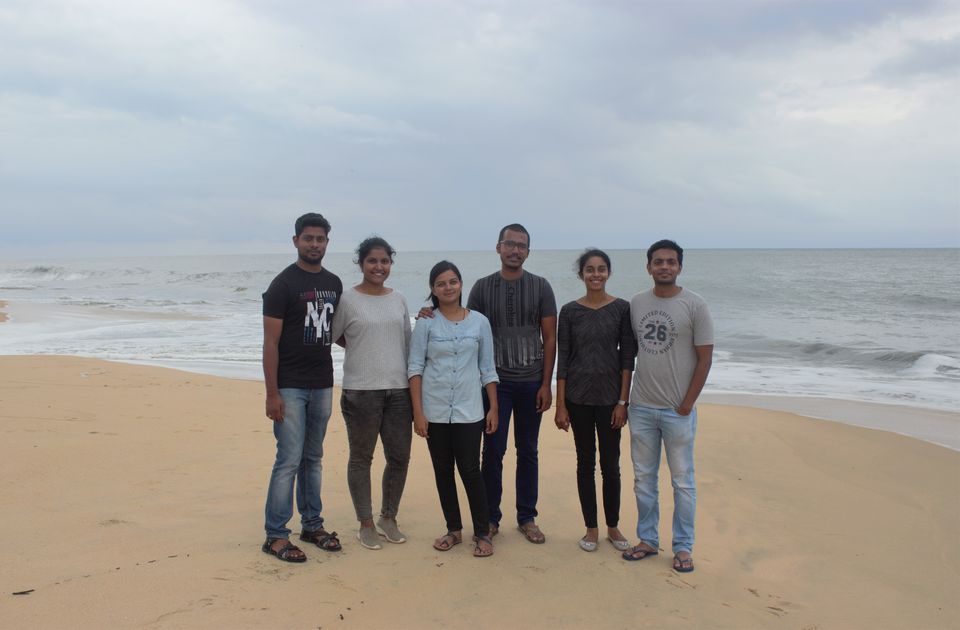 From there we wanted to go to St. Johns Church, which I guessed to be VTV church but none of the locals had any idea of how to go there. John said there are millions of other churches near his home so it's okay to skip. I too was tired so decided to skip it. From there took a bus to Alleppey and reached home for night party. After stuffing all necessary food items and repeatedly ordering Beef Dry Fry we had a riot that night. The conversation went till 2 PM I guess. I felt; indeed, things haven't changed...
Day 2 - Lazy lounging: Part -2
8/24/2019
Yeah couldn't really think of better titles as we did nothing. Morning Soma reached with Rekha. Soma brings with him a lot of energy. Smitha is a big fan of it. So even though we slept late the previous day, naturally we were all high on energy as soon as he came. We were thinking whether to take houseboat or not for the day but it was really costly so we took another room there as he too seemed to love the place.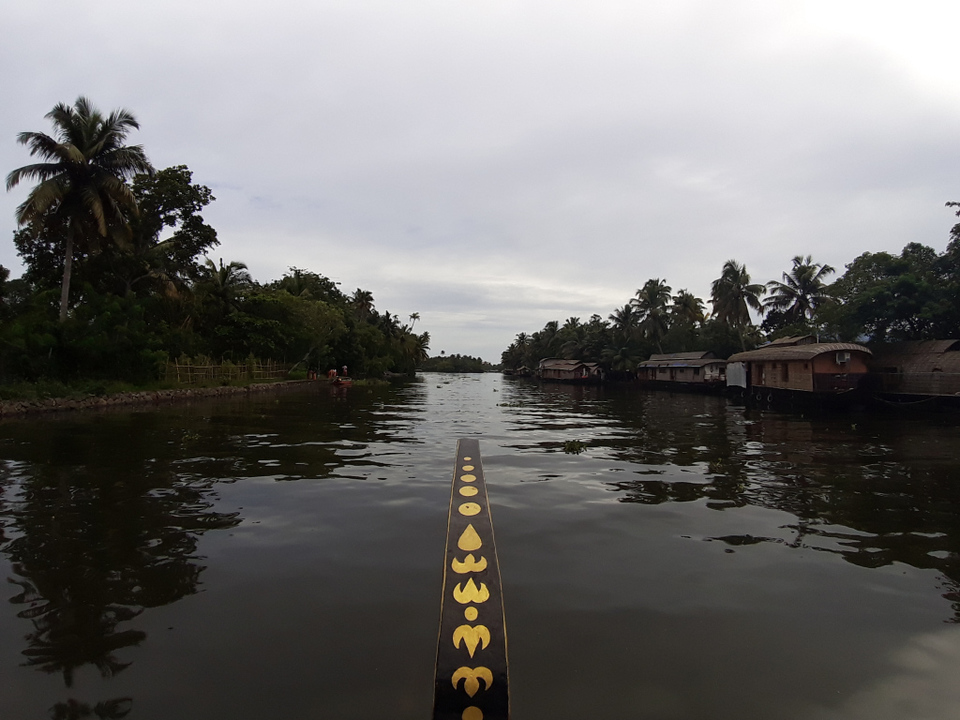 After having breakfast at same Annam Restaurant, we freshened up and decided to go for a boat ride in backwaters first. We got a whole boat for ourselves for two hours and had lunch midway. It wasn't great as we didn't have any specials so had to settle with just thali. It started to drizzle but it didn't deter us from going to our final abode Ambalappuzha Sri Krishna Temple, the temple and more so the elephant Vijaya Kumar was beautiful. It was a great place to spend some time. Mani and Smitha didn't come inside as they had fish. I continued to savor on Sulaimani with every chance I got.
While we were about to reach our resort, a sudden change in mind made us to get down before that and walk to beach. John was getting even more sick but he was okay to go and go by walk. We decided to walk the two kilometers then thought of taking auto then again thought of walking, the loop went on for a while before finally getting into an auto. All eight of us. The whole passage of time was fun. Beach in the dark was such a lull. After being in Marina and my house being very near to beach, no beaches excite that much. Until and unless its pollution free white sand secluded beach.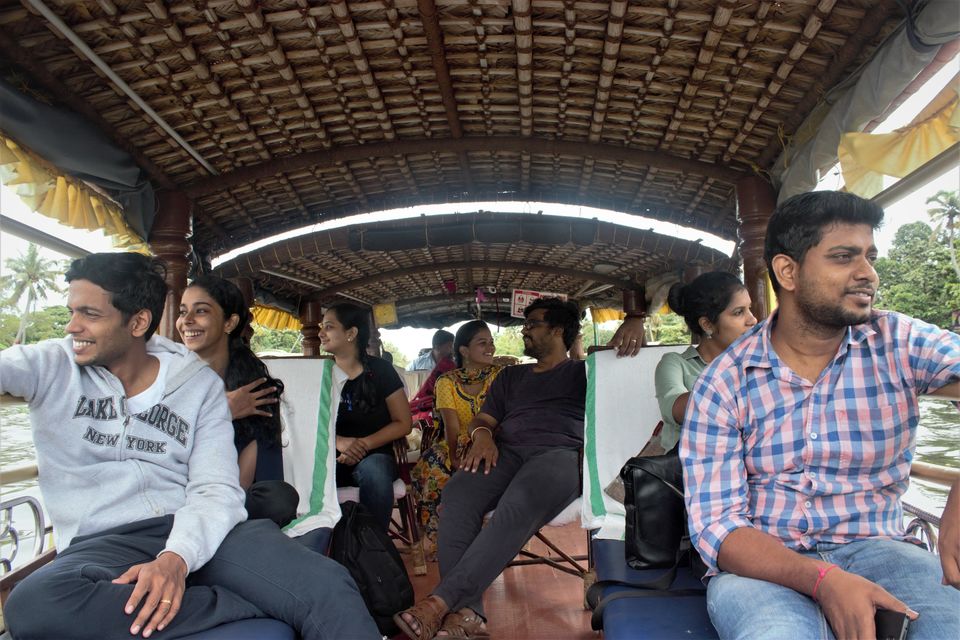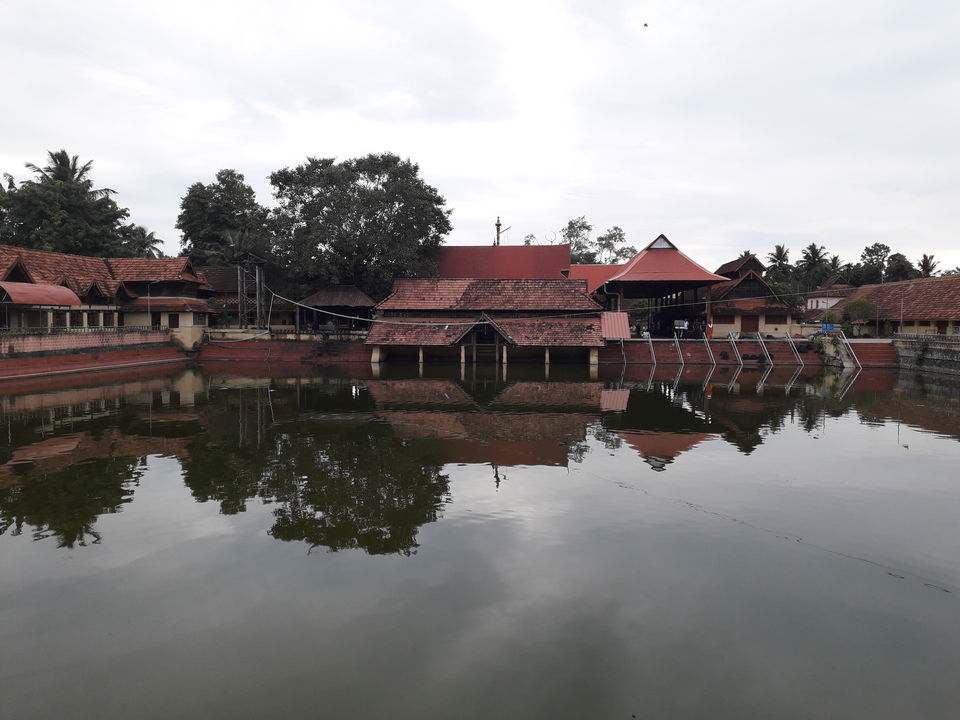 From there we hurried to our resort to pick some stuff for partying. As Soma was not there the previous day, we had to have it again. I thought the same energy wouldn't be there but it was even more fun than day one. John and Shilpa slept early as he had fever. Our party went on till close to 3 AM I guess.
Day 3 - Home before Home
8/25/2019
John had high fever while getting up. So, we brought breakfast for him. As we had already got our train tickets from Aluva, we took bus to Aluva. It looked like local bus but went till Aluva. It took more than three hours and was extremely crowded. There were intermittent rains too so the journey was not really enjoyable.
As soon as we got down, Soma bought Tapioca chips. Even though tempting, as it was lunch time, I didn't have much. We feasted again at Ifthar. I had already had there and had great experience. This time as I was tired, I couldn't have much but Muttamala stood out. A must try desert if you visit there. Perks of having a local with you. I also had biryani called as Kabsa. A biryani wrapped in banana leaves and with so much flavor. That was brilliant too.
From there we took an auto to John's house. It's always a pleasure to go there. For some reason I've got a connect with that house. We didn't have much time. Just chatted for an hour or so and took train to Chennai. Wish we had more time so that we could have spent it even more lazily. Soma, Rekha, Priyanka and I bought a lot of snacks near station and took train from there. All we know was the train starting. I slept as soon as it started and had a sound sleep till next day morning.