This would be my best title for my travelogue ever. Thanks to the t shirt quotes I saw over there.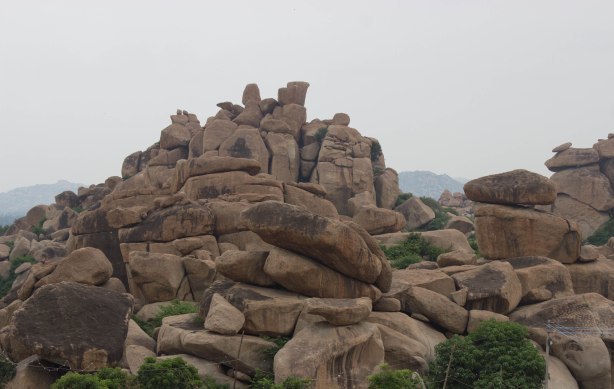 Day 0 - The Great Escape
This time it was a tense Thursday with project deadlines and lot of drama in team. My project has more drama than my life. Worst! So had to escape early, as usual for 13.30 train to Bangalore. That has become my regular abode. And for the first time the train got late by half an hour, which time I used to share/read updates in FB.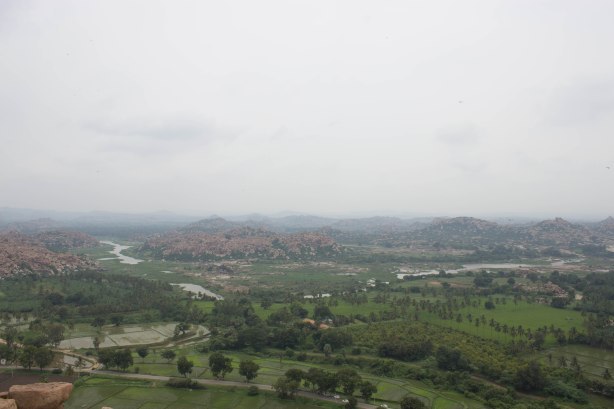 I didn't have lunch, thanks to my guilty pleasure of having Murugan Idly Kadai breakfast in the morning. But the snacks in train this time were awesome. Reminded of my good old days with grandmother when I used to travel to Madurai as a kid and eat everything under the roof. So in the midst of endless conversation we also had Bajji, Bonda, Badam Milk etc.
Weather was awesome, train was late by an hour I think. We gave the window seat to one person so that we can sit together. For the first time didn't even feel like I missed the window seat, we talked that much. Talked so much that my mouth started hurting (Today's gyan. There is no such word called as 'paining'). Admire the energy of Soma.
Once we reached Bangalore, it started raining but not as much as it was doing in the previous days. So we first hurried to the bus stand so that we shouldn't miss the bus. This we did in spite of knowing that Bangalore buses would never come on time. Dinner was really good for a bus stand restaurant.
After filling up bottles we went to our platform. Discovered that there is a bus stand outside the bus stand. Bangalore and Bus Terminals. Lots of chicks everywhere. Surprisingly our bus came on time and started in fifteen minutes. Felt great sitting on top of the sleeper and seeing the world outside. Felt as if I was sitting on an elephant. Plus the curly haired girl (who would be my crush for next three days) was at a visible distance from there. So got a nice view before going for a sound sleep.
Day 1 - For the Weather
Had a great sleep, weather was super awesome. Got up few minutes before Hospet. Roads were bad but felt great from upper berth. Most of them got down at Hospet so I and Soma alone were there in bus. It was a great feel. Things turn up great after morning chai.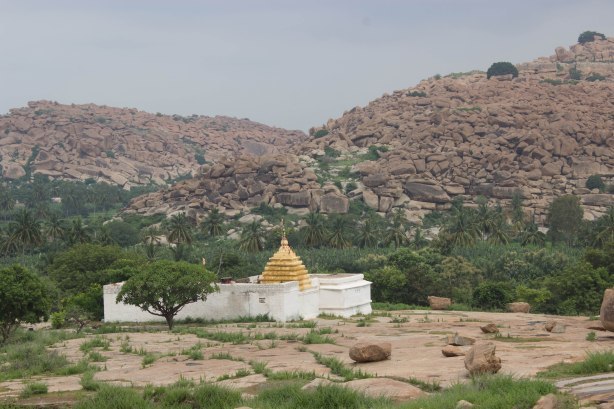 We reached Hampi in about half an hour. It was a majestic feel to enter the land of boulders. It was like seeing Taj Mahal for the first time. We had breakfast there in some tea shop, little did we knew that he'd be our advisor for the next three days. He seemed to be nice guy and Soma bought a really informative guide book in that gap.
As per the shopkeepers advice we went to the boating point and went to the other side of the river. Per person it was Rs. 50, rather than the regular Rs. 10. They are spoiling their own business. Crossing the river we met the person whom we had called and got the bike for Rs. 400 (costly again) and room for the same cost. That wasn't a room at all, a makeshift hut we got for Rs. 400.
It took a while to get ready. Soma's excitement started as soon as he saw grass, so we rolled whatever stuff we had but didn't give any kick. We then took bath and got ready in few minutes and started off our journey. Our first task was to get to the petrol bunk and visit places en route. Luckily our first stop was Anjani Parvat, the birthplace of Anjaneya. Great place with great view. Got few really good clicks. We followed it by Pampa Sarovar, not before being asked for marijuana by a road side peddler, had a mandatory sugarcane juice and the usual free meals in temple. Somehow the gods are always kind on me by providing free food wherever I go. Then we went to Durga Temple. What a coincidence that we got to go there on the eve of Durga Pooja. Colors were great and the music inside was divine.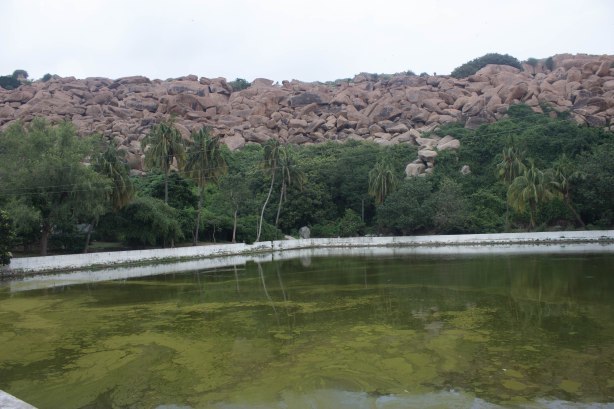 We then directly went to the petrol bunk and filled petrol for Rs. 150. We didn't know that the bike was not allowed in Hampi area so it was waste of money. Lesson learnt, never fill petrol for more than a day's ride. We took the road straight to Chintamani Temple, it had Ramar's steps inside it but the boys inside it were irritating, asking for alms. The kid who said that he doesn't have parents and wanted five rupees for that, turned around and ran free within a second of me rejecting him, Soma settled near the water. There were also an upper middle class family with kids enjoying the surrounding. It was nice to see them living a simple life. Nearby it were the Hachappa Mantapa and Jama Masjid.
We asked a local nearby for the nearby landmarks. He told about them excellently. One good thing about Hampi is everyone talks excellent English. Even though fake, it solves the language problem at least. Then we went to Ranganath Temple which felt like home followed by 65 Pillar Mantapa and Navabrindavan which we saw from a distance. While returning we went to Gagan Mahal which looked smaller than a Kings servant's place.
I was happy that I could cover all the places in Anegondi side. While returning, weather was awesome with light drizzles, we asked a local about where to eat food, and he suggested Virupapura Gadde, the hippie joint of Hampi. We decided that we're never going to eat in the place we stayed. Not worth the money. We settled in a nice restaurant called Dudu Falafel with beds and free Wi-Fi. There was one fake server who was talking fake English with fake accent and telling us the story of Hampi. On how rooms had become costly etc. We had a mug of beer each and I opted for a coke and rum too. Gave me correct high. Food was really good too.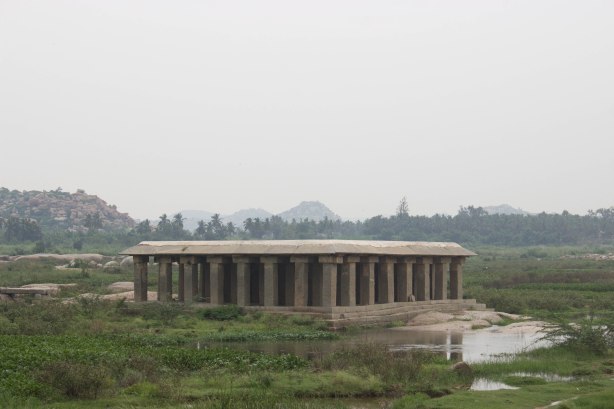 Room looked scary, Soma told about insects getting into ear and wearing earphones so we decided to stay outside, which was not a good idea. Mosquites was biting like hell in spite of two layers of Odomos. Good that at least we didn't get sick but I got up at 1'o clock and started reading the Hampi guide book thinking I wouldn't be able to sleep post that but luckily I did.
Day 2 - A Day of Walks
Day started early. Thanks to mozzies. Got freshened up and started off. We had Idly and super spicy coconut chutney in a nearby tea shop. We got to know that we couldn't take bikes to the other side. So we stayed there for the bike guy to come, sighting foreigners and seeing a kid cajole a Japanese guy. That was a funny incident. He was the kid who showed us the bike. He had somehow spotted a guy from Japan and took him to see room. He had suggested a room for some money but the Japanese guy was insisting for nothing more than Rs. 300. While the Japanese guy was walking past him, he yelled him as "oi Japan..." which was funny like hell. That kept us in splits for quite a long time.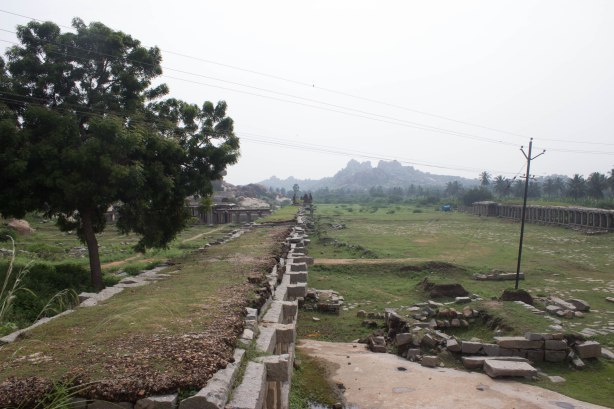 The bike guy came and we got one liter petrol from him. Another one liter wasted. As it was before 9 AM the ferry person was asking for Rs. 100 per head. And people were giving so much money too. We bargained for Rs. 50 but still it's high. Hope they learn their lesson.
Once we crossed the river we started off our sightseeing with the itinerary that I had marked. Kadalekalu Ganesha, Sasivekalu Ganesha, Krishna Bazaar (where we took few bad photos), Krishna Temple, Badavalinga Temple, Lakshmi Narasimha Temple (had sugarcane juice and lime soda), Chandikesvara Temple, Uddana Veerabhadra Temple. We completed the places in Sacred Center sans Virupaksha Temple. As it was near the Hampi Bus Stand we thought we could go there at any time.
After a few minutes' walk we entered the Royal Center by taking a leak against Akka Tangi Gundu. Hope the sisters didn't mind. It was a big route to cover and our water resources were already empty. We somehow pushed ourselves and covered all the places there which includes Underground Siva Temple, Nobleman's Quarters, Mohammadan Watch Tower, Palace of Krishna Devaraya, Granaries, Band Tower, Mosque, Elephant stables, Zenena Enclosure (cover this along with Vittala temple and Archeological Museum on same day as this ticket is valid the on all three places. But we couldn't as we went by walk), Teneali Rama Pavilion, Srinagarada Hebbagilu, Parshwanatha Temple, Ranga Temple, Octogonal bath, Kings Audience Hall, Large Stone Trough, Yellamma Temple, Hazara Rama temple, Mahanavami Dibba and Queen's Bath before finally hitting the road. Saraswathi Temple, Chandrashekara Temple, Stepped and Tank were in the next left.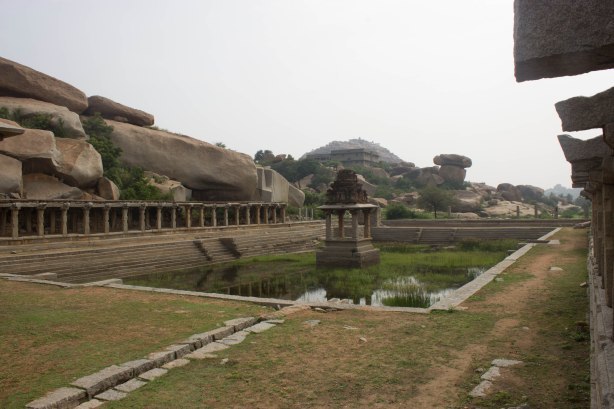 Our next agenda was to reach Kamalapura for lunch. Thali meals for Rs. 70 in the super crowded Sai Hotel was decent. More than the food it was the water which was tasty there. It's not the only restaurant there, if you walk few meters there are a lot of veg/non veg restaurants but it was crowded may be because its famous or may be because it was the one which catches your attention first. We had a friendly chat with the people who shared our table. We followed it up by a great fruit mixture and an even great conversationalist who suggested how to take share auto if we don't get bus. But we had all the time in the world so we waited for bus. We used the time to visit the Archeological Museum which was crap but at least didn't spend an extra thirty rupees for that.
We took the bus from there and reached Hampi Bus Stand and went to Virupasksha Temple, thus completing the whole circle. Temple wasn't as great as I thought. Once crossing the river, I had to go to room to take bath. Soma said he'd stay back for his Turkish Coffee. I got lift both to and fro. He was in Dudu Falafel, which had become our second home by then.
We wanted to try out another restaurant. We had Nargila Restaurant in mind. And the thought got strengthened by a person we met in boat who said he'd be playing live music there. He has a shop next to the restaurant and sells music goods in the evening there and near the temple in the morning. Ambiance of the restaurant was good but it was very crowded. Live music and Bon Fire were done in rounds. Best part was the girl to my right who was continuously making fun of the waiter. She first asked for Smirnoff, the waiter didn't have a clue what it was, he said only MC was available. She didn't know what MC is, high class may be, then she asked in local tone, nasha hoga na? Lol. Ordered Vodka finally. The waiter took a long time to deliver but had a funny expression so none got angry. Finally when he came with Vodka in plastic glass, it didn't look like 60 ml, the girl said that too. I loved her expression.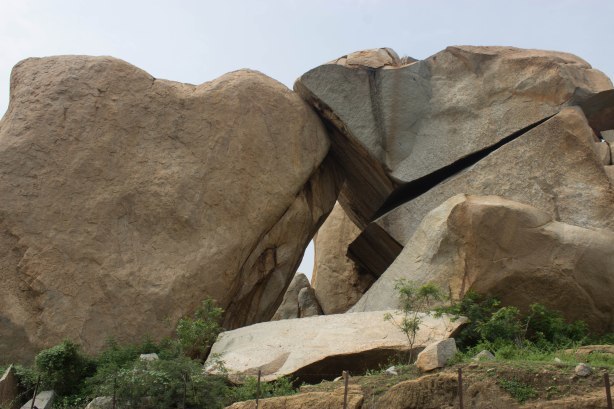 Beyond her was my curly haired darling, in addition to curly hair she had great eyes which got lit up in the candle light. I had unprecedented access to look at her face and I kept doing that till I got food. Loved the way she was smoking up, very classy woman. We got our food which was great but having to order separate dish for veg and non-veg made it heavy. We then walked our way to our tent to crash.
But once in our place we got to smoke up all kinds of stuff in all kinds of instrument with all kinds of people. There was an Israeli, Kannadiga, Malayalee and us. Hearing Music Mojo Malayalam songs with rain in the background was awesome. The Mallu couple we met were true to the saying, 'young and stupid'. They looked very cute together. It kind of made me depressingly happy, like watching a good movie. I don't generally collect numbers or Facebook IDs of people I meet during trip until asked by them. But I'll never forget them. Hope they be happy together forever.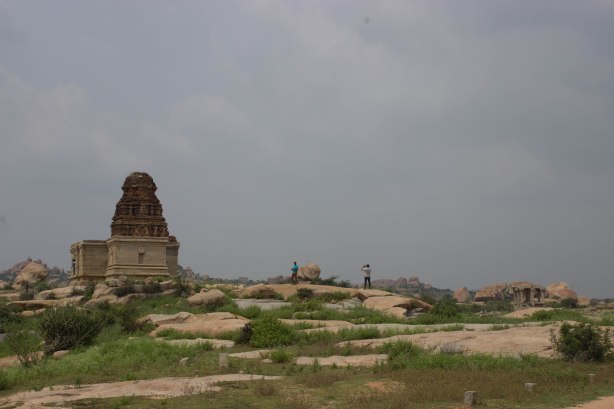 When the guy asked about our departure and we said that its next day, he felt genuinely bad, he said, "Oh we just got to know." If he expressed that in words, she expressed that in her face. Really cute couple.
Day 3- For the love of all
Had a very good night's sleep, thanks to Mosquito net and highness. Soma woke me up telling Smitha had already reached. So we quickly but not so quickly got ready, paid our hotel rent, gifted away my headphones and set off to welcome her. Like she said, it felt nothing different, felt like meeting a schoolmate on the next day of school.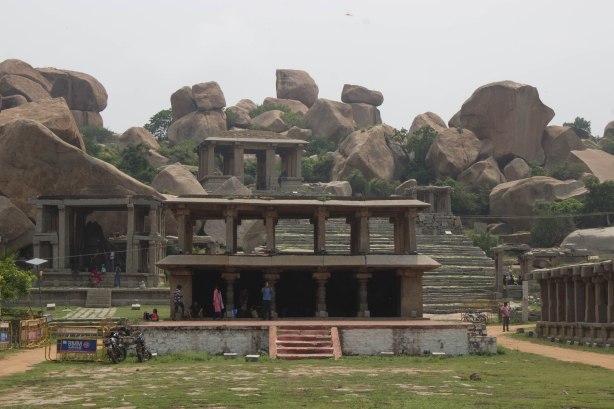 Initially thought of meeting Smitha at Hampi side but just to give her the taste of it, we invited to this side and reserved the best breakfast for her. German Bakery was awesome again with free Wi-Fi and excellently decorated and tasty food.
We didn't feel like leaving at all but we had to. We placed our bag at the tea shop, asked him to keep the petrol and bought Bajji for namesake, which was actually tasty too. We started our trip at Monolithic Bull (Nandi) and continued with Kampa Bhupa's Bath, Yantrodharaka Anjaneya Temple, Varaha Temple, Chakratirtha, Courtesan's Temple, Acyuta Raya's Temple (where we stayed a good amount of time and got a laddu as Prasad as well), Kodandarama Temple, Chakratirtha, Sugreeva's Cave, Narasimha Temple, Ancient Bridge, Two Storied Temple, Inscribed Vishnu Temple, Vittala Bazaar and Vittala Temple. Best part of the day was how relaxed we did these places.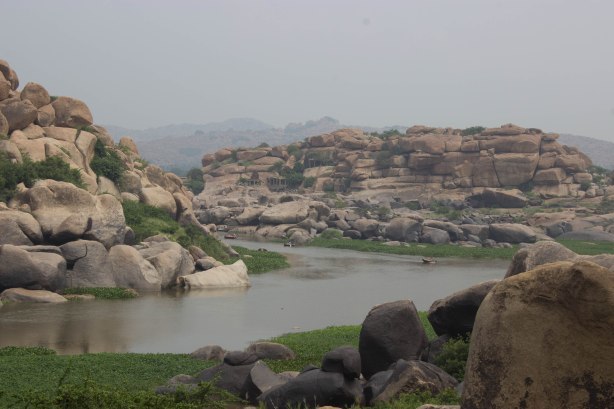 We had lunch at the much coveted Mango Tree, if you go there don't miss out on Banofee Pie. And here comes the best part, our trek to Matunga Hill. After all the huffs and puffs the sun decided to play hide and seek and got hidden off completely. This happened after all the slips and falls by Smitha and Soma. Even the photos we took there wasn't that great. Anyways it was a nice experience.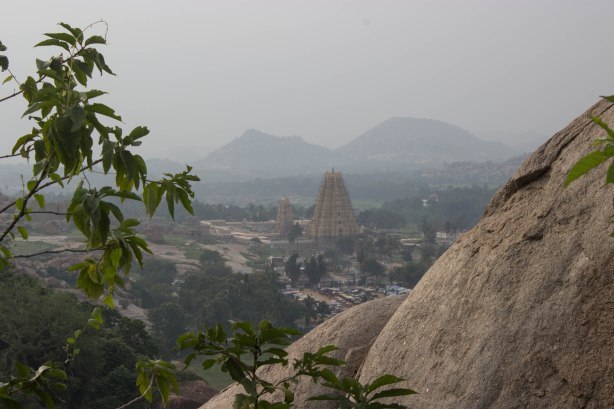 The next two hours we sat near tea shop and chatted and followed it up for the next three hours in bus. It was fun using sleeper bus. All of us could sit together. Ever since Smitha came Soma was in full form but his peak form started when the guy behind asked him to switch off light. That continued till the end of trip.
Day 4 - Bangalore Day
A day of doing nothing. We reached Bangalore around 5 AM and went to Hotel Vardhaman Paradise before 6 AM. It was a total VFM.
We kept on deciding on where to go. Everyone were lazy so we opted out of Nandi Hills. Oct 2 being a dry day we couldn't think much of other places. So once we had a nice breakfast near our place we decided to go the movie 'It'. Booked a cab immediately and went there on time. It's always a good to go to Sathyam for their Doughnut and Cold Coffee. Film was super bad.
From there we took a long walk to Nandhana Palace where food was great. That place also serves liquor, how good it'd be if restaurants like these serve liquor. We took cab and came back to room. We watched Rang De Basanti for some time and dropped Smitha to Railway station. Back to the room we had dinner with a slight upset stomach and headed for bus. We had to take a sleeper bus and then the main bus at Madivala. Asian Xpress was really comfortable and staff were courteous.
Happy Ending!