Great trips start with greater purposes
- Of course it's me
Day 0 - The Usual
As usual the best part is the start. To go check in Chennai Central and mention the point of travel. Even though I'm annoyed by the number of times that I've to go to Bangalore as a rendezvous just for the sake of catching next bus or train. I can't help it.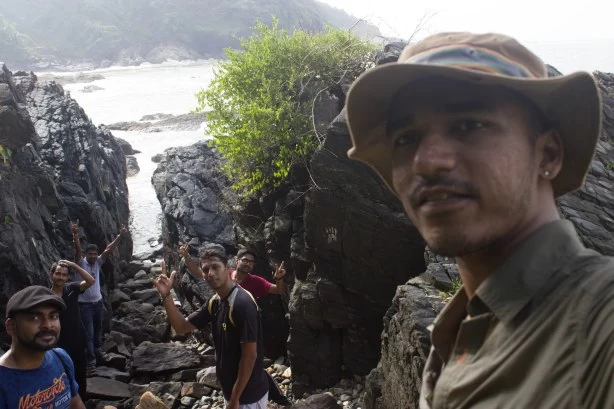 It was the regular routine. I could copy paste any first paragraphs from my previous visits to Karnataka treks. Only this time it was more of a leisure trek rather than a proper trek. It was with my regular trek mates with Rajesh being the extra man and John from my office. Soma, who was supposed to join had to miss the trek due to some health conditions.
We boarded the 13:30 train. This time the weather was awesome with overcast and drizzles all around. It's always good to catch up with old school gossips. This time more from Rajesh. Only after talking for a while, got to know that there was some ideology match between both of us. The general discussions on life, money, marriage etc. was the topic of discussion. Then various leelai's of Seena did he explain. Just before getting down it started to pour. First time I had come without trek bag and rain coat and this happens but thankfully the rains lessened and we got to a restaurant and ordered meals, curd rice and dosa. It was average.
We then hurried to the bus stand and asked Balaji to hurry as well. All hurry burry led to nowhere as the bus took its own sweet time to come. The 22:15 bus came at 00:15. Bad that it didn't beat the previous record of 00:30.
There were two things I was most expecting out of the trip. It's not the beach trail. I knew how it was going to be. It was Airavat and Namaste Café. Latter I'll talk later. Former was a disappointment right from the word go. Airavat was so hyped but it was just another AC semi sleeper bus with no comfort at all. Of Seater, Semi sleeper and Sleeper, Semi sleeper is the worst. It's neither here, nor there. Every time they put breaks, you dig in some earth and come back. Though it didn't spoil my sleep, I had to take all different positions to continue it.
Day 1 - Aandavan Irukan
John who was coming from Alwaye reached our resort at 7 AM, the time we were supposed to reach Gokarna. But we were at Shimoga that time. So once I sent the photo of the hotel voucher, he checked in. It was told in reception that the other rooms would be available only by 1 PM. In a way good that we didn't reach on time.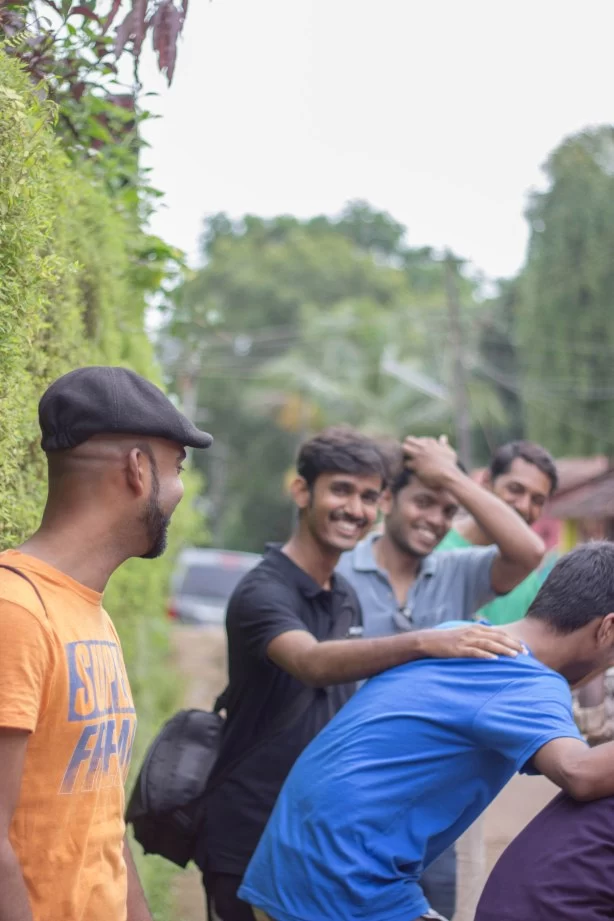 From Shimoga to Gokarna the ride was pleasant with all greeneries and back waters. En route to Gokarna I got down to loo and I saw my friend Smitha's doppelganger. I almost thought it was her and went to say 'hi' but decided against it at the last moment. Just that we wished the journey was not that long. Anyways nothing much to complain. So once we reached Gokarna around noon we took an auto to Namaste Café. It's a standard rate for each beaches. Kudle - 100 rupees, Om - 150 rupees etc.
We took a couple of autos and John was waiting there at the gate for us. After some formal introduction to rest of the folks we checked in our room. The ambience of the resort was great but the rooms were average, definitely not worth the six thousand rupees we paid. Rooms had two one liter water bottles + towel and soaps. No room service and even for water we had to pay extra. Now, that's atrocious. Will tell more in coming paragraphs.
We quickly got ready and decided that we'd have lunch in Gokarna, as anyways we'd have in Namaste in the next few days. Lunch at Pai's restaurant was decent. Meals, Fried Rice, Onion Pakoda, Gobi Manchurian etc. Fried Rice was worst but rest was decent. Coffee was good too. In Gokarna you can see that majority of the places women seem to be working. It was the same in the case of Mizoram too. Don't know whether its welcome change but something you'd notice immediately if you go to Gokarna. In lieu of that, Pai's kitchen was totally handled by ladies.
Post lunch we took a long walk to explore places (mostly temples) nearby. We first went to Venkatramana Temple near to the restaurant, a no non sense temple with priests uttering chants. We followed it with Sri Bhadrakali temple, which was my favorite temple of all. The deity looked beautiful. We were the first to visit it in post lunch session.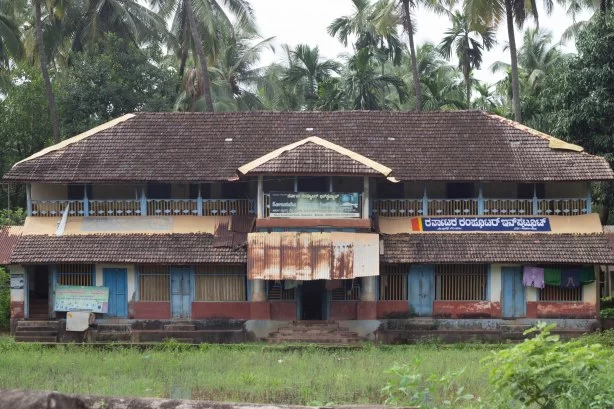 While retracing we took few photos and had Gudbud, a Gokarna special local ice cream. A falooda kind of thing, only that it was not a falooda. It was amazing. We then walked through streets which reminded me a lot of Jaisalmer, we went to Kotitheertha, a pond near Mahabaleshwar Temple where many were performing rituals. It was not crowded and the place looked awesome for photography. Also the other major attraction was the fishes there. One was so huge, I had never seen such a big fish in temple pond before.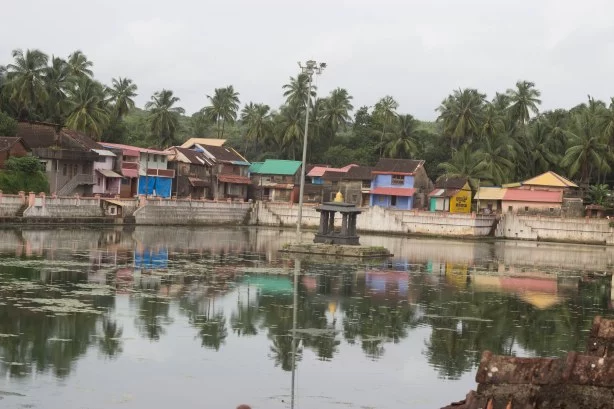 After sitting there for a while we went to Sri Maha Ganapathi temple, the distinct feature about the temple is the standing Ganesha which was cute. I find Ganesha to be the naughtiest of all gods, having the typical charm of fat people.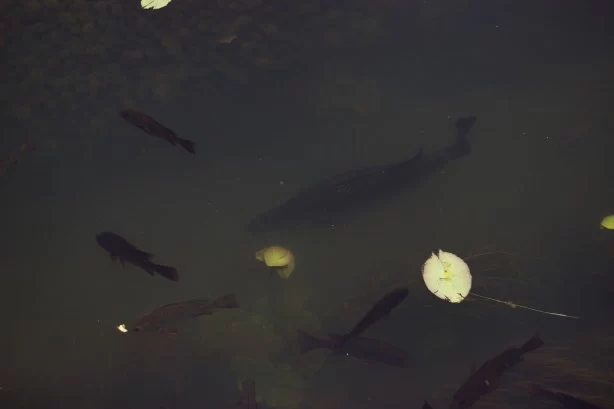 Finally we went to the much awaited Mahabaleshwar Temple which had a huge queue, all of them admiring the giant cow en route to deity. It was humongous. Seems Mahabaleshwar Temple is the only one with Athmalinga. It had a unique way of worshiping. Each one, during their turn puts the hand in the hole at the center of the Linga and take the water or whatever material is there inside and put it outside. In one way its great way to clean the idol as well. Throughout the day, Abhishekam keeps on happening. And the crowd gets more and more. I found this ritual interesting as well as intelligent.
Inside the Mahabaleshwar temple there is also Tamra Gauri Temple where the style was similar to Bhadrakali temple. To see the deity one has to go inside, take a turn and see. As the idol is facing against the door.
With the temple tour done, we set off to beach, sat in wet sand, made our shorts wet, walked to nearby lane and ate everything that we could. Almost everything tasted horrible but nevertheless we wanted to taste everything. In spite of that we wanted to have an official dinner so we had it in another Pai restaurants. Almost all the restaurants in Gokarna are named as Pai, don't know why. John bought some dress. Even I liked few but wasn't in a mood. I generally can't buy before the trek as it'd keep running in my mind.
Post our dinner we took a couple of autos and retired to the room. I went to another room to give instructions were Balaji had told ditto of what I'd be telling. The conversation went like this...
Seena: Cards vilayadlama da? (Shall we play cards?)
Me: Onum Vena (Not needed)
Laughs all round.
Me: Mooditu thoongunga da (Shut the fuck up and sleep.)
Higher laughter.
Seena: Balaji sona moonu vishaythula rendu solitae da. (You told two of the three things that Balaji told you'll say)
Me: Inonu enadhu? (What's the other thing?)
Seena: Nalaki kalaila 5 maniku ezunthirikanum. (You've to get up at 5 AM tomorrow)
I said the same, asked them to be ready by 6 AM and the day ended with higher laughters. Not before Jana called and invited me for marriage and there was some marriage talks along with that with John.
Even the people who visit holy places wouldn't have visited so many temples but I somehow get to visit them all before or after the trek and that too with free food.
Day 2 - Beach Please!
We started the day as planned at 6 AM. I was having mild headache and slight cold. Everyone had gotten ready by 6:40 for so. We started from our place at 7 AM. There was nothing available in the restaurant so we took whatever snacks we had and started walking.
Om Beach
The beach is called so because it's in the shape of Om. It looked awesome when we started walking down from the stairs. We took some photos, in fact a lot of photos. As the trek was easy I wasn't forcing the other ones to make haste and as it was the start of the trek, everyone was excitedly clicking.
It felt like the largest of the beaches. While walking to the end of it we spotted fresh catches. But most of it were small fishes. It was exciting to enter the jungle. Within few minutes there was drizzle and most of them picked their rain coats. I wrapped by camera. But it lasted only for few minutes. It stopped before we got to the Half Moon Beach.
Half Moon Beach
The group which had gone before us were there in the beach. They looked like an elderly group. As soon as we set foot, we tagged the place and uploaded the photos. Apart from us two groups there weren't anyone in the beach. The beach was small with rocks and all.
Paradise Beach
Last of the beaches and considered to be the best of the lot, in fact it was the best of the lot. And before the beach we got an awesome spot to take photos. Post that when we walked to Paradise beach, there was a group there already pitching tents, smoking up and cooking chicken. I guess that was the group which went ahead of us.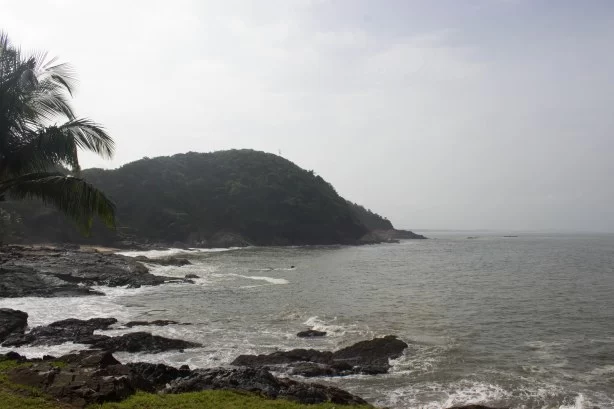 Only after reaching there we understood that they in fact were a hot group. The place looked happening with paintings, graffiti, broken walls, chic girls etc. It'd have been nice to stay but many blogs warned of police menace so I didn't plan for that.
When asked about the next place to the people there, each one said their own story but thankfully a group which were coming from the opposite side gave us a clear picture. We ventured into the jungle again, this time there was no sound of waves so it was even more fun to know whether we've gotten lost or not.
Belakan Beach
People don't go generally beyond Paradise but we did. There was a small water crossing where I had to remove shoes and Balaji fell into it much to the laughter of locals. Again selfies, pictures and tagging. We got water to drink from locals and ate few snacks. We got to know that there is a local bus which comes there.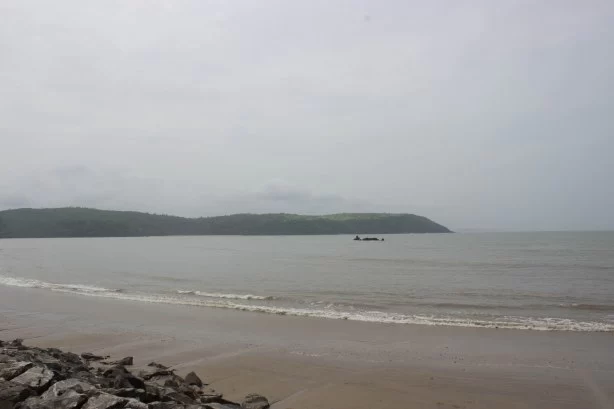 There was a beach opposite to our shore. None were there. That reminded me of Heaven's Mouth from the movie 'Y Tu Mamá También'. It'd have been awesome to have set up a tent with some foreign chick up there. Also we missed the Light House. It was closed alright but locals were saying it'd have been possible to go by bribing at 5 PM which didn't happen. You'll know why in the future paragraphs.
There is no pleasure more than going in bus while on trek. It has happened to us almost at all times. This time too we got the bus stop for ourselves. I was telling it to John, and Prasanna stated the same after a while.
Loved the bus journey from Belakan to Gokarna.
Gokarna Beach
We had some tea and Balaji 'n' number of ice creams from Gokarna bus stand, my headache was getting worse. We walked to the beach and started our trek. There was a temple from where the view was amazing but my headache was not letting me enjoy anything. Took few photos and left from that place.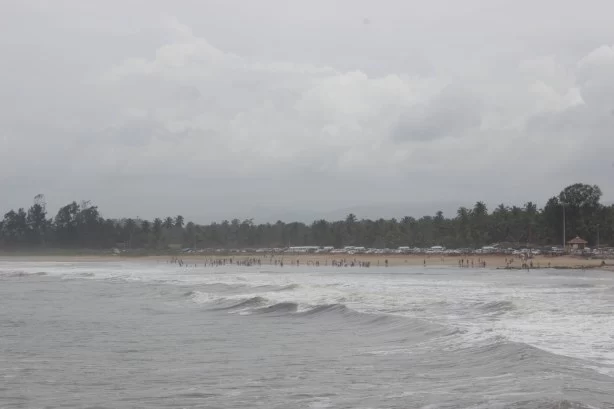 It was getting humid like hell, we went on wrong route, returned back and took the suggested route. The walk to Kudle through grassland was pretty easy.
Kudle Beach
We had lunch at Café 1987 which was cool and Hippie. Food took a good one hour to come. But parathas were awesome. Not so with respect to rest. Anyways it was a nice experience.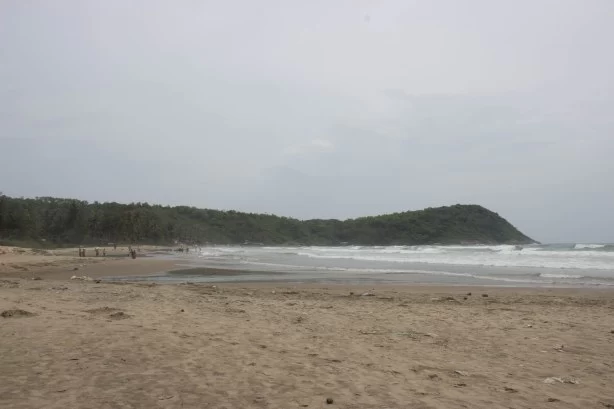 We set foot on Kudle beach in next few minutes. Now my head was splitting, all I wanted to do was end the trek. It was just a couple of kilometers for Om Beach from there. Others were taking a lot of time to come so I was cruising, and as soon as I hit the resort, I took bath and slept.
Post this is a sad story. I developed high fever, not able to sleep, I was struggling to even get up and walk to the café. I didn't go to café all the while thinking that post completion of trek I could drink celebratory beers, overlooking the beach from Café. It had an excellent ambiance. But all I ate was plain rice with pickle, just so that I can eat tables. Namaste Café didn't have room service and neither great rooms. So 6K for all these, better try to avoid.
Worst is when I got to know that they charged even for hot water. They don't even give plain water in the table. That's one thing I can't digest at all.
Rest of the days - Sick of sickness!
There is no point writing anything post that. It'd just be waking up, eating, taking tablets and in turn getting feared of all the future trips. What would happen if the same happens again? So the sense of insecurities continued. Met an interesting doctor in Gokarna who gave hope, ate somewhere, took train, watched Tamasha, went to Bangalore, kept on eating, all the drinks stacked up there were just a showpiece for me, ate again, watched GOT in TV, rains, watched videos in OLA cab, ate again, took train, slept, came to office and same old story.