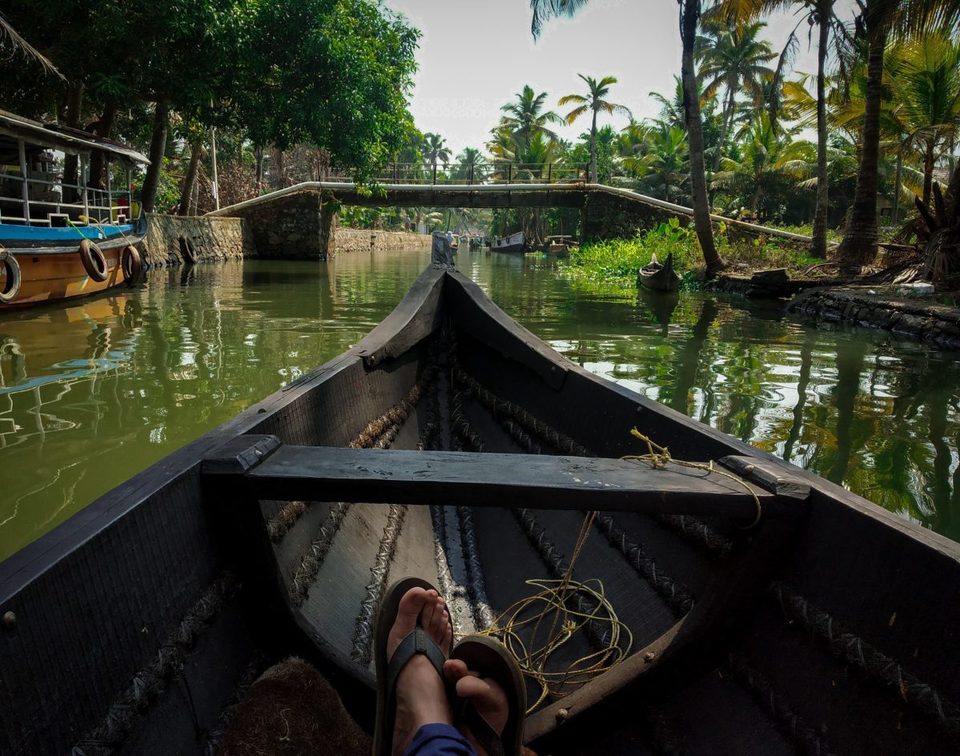 For many of us when we hear the name Kerala, the pictures that come in front of our eyes are Coconut tree lines, Kathakali, Beach, Boats and of course Fish. Though it is my home state, I must say I haven't really explored it enough. The last couple of months had been a lot of dwelling in the mountain and it was time to feel some wet sand underneath the feet as I turn a year older.
It was exactly two years since I had started my solo expedition and it was that time of the year again to plan something exciting. Alleppey is one of the most sought after destination by people of all age groups, hence finding the stay and travel routes weren't very hard. Two days were making justice to the plan I had in mind to see major parts of the town and the first thing I did was to book my stay at Zostel. And guess what, the beach is right in front of it !!!! Waiting for the trip-day to arrive is always the best time of the month.
For those who have some close connection with the state, here is the tune to bring back some memories from childhood:
Thi thi thara thi thi thai
Thi thai thaka thei thei thom
- The boat song
Day 1
When I woke up the to "alleppey... alleppey" call of the bus conductor, it was 7:45 AM in the morning. Google maps showed that Zostel is about 2.5 KM from where I had got down and I decided to cover that distance by walk. The humid weather even at such an early time was making me regret the decision, but the views around were somehow compensating for it. Walking beside a water canal along the way, the town was communicating something different about it. The town of Alleppey is known for its backwaters and rice cultivation. Since major parts of the town are separated by backwaters and canals, people use these as a faster and convenient mode of transport to travel between the places. And the Boat Song mentioned above starts as: " Kuttanadan Punjayile " which translates to Paddy fields of Kuttanad, a place in Alleppey filled with green Paddy fields. So, we were at the birth-place of this song :)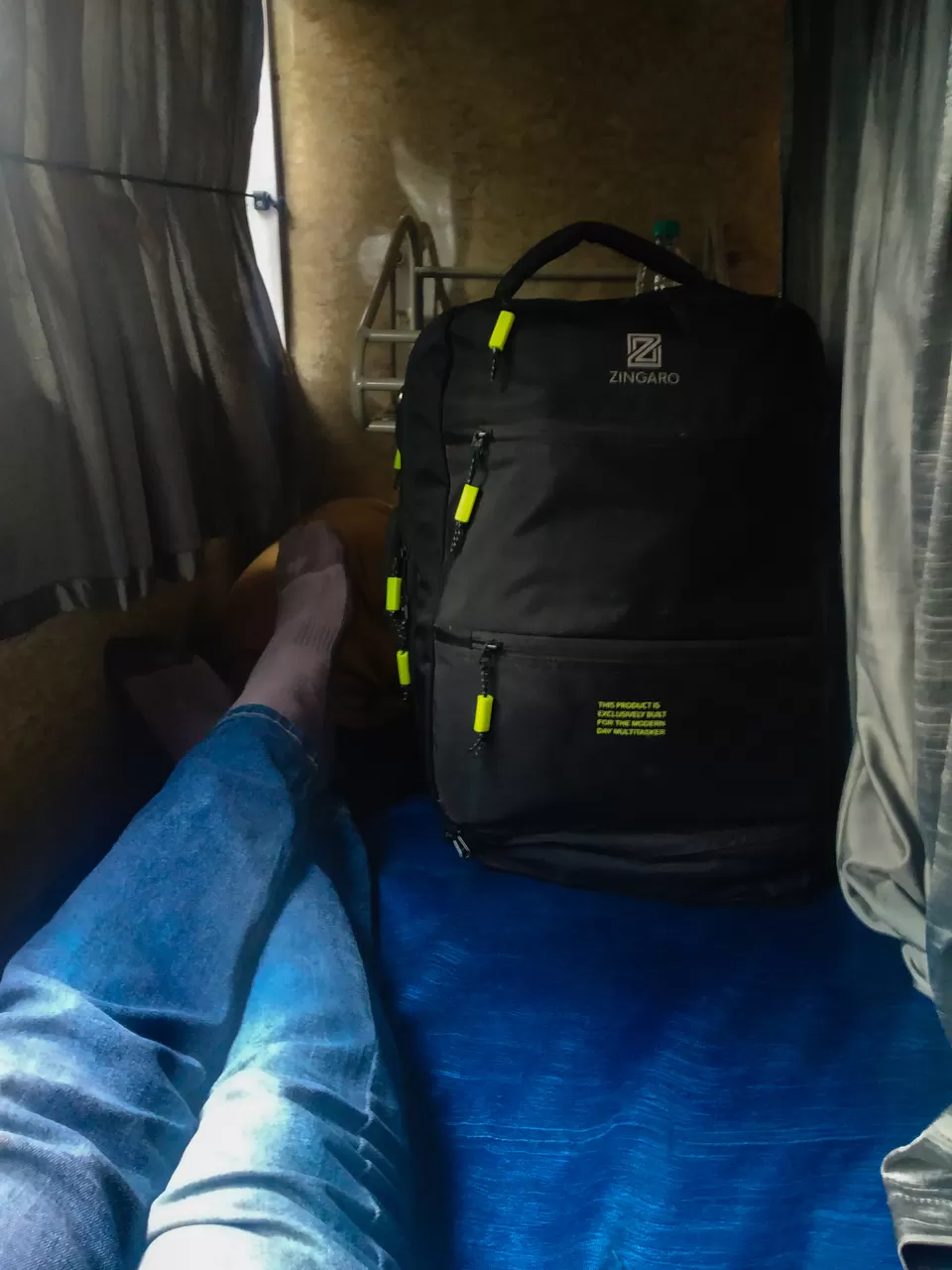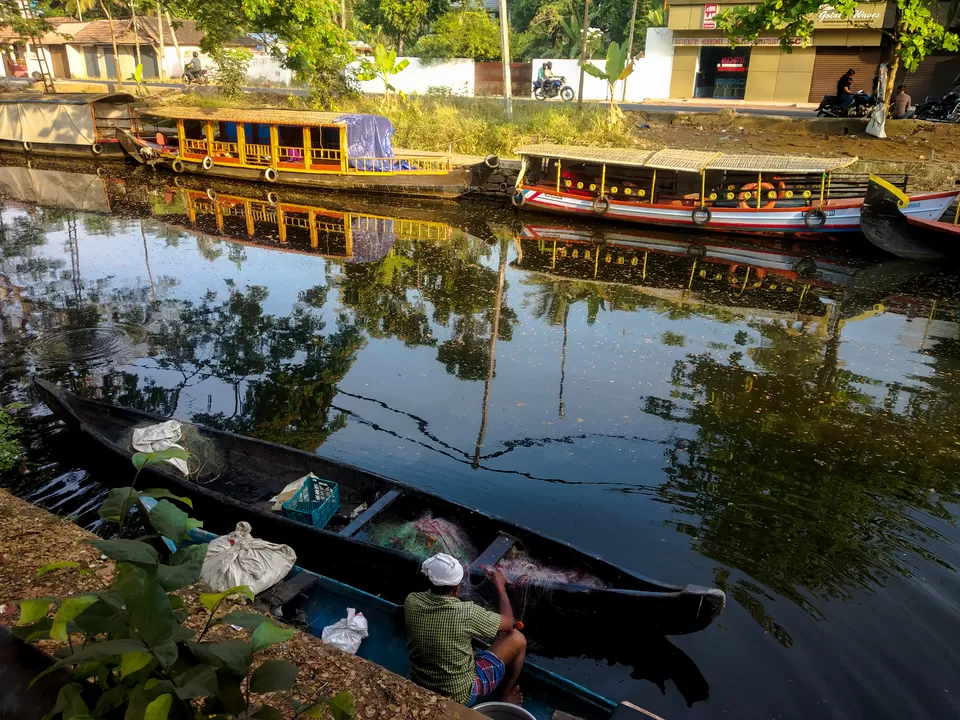 Not all places could accommodate early check-in and Zostel was one of them always filled with travelers on any day of the week. Thankfully there were facilities to freshen up and keep my belongings aside so I could save up time in the day instead of waiting for check-in at 12. The first thing I did after getting ready was to walk to the beach and soak in some fresh air. The stomach was already growling and the Cafe Catamaran right next to the beach was there for the rescue. Sipping on a hot cup of coffee while watching the vast blue sea was already setting the mood.
Joyesh, manager at Zostel had arranged for a two-wheeler on my request. After taking some suggestions from him on places to visit for the day, I set out to explore this pretty town. Most of my trips have at least one temple visit included in the itinerary, and Shri Krishna temple at Ambalaphuza was the place this time at Alleppey. I had always wanted to see the beautiful step wells by the side of temples that have the distinct gopuram entrance extending till the water. A structure I had noticed to be uniquely found in Kerala. Also, the Pal-Payasam (milk kheer) was quite famous at this temple at Ambalaphuza, enough reasons to drag me here. The 9 KM distance from Zostel was taking longer than usual due to the bad condition of the scooter.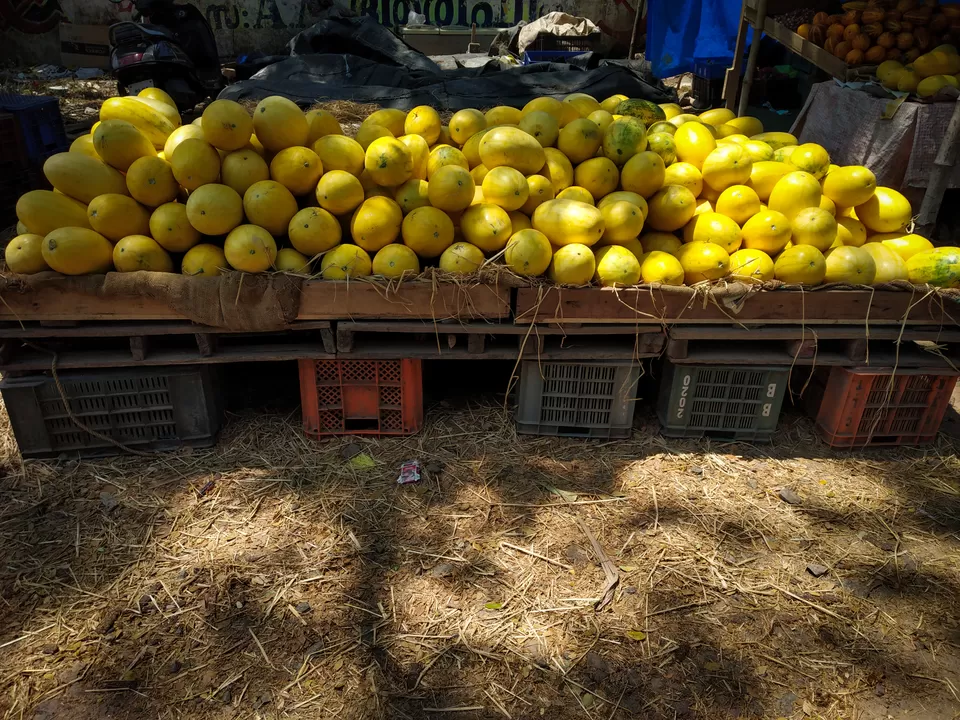 The temple was built in the 13th century and has undergone renovation multiple times. I was 15 minutes earlier to the Pal-Payasam distribution and the first thing I did was to get a token for it. At 12 after Naivedyam the piping hot payasam was distributed in sealed containers in half and one-liter portions. The lake beside the temple was exactly how I had imagined it to be. Soaking feet in the cold water of the lake was refreshing in that scorching heat. I somehow managed to get a spoon and took a heavenly sip of Payasam, yes! it was worth the visit.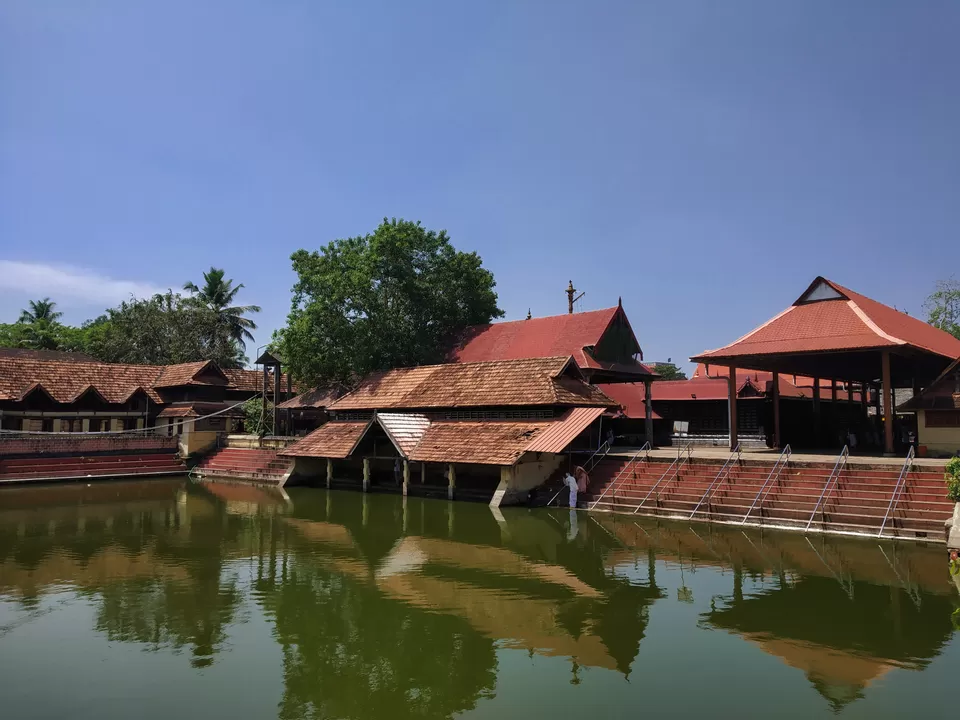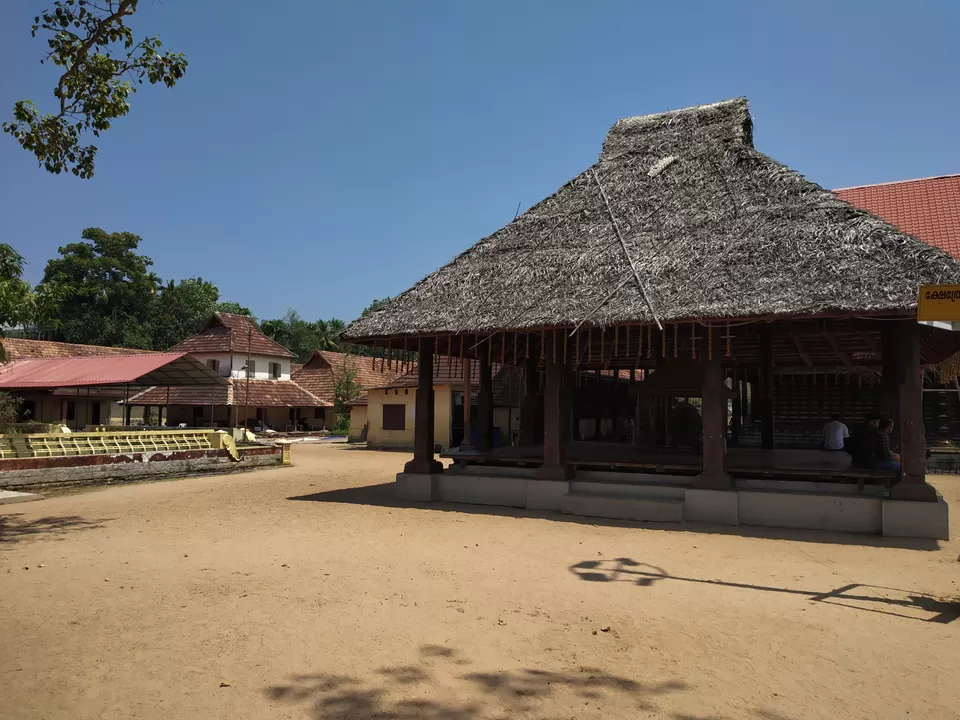 I had to head back in the opposite direction to reach Marari beach and explore some places on the way. The first one was the Revi Karunakaran Museum. It is a private museum managed by the family of Revi who was a coir businessman in Alleppey. The artifacts at this museum are collected over 3 generations starting with the grandfather of Revi from their visits in India and abroad. Though it was packed with kids from a school trip, the guides were patiently explaining details of every section. The ground floor had a collection of paintings and furniture from various parts of the world still in perfect condition. Till here, the place seemed like any normal museum. It was on the first floor I got awestruck. There were two sections in a huge hall were the first section was filled with artifacts made from pure crystal. Twinkling in the lights of the room, there was a crystal of almost every color that you can think of. Some of the rarest and "collector's only edition" by Swarovski are on display here. The other section of the hall was artifacts made using ivory. The place boasts of the largest collection of ivory with about 800 artifacts and the net worth of the contents in the museum is said to be about 800 Cr.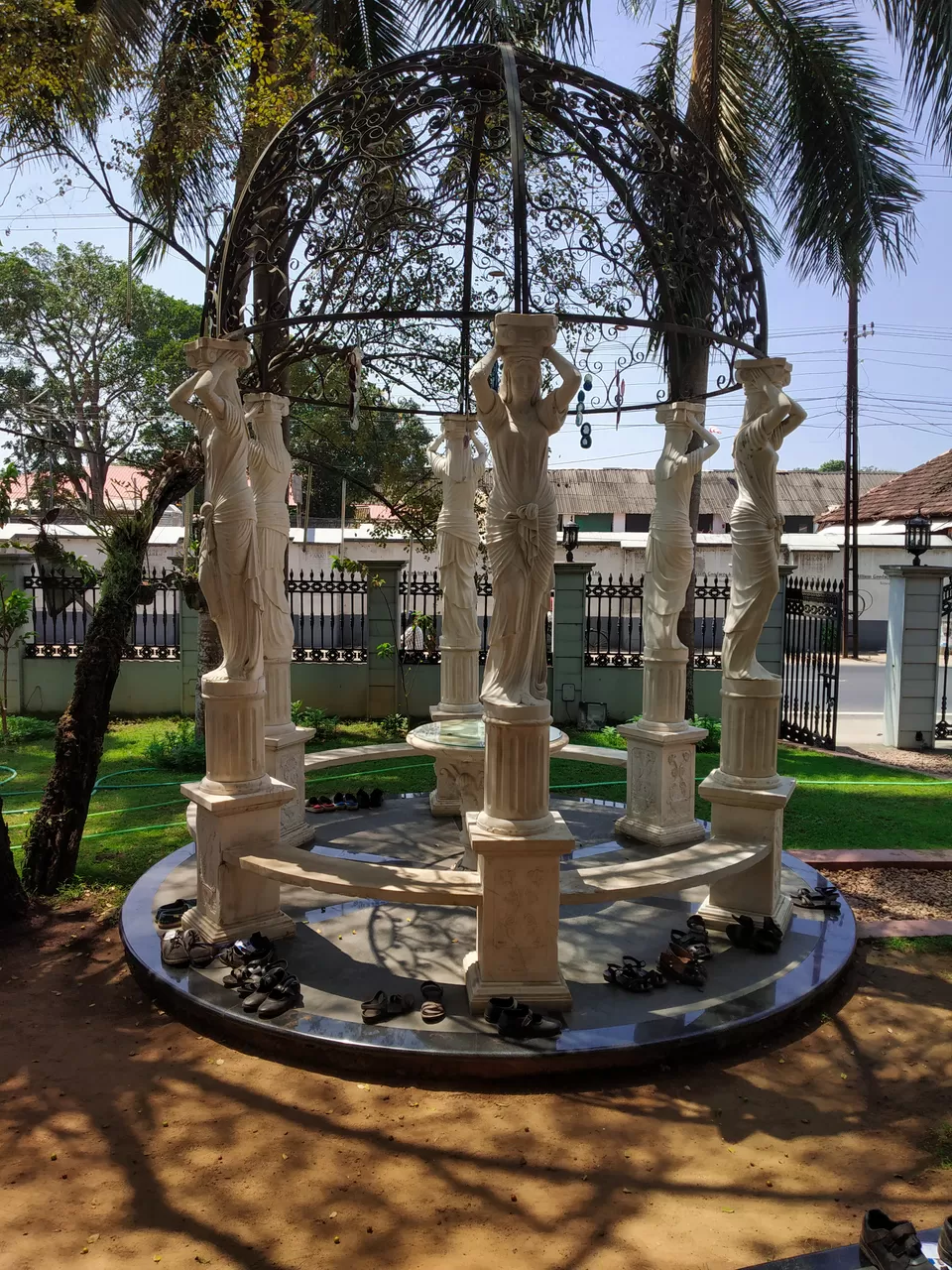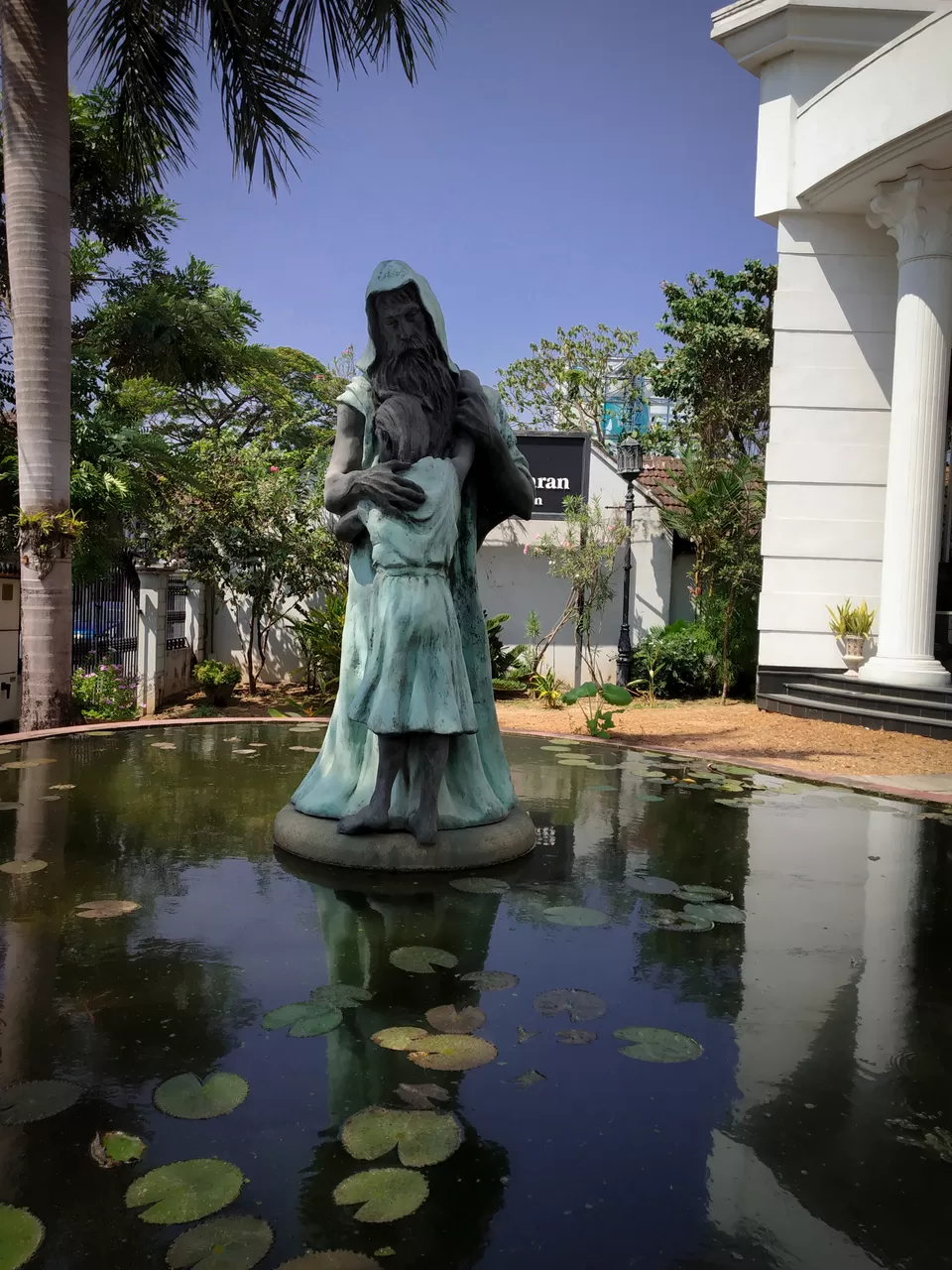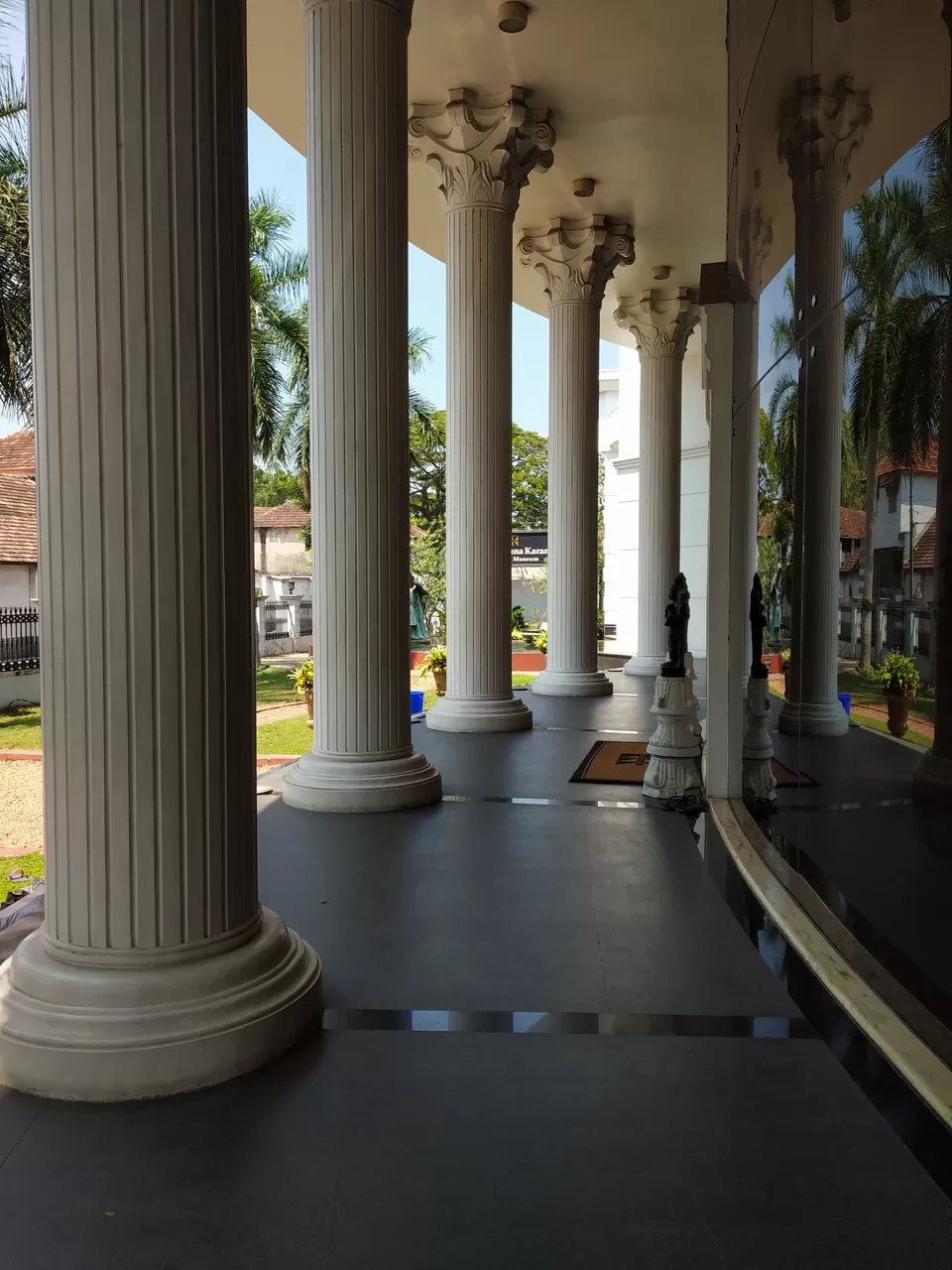 Upon learning that Alleppey was one of the earliest places to have coir industries, there was an urge to know more about it. The coir factory by Revi though functional, was not open for visitors. The staff there suggested visiting the Coir Museum which was luckily en route Marari beach. The place was actually a government-run coir factory with a dedicated section that speaks about the history of coir business in Alleppey. Starting with James and Henry in 1859, many industrialists and local businessmen set up industries and revised the coir manufacturing methods through multiple iterations to make it more productive and more eco friendly. Coir is produced using the fibers of coconut shells and to separate it, the shells need to be soaked in for months together in the traditional process. It would then be ' retted ' (beating with a wooden mallet) to separate the fibers and woven into threads after drying. With the wave of technology influencing the coir industry, I could see bags, vase, artifacts, bricks, tiles and even a model of a house that was made using coir and sawdust. Here I was allowed to visit the factory too where there were looms that weaved the coir fibers into mats. Many workers were making doormats and ropes each with unique methods. After some quick souvenir shopping, it was time to head to the beach.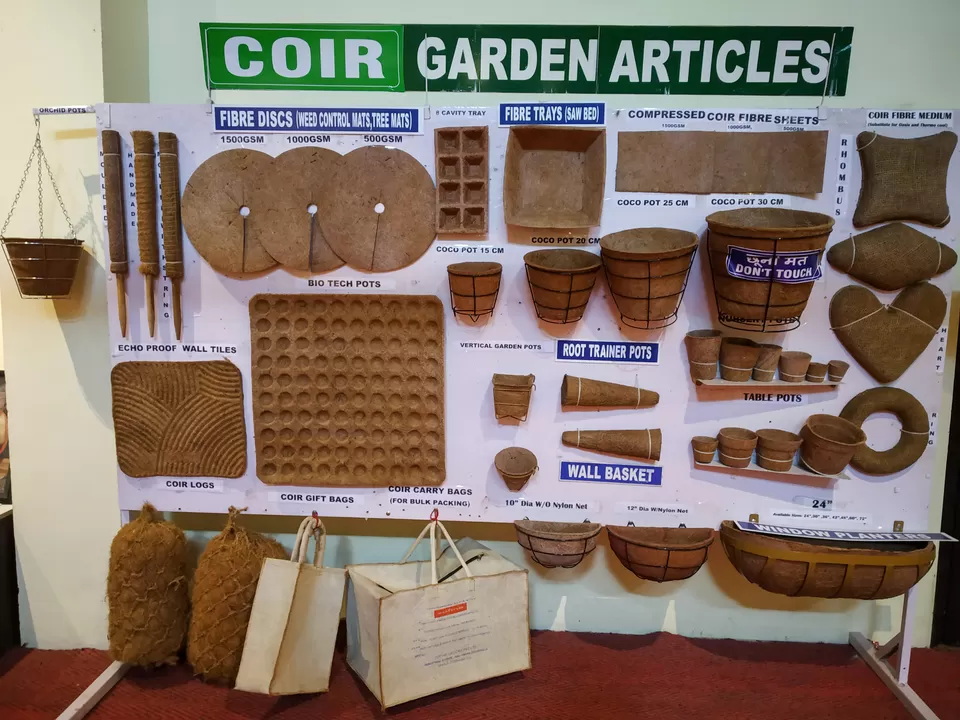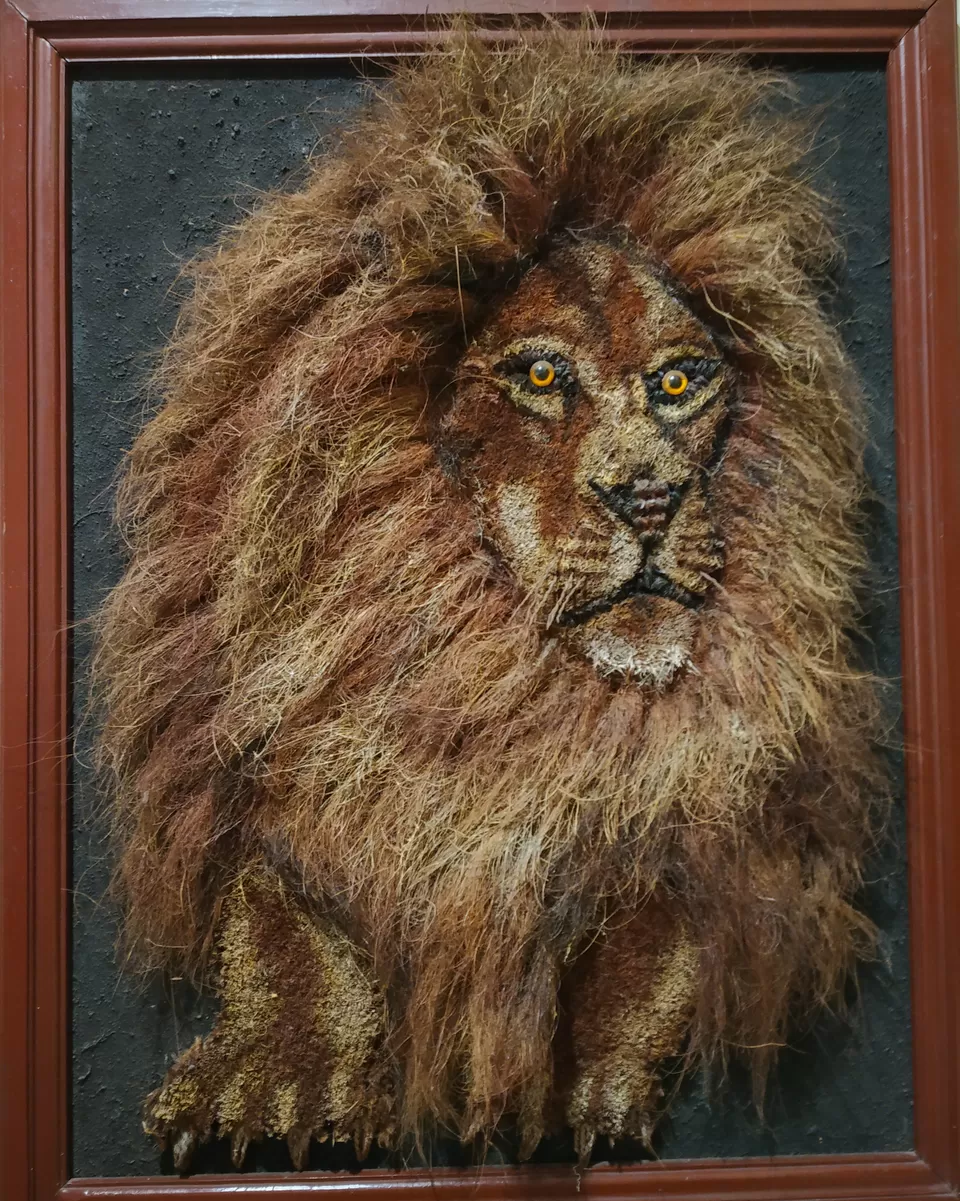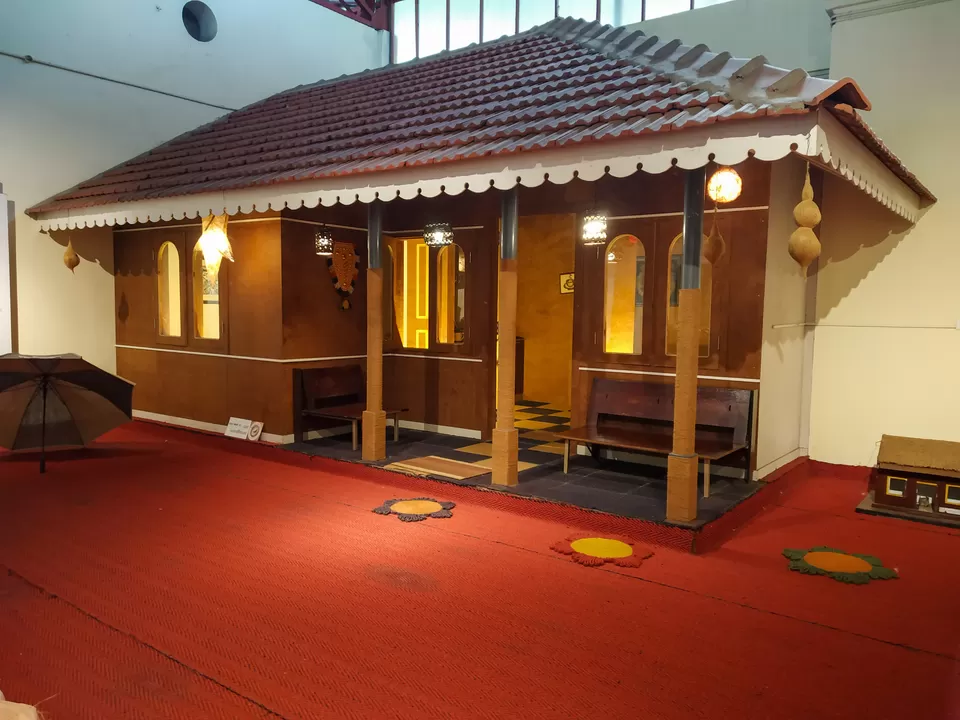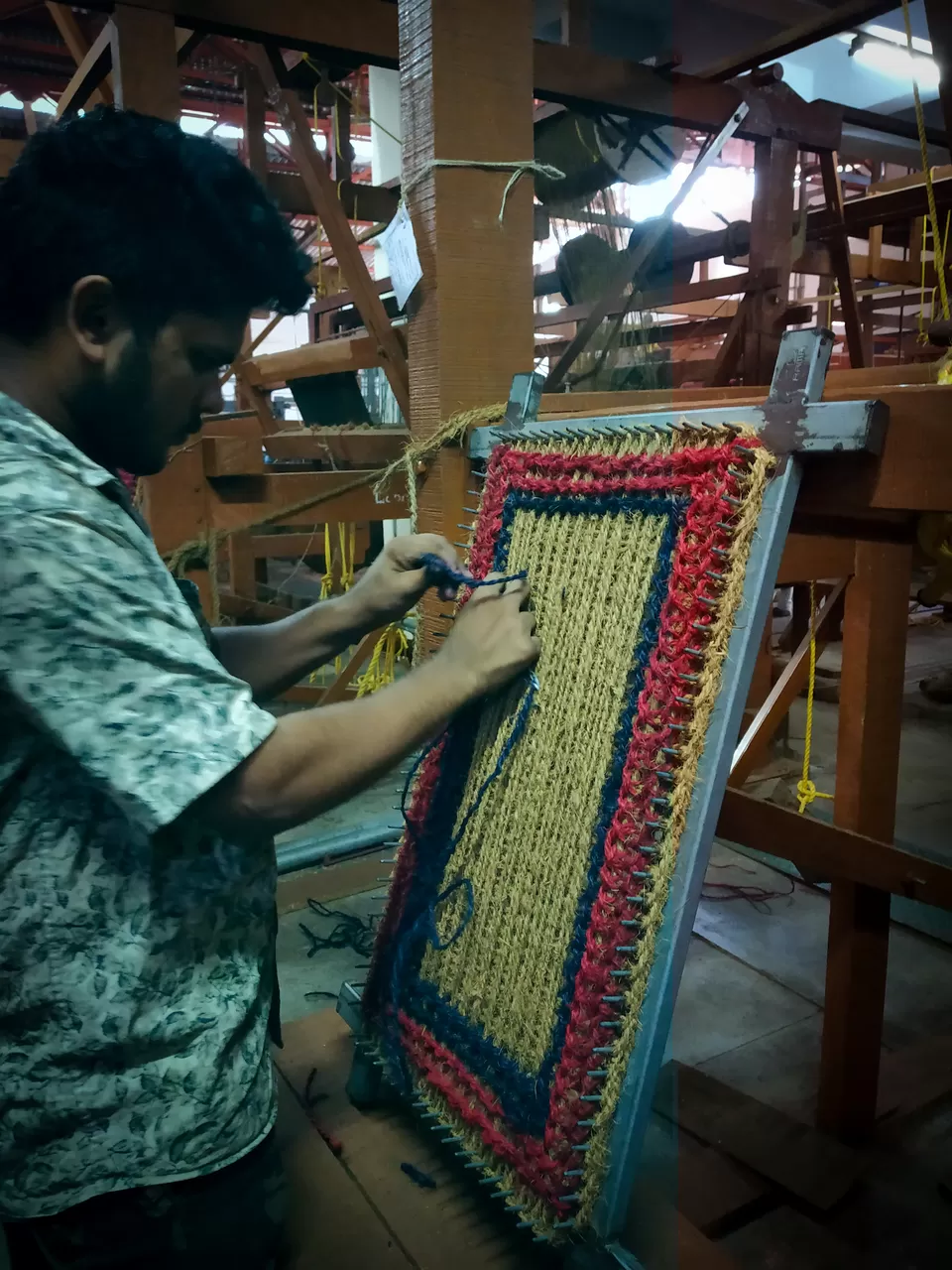 Long, smooth and curved roads are perfect to be explored on two-wheelers and I was lucky enough to get a stretch as soon as I parted from the highway towards the beach. This gave me a closer look at the daily lives of the locals resembling the scenes from my hometown. There were lungi clad men moving around on cycles, catching up with their friends about the news, school kids walking back home and so on. 4 PM is not really an ideal time to visit the beach and it was too bright and hot at Marari beach. Compared to the one near Zostel, the seashore here has chairs to lay down soak in the vitamin sea! It wasn't crowded much and a long walk on the wet sand was peaceful.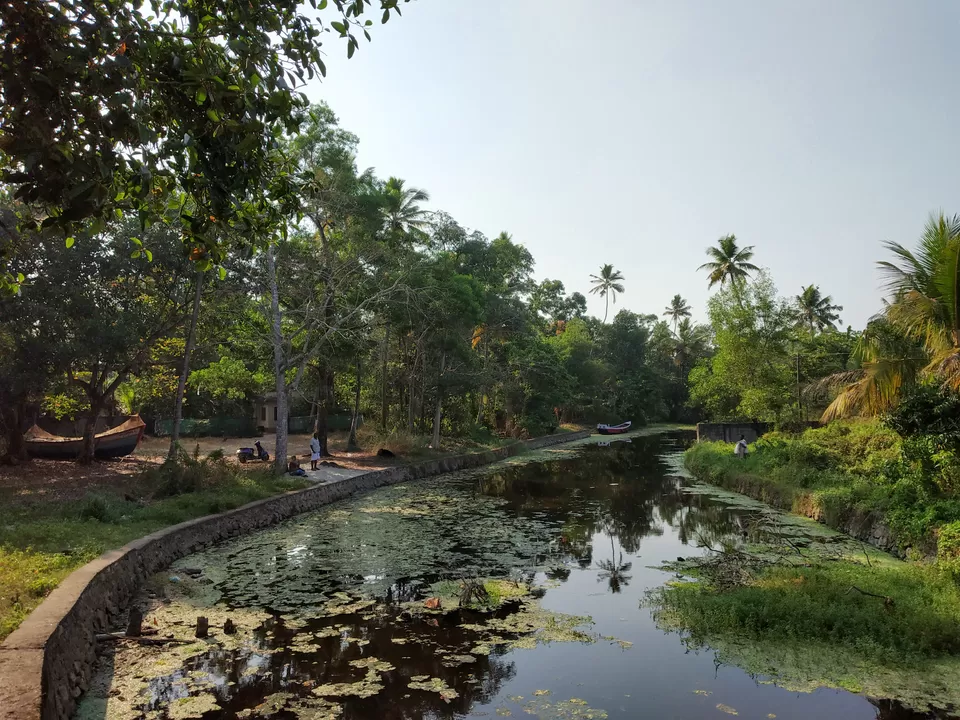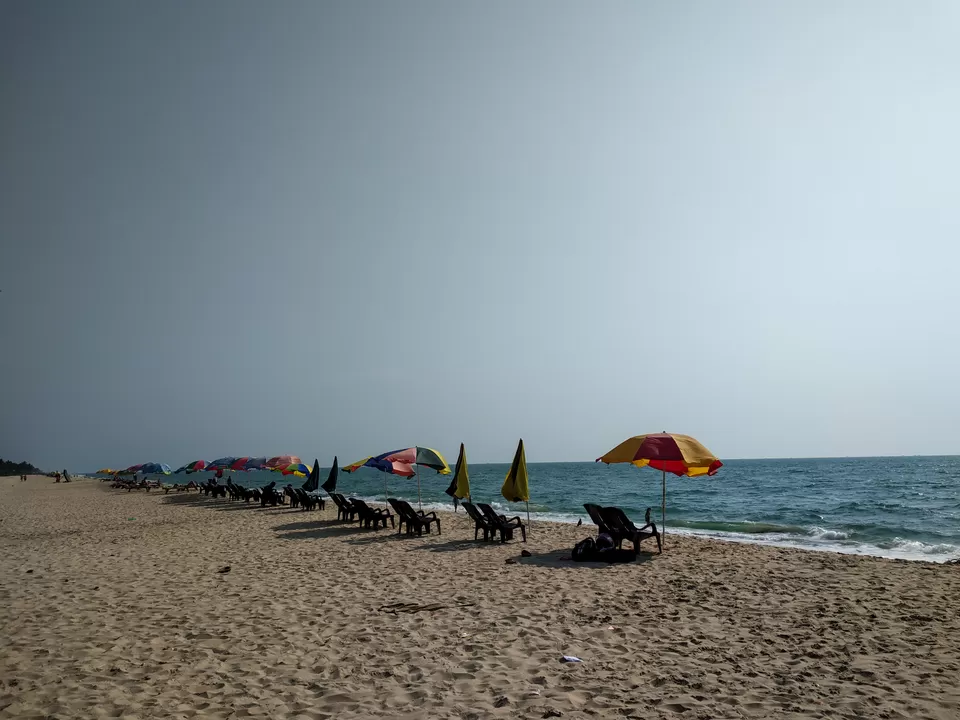 My last item in the checklist was Alleppey lighthouse which was scheduled to close by 5:30 PM. I had to rush through the 9 KM distance and make sure I had enough time to explore the place and get a good bird's eye view of the town. Fortunately, there weren't many visitors that day. I managed to find a seat facing the sea and admire the beauty of this amazing town. Though the backwaters and canals were either hidden beneath the canopy or were too far away, watching the sun go down from about 100ft above the ground was the highlight of the day.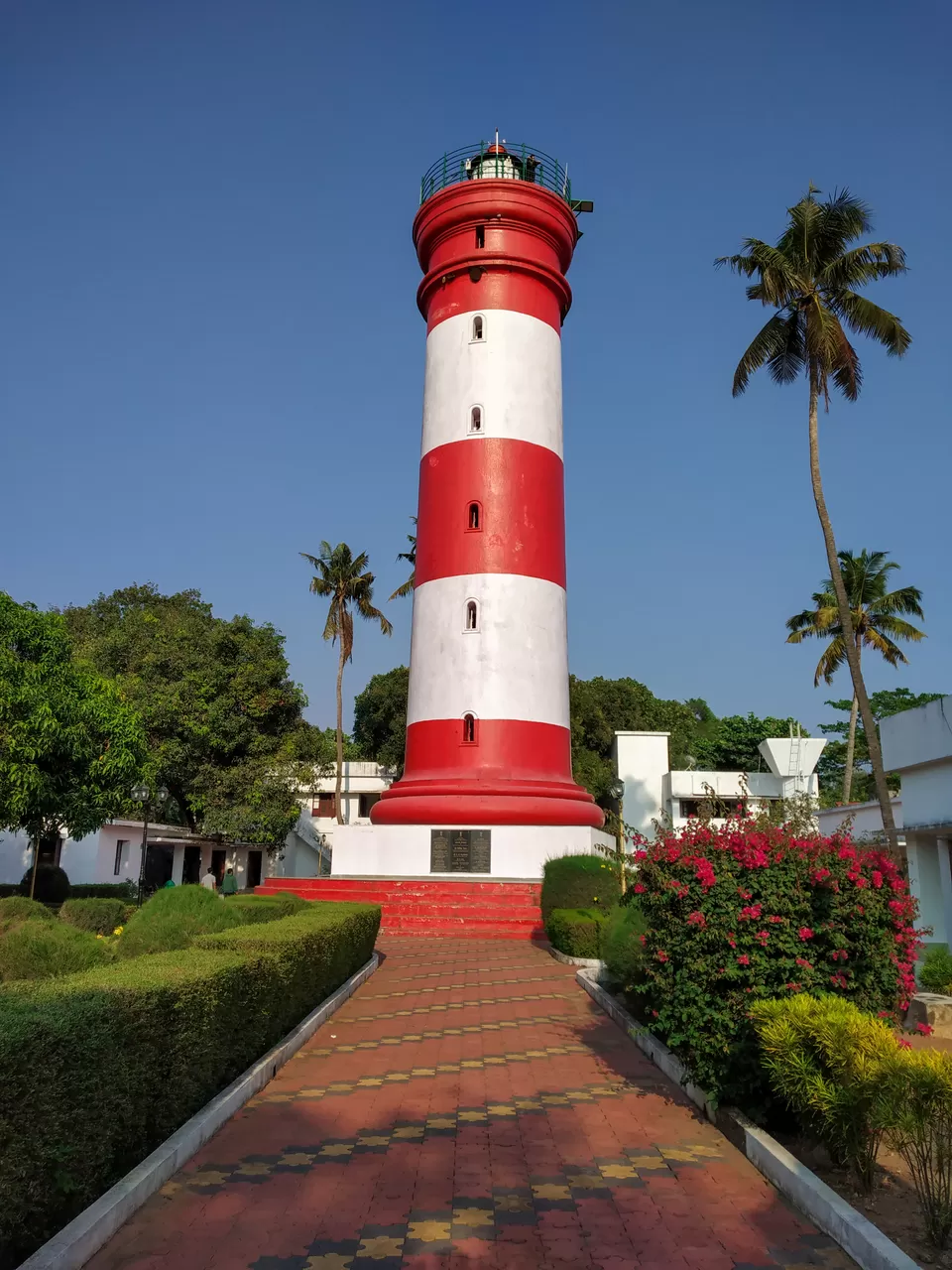 Since the place closed by 5:30, I headed back to Zostel to watch the sunset by the beach which was by now filled with people. After a sumptuous meal at Cafe, I spent the next few hours reading my ever unfinished "Early Indians" book and talking about all random topics with Joyesh and a fellow traveler Sohini till the tiredness put me to sleep.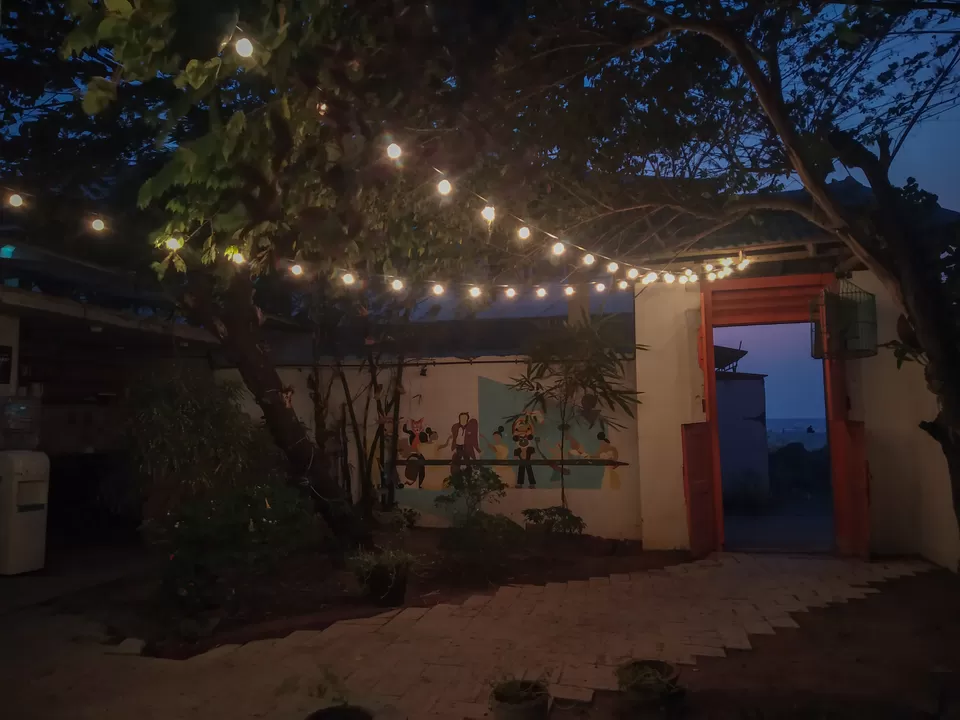 The day was finally here and the first thing I wanted to do before responding to all wishes and calls was to go to the roof and look at the sea. The vast blue water that gave me hopes that every year comes with new opportunities or ways to try something again. I had booked for a canoe tour for this day on Joyesh's suggestion. Pick-up and drop-off from Zostel, breakfast, and lunch were taken care of by the tour operator and I couldn't feel more pampered. The backwaters of Alleppey can be explored on Houseboats (boats with lavish rooms), Shikara (motorboats which charge per hour of the tour), canoe (hand rowed small boats) or on Kayaks. Houseboats and Shikara will note be able to take you on smaller canals and canoe or Kayak would be the best for these closer explorations of life around canals. Nicholas and Ann from Zostel were accompanying me in a shared canoe along with 10 more people from different countries.
Alleppey is famous for its state water transport (SWTD) services i.e. government-operated boat services to travel between places around backwaters. We were first dropped off at the SWTD station at Alleppey where we would be hitching a boat ride to a place called Kainakary. The station looked exactly like any other bus stop but besides a canal for a change. A blue boat that had interiors similar to bus appeared near the platforms and we hopped on for almost an hour-long ride to Kainakary. As our boat moved through twists and turns of canals slicing the water, a whole new world opened in front of our eyes. There were many colorful Shikaras parked on the sides waiting for customers which reminded me of my days at Kashmir. As the canals opened up to huge water bodies, we saw the lineup of houseboats. There were single storied, two-storied, ones which were simple and some with top-notch facilities with fully air-conditioned rooms were taking people around. And funny thing, people were waving at each other from their boats. I think a child in everyone was happy that day.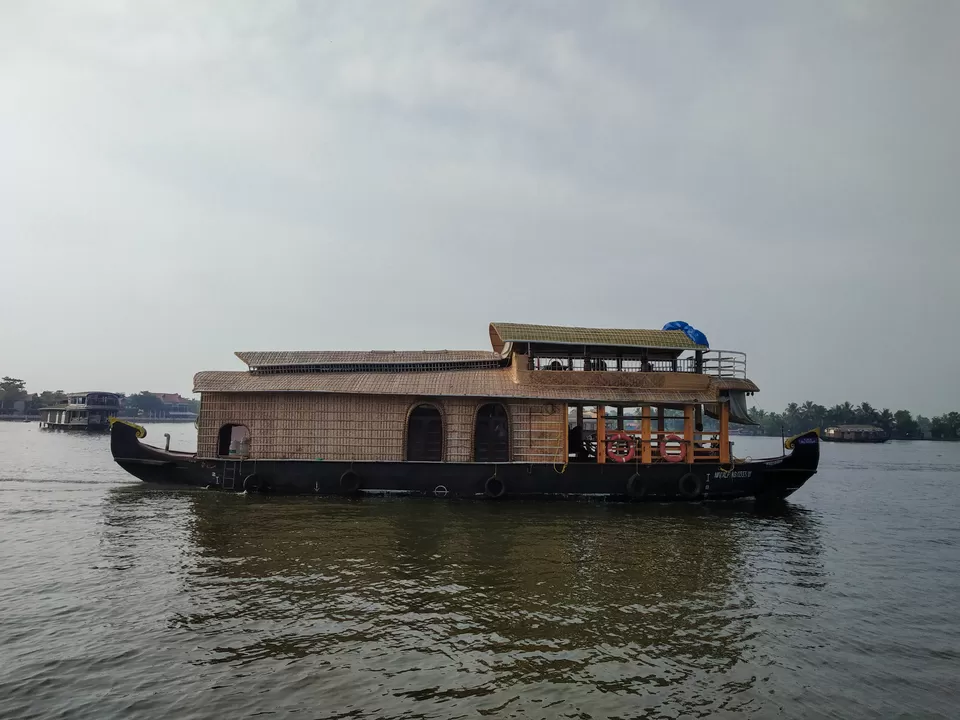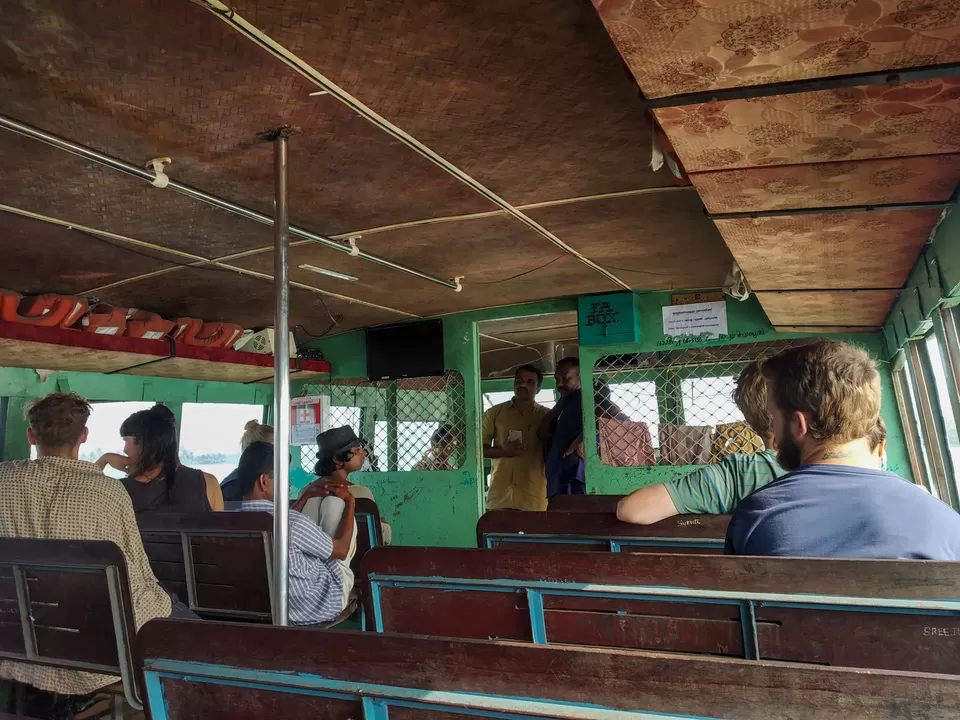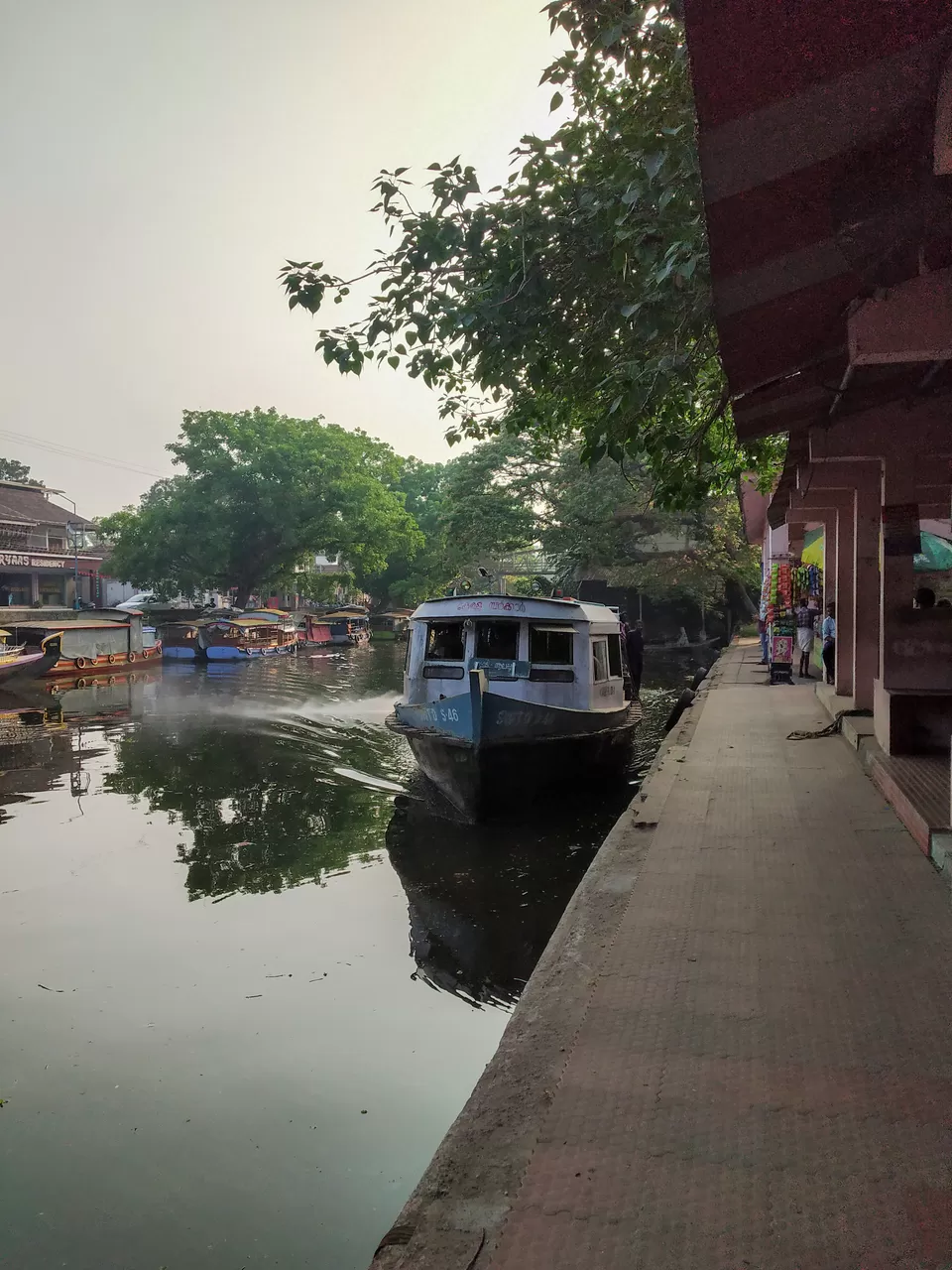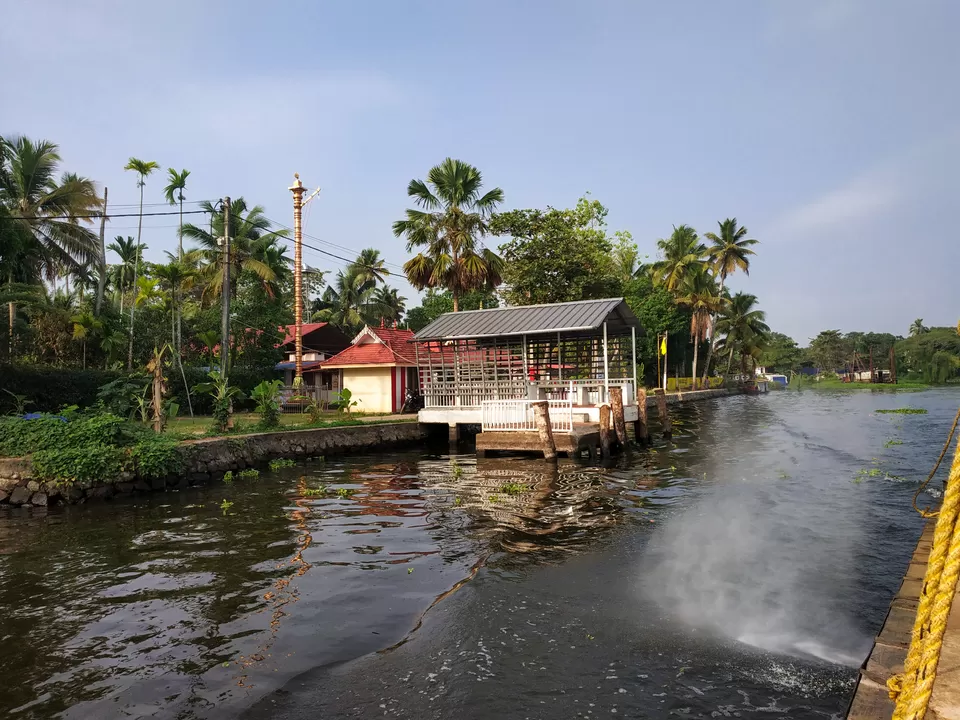 After getting down at the ferry station at Kainakary, we were taken to a house nearby. Our host for the day Priya chechi had prepared hot Idli and Sambar for the breakfast. I lost count of Idlis I gobbled and they were yum. When I asked for water in my broken Malayalam sentences, she was happy to know I understand what she was speaking to them. And so, I was the unofficial translator for that day. Binni cheta was our oarsman along with two more men who would be taking us around. We hopped into these small hand rowed canoes in groups of 4 and 5.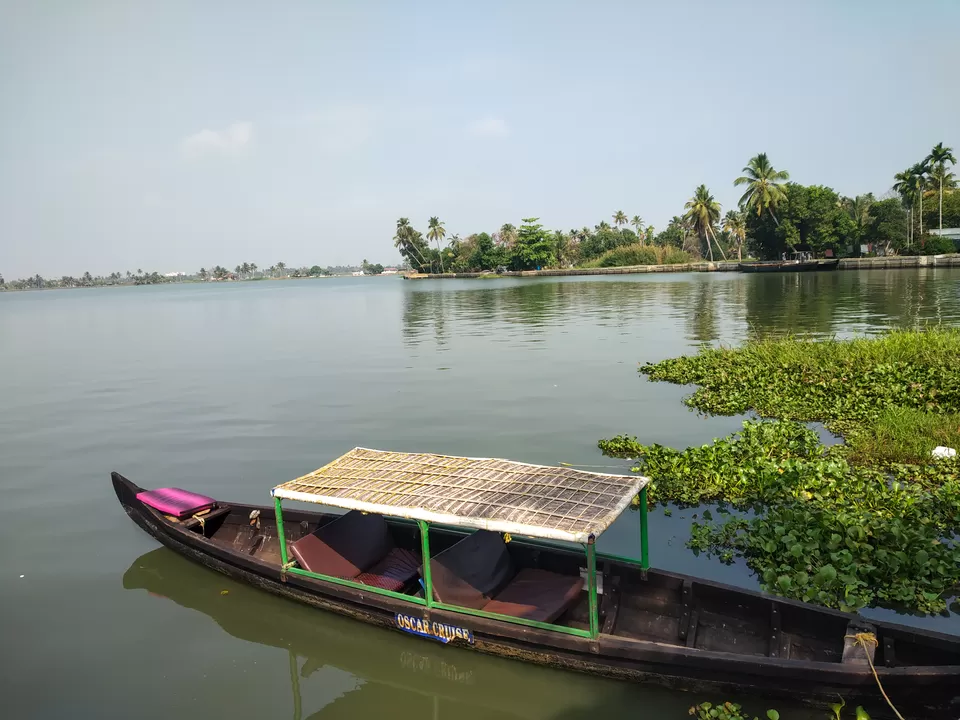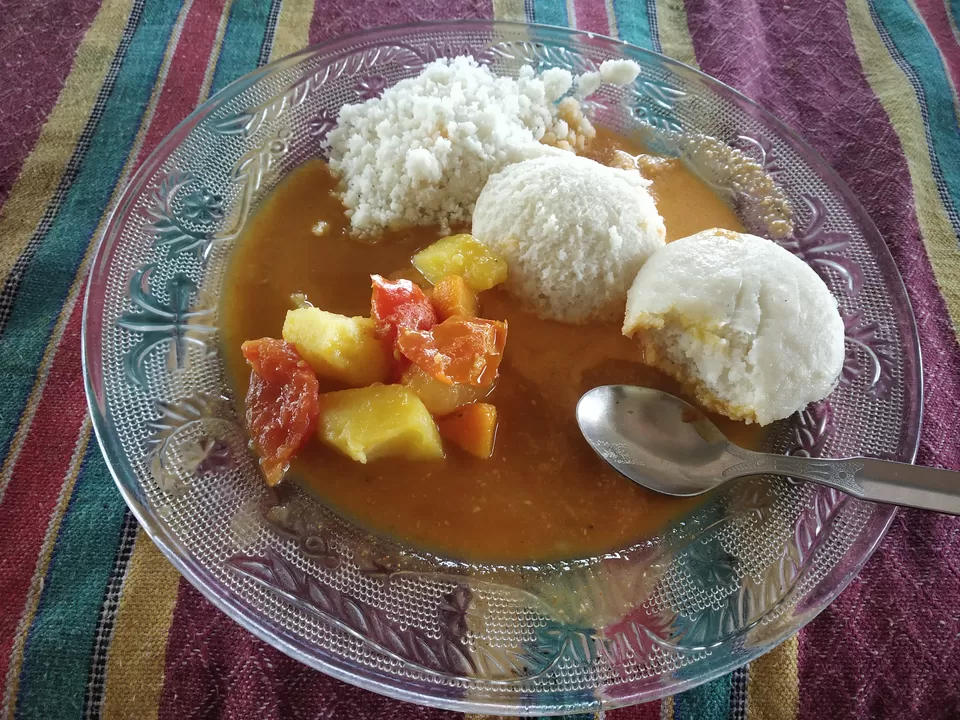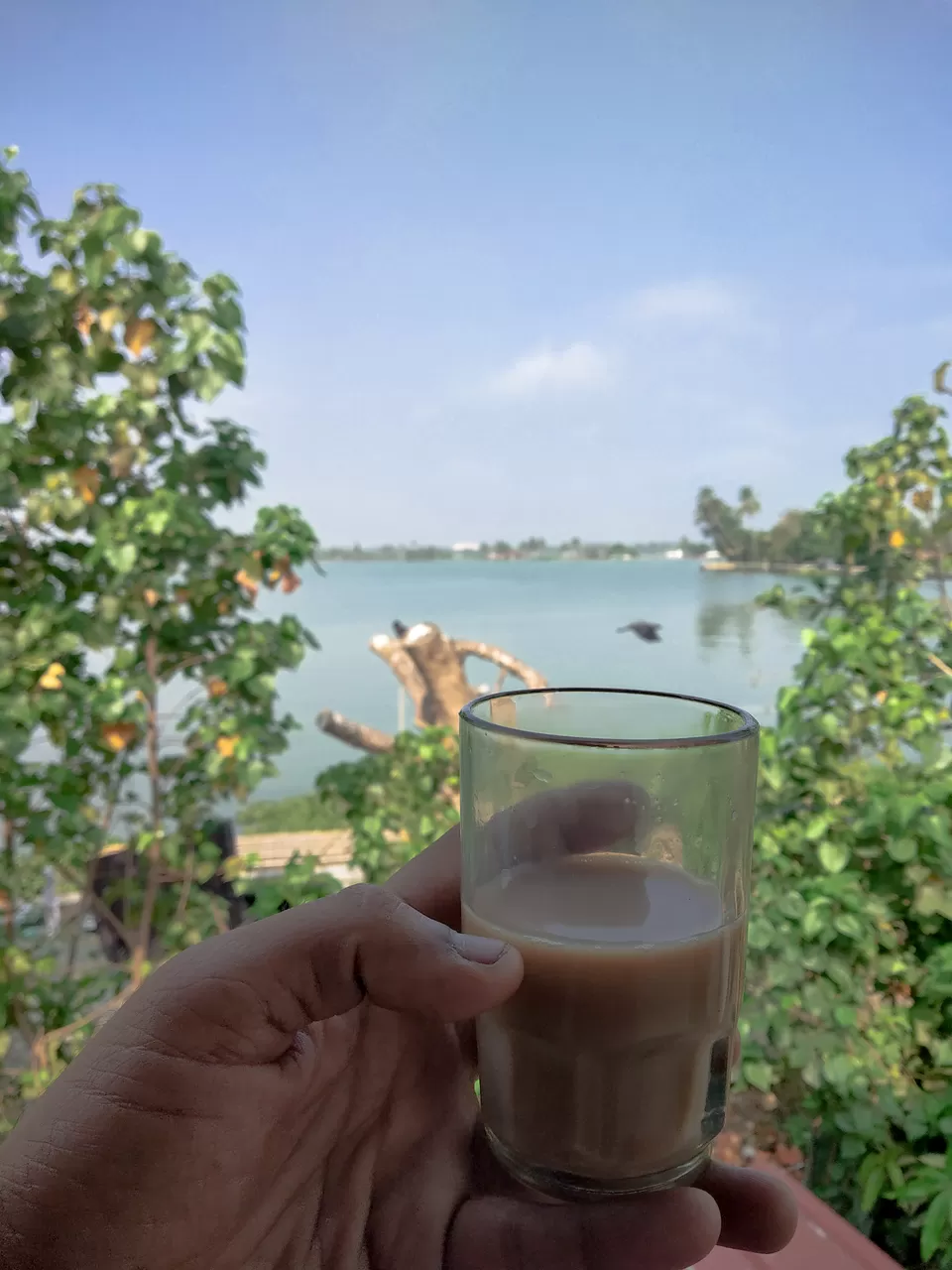 We were to travel through 5 canals in about 4 hours of time. The journey was going to be slower, but I was sure that each moment will reveal something new. From the large lake, we entered the first canal with homes on either side. There were steps in front of each house which leads to the water. Some were catching fish and some were chopping veggies. There were people moving around in one-man fiber boats to a nearby town or for a quick grocery shopping. We moved below tiny footbridges and under the thick canopy of trees. Binni cheta pointed at some mangoes on the tree right above us. Maybe they were at hand's reach. But I was too nervous to stand and make any quick moments to disturb the balance of the boat. Sometimes I wonder how life would be here when I saw bricks, construction-soil and drinking water being transported in small boats. The other 5 travelers were busy talking to each other and Binni cheta started to make conversations with the assumption that I was fluent in Malayalam. He spoke about how they travel to town every day on boats, the situations during the flood, about his experience with travelers and so on. She showed us the famous paddy fields of Kuttanad. This was one of the rarest places were the paddy agricultural land is below sea level. There were churches and schools by the side of canals and Toddy shops which were unique about the town too.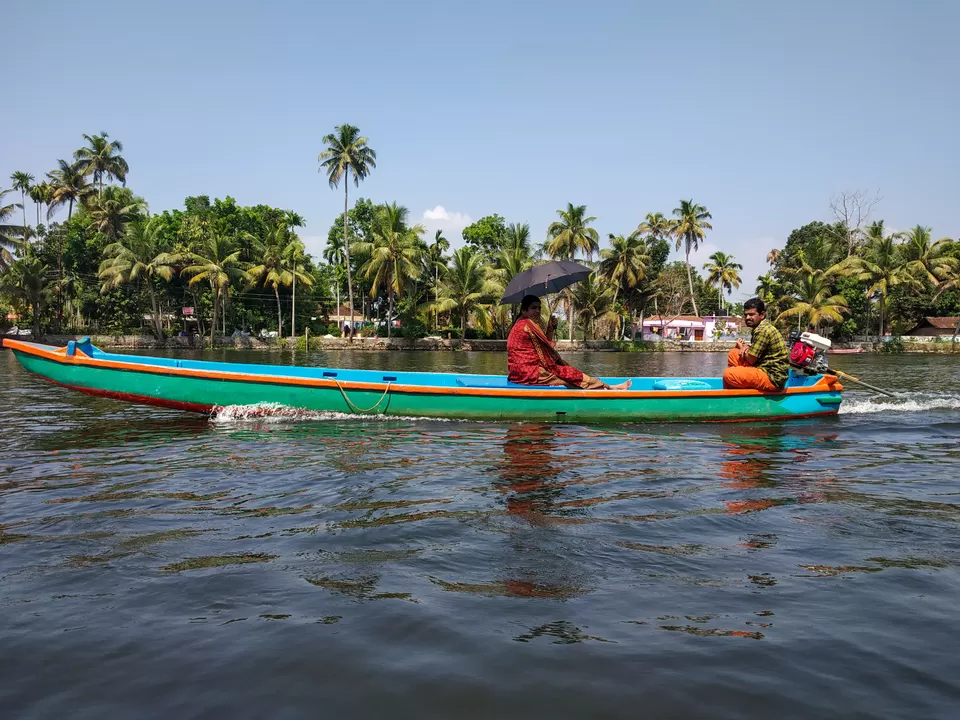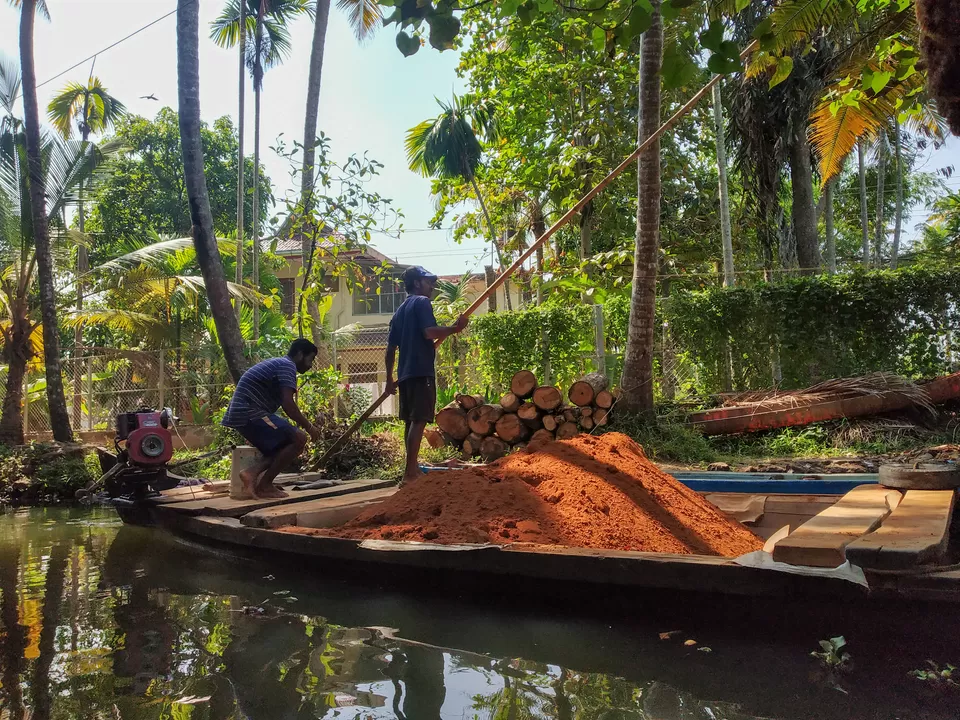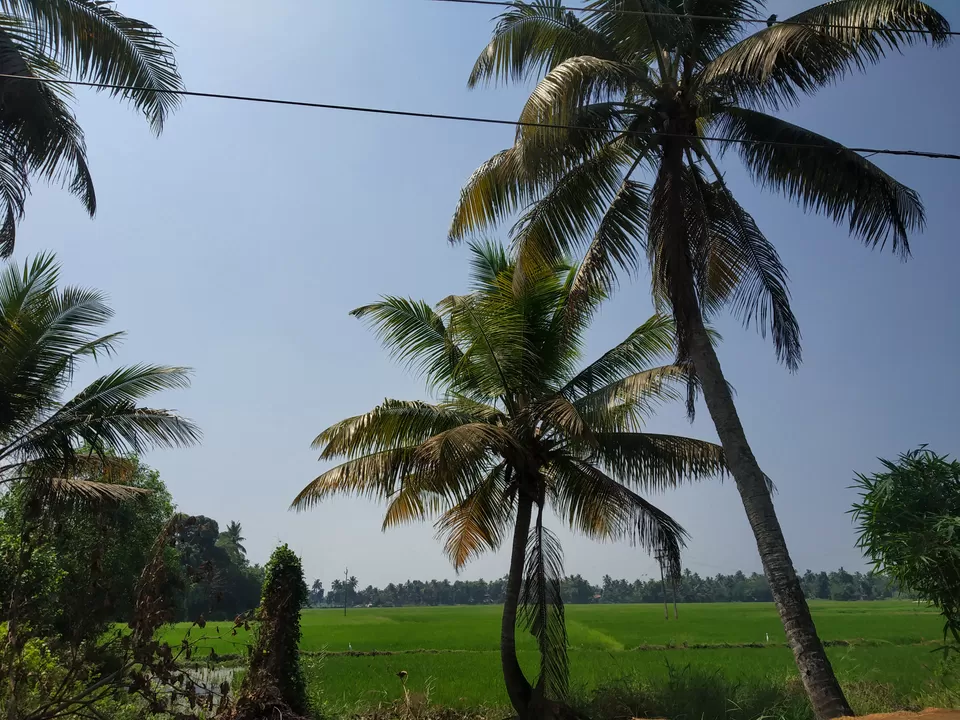 After 2 long hours of travel, the heat was unbearable and we stopped for a break and to refill energy with some light snacks, icecreams, and tender coconuts. Some more rowing rowing rowing and were finally back to where we had started. Priya chechi had prepared simple yet tasty lunch with rice, dal, sambar, raita, potato-curry, horse gram curry and a sweet-and-spicy desert made from mango. That was my first mango of this season and the food was heavenly. She reminded me of any typical relative who would serve wholeheartedly and wouldn't stop asking you for more servings until she is satisfied that you are full and about to burst. A lot many in our group got fond of Pappadam and she would strike a deal that she would give pappadam, only if they agree for more servings of rice. For fish lovers, there was some homestyle fish curry too. After a tummilicious meal, we were served Sulaimani (black tea flavored with spices) and the day couldn't have been better.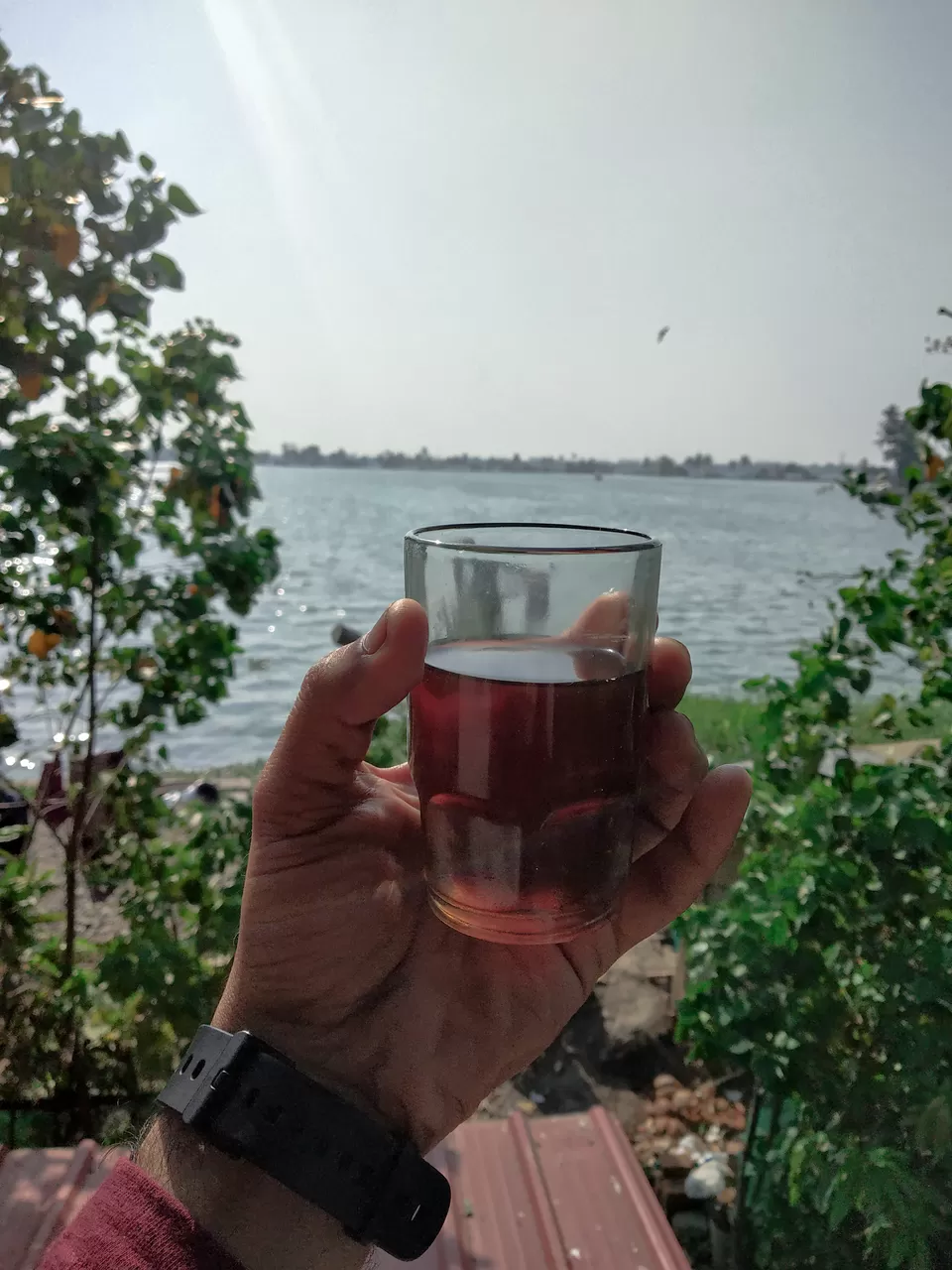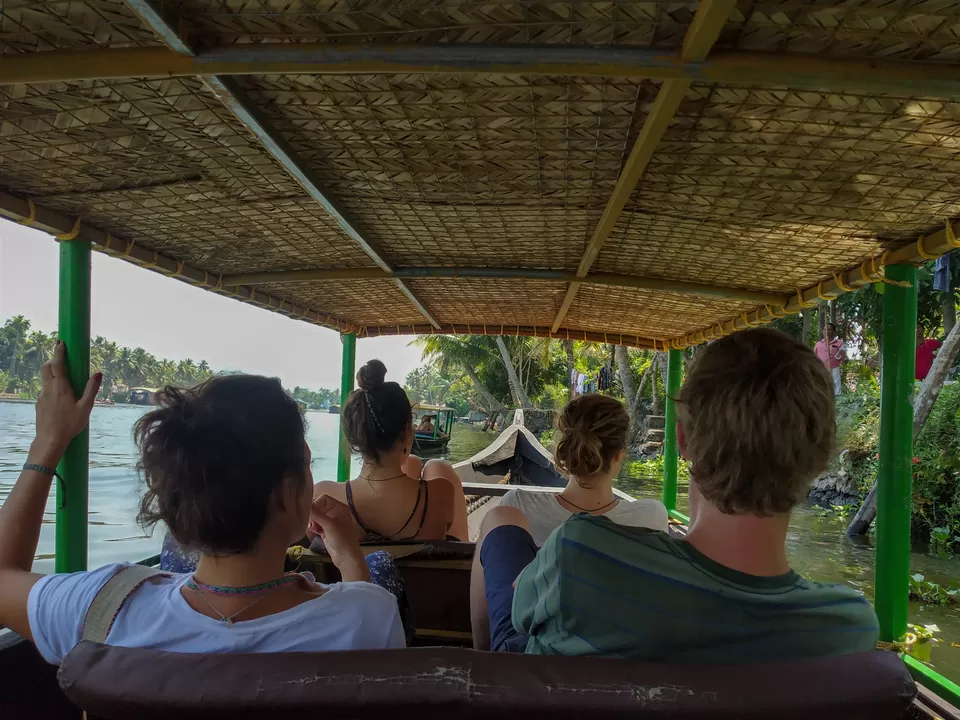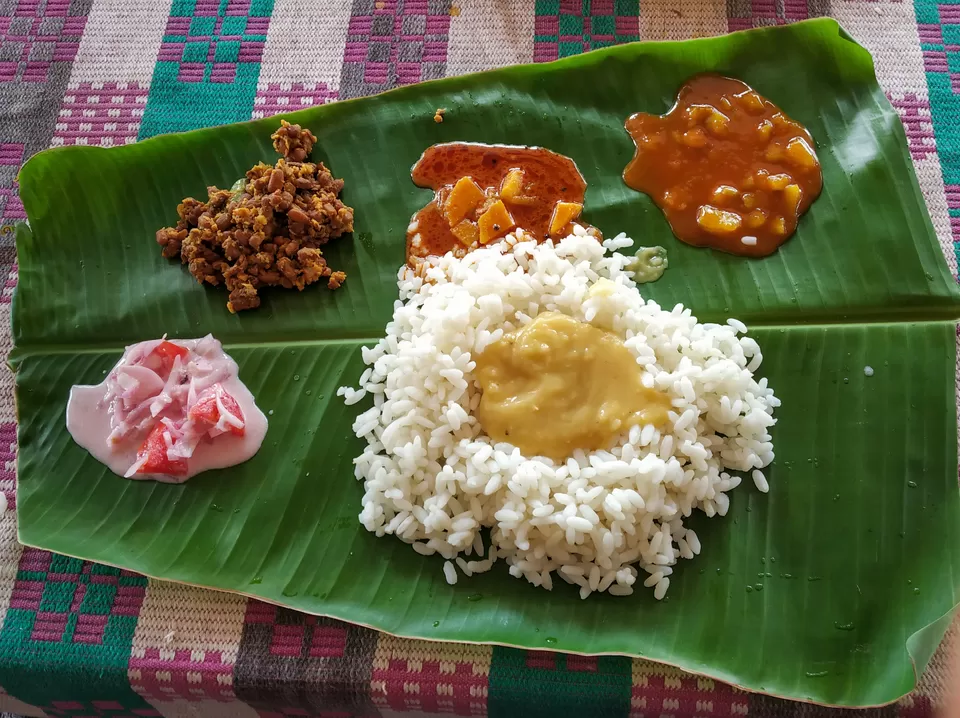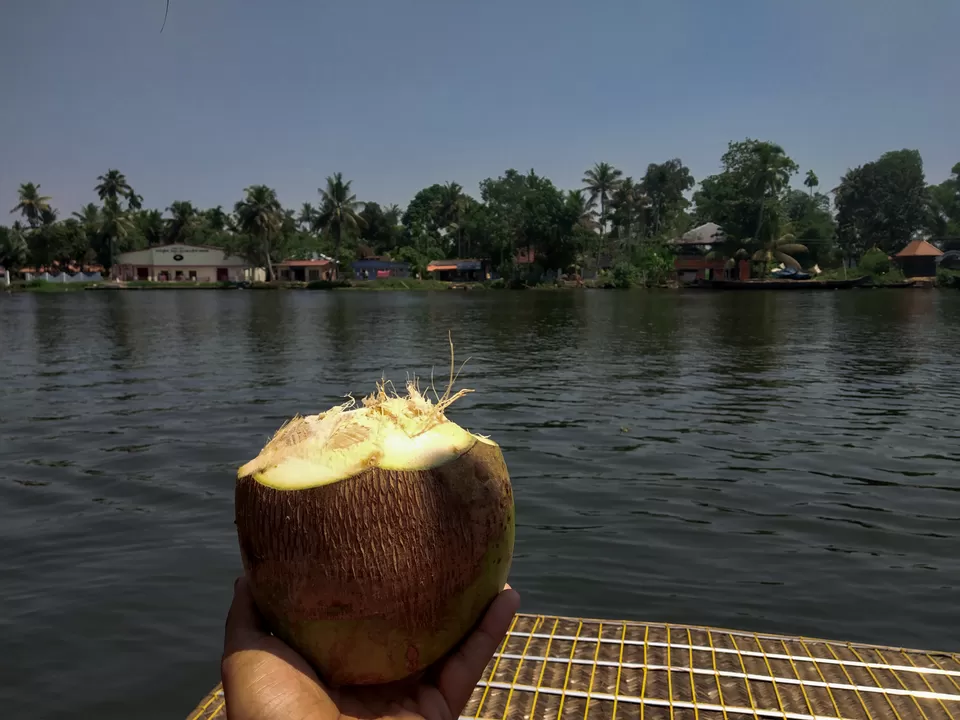 As the sky turned orange, we took our boat ride back to Alleppey with a rewind of all that we had seen in the morning. The rickshaw was ready at Alleppey station to drop us back to Zostel. My bus was scheduled to leave at 8 and there was still time in hand. Surya, another fellow traveler invited a few of us at the hostel to play frisbee near the beach. Between the endless efforts of catching frisbees and heartful laughter, we hadn't noticed the sun had gone down already. I had my one last meal at Cafe Catamaran before heading to the bus station. With a bag full of memories and an amazing day spent, it was time to head back to Bengaluru.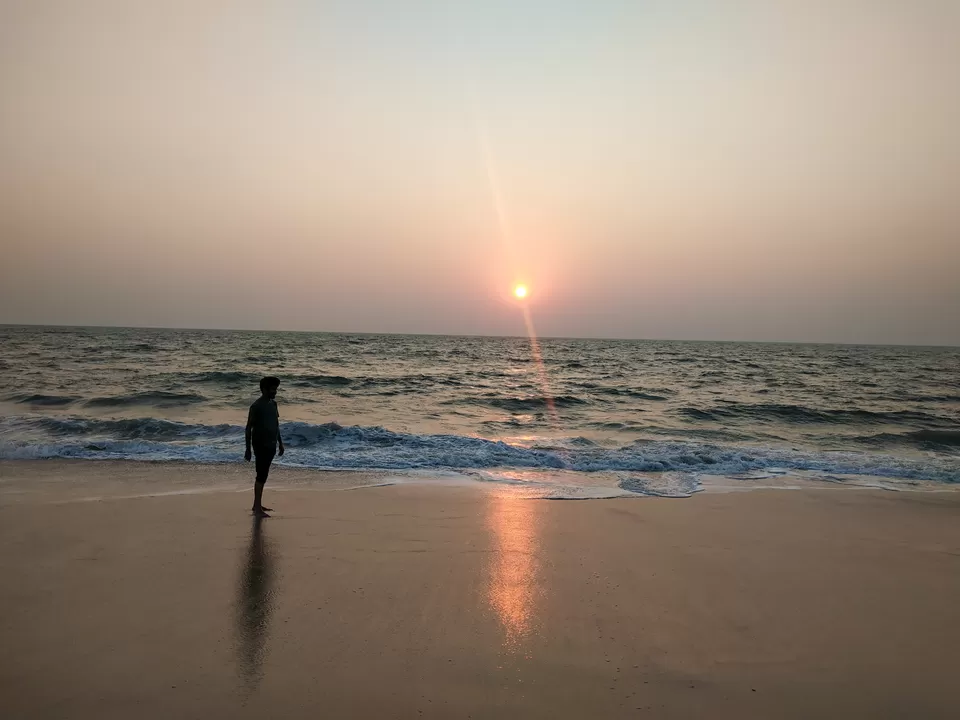 PS:
1. Every moment happens just once. Make it worth.
2. Unplanned trips are always the best. And for the things that got missed, there is always the next time.
3. Most of the time, locals know the place better than Google.
4. Last but foremost, in any situation don't panic.