Often in life unplanned events give greater joy than planned events. It is good to be impulsive at times and our recent Wayanad trip was an impulsive trip, planned suddenly without much ado. But the trip turned out to be a really enjoyable one and so here I am, back to my blog to write down about my latest trip to Wayanad-the land of paddy fields.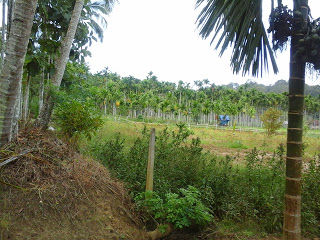 It was a different 'Diwali' for us this year, Diwali was in the weekend and coupled with another holiday for Karnataka Rajyotsava. We decided to make the most of this extended weekend and thus a trip was planned. Initially we had planned for a trip to Hampi. A casual conversation with friends made us agree on the group trip to Wayanad. We had never travelled or been on a vacation with friends and so this trip was a little different for us. We hoped that a vacation with direct friends and extended friends, would be exciting but were a little apprehensive as well. A very special friend who accompanied us on the trip, deserves special mention, our very adorable 'Bo'- Abhishek and Indrani's pet tortoise. On introspection, I can say just like SAB TV, "Asli Mazaa Sab Ke Saath Aata Hain". This trip was an enriching and a profitable one as well, since we got an opportunity to make some new friends.
The moment we got to know that we would start out at the ghostly hours of midnight, we were a little skeptical but since it was a group trip things had to be planned as per everybody's convenience. So after some convincing by friends, we finally agreed for the midnight trip. The thought of starting out at midnight in a tempo traveller seemed exciting. A day before starting out,on friday,1st November, I did the essential preliminary research on the place and thanks to our dear friend Wikipedia, gathering information on any place is no longer a big deal. Wayanad district on the north east of Kerala is one of the least populated regions in Kerala and is situated on the western ghats. The district came into existence on 1st November, 1980 and coincidentally we started our Wayanad trip on 1st November itself. Wayanad consists of three taluks namely Vythiri, Mananthavady and Sulthan Bathery. We had booked our 3 day stay in a home stay, 'County Pep', in the village Payyampally near Kuruva island.
We gathered at a friend's house and started out for Wayanad, in our tempo traveller at the wee hours of 1 a.m. The reason for starting out late was that we wanted to avoid being stuck at Bandipur since passing through the jungle is not permitted between 1 a.m to 6 a.m in the morning. The tempo traveller was not a very cosy one, it was rather uncomfortable. Somehow we cuddled ourselves and tried to make the most of whatever little space was available to make ourselves comfortable. I managed a brief sleep and woke up with a neck pain at 5 a.m. The morning was beautiful. It was dawn, the sky was a mix of red and orange hues, the fresh morning breeze was washing away the tiredness from my aching body. We got down from the bus for tea at the small roadside tea shop. The tea was awful but the view was awesome. A tree had made a canopy on the road ahead and the view was awesome. My poetic instincts got triggered and I immediately captured the image in my mind so that I could later put it into words in my blog.We started off again only to be stopped short at Muthunga check post. The halt at Muthunga check post was making us impatient, however we utilized this time to get aquainted with each other since most of us were meeting for the first time.
Finally after a brief halt for breakfast, we reached our abode, County pep. Mr Paulo, the owner , a headmaster in the local school, a strict disciplinitarian was a character straight out of books. A man of few words but seemed to be well organized. The rooms were clean, the food was palatable. After a appetizing lunch we started out for sight seeing, our first destination being Iruva falls. Our group had split since some people preferred to relax in the home stay and play carrom. A few of us decided to go out. We had planned on going to Kuruva island but the island was closed for tourists as some fencing work was being carried out there.
The scenary surrounding us was enchanting, the lush and bountiful vegetation, dense forests, the mystic mountains, enchanting waterfalls and the aura of the hills- everything was adding to the beauty of this weekend gateway. We were in the lap of nature away from day to day tensions, enjoying the serenity surrounding us. Mr Paulo had promised that he would help us in making the necessary arrangements for a campfire in the nearby jungle. As promised he took us to the jungle at night and had made arrangements for a campfire. I had never imagined that the night could be so dark, nothing could be seen even a feet away. Mr Paulo provided us with a lantern, the atmosphere was apt for a horror ramsay brothers movie. The lantern was the same that is usually carried by the monkey cap clad, chowkidar in the hindi horror movies. The moonless night looked eerie and creepy. The croacking frogs, the nocturnal insects making weird creeking sounds added to the eerie atmosphere.The headlights of a distant vehicle looked like a monster on the prawl, the waving leaves of the banyan tree looked like a white saree clad female. The moonlit night was playing tricks. Mr. Paulo had made arrangements for us to have dinner besides our campfire. Arindamda had brought along a barbeque oven in the trip. Harish seemed to be an expert in cooking barbequed chicken. He made excellent mouth watering barbequed chicken. We savoured it to our heart's content. Very soon we started off with campfire tales, tales of horror stories heard from friends and actually experienced by some. We played Antakshari, both the teams being equally strong, no winner could be declared. The night could have been a perfect one if not for Mr Paulo. Suddenly Mr. Paulo came out of no where and insisted that we have our dinner quickly and leave the place. We requested him that we wanted to stay a little longer , but he was adamant. We requested him to make arrangements to carry our dinner back to the home stay since we wanted to have our dinner a little late as all of us were full after eating the barbequed chicken. But he was not willing to give in, he insisted we have our food there itself. He was imposing his decisions on us and his behaviour towards us was a far cry from one that is expected from a home stay owner towards his guests. Mr Paulo was drunk and had suddenly become very stubborn. He put an end to our campfire night merriment and insisted that we immediately return to the home stay. A brief argument with Mr Paulo and our disappointment with his inhospitality made us decide to leave the home stay the next morning. We decided to check out and move to another homestay a few kilometers away. Mr Paulo's inhospitality disappointed us to such an extent that Amresh renamed him as Mr. Polio. The name was liked by all and it was used by all of us to refer to him throughout our trip.
We again started off in our tempo traveller. One of us suggested that we should check out some resorts on the way as well. Maybe we could come across a good one. His idea turned out to be a good one. A sudden glance at a hoarding and a drive through the winding road lead us to Pappy's Nest. Pappy's Nest turned out to be a welcome surprise. The people at the resort were extremely friendly, courteous and ever smiling. They offered us everything that we had missed out in County Pep. Pappy's Nest offered a panoramic view of the green valley, a walk down few stairs led us to the pond where we could go for fishing and boating. A tree house and a resting hut was situated very close to the pond. There were numerous trees, banyan, rubber trees, coconut trees, cardamom trees etc in the surrounding. The grass was luscious green. Pappy's Nest actually made us experience the country life, the rural life. Tiger, the labrador in his den soon became our friend. Tiger was so hungry that we fed him 1 kg chicken. All of us became fond of him by the end of our trip. He would shout in excitement when we played badminton. The male and the female turkey in the compound, were our cheer leaders during the badminton matches held between teams. 'Bo', in the meanwhile would enjoy a cosy sunbath in the portico. Pappy's Nest was a two storeyed building, our group stayed in the rooms close to the reception and we stayed a floor above. The view from our balcony was awesome.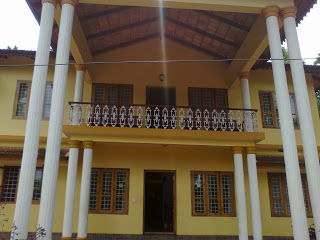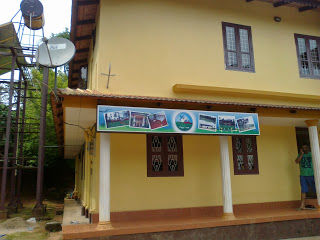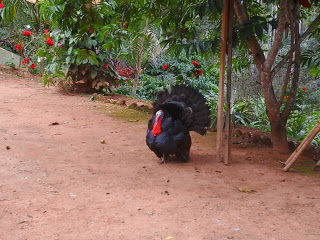 After having lunch we started for Edakkal caves. We had geared ourselves for the trekking but the walk to the caves was a steep one. The long steep walk till the caves left us breathless and totally exhausted. Indrani and Amresh made it till the top, the rest of us gave up before completing the last lap. I was a little disappointed on missing out the insciptions in the caves. I decided that I need to work harder on building my stamina. We had planned for a campfire on the second night as well to make up for the disappointment of the previous night. We had the campfire near the pond.The second campfire night turned out to be even better. We had kept sufficient emergency lights so that elephants would not come close to our place. The people at the resort also lighted fire crackers at intervals to scare off elephants if any. Two guys had gone to the resting hut for some reason and were scared out of their wits when they heard a thumping noise on the roof. They ran on their toes and finally came back to the place we were sitting. A person was flashing his torch from a far off distance, we guessed that maybe he was just curious to know what we were up to or rather he wanted to scare us. We chit chatted for long hours and then finally returned to our resort. A filling dinner brought an end to a very eventful day. At the end of dinner we started feeling a little sad because we had to return to Bangalore the next day.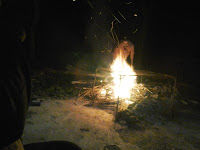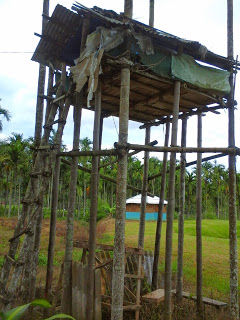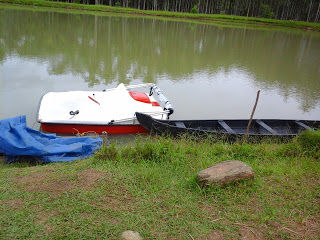 The next morning was the day to bid adieu to our friends at the resort, Mr and Mrs Turkey, Tiger and the people at the resort. The resort manager requested us to write a good review about his resort. We played carrom and badminton, the turkeys cheering us all along. Tiger was barking with excitement, it seemed he was really enjoying the match. After a sumptous breakfast we started off on our return journey to Bangalore. We said 'Adios Wayanad'- we will visit you again.....very soon..in the meanwhile we have some good memories to cherish and share with all about our Wayanad trip!!!