Alot of people know about D'zukou valley and even Anshuman Malhotra from Splitsvilla also visited after the show ended in 2018. Before the valley was not so much in favour to travel because it was not known much, now trek to D'zukou is almost added to the list of most of the Travellers.
And as for me i have been there twice and my first ever expedition I had travelled to. It was on the year 2017 of July the first time i went was the flower blooming time. The Second time i visited again was in the year 2018 on the month of August but the time of the flowers were gone and it was rainy season. So considering the weather i was scared this time too we will encounter rain but luckily the weather seemed to be in favour. The Valley of D'zukou is famous for its view of mountain like grass and the Wild Lilies that bloom during the month of June and July and has snow during the month of December. I had plans i would make my Hat trick on december but my friends asked me to joined them this month for it was their first time. So I along with my other 5 friends decided to trek there all by ourselves with me as their guide. There are two points where the entry of the uphill point stays, One is in Jakhama and the second in Viswema. We went up from Viswema and started our trek without delay.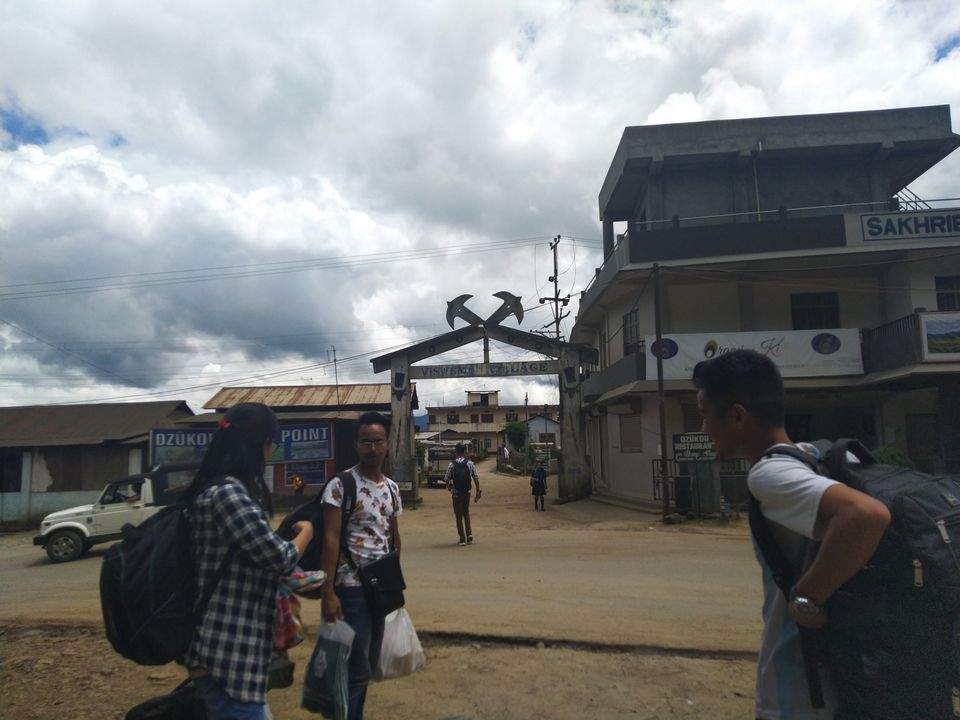 Before starting our journey we heard from people gone before us that there is another route which is kind of a shortcut. Asking the locals there we decided to trek through the new route plus it would be a new experience for me. The past two years i had trek through the same route but now it was different. So i was excited to test the new route and on the other hand curious as to how long or tough would it be compare to the main route. As you see in the picture there is a small sign board by the tree, that leads to the shortcut. We started our climbed through there and was surprise to see that the condition of the path was not well made yet and the locals we came across advise us that we should have come from the long route. Three days before there was heavy rainfall which caused landslide and falling of trees.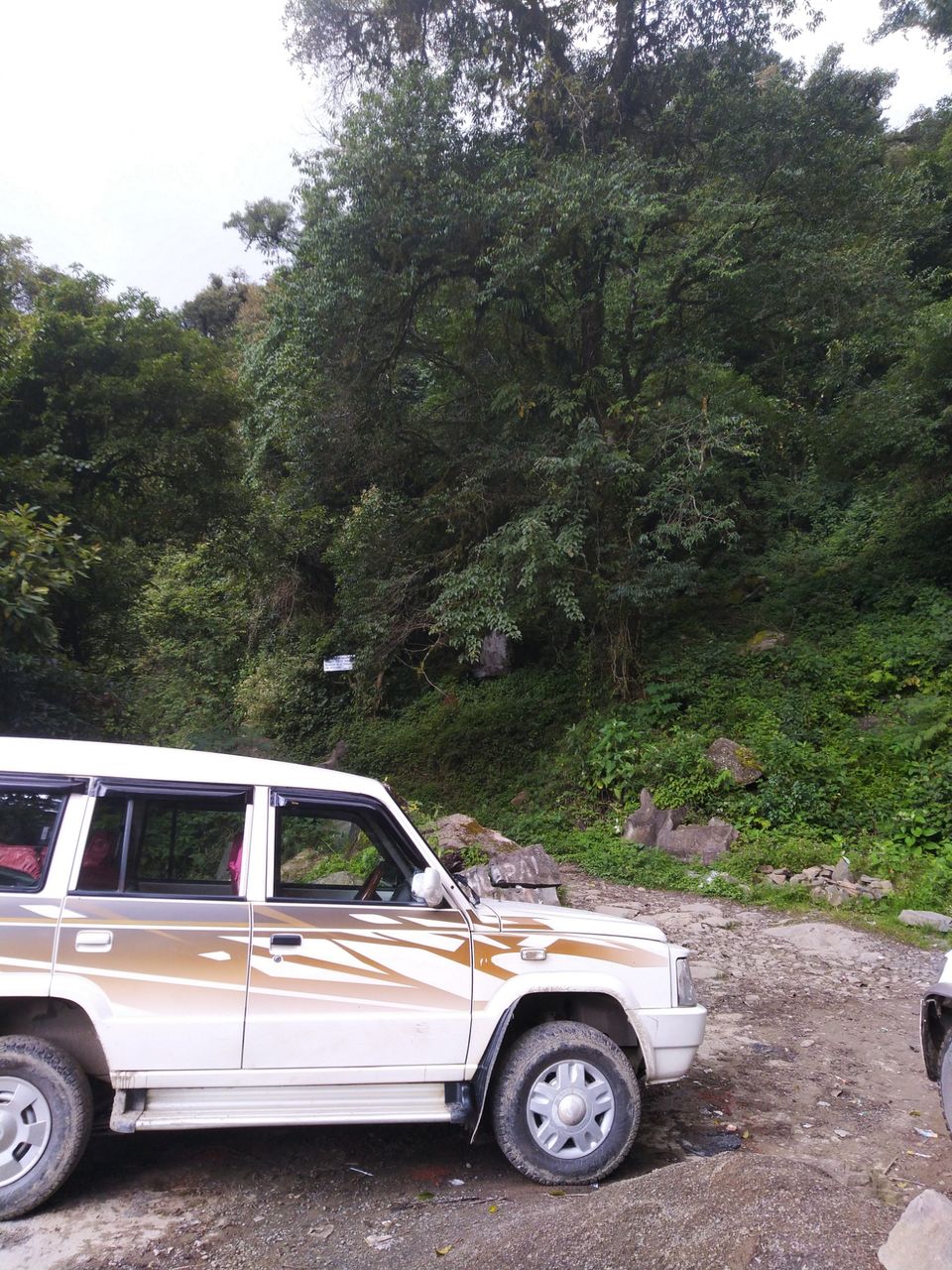 The condition of the route you can see in photo. Thats the fall of a huge tree being uprooted which blocked the way. We somehow manage to cross them all and finally made it out of the mountain and reached outside the open mountain valley. So the benefit of taking the short cut was we didn't had to come across the first view point and the uphill was over.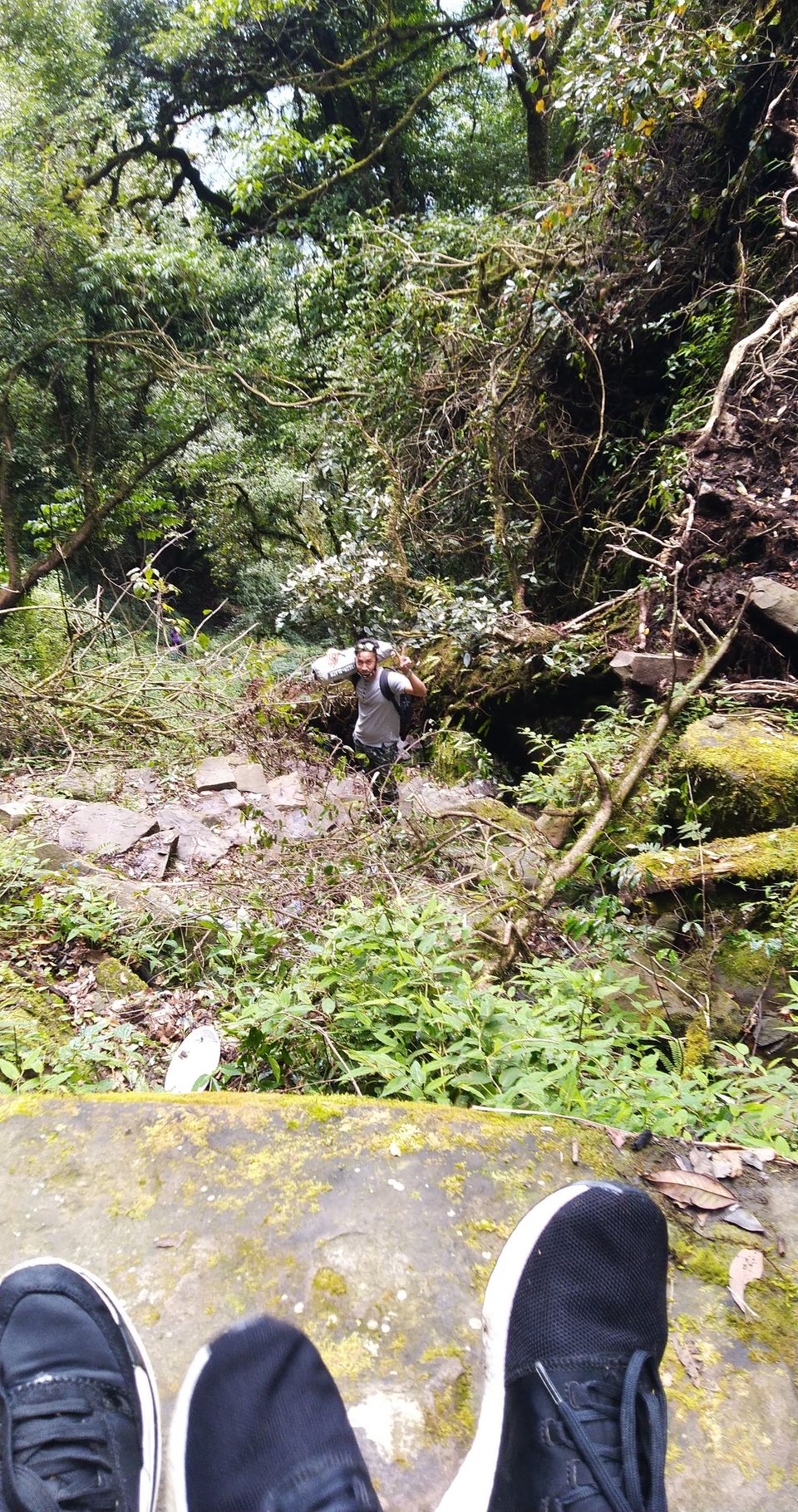 We rested and took our pictures when we met the local kids coming back and took their rest with us. They brought a guitar with them and they played some songs. We listen to them and our tiredness vanished. After 15mins of rest we started our trek again.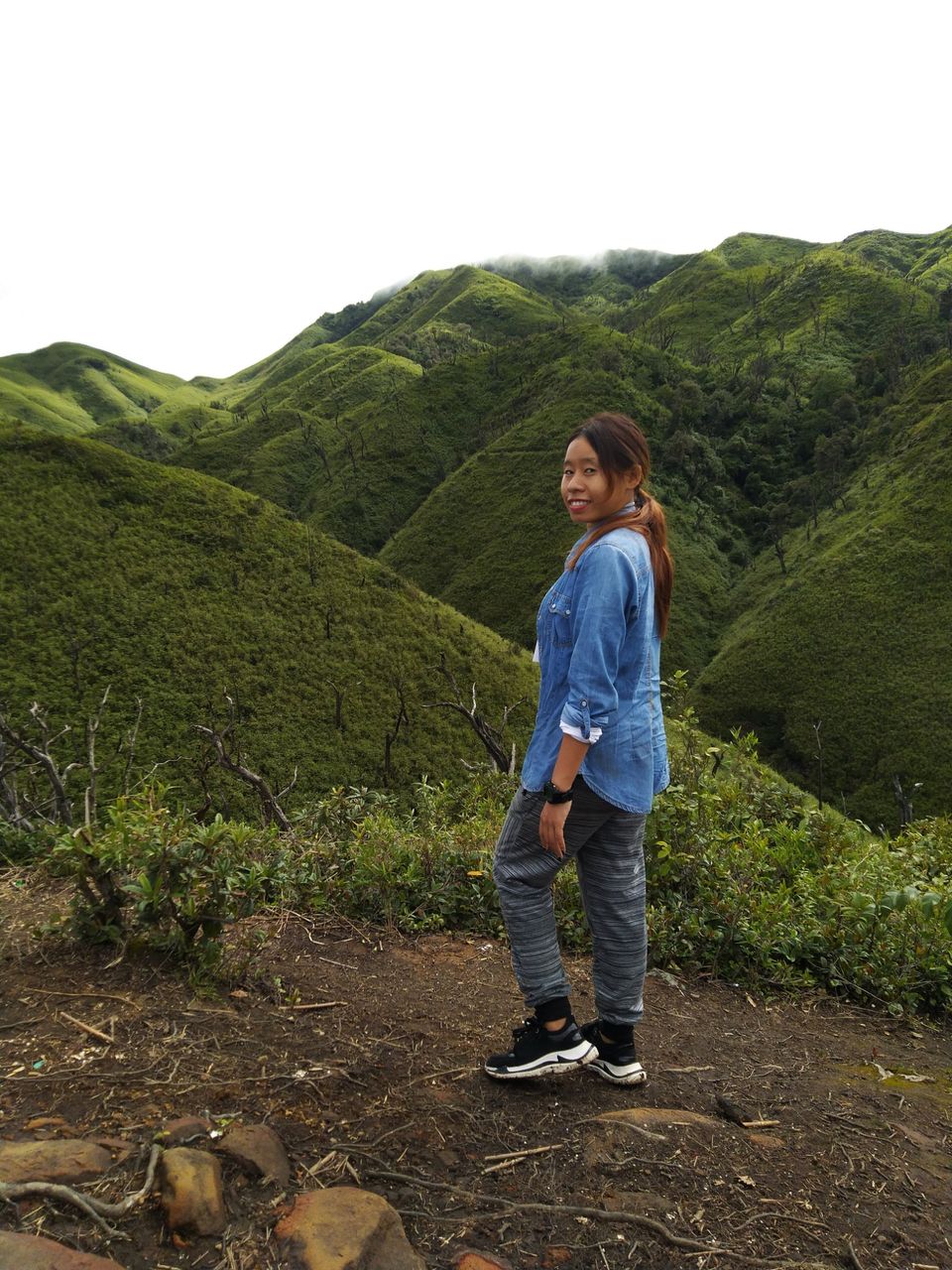 Now we had to just walk side the plain valley. We met bicycle riders who caught up to us after we crossed four valley. They were about 4 members one was a foreigner and the other Manipur or Naga maybe. They were such an experts even thought the path was not plain they easily moved so fast and so professionally we enjoyed watching them go. We finally saw the cottage and was happy we will be reaching soon.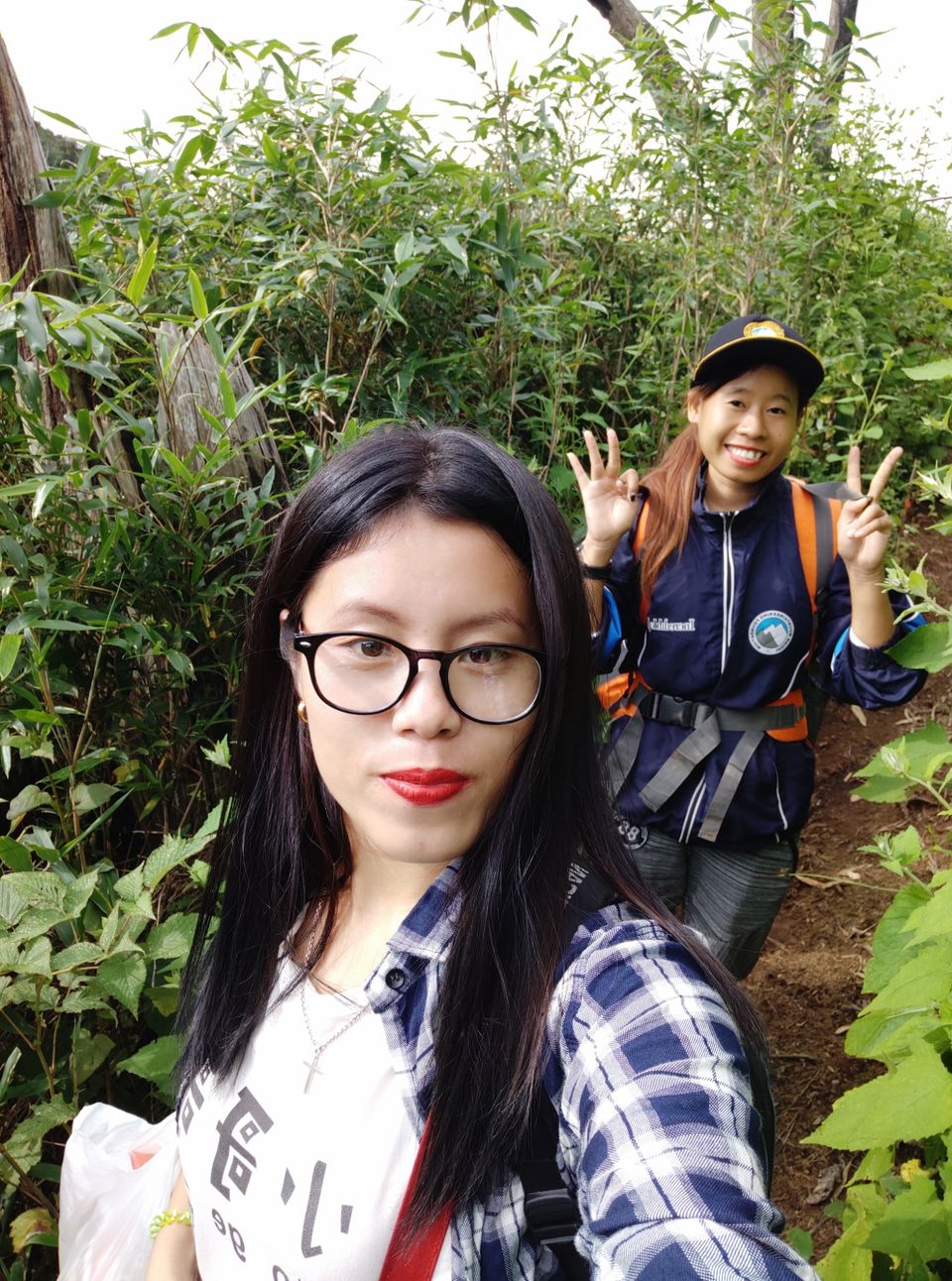 Finally made it to the main point and we were all relaxed as the weather was so pleasing. We build our tent outside and rested the night peacefully. Heavy wind blows and we were worried it might rain.
After a good night sleep we were ready to explore now. After breakfast we headed down to explore the Lilies. We got to see few flowers but they were enough for our pictures to take home with us. There was a rock that shows a name which was same with my sisters name and i wanted to capture it with me to show it home to her. We even went up to the big cross which was once a church. People would gather there and pray below the big Cross. We relaxed up there with the sun shining and the wind blowing the heavenly feels was feeling in. We didn't wanted to go back yet so climbing down we rested by the famous rock for another hour with a good music enjoying the weather we all wanted to sleep right there.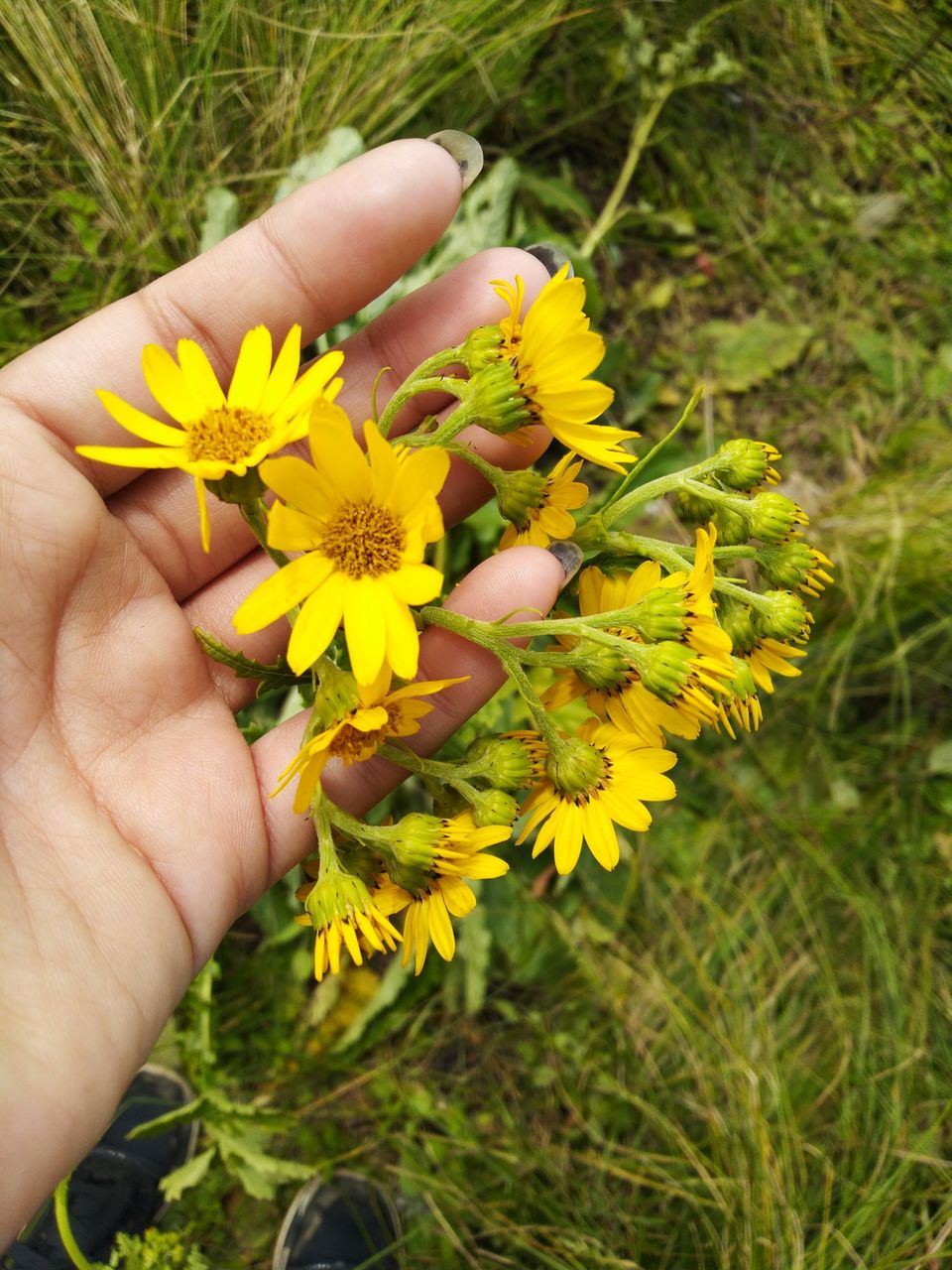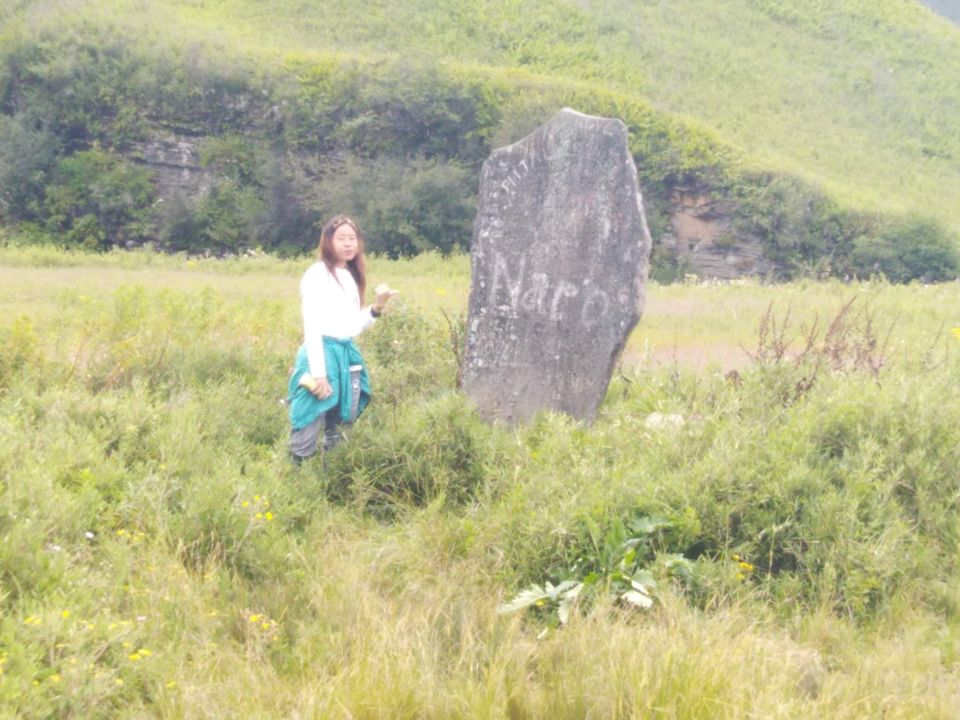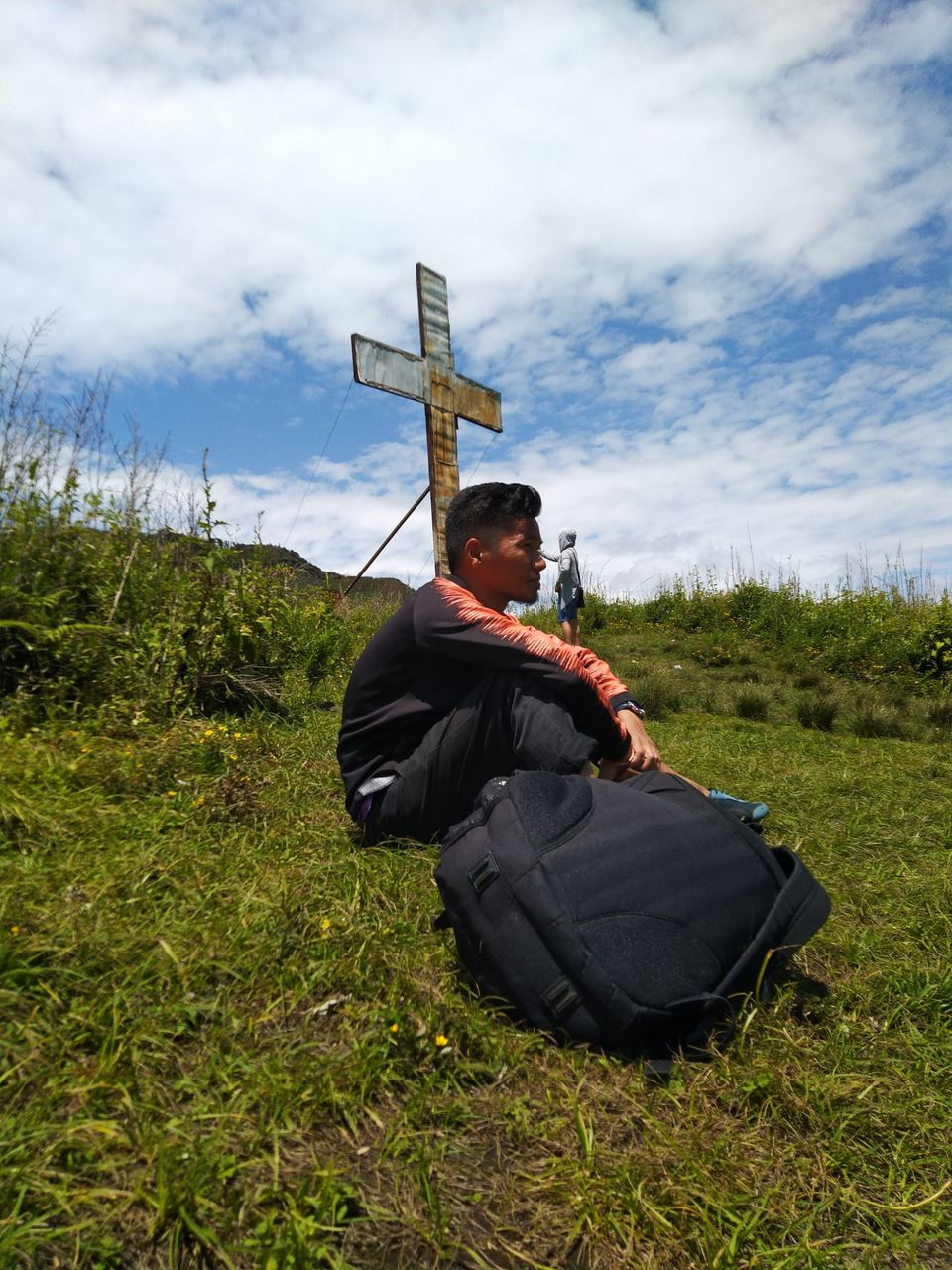 The spot is everyone's favorite because its a cliff with a stream below and the beautiful view of the sky makes the spot even more heavenly. We all cherished our moment and with a heavy heart we headed back to campsite. It was cold with the wind blowing continuously but the sun rays kept shining which makes the valley even more beautiful and brings satisfactory to every travellers that travel there.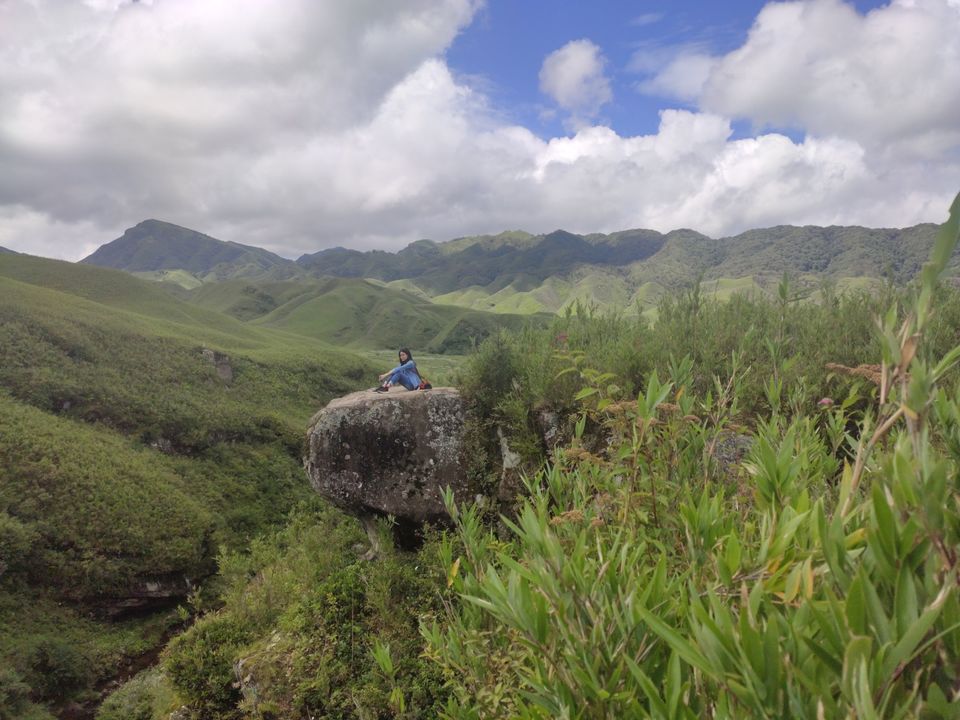 Coming back to campsite we were exhausted. The bikers were gone but a group of local who came to pray at the church(by the big cross) played many songs at night and we were enjoying the night listening to them. Different campers had their nights fun via different ways and ours ended by playing Antaksari and Ludos.
Last day had come time to go home. We wanted to stay for more but our day was over now. Waking up early we had our breakfast and got ready packed our bags and tents. Before leaving we wanted to have a picture together so we asked one of the solo traveller to clicked us. while heading back we decided to take the long route instead. So i lead them through the main route and they found the main route easier then the shortcut.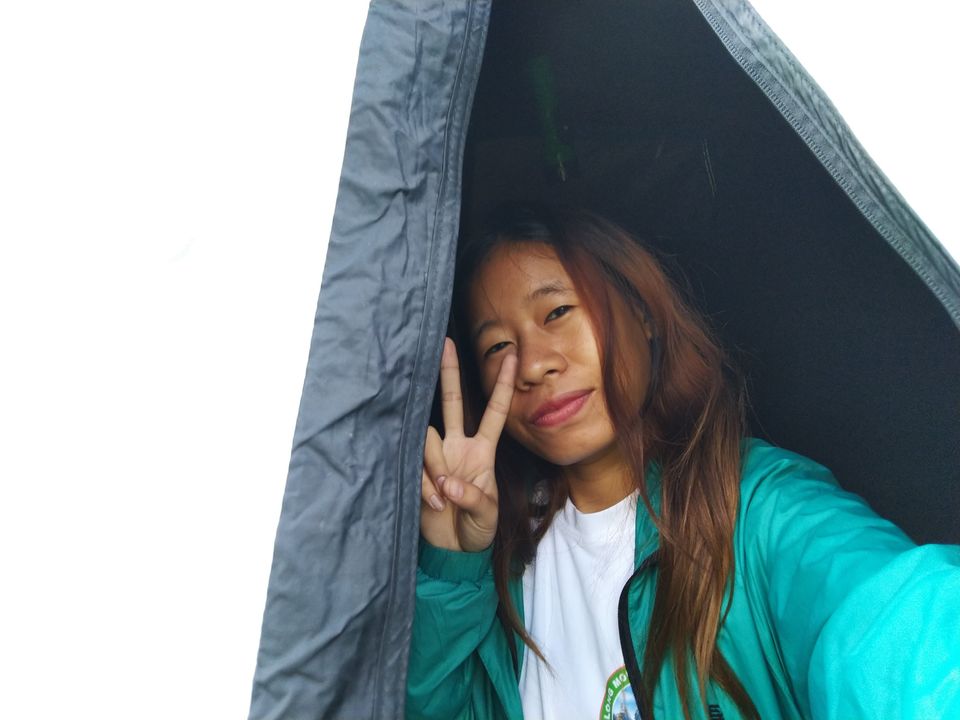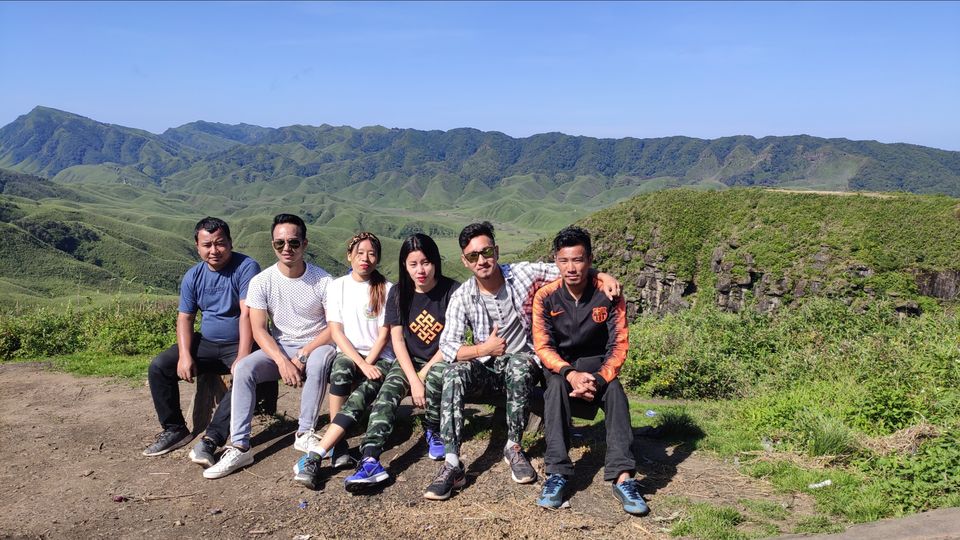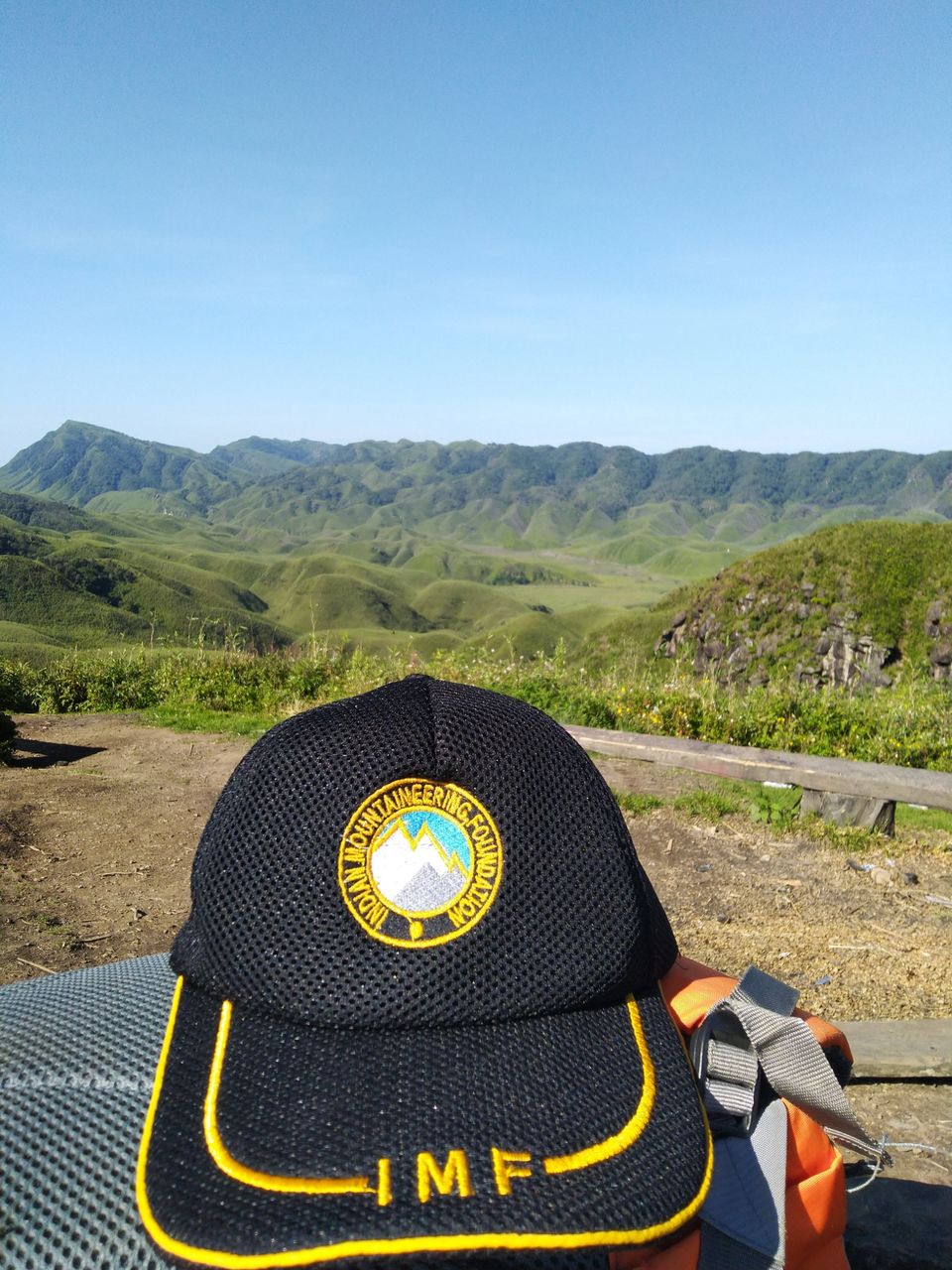 Going from the main route we encounter a Cave like rock wall which we missed while coming and the View point as well. We took our selfie at the view point too and headed down. We didn't stood for the night stay in Kohima and went home on this day itself. Our experience was fun and excited and this people being their first time are ready to visit again just like i have. Some people give up on the thought that climbing for 3 to 4 hours uphill is exhausting and tiring but they loved the experience and has added D'zukou to their favorite list too.