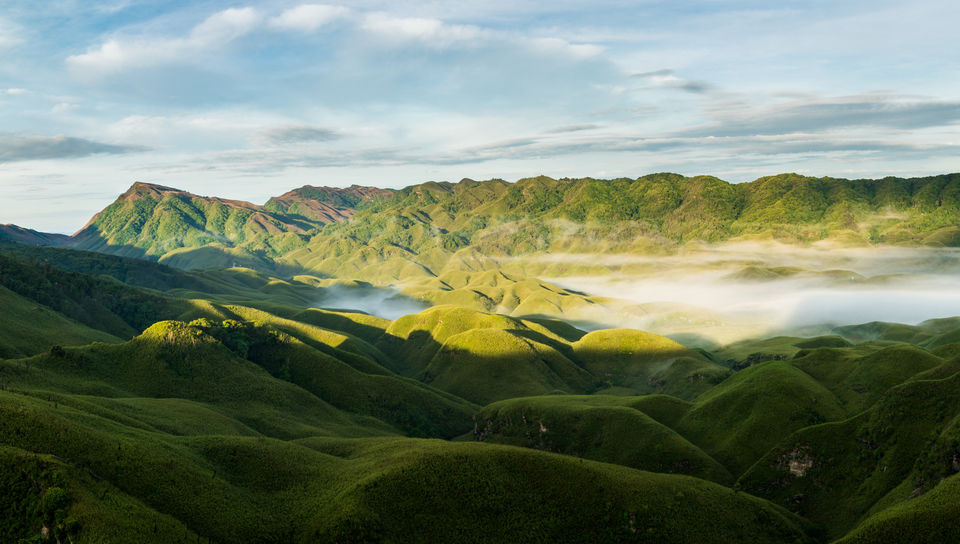 "The trek from Jakhama is steep", the driver said gesturing with his hand. "But the view is good. The road from Viswema is easier. Go from Jakhama if you think.."
"Take me to Jakhama", Akash replied convinced.
About an hour later, including a pit stop to collect food for the trek and whatever lied in store, the driver dropped him off in front of a signage that said, "WAY TO DZUOKO". White block letters on a green board.
"Follow the villagers", the driver shouted as he turned his yellow-black cab and darted off.
Akash stood clueless for a second and then started walking up the hill.
Not a human around, he wondered if it was a ripoff.
Shrugging his shoulders, he kept walking.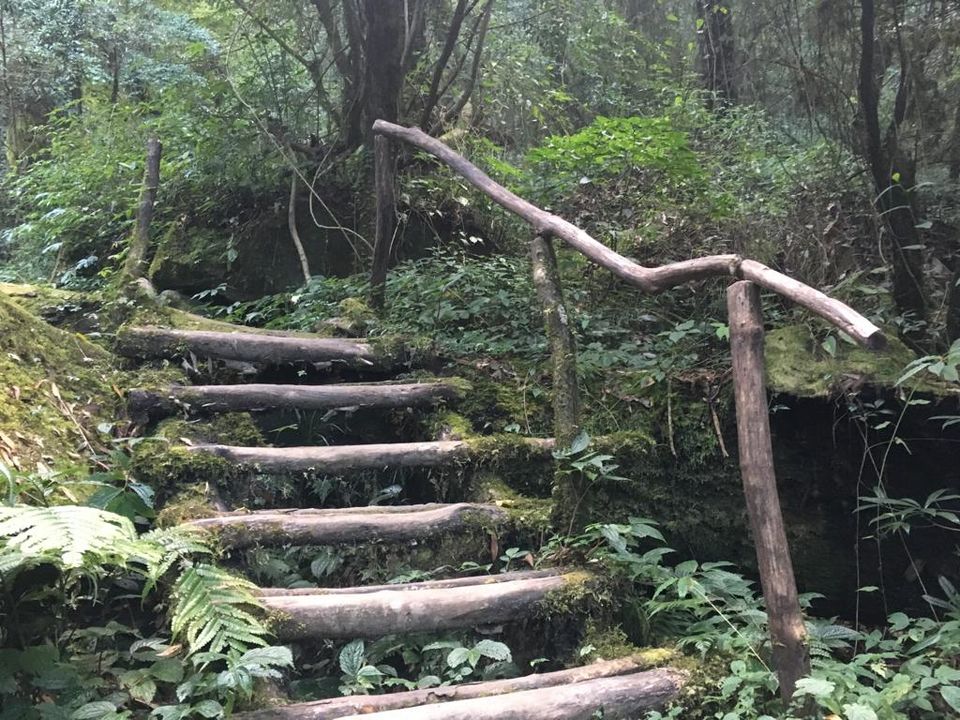 "Hey!", he heard a shriek from behind and hurried footsteps. He turned back in astonishment to see a girl, with red-streaked hair that she collected behind her head and flashed a geeky smile. The round Harry-Potter glasses made her the ultimate geek fantasy.
"Dzuoko?", she chirped.
"Ya.. yeah..", he fumbled.
"Annie", she held out an open hand.
"Nice name..This is Akash..nice to meet you..". His awkwardness was all over, no matter how hard he tried to hide it.
"Let's go?", she suggested, sensing his trouble.
"Yeah, yeah", he laughed embarrassed.
The hilly road was accompanied by a brook that burbled down, coming into sight once a while.
The road was empty for most of the time, except for the two ladies who carried the traditional baskets that they hung from their foreheads and the old man who was at the crucial point where they needed a signal.
The mud-stone road took them along a beautiful little valley and little houses made of corrugated metal sheets appeared once in a while around the corners. The brook continued playing hide and seek. They tried to find some guidance but the doors were locked. Perhaps they had left for work, they concluded.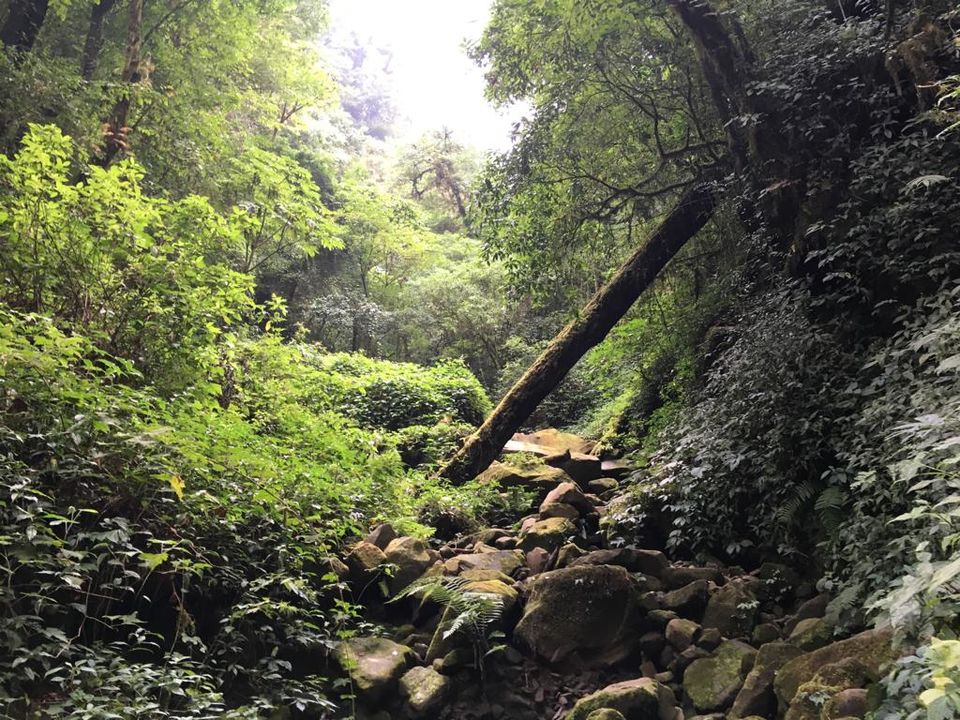 The road went uphill and then suddenly the ten feet of width narrowed to two and the forest became denser. The hike got steeper and the path was now mostly rocks that somebody had placed hastily. At places, horizontally placed logs prevented the path from being washed away in the rain.
The sky had now disappeared behind the dense canopies. The trees rose dozens of feet high.
They hadn't talked much until now, except for a few comments on the path and how it was getting difficult.
"So, do you work or study?", Akash asked inquisitively the first time they rested themselves, supporting their heavy backpacks on the stone stairs.
They were both doctors.
Akash worked with a research institution that strived to make healthcare cheaper. And Annie worked at a charitable institution.
By the fifth break, they had known each other pretty well. Annie liked the chocolates that Akash had got. "Energy bombs", he called them.
Their pace had slowed. It was the 4th hour into the trek. And they hadn't seen any other human being. Perhaps tourists didn't frequent this route. They kept taking a break every 20 minutes. Exhaustion had started taking over them.
"Annie, close your eyes. Inhale. Feel the energy of the mountains. Let it rejuvenate you."
They now meditated every time they took a break.
At another stop, they drank from the mountain streams straight. It kept them recharged for the next half an hour. And the water they collected, for the next hour.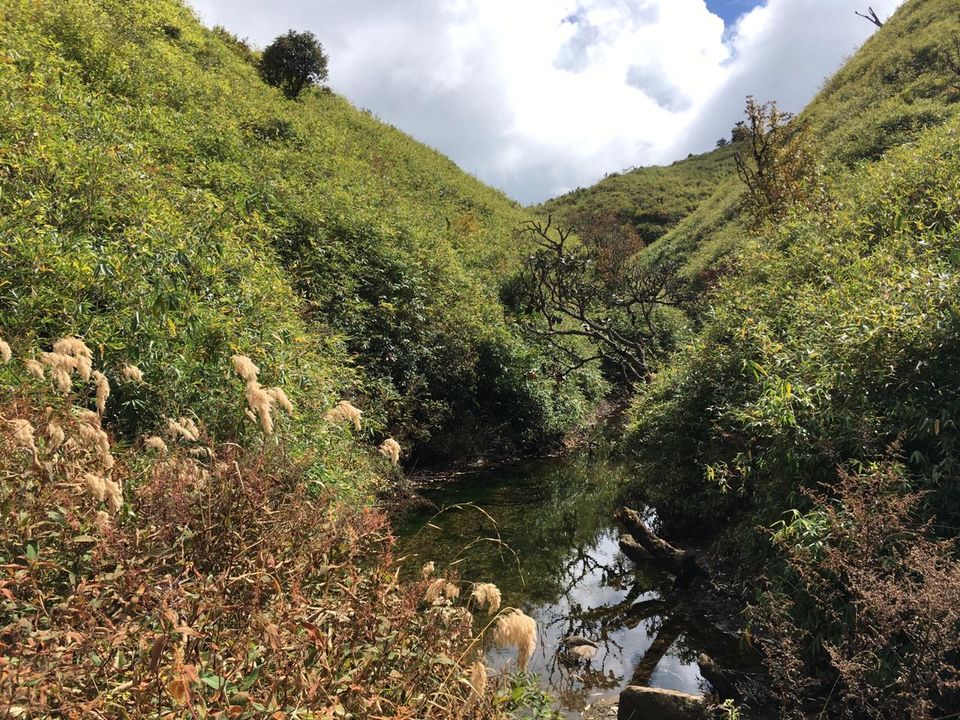 "Give me your bag, Ann. We have to reach. We can't afford to slow down".
It was late in the afternoon and hopes were darkening when the climb got higher.
"Akash, here's something for you!"
He hurried the steps.
The sky was clear here!
They were near the peak.
"Two trees to go, and we shall be at the top.", Annie targeted at the trees.
"Succes is not a destination, it is a journey ", read the last plate that was nailed to a tree.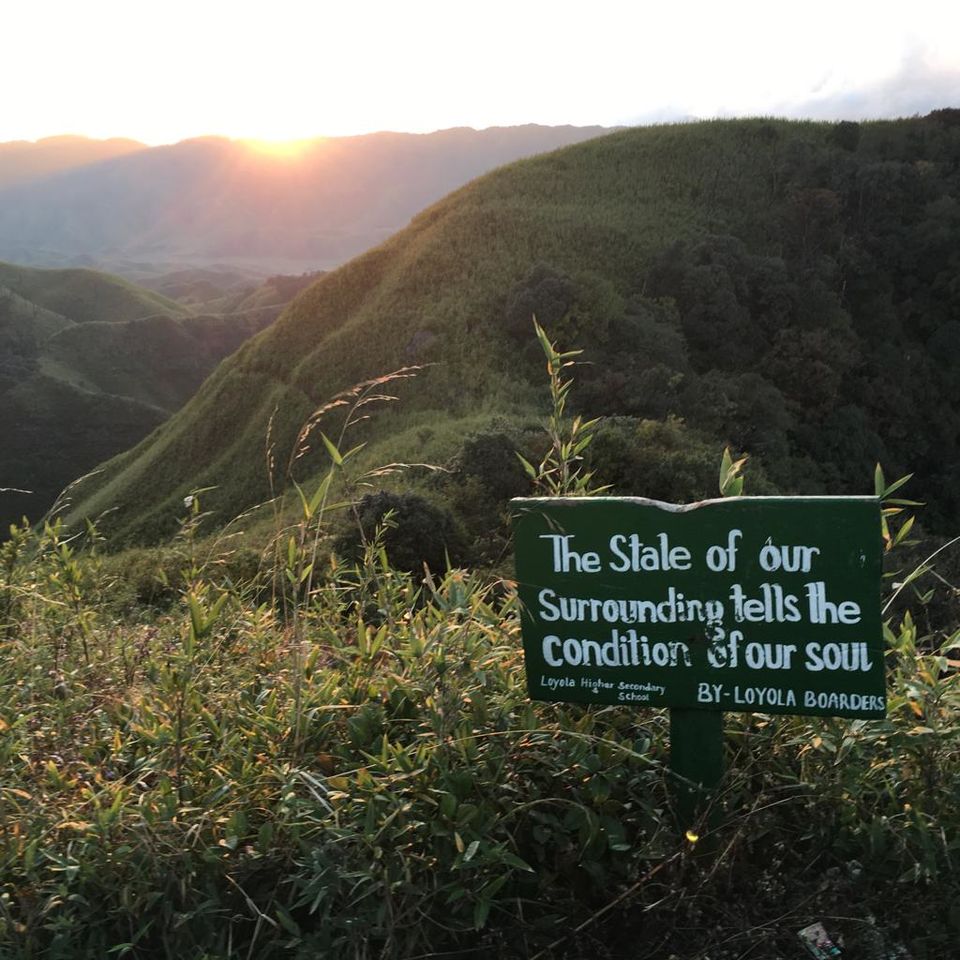 A few steps later, the grass glowed golden.
Akash waited with baited breath for Ann to reach up. He wanted to see the golden rays on her face and he wanted to record the moment.
"We have reached!", she exclaimed in rejoice.
"Yeah, we did it!"
The Sun was a few minutes above the last range of mountains.
The valley below gleamed like a wavy carpet.
"The state of our surroundings tells the condition of our soul", Akash read aloud an epitaph on the peak.
"Serene, complete"
Akash couldn't agree more.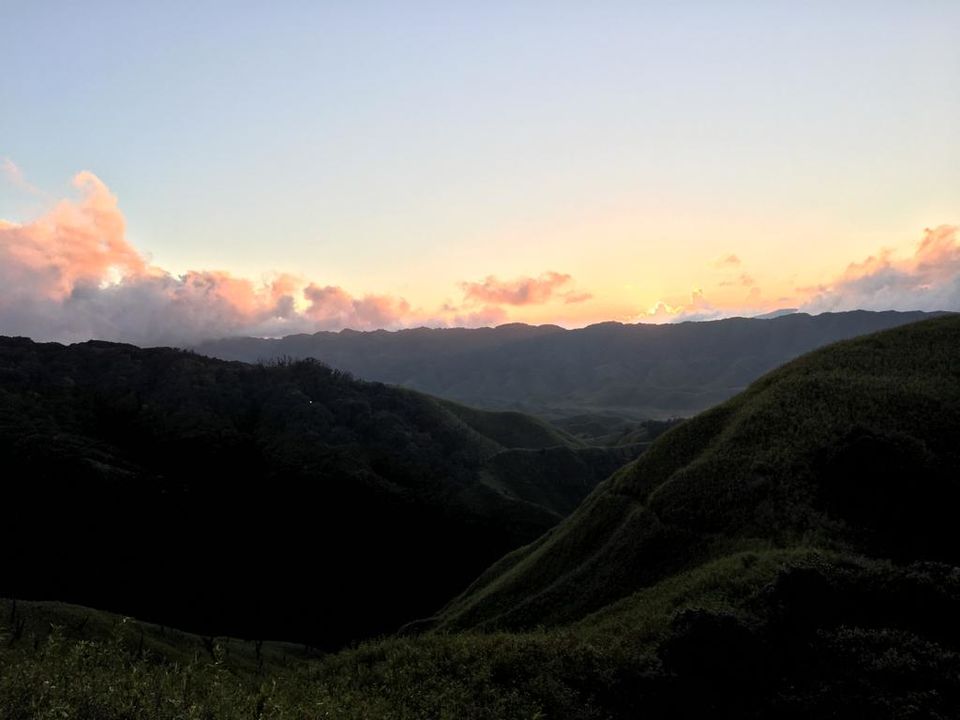 The Sun went down faster than they had thought. Evening fell faster than they had thought. They weren't aware of what the destination was like. But the only way was a narrower trail that cut through mountain grasses. They stumbled along the trail, trying to keep up with the setting sun. Violet flowers flanked the trail. And the green velvety valley was an allure too. But they didn't pause much.
Twenty minutes into the new trail, they spotted larger houses on a cliff that seemed to be on the sister hill.
"Hello", Annie yelled, half in desperation and half in expectation.
"Helloooo", a girl shouted back.
They had found shelter.
Just before nightfall, they arrived.
It was more than they had imagined.
It was a little festival away from the world, on the hills, The Dzuoko Festival.
They were welcomed with cups of hot tea.
A bonfire warmed up the evening and amateur songs colored it romantic.
"I am sorry but there's just one tent", the organizer apologized.
"Fine, give us enough blankets", Akash requested.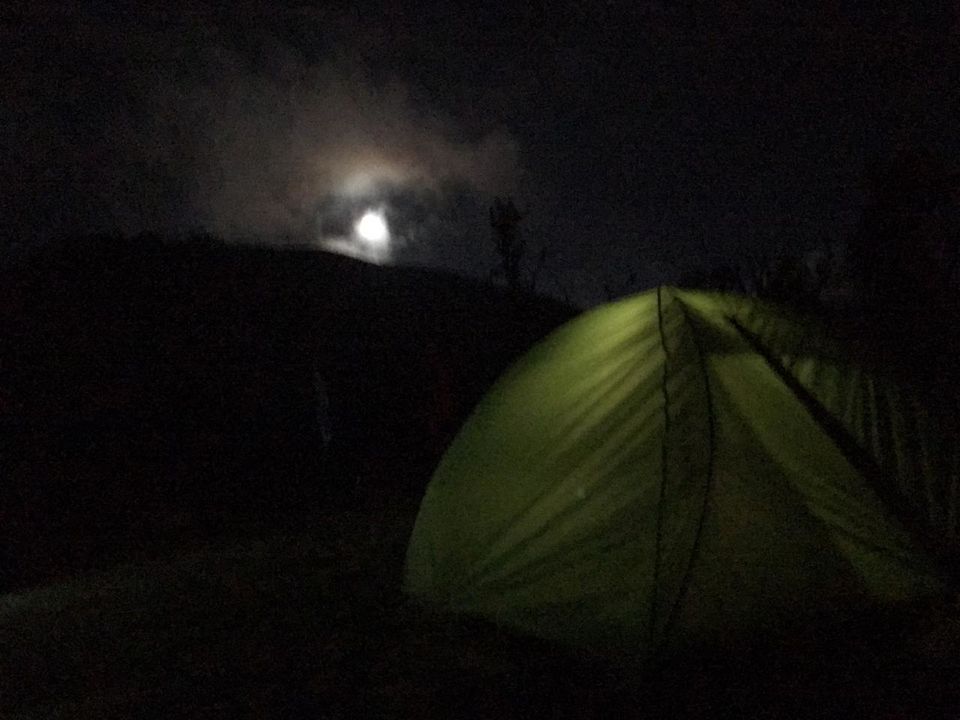 It was the last week of October and the mountains were cold. The awkwardness had dissolved before the day ended.
"Thanks", Annie whispered.
"Thank you more!", Akash fought back.
They chuckled.
"It is cold, can I hold your hand?", Annie struggled in a breath.
"I'm sorry. I didn't mean to..", she said when he didn't say anything.
Meanwhile.
His hand found its way under his blanket and then through hers. And he found her hand. She fumbled in between her speech and never completed it, as her breath froze for the seconds in which he pulled her closer, turned her on her side and wrapped his hand around her.
"Warmer now?"
"Mhmm"
For what could have earned him a slap, Akash thanked the weather for making things easier.
"Goodnight"
"Goodnight", she mumbled.
Akash opened his eyes and froze for a moment. In his arms, slept in peace the phenomenon he had stumbled upon the previous day.
He was dreaming for sure!
He took another moment to accept the present.
He smiled, blissfully.
Seconds later, Annie opened her eyes and her lips widened in a smile.
Their eyes were locked into each other.
He kissed her forehead and pulled her closer.
"It is the best winter, ever".