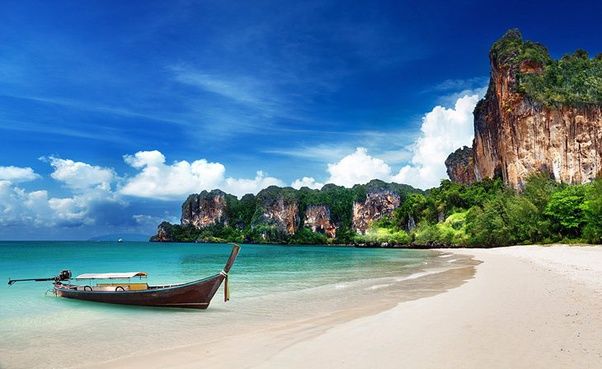 With stunning beaches, lush mountains, delicious food, rich culture, and party hot-spots, Thailand should be on every traveler's bucket list!
Thailand is a country that appeals to both backpackers on a budget and travelers with luxurious taste.
Day 1 :
We arrived in Phuket at around 7:30 am and then left for Ibis, Krabi which was around a 3-hour drive from the Phuket airport. We reached the hotel "Ibis Styles" at around 11 am which is the usual check-in time. We always plan our flight to avoid the early check-in hassle.
Krabi is the most relaxing part to be in all of Thailand, it is a province that has the most stunning scenery imaginable, beautiful white beaches that stretch on for miles, a jungle, and over 200 islands just off the coast. If you are not a fan of seafood and are looking for Indian food in Krabi, it will be a hard time for you there.
The first activity in the town of Krabi was Kayaking which is a watersport that involves paddling using a double-bladed oar and a small boat known as a kayak. For those looking to do something a little less exhilarating than white water rafting but still wanting to get out on the water might like the option of kayaking. Kayaking in Krabi is one of the best ways to spend some leisure time while enjoying the natural beauty consisting of plenty of landscapes and forests. You will have the chance to kayak through lagoons, caves, mangrove forests while enjoying the beautiful sunset through the horizon. Kayaking will take you away from the heavy tourist areas and it's the perfect way for seeing the unique wildlife and marine life of Krabi.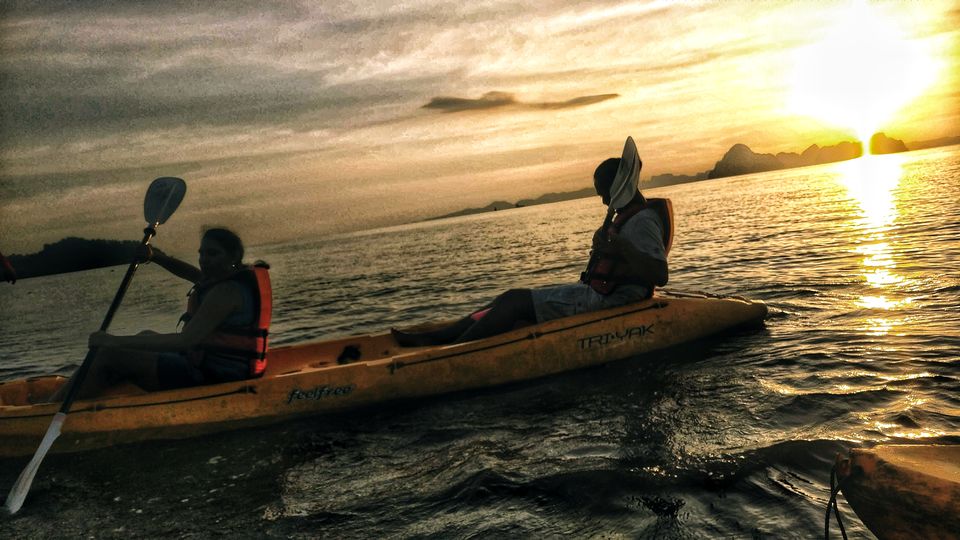 It was the best way to spend the evening. We had a leisure time exploring the local markets later that day.
Day 2:
On Day 2, we went for a 4 Island tour, Krabi. The tour consisted of Tup Island, Phra Nang Cave, Chicken Island, and Poda Island. The tour is on a longboat and will stop at each location giving you time to swim, sunbathe, snorkeling, explore, and grab exquisite food. The 4 Islands Tour included snorkel gear, to and fro transfer, ride on a longtail boat, and lunch buffet.
First Stop: Tup Island
It is one of the most famous offshore islands around Krabi. The clear blue seas, brilliant white sand, soaring rock formations, and lush jungle out in the middle of nowhere that will leave you amazed. You can explore the caves, climb the hidden paths, snorkel, or simply sunbathe on the beautiful island.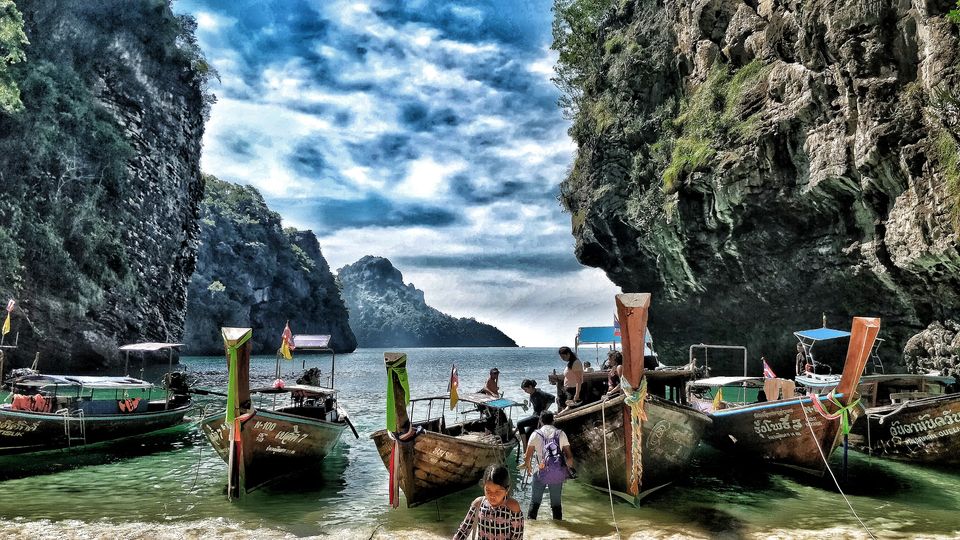 Second Stop: Chicken Island
The next stop was a funny little rock called Chicken Island. I wonder where chicken island got its name. Any guesses? We roamed around the chicken island a few times so that everyone could get a good picture of the famous chicken head rock formation, then our guide stops the boat a few hundred feet from shore, and YES, you are correct, it is shaped like a chicken.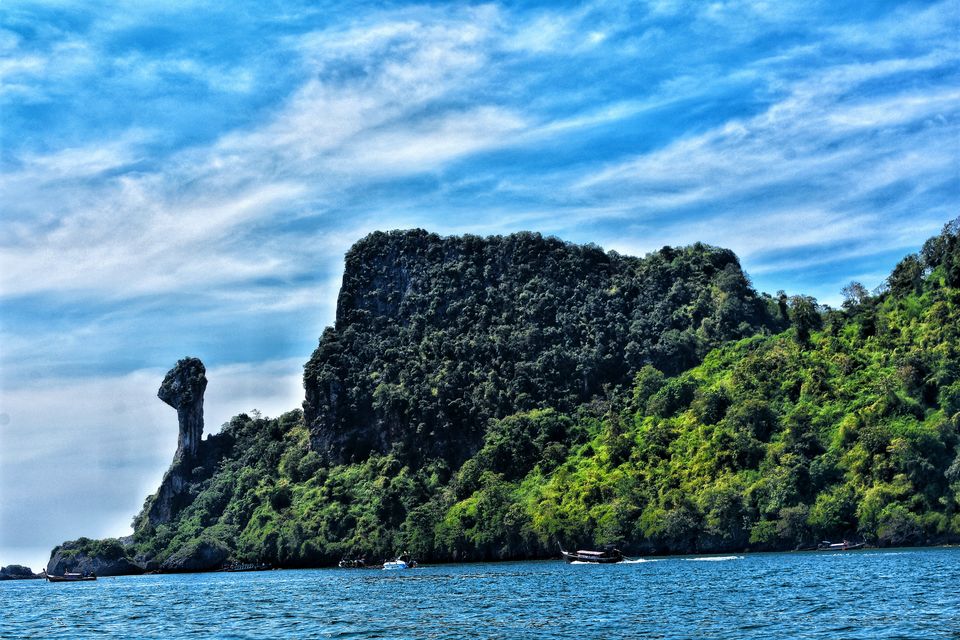 Third Stop: Poda Island
At Poda Island, it's time for lunch. As the guide lays out the spread of curries, vegetables, and rice, we all eagerly wait around in a circle. Poda Island is the largest of the Islands on the tour and very beautiful and serene. If lucky you might be able to do a low tide walk to a nearby island on the ocean. There were fish breeds harvested on the island to make the experience for snorkellers worth remembering.
Final Stop: Phra Nang Cave Beach
With soft sand and clear shallow water, Phra Nang beach is just the type of beach you would want to relax in when you want to get away from the crowd. Here is a shrine built inside the limestone cave which is dedicated to an ancient fertility goddess. Inside the limestone cave is a collection of strange phallic symbols, offerings, and objects believed to help with fertility.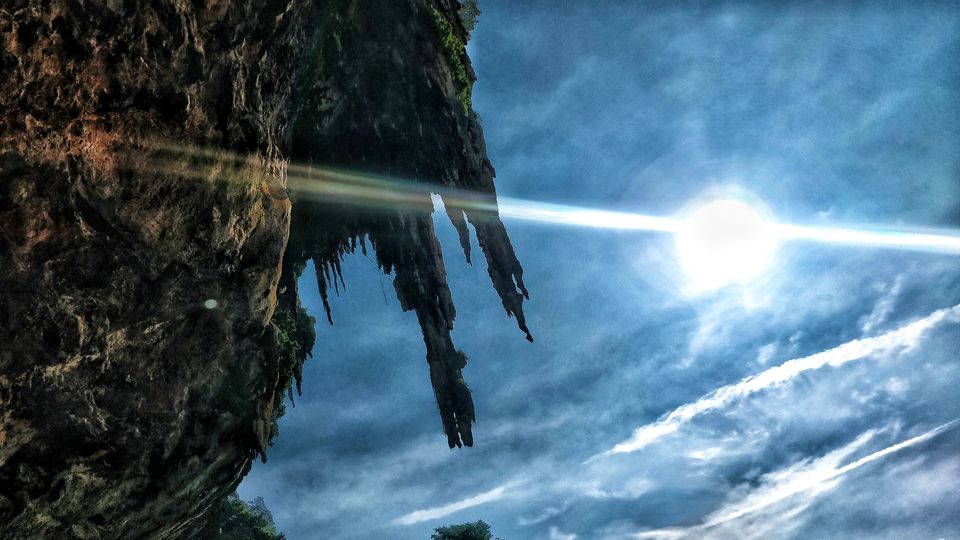 The Princess Cave actually consists of two caves. One only holds phallic sculptures, incense, flowers, and other offerings. The other (referred to as the inner cave) has a trail that leads into the limestone cliffs to a small hidden pool. The path is laden with clay mud, but if you are interested in seeing the inside of a limestone cave, this is a great place to explore.
The four Island tour was an amazing way to cover the most amazing islands of Krabi, all in one day, without having to worry about food, boat ride, instructor, water activities as the package was inclusive of all.
At night, we went shopping at the Krabi Night Market. This market is open every Friday to Sunday in the evening and is not to be missed. There are over seventy food stalls here as well as lots of local sellers selling souvenirs. Sometimes local school children put on a show as they collect money for their school or another charity.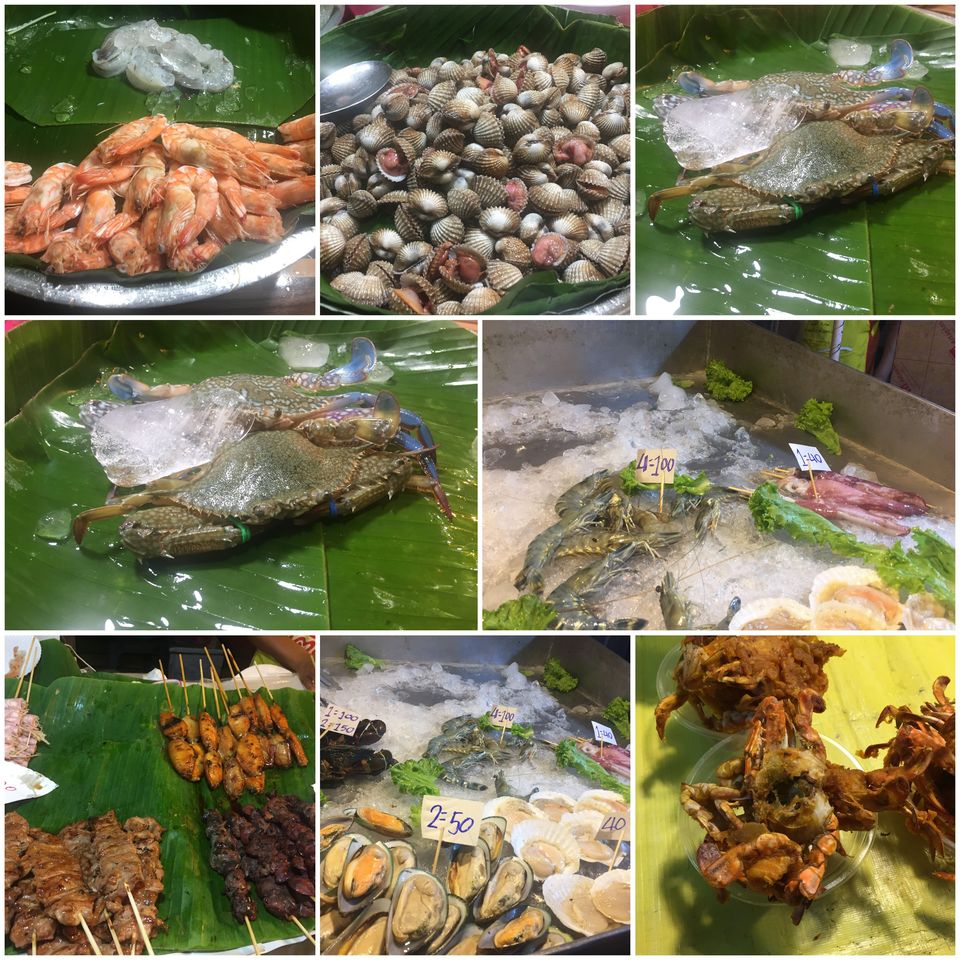 Day: 3
It was time to check out from the current hotel and proceed to Phuket for the rest of the tour. It took us around 3-4 hours to reach Phuket. After relaxing, we went for Jet Skiing on Patong Beach. It was thrilling and super fun to do this adventure sport. I and my brother was handed over the jet ski and were given a time limit after which we had to come back. There was no restriction as to how far we can go. The ski instructor told us when the time will be finished, he will wave a flag at a decent height so that we can come after. So, the fun part was, the beach was surrounded by different islands and every island was crowded with people, because of which we couldn't identify our island. So, after spending a whole lot of time, we thought of going back, as there were a lot of people waving the flag on the island, we couldn't identify our person. And as per our calculation, we went to an island assuming it to be ours but it wasn't ( we weren't carrying any compass :p) and kept on looking for our person, but couldn't find him, and then he came looking for us :D.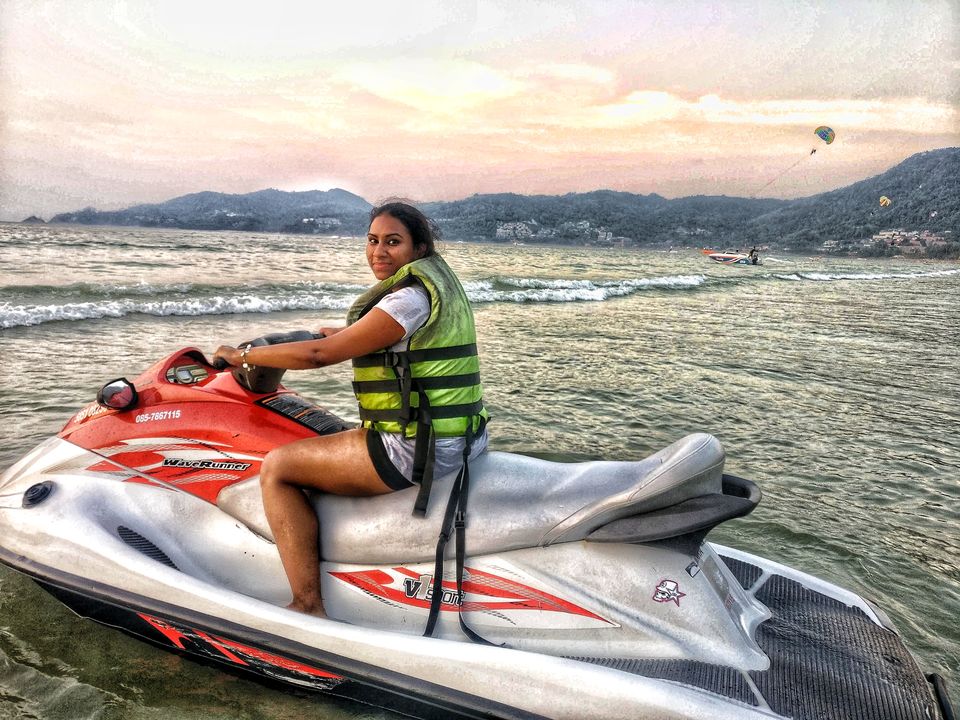 I knew that it was difficult to find the direction while in the middle of water since all you can see is water around you, But that day I experienced it. Jet Skiing was way too exciting and fun. I would recommend everyone to experience it.
At night we went to see Simon's Cabaret Show. This is Phuket's most glamorous and one of the best Cabaret show. Simon Cabaret is a must for fans of glitz and drama. Shows are a flamboyant combination of costumed transgender performers, traditional Thai dance and music, and comedy routines. After the show, you'll have the opportunity to meet the stars and take photos (after spending a handful of money)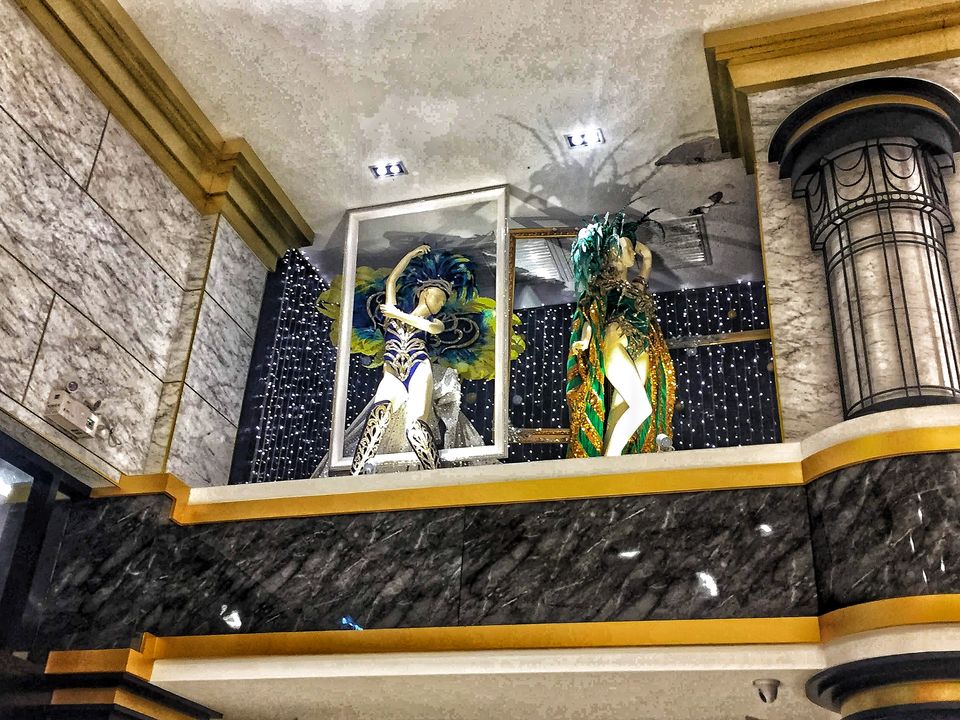 Day: 4
This entire day was devoted to Phi Phi Island. This is the most popular tour-experience in Thailand and a 'must' for visitors to the Land of Smiles. Breathtaking limestone cliffs rise straight out of the emerald green water. The Phi Phi's are 40 kilometers southeast of Phuket in the Andaman Sea. The six islands include Phi Phi Don – home to the bohemian town of Phi Phi Islands, and Phi Phi Leh – site of the spectacular Maya Bay which is famous for its role in the movie "The Beach". The islands are laced with occasional powdery white beaches and coral reefs teeming with exotic life. They beckon you to unforgettable swimming and snorkeling in the clear tropical waters.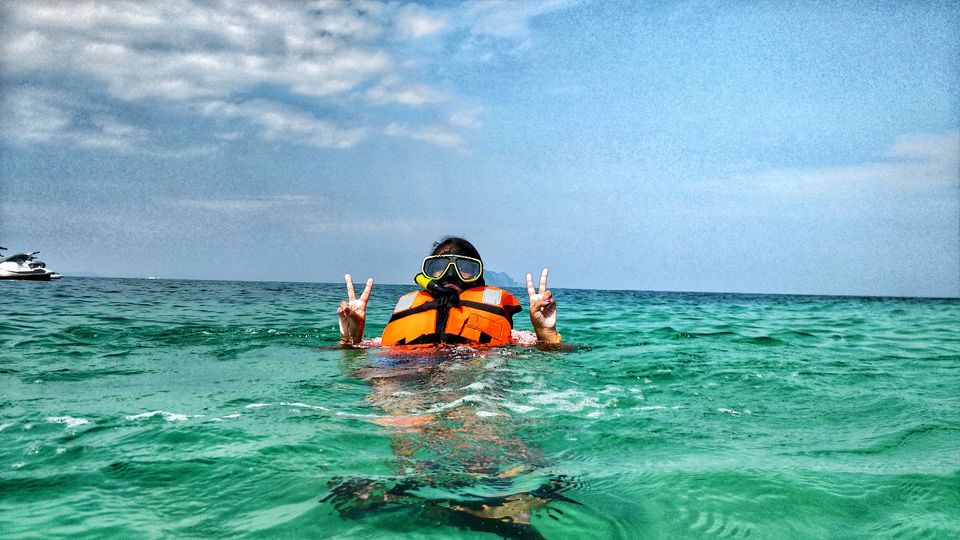 We were picked up from the hotel and were provided with unlimited drinks, snorkel, snacks. The package included a buffet lunch. We also bought a transparent mobile cover so that we could capture underwater. Phi phi island tour also lets you experience Scuba Diving on a payment basis.
While Phuket has a lot to offer as a tropical island, a day trip to Phi Phi offers something equally unique, and if you do have time then it would be well worth visiting.
Day: 5
Merry Christmas Guys. Today, we did cover a lot of places including The Shrine of serene light, Phuket's old town tour, Wat Chalong Temple, Big Buddha.
First, we went to Phuchada Safari for Elephant trekking and ATV ride. We fed a basket full of bananas to the elephants. Both activities were super fun. They have prepared a track for the ATV which was mostly uneven, making the activity more adventurous and fun.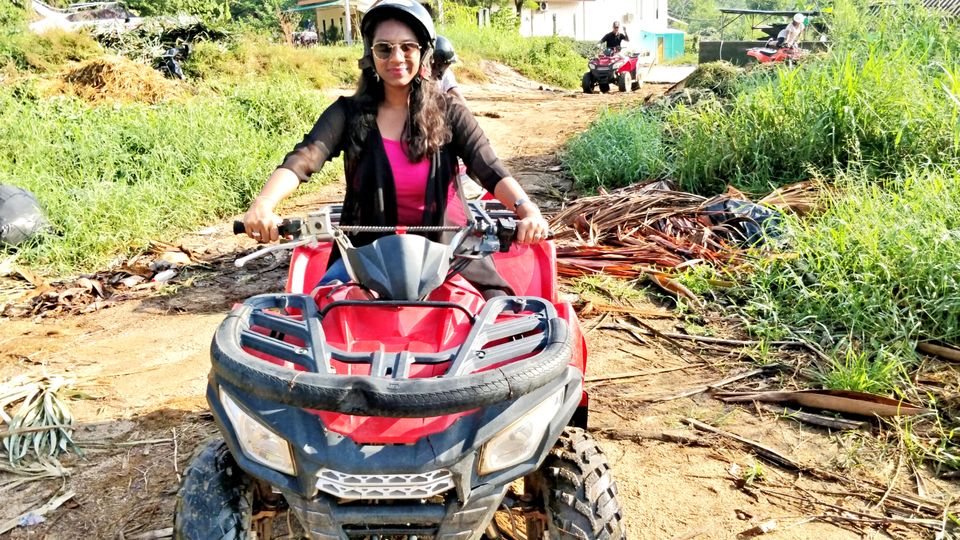 Big Buddha is an iconic 45-meter tall white marble statue sitting at the top of Nakkerd hill in the south of the island. It is more than just a landmark; it is a religious place. Dress appropriately, if you wear shorts or skirts above the knee, you will be required to wear a sarong provided by the security at the entrance.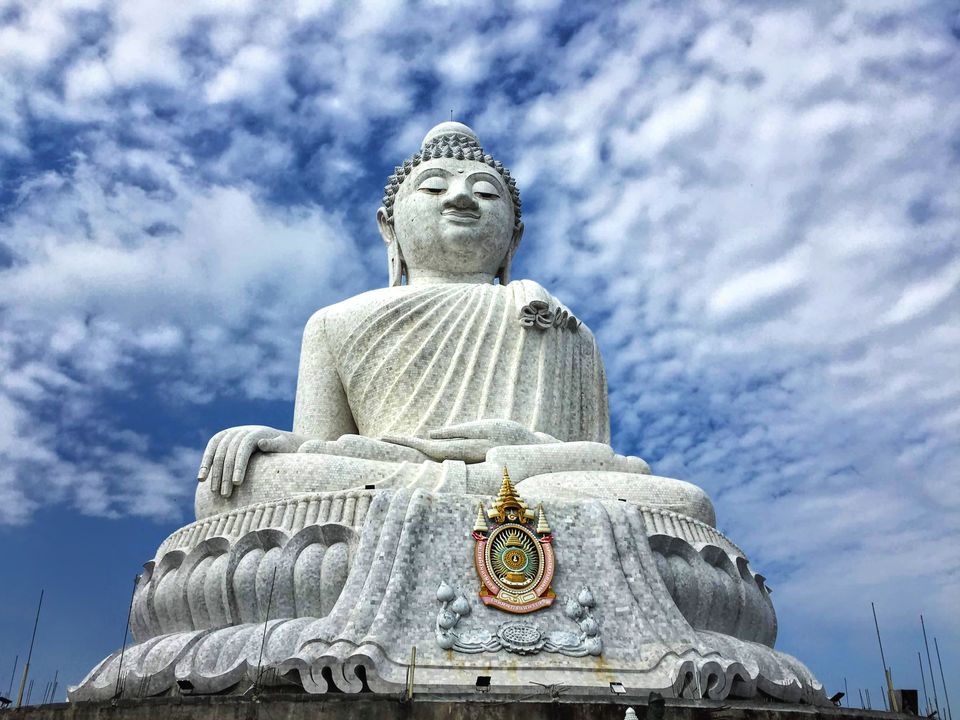 Wat Chalong is one of the most visited temples in Phuket. The beautiful 60 meters high chedi house many Buddha sculptures and murals on the walls depicting Jataka tales of Buddha's past lives. Inside the temples, the central temple is where most Thai people will make merit by offering lotus flowers. Wat Chalong is also known for its famous lore. It is said that you can have your fortune told by praying inside the temple. There is a bamboo cup holding 26 bamboo sticks with numbers from 1-26 carved on them. Each number tells a different fortune. Visitors would often shake one of the sticks out and once it falls out, they go out to the corner and get their fortune told on a piece of paper in English or in Thai.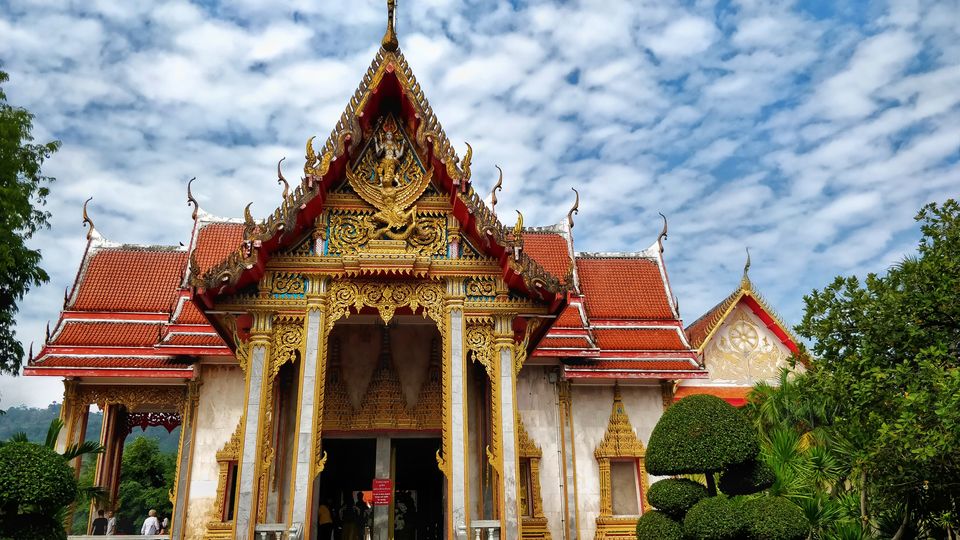 After that, we covered Sri Bhurapa Orchids and bought these amazing cashews. Big bee farms are a place that sells all things honey. You get to see the bees and how they make the honey and then you are brought into a big store where you can shop all honey-related products.
Then, it was some shopping time in Phuket's Night Market. OTOP Patong Market Phuket promotes locally made products sourced from subdistricts (tambon) throughout Thailand. Since it was Christmas, every place was decorated, people were in the Santa clause costume and accessories. In short, that day had totally different and super cool vibes.
Day: 6
So, the trip came to an end and we had to depart on this day. Also, Thai Massage is really famous and almost every second shop there offers the service. One going there must experience it once.