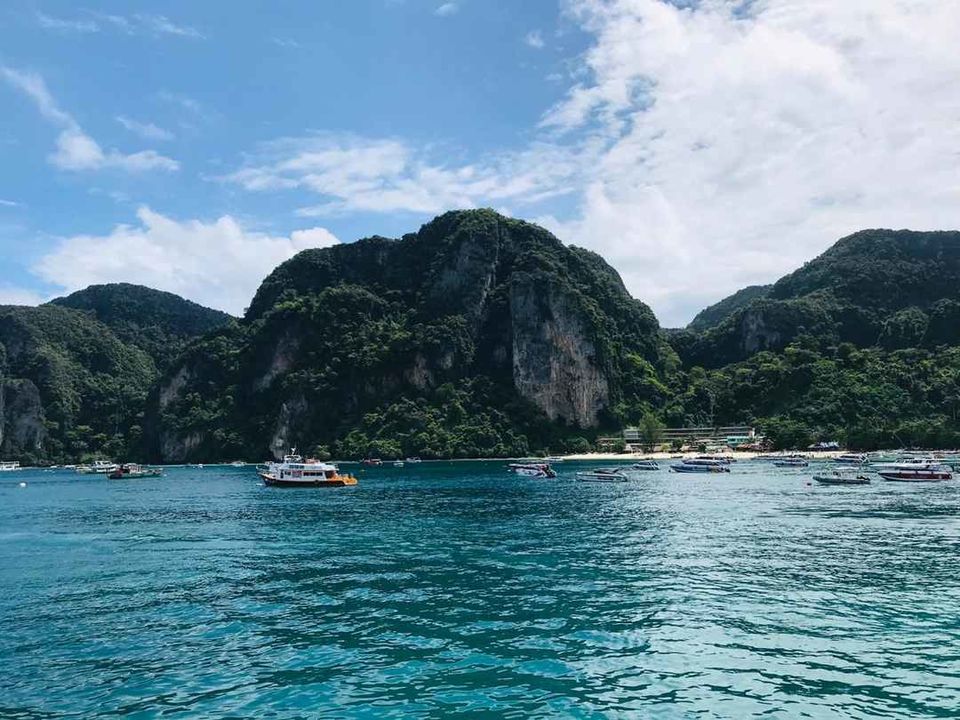 The minute Thailand comes in mind , Everyone thinks of street shopping , Thai spicy food , Night life , Crowd. But I covered a part of Thailand which was serene , beautiful and supernatual. I went with my husband ,in Last week on august , though it was monsoon time in Thailand.
We were enthralled in the the beauty of Phuket island, Phi Phi island and Krabi town .
Day 1 -We started with Phuket Patong Beach . We stayed in Best western Patong , near the patong beach . They have amazing Breakfast Buffet where they cover almost one dish from various parts of the world.
We started on our tour , we hired a Taxi from Friendly tours and travels , We started with Tiger kingdom , where we got to take pictures with varied sizes of tiger, Entry starts from 1000-1800 bhat per person. Next we visited Big Buddha , Wat chalong temple and for lunch stopped near Big Budhha , Mountain Breeze restaurant and bar , they had good food with nice view.We covered few points karon point , patong beach and night we had dinner at Badshaah indian restaurnt near the hotel.
Day 2 - We went for phi phi island trip through ferry , which was around 3 hours trip , we tried scuba diving which costed around 1500 bht per person. We got to see amazing marine life under the water and did some beach shopping , Evening we went to soi bangla road near the patong beach , This place is famous for Night life , they have many bars and clubs.
Day 3- We went to krabi through Ferry , which was around 1.5 hours from phuket , Firstly I did not expect much from this town , but this was amazing and less crowded then Phuket.
Krabi town as many beach and you get to travel from one beach to other through long tail boat, which was ride for lifetime and it costs around 100-300 bht per person , we stayed to Marina Fisherman Cave near the Aonang beach , hotel was amazing and they serve english and thai Breakfast.
Near the aonang beach , there are quite a few indian restaurants , we tried in Bombay palace indian restaurant , Food was decent and good.
We went to Railay beach on long tail boat which was amazingly beautiful and breathe-taking. Kayaks and snorelling are available in Railay east beach.
Day4 -
We had a trip in speed boat to 4 island - Poda, Chicken , Phrang cave and Tub island . The most beautiful among them is poda island , which looks like James bond island in Phuket.Phrang caves beach is very beautiful and water is so clean.
For vegetarians like us , indian restaurants where helpful and all over the phuket and krabi, there are supermarkets like seven eleven where you can get snacks.
Shopping in krabi was good and they amazing pancakes served on the roads.
Apart from Beaches in krabi , it has emerland pool with natural hot springs and kayaking is also available there.
There are plenty of Massage parlours in Krabi string from 250 bhat per person.
Overall trip was amazing and extraordinary , that stay makes you never come back to normal life .
This trip does not cost you much , all the stay where so comfortable and good.So get ready , pack up and leave . Get to breathe the fresh air , enjoy the sunsets , dip in to the island , watch the marine life.