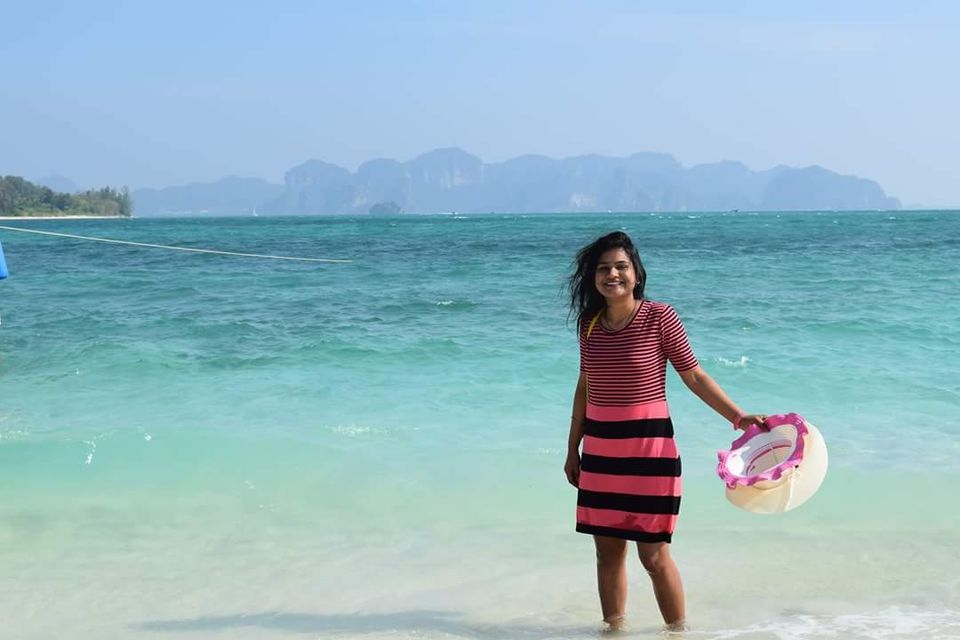 For the love of Krabi !!
We visited Krabi in the month of February and the climate was pretty cool that time.
We booked our entire tour with makemytrip and the experience was great ! Arrival, airport transfer, stay was planned perfectly.
Krabi is less crowded compared to other places in Thailand, so if you are looking for "WE" time, Krabi will be a perfect choice !
The day we reached, we checked in to our hotel - La Playa Resort. Took some rest and went to Ao Nang Beach, the beach is 10 mins walk from the resort. You can enjoy the sunset there and while going back you can have varities of seafood along the road-side. The stretch near to the beach has lots of Indian Restaurants which are actually cheaper than India !!
Day 2, we planned for 4 Island Tour by a speed boat- Tup Island, Chicken Island, Poda Island, Railay Beach Island..
Personally like tup island the most as it's like in the middle of no where. The sand is white, blue water and full of several nice stones. You can go for snorkeling as well.
There are actually two islands (Chicken island) which are connected by sandbar. On low tide you can walk across the sandbar but if the tide is high the sandbar dissolves. So Tup island should be visited first in the day.
After that, we left for Poda island.
Very beautiful island, Crystal clear water, Wonderful & Picturesque views.
Many Bollywood movies have been shot here. Our lunch was arranged on this beach. You can try snorkeling on this beach as well, as the water is very clear.
Post lunch, we left for Railay Island. This beach is good for swimmers. The water is clean and safe as many safety gaurds are also available.
There is a cave in the island with a small temple. Few people might feel embarrassed as the cave is full of lingams (must be close to 100), most are made from wood.
Watching the sunset on this beach would make you speechless!
Day 3, we planned for 1 day trip to Phi-Phi Island using speed Boat. Just a 45-60 minutes speedboat trip.
The trip was started from 8.30 am.
Classic tropical beaches, stunning rock formations and turquoise waters with colourful marine life. But this Beach is bit crowded.
Phi Phi is a group of six islands. The two main islands are Phi Phi Don and Phi Phi Leh. We went to world-famous Maya Bay in Phi Phi Leh and Viking Cave.
Day 4, was leisure day for us and last day in Krabi. We spent our day in Ao Nang Beach, tried kayaking and failed !! Walked on the streests of Ao Nang in the evening. Did lot of shopping, you can bargain alot here and buy some very good stuffs.
I really enjoyed the trip and would love to recommend people for a Krabi Trip and experience the beauty.