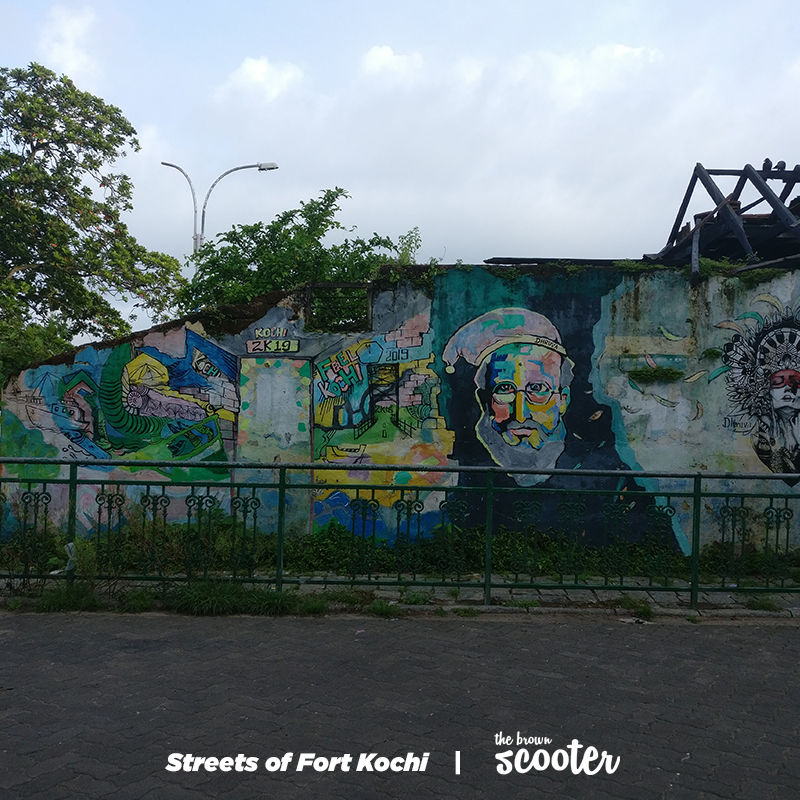 It's not everyday you come across a place that's a beautiful melody of culture, serenity, great food and mesmerising views. It was almost like Kerala called me again. Childhood friend's wedding and the idea of being in Kochi made sure that I book the tickets. It also happened to be almost the same time as last year when I was in this state.
Kochi is a cluster of island and mainland Ernakuluam. The historical towns of Fort Kochi and Mattancherry remain in sync with the past, with their old-world colonial charm and this time I had 2 days to experience their rustic life.
Fort Kochi is all about charming sea, quaint shops that sell clothes, spices, souvenirs, cafes and art galleries and roads lined with trees (and lots of trees) with architecture and walls full of colors.
Lying in the heart of Kochi - the town is laid back and perfect to backpack. Fort Kochi offers a welcoming silence that you will fall in love with, especially if you are looking for a time away from the hustle of the city.
Where I stayed:
September being a low season, I got the beautiful Fort property of Neemrana at a great deal. Neemrana Fort Kochi known as The Tower House is a property belonging to the 17th century. It resides in a premium location, across the road to Chinese Fishing Nets which is a popular tourist attraction in town.
Walking in the hotel is no less than walking in a page of history, which is not just beautiful and full of grandeur but is a delight to live in. I loved walking inside the hotel, for the vastness of it captivates you & makes up for an unforgettable experience. The hotel has a breakfast buffet every morning, a beautiful souvenir shop, a swimming pool, WiFi facility, etc.

Best way to explore the town: On foot. Fort Kochi and Mattancherry have beautiful lanes to walk in. And in case you get tired or want to get a local storyteller along, catch an auto called Tuk Tuk. While Fort Kochi was majorly all walking for me, Mattancherry is a few kms away and hence my friend and I took an auto. Fortunately, our autowallah was an amazing man named Subair who not only took us around safely but told us about the places and stories in length. (In case you are going to Kochi, connect with Subair at - 9847235286.)
Places to see:
Chinese Fishing Net - at the tip of Kochi sits the Chinese Fishing nets. The enormous nets are stationed permanently here where the fishermen heave the nets and dash in water for the fish.
The activity starts as early as 6am in the morning and goes till sunset. If you are staying near the Chinese Fishing Nets, you are sure to witness a beautiful sunset. If you are an early riser, go for a walk in the area, stand there for a while and let the breeze help you breathe and sink in the calmness of the sea.

What stood out for me: Just gazing in and seeing the waves.
Dhobhi Ghat - known to be the oldest dhobi ghat in India, stop over here to see the pre-washing machine era come alive amidst an ocean of white sheets. Posters of south indian superstars and local people adorn the walls of this ghat where over 45 families live in and work in the morning.
What stood out for me: When this man Anthony walked in at the right time. It's his portrait after all.
St Francis Church - constructed in 1503, it is known to be the first portugese church in India. This church happens to have no statue or sculpture but only a cross. It is famous because of the tombstone of explorer Vasco Da Gama who died in Kochi in 1524.
He was buried here for 14 years. The church reminded me of Old Goa's Basilica of Bom Jesus. Both the churches have the same tree in front & have a sense of calmness about them.
What stood out for me: It made me nostalgic of my time in Goa.
Jew Town - the heart of Kochi's Jewish community, Jew Town is known for the Paradesi Synagogue, quaint shops which sell antiques, souvenirs, vintage collectibles, craft, spices, etc. Jews street is a delight to walk on with beautiful buildings. You can hire a private tuk tuk to move around here.
What stood out for me: this was my second time in Kochi and I missed out on visiting the synagogue both times. Make sure you know the closing and opening time of Synagogue and plan your time in Mattancherry accordingly. That's one landmark you wouldn't want to miss out on. (Kochi will probably call me back again!)
Santa Cruz Cathedral Basilica - originally built in 1506, current building of this Cathedral dates to 1902. It was closed at the time we walked in the premises but it is famous for its interiors and artefacts which date back to different eras in Kochi.
Ginger Warehouse - the historic spice trade is very much alive in the streets of Kochi and that's what makes it so unique - it has this beautiful essence of mixing the old and new so wonderfully that you will be left in awe of the city. When you enter the area of Ginger warehouse, you will find heaps of dried ginger relaxing in the sun outside on the verandah. You can even talk to the workers (luckily we had the autowallah Subair with us) and walk in the warehouse to see how they work their magic on spices. The workers are friendly and will try and speak a few words in Hindi/English and talk to you. (The next time I go there, am learning a few greetings in Malayalam!)
Where to buy the spices from: There are a lot of Spice Shop in Fort Kochi. One of them is All Spices Market where we got to buy all kinds of spices at affordable rates. They even courier spices across India with a mere WhatsApp/call to them. This market is run by women of a cooperative society and is on the bazar road, Mattancherry. To connect with them, call at 9947063192.
Dutch Cemetery - Another landmark in the area, Dutch Cemetery contains the dipaliated graves of dutch soldiers and traders. The cemetery is well covered from 3 sides and has a small gate access for people to get a peep into the area of 200-year old graves.
Fort Kochi Beach - a beautiful beach located on the western coast of India, it offers scenic views and is frequented by tourists as well as the localites. You can opt for an evening walk on this beach which is well maintained, secured by the police and has transport option of autos to reach.
Marine Drive - a buzzing waterfront, it is much like the marine drive of Mumbai but a smaller version. There are various hotels, shops along the broadway & you can even opt for a cruise that leaves from the jetty to give you a scenic view of the waterfront and backwaters. We decided to walk the stretch and soak in the breeze.
Pilgrim Centre - St George Orthodox Koonam Kurishu Old Syrian Church, situated in Mattancherry is a historic monument and pilgrim center.
Where to eat at:
There are A LOT of options to eat at in Fort Kochi. We went to Kashi Art Cafe which happened to be at walking distance from our hotel. It's a quaint cafe, infused with sculpture, paintings and art along with a good spread of food and beverages. The cafe is frequently visited by foreigners and is a must visit, whether with family, friends or traveling solo.
During my last year's visit to Kochi, I had been to The Drawing Room. Unfortunately did not have enough time to sit & eat there, just went inside to get a feel of the space.
What to buy:
While your friends will ask you to get the banana chips, I would also say you invest a bit in spices to take back home. You can also take a detour to the main city and spend a little money to buy silk / cotton sarees in various colors which are a treat to sore eyes. We shopped from Seemati. You will get sarees in the range of 500 INR to even going up 50000 INR.
I truly believe that when a place falls in love with you, it calls you back. That earlier was Rajasthan and Goa for me, and now its, Kerala.
This post was originally written on The Brown Scooter.
Keep Traveling!
Also read about: My stay at Kumarakom Lake Resort, Kerala