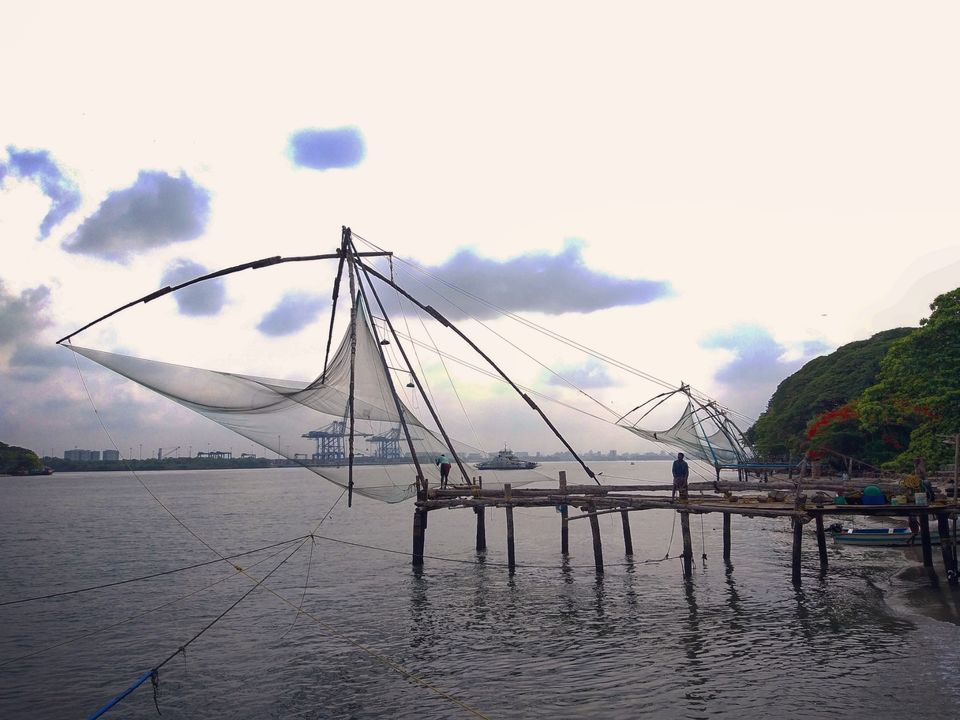 We are all very familiar to the popular port town of South India- Kochi in Kerala.
However there exist a part of Kochi which not everyone may have heard about (at least I did not unless a few months back) named Fort Kochi which is an absolutely stunning part- An area surrounded by water, beaches, and tonnes and tonnes of colonial history.
-When I got to Fort Kochi, my plan was to stay there just for a day but thank goodness I amended my itinerary and extended it to 3. And every bit of it was worth and full packed with thing I hadn't even expected to do there.
After going around the place thoroughly, here is my guide to what Fort Kochi has in store for you and how to plan up for it so as to not miss anything.
So let's get there step by step-
Firstly let's go back and learn a little history
Fort Kochi is a place to have experienced a colonial history of a diverse type. Being initially gifted by the Raja of Kochi to the Portuguese who settled around the place and built Fort Emmanuel (the "Fort" in Fort Kochi comes from here). After being ruled by the Portuguese for 160 years it was later conquered and ruled by the Dutch (who destroyed many of the Portuguese structures including the Fort-and hence no traces left of the same). The rule of the Dutch extended for 112 years and then the town of Old Kochi /Fort Kochi came under the British rule until its freedom along with India in 1947.
....so one can imagine what rich history it must have seen and what an effect it must have left on the culture and traditions as well as on the architecture.
Secondly How to get to Fort Kochi
Fort Kochi is a part of the Ernakulam district of Kerala. Mainland Kochi which is connected to Fort Kochi is very easily accessible through air, road and rail. Now we need to understand that Fort Kochi is surrounded by water on most sides and hence getting to it by road can be a little lengthy of a journey.
There are two ways to enter Fort Kochi from mainland Kochi. Firstly by road from Kochi, though a longer route it is well connected, this will take u approximately an hour; and cabs and buses are easily available. If you want to enjoy a view than take the other one- i.e through a ferry from mainland Kochi to Fort Kochi which may take half an hour or so. Much faster and prettier!
Places to visit in Fort Kochi
Fort Kochi is not a very big place and most of the attractions are scattered within a few kms. Most of the places are to the North West and to the South East direction and can be done together one part at a time.
-To the North West- This is the side towards the beach; and the things that you can see going around here are-(By the way every street is packed with beautiful houses and architecture.)
Kochi Beach
A small beach with a walkway- with varieties of vendors selling souvenirs, eatables and fancy beach stuff. An evening or an early morning walk here is gorgeous. I personally loved watching the sunset from here.
On the beach you will also find the two steam boilers belonging to an old crane and the anchor of the dredger "Lord Willingdon' which was an important part in making Kochi a world class Port.
Chinese fishing nets- Right on the beach you also see the Chinese fishing nets- a symbol of Fort Kochi on most post cards and so on. These were the fishing nets brought in by Chinese folks. A walk on the beach will give you a glimpse of these and the strange mechanism they use.
Bastion Bungalow- On the banks of the Beach itself is the Bastion bungalow where once stood Fort Emmanuel, which was eventually destroyed. In 1667 a new structure was built in its place. This place is a protected monument and houses a museum as well.
Bishop house: Indo-Portuguese museum-
Right at the end of the street is the Bishops house which has the Indo Portuguese museum within its vicinity. A variety of religious artifacts, centuries old are showcased here. Worth seeing is a hand drawn map of the place which took around 24 years to complete- which Is a stunning piece of art.
Church of St. Francis Xavier- This church is of great historical significance. It is the oldest European church in India being originally built in 1503. However the highlight of this church is that the Portuguese explorer VASCO DA GAMA was originally buried here after his death in 1524 after which his remains were taken to Lisbon. However his gravestone is still present and preserved here.
Santa Cruz Basilica- Built by the Portuguese in 1558 and later reconstructed by the British in 1887, this one is built in a gothic style and is a fine piece of architecture.
House of Vasco Da Gama- This is another amazing thing for a history lover, the house of the Portuguese Sailor. However it is not a tourist attraction and can be admired from outside.
Tower house- Initially the place where the ancient lighthouse stood. However it is currently converted into a hotel.
Dutch Cemetery- This one is believed to be the oldest cemetery in the country. Built in the Dutch style, it has tombs of varied sizes which belonged to the Dutch sailors.
-To the South East-
Mattancherry Palace/ Dutch Palace-
This one here is a palace having a varied history, initially built by the Portuguese and later renovated by the Dutch. This palace holds a large historic museum you can visit and is worth seeing.
Jain temple- A temple dedicated to the 15th Jain Tirthankar. Built in 1960 in quiet simple an architecture, its one place you can definitely make a stop to find some peace.
Jew synagogue- Built in 1568; this is an amazing piece of architecture and shouldn't be missed, though I missed it as it's closed on Fridays and Saturdays. People I spoke to about it described it as having scrolls, gold crowns, chandeliers, and a floor made of unique Chinese hand printed porcelain tiles. Interesting isn't it. I wish I hadn't missed this one.
Police station museum- This museum has all things police-y, their uniforms right from the colonial times to now, amour and much more.
Pepper exchange- This one here is the only pepper exchange in the world where instead of money a wide variety of pepper is exchanged. Interesting isn't it
Things to do
Massage- Ayurvedic massages are a speciality of Kerala so don't miss a chance when here. Massages and spas are their thing. Many ayurvedic centres in Fort Kochi offers good options for the same.
Back water- Be in Kerala and you can't miss the backwaters. In Fort Kochi most of the Homestays will give you offers of backwater trips. They offer a half day or a few hours' backwater trips and whats better is that these trips take you to the villages and expose you to the village life of Kerala.
Chill in the cafes- Fort Kochi is also quiet famous for many of its laid back cafes may it be Kaashi art café or Quasi café and others; one can definitely sit there and relax or just be.
Shopping- Shoping here is mostly for antique especially in the Jew town, They sell a wide variety of objects here including coins and spices and other artefacts.
Some general things to know about Fort Kochi-
- Fort Kochi is not a massive area and most of the things and attractions in Fort Kochi are spread around at walkable distance.
- a motorbike/ cycle can be easily rented in Fort Kochi and its quiet affordable. A cycle is much more pleasurable to explore the tiny lanes of Fort Kochi.
- Fort Kochi is a town of homestay's as almost every house is converted into one. Not too many hotel options around but you will not regret as the Homestays are pleasant and affordable as well.
-Maps are easily available (and your hotel/ homestay will provide you with one if you ask) showing the detailed street views of every tourist spots you can visit, this makes it much much easier to go around
-the locals are the warmest I have seen till date. They are always ready to help. I even found people coming around and asking whether I needed help even before I asked for. Such beautiful souls!
-Food is available well easily. the cuisine is somewhat different from that of Kerala. Try out some local eateries and also the street food joint around the beach area where they serve Italian, seafood and a other variety.
That is it. This pretty much sums up most of the things you can do there. So go ahead, plan that trip to Fort Kochi soon.
Read more such articles on my blog:
www.ignitinghorizons.com
Follow me on Instagram and Facebook as well.