Gentle breeze, blue sky, cotton-cloud and rolling hills stretched up to horizon…. What else do you need to seize yourself, put your rucksack off from the back, sit under a tree and cherish an entire afternoon without doing anything? But we were in Dongchuan Red Land of southern China and had hardly any time to relax as for those couple of days we kept ourselves exploring newer and newer viewing areas to frame the beauty of the surroundings better and better!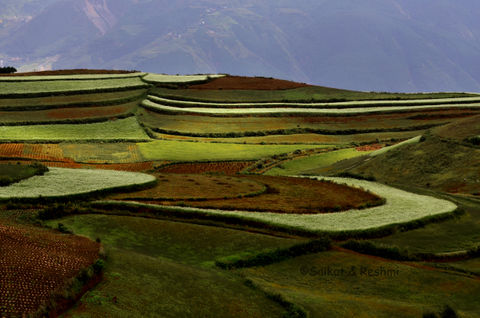 Probably by taking a glance on our photographs you have already got what had drawn us to this beautiful location. Before immersing in our story, for better perception of Dongchuan Red Land, you may click the link of our YouTube video:
As we started for our 4 hours' journey to Dongchuan Red Land from Kunming, The capital city of Yunan province on an early morning of late September, Jack, our driver had planned to stop at a decent restaurant of Tandian town on midway for breakfast, but Tandian was too far to resist our hunger, therefore we got down at the village market of Sadan, which is 20kms away from Kunming. Still then Jack was not sure about our acceptance level as we had to eat on one of those poor-looking and shabby food-stalls of the market, but his doubt was washed away when he saw us showing interest on the edibility of wasps being sold by some villagers. Wherever we see anything exotic to eat, we give ourselves a chance, unless it's beyond our affordability. As usually we bought wasps and got thrilled to see the sellers taking the living wasps out of the hive. We ordered lamb noodles soup on one of the food-stalls of the market and also requested them to fry those wasps for us. It tastes good, though nothing extra-ordinary! The market was quite impressive to explore. We saw exotic mushrooms, fruits and veggies on sale over there.

Waking up in darkness and a 40 minutes' early-morning drive from Huashitou to Damakan were all in vein as dark clouds came on the way of the rising sun. Anyway, we waited until the sun got exposed, and the valley of colorful bands as well. Our disappointment was gradually disappearing with the betterment of light condition and it was completely gone when we arrived at our next stop Jingxiou Park. Here some parts of the multicolored valley, flooded with the soft and golden morning light dumbfounded us, while the other side, still under morning-mist looked mystic!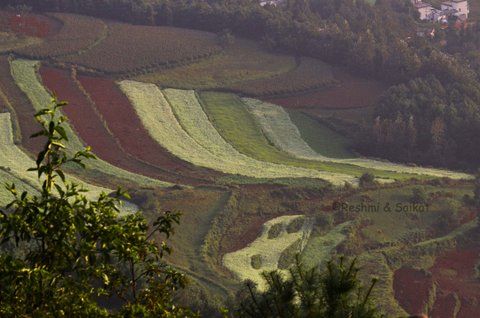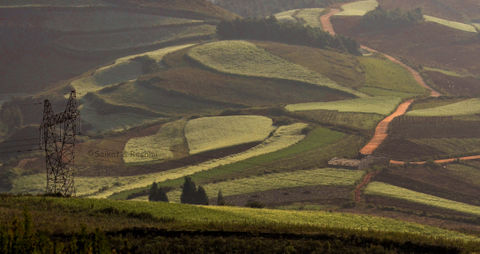 Our guest house was in Huashitou village of Dongchuan district. The magic of red land began around 45 minutes prior to Huashitou. Here soil is red, extremely red. Some parts of the terraces are left bare, while other parts are beautifully planted with colorful crops like rape seeds, potatoes, buckwheat and so on. During this time, majority of the crops are in full bloom, and hence the entire area looks like a collage of red-yellow-green-white! "Next time, try to be here in May-June. The farming season will end and most of the red soil will remain uncovered at that time." -said Jack.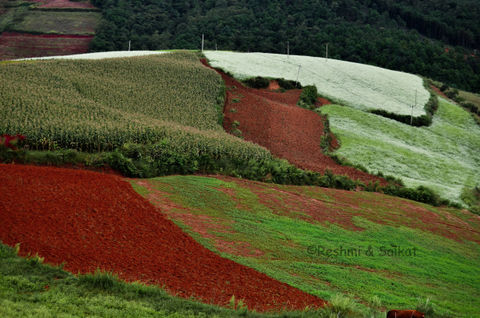 We stopped wherever we wanted, walked down the narrow allies between the multicolored fields and kept clicking. Finally we arrived at Luosiwan, one of the designated view-points of the area. Pink and white cosmos dancing in the wind, with the background of colorful terraces created a riot of colors. This vantage point is an ideal place for a vast and varied beauty, especially to see villagers engaged in farming and cart-riding. Suddenly we saw a very old man in ethnic attire approaching to us with his pet dog. He sat in front of us and started smoking from a very long pipe. This man was familiar to us due to internet, as we had seen him, photographed by others a number of times. He gives poses to earn. Initially we thought not to let us be engaged in this type of cliche arranged photography, but the strong and a little bit of exotic smell of tobacco, that he was smoking was too difficult to ignore, and when we asked him to share his pipe with us for a while, he was extremely happy. The way he smiled at that time was unfamiliar to us, because it was not a pose; it was straight from his heart!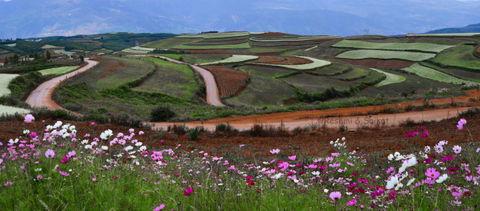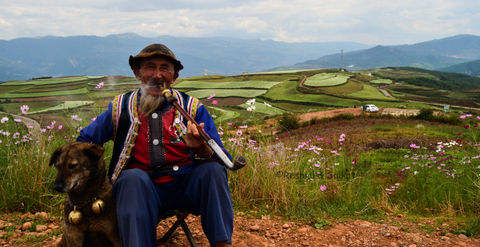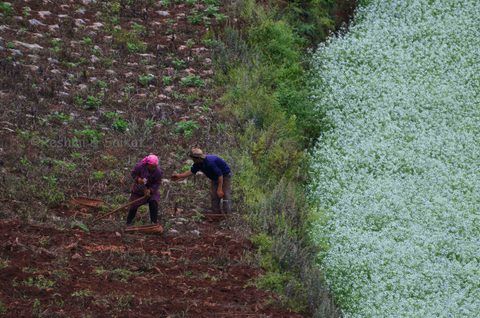 As we had a heavy breakfast, we were looking for a light lunch and Jack took us to an old lady selling grilled potatoes and eggs. Almost 30 different types of spicy sauces were kept there to take with the grilled stuffs. We, being fond of spicy food, tasted almost all of them! I'll write no more on this topic. My mouth has been already filled with water!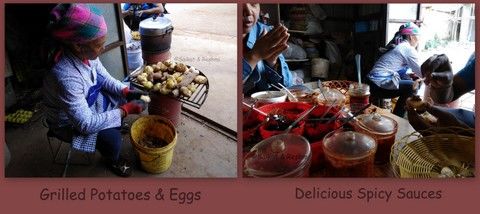 We checked in our guest house and after a short break re-started. This time we were brought to Huagou area, where jack parked his car and we walked through villages for half an hour to & fro to visit a thousand years' old Laolang tree. The tree was on a small hillock. There was a stone slab with inscriptions on it, probably depicting the myth associated with the tree, but written in Chinese, so we did not get anything. We returned to Huagou. We were excited to see maximum amount of exposed red soil here. Jack told that this area would look even better in morning, so we did not waste our time and proceeded towards Luoxia valley for enjoying sunset.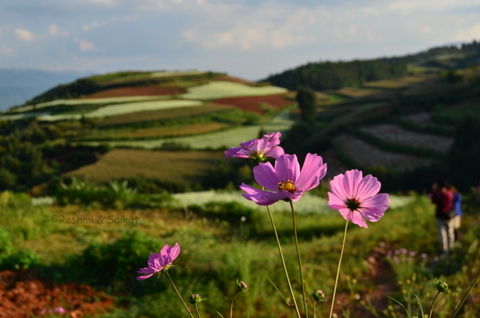 The vast wooden platform spread throughout the viewing area at Luoxia valley may be tourist-friendly, but we love to see any place in its natural form. Compared to other areas of red land, here we saw less variation of colors, as green grass has grown on many barren red fields and hence the red color had been diminished. This area looks best in May-June.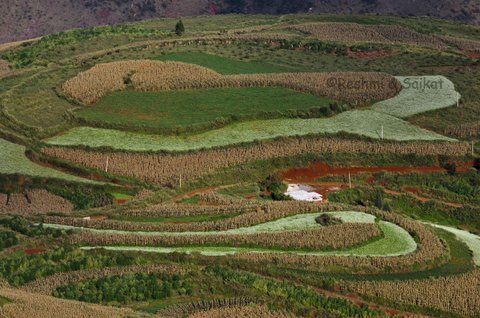 We were on Luoxia valley until the shadow of the nearby hill engulfed the entire terraces, and thereafter started to way back to our guest house. That wonderful day ended with a wonderful dinner including a delicious preparation of violet mushroom and buckwheat tea. Usually colored mushrooms are poisonous, but Yunan province is famous for edible colored mushrooms. Oh! I forgot to tell! We bought this violet mushroom from the old lady selling grilled veggies and eggs. The cook of our guest house made a dish with it for us.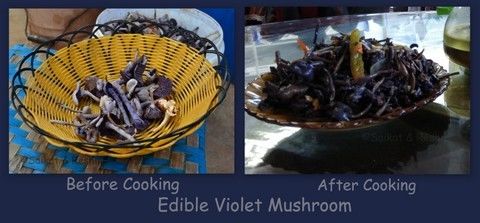 After having breakfast with grilled potatoes, corns and eggs bought from another old lady near Jingxiou Park. We were taken to Huagou again, and Jack was right. Huagou looks more beautiful and redder during morning than afternoon, as during this time the entire terraces are exposed to direct sunlight. We were extremely happy to end our trip in this beautiful location, but later became happier finding it not our final stop. A new motor-able road had just been built, and Jack was trying to explore it during our return to the guest house. The road offered us a 360 degree view of vast multicolored fields on both sides spreading as far as we could see. Though we were running out of time, but the road made us get down from the car. Jack was extremely excited with his new exploration.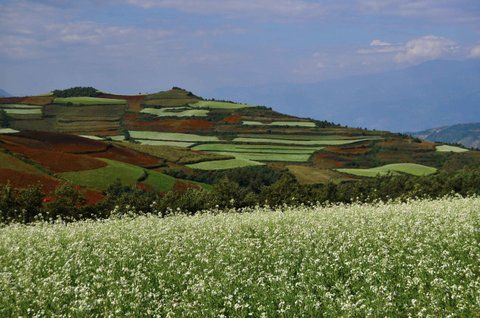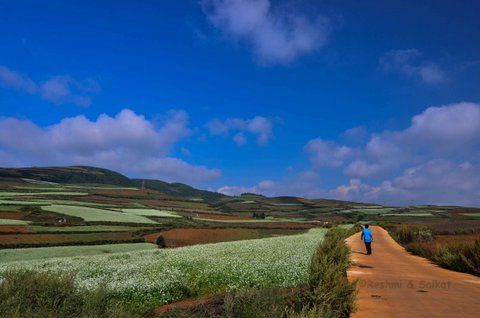 On our way back to Kunming, we stopped at Tandian town for lunch and tasted fried fish caught from the nearby river. We saw the village market in Sadan, but did not stop there, as we had to reach Kunming airport on time to get our flight to Xi'an.
Wanna visit Dongchuan Red Land? If you are looking for information like getting in and around there, best time to visit, food & lodging details as well photographic tips and other important things to remember, then please click on the link of our blog given below:
https://comecrosstheline.wordpress.com/2017/11/26/tips-for-visiting-dongchuan-red-land/